Ms. Yeh's 葉利玲老師 First Graders' Chinese New Year Barclay Performance Blog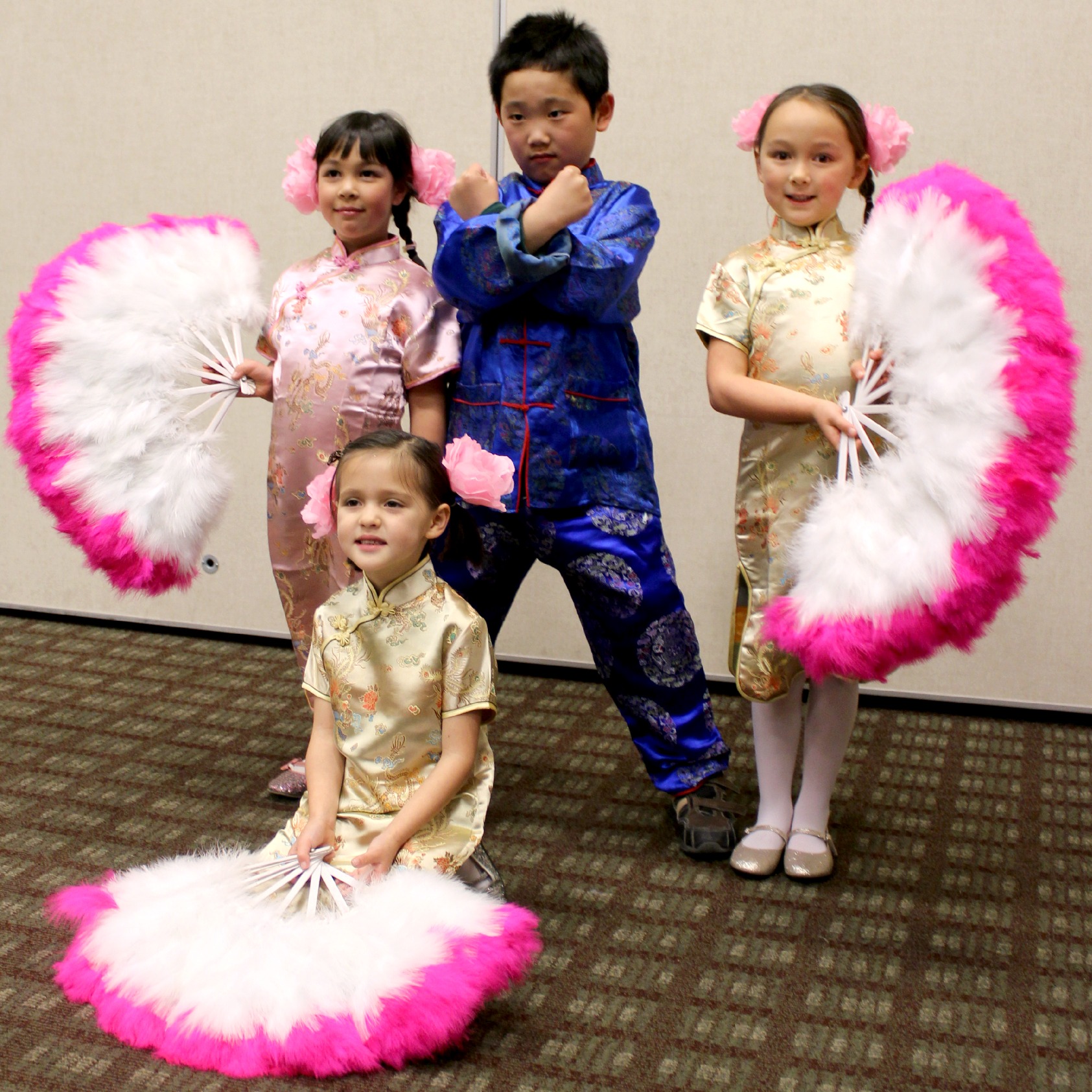 Ms. Grace Yeh's 葉利玲老師 First Grade Chinese Class 一甲 performed a show for "Chinese New Year of the Dragon 2012 Performance" at the Barclay Theatre on Saturday 7pm, January 28, 2012. This was my first time choreographing and directing for the stage since college. It was done in blitzkrieg fashion. We did it all in 1 month! I am grateful to my own mother for her choreographing/directing work all through my childhood. It is astonishing that experiences lived in childhood can be so effortlessly reproduced at adulthood. Even though my background is in Biochemistry and Molecular Biology (Cancer Research/Molecular Genetics), watching my mother put on shows annually as I grew up, made it feel natural to me to do likewise in adulthood.
New friendships were formed, discoveries were made, happy childhood memories were shared. It was an amazing experience to work with our wonderful, willing and capable children. Thank you everyone for making this possible!
Thanks to Rudolph Steiner, Robin Theiss, Chris Bennett, Holly Richards and the Waldorf Education/Foundation Studies workshops, I was able to use all my new skills to work with the children, allowing the children's joy and spirit to shine through naturally in the performance.
If you know me, you will check back in a few weeks again. You know I will be posting the official video and more cute photos!
–  Jzin

In the News. February 1, 2012.
Irvine Chinese School celebrates the Year of the Dragon -The Orange County Register.  Click on the photos below to go to press website.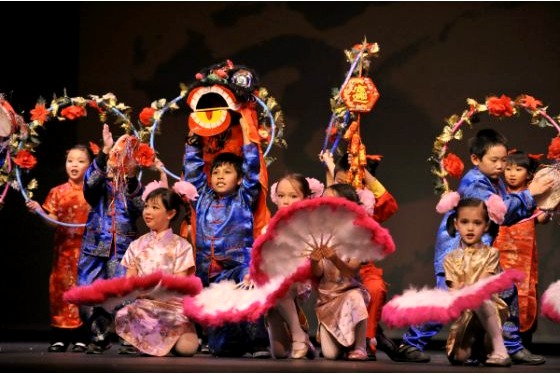 Our children in the finale scene. The photo above is courtesy of OCRegister.
Another photo of us in the news: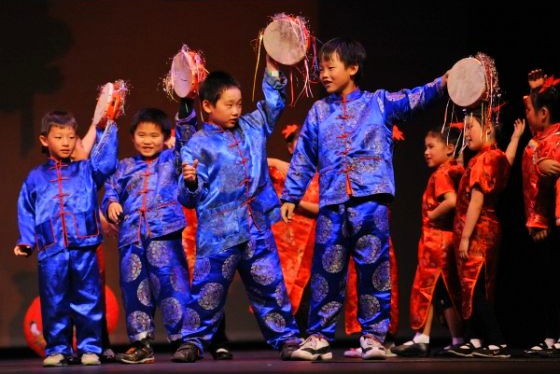 Our Strong Boys/Nanzihan. Hey! They chopped off the photo of our boys team leader, Andrew! The photo above is courtesy of OCRegister.
Here is our corrected team of all our amazing boys!


Showtime at The Barclay Theater!
7pm Saturday, January 28, 2012
Please check back in a few weeks again for video and photos!
At the risk of being "shoo-ed" off the backstage by the stage manager, I took as many photos as I stealthily can, of our wonderful children's actual stage performance. Thus fulfilling my personal childhood dreams of being a spy, a stage choreographer and a photojournalist all rolled into one!
SHOWTIME!!!
嘿! 嘿! 嘿! 賀新年! 嘿! 嘿! 嘿! 過個太平年
賀新年 祝新年 新年啊 年連年 …
Our 2 super duper girls entered center stage in cartwheels, to the thunderous applause of the cheering audience!
嘿! 嘿! 嘿! 賀新年 … 嘿! 嘿! 嘿! 過個太平年
Now we have our 10 "Hexinnian Greeters" on stage!
小妹過年好歡喜 換上新鞋穿新衣
從頭到腳打扮好 上街去拜年

View from backstage (Actor's Stage Right).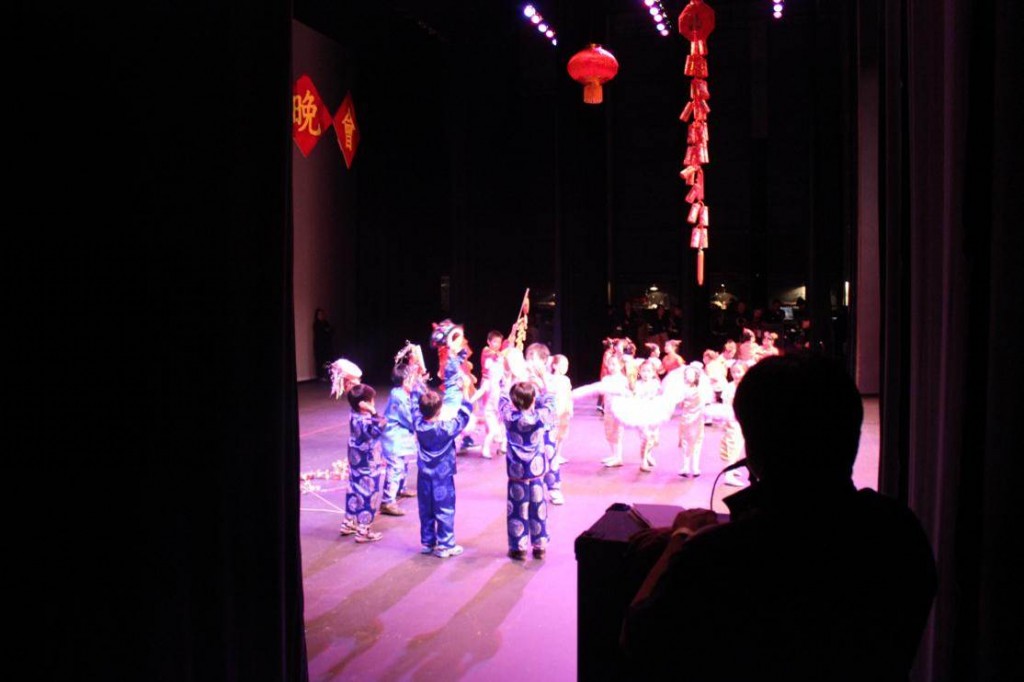 The finale.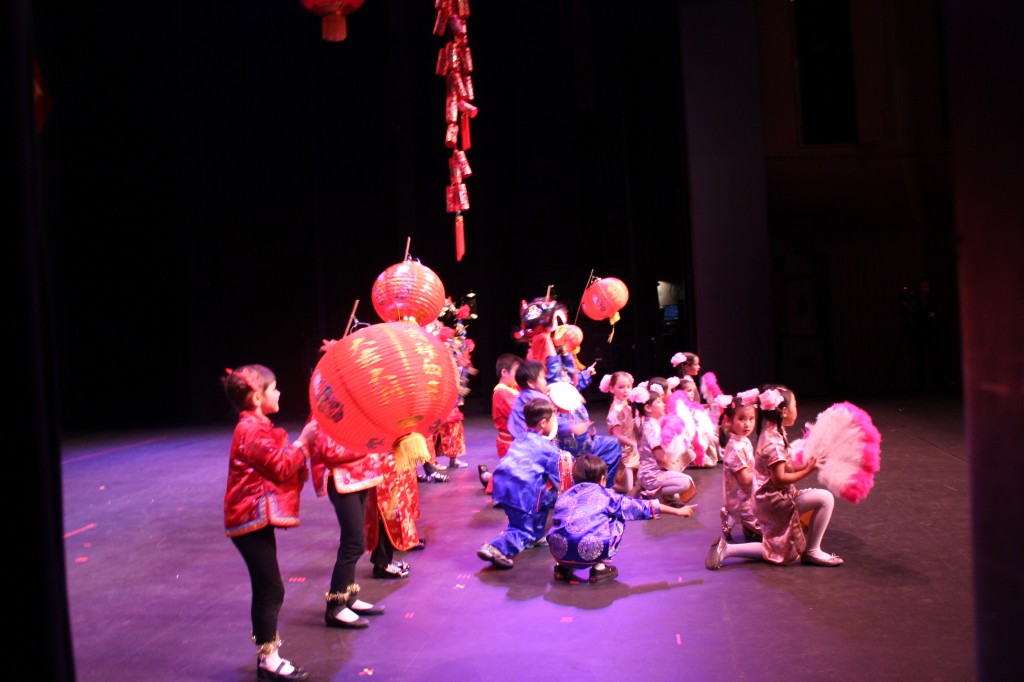 Yes! Our children arrived beautifully at the finale!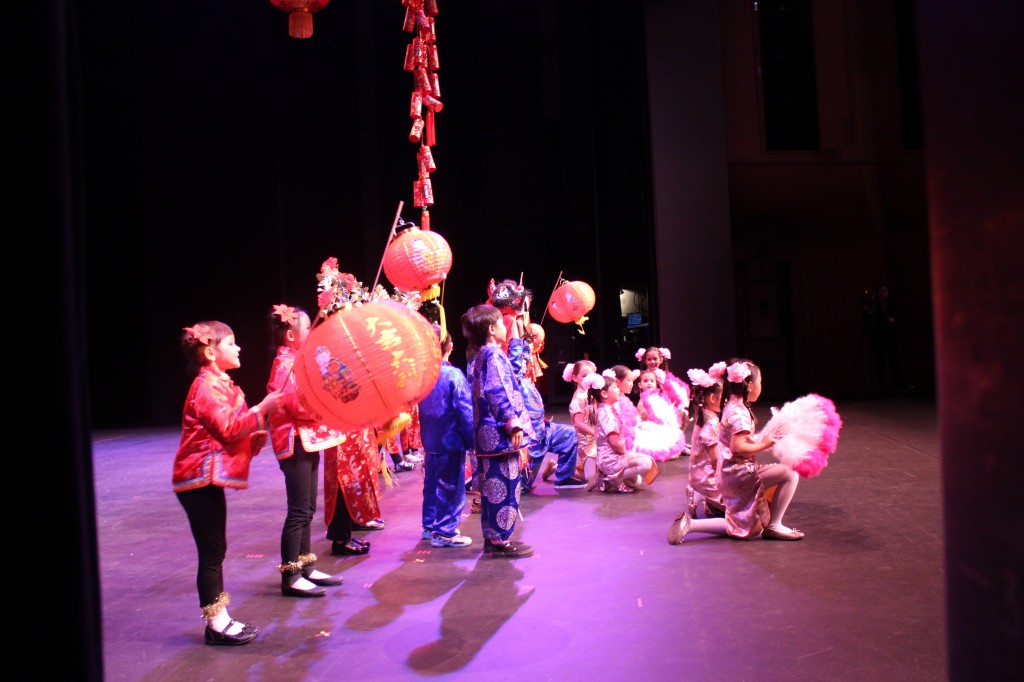 The roar of the audience's applause beneath the stage!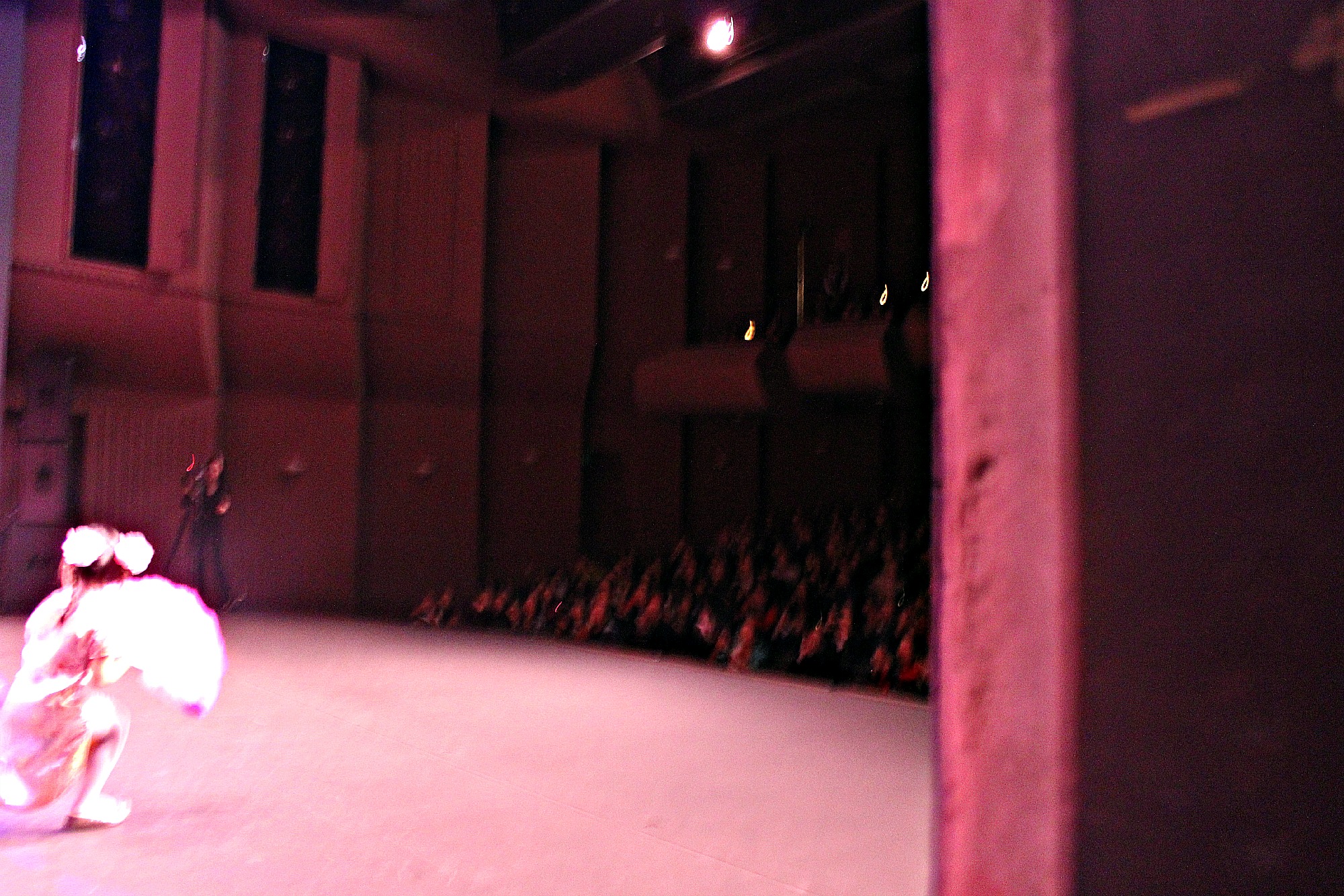 Our truimphant children return to us on the Stage Right.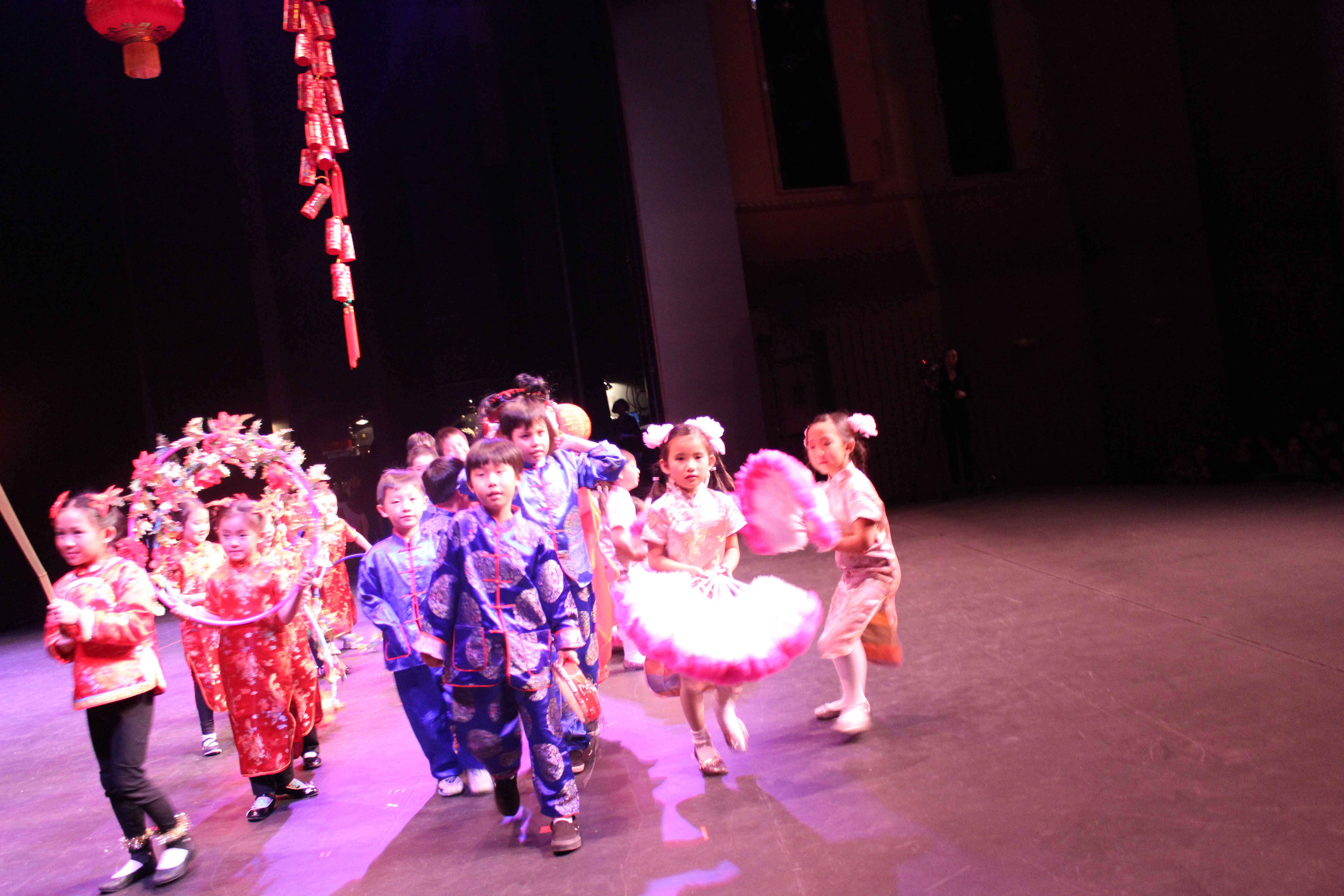 After our performance, our little performers were led by a series of secret passageways up onto the balcony of the theater where they finally rest and watched the rest of the performances.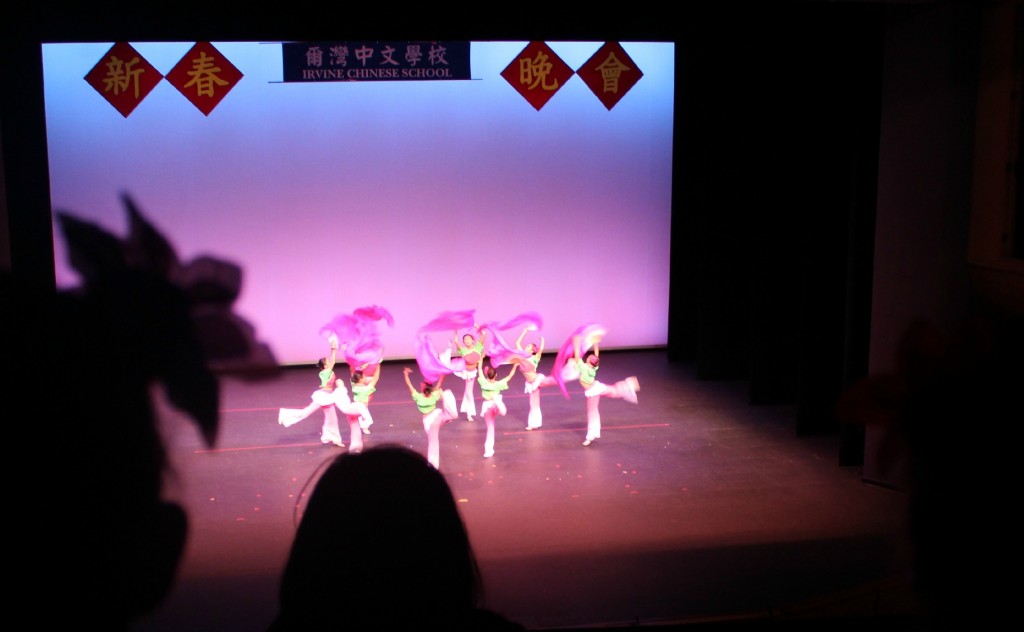 The Much Awaited,
Yet Long Dress  Rehearsal day at The Barclay Theater!
12-7pm Saturday, January 28, 2012
Please check back in a few weeks again for video and photos!
Backstage at the Barclay.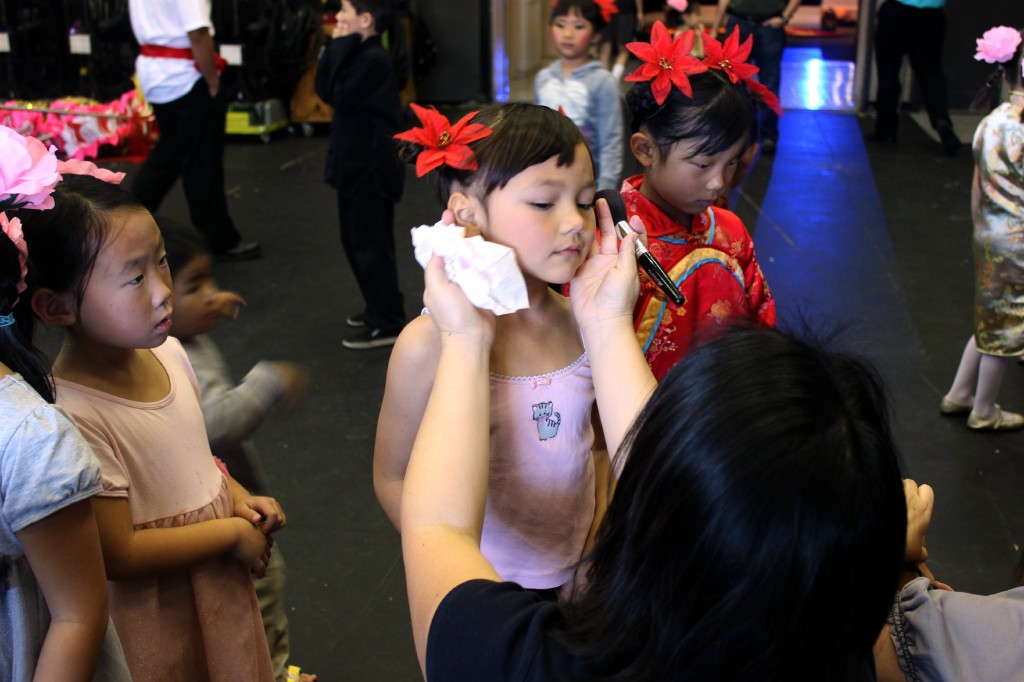 The long wait in the basement of Barclay. The children were incredibly patient as they were being holed up in the stuffy basement dance studio, waiting their turn to appear on stage.
Sitting with mommy is best.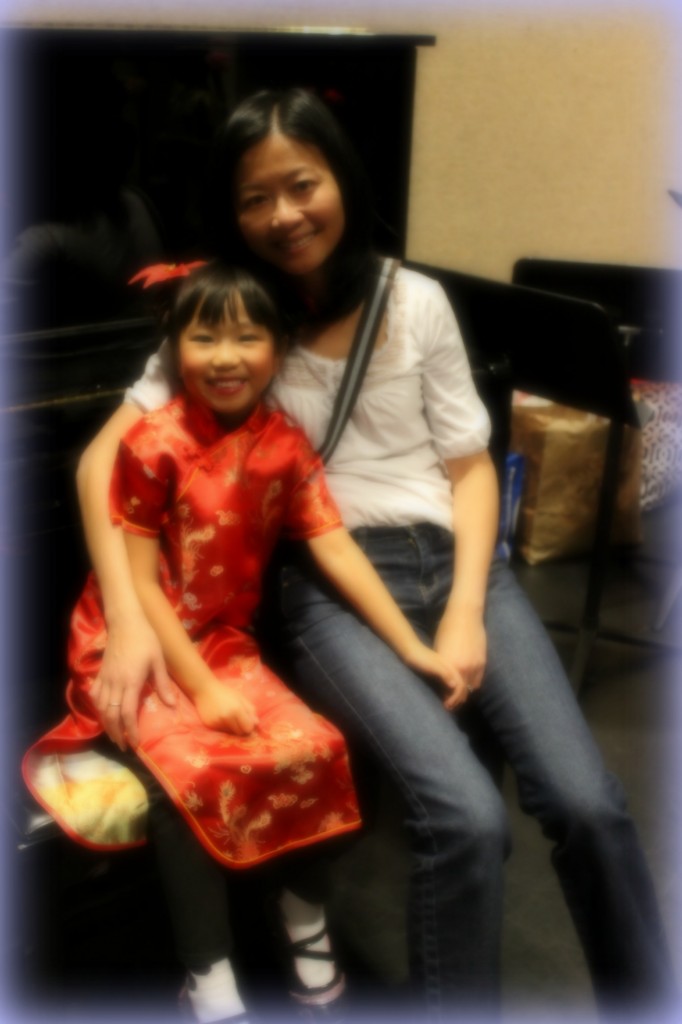 More waiting. In the hallways of Barclay Theater backstage. Our 10 gorgeous "Hexinnian Greeter" children found great joy in each other's company. Ah! The wisdom of children.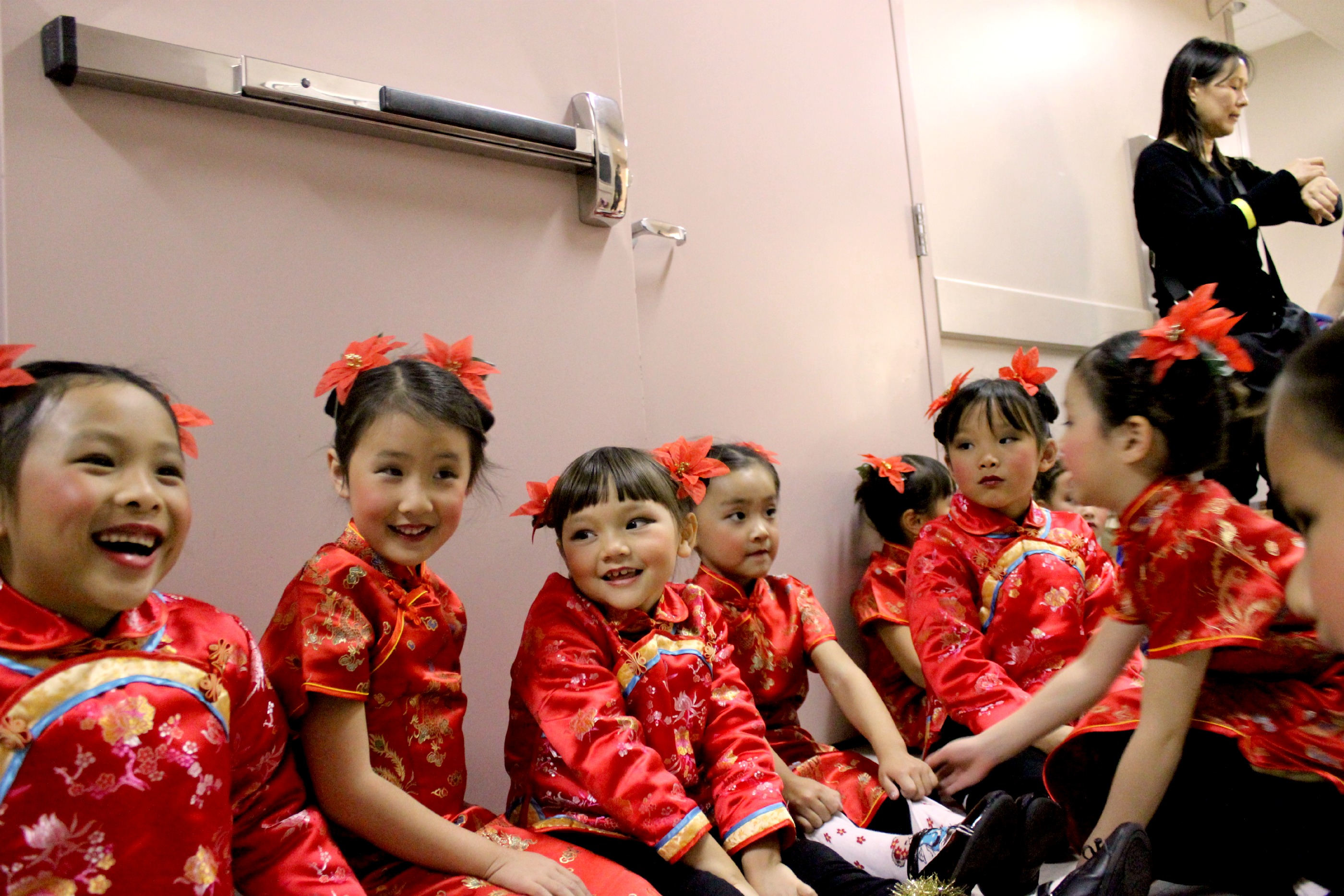 A BIG thank you to our super talented make-up and hair volunteers Angela T and Jennifer H for the glamorous look on our gorgeous children!
Our "Hexinnian賀新年 Greeters" sharing a laugh.

Our girls lining the hallways of backstage Barclay Theater.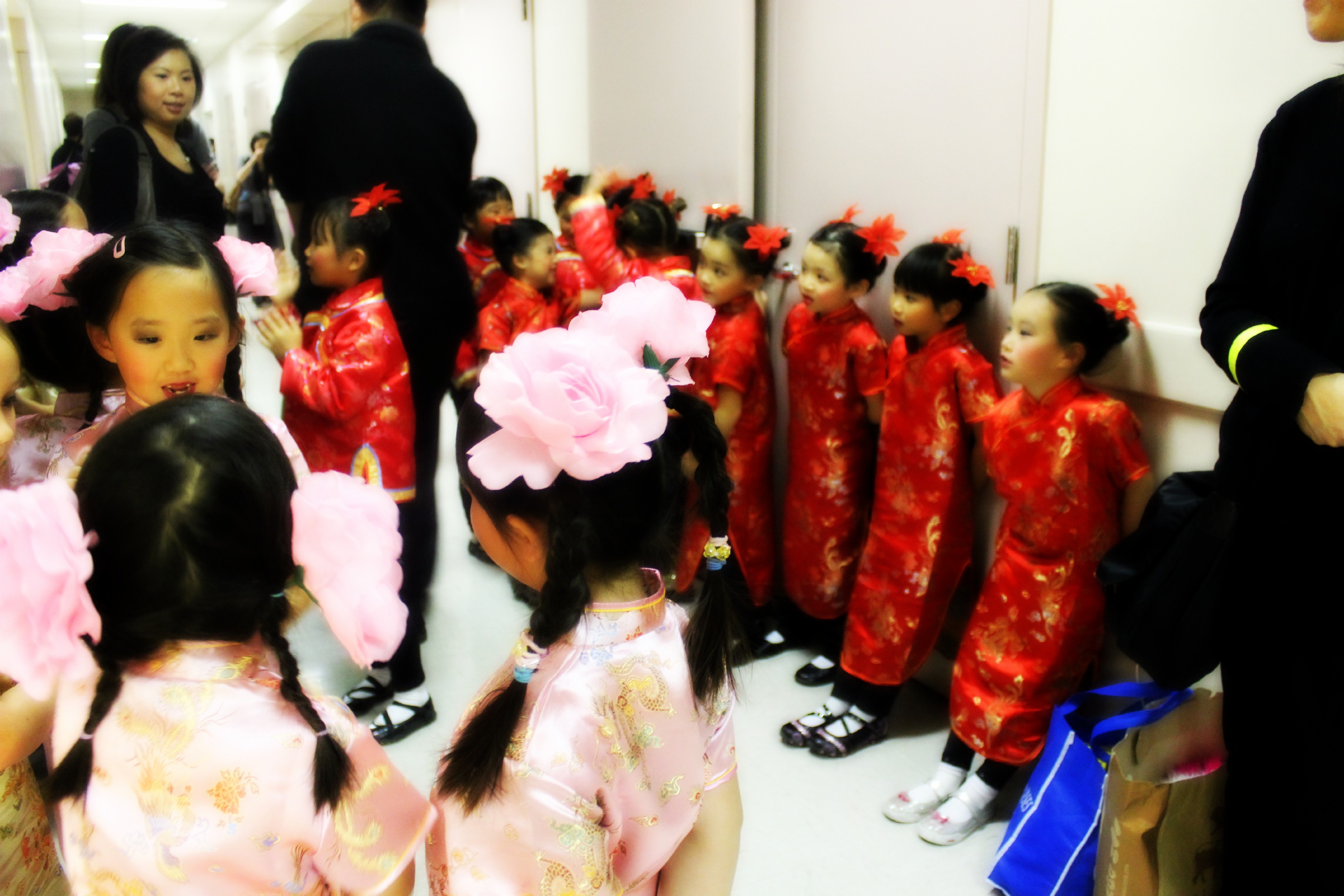 芝潁 waiting for the exact moment to enter center stage in cartwheel.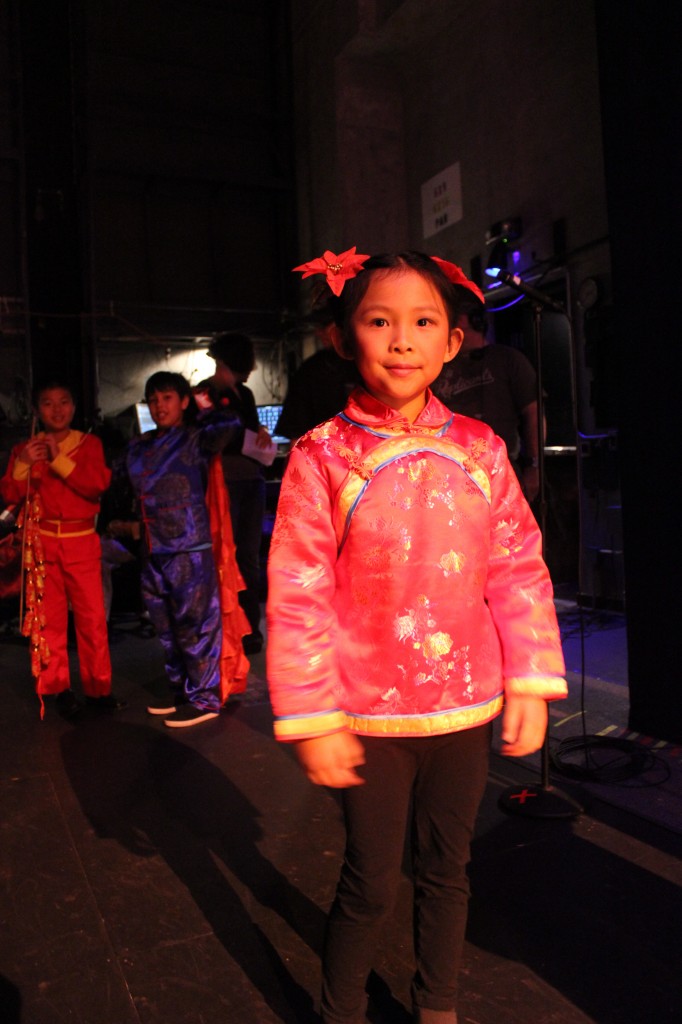 Sally T with all the props. Thank you Sally for all your hard work so the children can have this magical experience!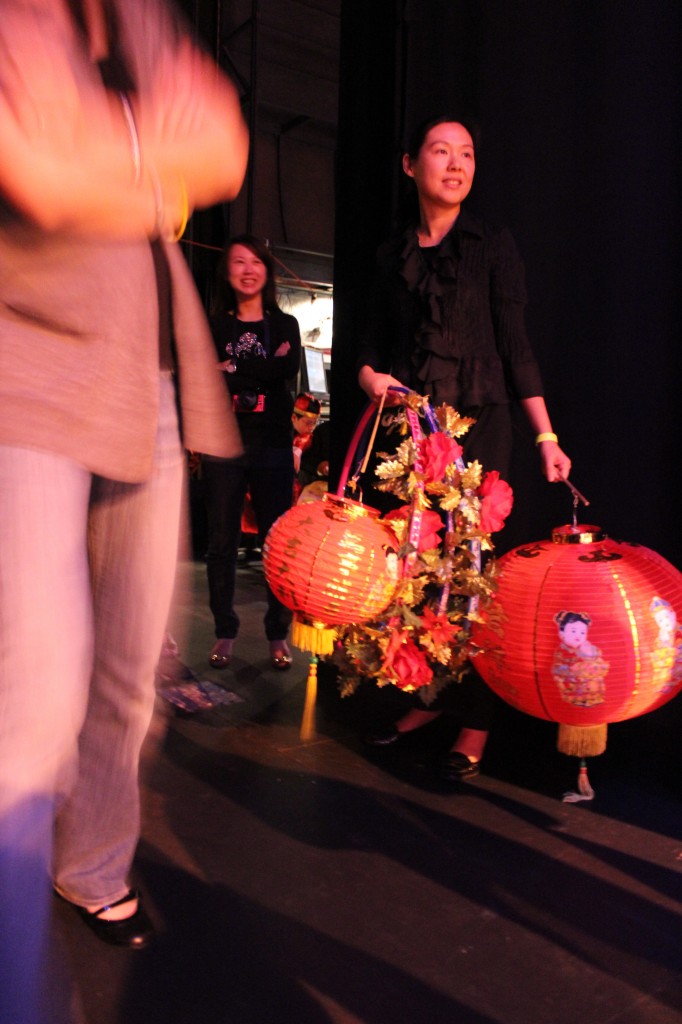 Dress Rehearsal at the School MPR upstairs
6pm Friday January 27, 2012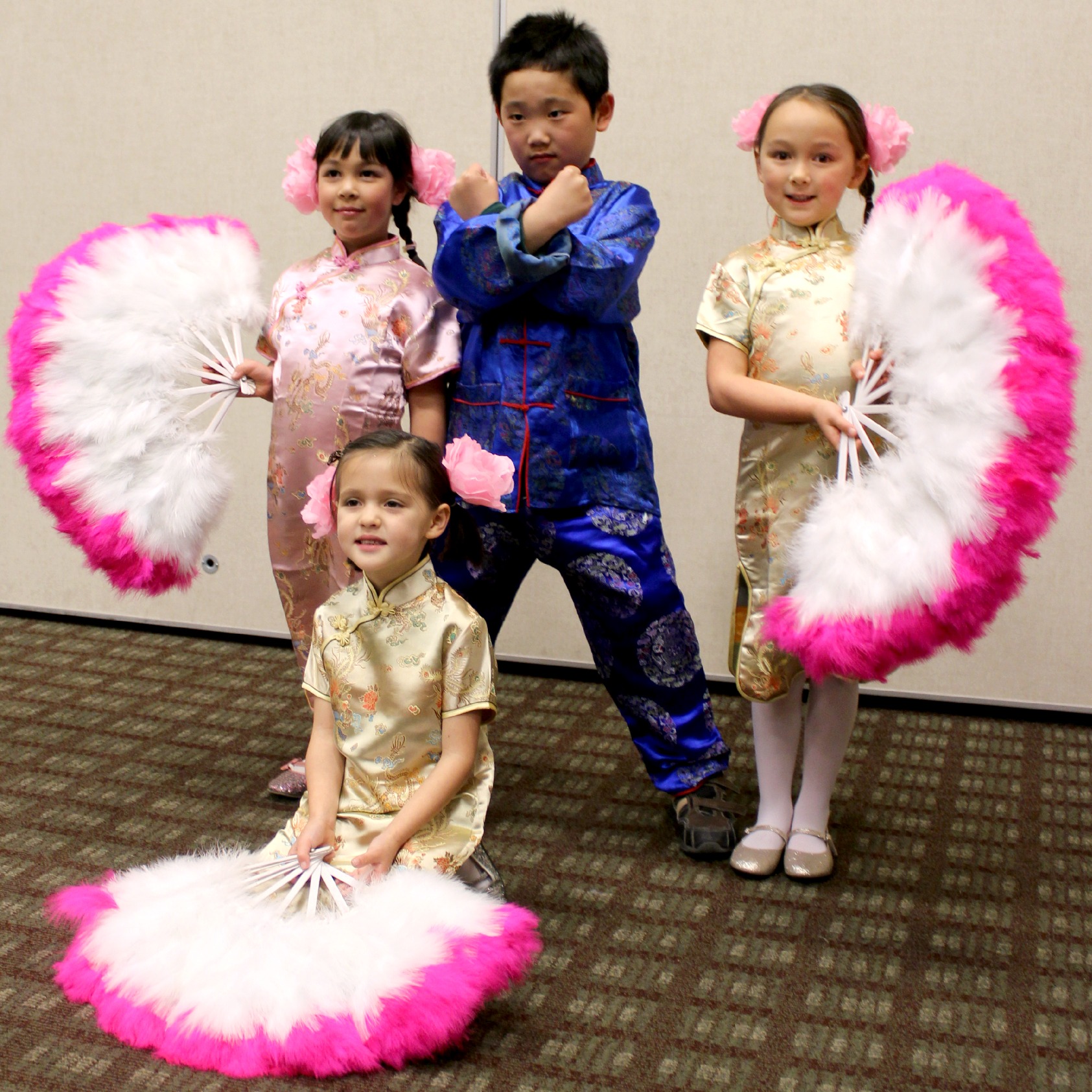 The joy of dancing! Look at the faces of each child, including the adorable ones in the back! I feel that the success of our show is based on how much pure joy these children can radiate out to the audience.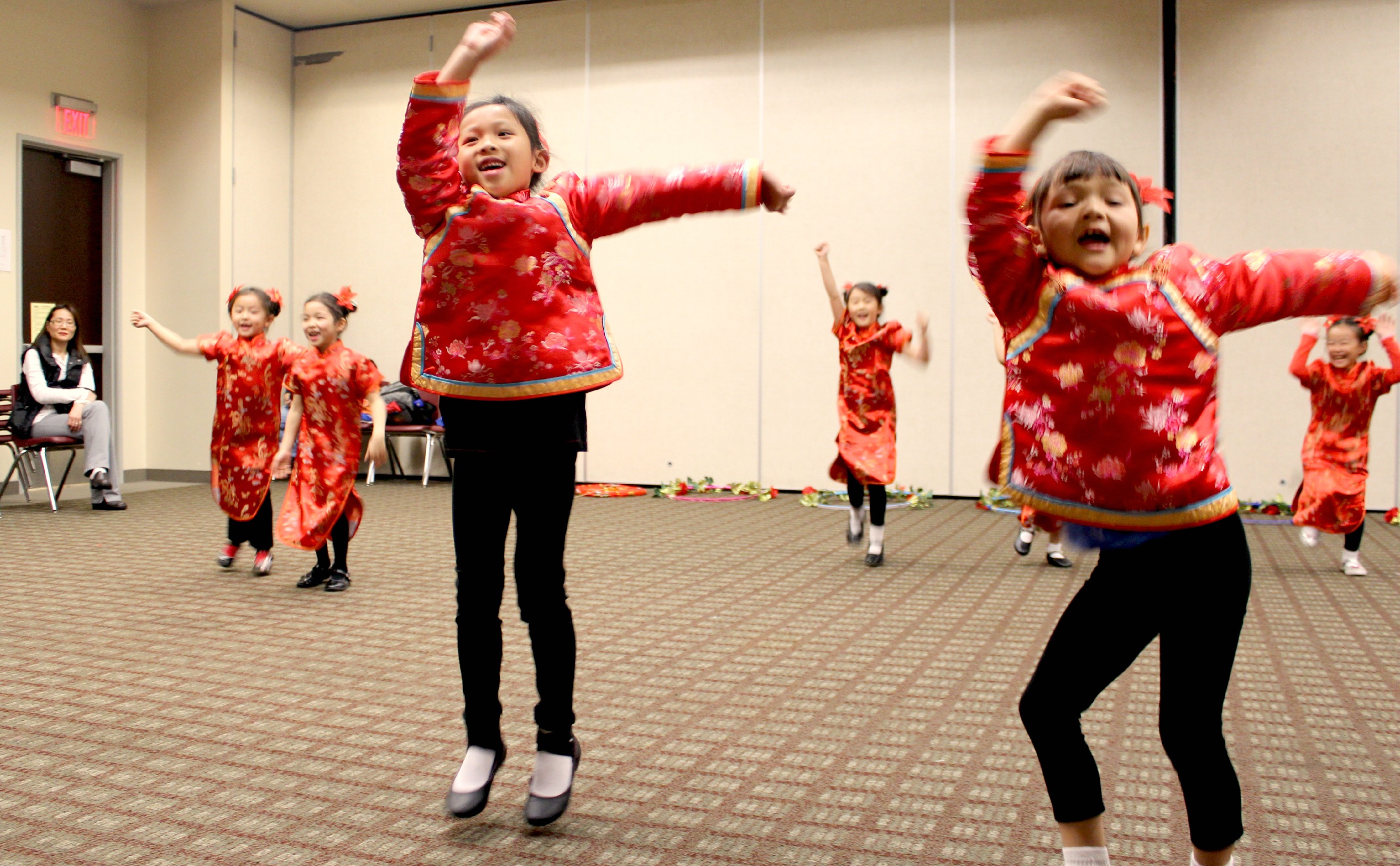 Singing.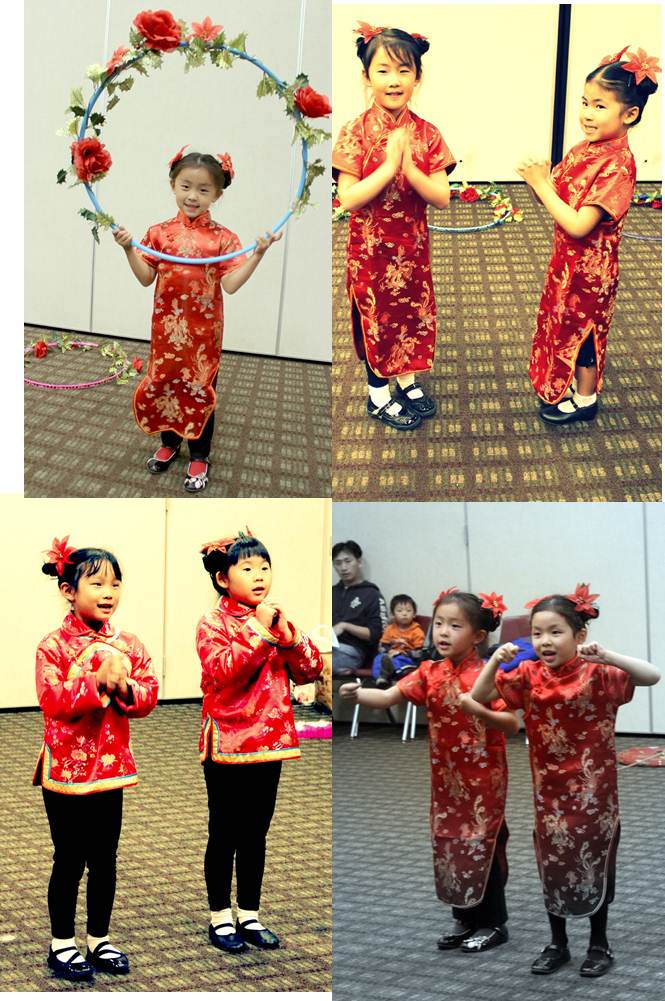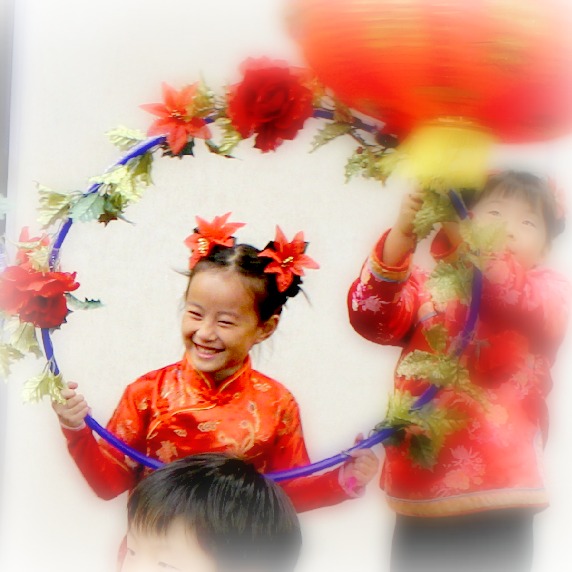 Learning Mandarin Chinese the happy and active way.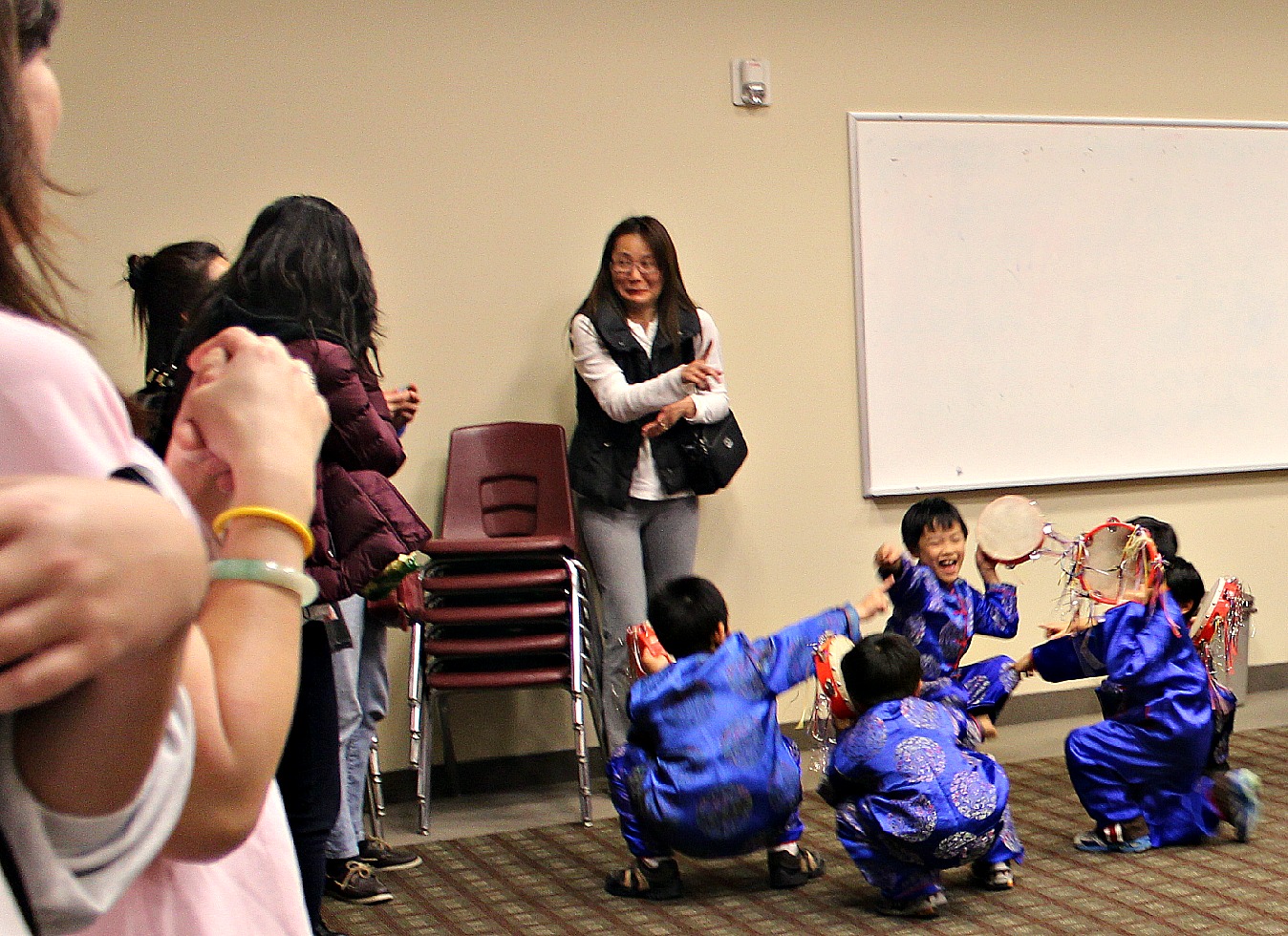 Our little prompter. 弟弟 is here to help in case anyone forgets her line and actions.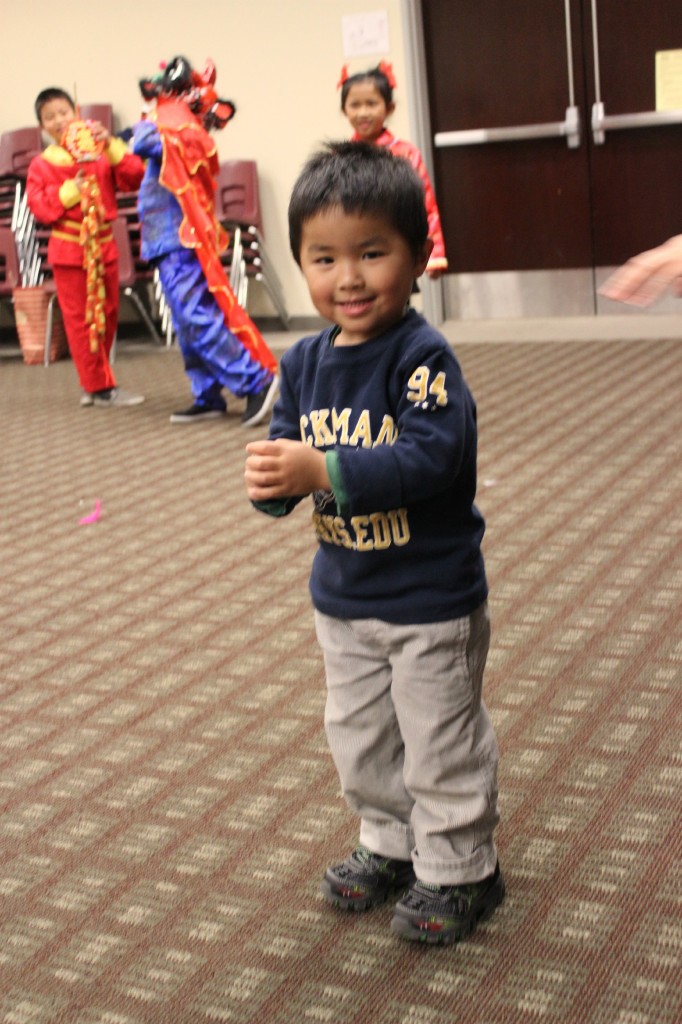 弟弟 showing the moves to the dancers!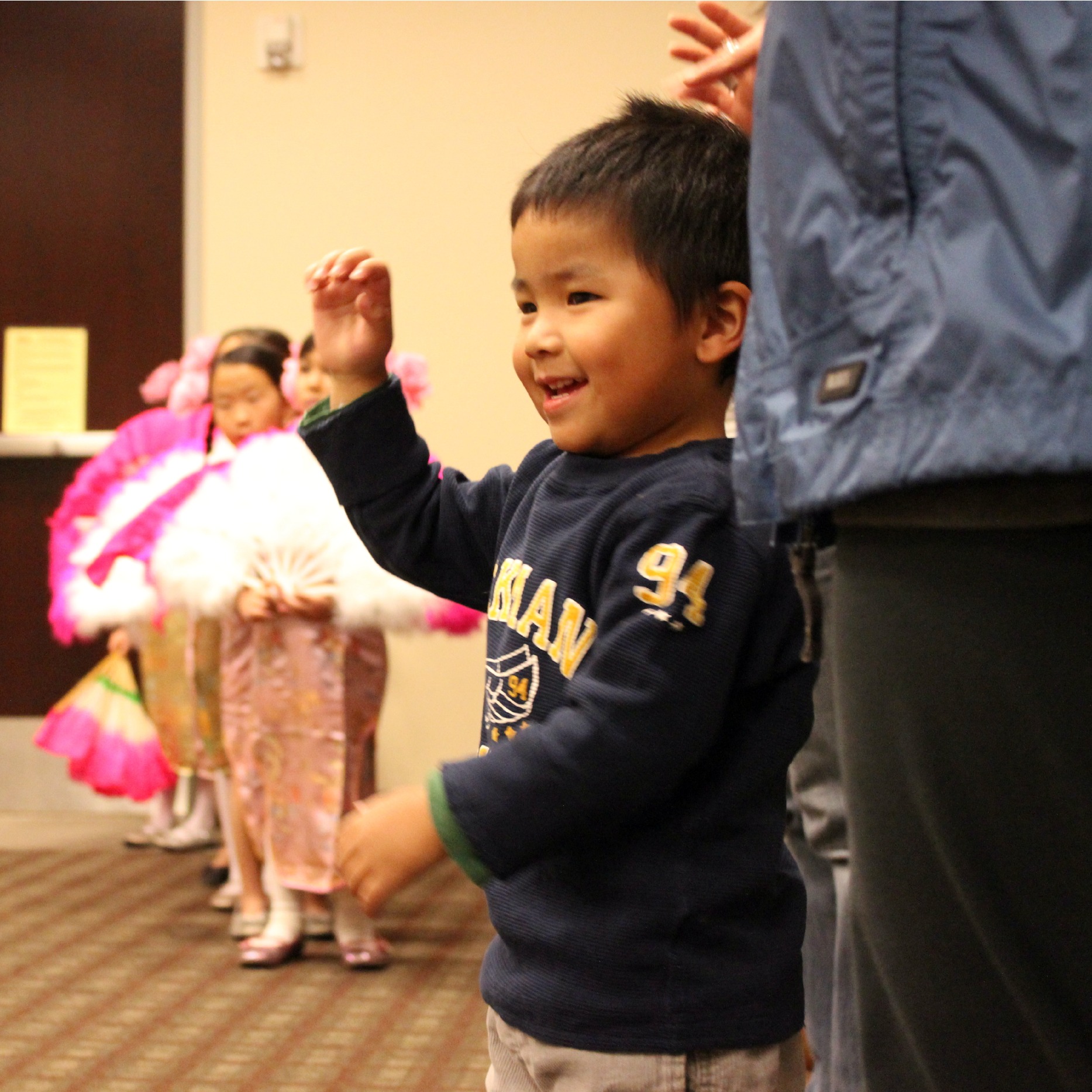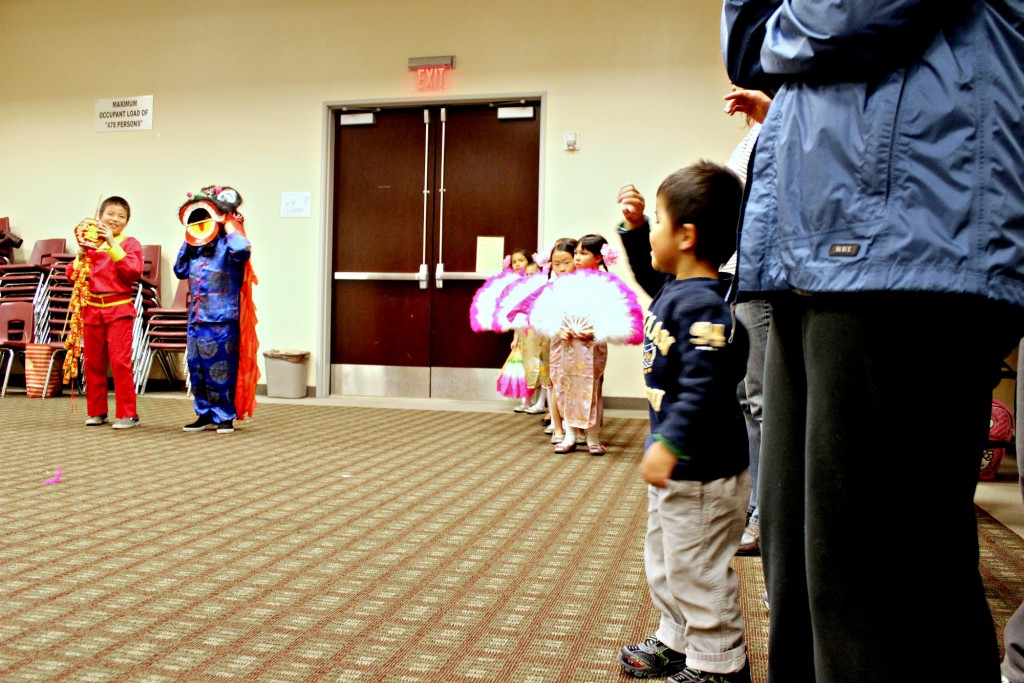 Liangliang engrossed in song. What a wonderful moment!
願大家都過個太平年 …
… 大街小巷懸燈彩 炮竹響連天
All crouch down before the noisy Chinese firecrackers!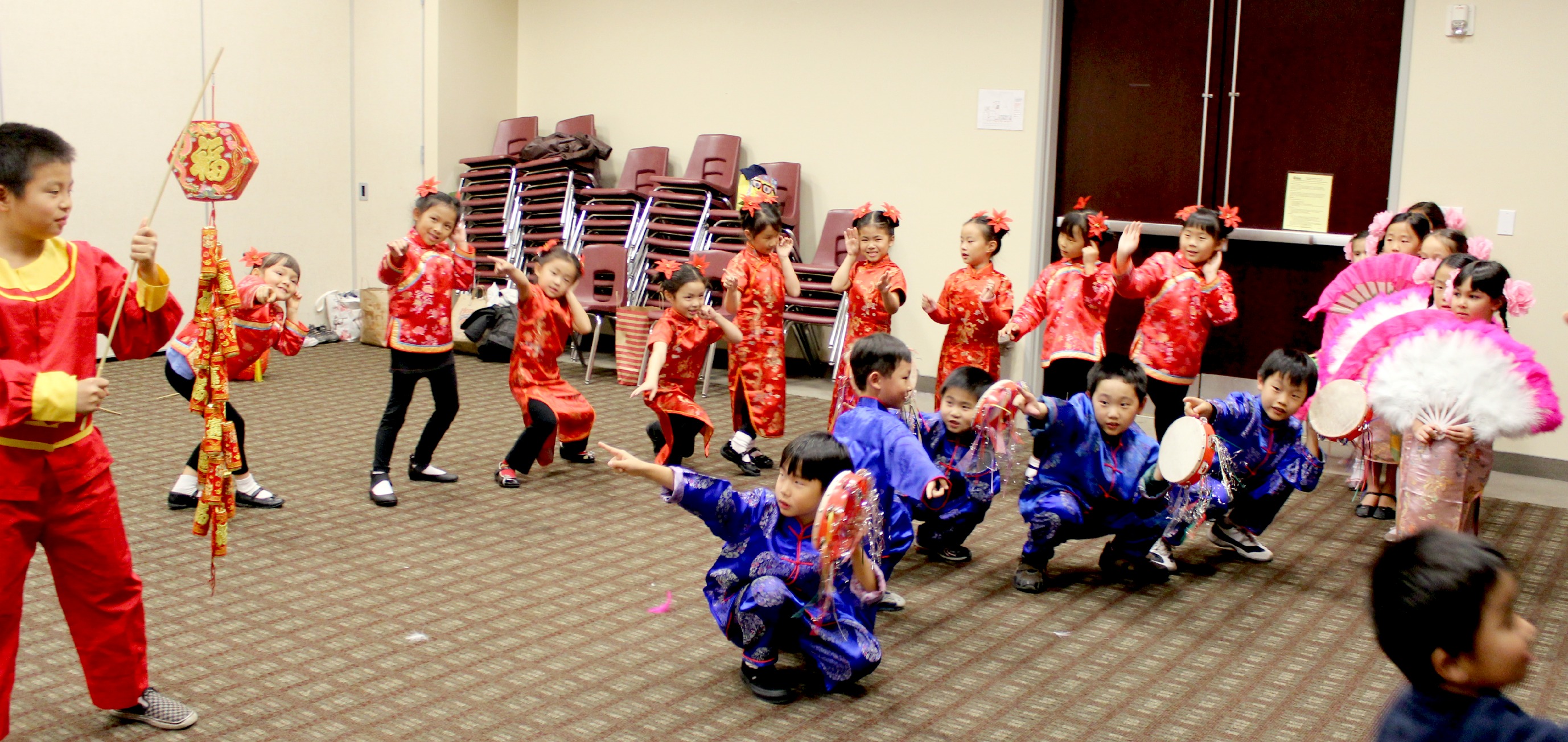 Reminds me of Henri Matisse's circle of dancers (Dance 1910).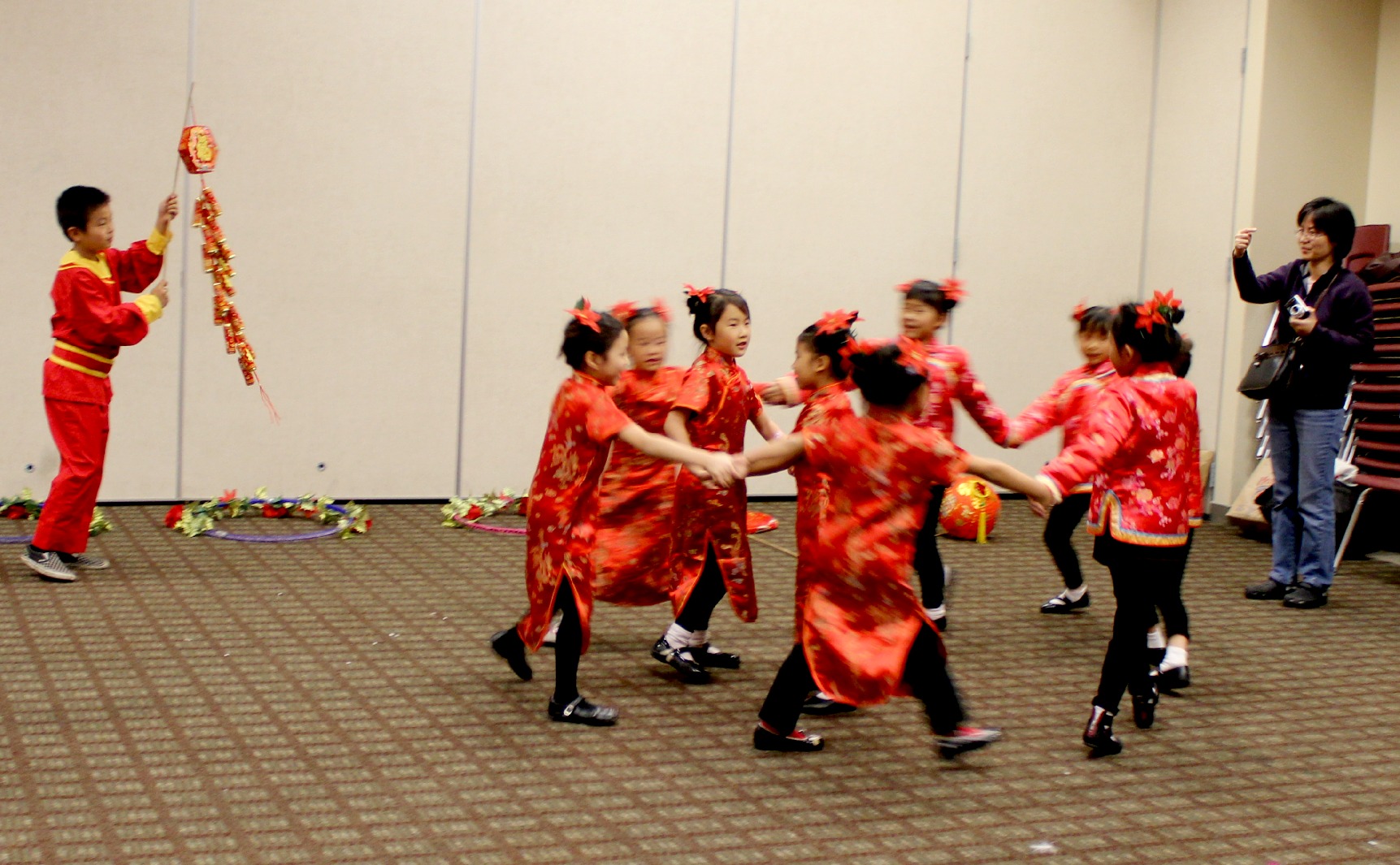 When I was 6, my favorite dance was the Mexican hat dance. One of my favorite part was when we linked arms with our partners and go in circles. That was sheer joy for my 6 year old self. That twirling always made me smile.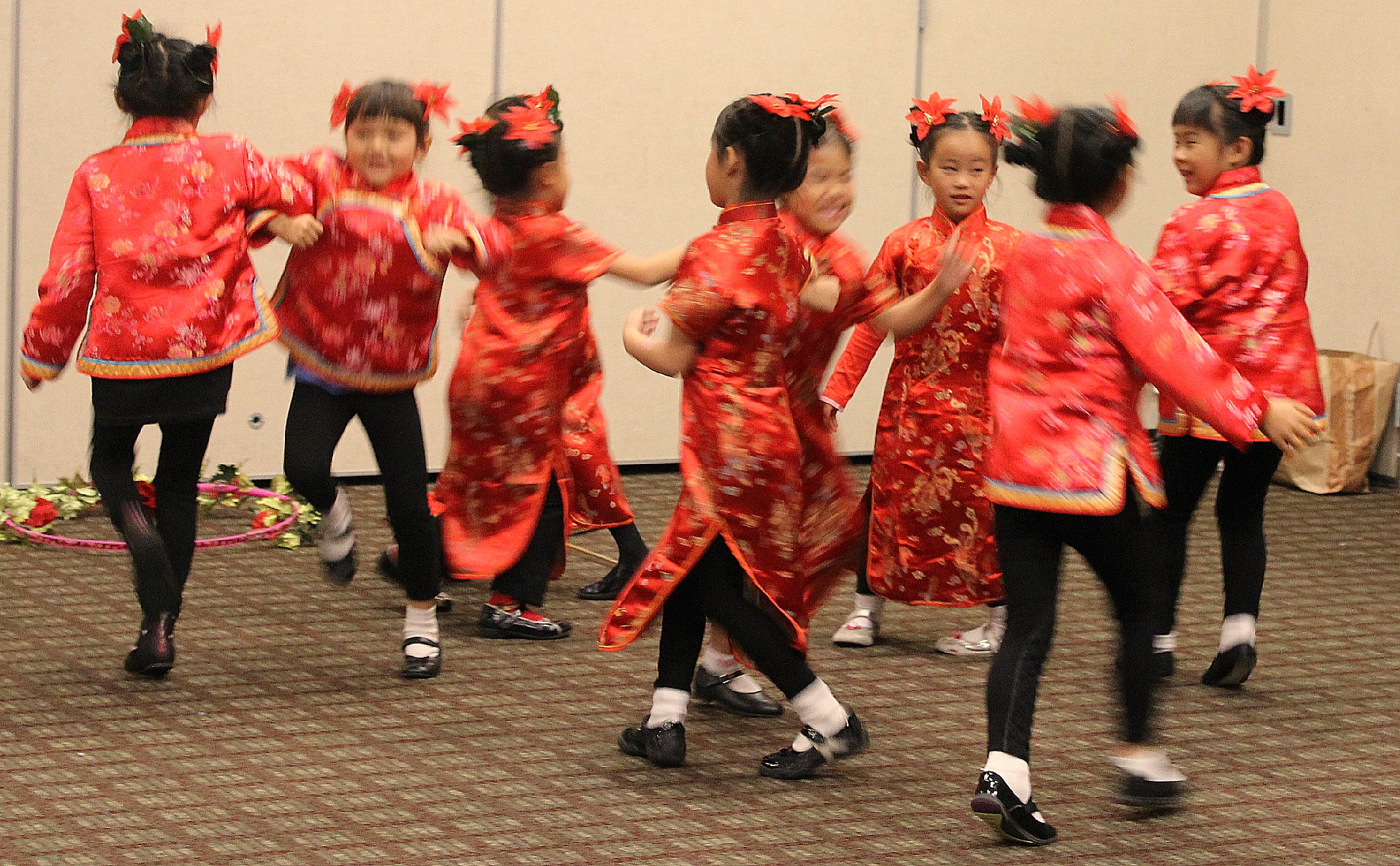 It is a joy and privilege to work with such amazing children in Ms. Yeh's class. For instance, can you tell which 2 boys showed up for rehearsal tonight with high fevers? Look at the sparkly eyes and happy spirit, who could tell which children were sick? Yet they came and gave their best! Their love and sharing spirit shone through. Bravo children!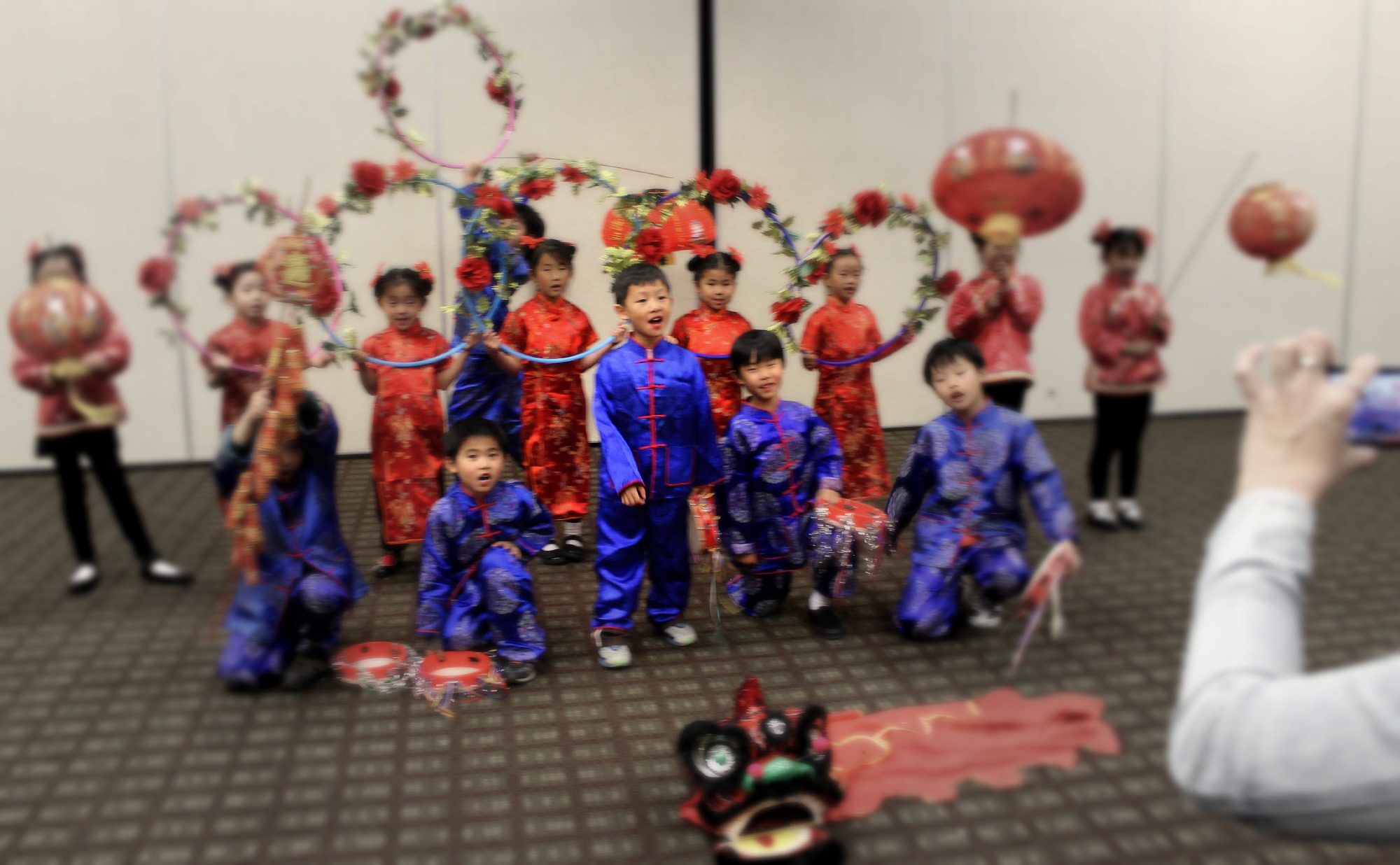 Waiting for the fan dancers' turn to enter the stage…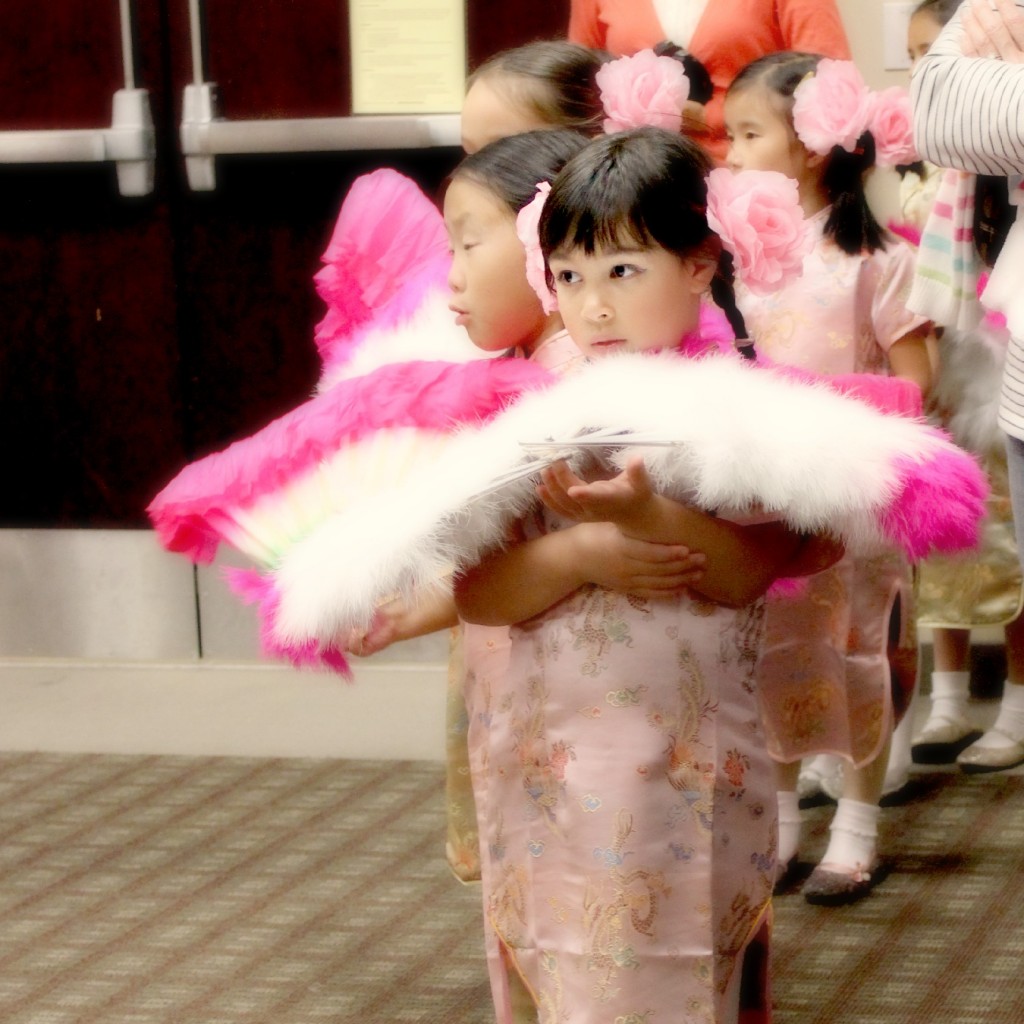 小妹 和 三位大哥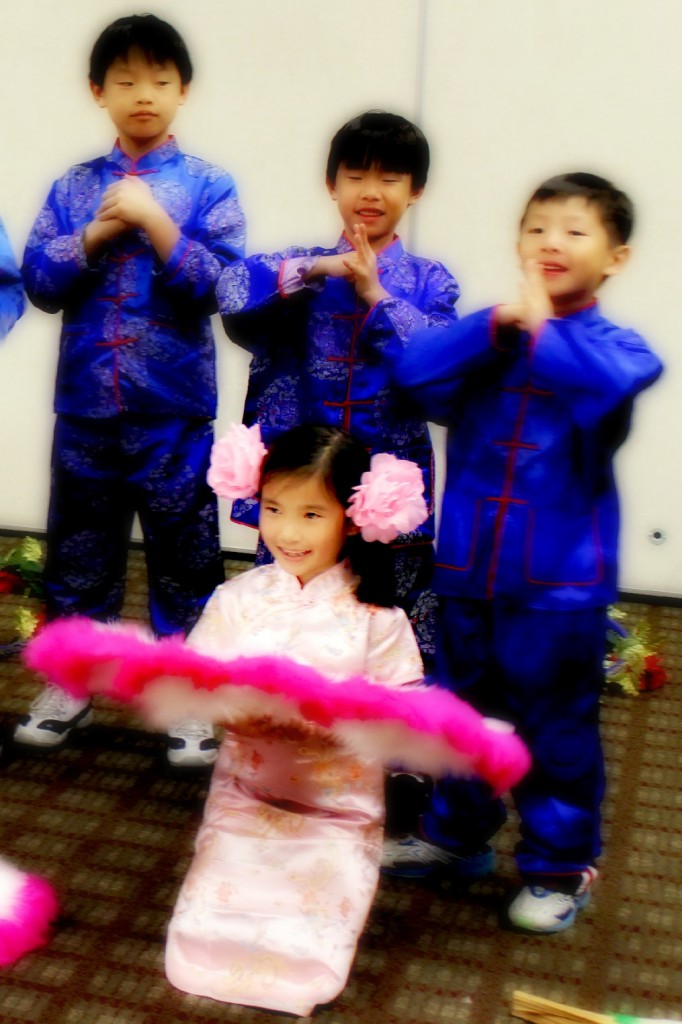 Our Strong Boys and Dreamy Fan Dancers.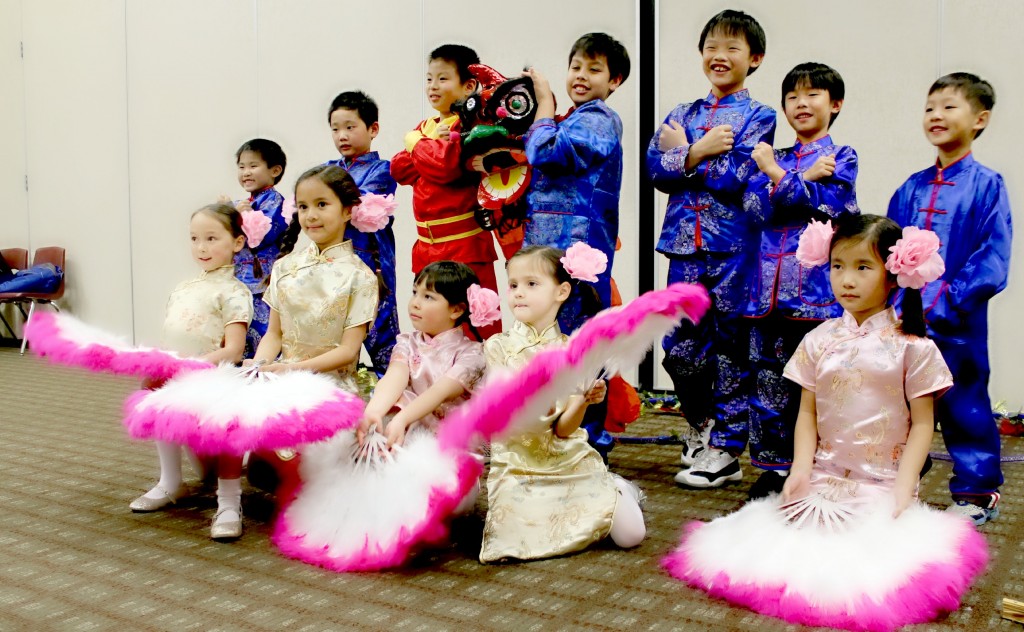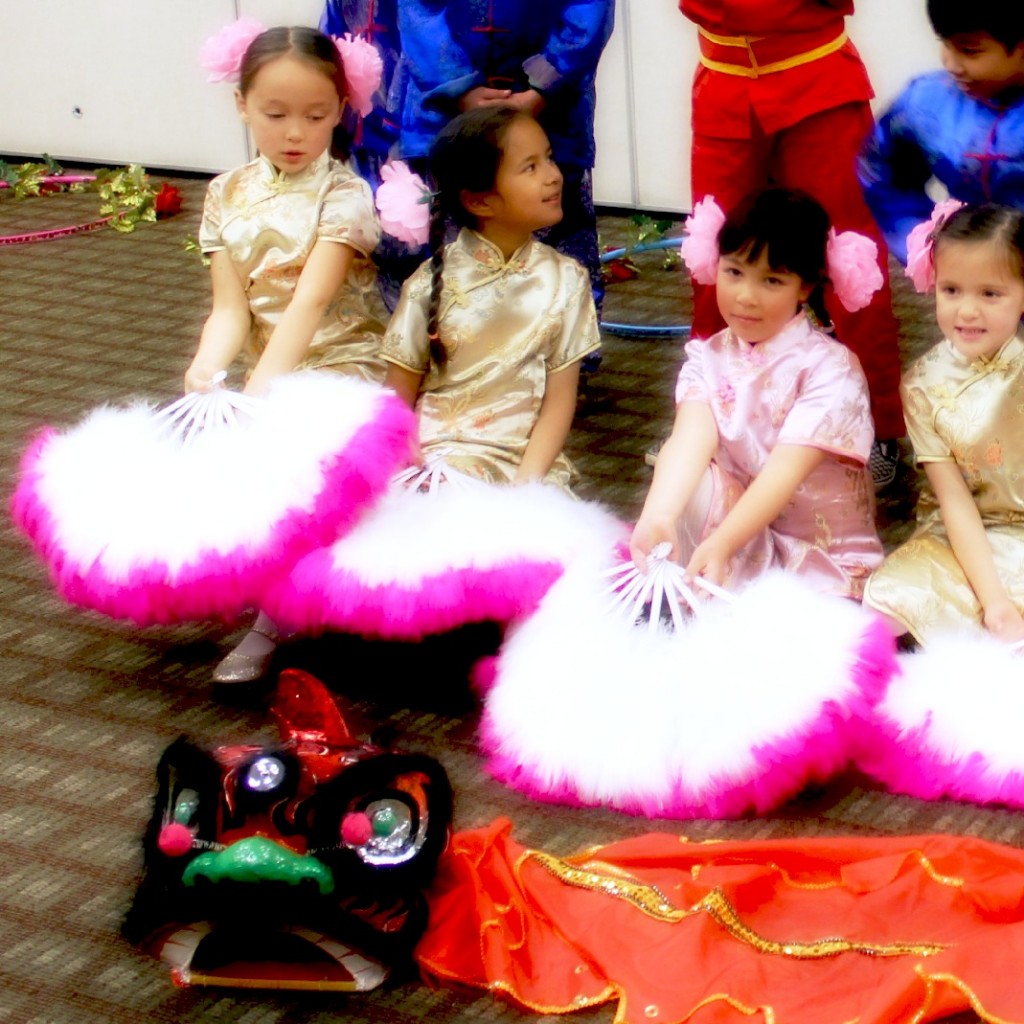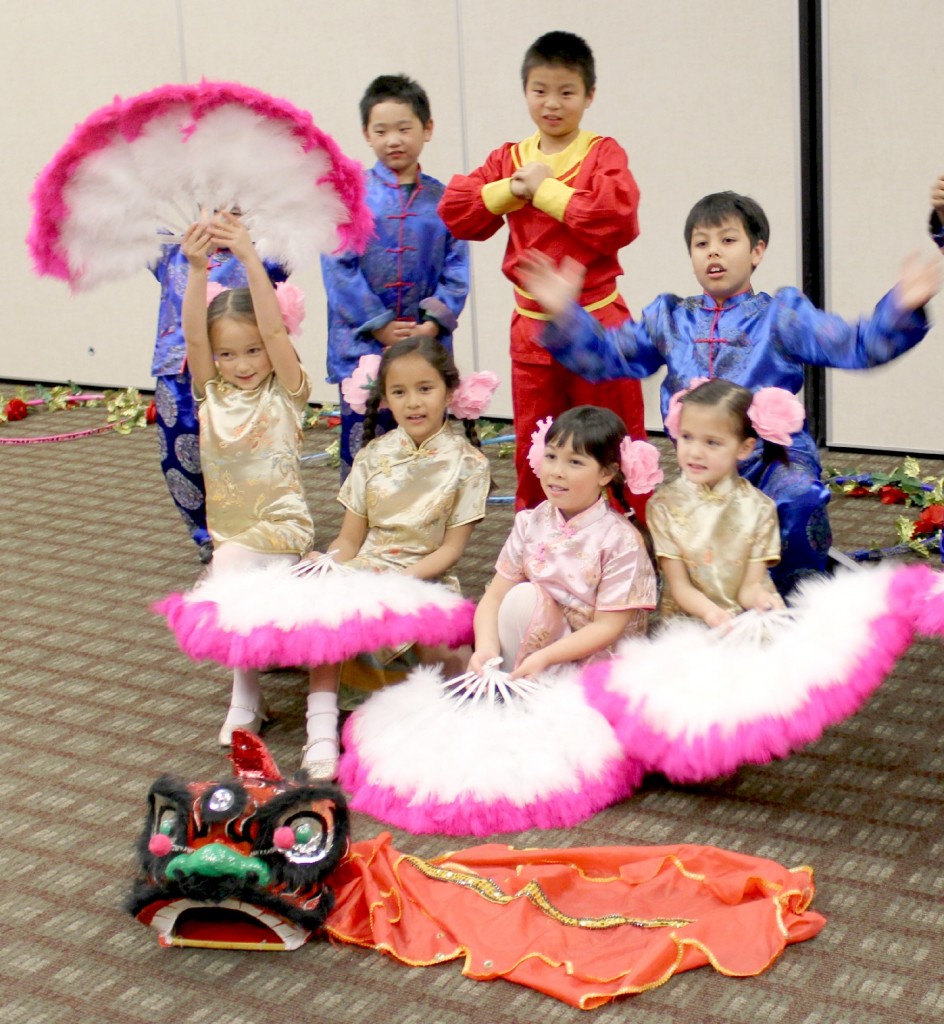 Happy Chinese New Year! 新年快樂!
End of the rehearsal. The little ones bid good night with song… 回首往事如煙痛苦心酸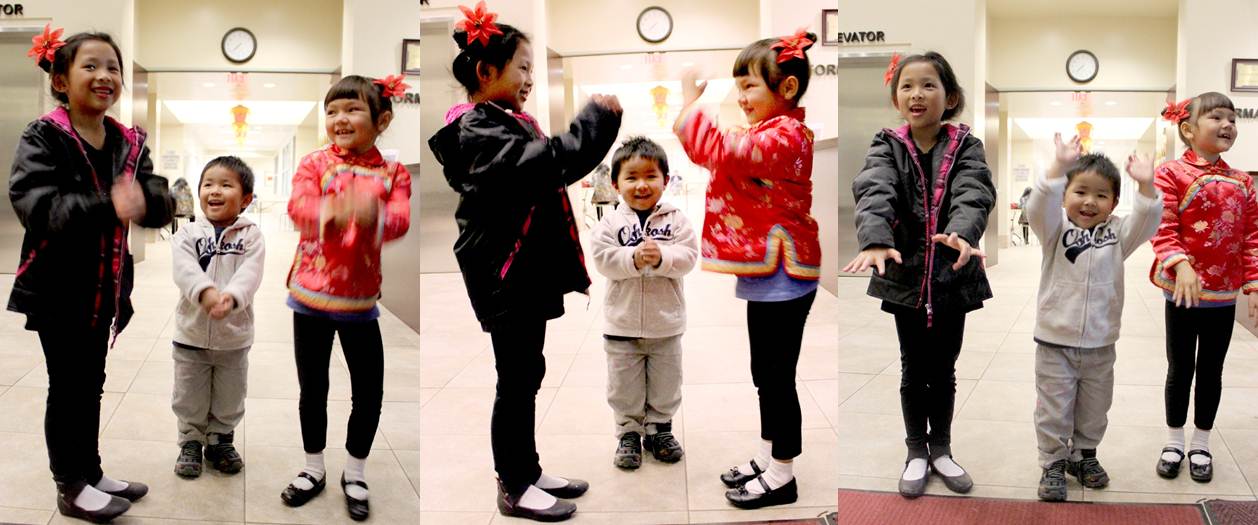 Choreography movie made in a jiffy with powerpoint slides.
Please pardon the inevitable mistakes/typos. This video is unlisted on youtube. The public is unable to look it up on youtube.
Until I add music to the video, you will simply have to play 2 videos below to hear the music for the choreography.
the song that is supposed to be on the video…
Now you know me for the obsessive compulsive beast and Powerpoint lover that I am. Let's keep it a secret between you and me. Back when writing my doctorate dissertation/scientific papers, I had always longed to make fancy powerpoint slides with fun graphics and animations (instead of just graphs and charts). Here you see me go to town with Powerpoint.

Chinese New Year's Eve. Sunday, January 22, 2012
Potluck-Picnic-Rehearsal-Playdate
at the Park Next to School
We achieved our goal today of getting the children ready for the stage by the end of today's rehearsal.

The boys are getting their moves synchronized nicely!

Thank you everyone for your love and work, especially on this special Chinese New Year of the Dragon's eve!
– Jzin

  January 16, 2012 Dr. Martin Luther King Jr.'s birthday.
Rehearsals in the Dance Studios.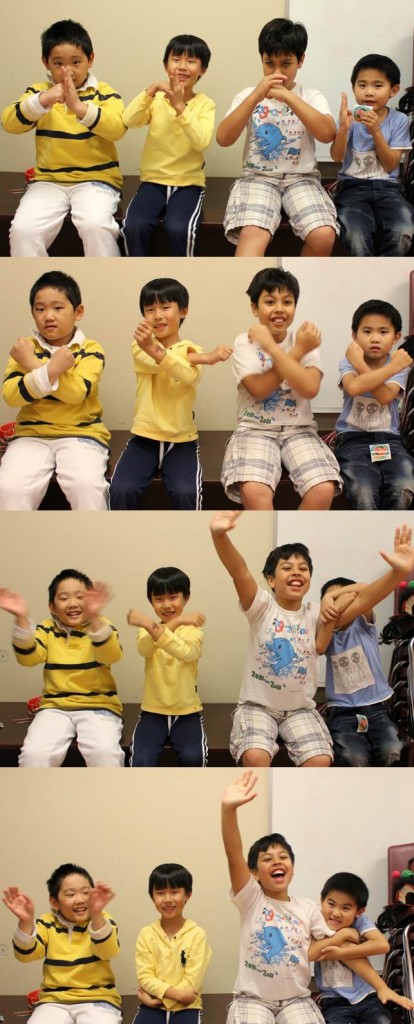 Picnic-Potluck-Playdate-Rehearsal in the park.
Sunday after class, January 15, 2012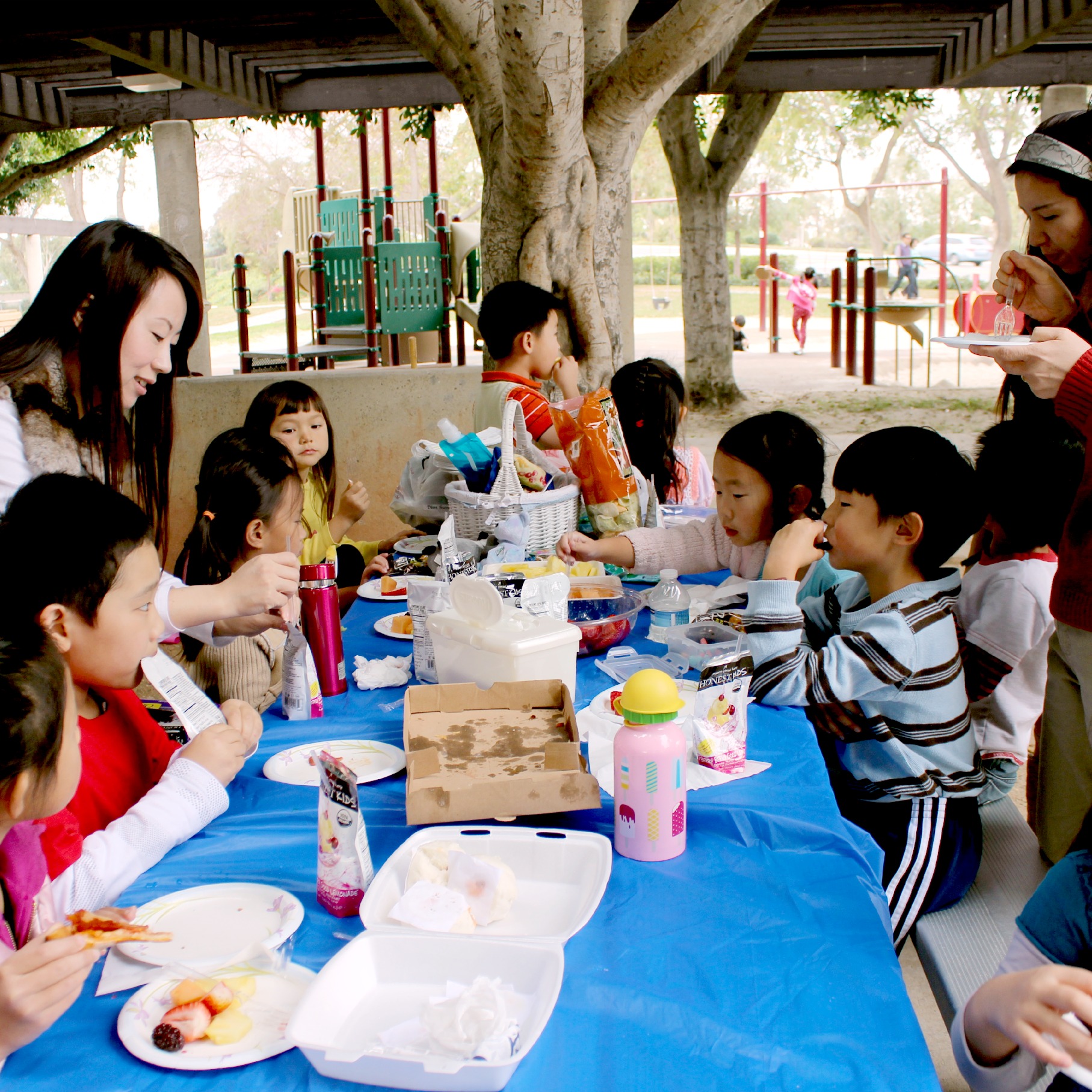 Thank you everyone for bringing healthy snacks and drinks for hungry children! Everyone loved my Char Siu Bao and Har Gao from Capital Seafood, they were gone in an instant. The children ate, rehearsed, played with their classmates. In these overscheduled times when most people (moi aussi) are  too busy for communal time together, it was a happy day for children to play in the park and grow their friendships.

"Strong Boys 男子漢 Nanzihan Team" Dinner-Rehearsal-Playdate. Friday 6:45pm-8pm. January 13, 2012

Thank you Jane and Wayne for serving the performers dinner at their beautiful home! Thanks to Jane and Wayne's hospitality, families dined, got to know each other, hung out and the children had a blast. This is great because the more happy experiences the children have with their classmates outside of classroom, the more enthusiastic they will be in coming to class and learning the language.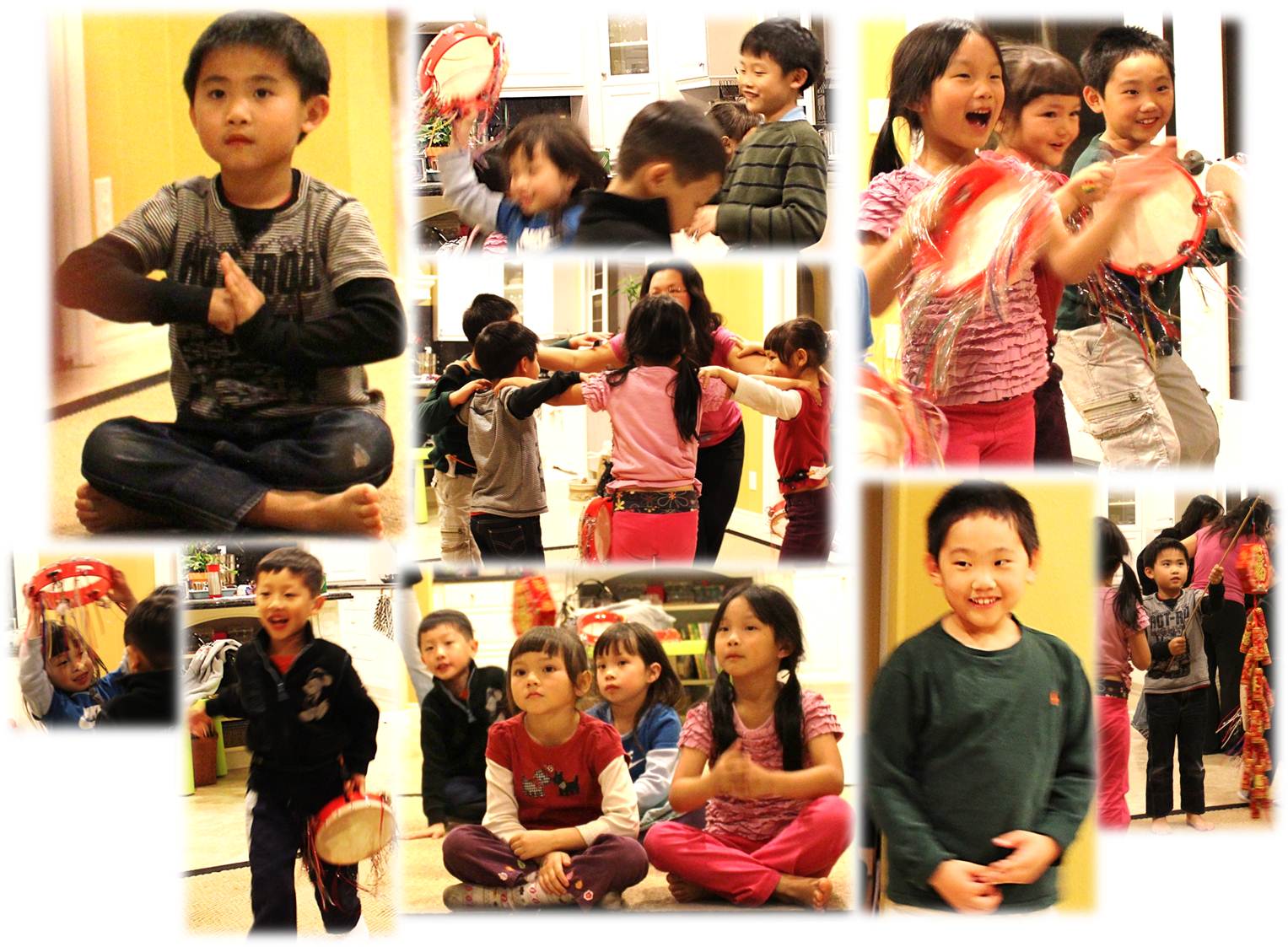 Hooray! The children learned their stage "finale" positions. We played a game where at first, the children were a pond of wiggly fishes, swimming freely on the carpet. At the cue of "POSITIONS!" the children ran and took their finale positions on stage flanking the "x" mark of center-front stage. Awesome! We repeated the games where the children were itchy monkeys, sleepy elephants and such. It was a happy rehearsal.
We learned a few swaggering kungfu moves for the show. As a treat, our 好大哥 Bradley surprised the children with his amazing martial arts routine! The children were enthralled.
Thank you Cheryl for capturing the children's million dollar expressions with the camera!
– Jzin

Sunday January 8, 2012 after class
School-wide Dress Rehearsal at upstairs MPR
My heart is brimming with pride for all these talented children at our first school-wide Chinese New Year of the Dragon 2012 dress rehearsal. Many children are new at this and just joined us today for the first time, but they still got the choreography down. With a few more rehearsals and we will be GOLDEN!
Check out the lion dancer and his excellent moves!
This video is unlisted on youtube, i.e. the public is unable to search for it or look it up on youtube.com.
Positive feedback from the judges.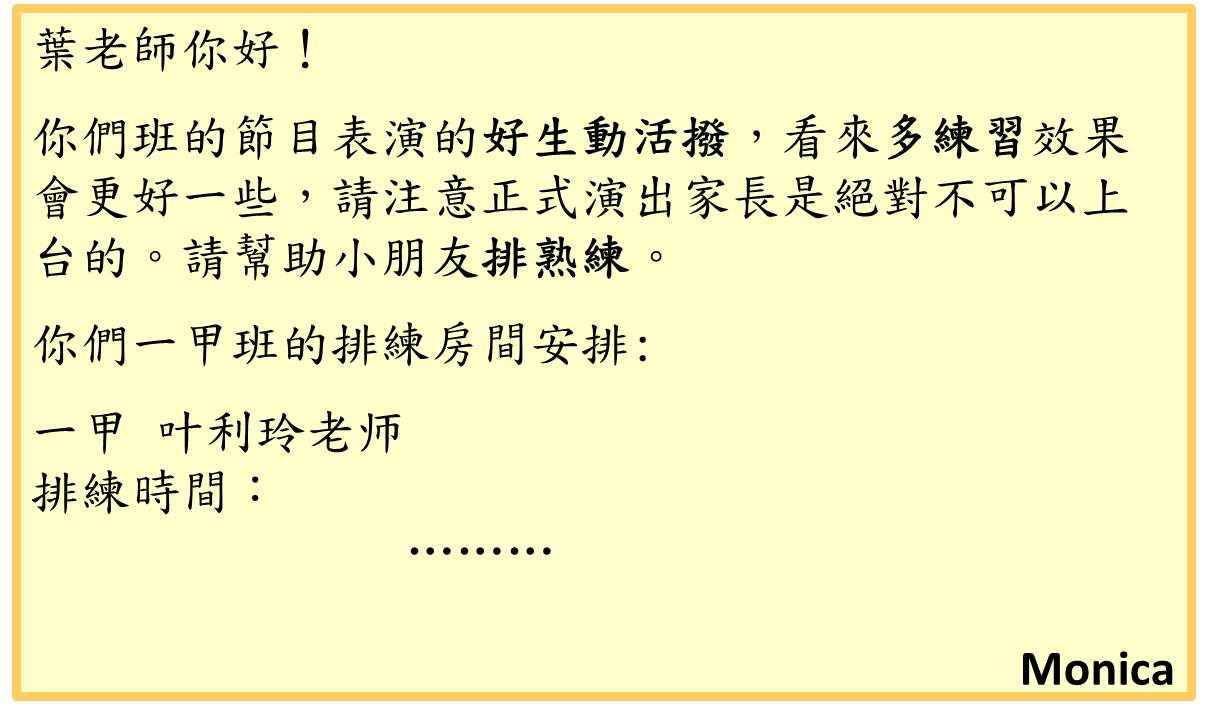 Monica e-mailed this note to me and Ms. Yeh saying that our performance was lively, and that we could use more rehearsals so that children could perform independently of parents.
霹靂拍啦 炮竹響連天!
Our strong boys 男子漢 Nanzihan!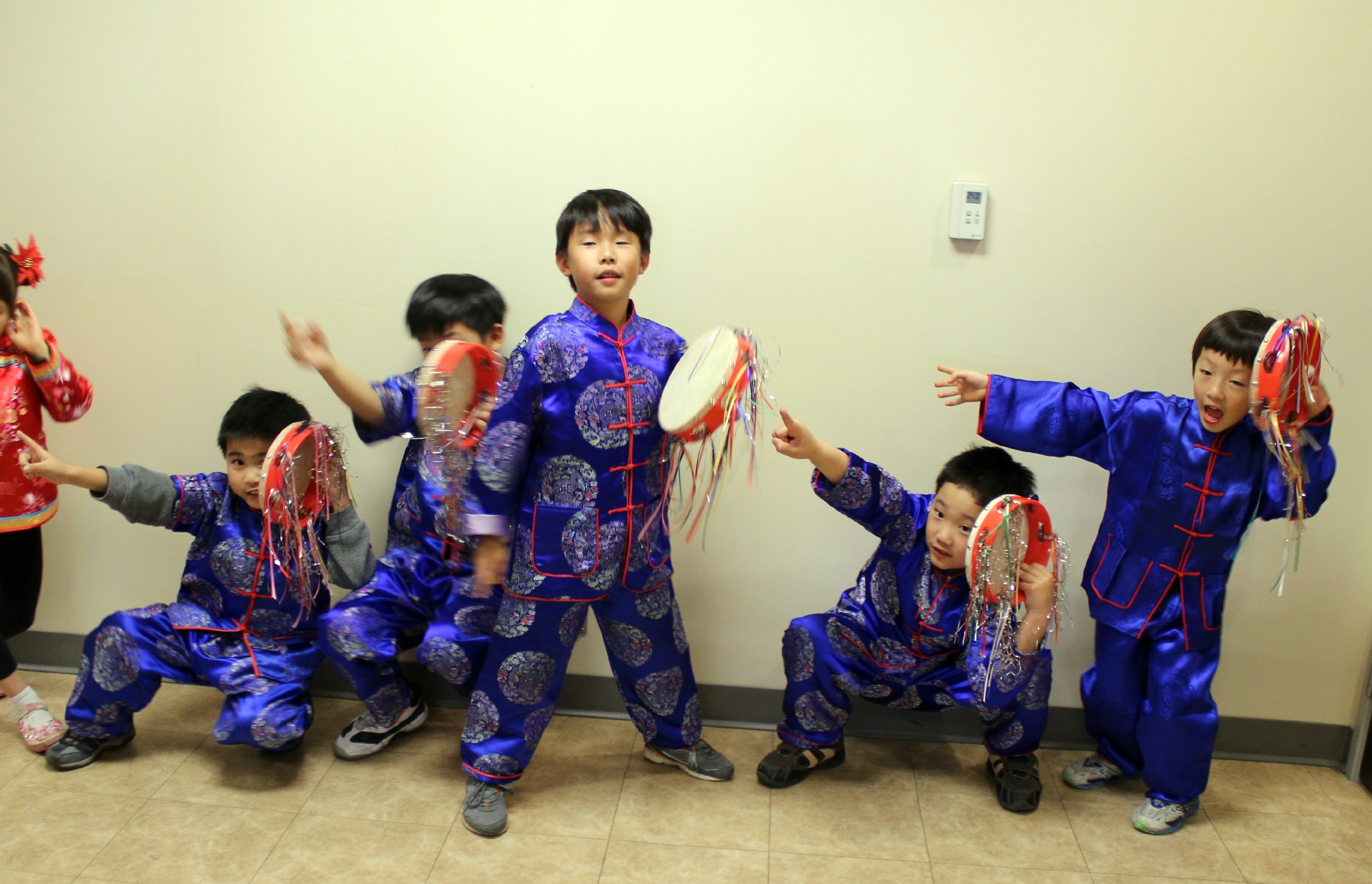 The boys waiting patiently in the hallway for their cues to go on stage for the school-wide dress rehearsal.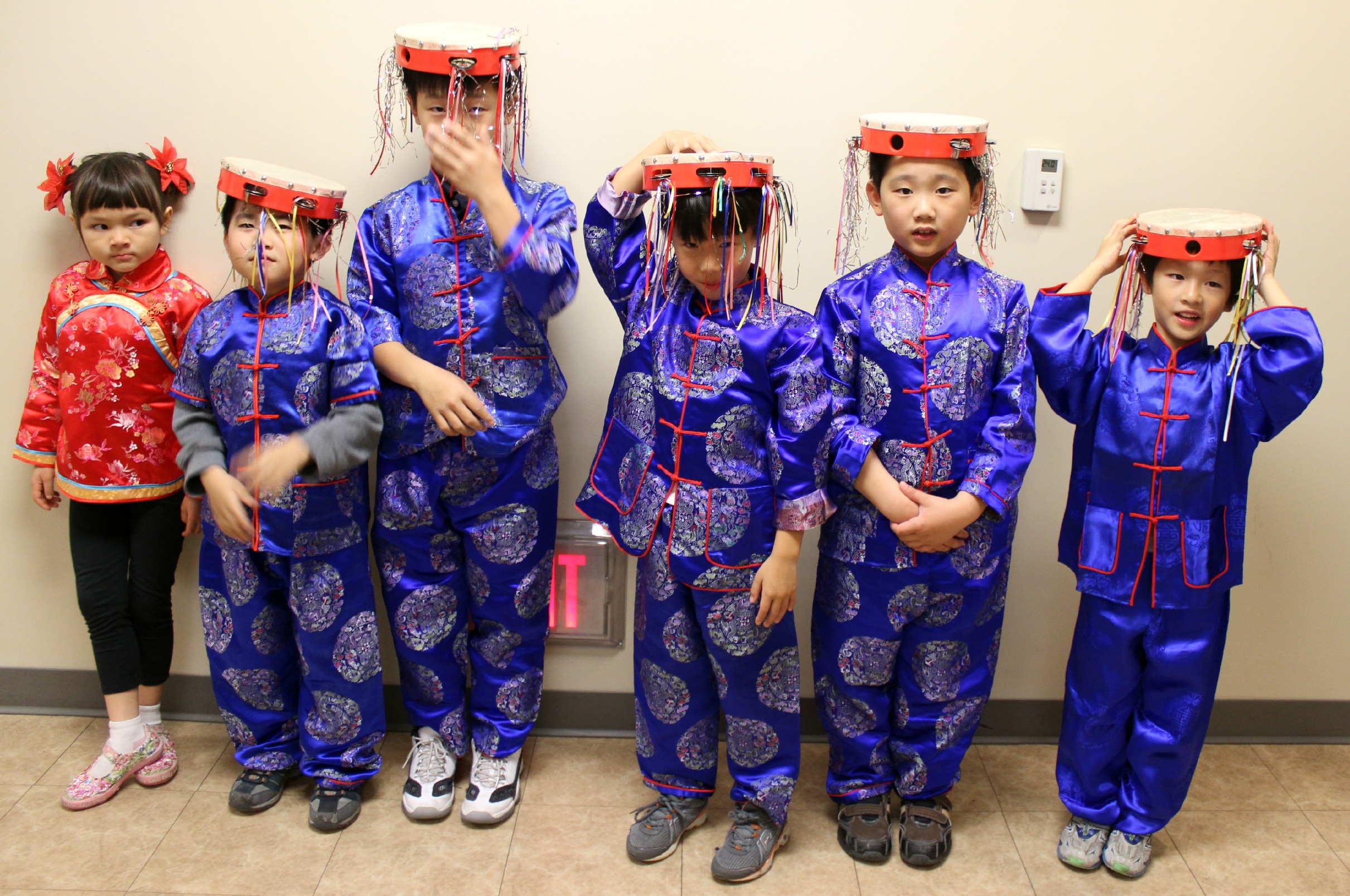 Quiet hats. Here, our boys are donned in the "Mongolian princess head-dress of tambourine silence".  We were all listening carefully to the sound of silence from tambourine music.
Practice after Chinese class…
(說)   過新年來拜年
小姐小姐 汽車在那邊
穿過街 走過巷
大家一起拜年 去拜年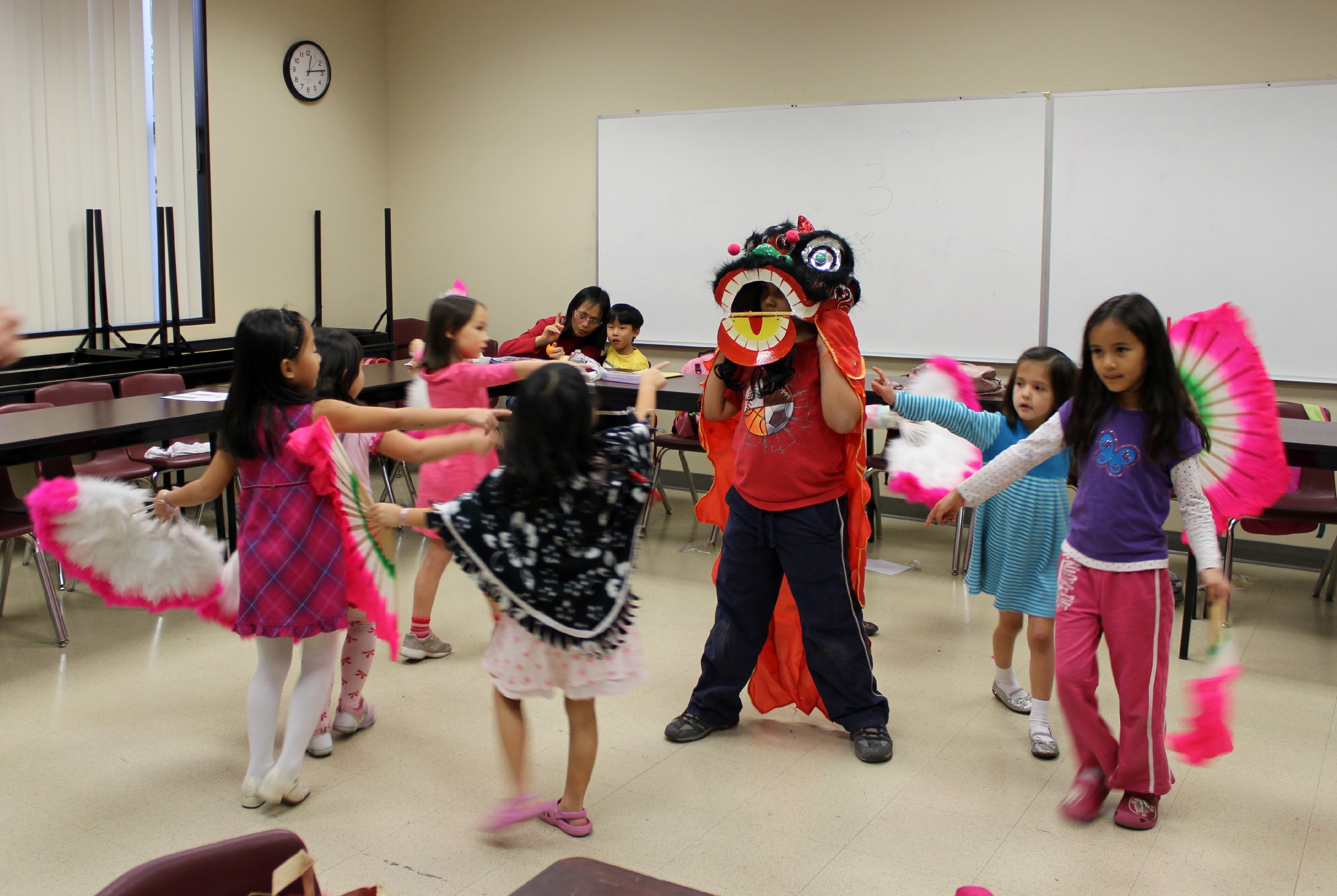 Our super gorgeous Hexinnian 賀新年 Greeters ! Admire! Admire!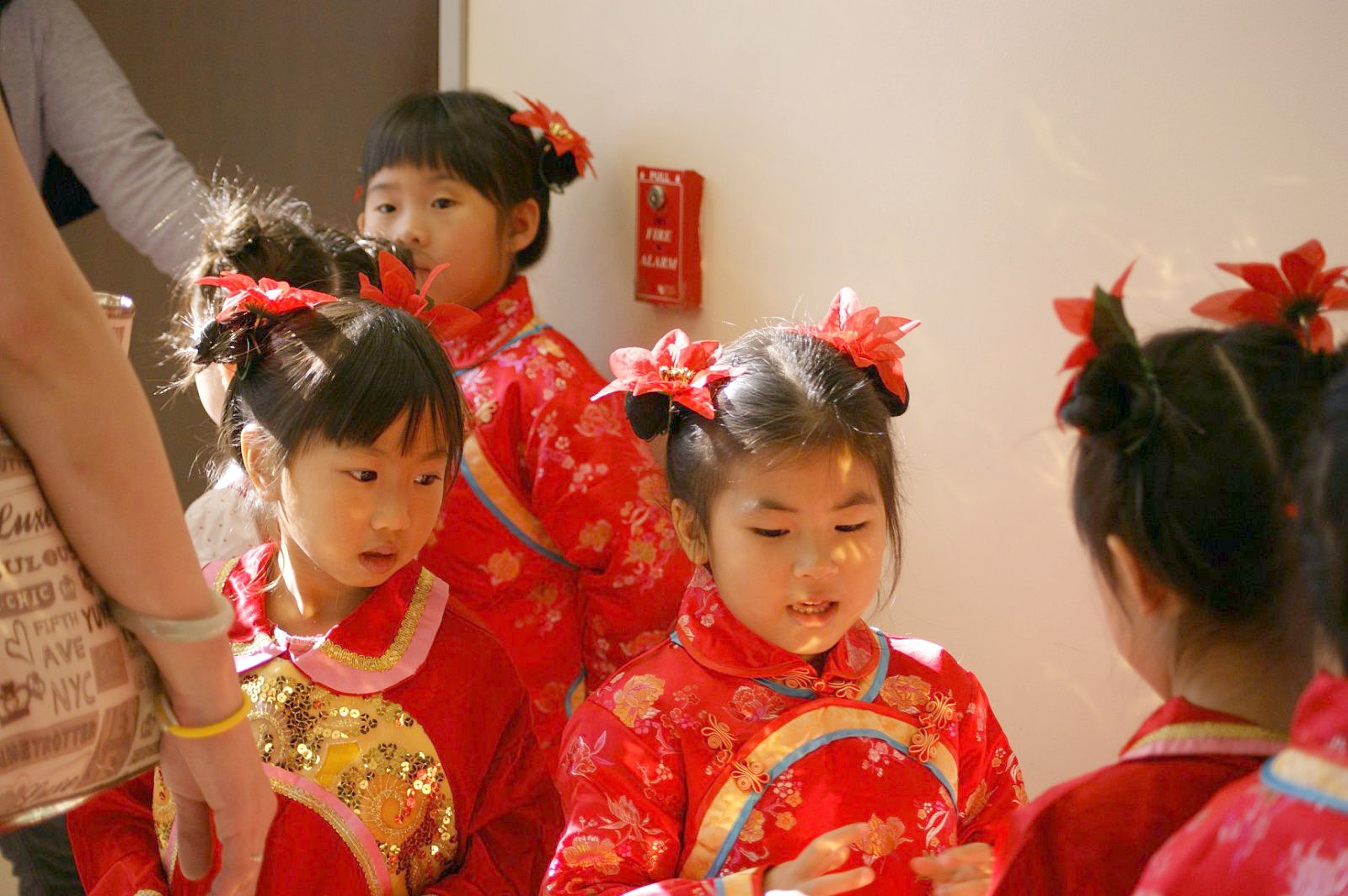 I am so proud of their performances. Have I already said that? Monica who is in charge of the Chinese New Year Performance at school said that the children in our class has the most "spirit". So true. Thank you Thomas for taking this beautiful photo.
Check back later for more photos from this day. If you have good photos, please share with me!
-Jzin

Friday January 6, 2012. Rehearsal at School, Rooms 222, 223
Today the children and parents came together for another rehearsal. Much improvements! The children worked hard, played hide and seek and other games, snacked on organic carrots with the greens attached, tried out their costumes. The room was filled with vibrant and happy energy.
Greeting the Lion.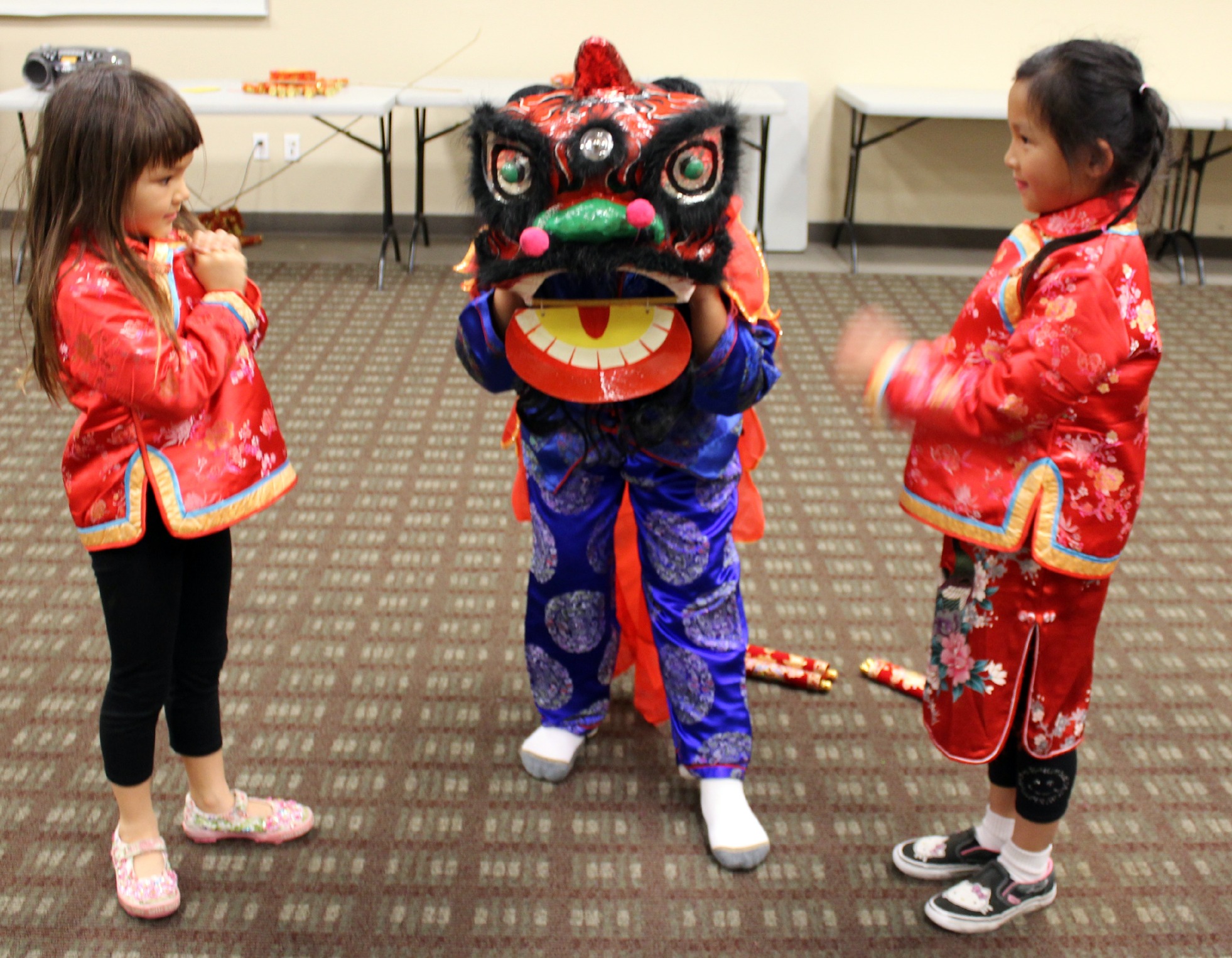 Our joyful children. "…期望從今萬事如願!"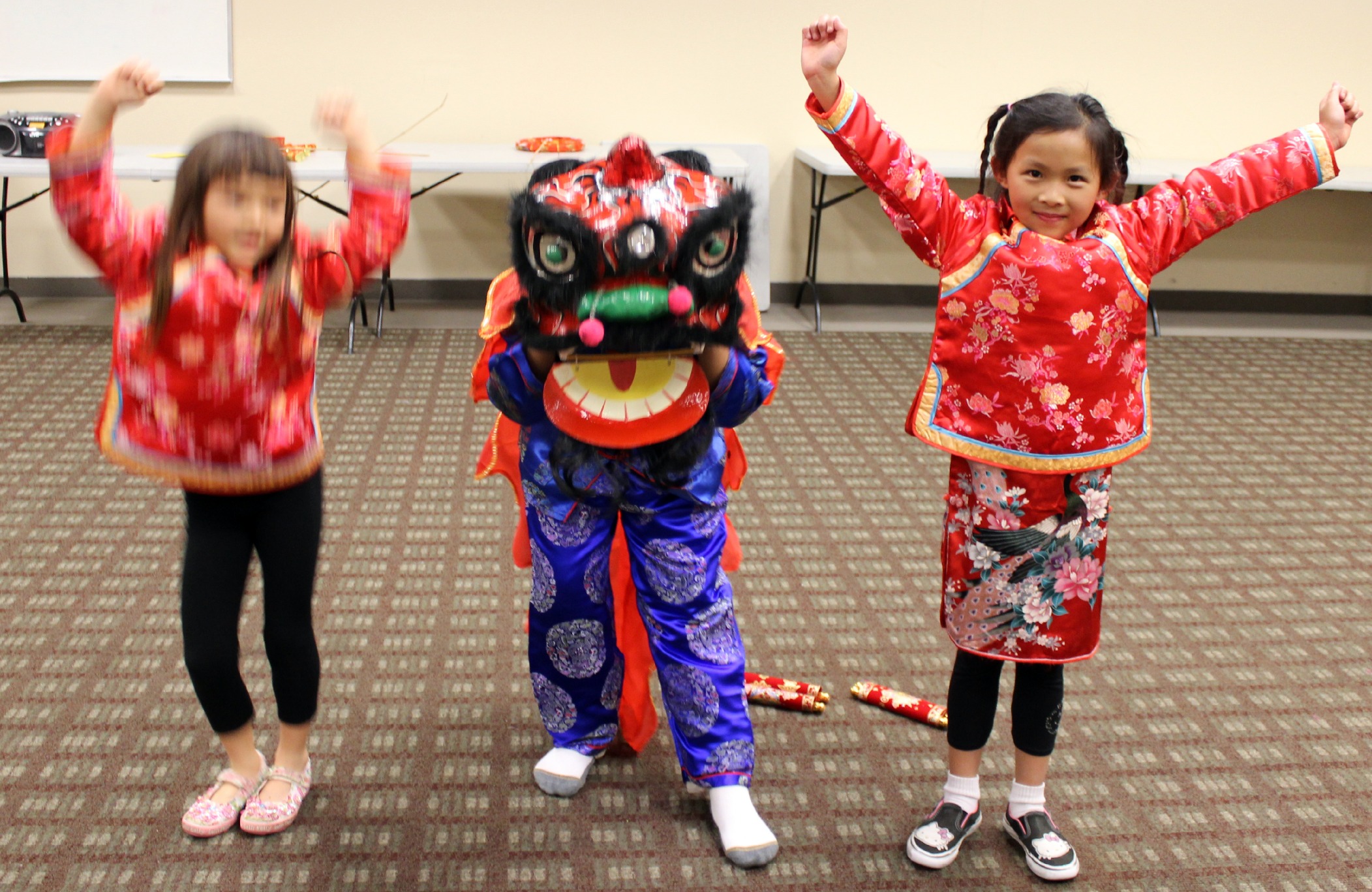 Much effort have been put into by everyone put in attending this rehearsal: Many children came right after school or after their after-school activities!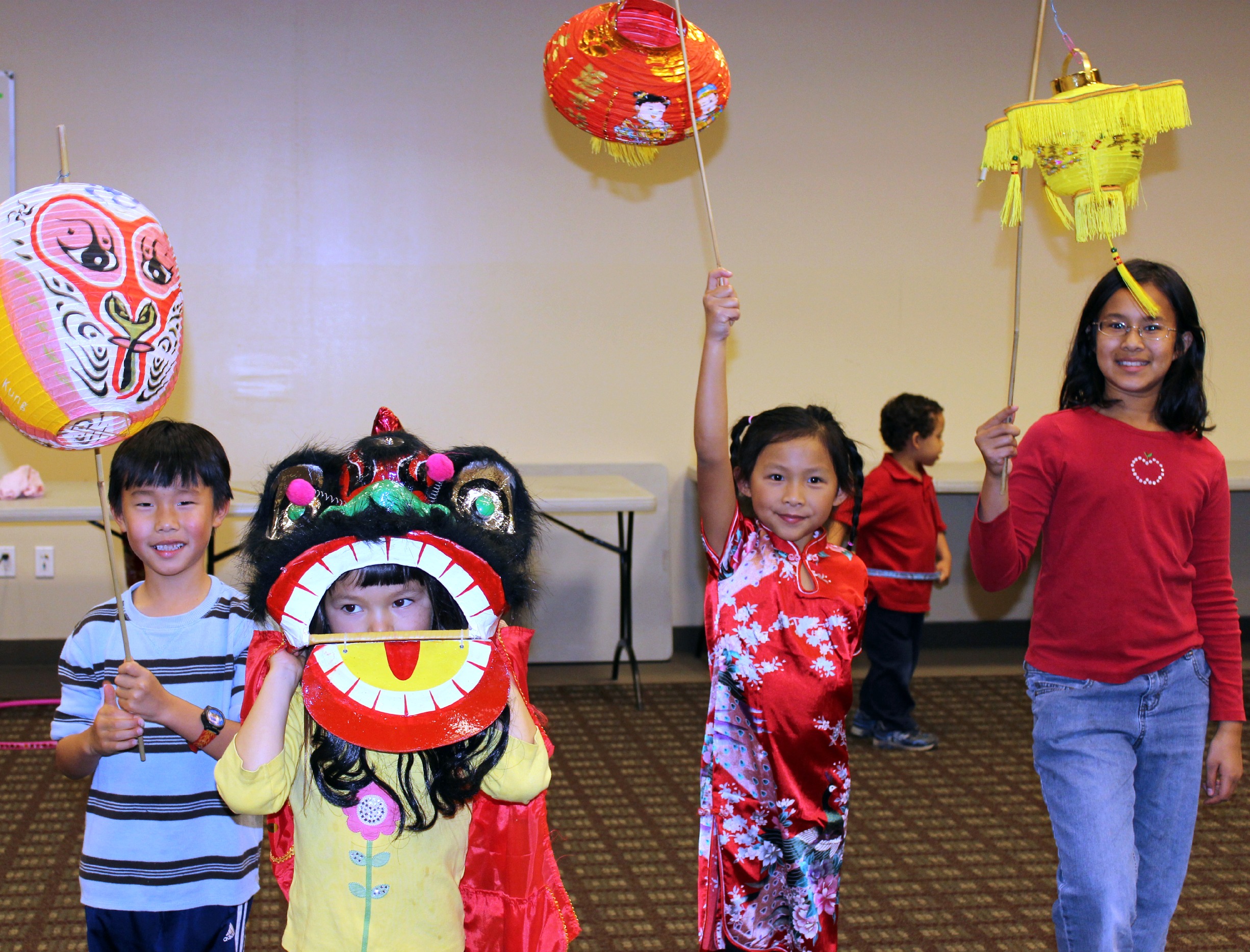 Some families are freshly jet-lagged, coming home from their vacations in Taiwan. Angela managed to buy us 2 large strings of firecrackers/Bianpao and beautiful red Fengxianzhuang tops for the Hexinnian greeters, all the way from Taiwan. Hopefully 2 boys will be carrying the bianpaos as they follow the lion dancer. The children will be covering their ears and pointing to them during the song. Christina Leo bought us hula hoops, which she will make into flower garland arches.
Here is the "Hexinnian 賀新年" portion of our rehearsal. Great energy! What a joy, what a sight! Wonderful job, children!

Lyrics to practice at home…
賀新年
嘿! 嘿! 嘿! 賀新年
嘿! 嘿! 嘿! 過個太平年
賀新年 祝新年 新年啊 年連年
爆竹聲聲催人想幼年
賀新年 祝新年 新年啊 年連年
歲月悠悠光陰如箭
回首往事如煙痛苦心酸
期望從今萬事如願
賀新年 祝新年 新年啊 年連年
願大家都過個太平年 ….. 2x
凱梅's mama patiently showing the fan dancing moves to our favorite class twins.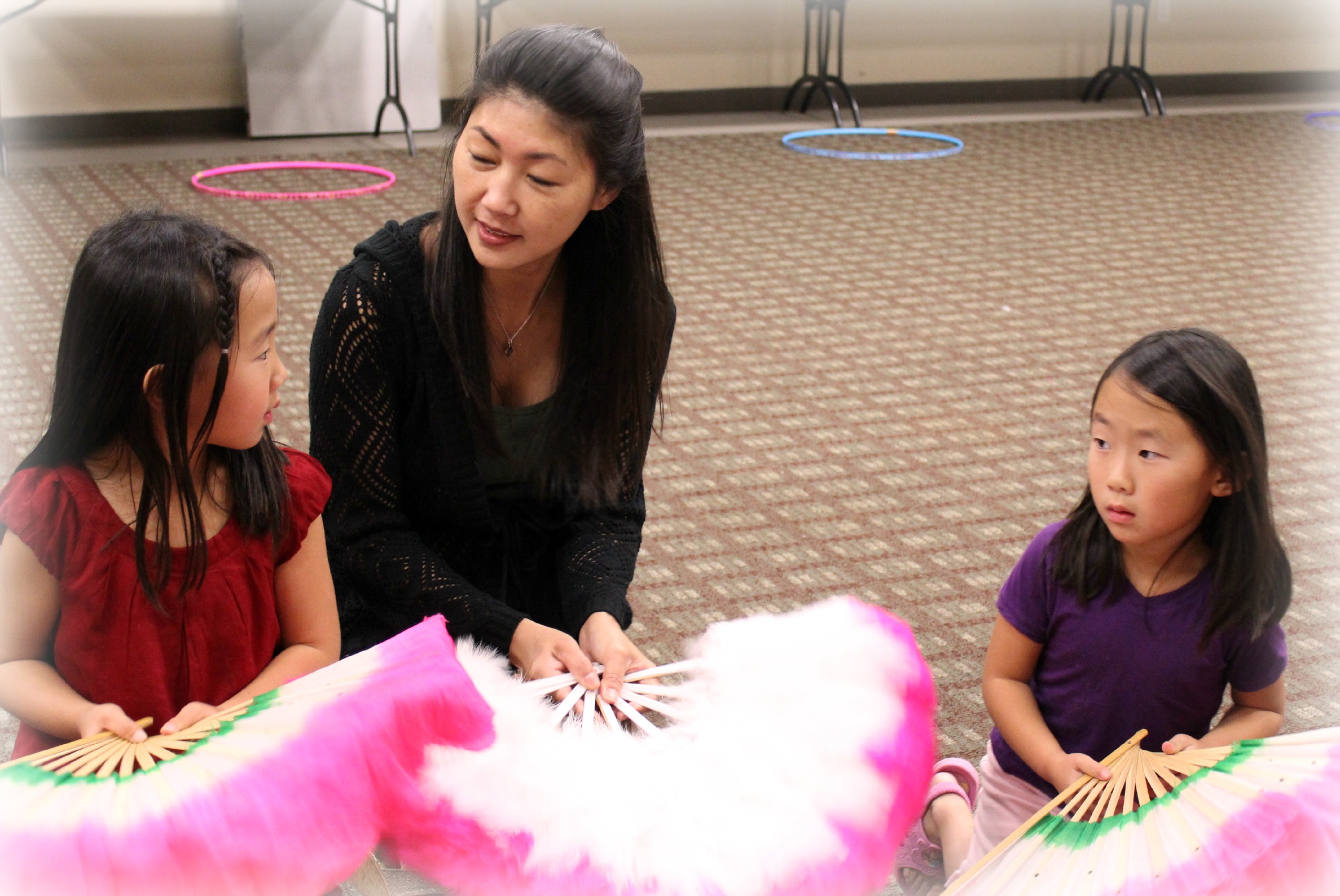 Some of our lovely fan dancers.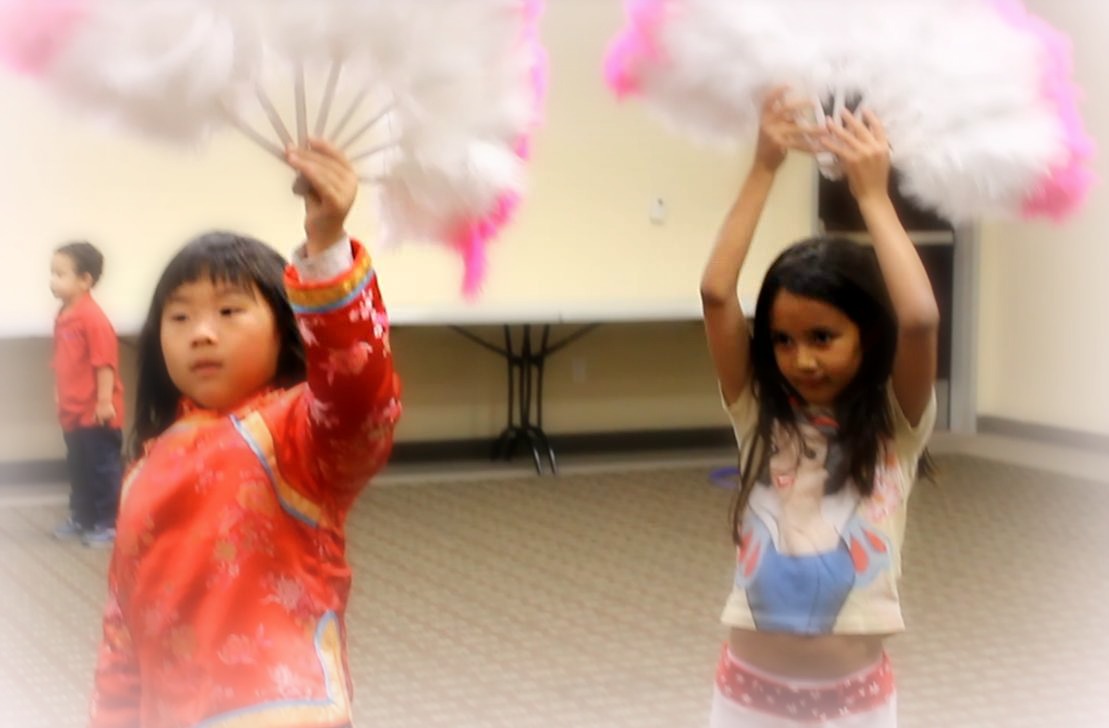 Our lion, firecracker bearers and fan dancers waitiing patiently for their cue to "go on stage" for their parts. Thank you to big sister for helping us out with the bianpao!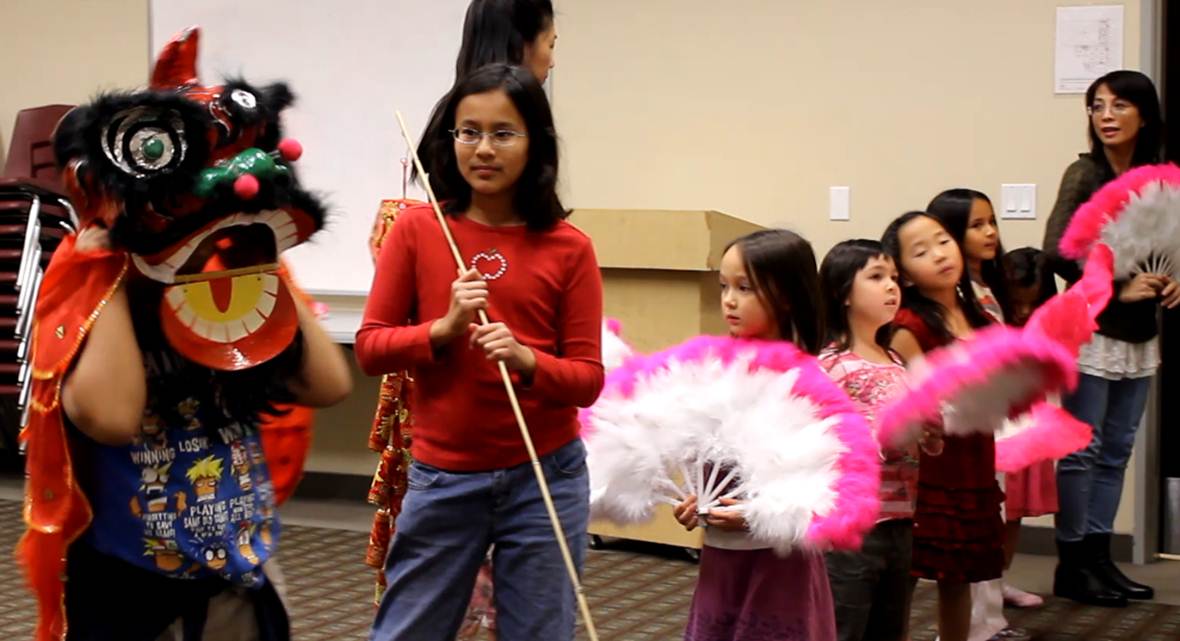 Many hands make light work!
The hungry children snacked on organic baby carrots with greens still on top. They also ate up a basket of fresh organic grapes, a bagful of organic gala apples, some lemon shortbread and other fuels for their busy rehearsing bodies.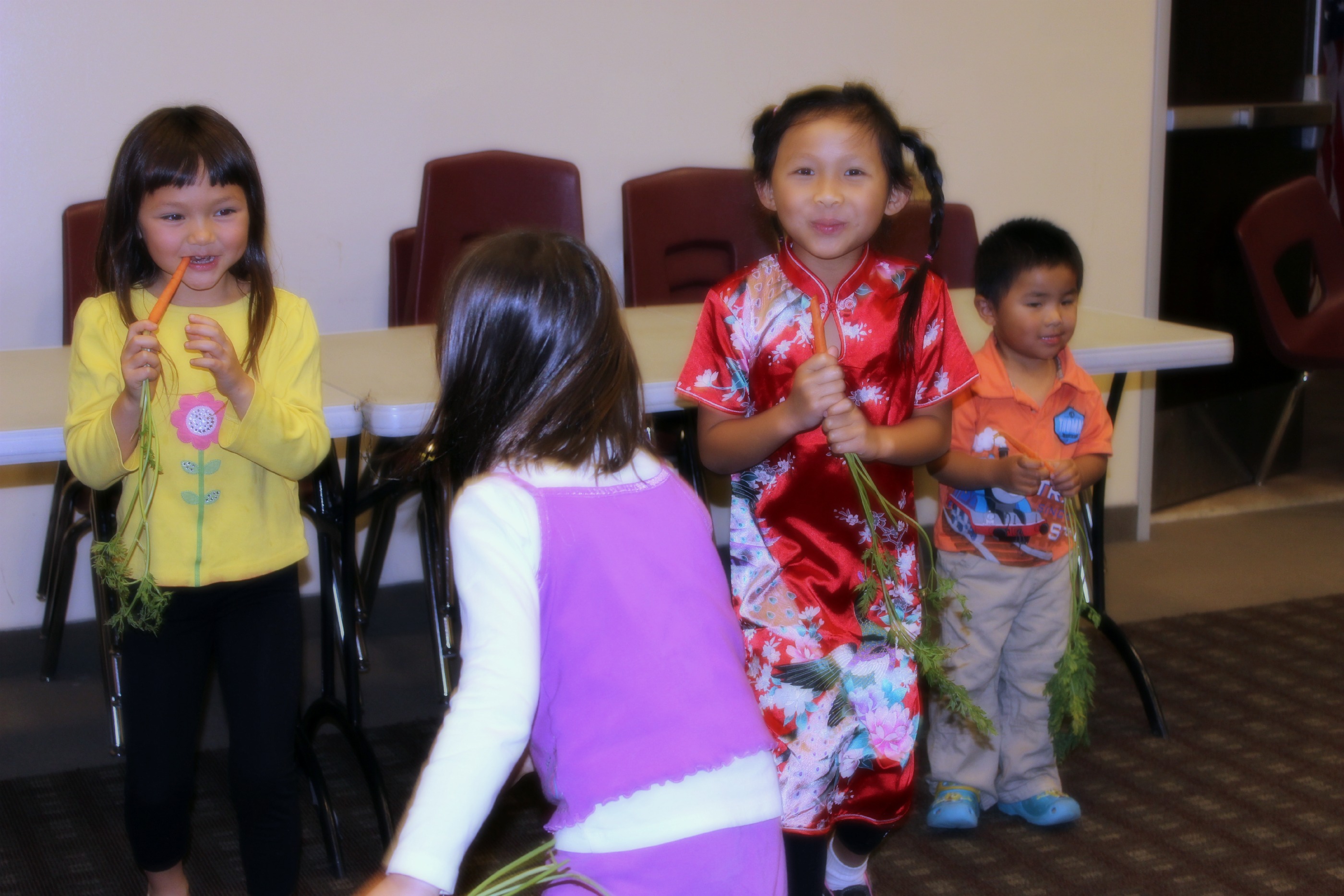 迦葉 Trying out some Chinese Lion Dancing moves.  欣怡  curiously joins in.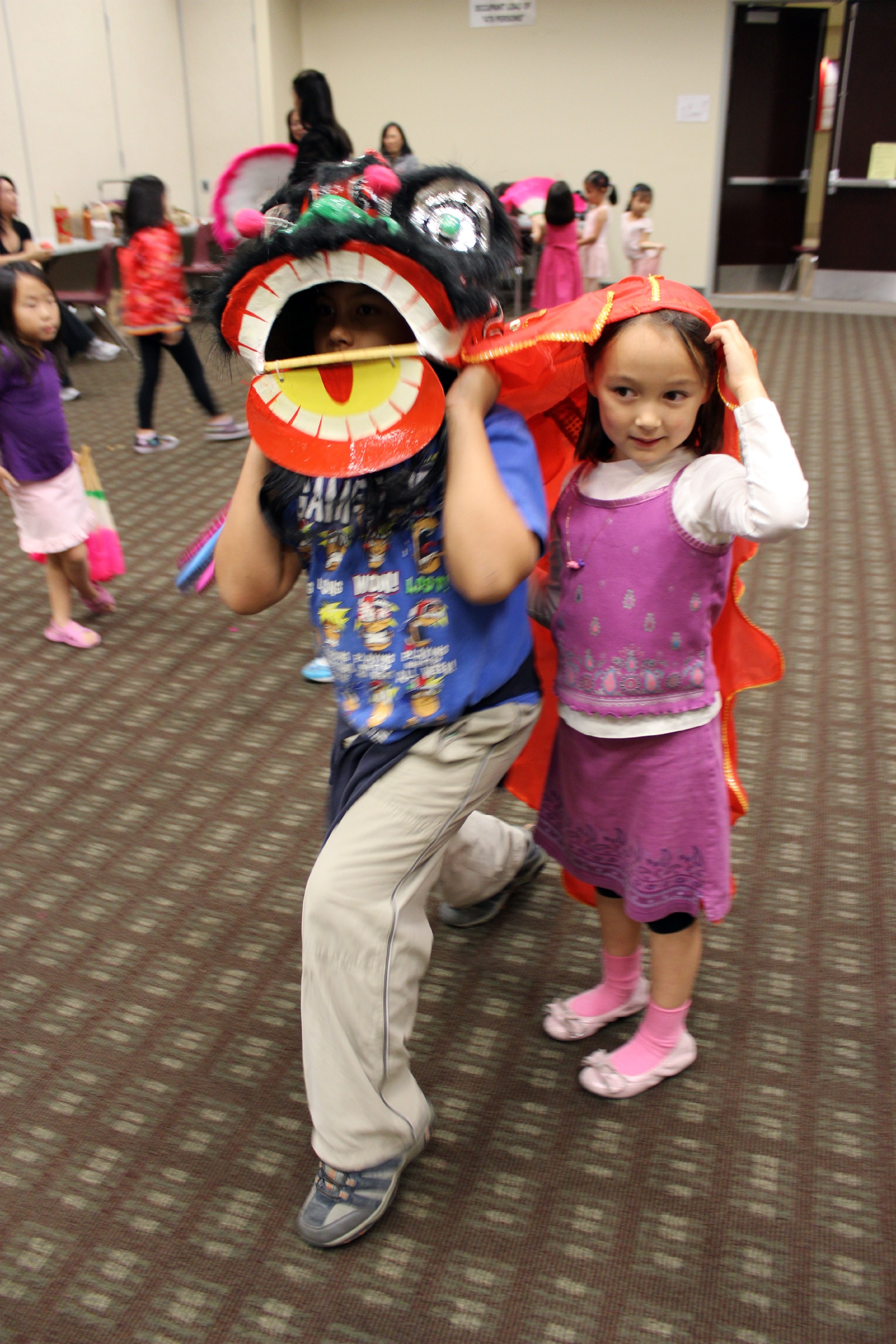 迦葉, our Lion Dancer!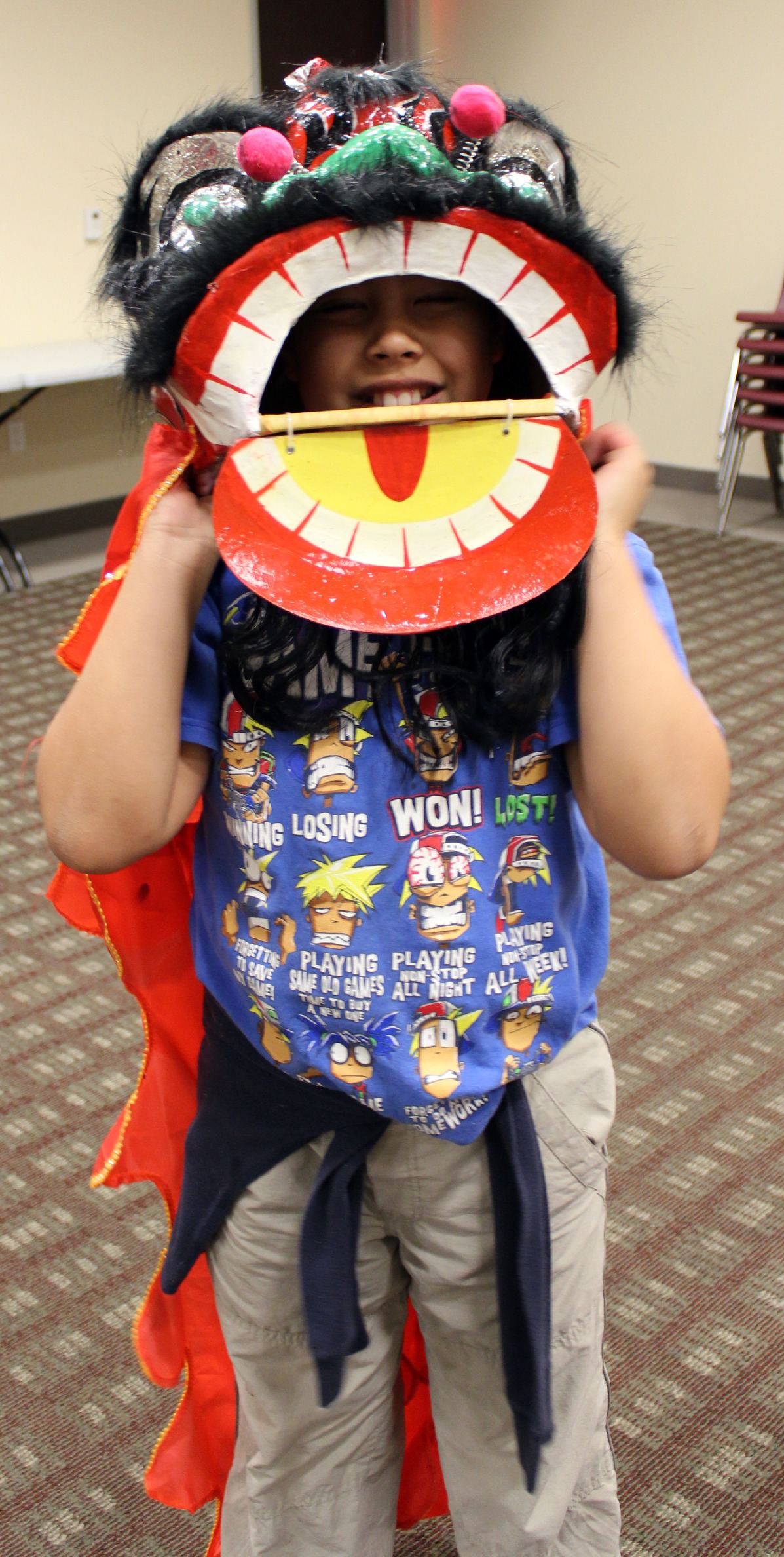 More goofing around with the Chinese Lion Dance costume. A great way for hands-on knowledge and identification of Chinese culture!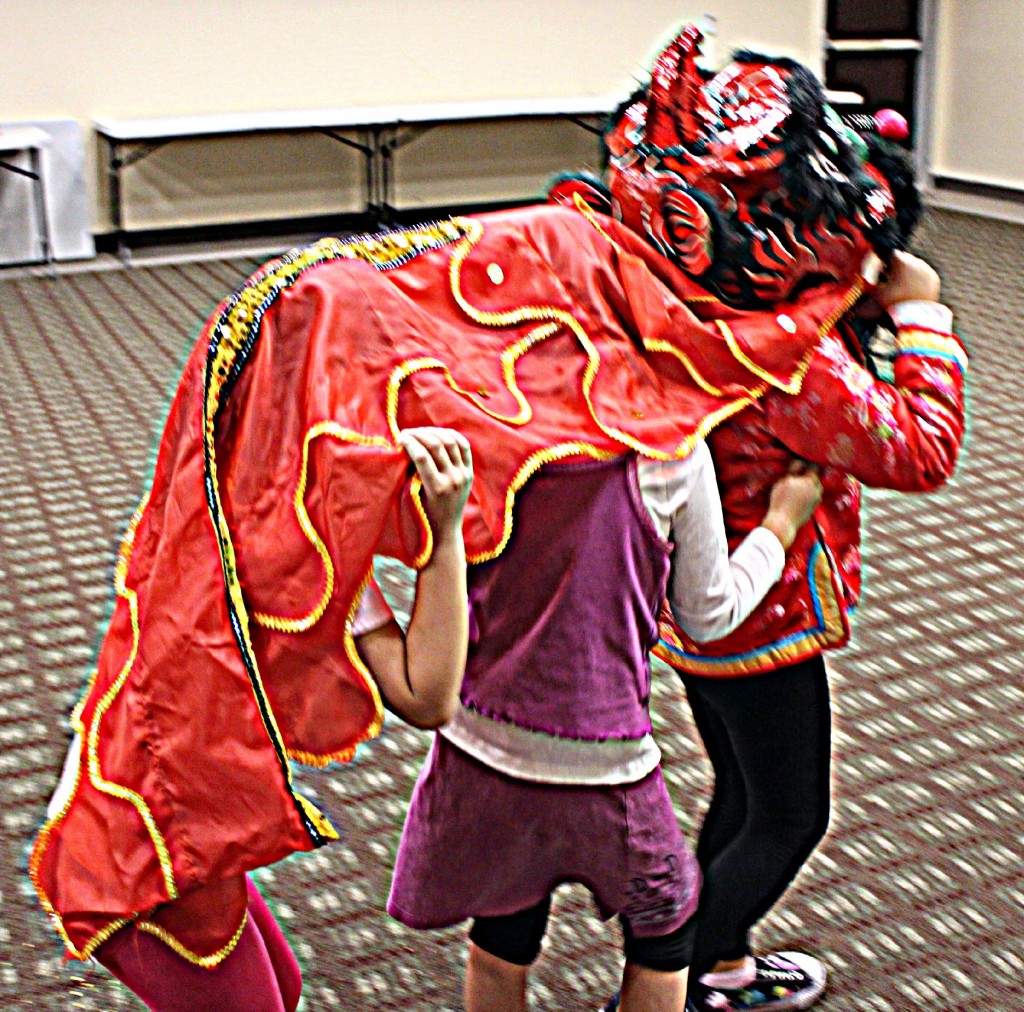 Thank you Christina Yu for helping me photograph and film the rehearsal, which I will upload later when I have a chance. If you took any photos during the rehearsal, please e-mail me, so I can share it here with everyone.
Thank you everyone for sharing your love! We did awesome! Please reply to my post on our class shutterfly link on which are the good days and times to rehearse from now to showtime.
– Jzin

Sunday January 1, 2012. Happy New Year 2012!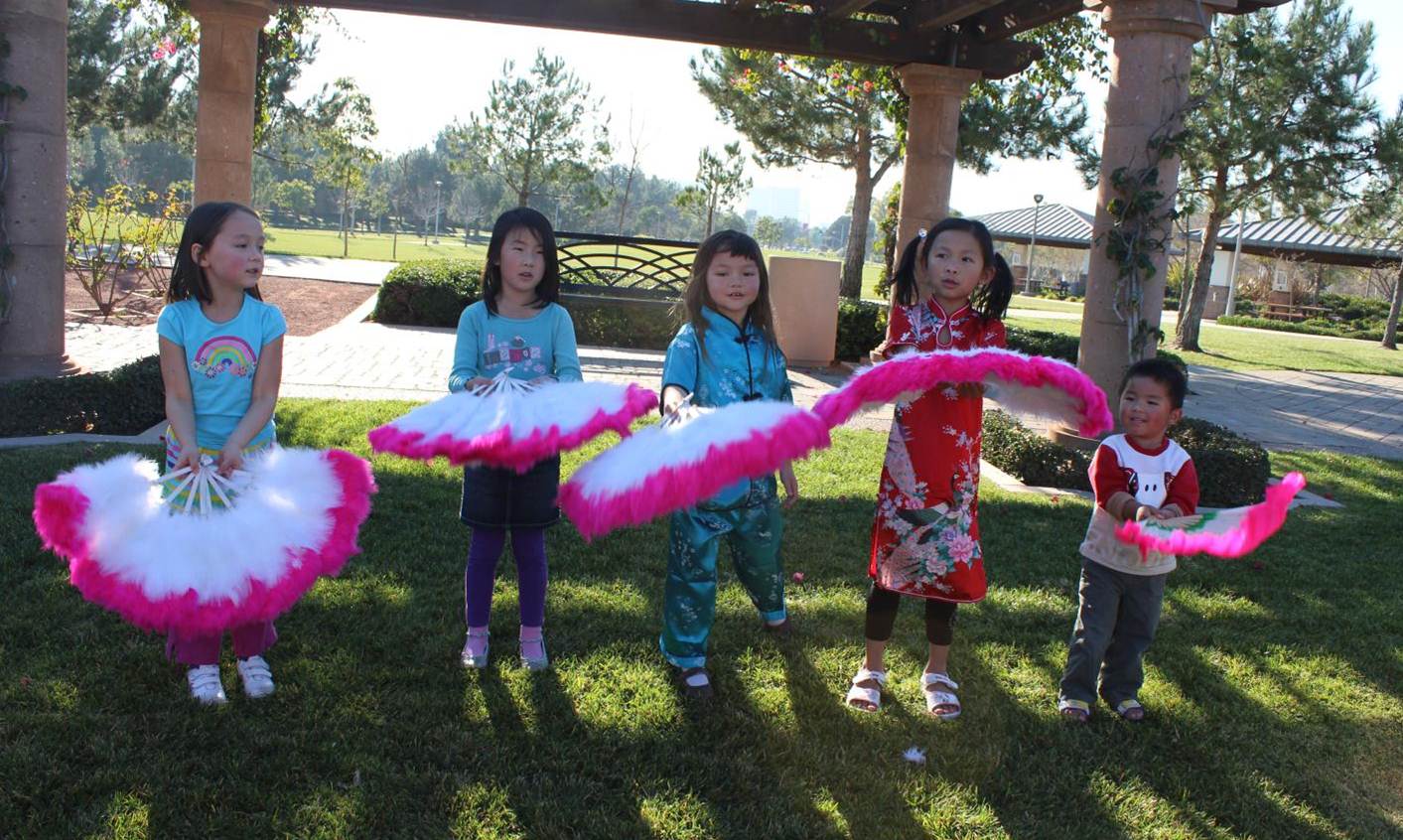 Today we got together at Bill Barber Park for a playdate-picnic-rehearsal.
Michelle's little brother joined us in the fan dance, he was awesome! I would love to recruit the tireless little performer if it does not interfere with his nap and diaper schedules.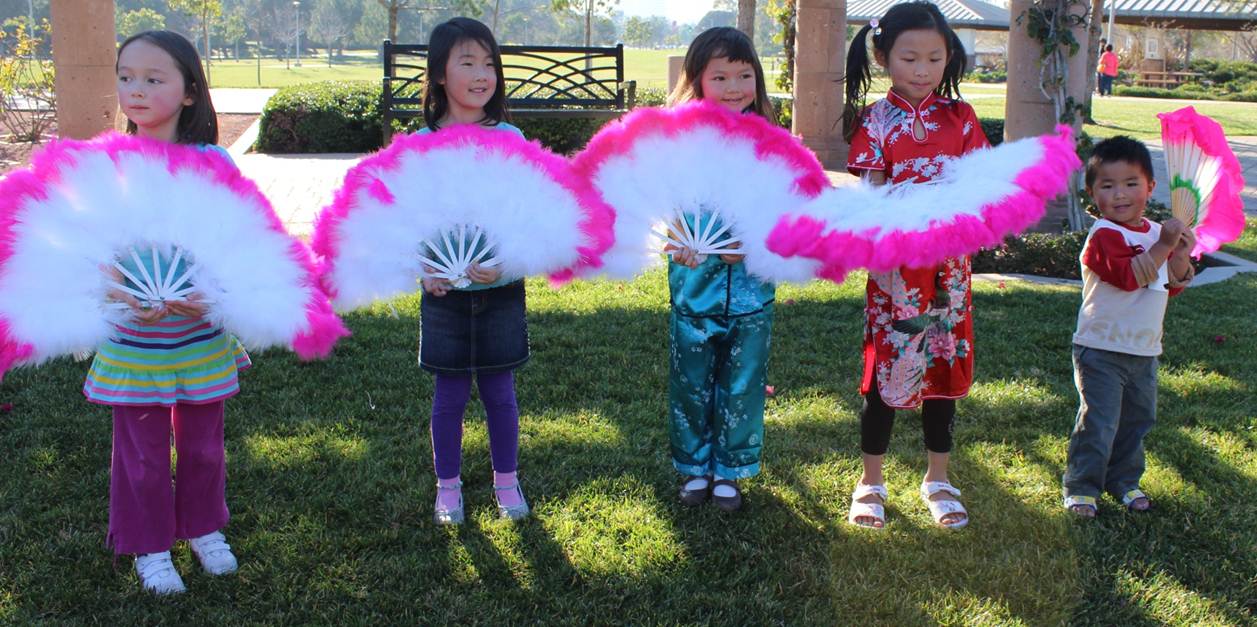 Good news! We have a child lion dancer! How exciting!
Waiting for the lion dancer to take center stage. The fan dancers were getting ready to enter the stage and encircle the lion.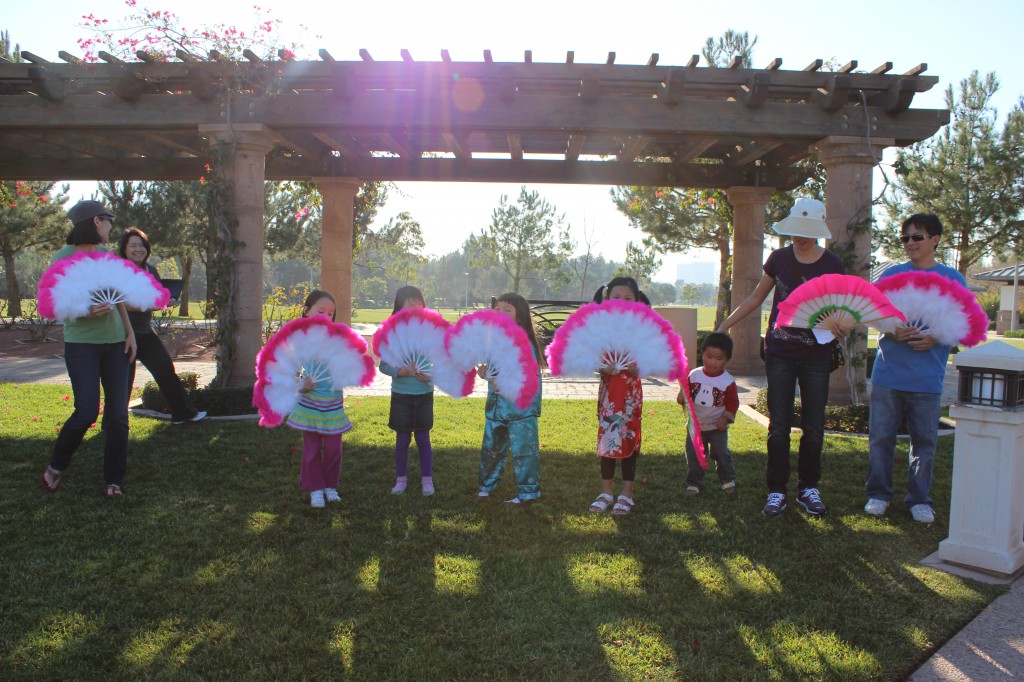 We managed to practice the overall performance a few times. Pretending the large field was the stage at Barclay, we pictured the mayor watching us in the audience (which was the parking lot). Ms. Yeh 葉老師 brought us cookies and said we did great. Everything is coming together nicely.
The children played and made friends in the park. We had snacks and it was a lovely day!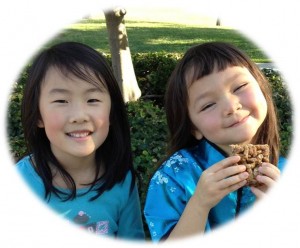 Thank you everyone for sharing your time and talents. It couldn't have worked without you! – Jzin
Saturday December 31, 2011.
A handful of children managed to get together for a mini playdate dress rehearsal. The goal was to test out the costumes, props and choreography. Everyone was so helpful. The children were game for trying out diverse roles: being Chinese New Year greeters, gymnasts, chinese fan dancers, lion dancer and even dressing up and acting like boys! Thank you Ann and family for inviting us into your beautiful home! Thanks Sally for the delicious chocolate cupcakes! Thank you 葉老師 for your time and work! Thank you XiaoYang for waiting patiently for us. Thank you everyone for coming and helping!
Let us admire our gorgeous performers!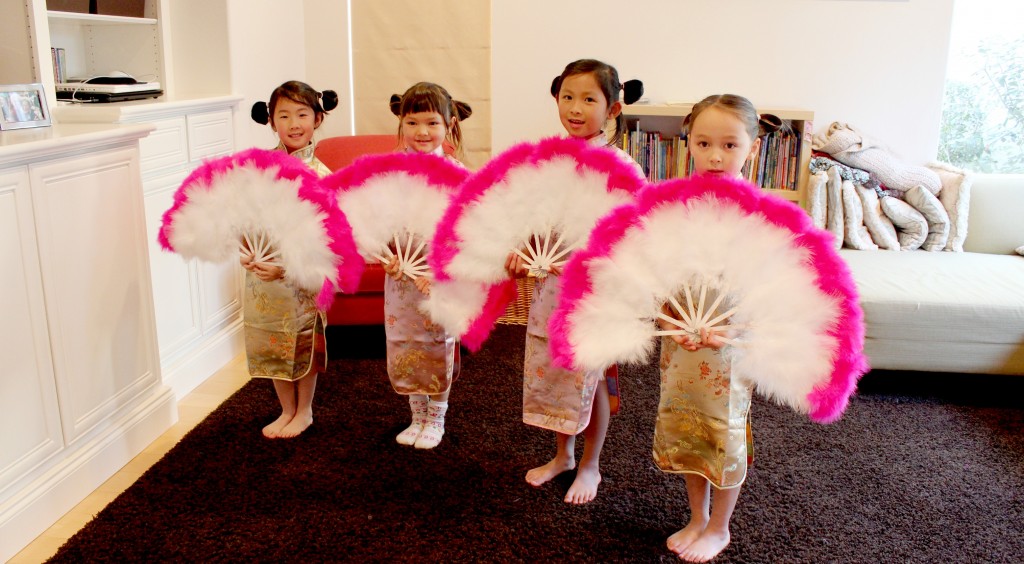 Vogue!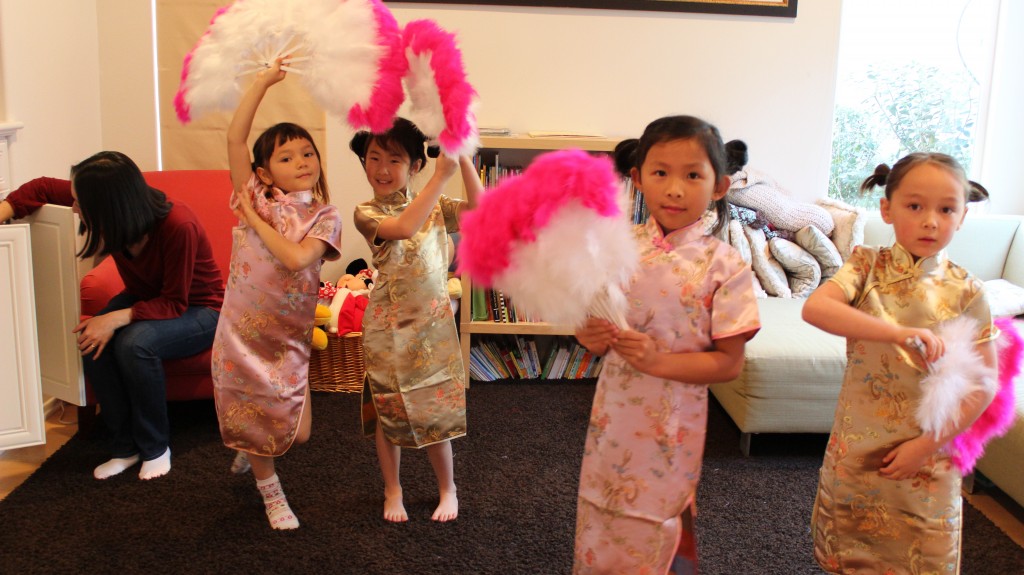 taking a little break.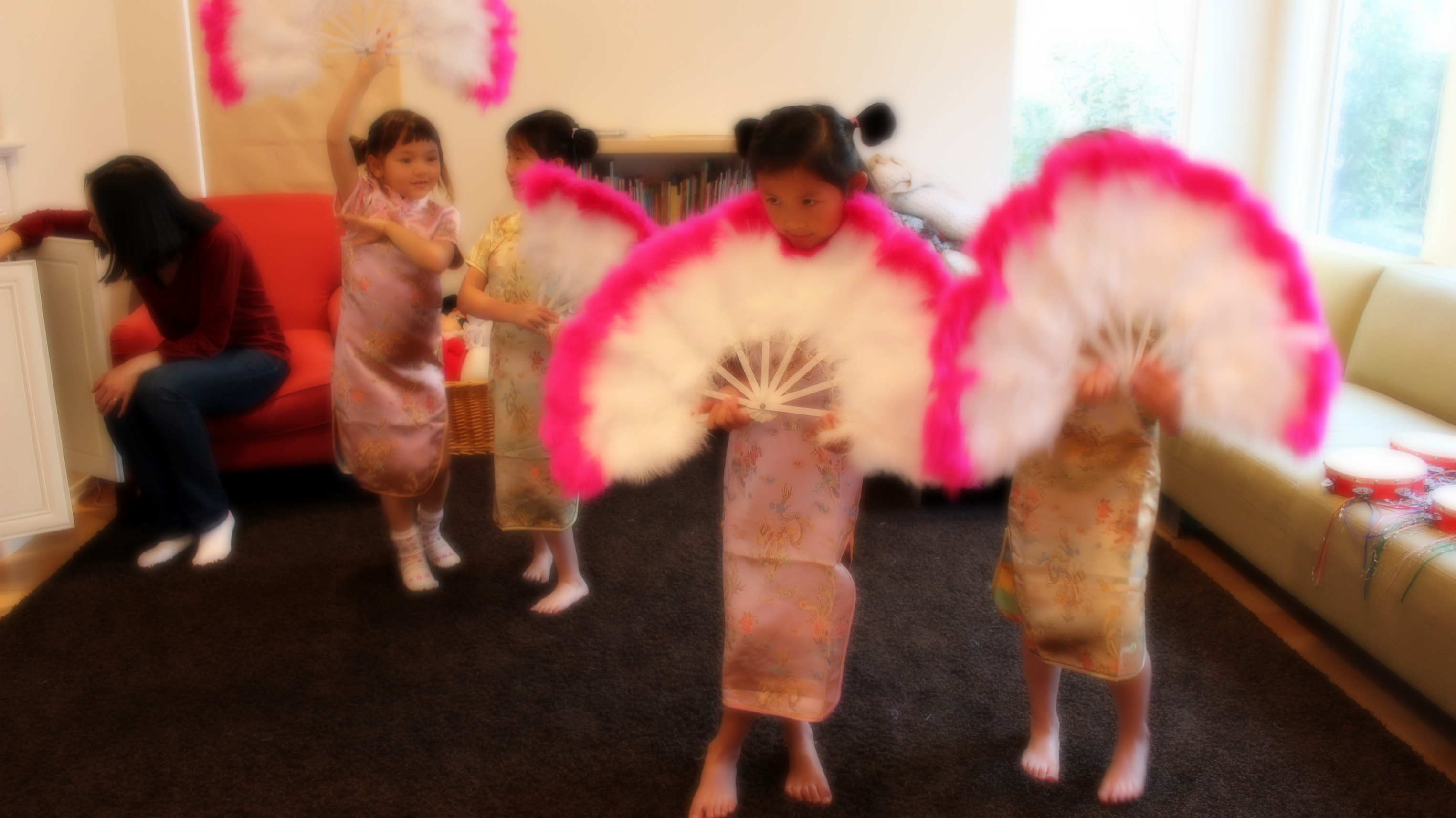 Waiting for their performance cues, in the hallway.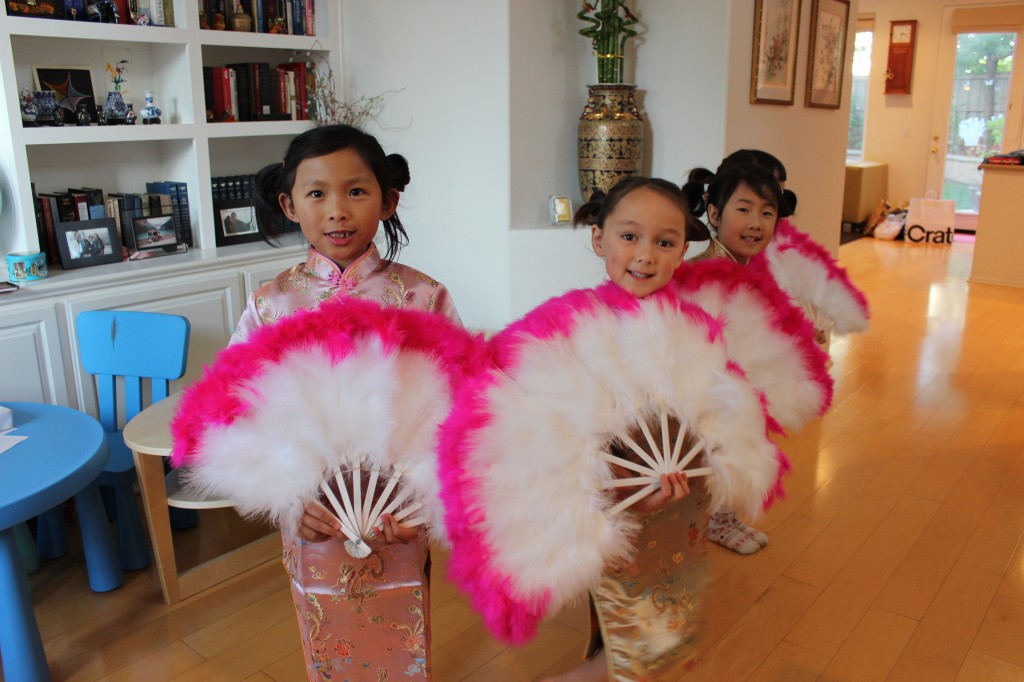 The children trying out a new fan dancing formation.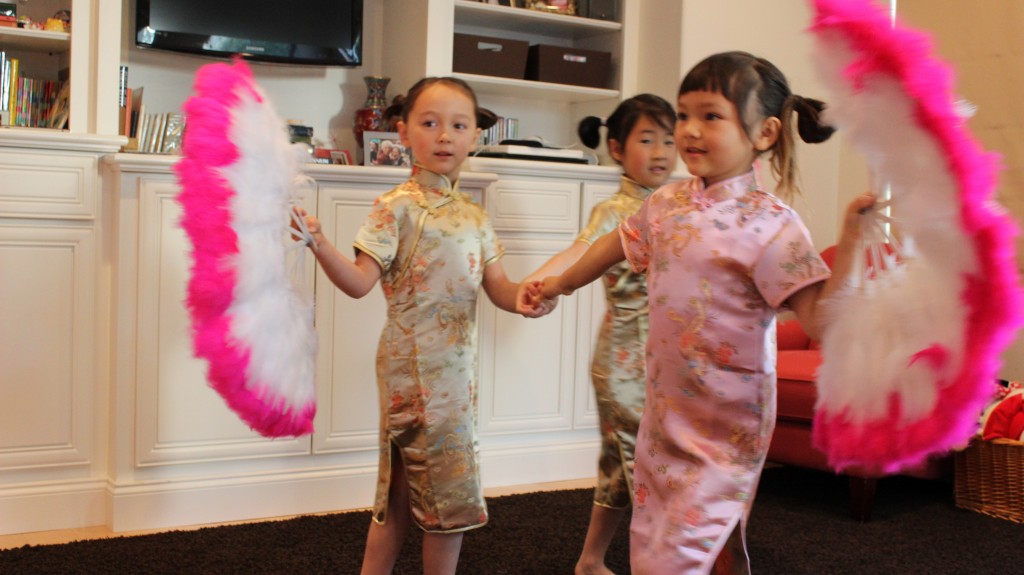 Here are our children trying out what they have just learned minutes ago! Amazing!
Here is a super short clip showing our 4 adorable children. Admire away!
Hexinnian actions. The children just learned these moves this afternoon, yet they did super! Note: for the actual performance, the children performing as "Hexinnian greeters" will be dressed in red and gold with large red/gold flowers in their side buns.
The Boys Chorus First Part. Kudos to our kiddos for willing to play the boys part, so I could test out the choreography. Thank you, my little assistants! This video was taken right after the children had just learn the moves. They were fast learners! They will have this down and synchronized lickety-split.
 
I got some little Chinese Manchu hats but they are a little loose for our dainty girls (and Sally thought they make the boys look like palace Eunuchs! Haha!) I am still trying to add some extra oomph to the boys' costume. If you have any ideas, let me know. Presently, the eunuch hats are looking pretty colorful and enticing.
The Lion dancer and his entourage…I did not video that portion.
Our secret surprise elements…I did not video that portion today.

The "Fan Dancers" Notes in December 2011
The fan dancers should plan to come and join the rehearsals, so they will have enough time to learn the moves. The more they come, the more they will enjoy the whole process, because by showtime, they would have made good friends and dance with ease, confidence and joy. I have made the dance simple enough for kindergartener/first graders. If a child forgets her moves, she can simply follow her peers i.e., 欣怡 and 舒琦 are my fan dancing leaders.
This role will have eye-catching costumes and props. The girls will be in 2 pigtail/braids with large pink flowers in their hair. The children will look gorgeously dreamy! Ideally, the children should wear ankle white socks with sparkly shoes. In the photos below, 小蓮 wore Target circo shoes which are sparkly. If you do not have these shoes, I can loan our pink or golden pair (she has very small feet). If you have other pink, gold or pastel shoes from home, please bring them so we could see if they look similar enough to what the rest of the dancers are wearing.
The color scheme for fan dancers are white, gold, pink. Pastel tones, silky brocade, fluffy fans, large pink flowers in their braids. Please start collecting your comb, hair bands, hair pins in a special bag to bring to dress rehearsal. On the day of performance, the children should come in their sparkly shoes and hair in 2 braids/pigtails. Even if your girl has short hair, we can pin up 2 large pink flowers.
Please let me know as soon as you can if your girl wants to be a fan dancer. Since I only have 7 feathery fan and 6 thin cloth ones.
Thank you!
-Jzin
Thursday, December 29, 2012.
Some dress up photos to test out
the "Fan Dancer" costume
I went to downtown Los Angeles Chinatown and found these treasures! $10 a qipao! Amazing price! It is synthetic blend but look how the brocade shines! Original price was $13 each but since I convinced them it is for our school performance, plus I bought more than 10, the shopkeeper let me have them at $10 each! Nice!
Click here on Shopping Guide, in case you plan to go on a similar treasure hunt for Chinese costumes and goodies.
Come join us for the Chinese New Year performance! It will be fun!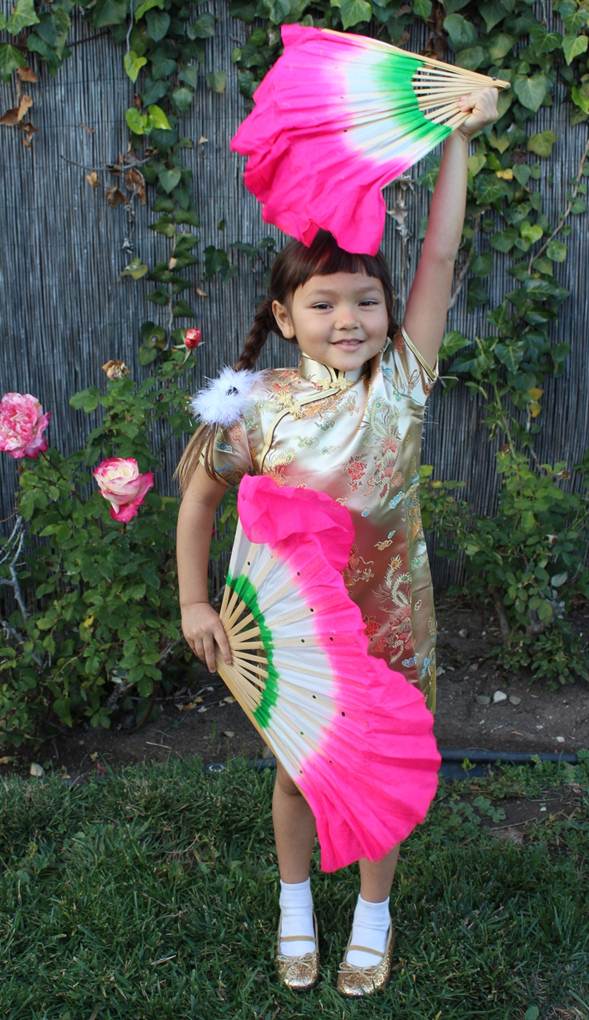 I have 6 of these thin and lighter dancing fans from my home.
I am personally fond of these brocade qipao's. After the Barclay performance, they can still be worn for daily glamor! Here it is worn with a faux fur stole for that touch of vintage class!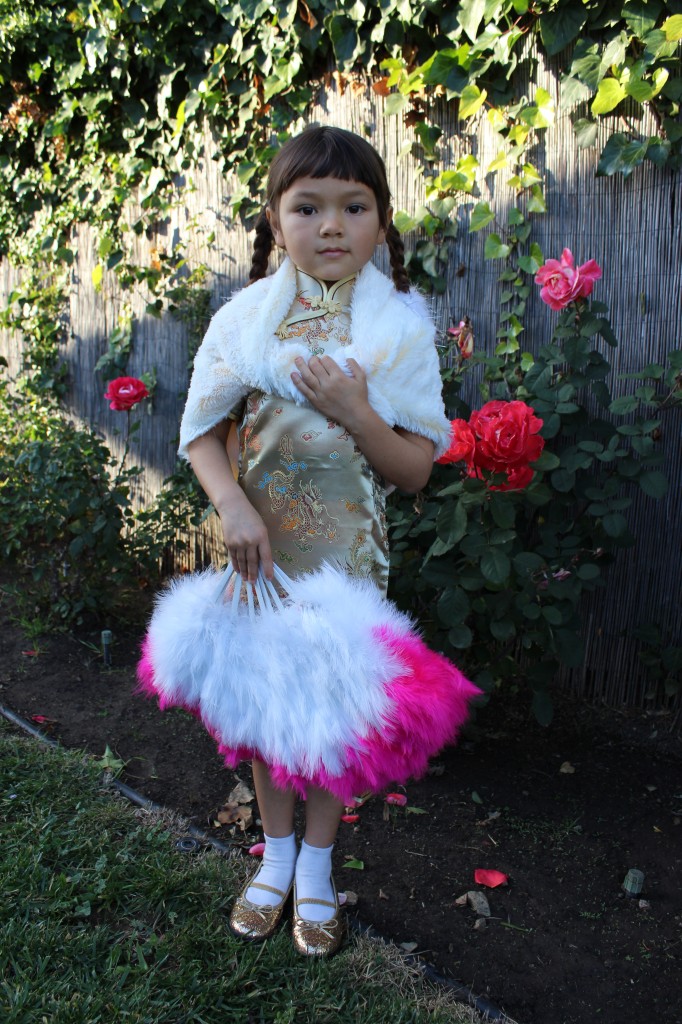 We have 7 feathery fans from the school. If we get more than 7 takers for Fan Dancing, we will have to use the 6 thinner cloth fans from my own home.
Pink brocade qipao: The shopkeeper ran out of golden qipao, so I bought pink ones since they are very close in tone with the golden ones.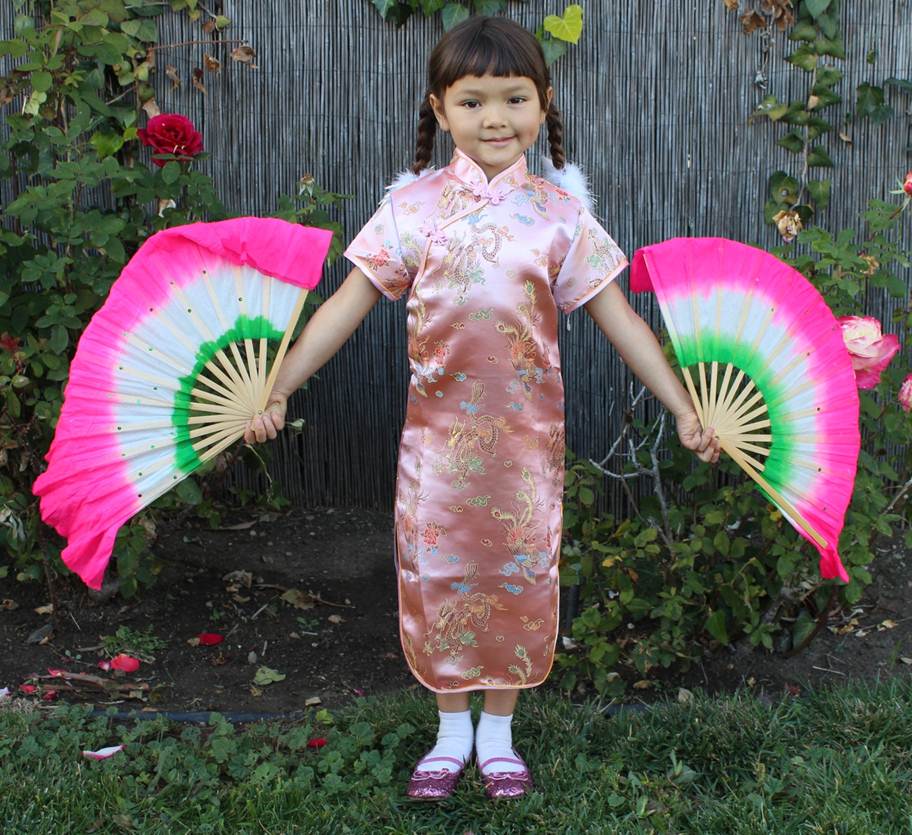 Check out these "qipao and fan" costumes in action (scroll down to view the video of our kiddos' first try at fan dancing).
Just ideas…Some simple fan dancing moves for our young children…

Thursday, December 29, 2011
Testing Costume for Our "Hexinnian 賀新年 Greeters"
This is "Hexinnian Greeter" Test Costume version 1. Please check back for the correct updated costume for this role.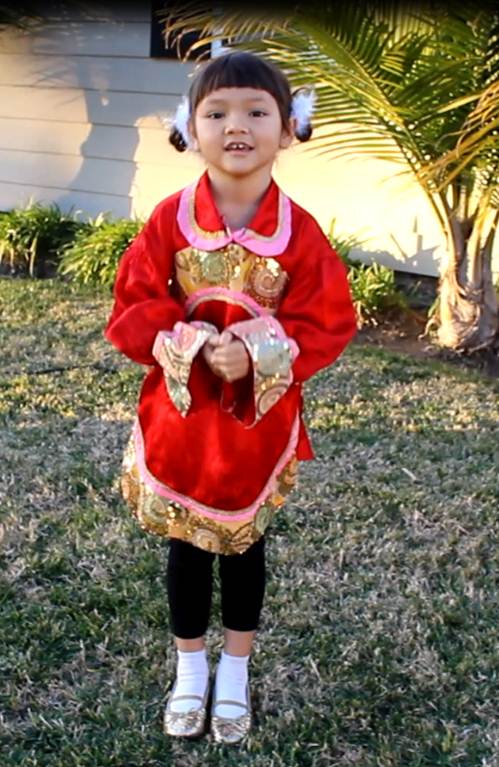 Our little "Hexinnian 賀新年 greeters" will appear on stage first before everyone else. They will be on stage as the curtain rises. These children will be in red and gold with large red flowers in their side buns (above first costume test photo does not show it). They will start the performance singing Hexinnian with hand gestures.
For the second verse of the song (an exact repeat of the first verse), 2 new "Hexinnian 賀新年 greeters" will enter the stage in cartwheels. Let me know if your child wants to join in the cartwheel, or just be the main greeters, without cartwheels.
The "Hexinnian 賀新年 greeters" will move to the side of the stage when the "Fan Dancers" enter the stage. They will do very simple dances (e.g. link arms and encircle their partners, later join hands with other "Hexinnian 賀新年 greeters" to rotate in a circle. At the end of the performance, these "Hexinnian 賀新年 greeters" will pick up large lightweight "flower garland" hula hoops and strike a pose. So far, these are their general choreography. My intention is to make them simple and fun enough for the children.
I have 3 of these red/gold sequinned Fengxianzhuang tops on loan from the school. They are kinda big. Our girls will be wearing them with black leggings and black shoes with white ankle socks. I will decorate with gold tinsel for some "Pow!"
– at your service,
Jzin

Testing out costumes for Our Boys/Martial Arts/Kungfu performers
December 29, 2011
I would love to engage ALL the boys in class for the performance. I have some exciting choreography for our little "manly men". Please come to rehearsal and find out what these simple and fun moves are.
Please let me know if your child knows any martial art moves I can showcase during the "rap"/speaking part of the song. If not, I have some dramatic ones up my sleeves to teach them.
We have 9 boys costumes and tambourines on loan from the school. I will let the parents decide if I should buy some black kungfu shoes to go with them or parents should just let the children wear black/dark shoes from home.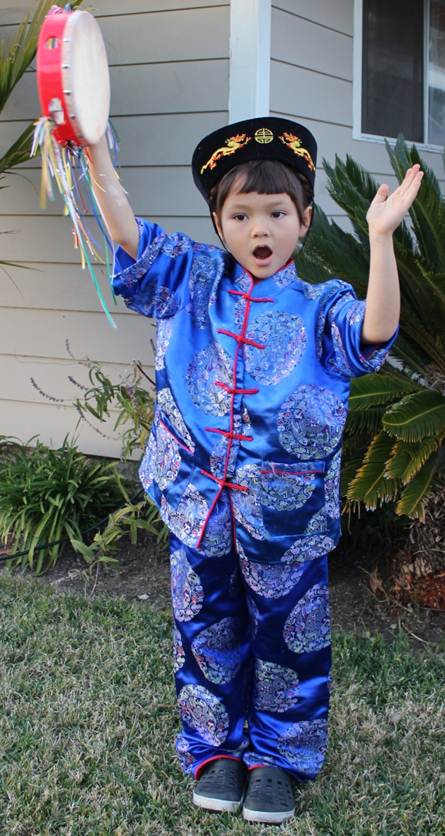 Thank you little one, for testing and modeling the boys costumes!
I bought 2 of these hats at $9 each from Los Angeles Chinatown to try out. If parents want to purchase more for use for the performance, let me know, I can get more from Chinatown.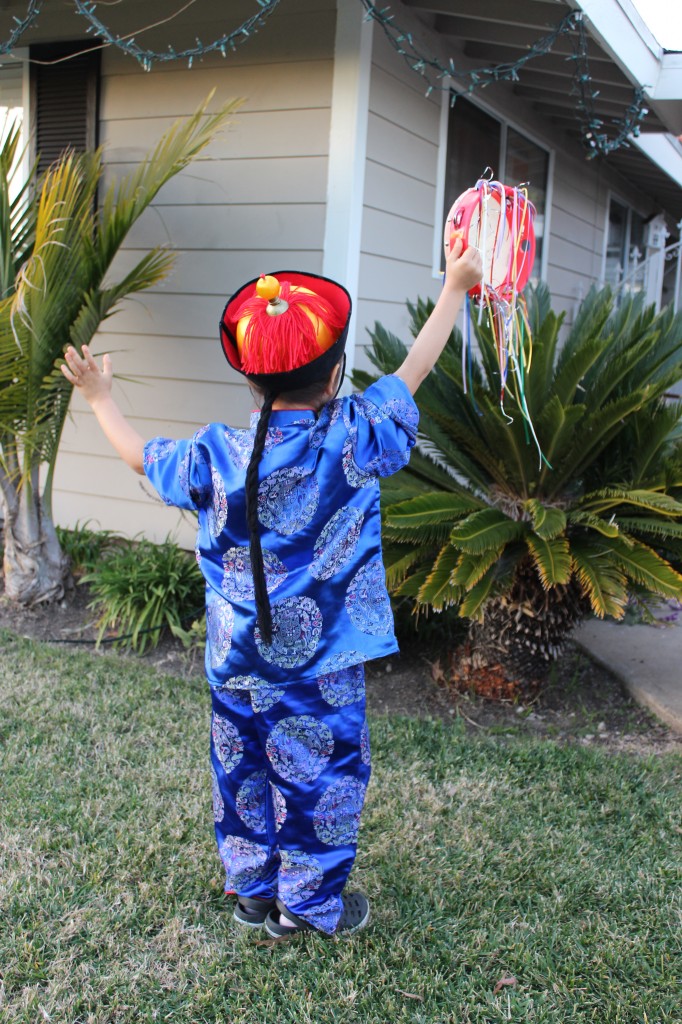 In case we do not end up buying the $9 hats, if you have any ideas on how to make the boys costume more "manly man" or eye catching, do tell!
Some inspiration…I love this video, with all those "Huuh, Haah!"s. Fun! Can someone help me transform our boys costumes to look more like these?


Thank you Christina Leo for helping us make 6 gorgeous garland arches!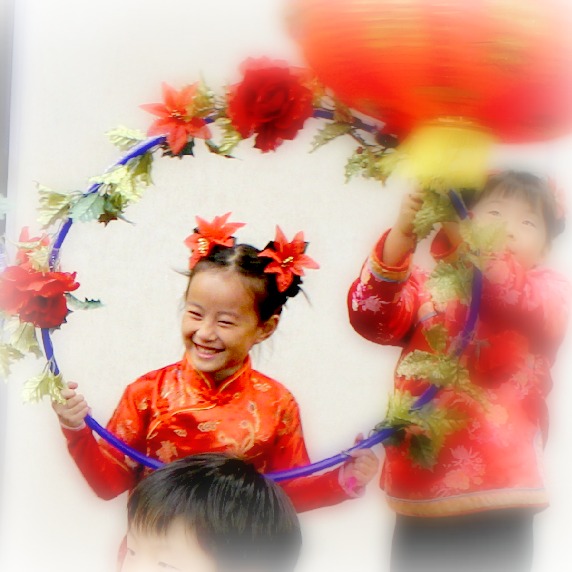 Christina Leo donated 6 lightweight hula hoops for our "Hexinian Greeters" to hold at Finale. I managed to find huge greens garlands on sale (Hooray for after Christmas Sale!) from Michaels! Originally the sparkly goldeny "mistletoe/greens" were $10+ each for a garland. Per after Christmas sale, there were a whooping $1.39. Woo hoo! I bought 6. I also managed to get humongous roses (99 cents per bouquet from 99 cent store!) and poinsettas (49 cents per bunch) to complete the look. I do love a good bargain! Christina's crafty hand whipped up the 6 garland arches in no time.
– Jzin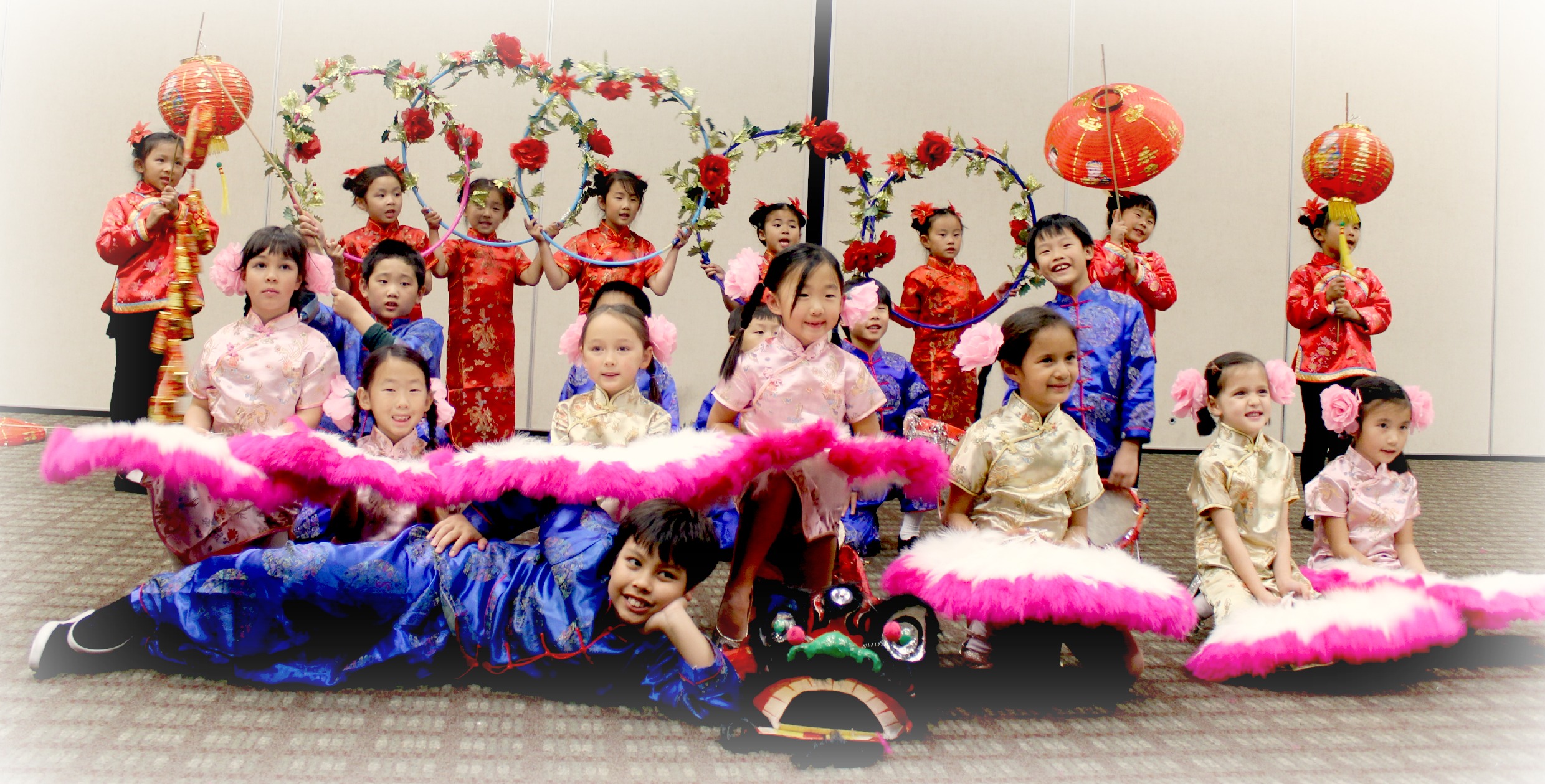 My original research on garland arches…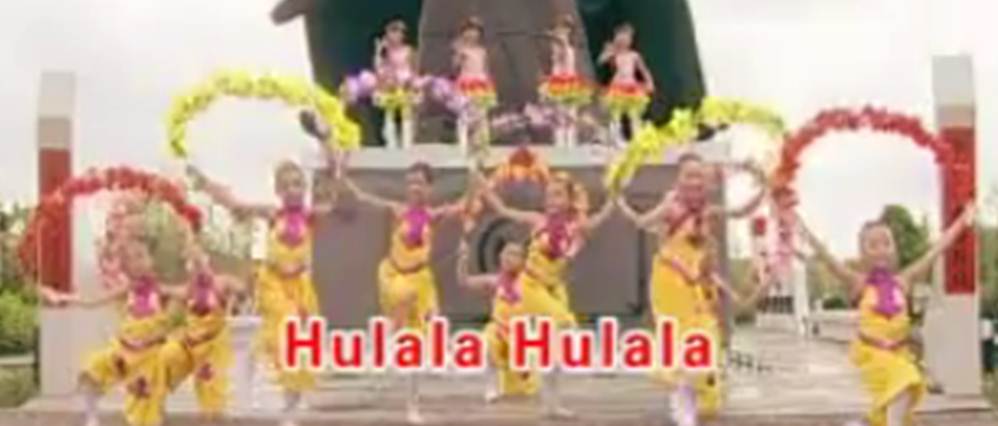 A youtube video of garland arches. We are not using their music or dance, just the idea of the hoops, in red.
Jesse's tutorial on how to make garland arches…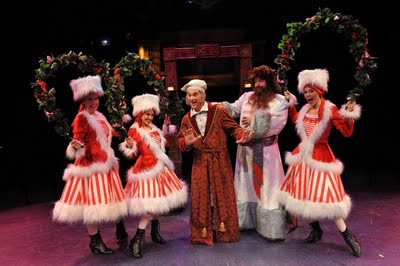 Our Little Child Size Lion Dancer
December 2011
Here is the child size lion dance costume I bought last year from Chinatown. Very cute, light and managable for 1 or 2 child(ren).
If no one volunteers to be the tail, we can have just 1 child carrying the head.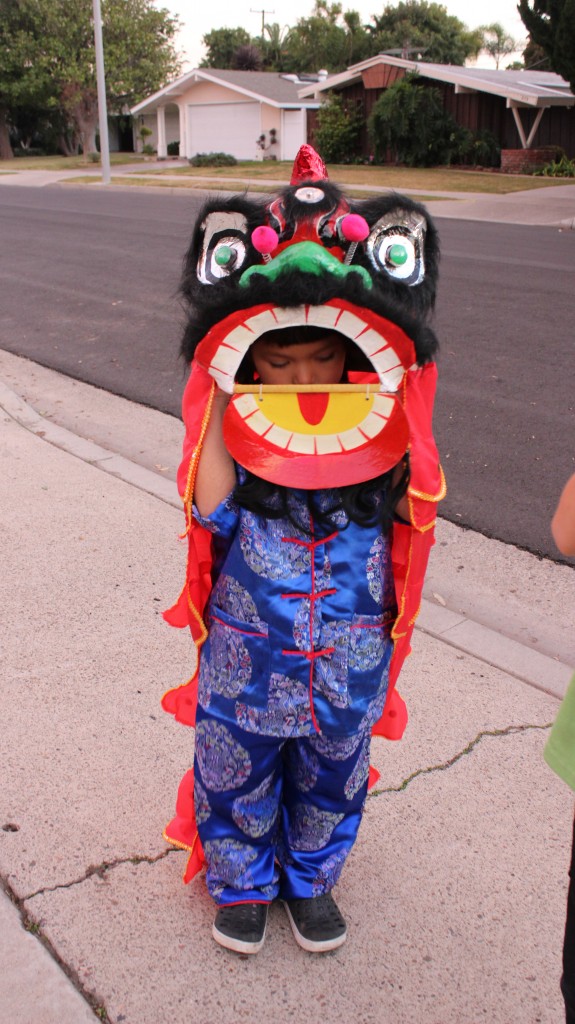 back view… we are looking for one (ideally not too tall) child to help the lion dancer support the tail and do fun leg movements.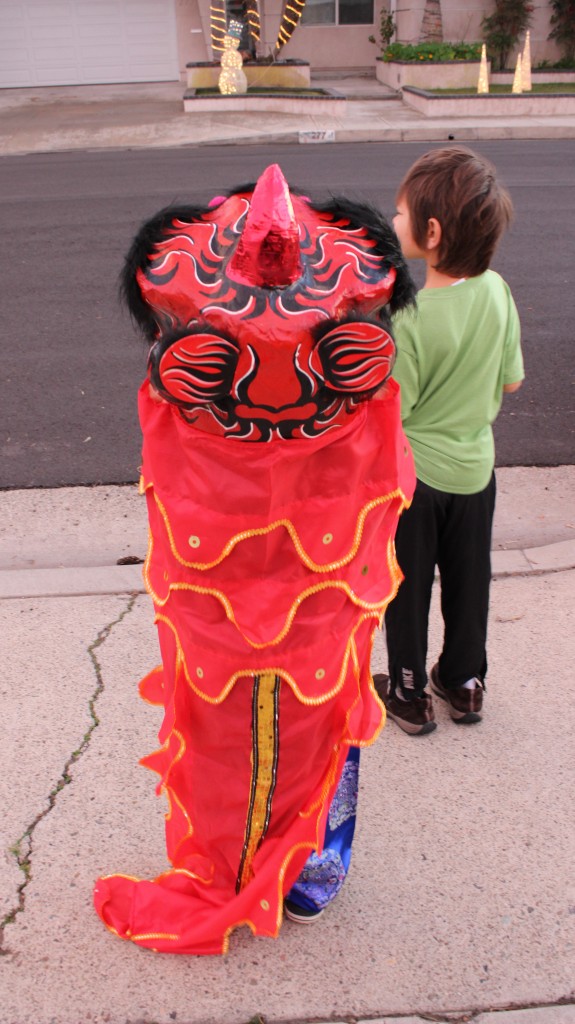 Thinking aloud…Here are some "Lion Dance Moves" simple enough for a first grader:

四千金 齊來迎接歡樂年 / 敲鑼又打鼓 uploaded by mgirlsfgpfan1 on youtube.com
I am also researching other moves and costumes for the child lion dancer. If you have any tips on choreographing the lion dancer and his entourage (firecracker bearers, chinese new year lantern holders), please talk to me!
Ms. Yeh very casually suggested getting one more lion, so we have two. My greedy heart leapt "Yes! The more the merrier!" If you would like to purchase the second child size lion head to lend to us to use for the class, let me know. I will be going to Chinatown sometime before the performance. They have many in different colors (the traditional red/white, the fierce red/black, the green, the rare blue is my favorite, etc).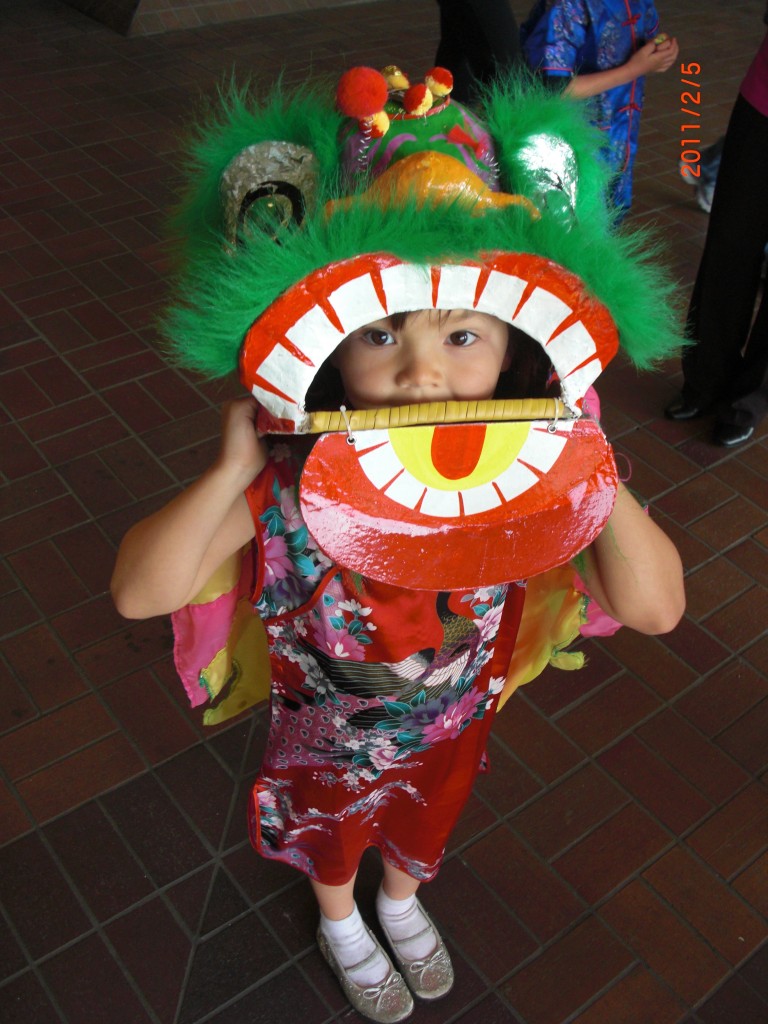 The child-size lion dancer. An interesting way to expose our children, first hand to Chinese New Year culture and festivities.
Back view. This is before we untied the "tail"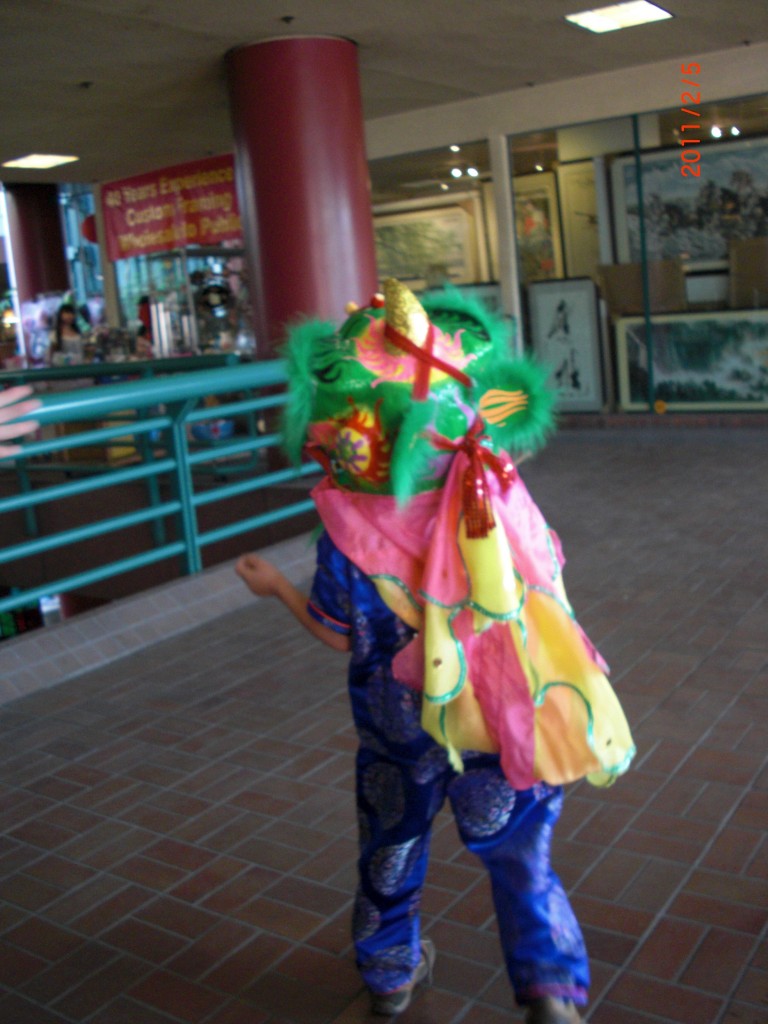 Here, you can see the relative size of the lion dance costume. It is quite small really, if you can find it in the photo.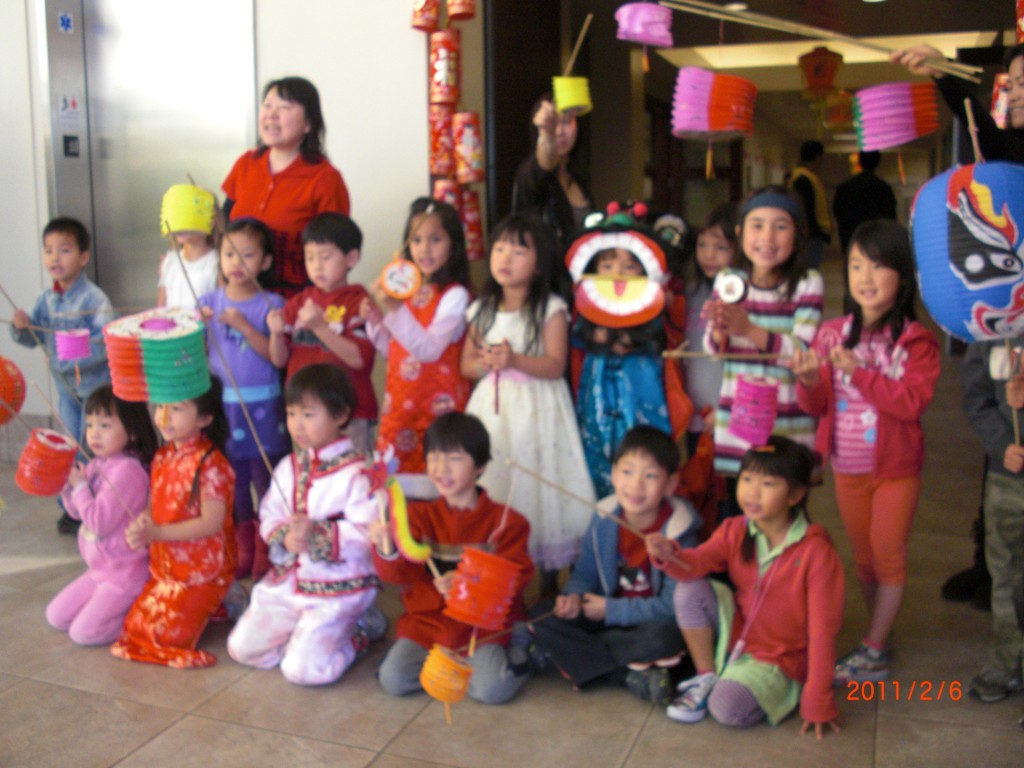 I bought these lanterns and props from Los Angeles Chinatown for lantern walk in class last year. LA Chinatown is a fun shopping trip. Anyone care to join me this year? I will head down to buy some qipao/Cheongsam before Chinese New Year 2012. Let me know your shoe and clothes sizes if you need me to get something for you.

Other Chinese New Year Props
December 2011
Here is a cute Chinese New Year scroll I bought from Chinatown. At $3 each, I bought 6 of them. Originally I planed to use them for the "finale" pose of the show. However, Ms. Yeh feels they may be a little too small to be seen from the audience. She suggested we make larger ones out of Pringles potato chip cans. If anyone can volunteer to make 2 out of pringles can, let me know, I will at least help you eat the pringles. I am very talented and helpful when it comes to that (the eating part). But seriously, it will look nice with 2, if someone volunteers to make it. I prefer the words "萬事如願" and "新年快乐" since they are used in the song.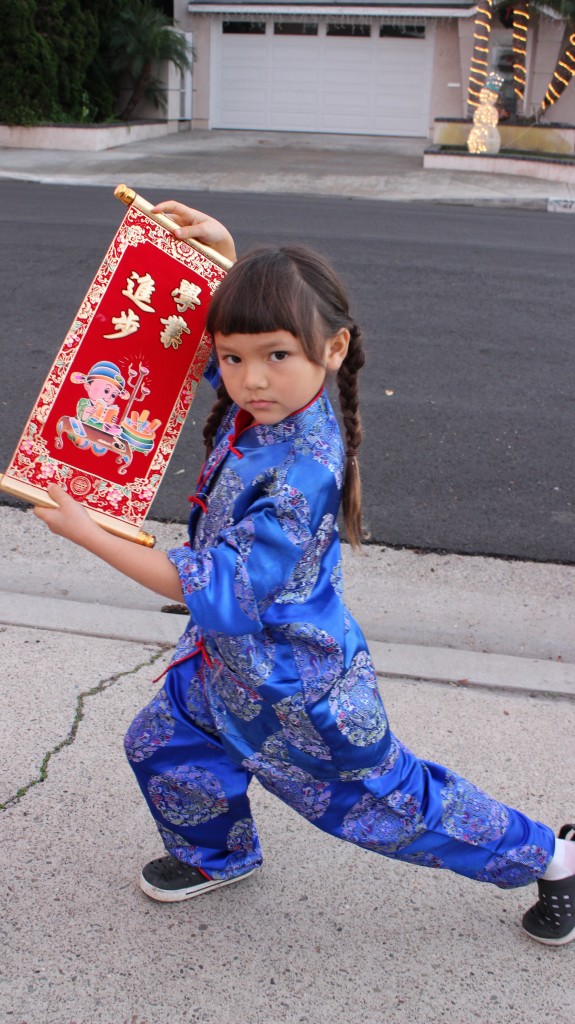 Bearers of Chinese New Year lanterns, gold ingot (Yuan bao), etc
If you join late, you can still help us out with these roles. My philosophy of the performance is: invite everyone to participate so they can bond with each other and create happy childhood memories. Even if you cannot come until the last rehearsal (must at least come on January 28, 2pm at Barclay), you can still join.

Aren't our kiddos great? Please come join us for the Chinese New Year performance! The more the merrier! Please sign up on our class website as soon as possible so I have enough time to prepare rehearsals, props, costumes, choreography and such! Also, if your child has a special talent or passion I can highlight  or use in the performance, please let me know! Examples: kungfu, juggling, gymnastic moves, acrobatics, ballet, etc.
The Chinese New Year performance is a great chance for our children to (1) shine (2) connect with the Chinese culture (3) make long-term friendships. I look forward for us all to share some happy childhood memories together! Thanks! -Jzin

Related Pages