Apple Cake Table Top Puppet Story Set for Brazil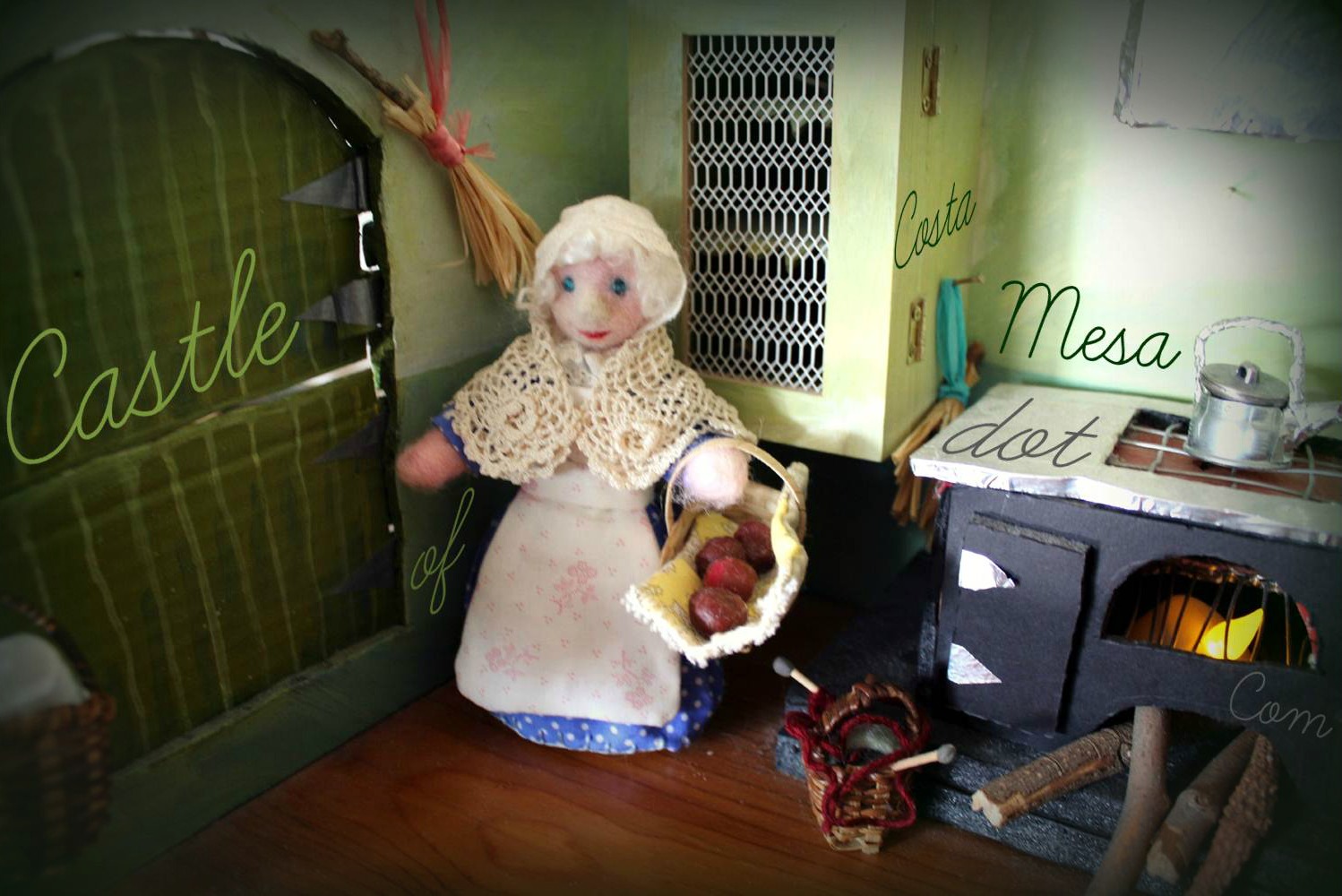 Please check back later, I am still working on this page. Pardon the mess! – Jzin
Menu
Click here to jump back to the menu on the top of the page. Whee!
A Special Order for Brazil.
My children and I love the story of "Apple Cake" by Nienke van Hichtum!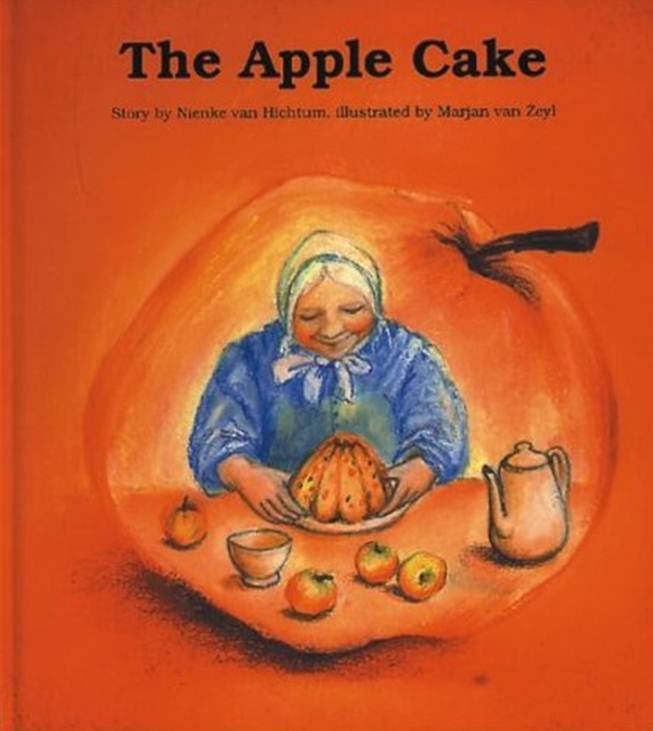 We made a homemade puppet show for Apple Cake by Nienke van Hichtum for my child's 6 year old birthday. Click on the image below to view that homemade puppet show.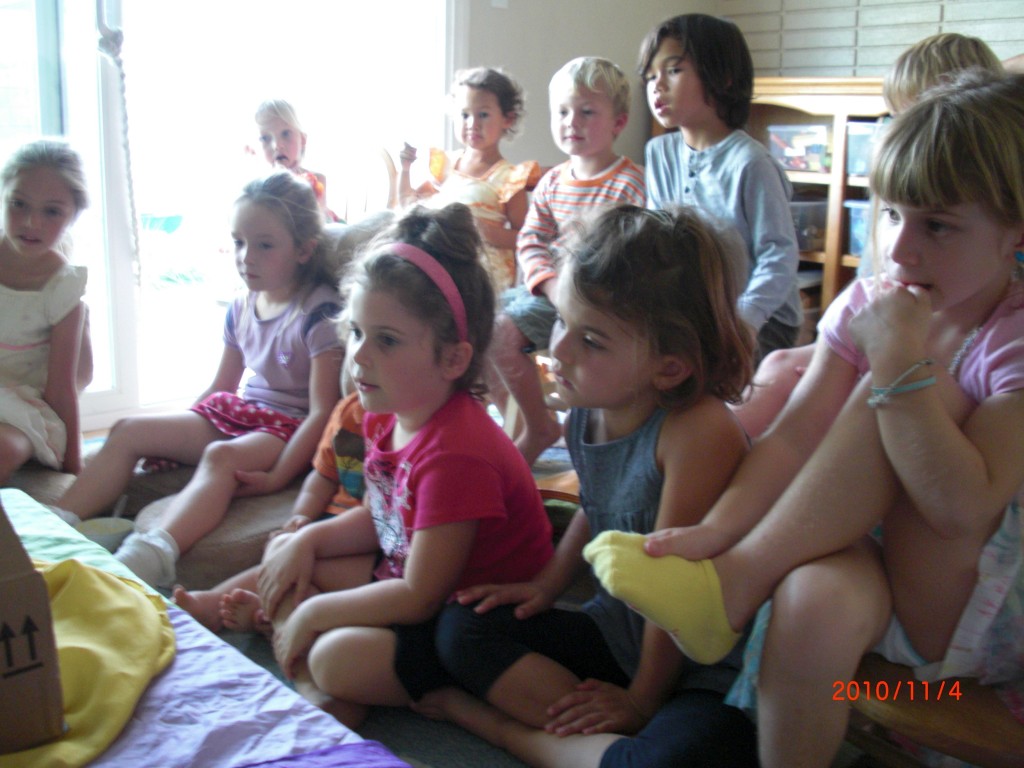 November 2010. Apple Cake homemade puppet show for Nunu's 6th birthday.
December 2012. I received a request to make this table top puppet doll set for some children in Brazil. Between chopping wood and carrying water, I managed to finish making this set by April 2013! Thank you Eli for your supreme patience!
I decided to make these figures as lovely as can be to delight little children who will be experiencing the magical story. I thoughtfully made the dolls not only for this story, but also to be flexible enough for many other uses. I wanted them to be archetypal enough to fit in many other stories besides this one. (yet I do get carried away adding details coz that is just too much fun to do!)  I also hope that by simple modification, the can also be used for the season table.
Click here to jump back to the menu on the top of the page. Whee!
Handmade Love and Excerpts from The Story
There was an old woman who took a fancy one day to eat an apple cake. She had plenty of flour, sugar and butter, and enough spices. But the one thing she did not have was an apple. She did have plums: a whole tree full of plums, the roundest and reddest that you ever saw. Well, you cannot make an apple cake from plums, even if you try your very hardest! – Nienke van Hichtum.
The Old Woman's plums: the roundest and reddest that you ever saw.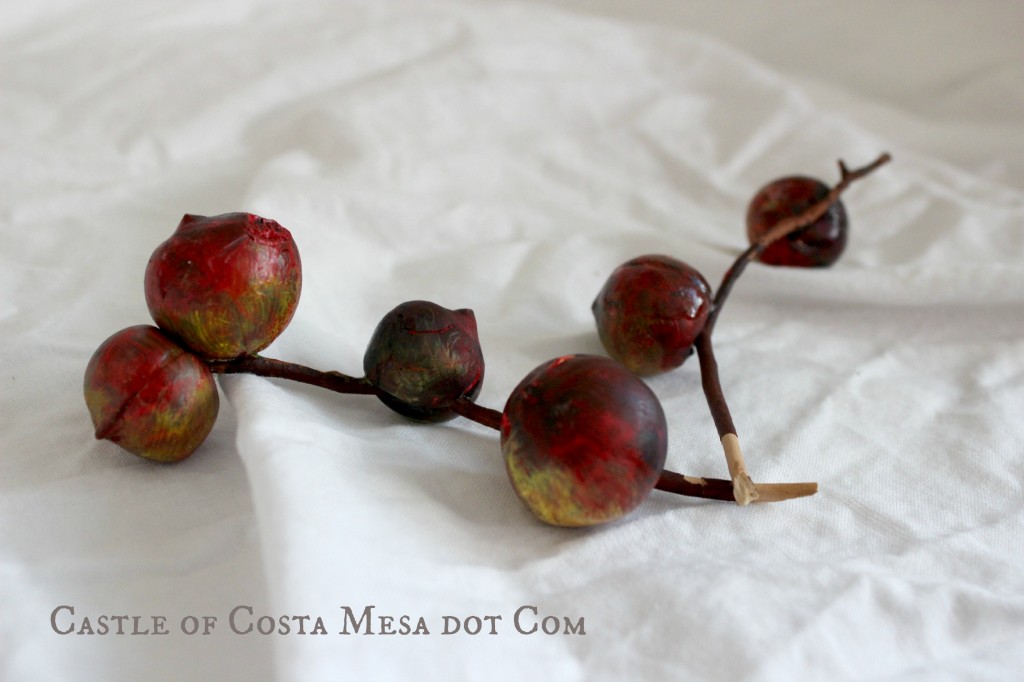 … she took a basket, filled it with plums and covered them with a gingham napkin. "Well," she thought, "it may happen that I come to a place where there are apples and no plums."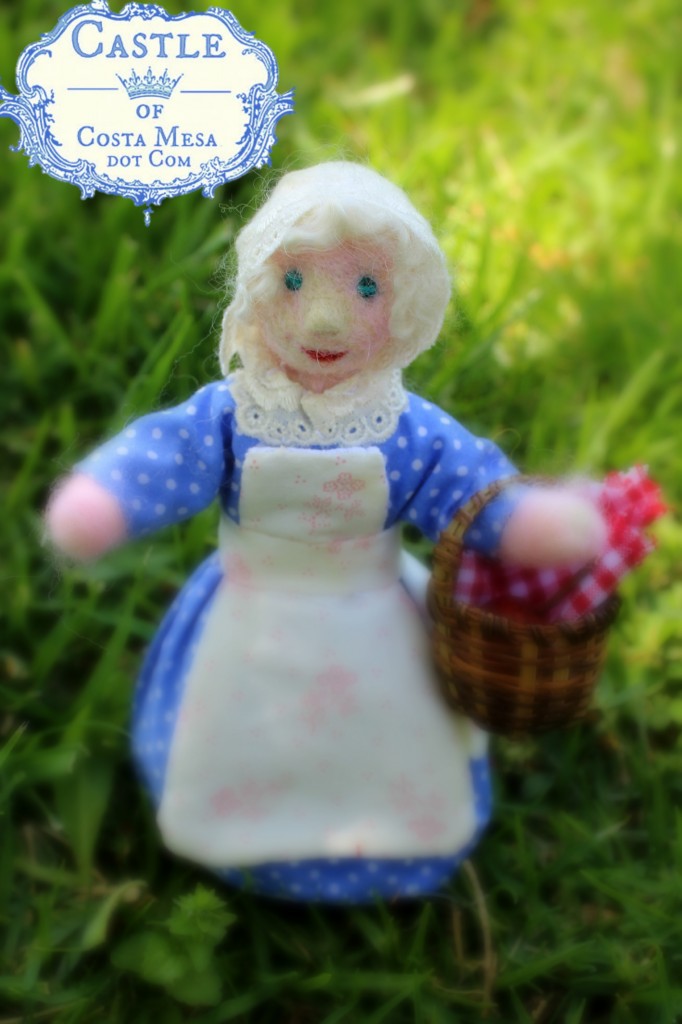 The Goose Girl with feathers.
… said the Old Woman, "better one person happy than two disappointed. Just hold out your apron." And right away she emptied her basket of plums into the young woman's apron.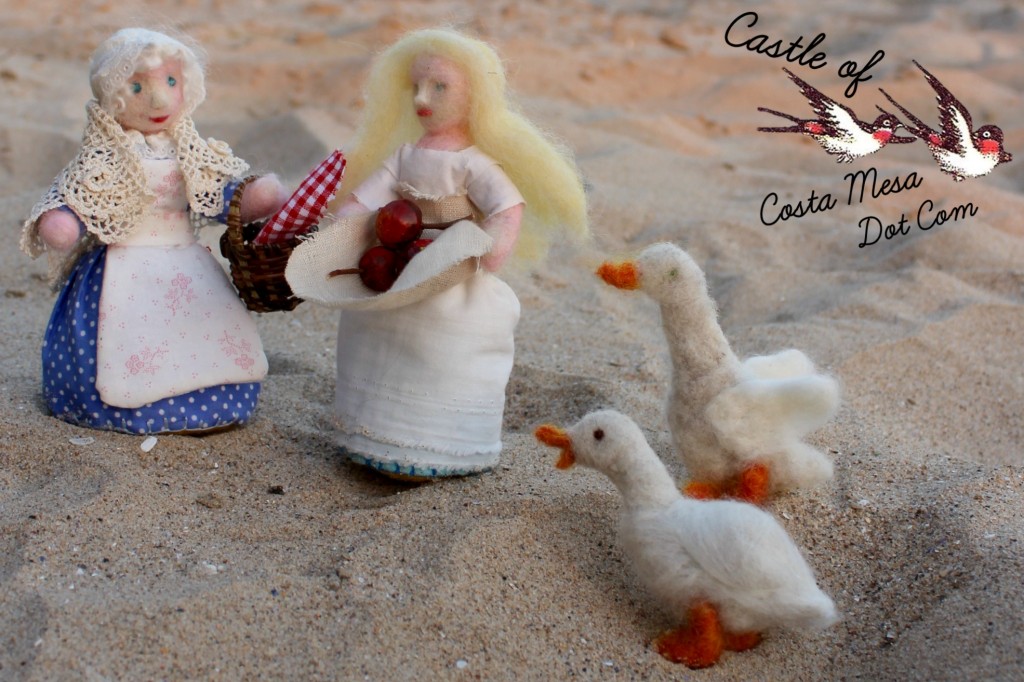 They laughed and smiled like happy children, and then they went round the garden gathering the loveliest flowers for the old woman: roses, lilies, lilac, violets – what a beautiful bouquet!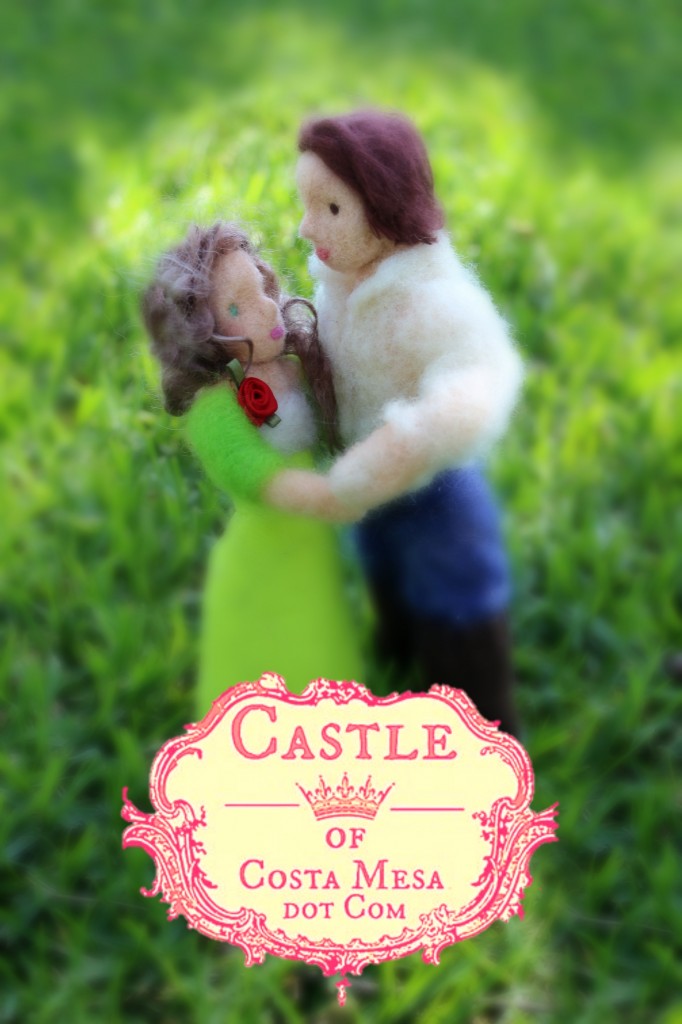 At once his face lit up, the frown vanished from his forehead, and now he was the handsomest and finest young man that ever the sun shone down upon.
"Fair exchange is no robbery," said he, laughing, and taking a gold chain from his neck and dropped it into the old woman's basket.
Here is the young man sans cape, gold chain and frown: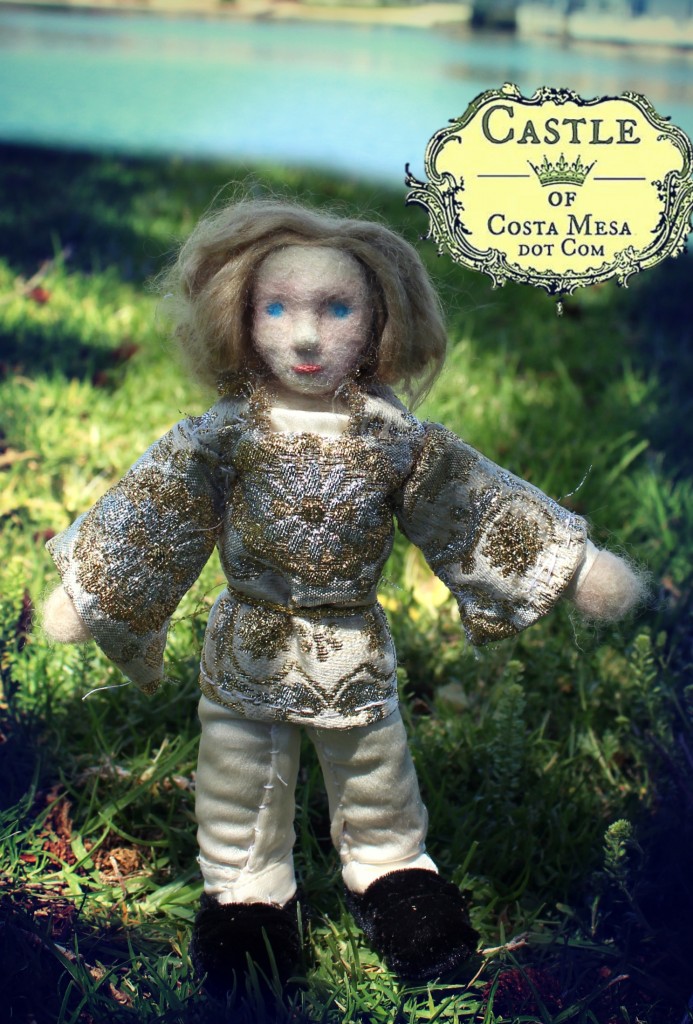 "Yes, yes," said the Old Man, "but red apples are poor company when you are lonely. I would not miss them if I had a cheery little dog barking on my doorstep."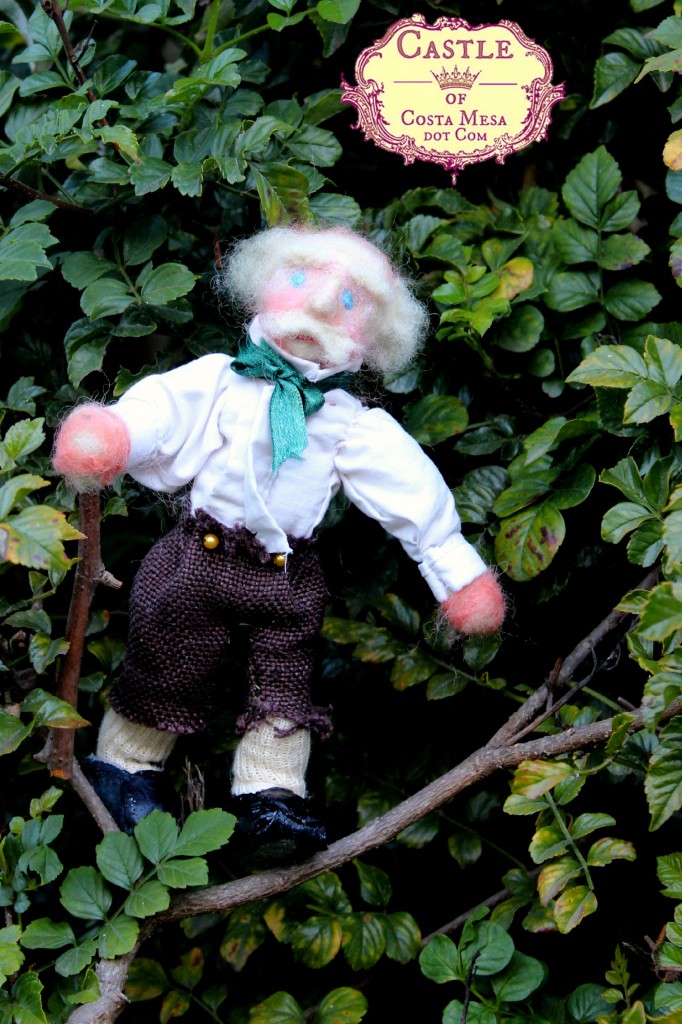 … And the Old Woman was on her way home with her basket full of lovely red apples.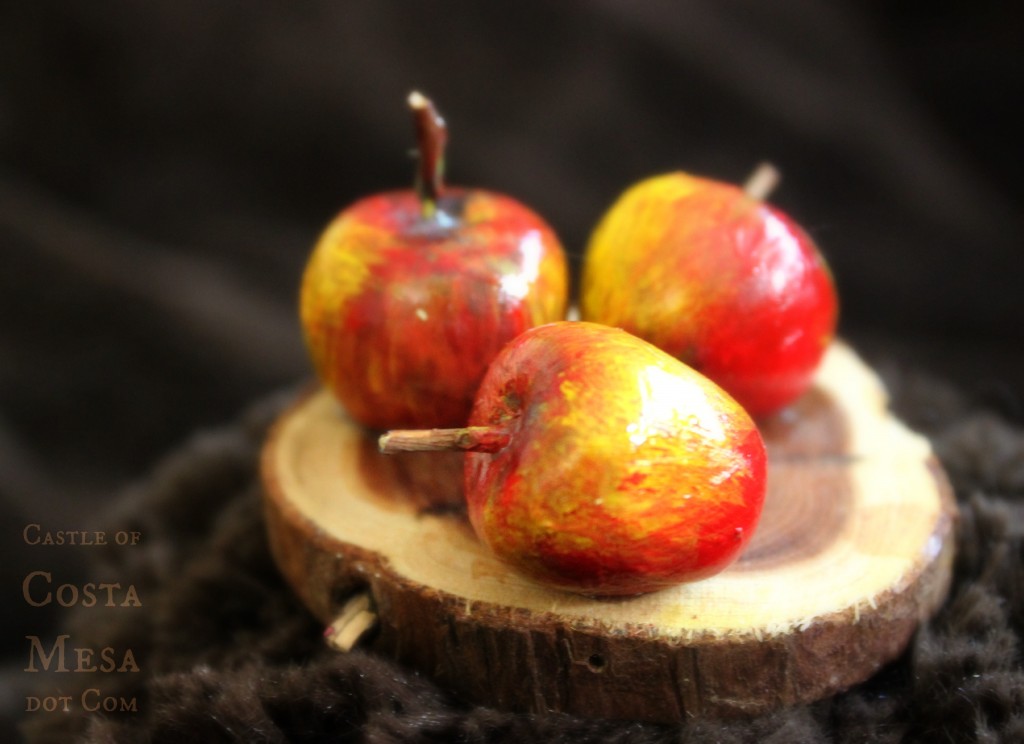 Saturday, April 20, 2013. Reef Point, Crystal Cove state beach, below. My handmade cast of Apple Cake by Nienke van Hichtum set made for Brazil order. Monday, April 22, 2013. Hurray! This set sold on my Etsy store CastleofCostaMesa. They will be leaving Costa Mesa and making their way to the hearts and childhood memories of Brazilian children. What a  wonderful thought! Obrigado, Eli!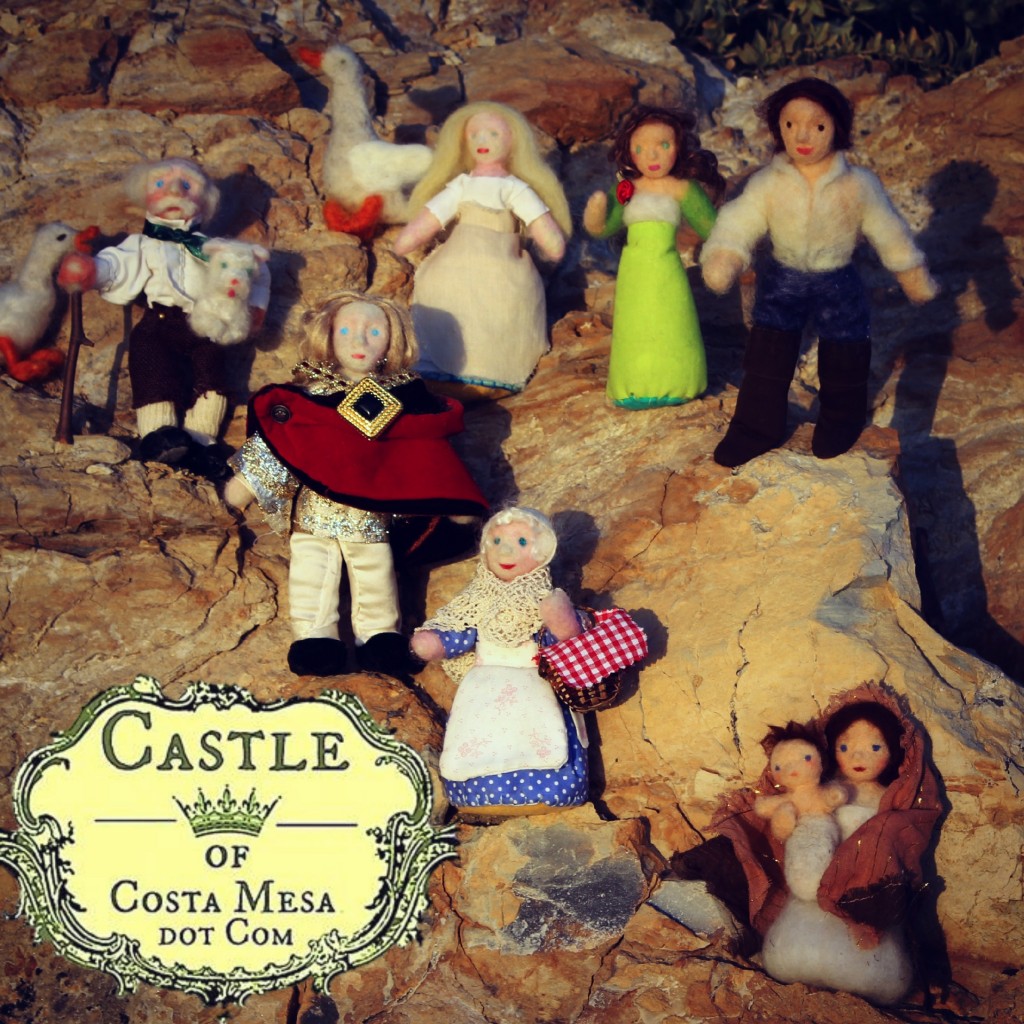 Cast of Characters: My Crafting Journeys
The Old Woman who wanted more than anything to eat an apple cake.
November 28, 2012. Wednesday. Last night, Eli from faraway exotic Brazil wanted a set of Apple Cake dolls for her 5 year old children. I enjoy making the dolls, so I started crafting the head of the Old Woman the very next day during our weekly local  Wednesday morning craft group get together. My first version of handmade "Old Woman" looked on in the back as I needle-felted the head of the new doll.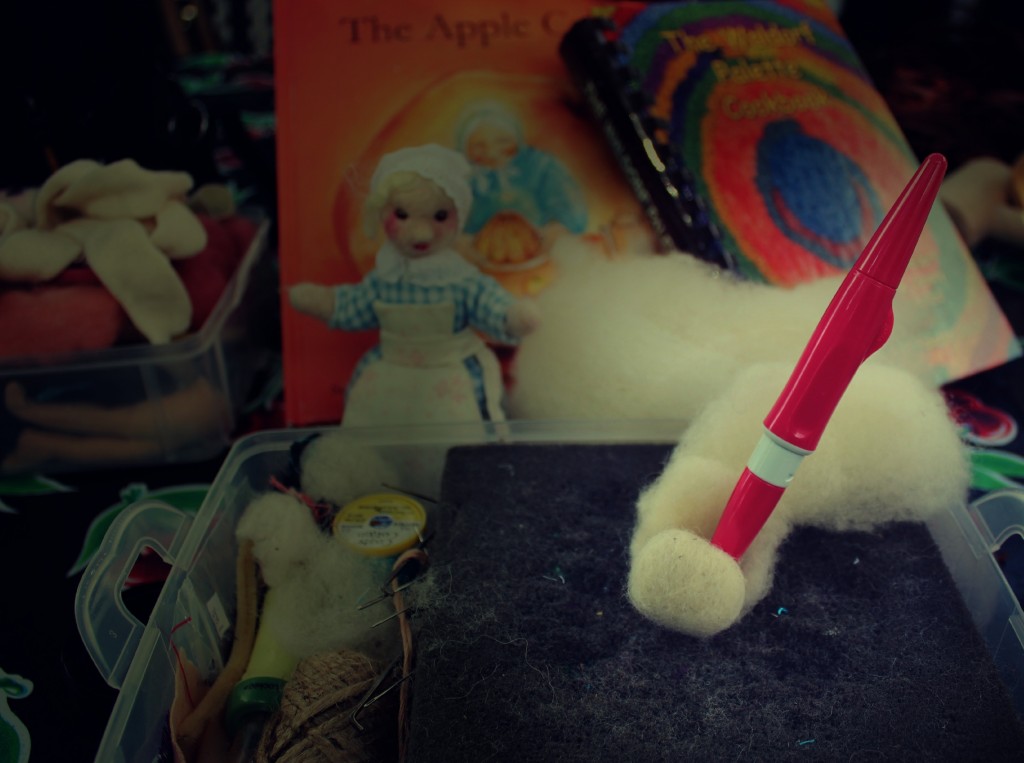 Rolling roving into a ball for the head. Here is the first picture of the crafting process.
December 2, 2012. Sunday. Crafting the Old Woman in the car in the soft autumn rain while waiting for my child in Chinese class. Here, I just finished needle-felting some Cotswold wool roving for the Old Woman's hair. Such joy to work with this beautiful material.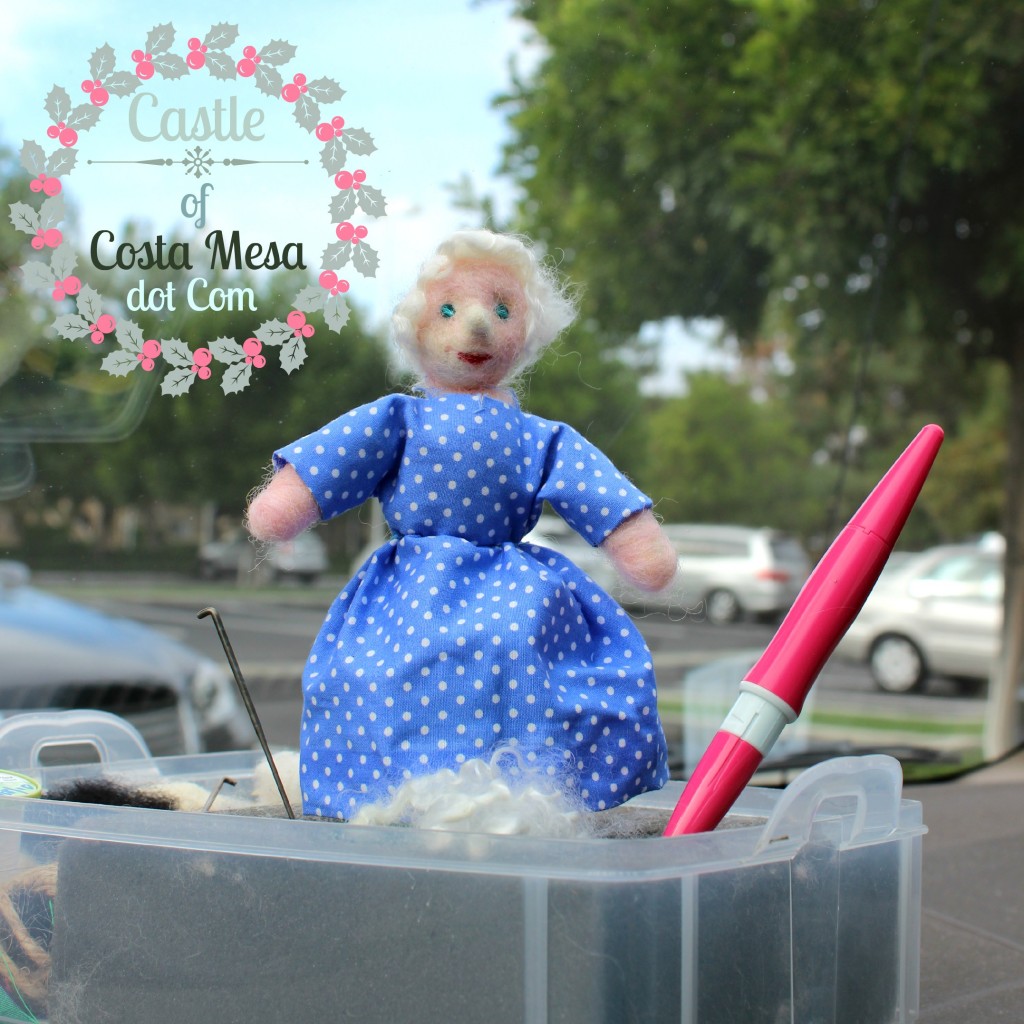 Lovely Cotswold wool locks used for the Old Woman's hair. About $5 or so a small bag from The Company of Angels store or Piecemakers in Costa Mesa. Otherwise Etsy.com has them too.
I am savoring my quiet little piece of crafting heaven in the microcosm of this car in the rain. Now, the Old Woman's  hair and bonnet are done.
Her glistening eyes were hand stitched on with blue glass beads from Piecemakers Country Store. The rest of her facial features were needle-felted on.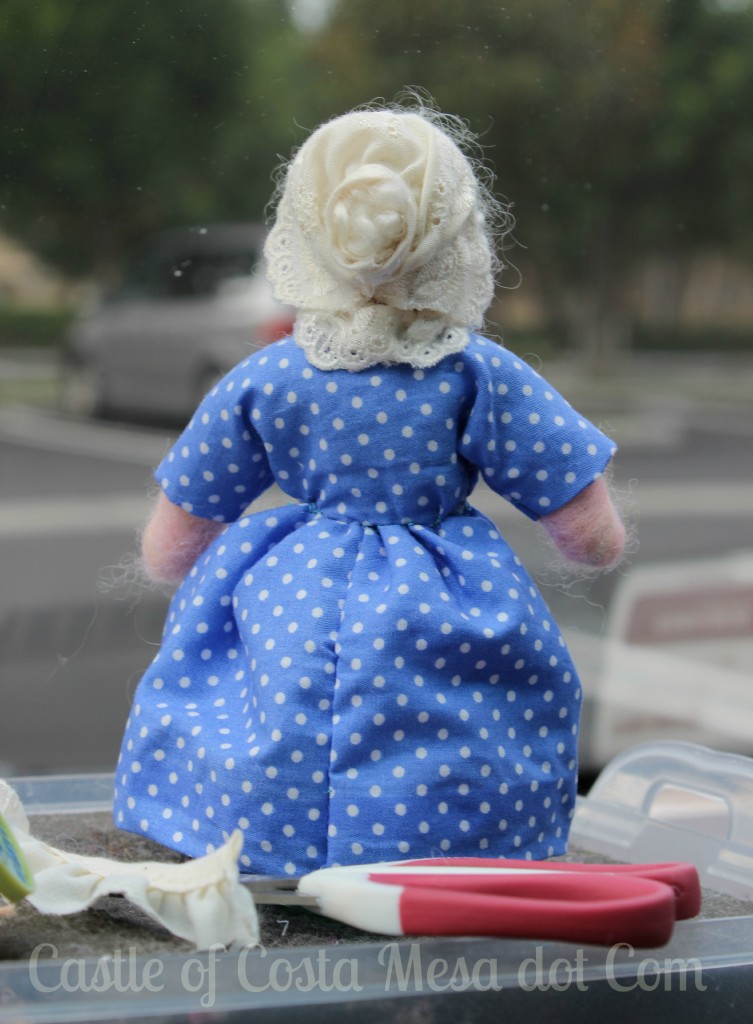 Blue is a color of benign kindness. White polka dotted periwinkle 100% cotton fabric from Piecemakers. Robert Kaufman. www.robertKaufman.com. The old woman's removable apron is 100% cotton made in Japan. Piecemakers store in Costa Mesa has nice fabrics!
Vintage crochet doily from one of my favorite craft stores in Costa Mesa, The Piecemakers Country Store.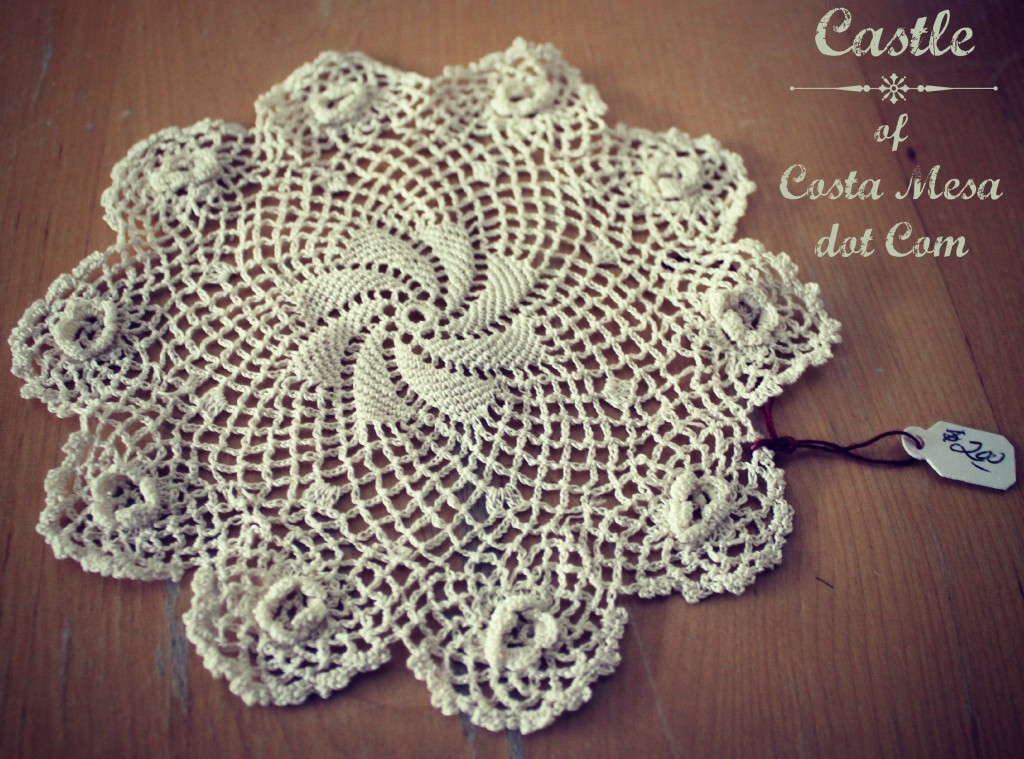 Monday, December 3, 2012. At a leisurely pace of working, finally I finished making this doll. What a joy to make! She put on her crochet shawl, carried her basket of (beeswax) plums and off she went, in search of apples for her apple cake.   Her apron and shawl are removable. Her bonnet is stitched on, so it is not removable. Materials Base: yellow wool felt, hand-dyed by Christine Newell. Apron:
December 8, 2012. Wednesday. Voila! Done!

Another view of The Old Woman in my daughter's homemade Cinderella's doll house kitchen.

Compare my current version of Old Woman above with the original doll below. Here she was used as Snow White and Rose Red's widowed mother in our homemade fairy tale, "Snow White and Rose Red by the Brothers Grimm".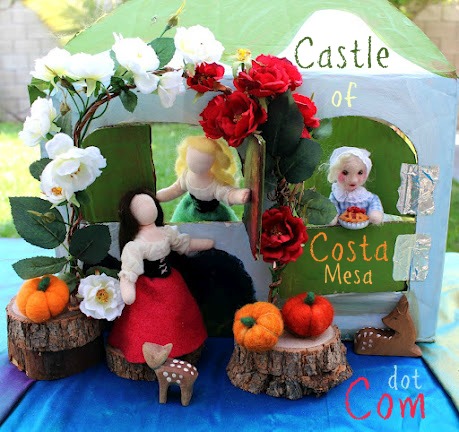 Here are the handmade accessories to go with The Old Woman…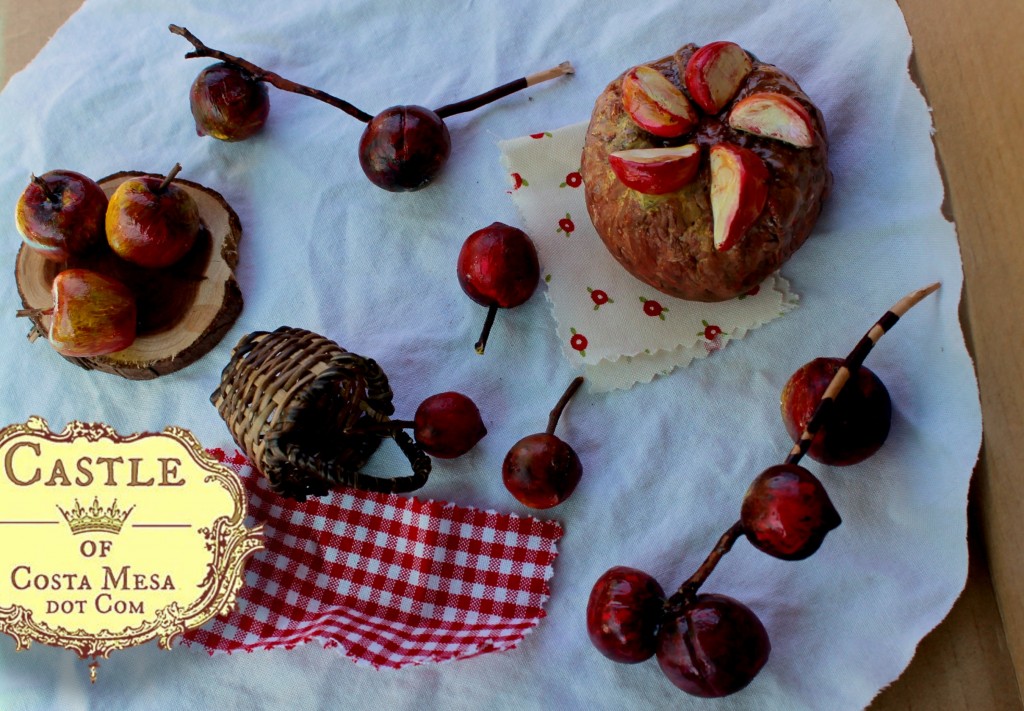 Click here to jump back to the menu on the top of the page. Whee!
The Goose Girl
December 12, 2012. Wednesday. I started making the second character to my "Apple Cake by Nienke Van Hichtum" puppet dolls set. I made the Old Woman last week. Now this is the young gooseherd. Here is what I managed to complete so far at craft group today.
The next day… December 13, 2012. Thursday. It rained last night. I enthusiastically took my camera out to the cherimoya tree in the morning to photograph the dew drops. Here is the goose girl doll between the dewy cherimoya leaves. The smell of the herbs and fruit trees after the rain was lovely.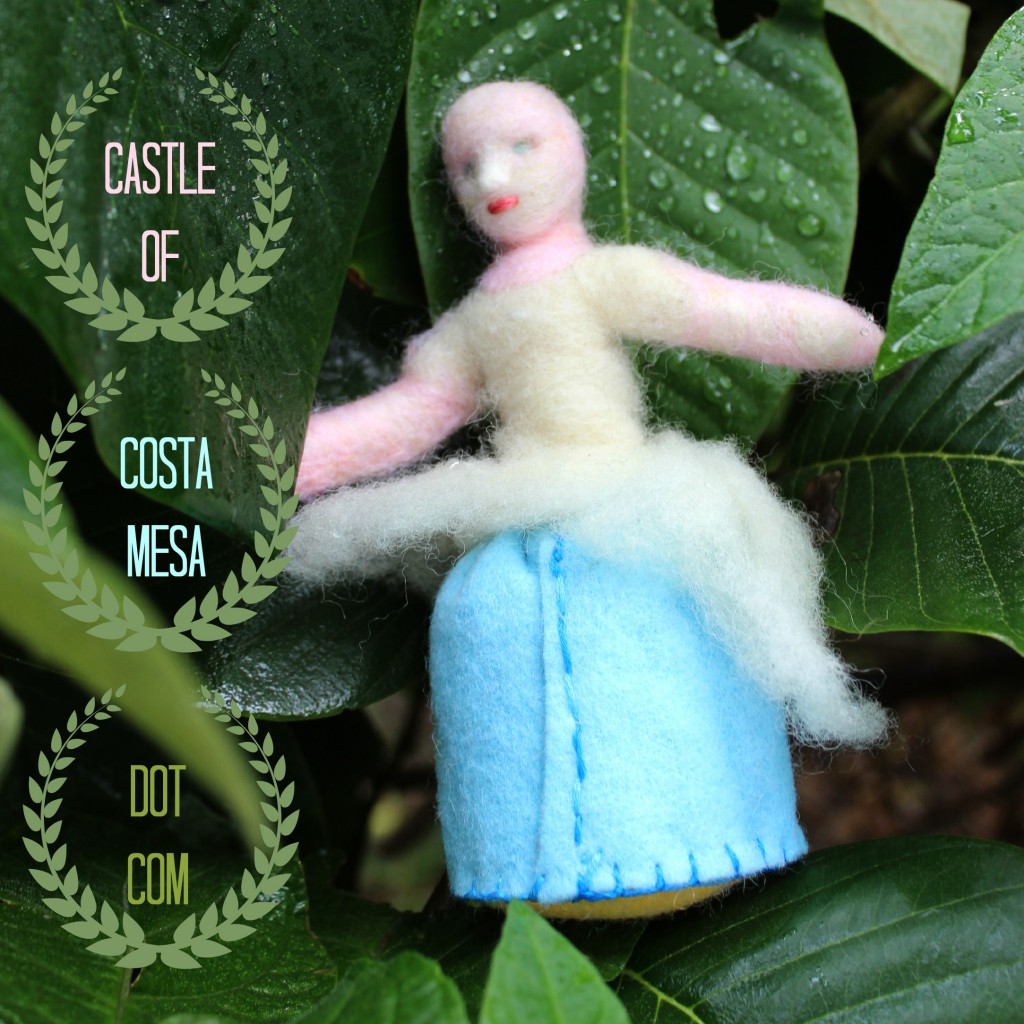 December 20, 2012. Thursday. The goose girl with a removable apron for gathering goose down.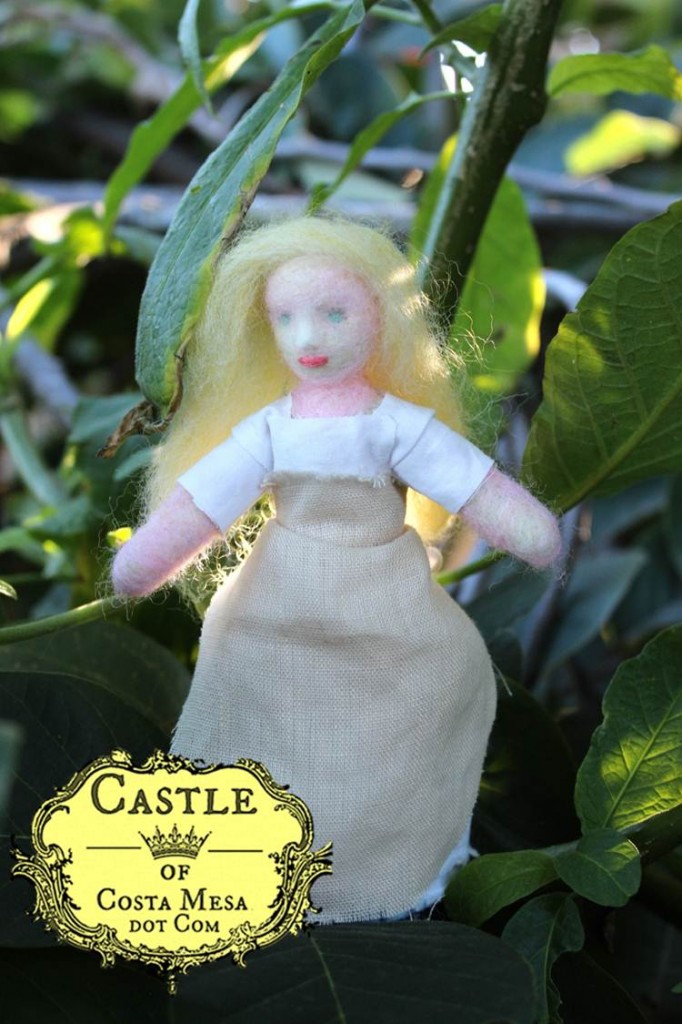 The geese were proudly handmade (with help) by my 8 year old volunteer assistant, my daughter Nunu (not her real name).
Click here to jump back to the menu on the top of the page. Whee!
The Couple in the Garden.
The first time we performed our homemade puppet show, [click here to view our homemade puppet show for Nunu's 6th birthday], we deleted the scene for the quarrelling couple because I did not like the negative energy. Here, I made the couple.
April 17, 2013 Wednesday. I started and finished making the wife doll today.
The wife likes to emphasize her points with grandiose hand gestures.
Most of the work was done on the sandy beach at Balboa Peninsular as my boys were playing around on their spring break. It was very windy and I decided to weigh this doll down using the beautiful sand and seashells of Balboa Peninsular!
April 17, 2013. The husband. I started making this doll today. Nunu paused in her piano practice and said he looked like Marius from Les Miserables.
April 19, 2013. Friday. The Husband.
April 21, 2013. Sunday. My boy was hanging out in the trees as I photographed my dolls this morning. Here are the Couple in The Garden for the Apple Cake table top puppet show set. I needle-felted them this week.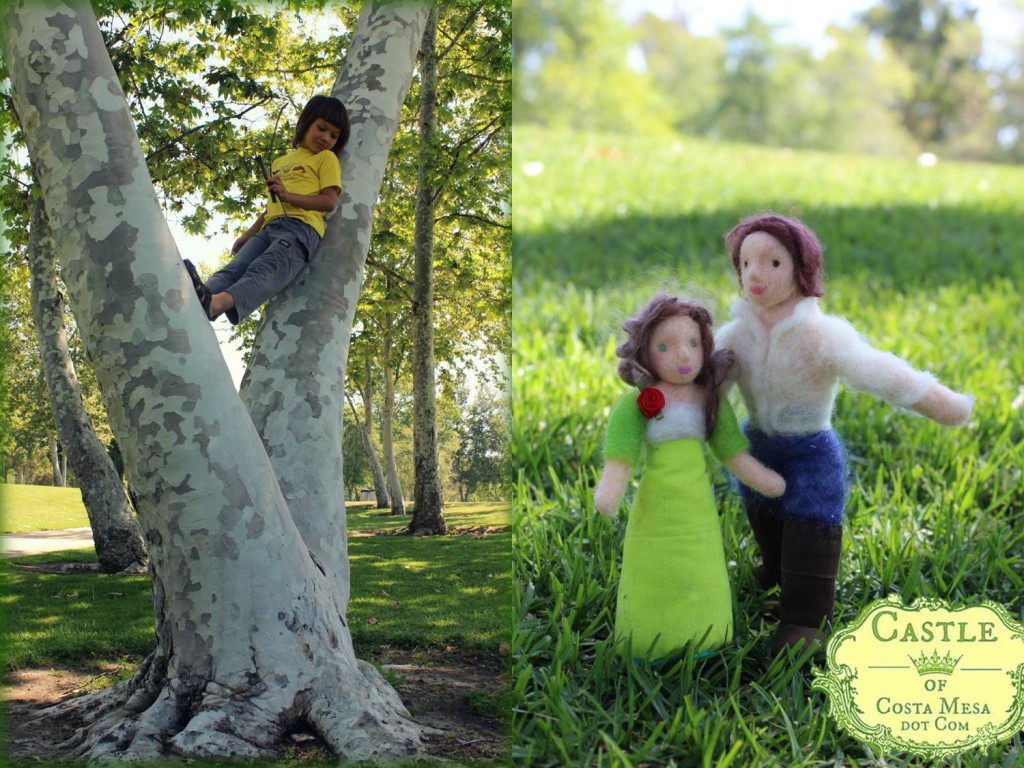 Click here to jump back to the menu on the top of the page. Whee!
The Handsome Young Man whose face was so gloomy, he appeared as if he had not a friend in the world.
February 23, 2013. I started needle-felting the head of this doll. In the back, you can see the felted Fairy Tale playscape I was working on for the Waldorf School of Orange County 2013 Spring Gala and Auction.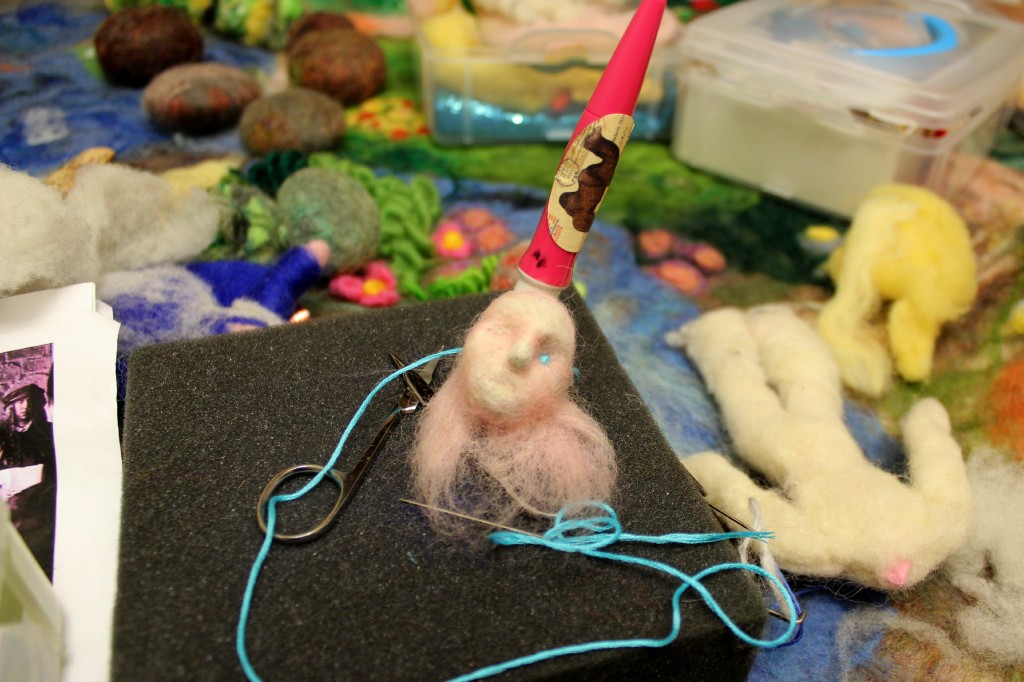 April 15, 2013 Monday. Yay! Finally I finished making this doll. This one took me a long time because I could not come to terms with the achronistic costume in the story book. This costume is centuries older than the rest of the casts member's costume. Finally, I said, "I can live with that." and made him in older costume anyway. April 17, 2013 Wednesday. I changed his face. I like him better this way. April 19, 2013. Friday. Newport Beach backbay, California. This photo was taken as I was busy photographing my dolls and my mother was busy photographing my children climbing a big tree.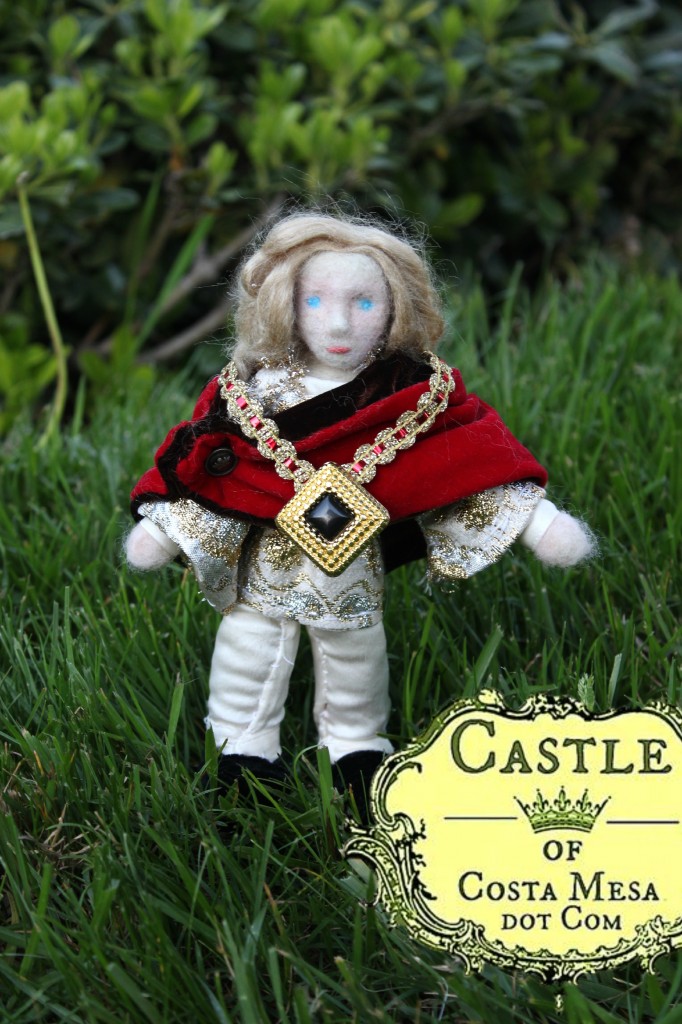 The young man's hair is needle-felted with the finest Golden Royal Muga luxury silk fibers from India.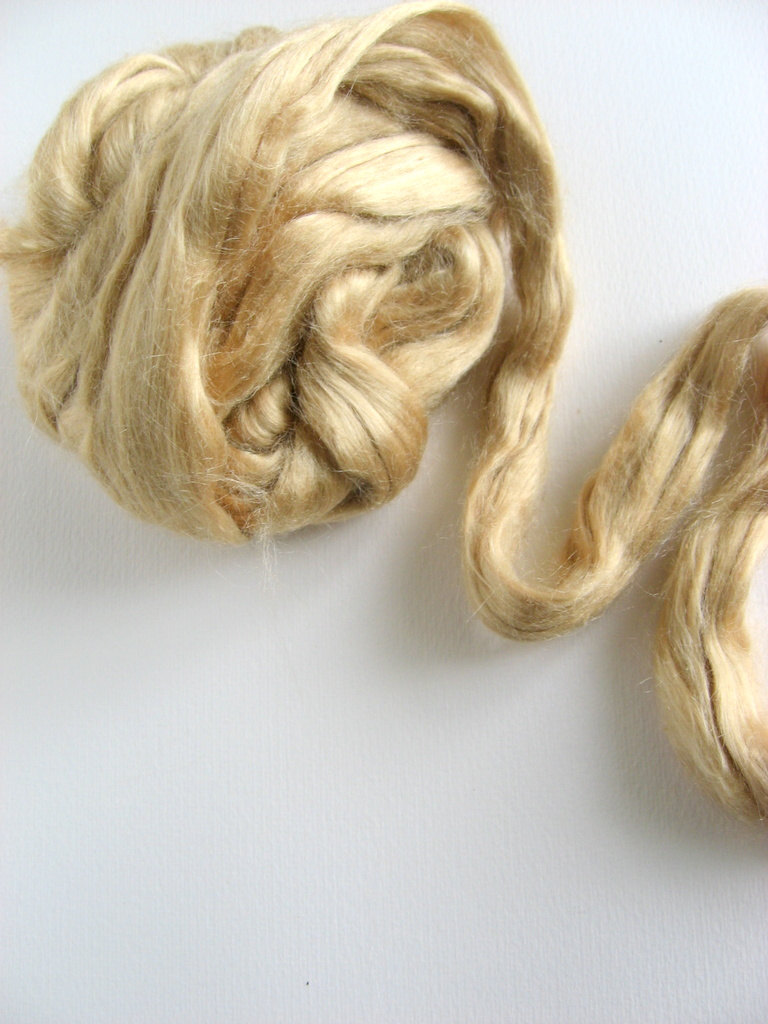 This is the only naturally Golden Colored Silk fiber. Muga Silk is unique to the Assam region of India and this special silk was reserved for the exclusive use of royal families in Assam for 600 years. Muga Silk is known for its deep gold color and its glossy, fine texture and it is one of the most expensive and treasured silks, a true luxury fiber and it is naturally organic. Click here to jump back to the menu on the top of the page. Whee!
The Poor Woman, Her Babe and The Little White Dog
Click here to view the Etsy listing. April 16, 2013 Tuesday. I started and finished making this mother and baby doll today. Yay! These figures were thoughtfully made for flexible and multiple other uses. The poor woman and her babe can also be used as Mary and baby Jesus for your nativity scene.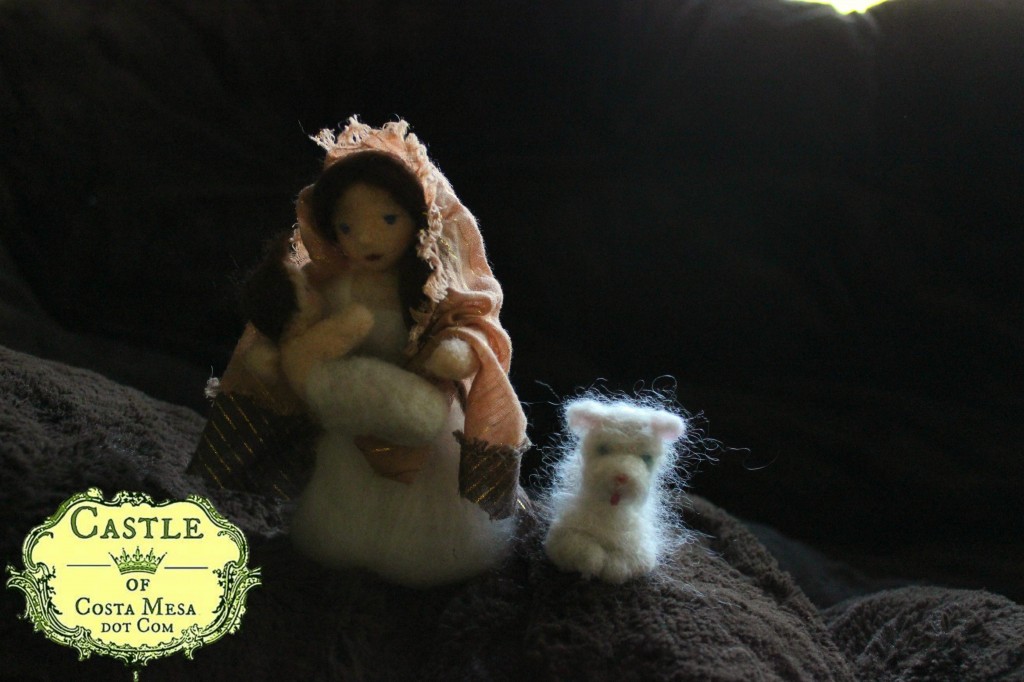 By removing the raggedy shawl, the dolls will have a different appearance. The mother can also appear as a flower fairy for your season nature table, when holding fresh seasonal flowers. These characters can also appear in other fairy tales as the archetypal mother and child figures.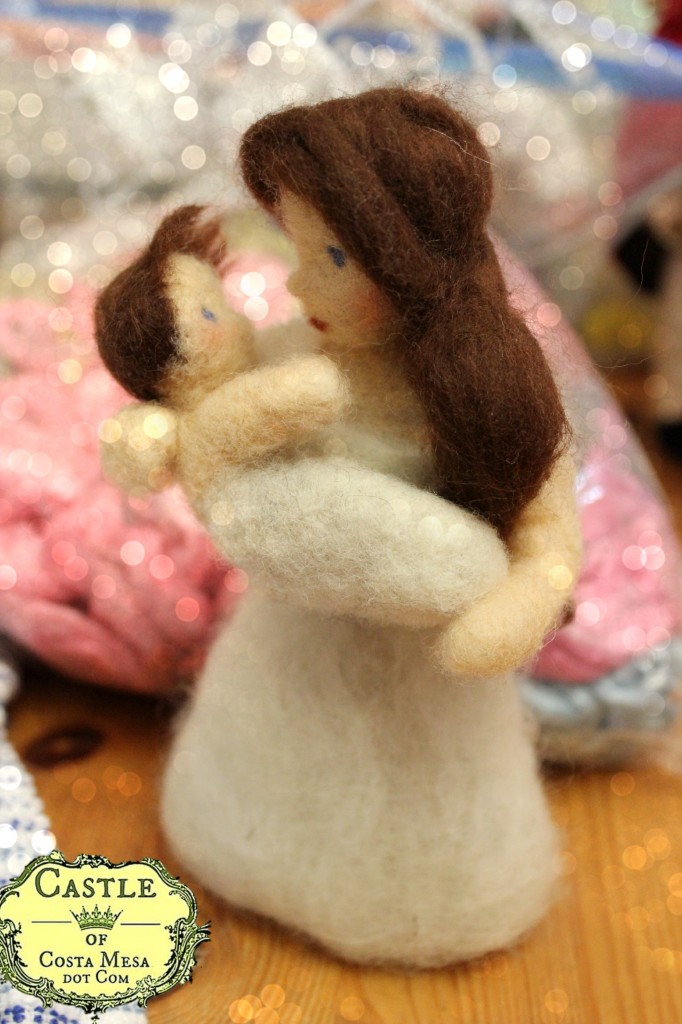 April 17, 2013. I changed her face. She looked too sleepy and melancholic before.
Friday April 19, 2013. The Little White Dog greeted me on my to do list in the early morning light in the kitchen.
Can you find my "Castle of Costa Mesa" logo? The logo placement is an homage to Titian and other painters who like to embed their signatures into the works themselves.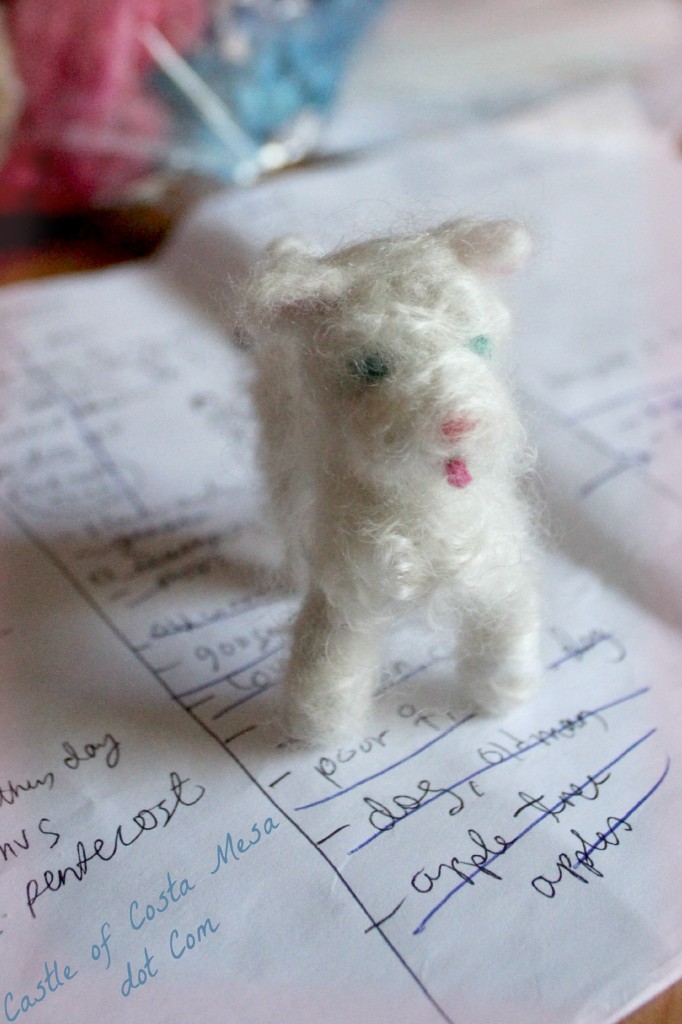 Click here to jump back to the menu on the top of the page. Whee!
The Lonely Old Man
December 16, 2012. Sunday. Needle-felting the old man. His shirt is recycled from an old bed sheet.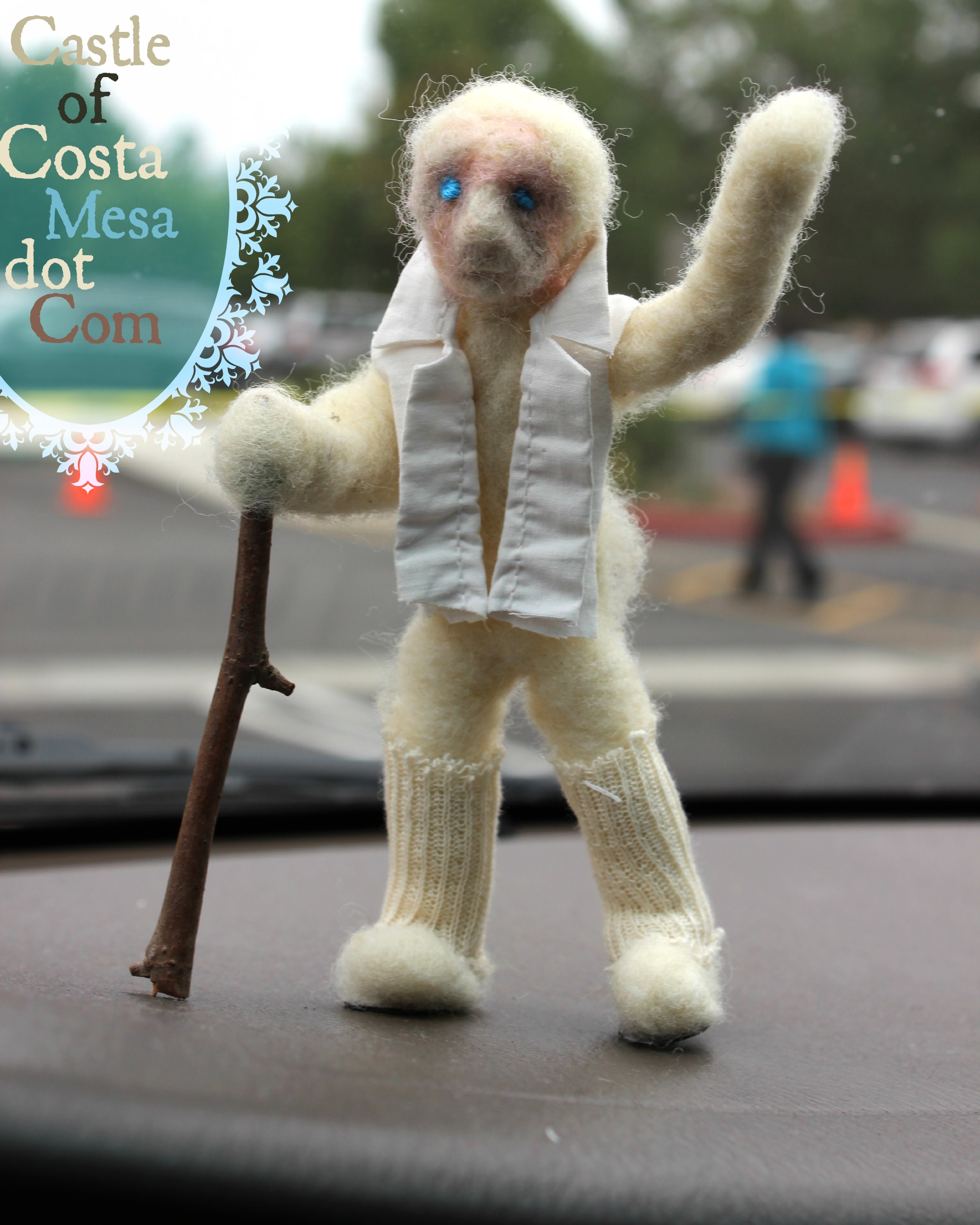 December 20, 2012. Thursday morning. Done! The lonely old man, not so lonely anymore after he met a little white pipe cleaner canine friend! Photographed in the morning sunshine on a chilly morning in the playgroup yard.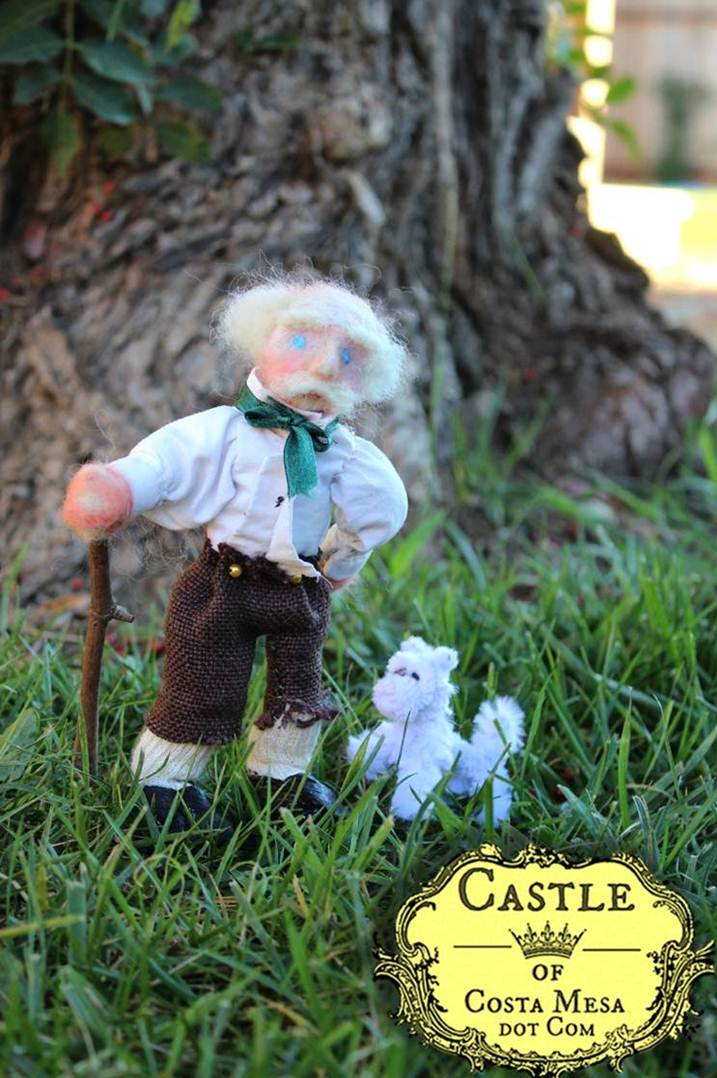 … in the honeysuckle bush by our craft group gazebo …
Click here to jump back to the menu on the top of the page. Whee!
Visit My Handmade Dolls Page
Click here to view my other handmade dolls. I take custom orders. You can contact me on Etsy. My store name is CastleofCostaMesa. Thank you!

Please "Like" Us on Facebook
I giveaway my Handmade Dolls periodically. Please "Like" my facebook page so you will be informed when I announce the next handmade doll giveaway. Thanks!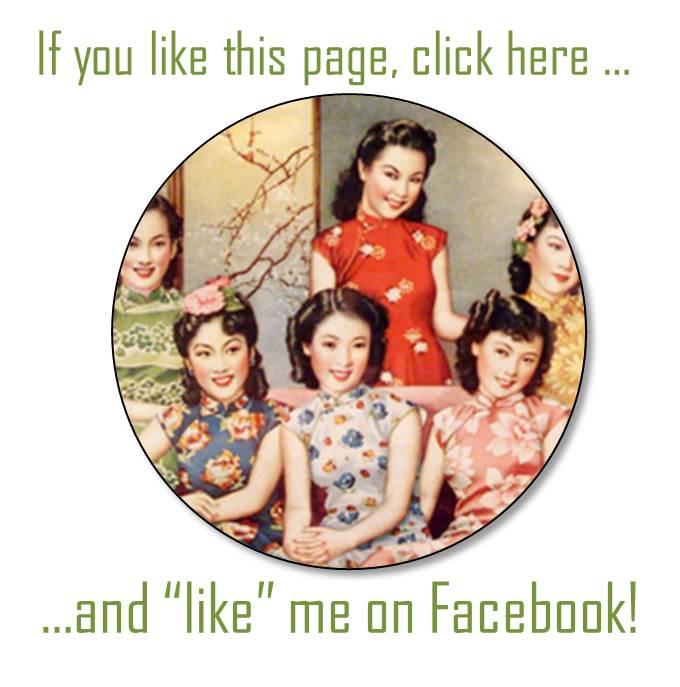 Click here to jump back to the menu on the top of the page. Whee!