Making Anička's First Felted Playscape. Wet-felting with Minimal Rubbing, Rolling, Pounding or Stomping.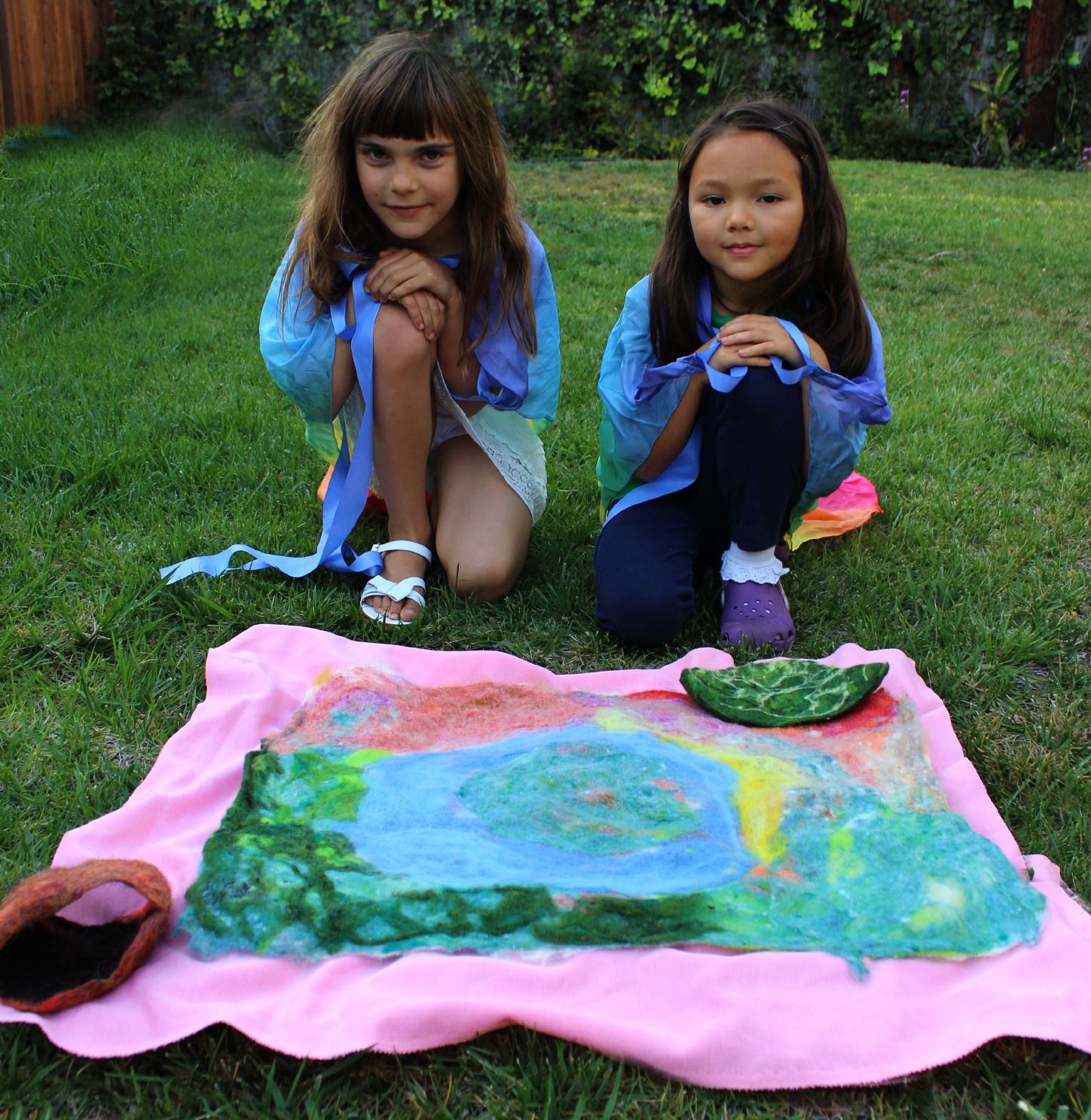 Wednesday, April 3, 2013. Today we gathered to show Anička and her mom Alena how to wet-felt a Waldorf style playscape.
Nunu and Anička (who just turned 8, Happy Birthday!) started by applying with a few thin, flat layers of white wool batting onto a piece of green rectangular felt.
(The green piece of rayon/wool blend felt seen above is actually optional. The rectangular shape and size helped the children in composing the playscape. However, in the end, our playscape was thick enough, we removed the green backing and saved it for other uses).
Anička made the overall playscape design. The children and I laid down about 2 layers thick of colorful wool batting on our playscape.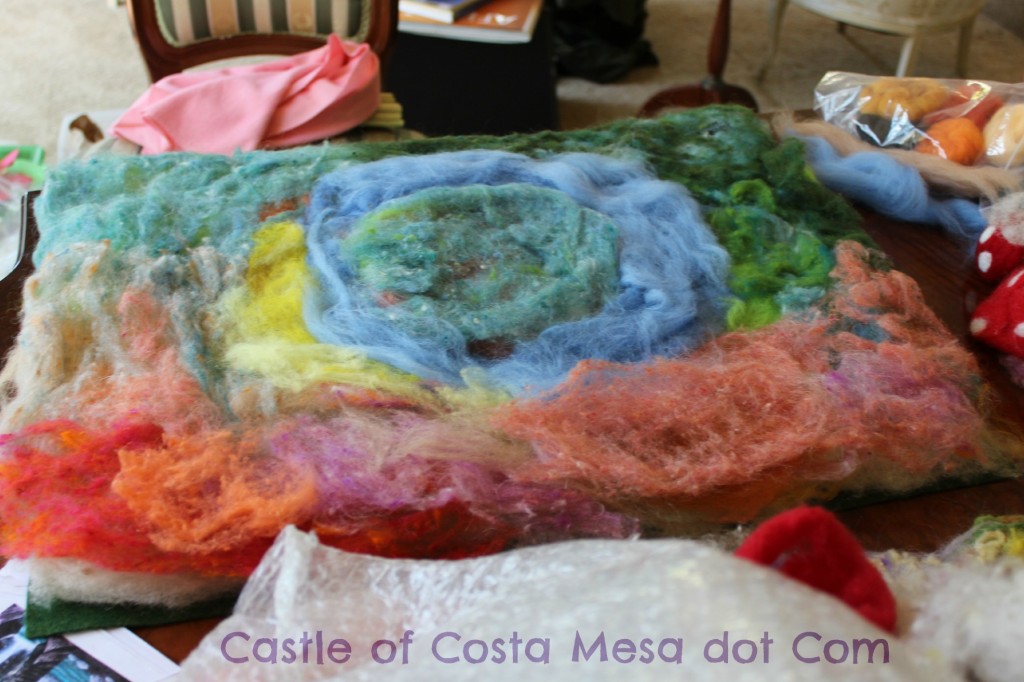 We got most of these gorgeous PeaceFleece wool batting from Chimera's Etsy Store. I love this material that is so easy to use for needle-felting, gives great texture as well.
I highly recommend these wool batting (70% wool, 30% mohair) for the beginner (or anyone) needle-felter. Huge pack of 21 colors for $20 on Etsy. Makes a great gift for that crafty child or person. I just bought a package each for Nunu and for Anička from Chimera. I love it!
You can also purchase PeaceFleece directly from their website here: http://peacefleece.com/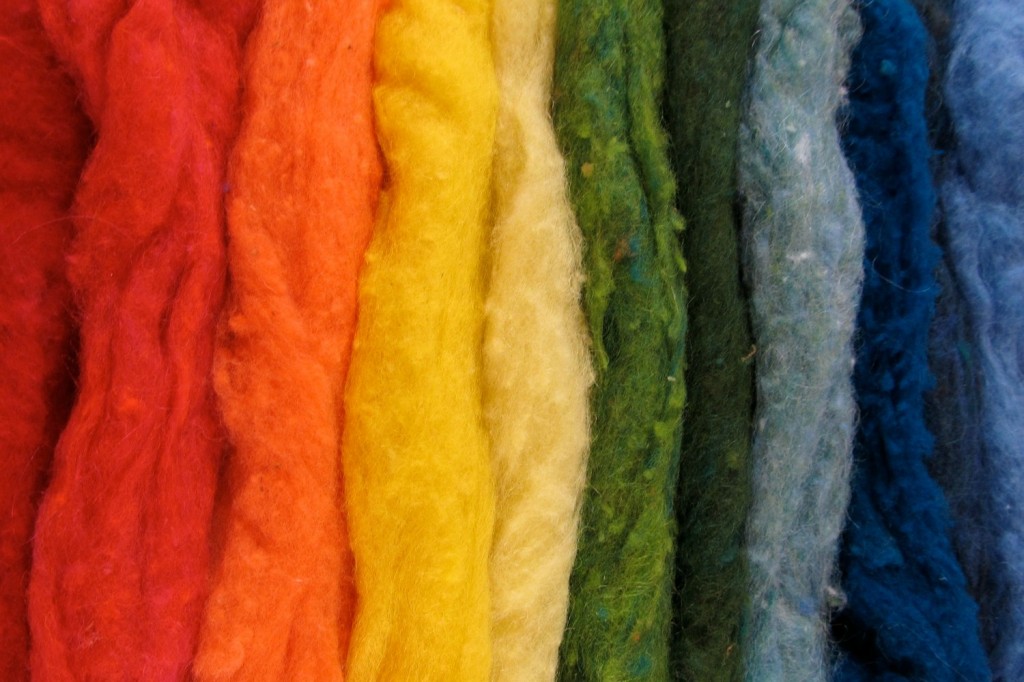 Wool that is the most easy to felt with: http://peacefleece.com/
It was a gorgeous and sunny spring day. We placed our project on top of 2 thick towels in the garden and drizzled thin layers of liquid soap (brown soap in the photo below) all over the wool.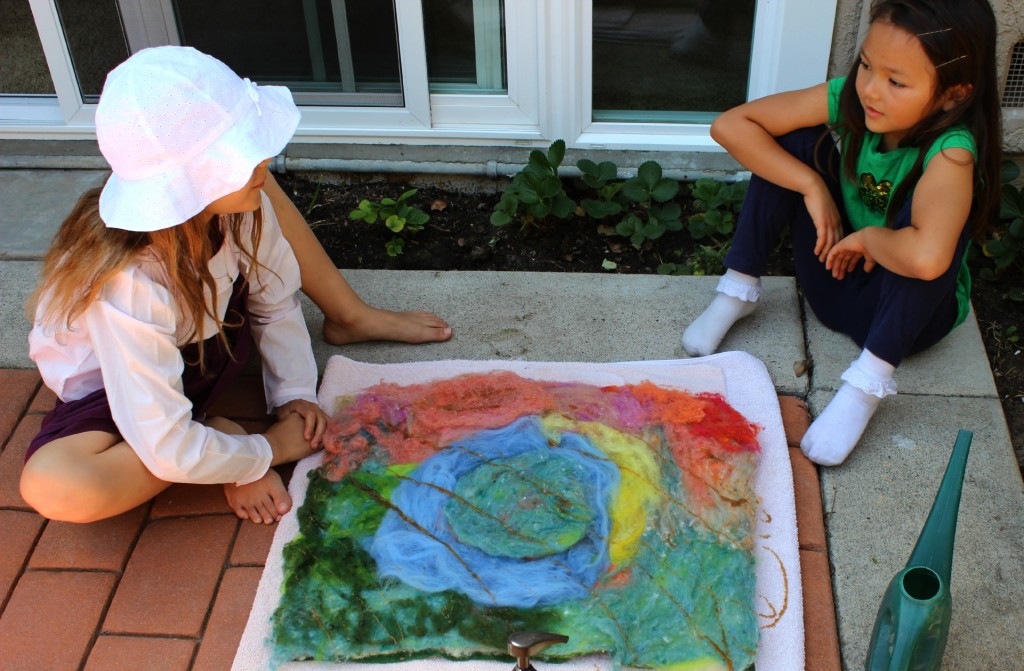 Please ignore the green watering can on the bottom right. That was not used in our craft project today.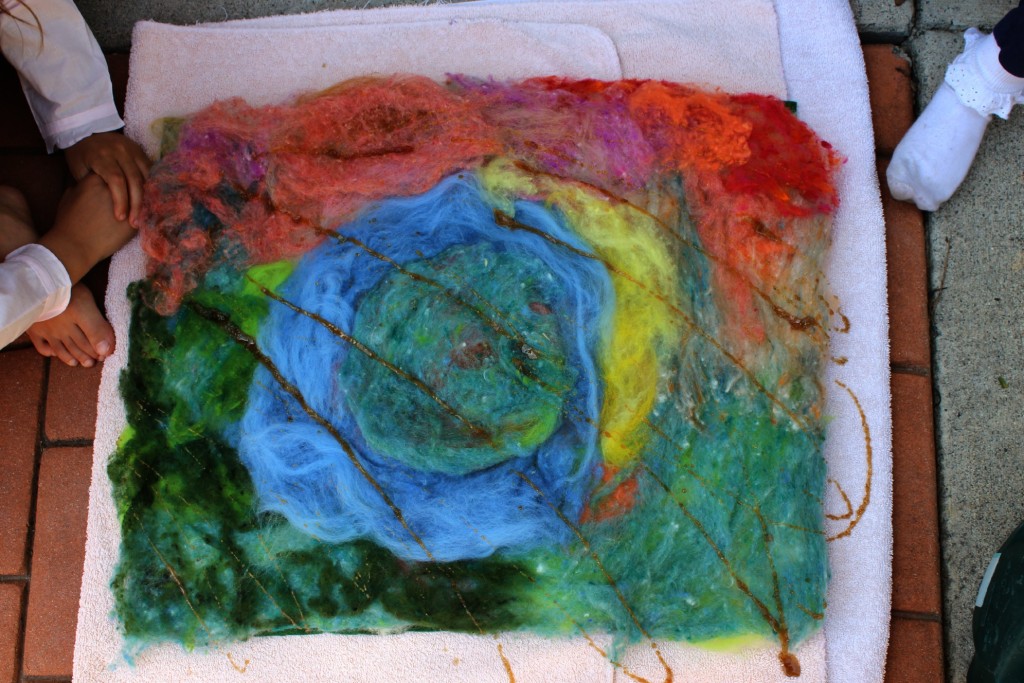 The hot water was ready. I drizzled thin streams of boiling water onto the wool. This project was thick and thirsty. I needed about 3 kettle-fuls of boiling water.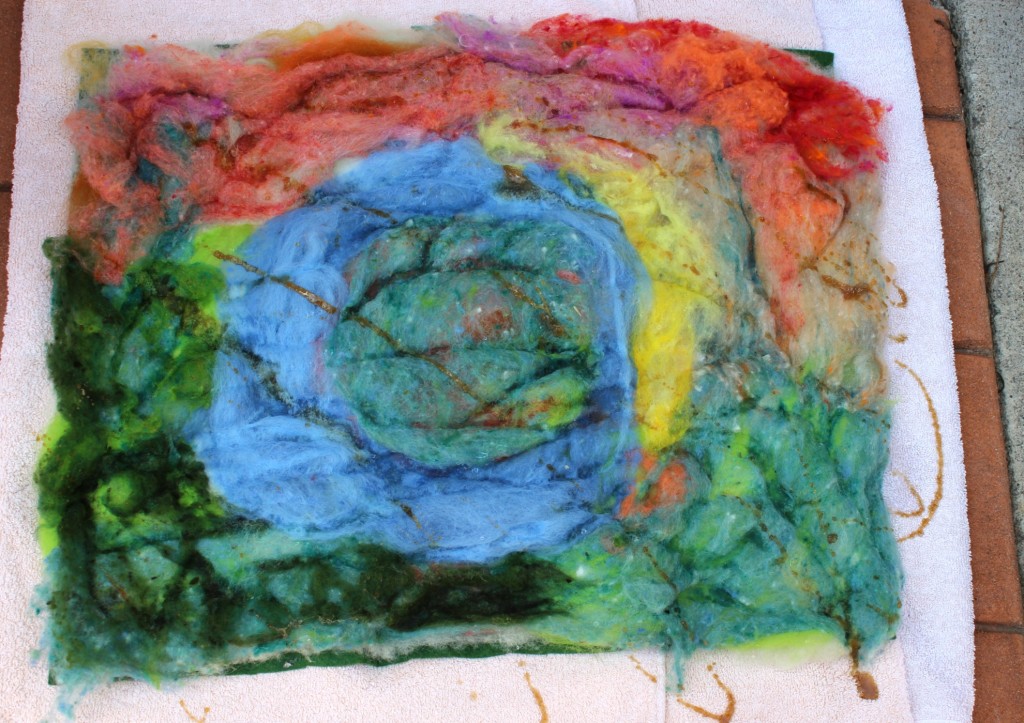 For the next step/wet-felting, we covered the above with a piece of  polyester fabric larger than our project. The polyester fabric should ideally about 7 inches (roughly) longer than out project on one side (this is to ensure at the that the entire project can be completely rolled up in the polyester fabric later).
We happened to have this polyester fabric with texture, given to us by our friends at Piecemakers.com. I think the texture is optional, just fun. The function of this SYNTHETIC fabric is to hold the design in place as the project received agitations for the felting process.
The initial goal was to get the entire playscape to be completely soaked with hot, soapy water. The water was too hot for the children to touch. So I gently pressed down evenly on the polyester fabric to encourage the hot water to spread and soak through the entire playscape. This was done carefully so not to disturb the colorful design below.
Once that was done, and as the water cooled a little, the children joined me. They gently patted the playscape (covered by the pink polyester fabric) while singing African tribal song, "Ay Ziggy Zumba Zumba Zumba" to the beat (Thank you Chris Bennett for teaching us this song!) Our goal here was still to get the wool to be fully soaked with soap and water. Strong pressure was avoided at this step because that would displace and ruin our design.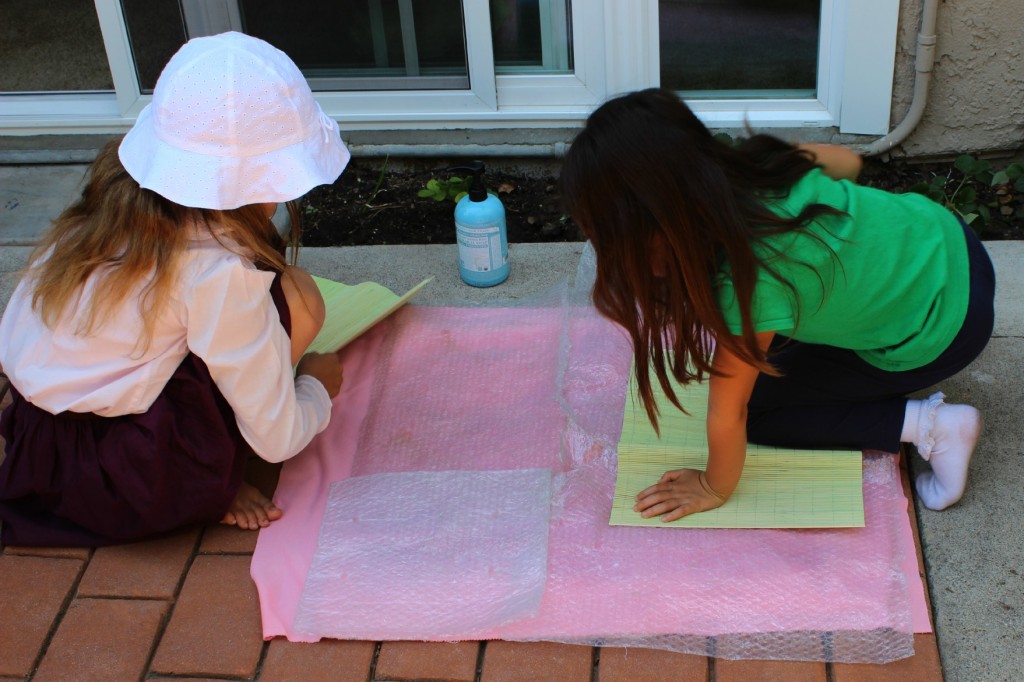 The children happily anticipated rough stomping and rolling on the wet-felted project. Since I was multitasking that day and I had some other urgent mommy duty to attend to, I drastically simplified the wet-felting process to fit in my mommy routines. To the dismay of the children (who love the manual labor), I discovered a new way of wet-felting that requires little pounding, patting, rolling or manual labor!
I now share that secret with all the busy crafters in the world who could use this simplification of process…
Wet-Felting Without The Manual Agitation Step
When the playscape was sufficiently soaked through, I skipped the manual agitation step, (despite having the bamboo mat ready for it) yielding a much simpler process.
I tightly and smoothly rolled up the wet-felted playscape in that pink polyester fabric. Carefully to avoid wrinkles as I rolled. Whenever I see dry spots of wool, I gently poured water (alas the water had cooled down, but I used it anyway) the dry areas. Here is a photo of our craft group rolling our a large playscape we made earlier this year. Rebecca helped ease away the wrinkles/ bubbles in as the group tightly rolled the playscape below.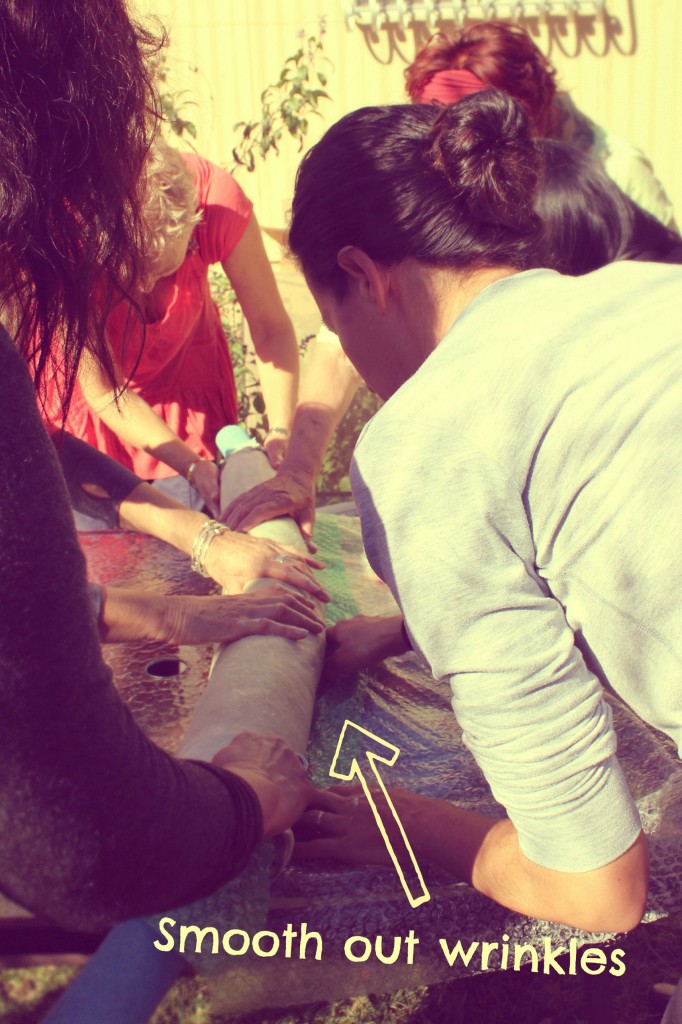 Click here to view our craft group's wet-felting (a large playscape) process for that day.
Ah! This brings back memories of dinosaurs like me pouring DNA sequencing gels in my research lab at wee hours of the night as a graduate student, in ages of yore, when scientists still had to craft their own sequencing gels… But this is a zillion times more relaxing, being non-radioactive, having way fewer stakes involved and no physical danger. But I digress…
Today, we rolled up our wet, soapy playscape with only polyester fabric (no bubble wrap or swimming pool noodle as in photo above). This rolled up playscape was to be carefully tied up and placed inside a pillow case to be felted along my family's laundry pile in the washer and dryer cycles.
Please take into consideration the type and amount of soap you use for this playscape. I forgot about that and my washing machine ended up with extra suds.
Also, consider the dye colors of your wool, if the colors would run in the wash, you will want to wash your project separately from your family laundry.
Polyester fabric works for felting in the washer and dryer because …
It holds the design in place during the tumbling/felting process in the washer and dryer runs
polyester allows air to circulate somewhat (in comparison to plastic wrap), thus the felt project has a chance to dry.
polyester fabric does not felt onto wool, so you can remove the polyester fabric in the end. I imagine this applies to the other synthetic fabrics as well.
I used rubber bands to hold up the rolled up polyester+playscape. I folded the playscape in half (V shape) and stuck that into a large pillow case. I tied a knot on the pillow case and put the rolled up playscape in the pillow case into my washing machine with my family laundry. I washed my family laundry with the playscape/pillow. Then I moved all the laundry into the dryer with the rest of my laundry.
I forgot to wash off the liquid soap first before entering the playscape into my HE washing machine. In the end, I got a lot of suds for my laundry and had to run an extra rinse cycle. Fortunately non of the wool's color run. So my family laundry was safe.
Little puppy Pablito sleeping soundly as we crafted.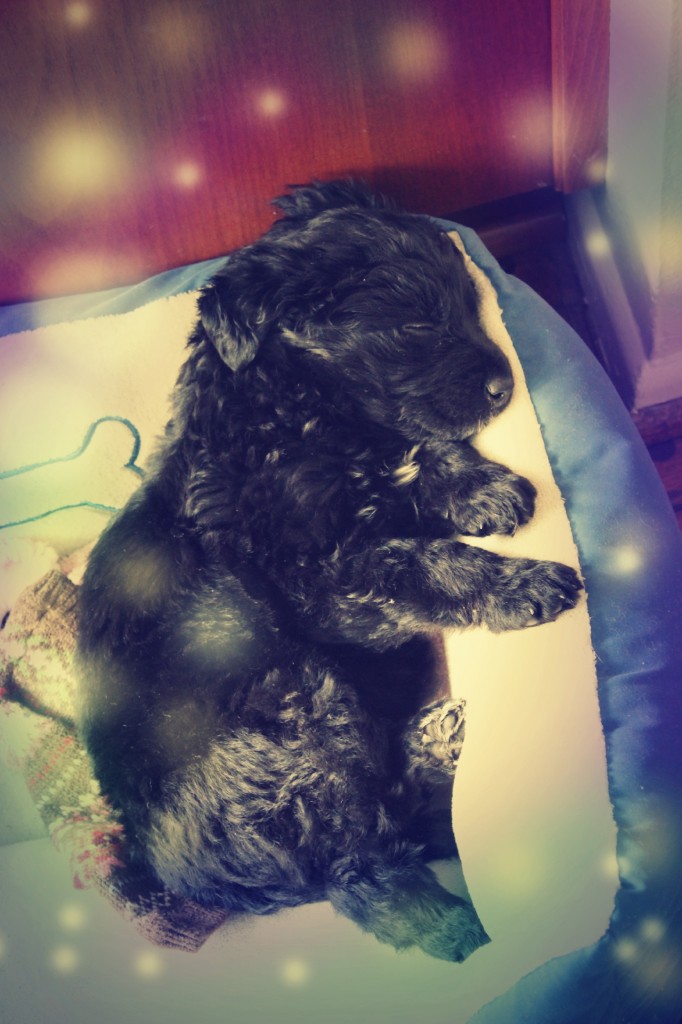 Wet-felting now gives me more excitement to do my family laundry. The children (and I ) were so eager to see what the result looked like. I kept my fingers crossed that the designs felted well and not get displaced in the tumbling dryer.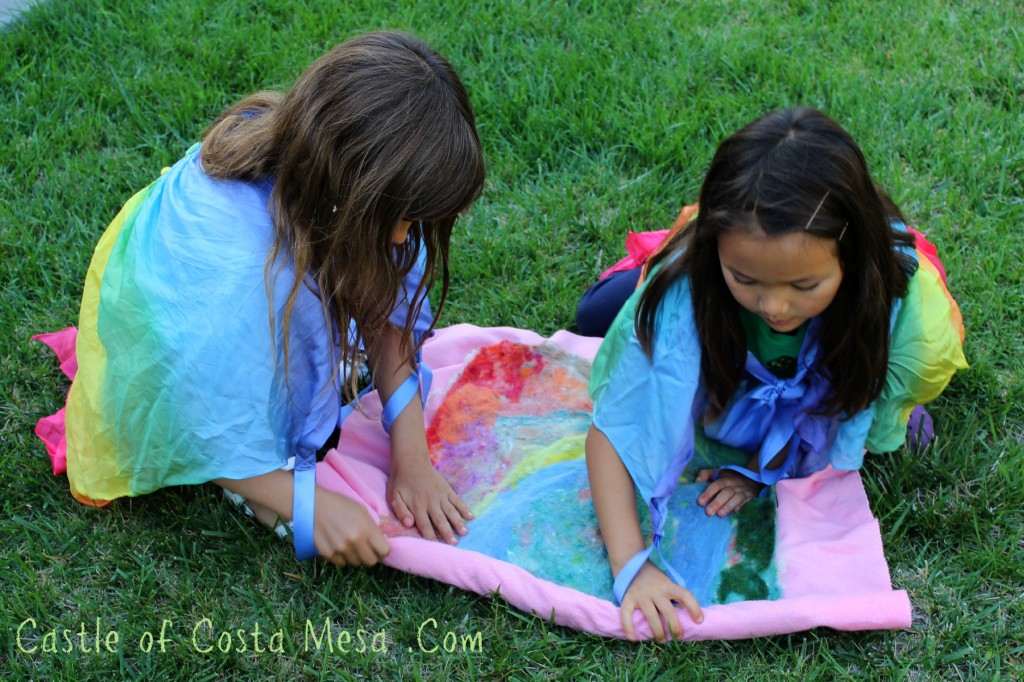 YAY! Our playscape successfully felted in the washer and dryer!
HORRAY!!! SUCCESSFUL Wet-felting WITHOUT that ga-zillion repeats of rolling, stomping and manual agitation! Click here to see what the poor children missed out: the fun of repeat manual agitation for wet-felting…
Click here to see our wet-felting with lots of manual labor fun for the kids.
Playscape, brown wall for cottage, green cottage roof. All just retrieved from felting in the dryer. Click here to see a tutorial on how to make a simple felt cottage.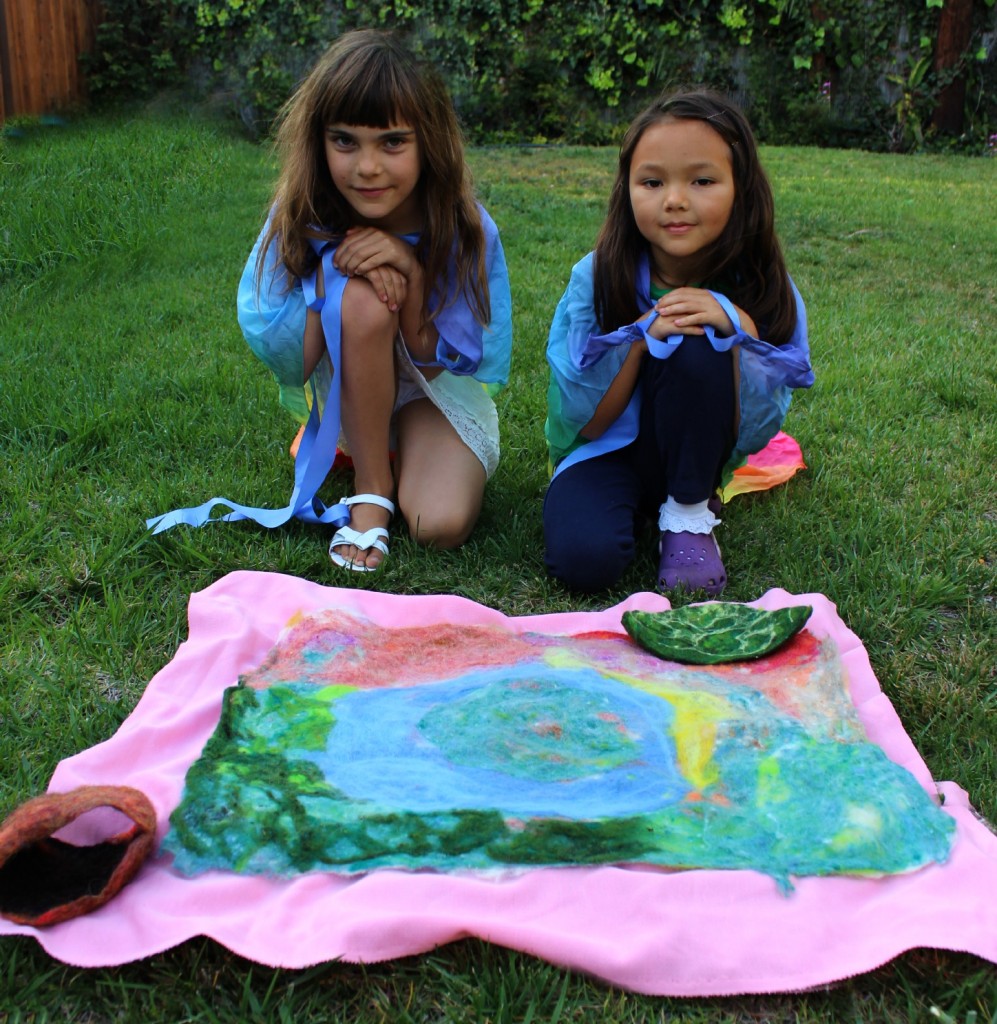 We considered making blankets for sleeping with this blanket. Perhaps lining with silk.
Anička modeling the playscape as a winter coat.
After hours of napping, baby Pablito finally woke up and hungrily ate some Russian-style yogurt.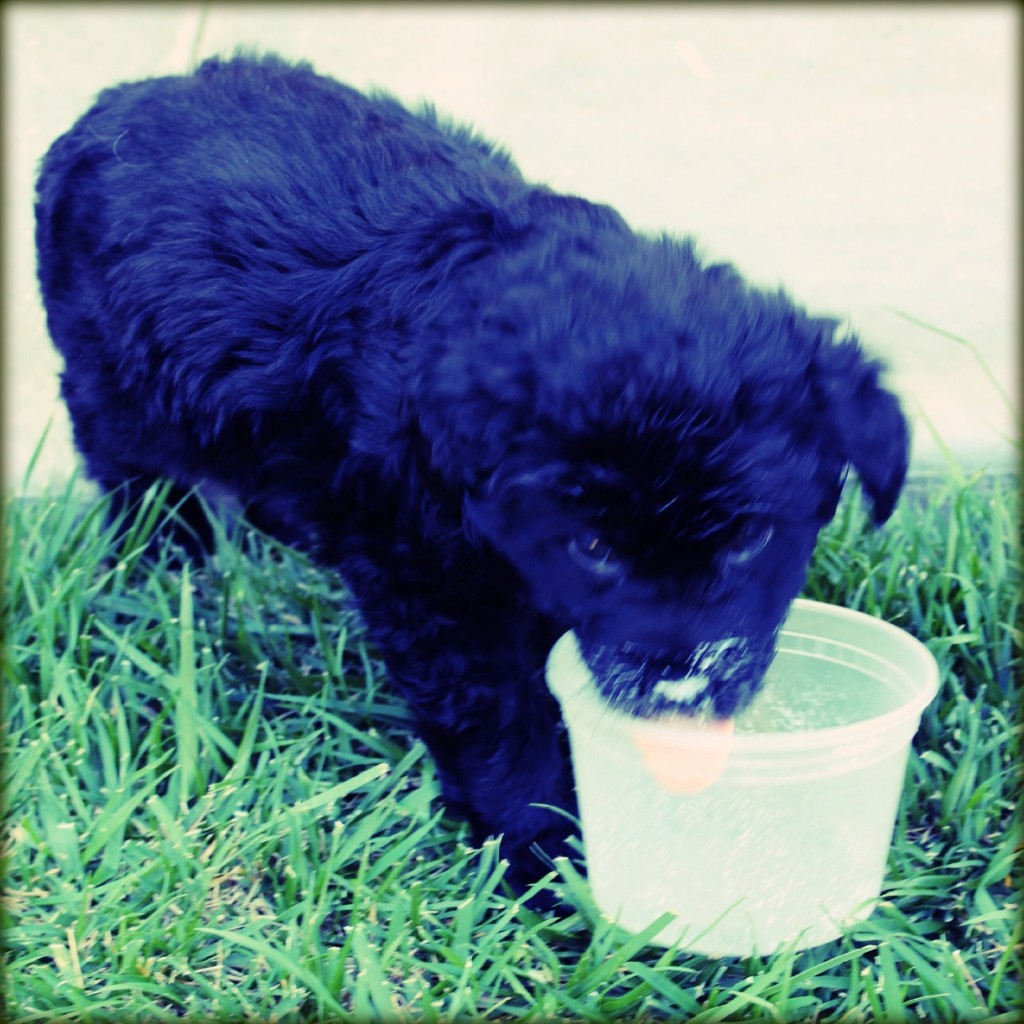 Wednesday night. A flurry of needle-felting. How wonderful it is to have friends over for crafting.
Alena stitched bendable wire into a posable felt bridge. Here, she is covering the bridge with roving.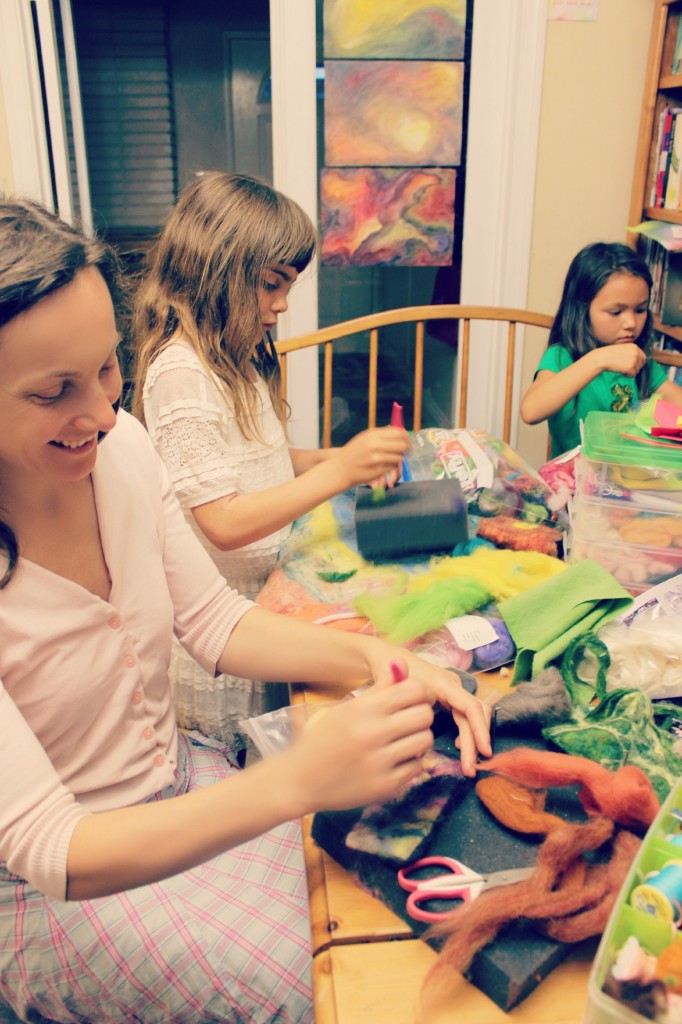 I showed Anička how to needle-felt windows onto her wet-felted gnome home. Click here to see the steps in making a simple gnome home.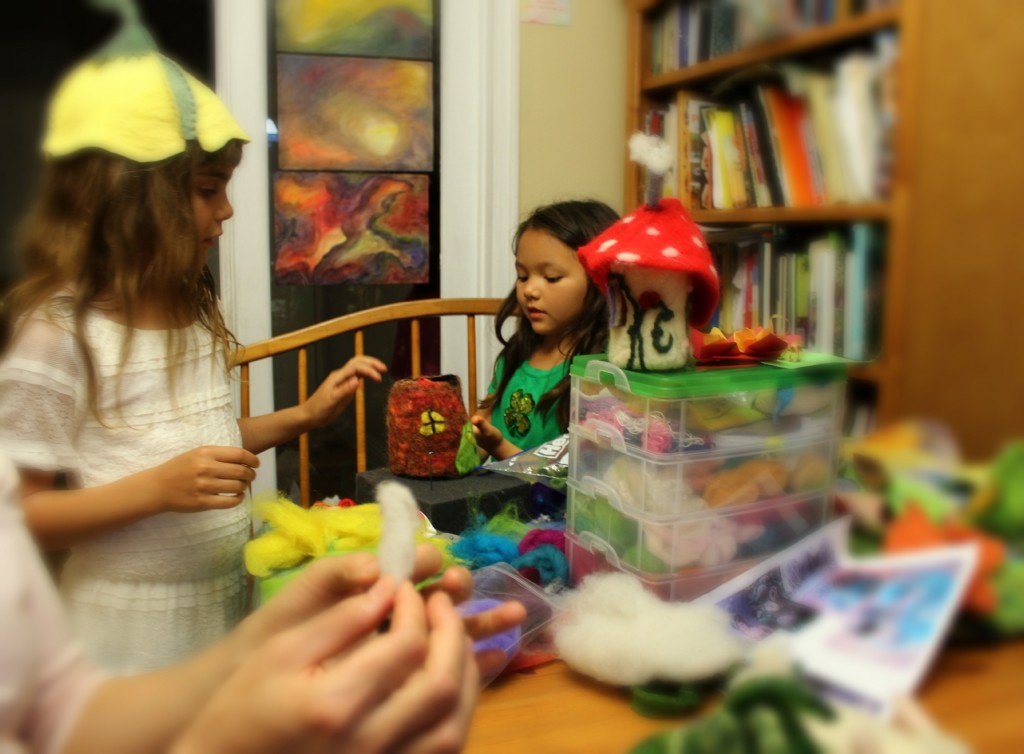 Alena rolled and needle-felted her first chimney with smoke for the gnome home.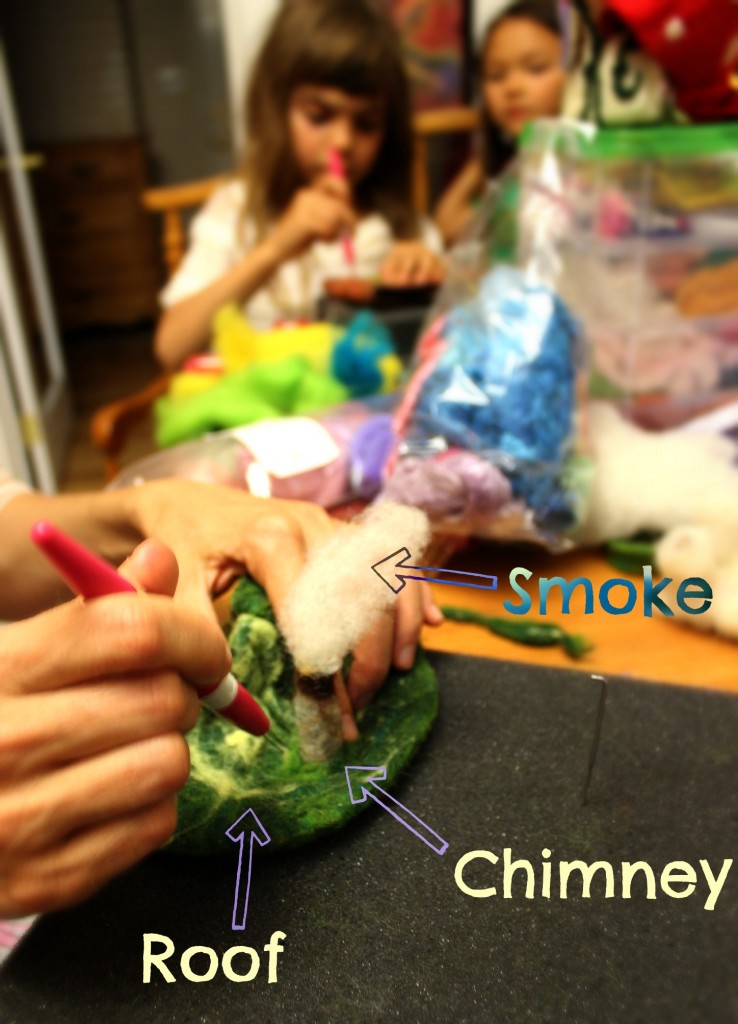 I love using white wool batting for the "smoke".
For a little splurge, we love hand dyed mulberry silk fibers from Etsy store Crystal Creek Fibers . $12 per huge 2 oz bag, free shipping. They are so shiney and just heavenly to hold and play with. Gorgeous material! We treat it like gold and use tiny amounts on special places like flowers to make them shine.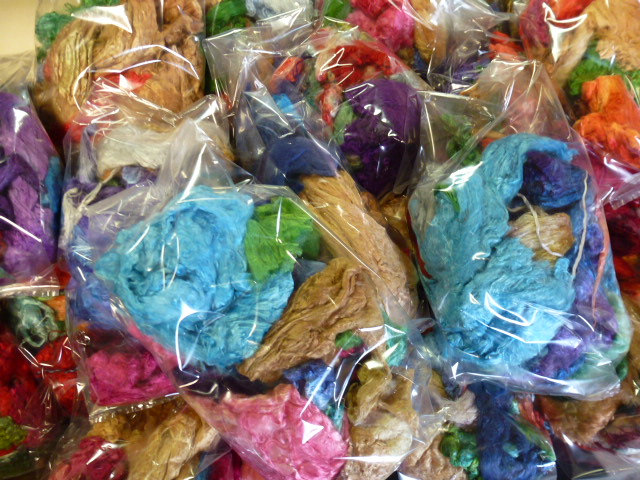 Crystal Creek Fibers on Etsy.Com
April 3, 2013 Wednesday night. Ta-daa! Results from our work today: Anička's first wet-felted playscape and felt cottage.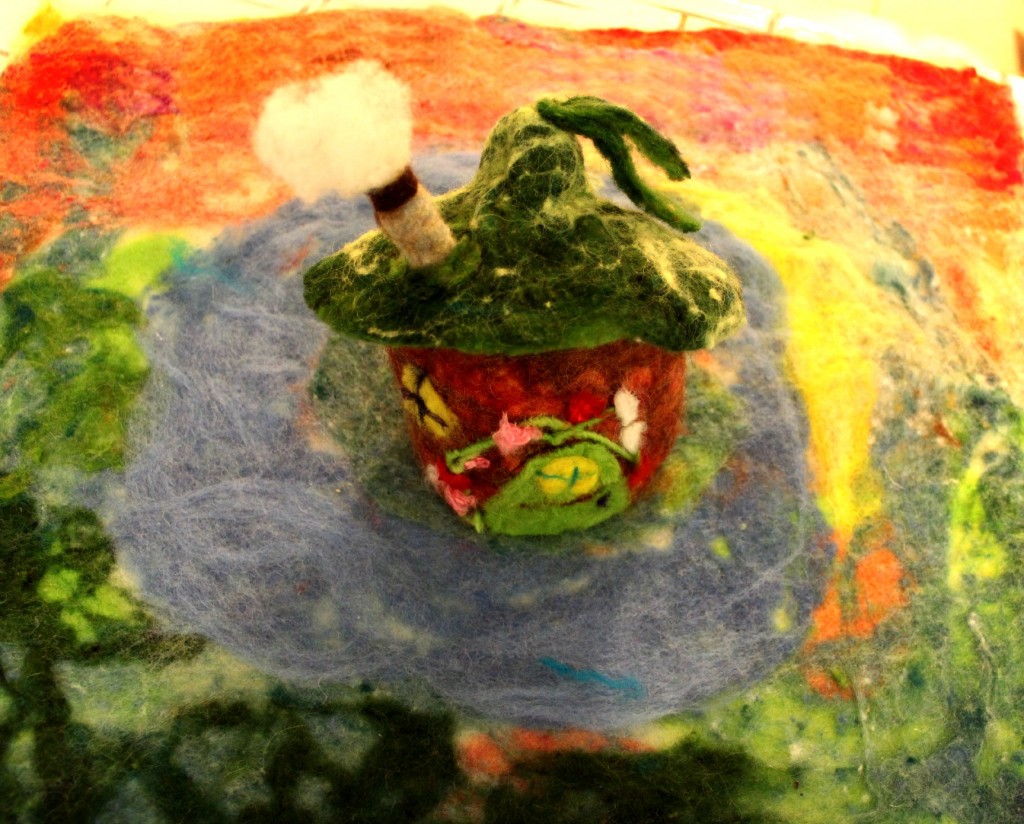 Anička planted a life-giving flower in the middle of her island. She told us that this flower gives life to those who travel and seek it. How wonderful, Anna!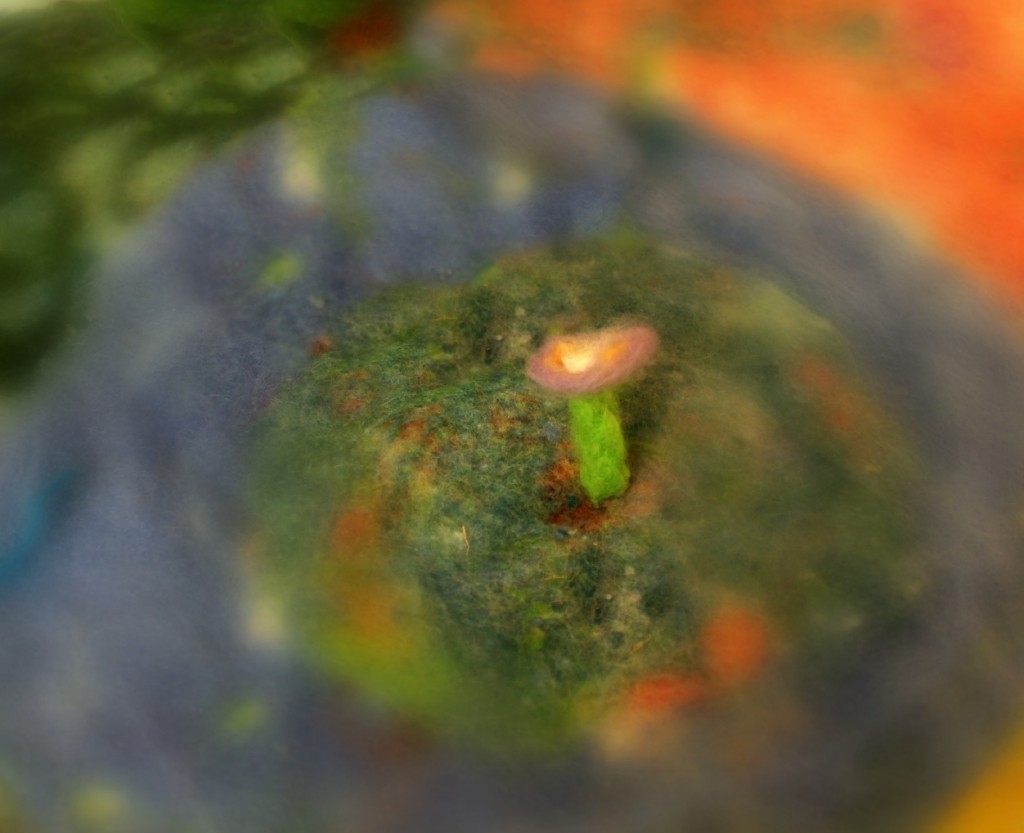 Thursday,  April 4, 2013. The final result. Anička added her own handmade peg dolls and other touches to her playscape.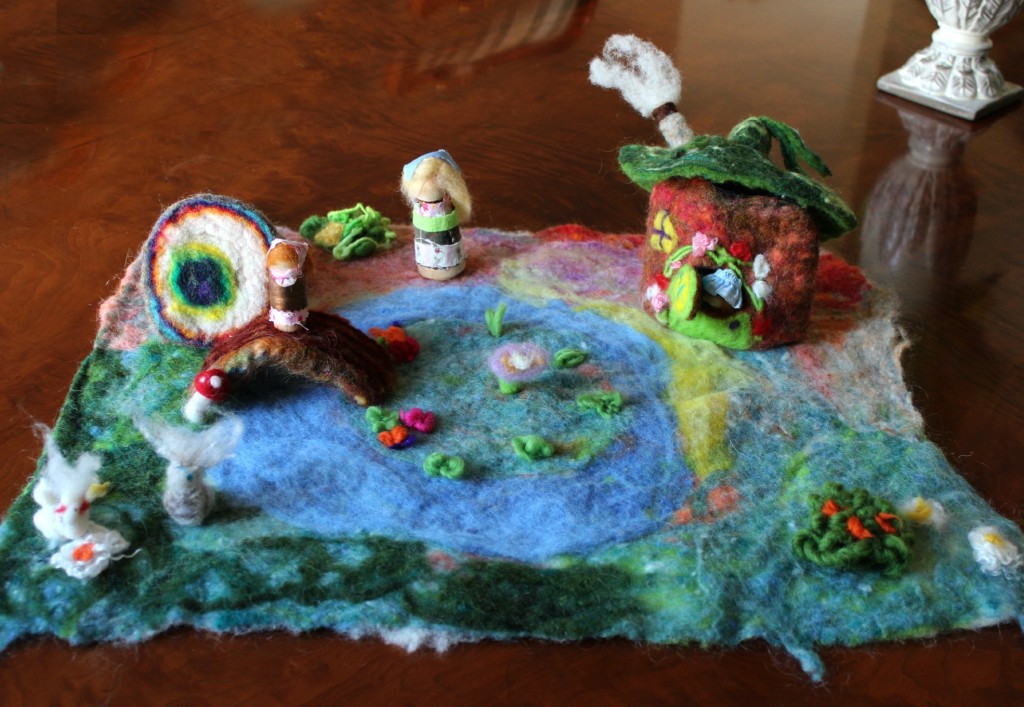 Close-up of Anička's handmade peg doll peeking out from her felt cottage.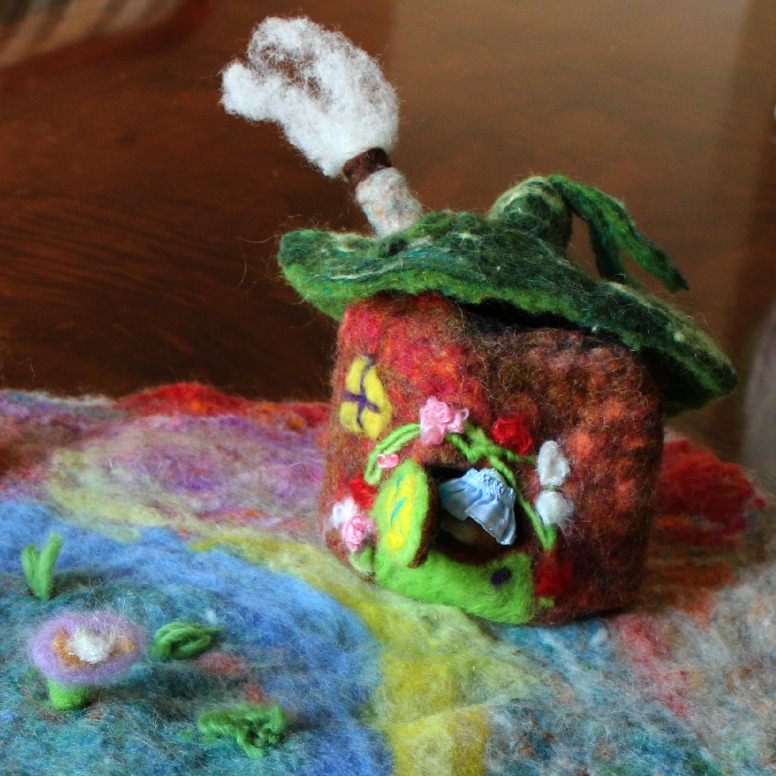 Little peg dolls are ideal to go with a playscape of this size. The above peg dolls were made by Anička. The little blossom fairy dolls are also great size for this playscape.
The End of this tutorial. If you wet-felt this way, please share a link or photo with me in the comment box below, it will make me smile! – Jzin
Not end of tutorial yet, I can go on and on about playscapes! I am like a little kid, I love playscapes! Here is one I made with my 8 year old daughter. You can see more of the process on this link.
Alena's Amazing Blossom Fairies Made in December 2012
Here are some blossom fairies handmade by Alena last year to donate to our Waldorf School of Orange County Winter Festival Elves Workshop. Gorgeous handwork!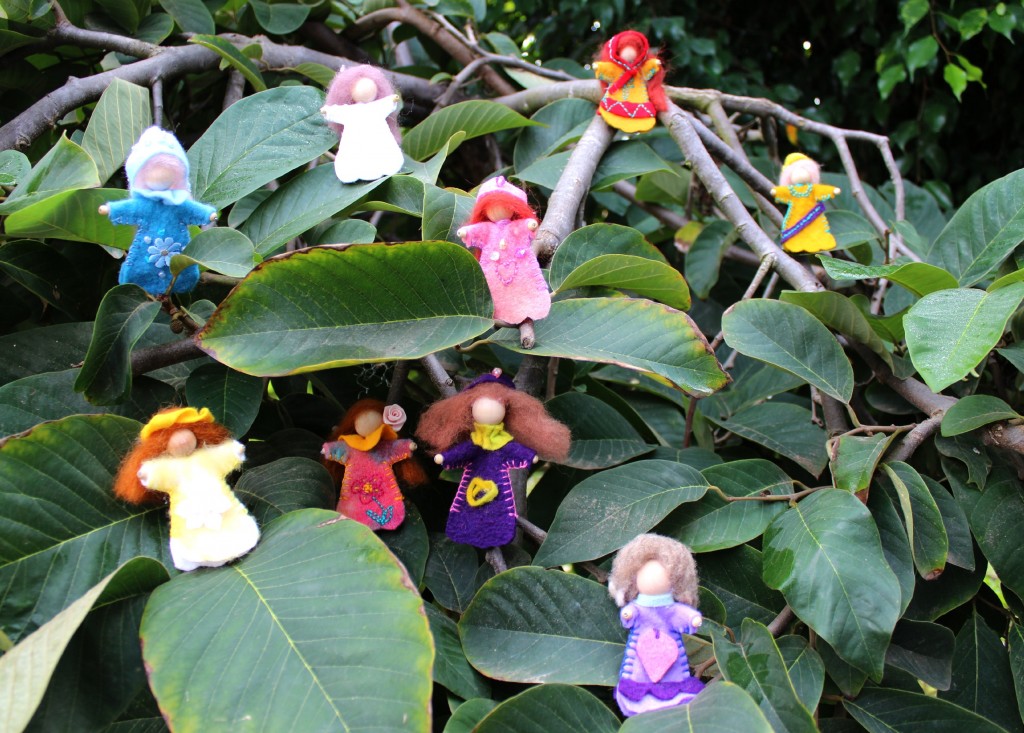 This one may be my favorite…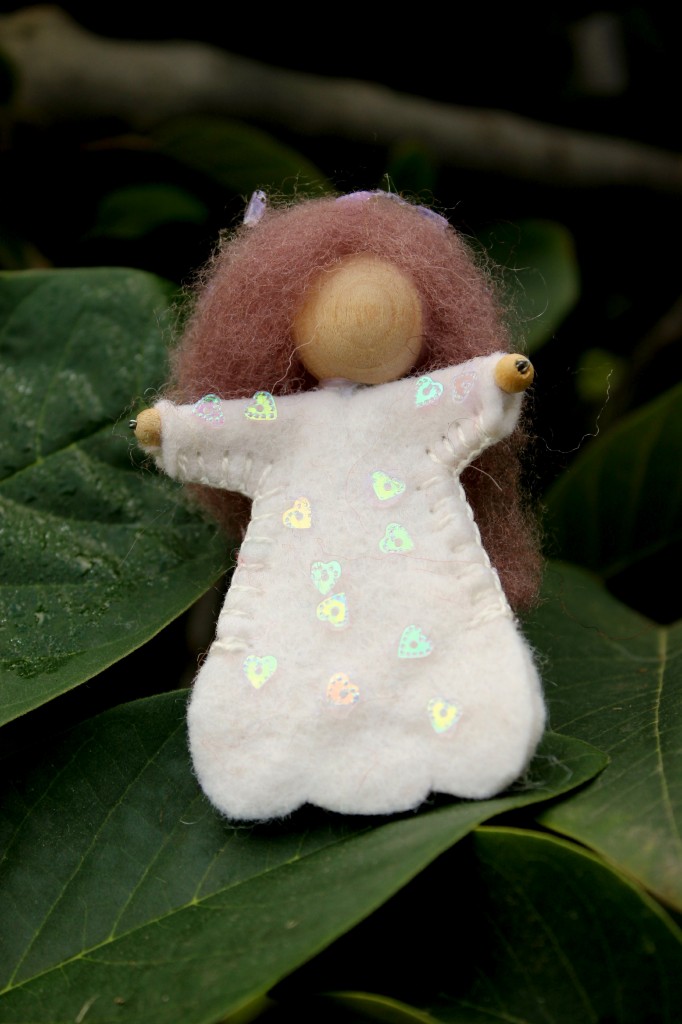 "Less than perfection" is a concept foreign to the mind of this crafter. My case in point: glitter hearts. Oooo !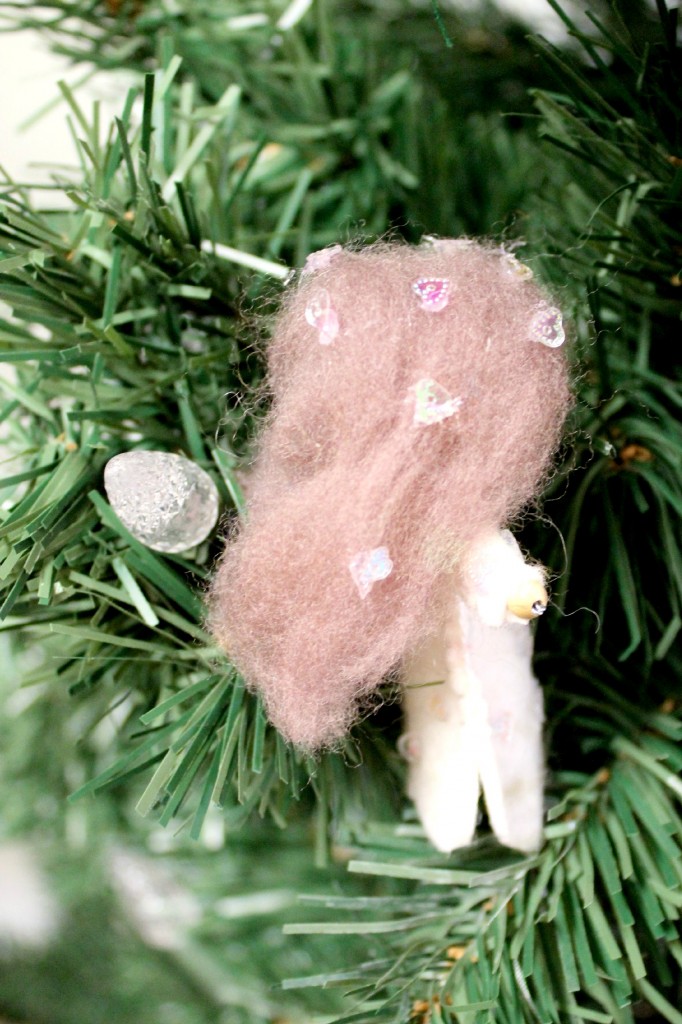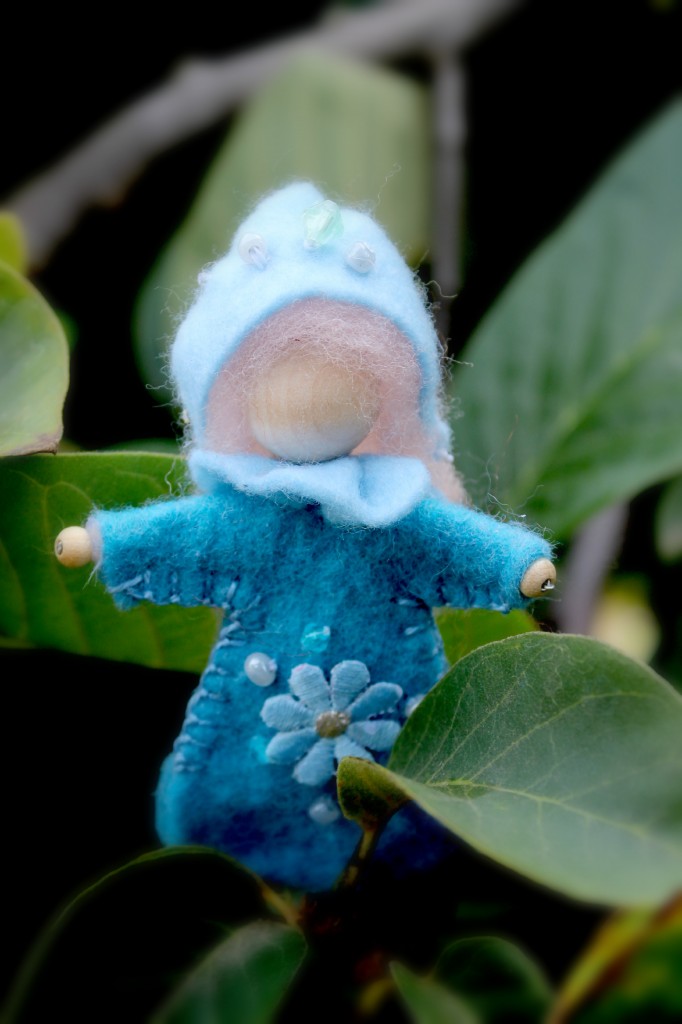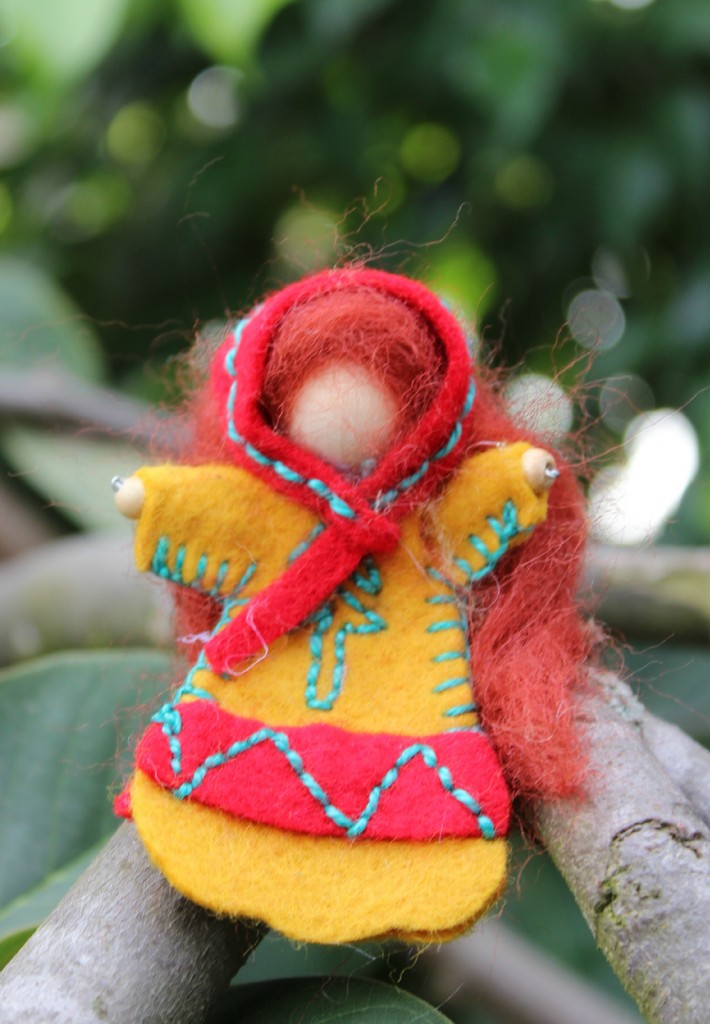 These are truly sweet honey for the eye and soul!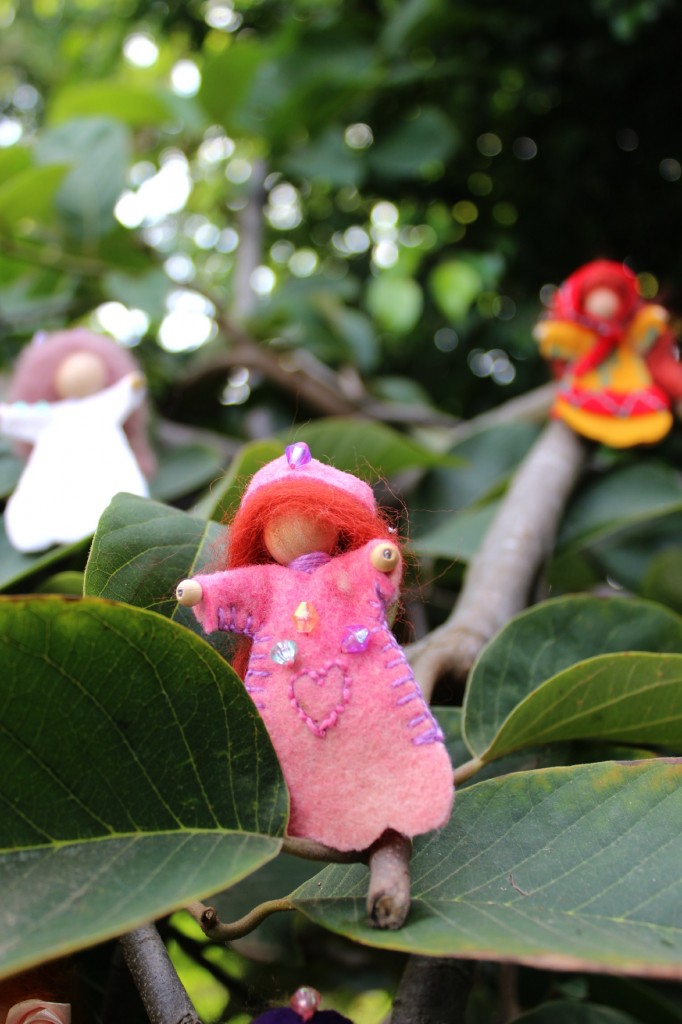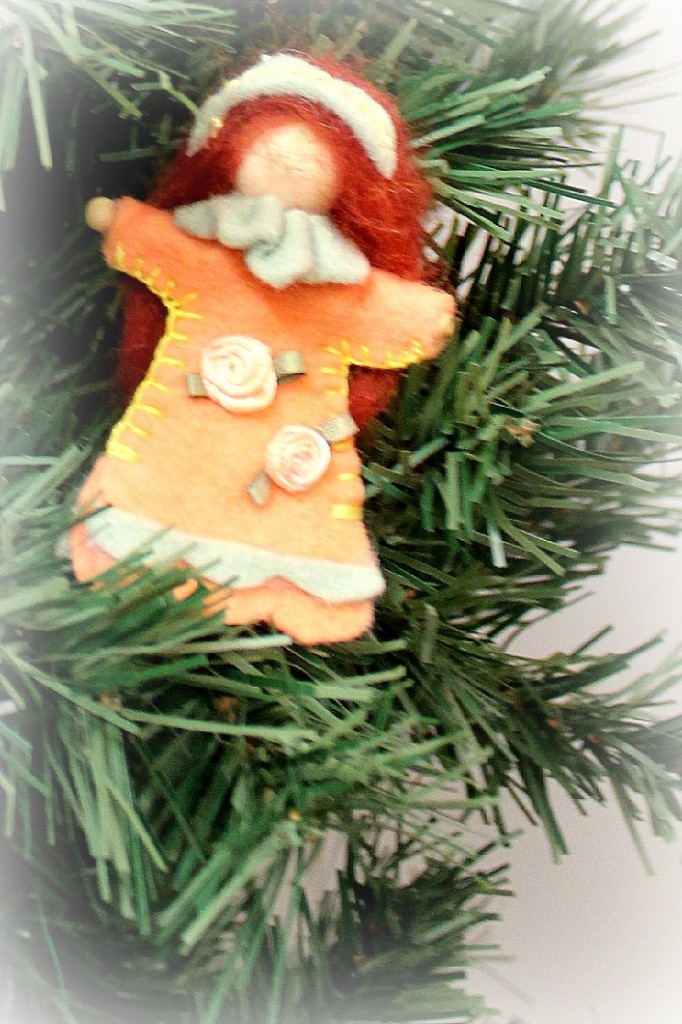 Little blossom fairies playing hide and seek in the cherimoya tree in front of The Company of Angels school store…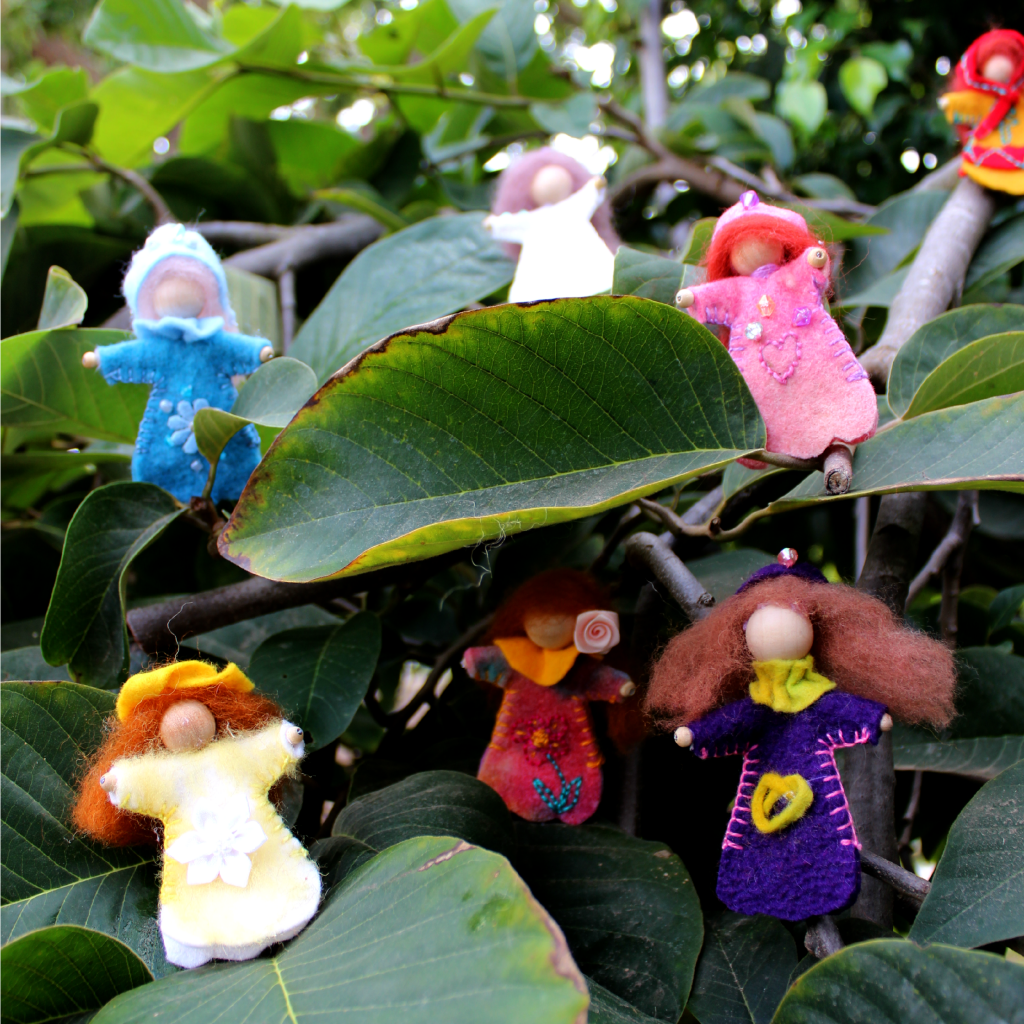 The instructions to make the above craft/ Blossom Fairies can be found on page 27 of Petra Berger's book, Feltcraft below.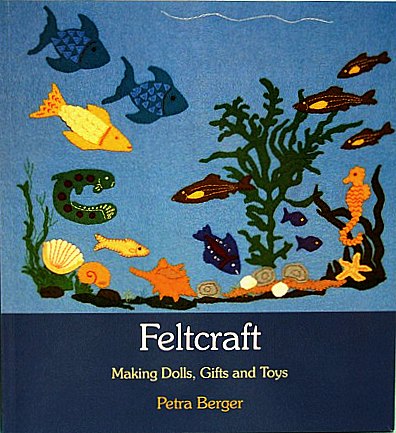 You may like to check out our other crafts below…
Felted Playscapes
Jzin's Handmade Dolls.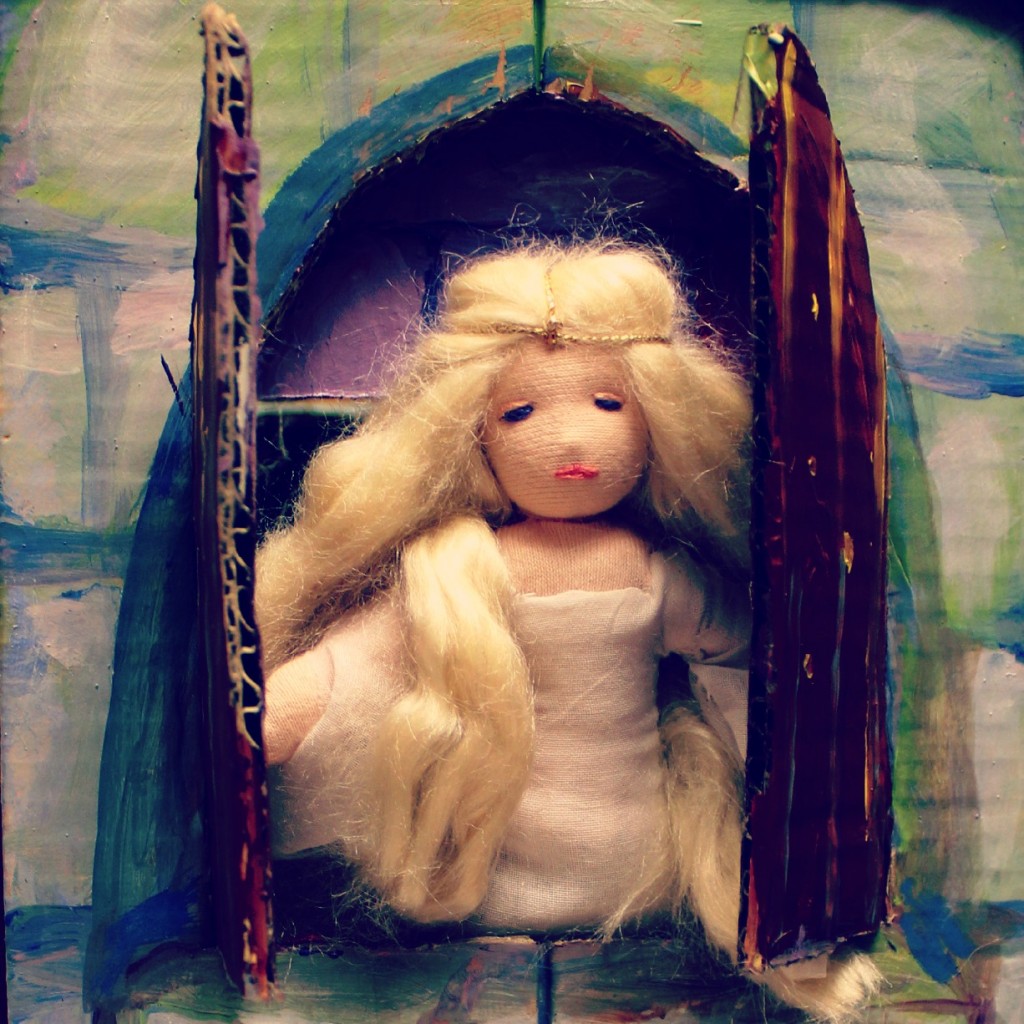 Please Like CastleofCostaMesa on Facebook.
I giveaway my handmade work frequently. Please "Like" my facebook page so you will be in the know.