Making Felt Playscape with My Children. Nunu's First Felted Playscape. March 28, 2013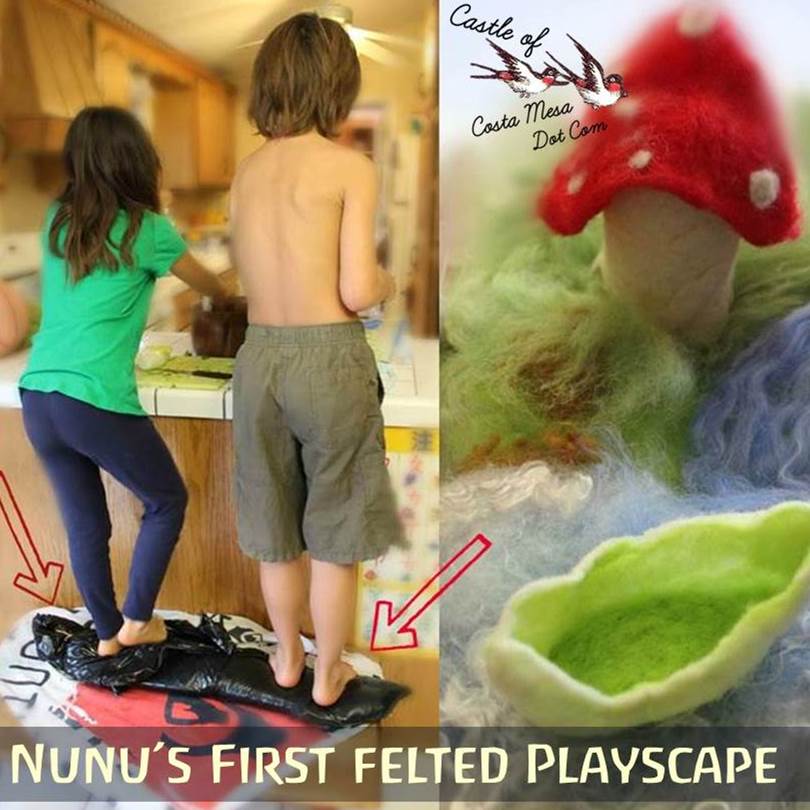 Needle-felting to me is like painting in 3 dimensions. It is versatile and also a very forgiving medium. If you do not like what you see, you can always pull out the wool and start again. – Jzin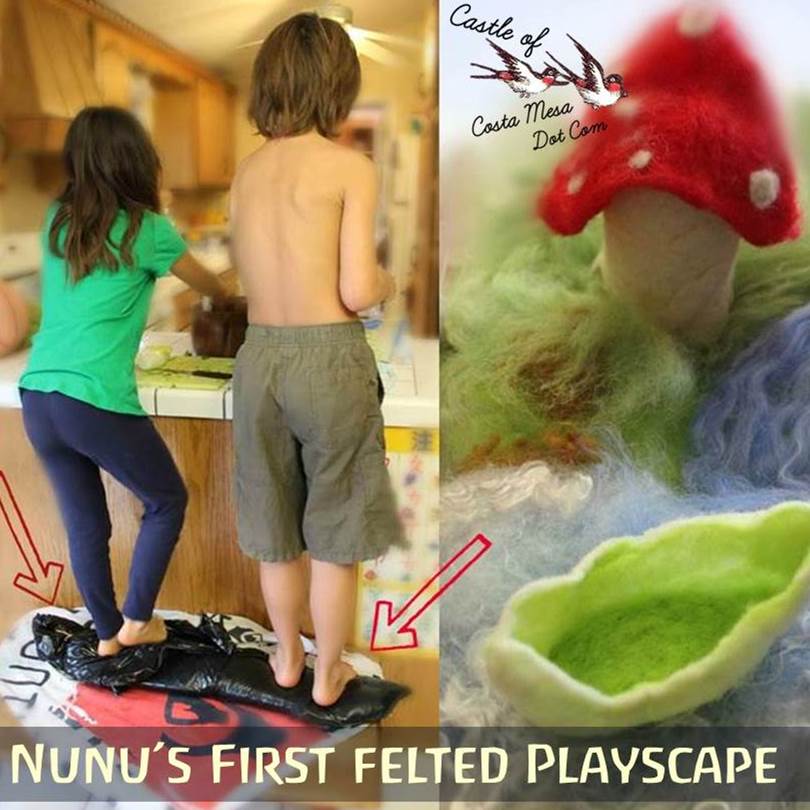 Nunu, age 8 was on Spring break for 2 weeks. We have been excited over the recent felted playscape made by our Waldorf school craft group for our school fundraiser raffle. Today, I showed Nunu how to make her own playscape.
Here was the playscape made by our Waldorf School of Orange County craft group. It brought in USD $1860.00 for our school in our recent raffle that ended on March 9, 2013.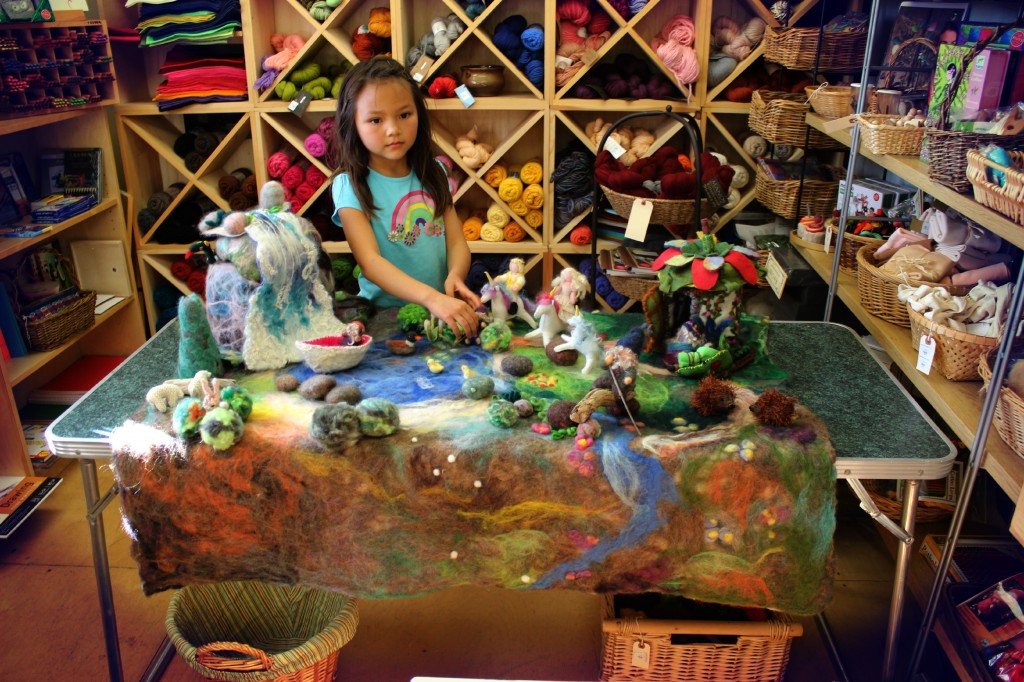 Detail view of the above.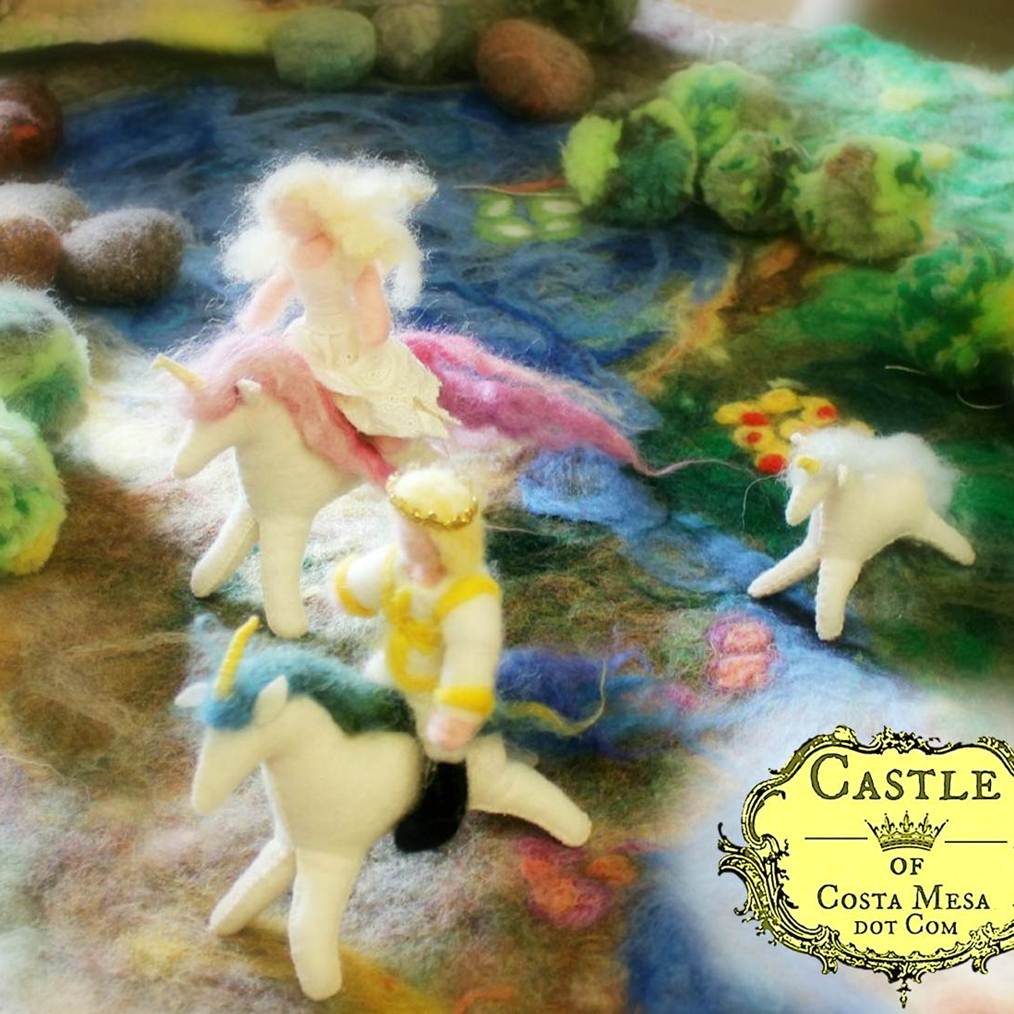 Nunu and I Made Our First Wet-Felted Playscape Together
Thursday, March 28, 2013. For this project, I told Nunu she has the creative lead in design, I volunteered as her technical guide and teacher. Here was Nunu's design for her playscape.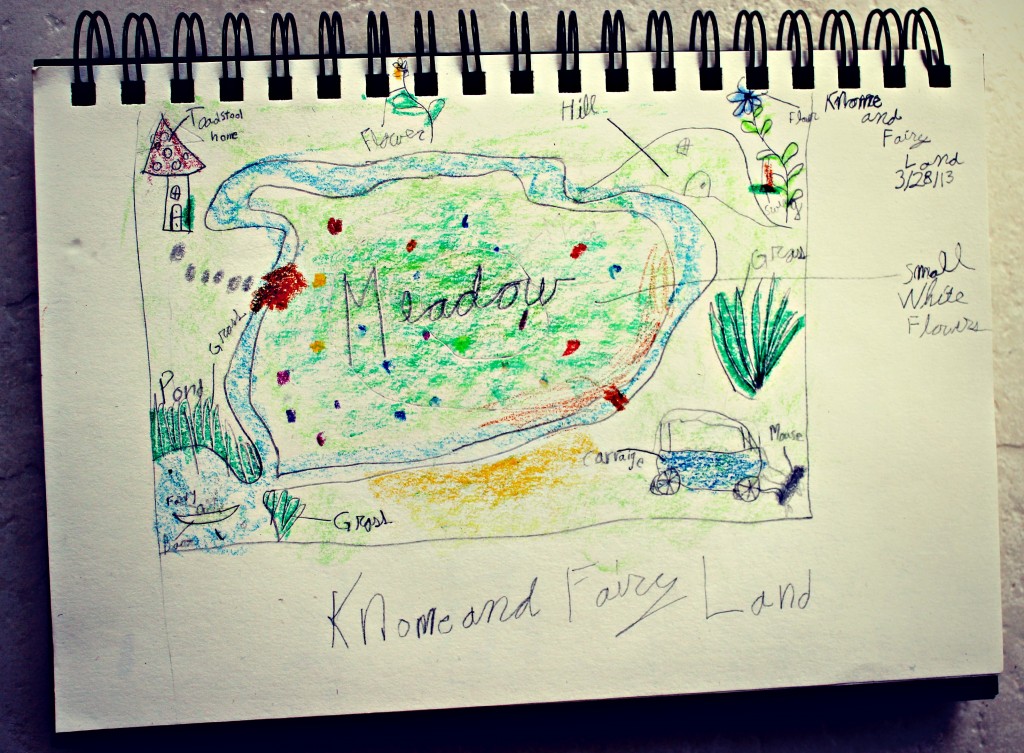 Instead of 100% wool pre-felt (you can purchase online), I started with this green piece of rayon/wool felt I found for a very cheap price. (In the end, I realized this rayon blend felt may be optional. This backing certainly could be removed, if desired, from the playscape. It helped with the composition, however.)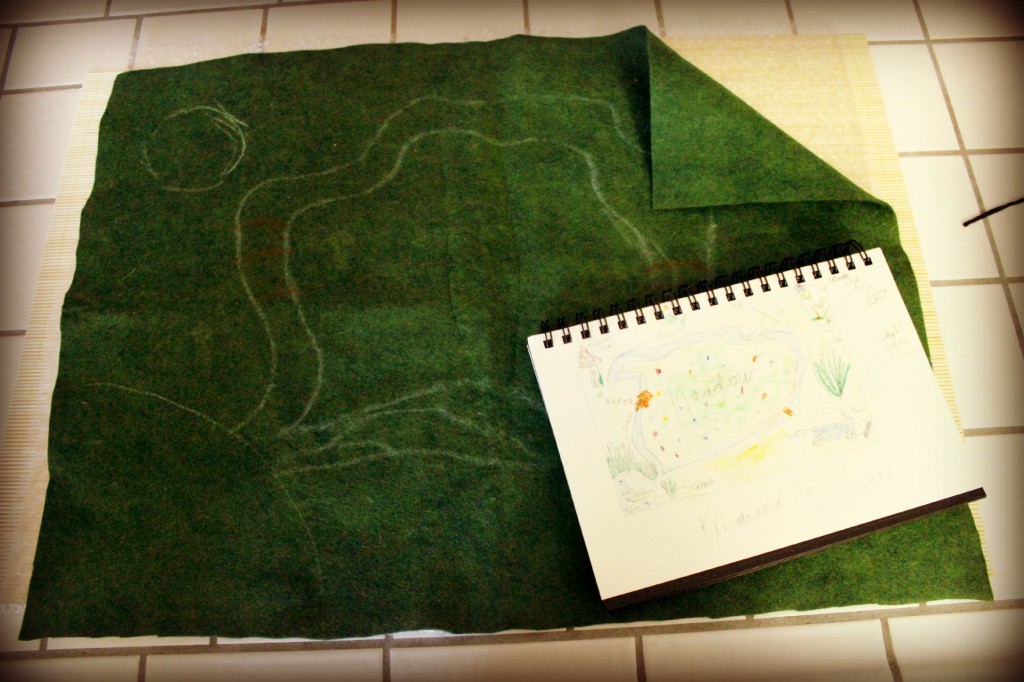 Nunu layered thin, flat, unbroken layers of white wool batting onto our green felt. This is to thicken the playscape. Each alternate layer was put down in perpendicular direction to the layer underneath it.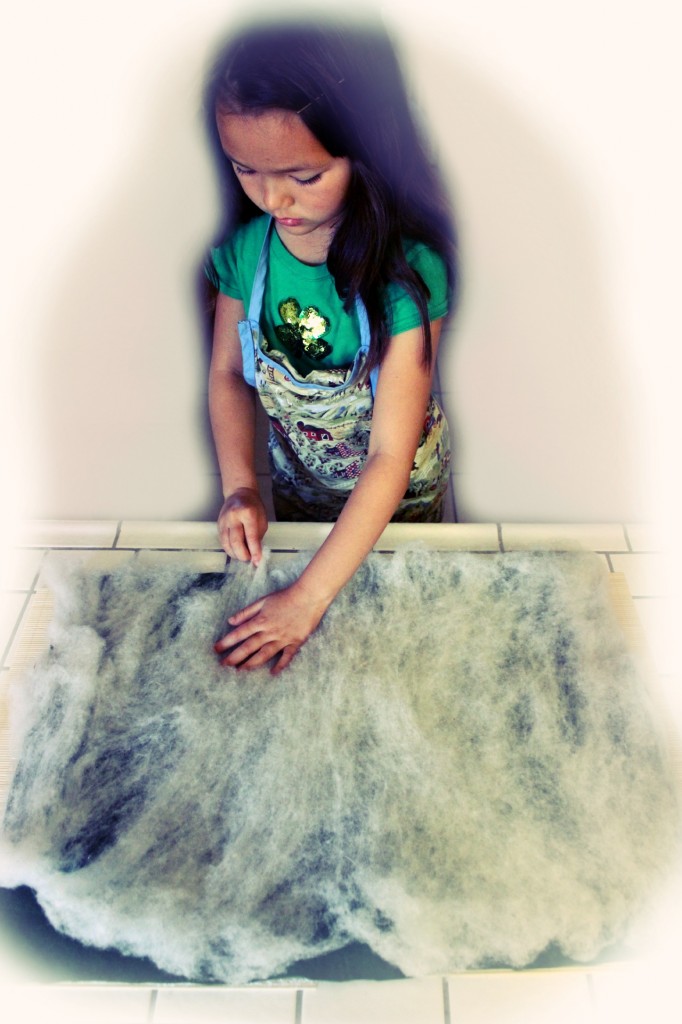 Blocking in major areas of colors. Nunu adding thin, flat layers of chartreuse roving on the playscape to make a meadow.
Nunu and I love this fluffy stage. Nunu thinks this looks like a big fluffy comfy bed!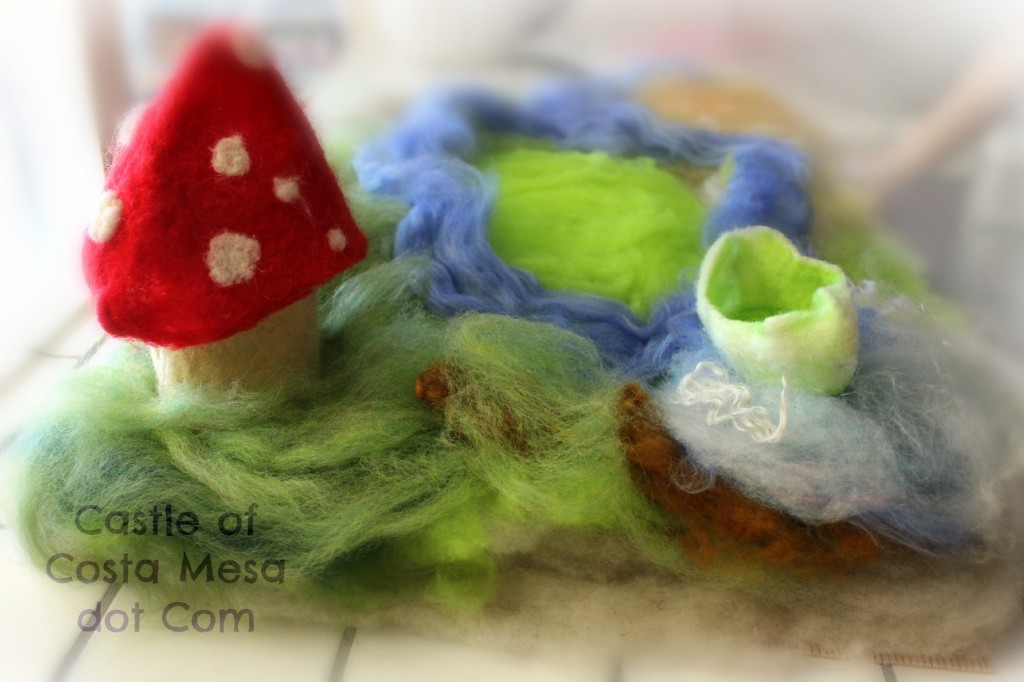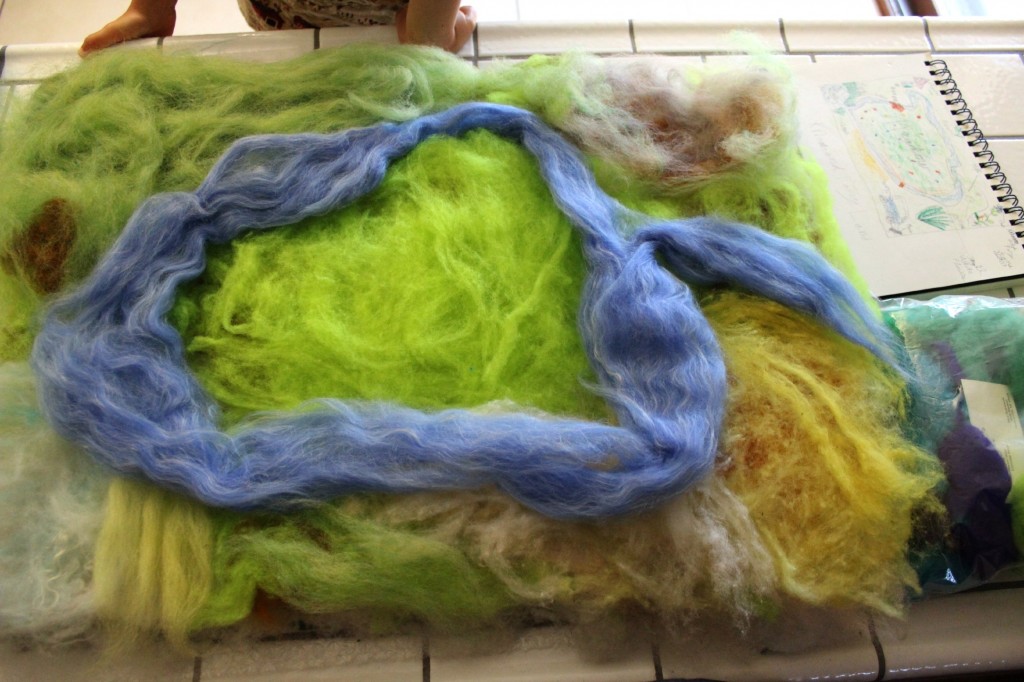 As the water was boiling on the stove, I drizzled thin streams of liquid dish washing detergent onto the playscape. I explained to Nunu that the detergent works like glue to hold the wool together temporarily (until the wool is felted). However we must not apply too much detergent or we will be wasting soap and time because it would require more water and time to wash off the soap in the end.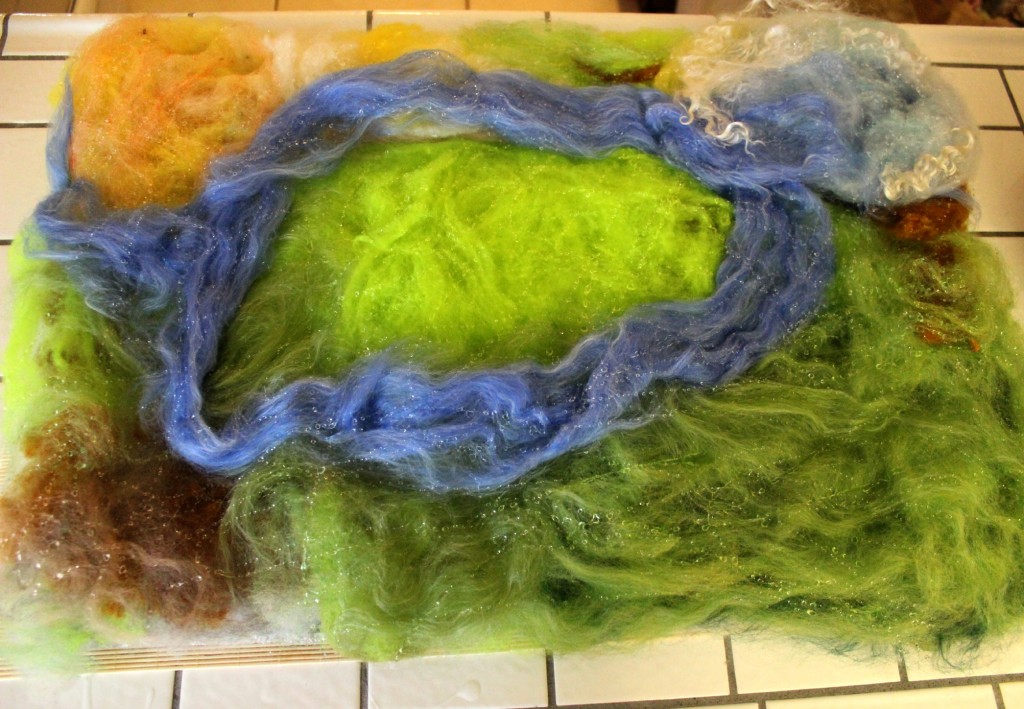 After pouring boiling water onto the soapy wool, we covered our playscape with a large piece of green polyester fabric. This is so that our design do not get moved around as we wet-felt the playscape.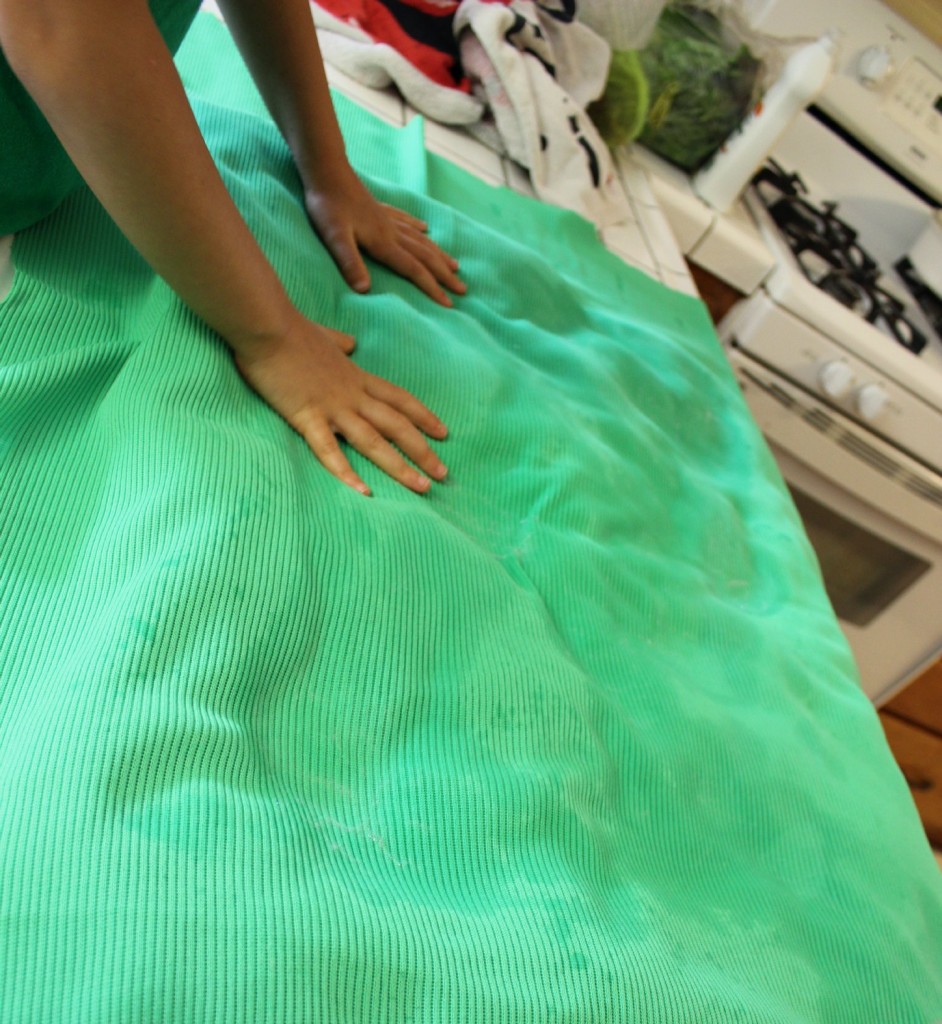 The wool was now partially soaked through with hot water and soap at this point. It could still use more soap and boiling water, for the dry areas.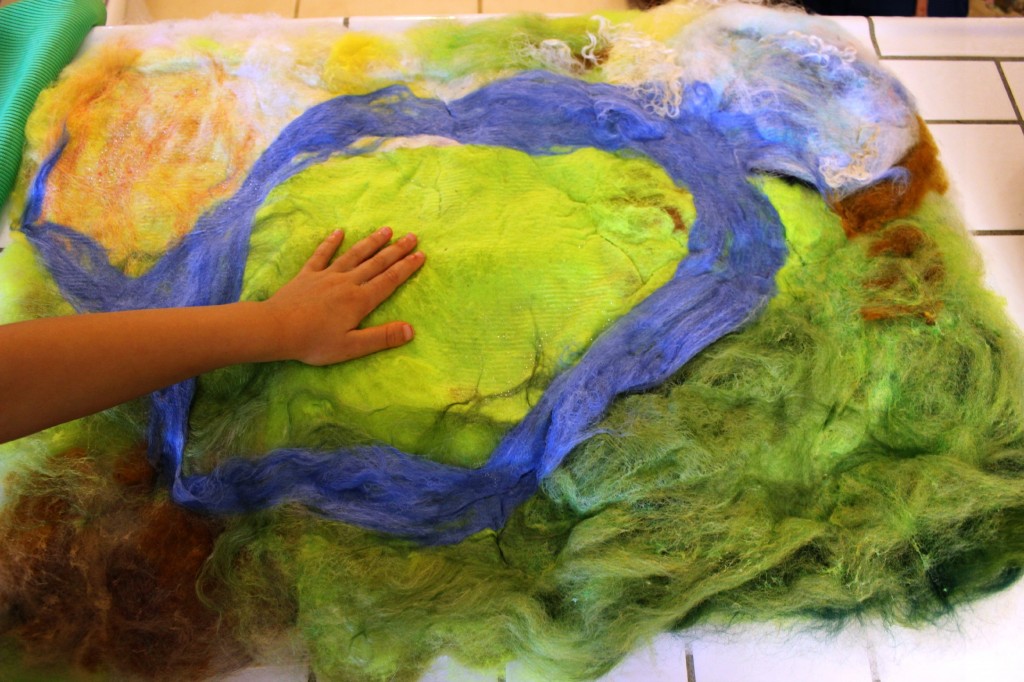 After adding more water, again we protected our design with our big green polyester fabric and gently patted on it (with the flat palms of our hands) to make the water saturate the entire wool area. Finally, the playscape was sufficiently soaked with water.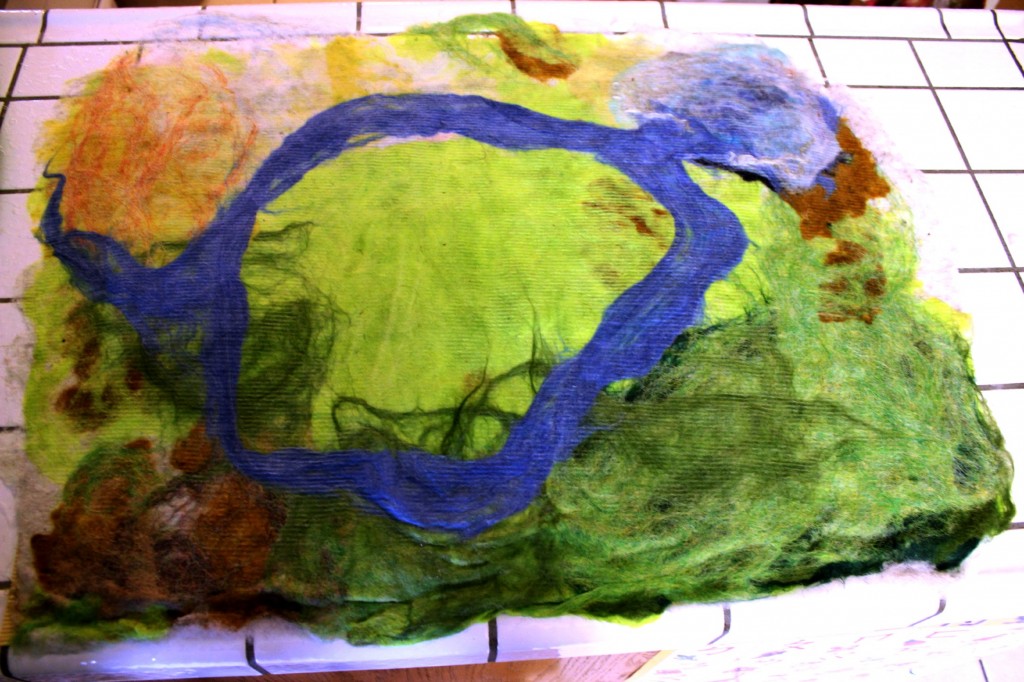 We increased pressure on our agitation of the wool fibers. We patted more heavily. When the project was totally soaked through with water, it was time to roll up the playscape and give it more pressure in order to permanently felt the wool fibers together…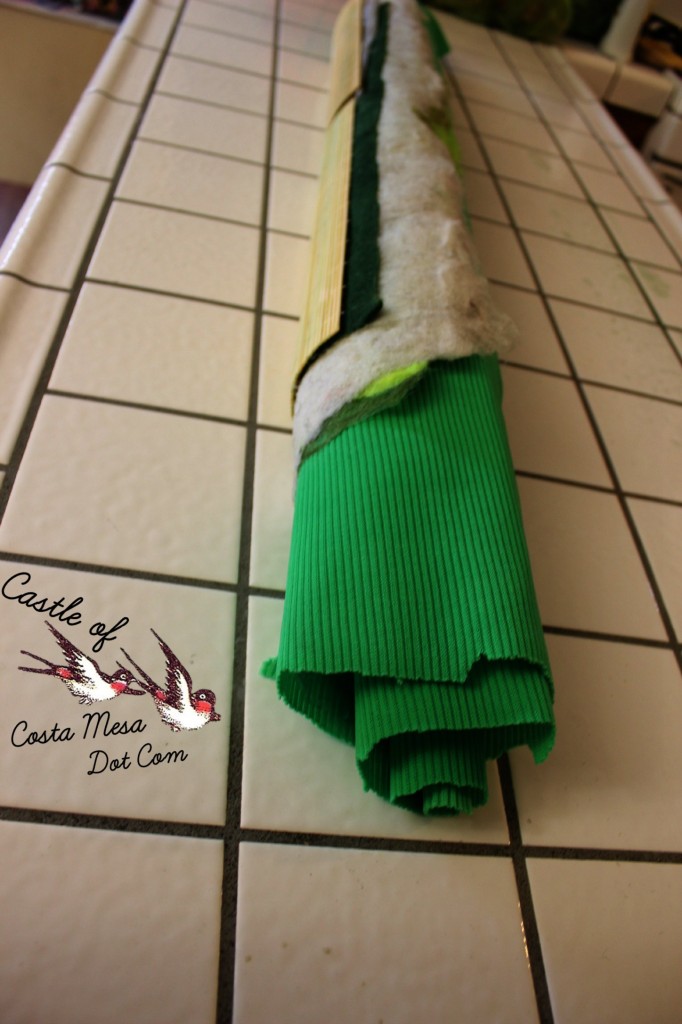 This was the order of how we wrapped this one up for my children to stomp on…
Soaked, soapy wool playscape (optional: backed with green felt shown here. It is not necessary to line with felt if your layers are thick enough).
Larger than playscape size: synthetic fabric (shown here: neon green pin stripped polyester fabric) to hold playscape design in place.
bubble wrap to add more textural pressure
bamboo mat
(not shown above) thick rubber bands and large garbage bag to hold the above to prevent soapy water from leaking to the floor.
Place all the above on top of a thick towel on the floor and let the children stomp, march, ride, pat etc on it in the name of wet-felting.
Thursday, March 28, 2013. Spring Break. My children preparing salad while singing songs of Les Misérables and wet-felting (by stomping on rolled up wet-felting mat underfoot). This is how we roll!
Here's some of what we were singing. Feel free to sing along with us. Lyrics are provided below!
The average four-year-old laughs 300 times a day, a 40-year-old, only four. – Psychology Today.
I am so grateful for my children's contagious laughter.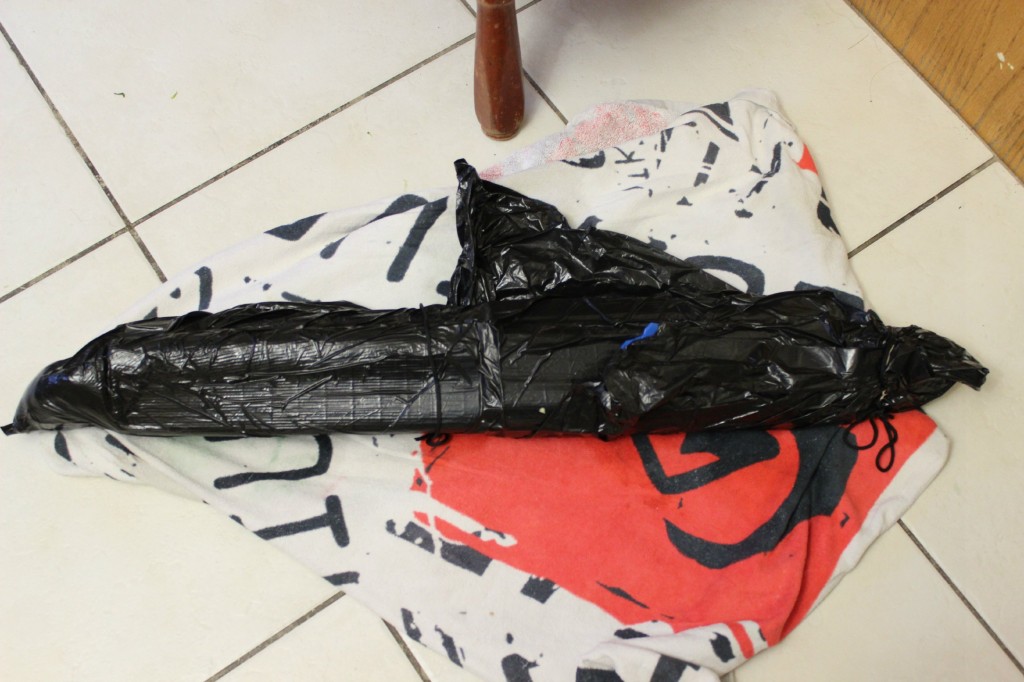 Yay! Our playscape design stayed in place after all that squashing, pounding, stomping and singing. From our pinch test (pinching the playscape did not displace the wool), it looked felted. Hooray!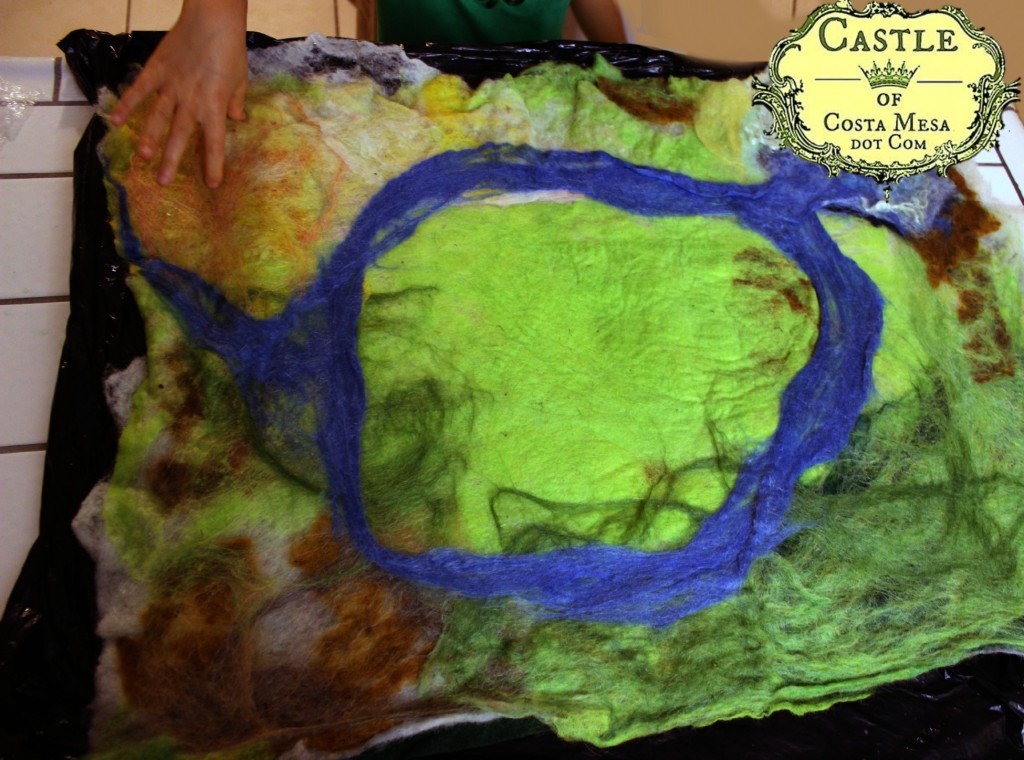 Additional Felting to Extra-Ensure This Playscape Does Not Fall Apart Over Time.
I decided to felt this playscape more, to be extra sure it would not come apart during play. I decided to experiment with felting this large playscape in my family laundry, both the washing machine and dryer runs.
First, I washed off the soap in the kitchen sink. This playscape was felted well enough to handle rough handling from me during the rinsing step.
After the playscape was sufficiently detergent free, I covered it with our large piece of green polyester fabric, leaving extra about 6 inches or so at the far end from where I started rolling.
I carefully rolled up the playscape in the polyester fabric. This is so that the playscape does not felt unto to itself or to my family laundry in the washer and dryer runs.
The extra polyester fabric in the end helps to fully wrap up the my playscape "cylinder". the goal is not to let any wool touch wool and hence felt to each other.
I tied up the felt+polyester cylinder with a few ties along the length. short strings work better than using rubber bands. Rubber bands leave indentations in the playscape.
Since my playscape was long, I folded it half, forming a "V" shape. I inserted that "V" into a large pillow case and tied a knot with the ends of the pillow case to keep the playscape+polyester roll inside the pillow case.
Then I tossed the pillow case and its contents into our family laundry: both the washing machine and dryer runs…with a prayer that this will work!
Our playscape retrieved from the washing machine and dryer runs. We were so excited, we needle-felted some love into it before we realized we have not been taking any photos. Yay! It worked.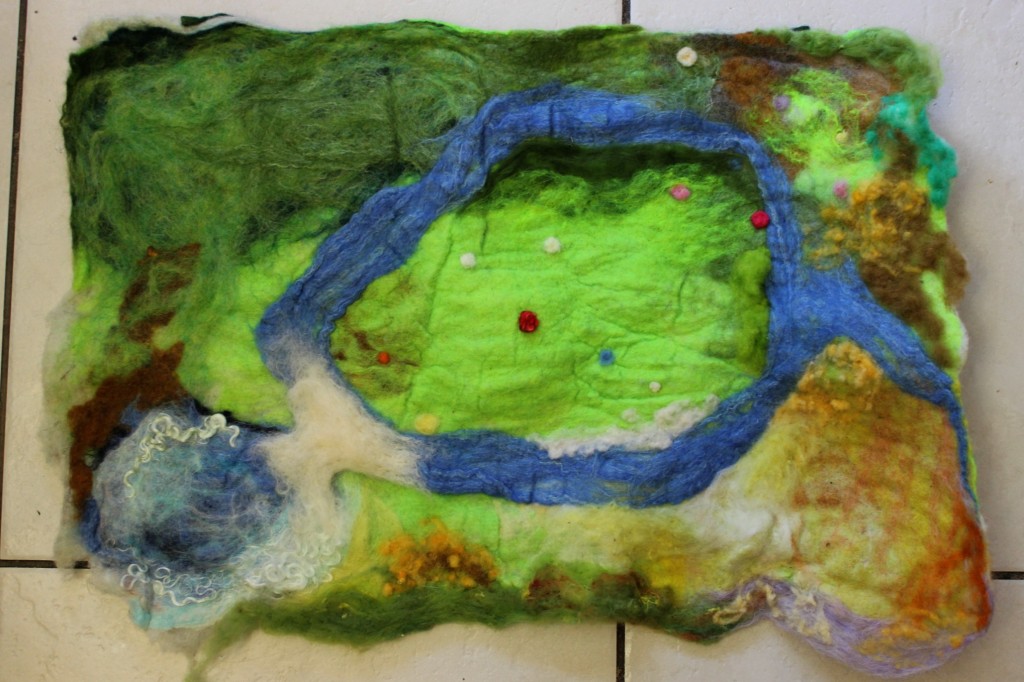 April 8, 2013. Monday. Nunu is finally back at school after her 2 week spring break. I finally had time to take a photo of our craft together for this spring break.
Click on pictures to see enlarged views.
Nunu's little gnome girl and gnome baby on felt leaf boat…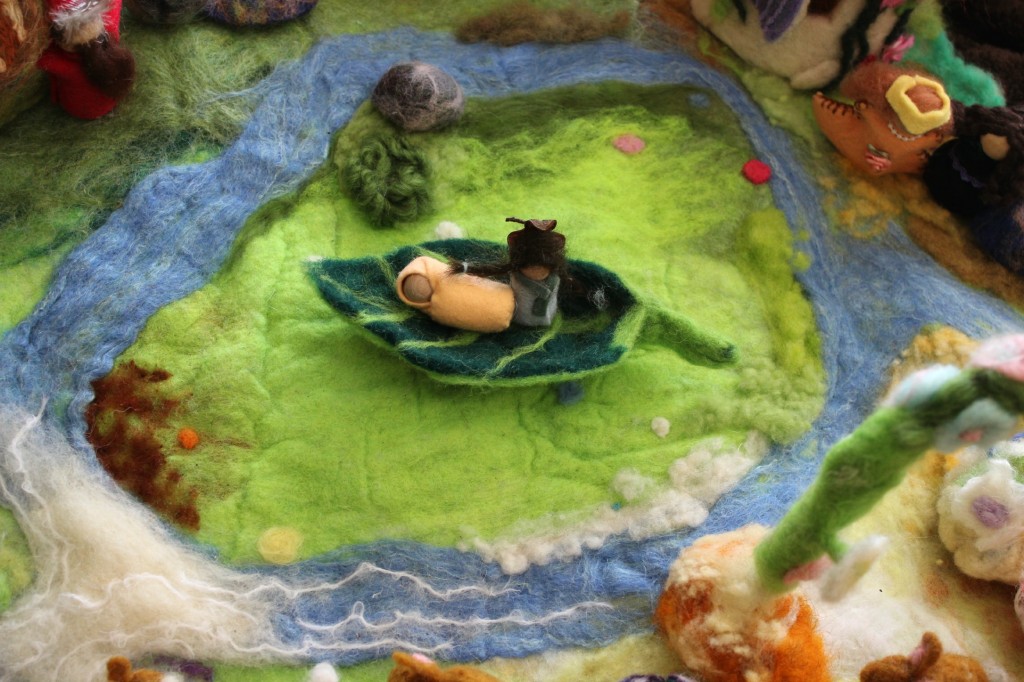 Detail of Nunu's first toadstool cottage…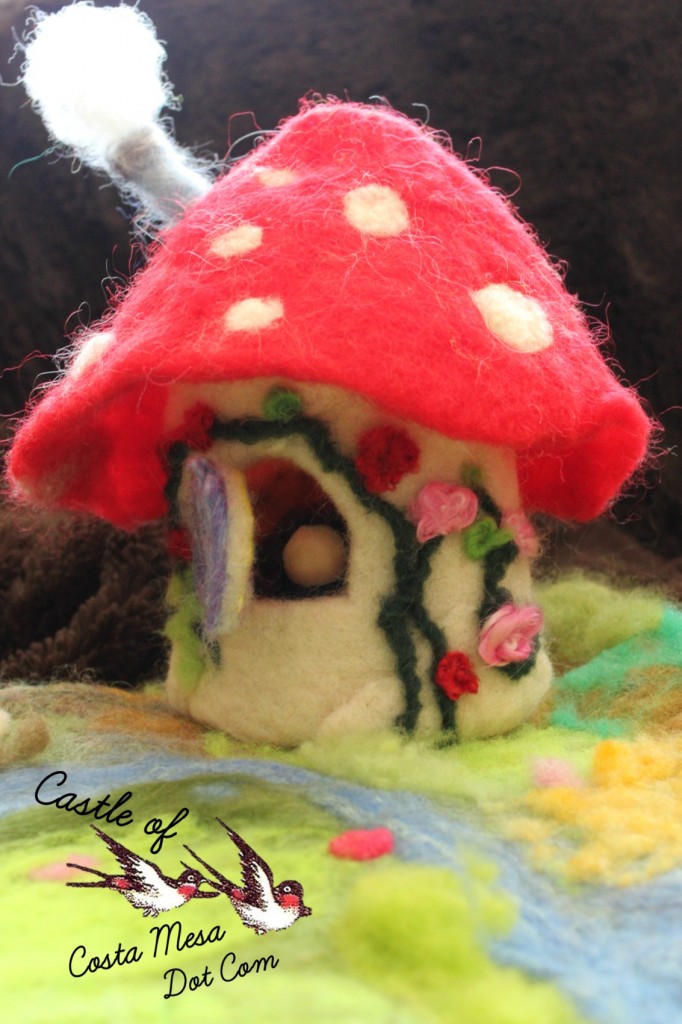 Here's a tutorial on how to make a little felt toadstool cottage. It's super easy!
Little Gnome has built his home under a hill…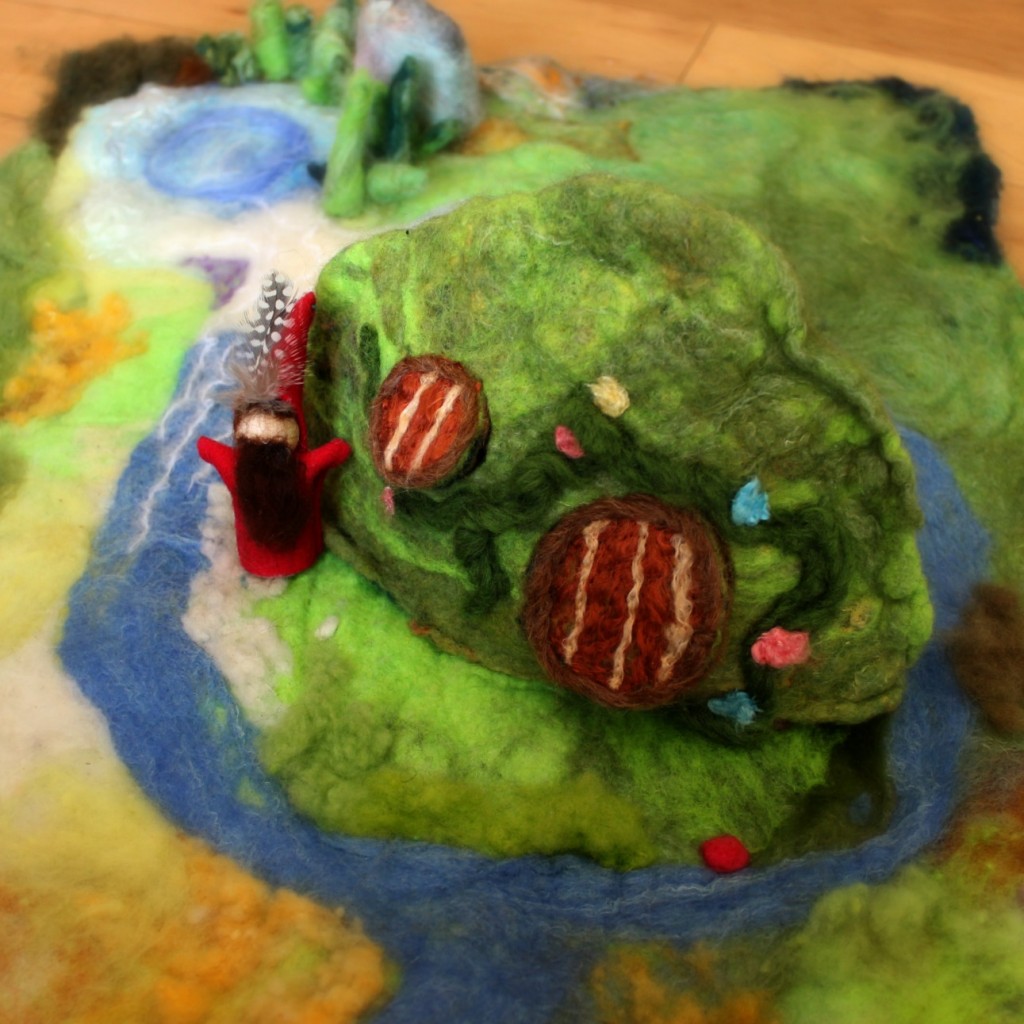 The hill is reversible!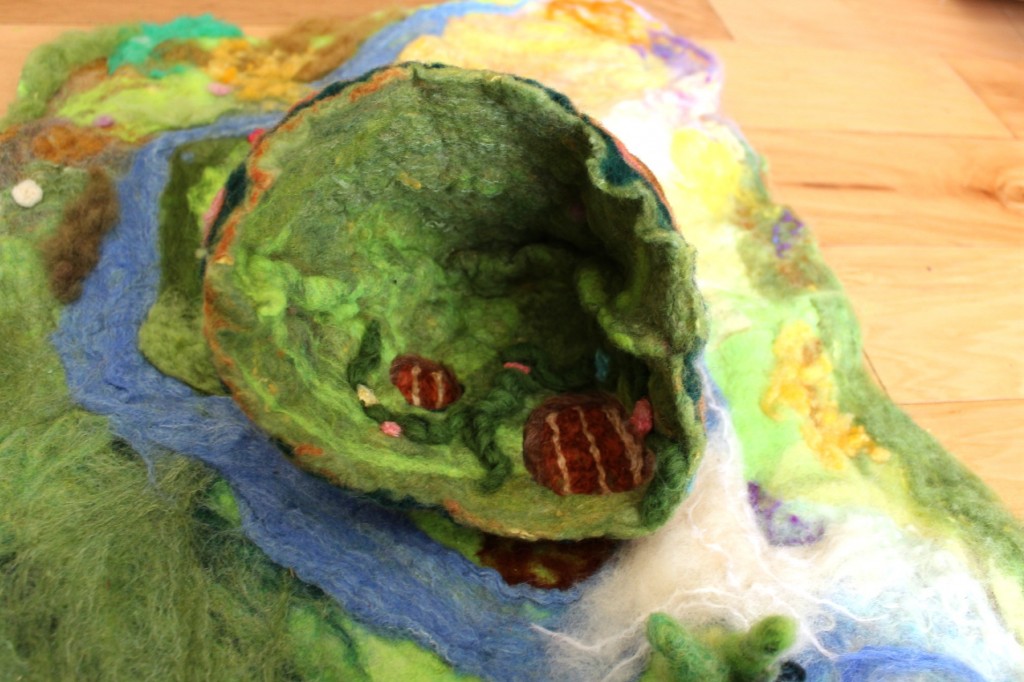 ta da … turning the hill inside out, you now have a muddy brown hill for a different play!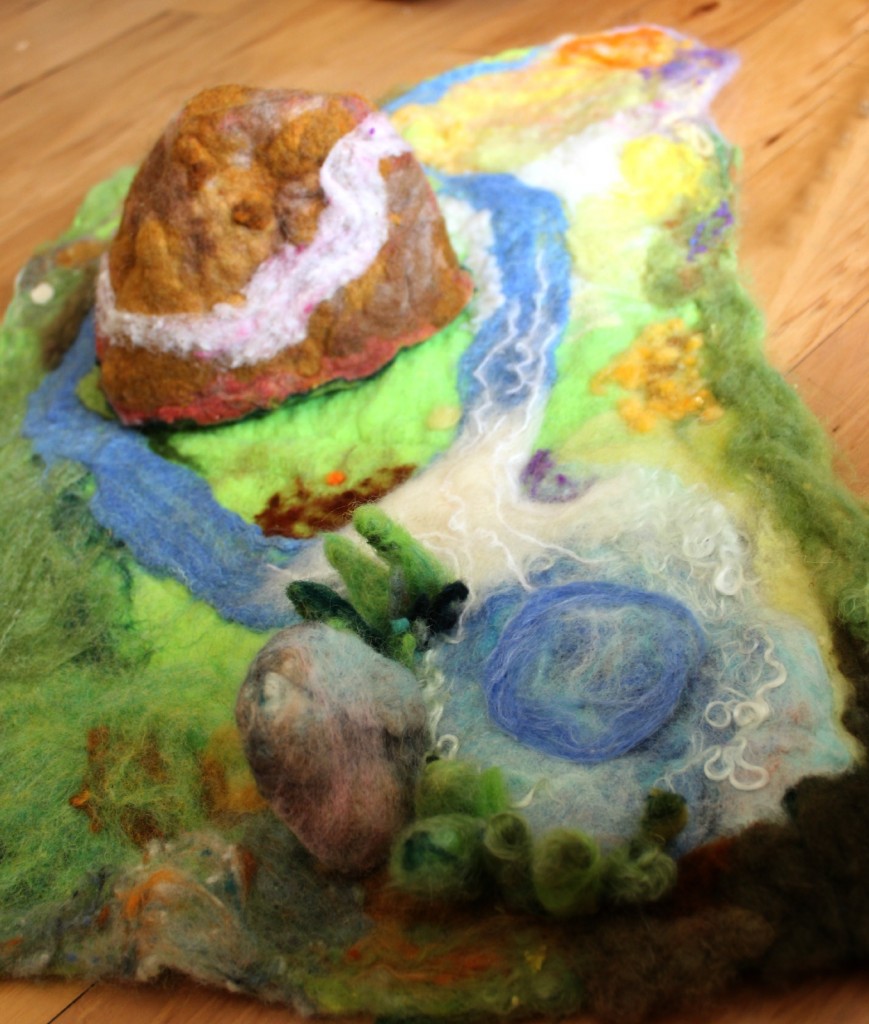 babe in rose petal boat…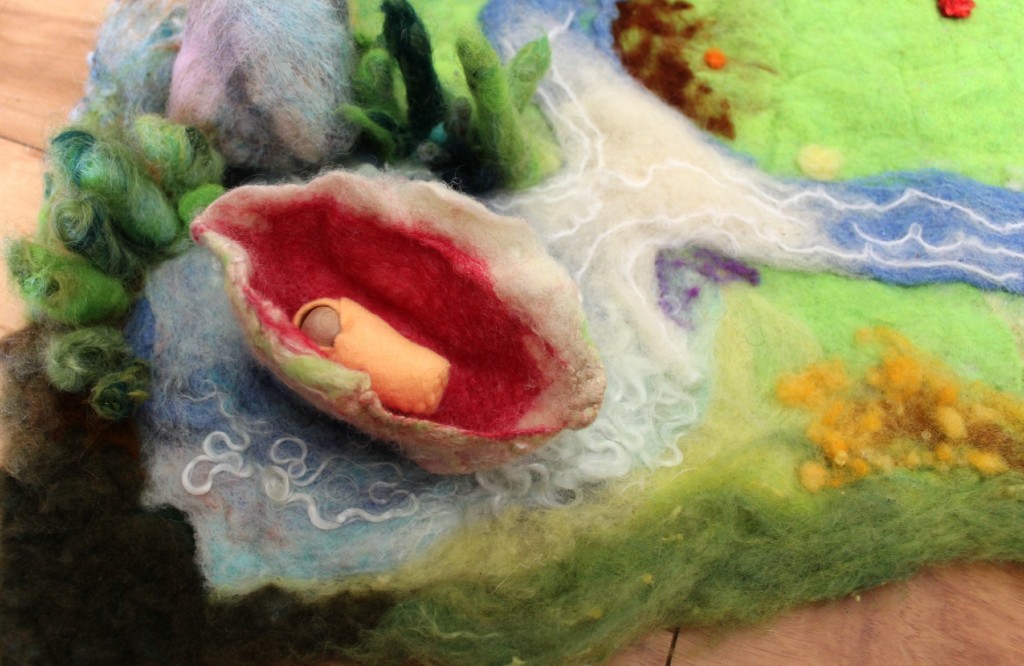 April 25, 2013. We used this playscape in our "Snow White and Rose Red" table top puppet show. Click on picture below to view photos of our puppet show on that day.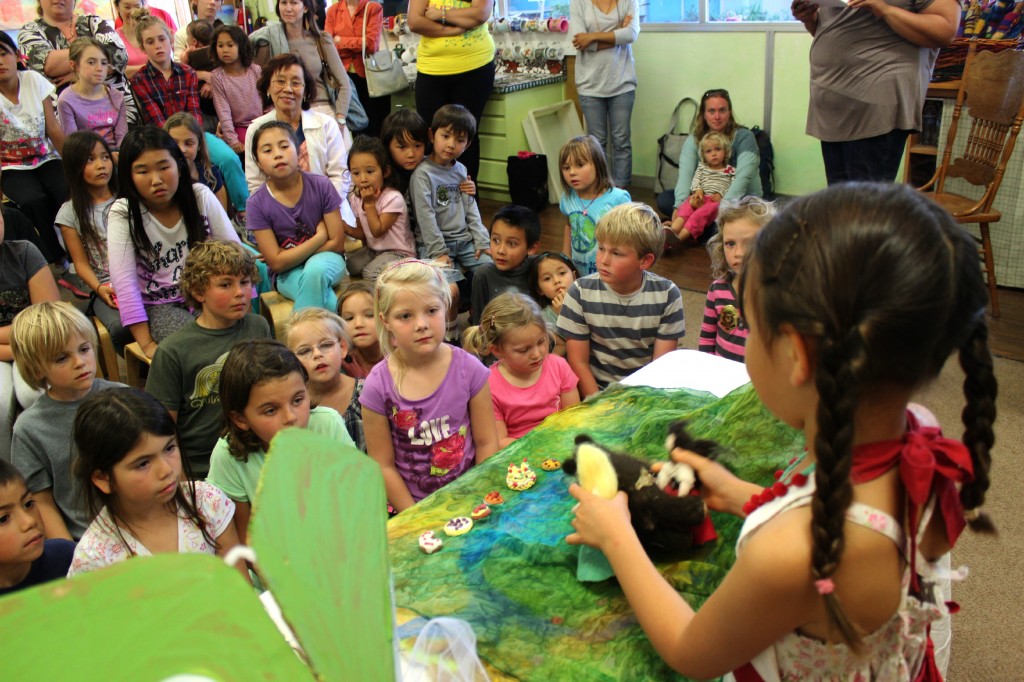 I hope this page inspires you to craft with your children. If you do, please share your creations with us on CastleofCostaMesa facebook page. Here is the link. Love, Jzin.
You may like to check out our other crafts below…
Felted Playscapes
Jzin's Handmade Dolls.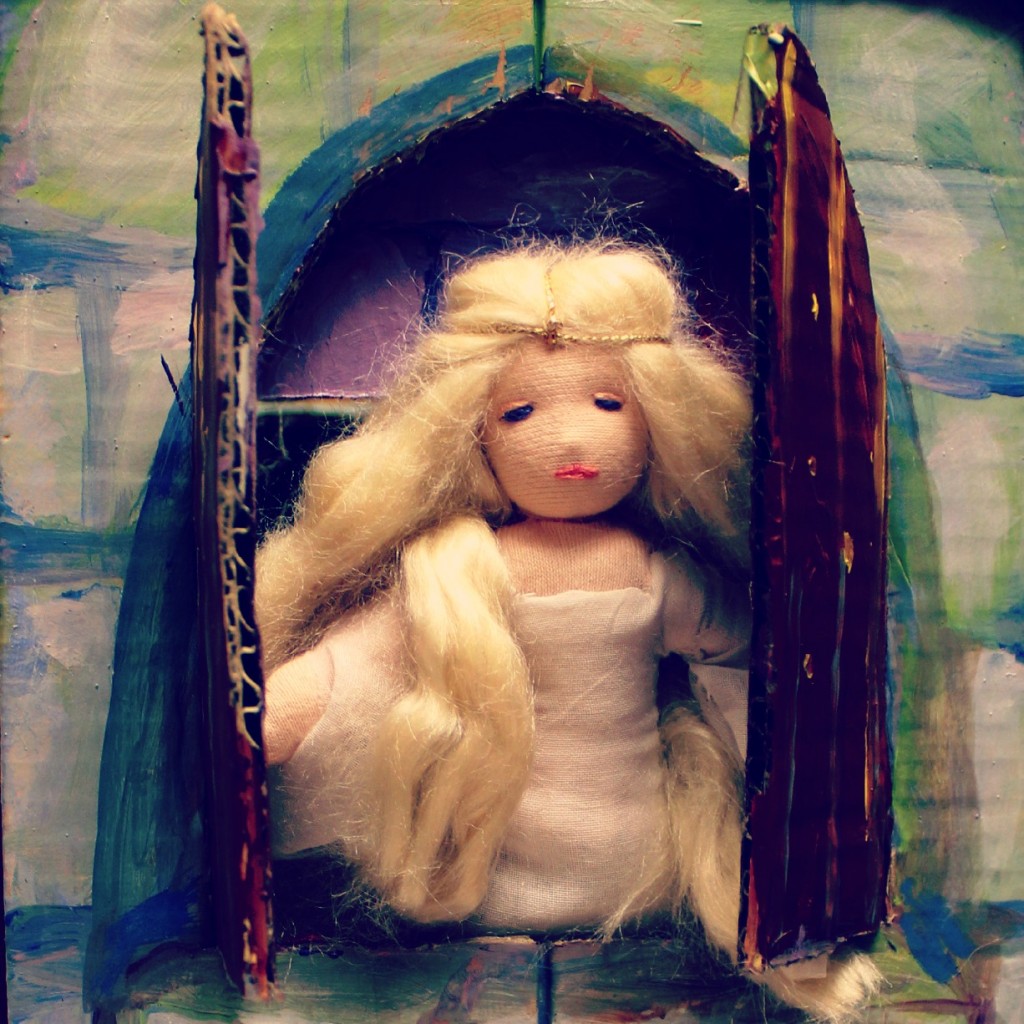 Please Like CastleofCostaMesa on Facebook.
I giveaway my handmade work frequently. Please "Like" my facebook page so you will be in the know.