Spring Craft: A Felted Rabbit Family in A Burrow

March 2013. Spring is here! My 8 year old daughter Nunu and I made a little spring craft: A burrow for a family of rabbits!
I came across Katya / Ketti Ben-Eli Shevach (from Elyakhin, Israel)'s "Bunnies in a Warren" on Pinterest a few months ago (see photo below). I instantly fell in love with her sweet little craft. I wanted to make a needle-felted craft with my 8 year old that will not be too overwhelming so that both mother and child could relax and enjoy the process together. Thank you so much Katya for the inspiration for this craft! You can look at her other beautiful work on Flickr. Click here.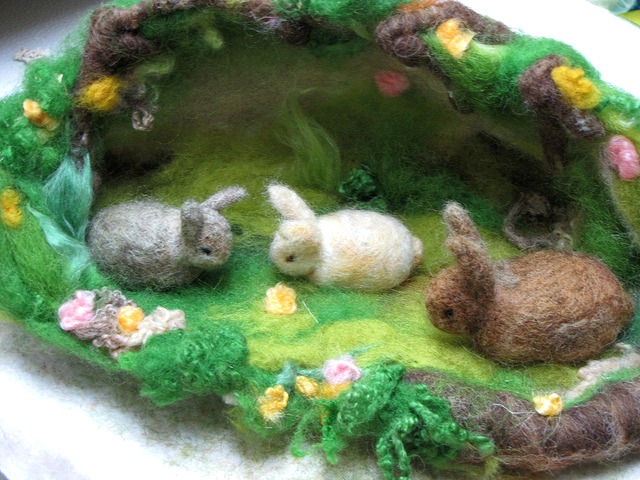 Click here to view our original source of inspiration
March 15, 2013. I could not find a tutorial to go with her craft, so I made one up.
I bought a large foam egg from the local craft store, Michaels. This was to create the burrow shape using wet-felting process.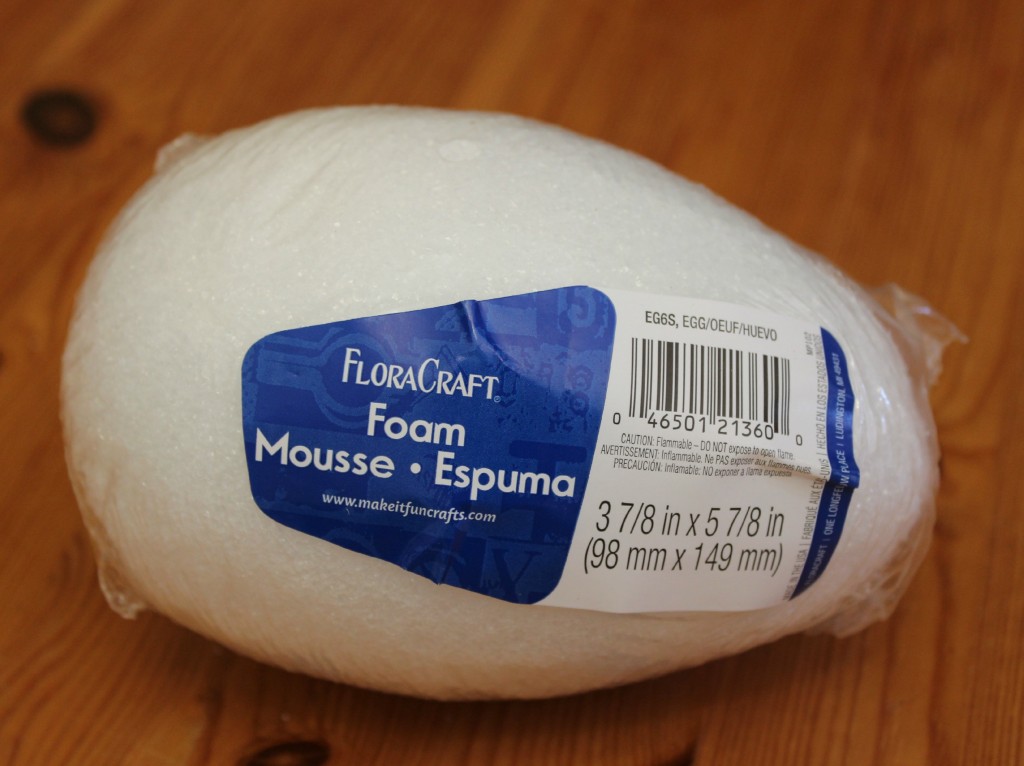 I discarded the tough packaging plastic seen in above photo. Then I realize the styrofoam may have little flecks that could fall off during the felting process, so I duck taped some plastic wrap to the styrofoam egg before I applied wool over it.
I started by layering thin, flat layer of roving to create the most interior side of the burrow.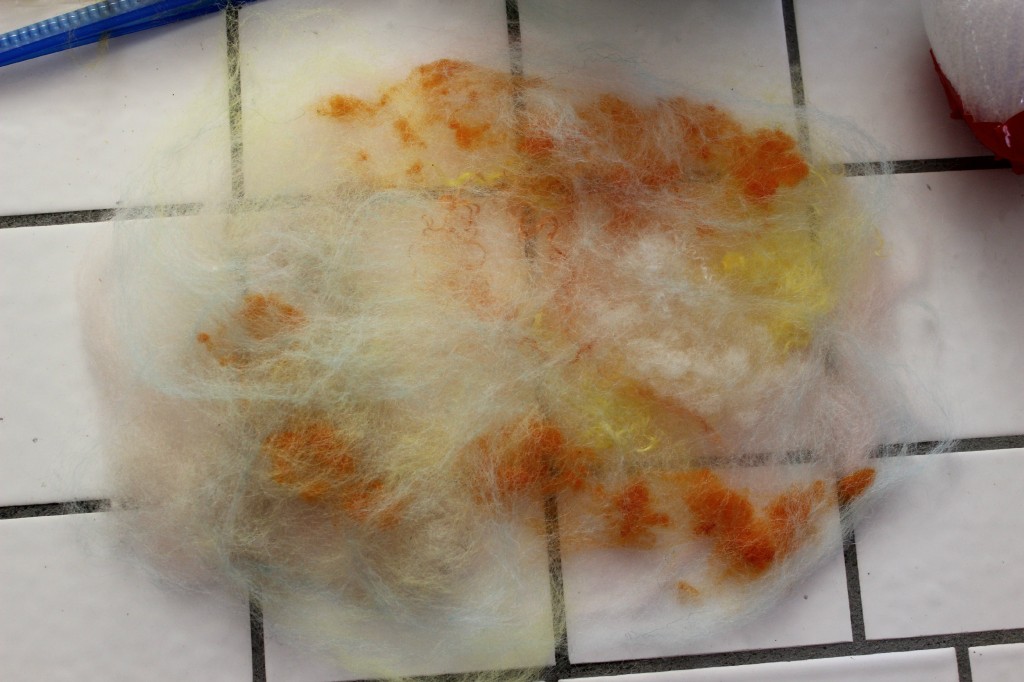 I wanted the interior of the burrow to be cheerful and a little bright, so I started with lighter color roving.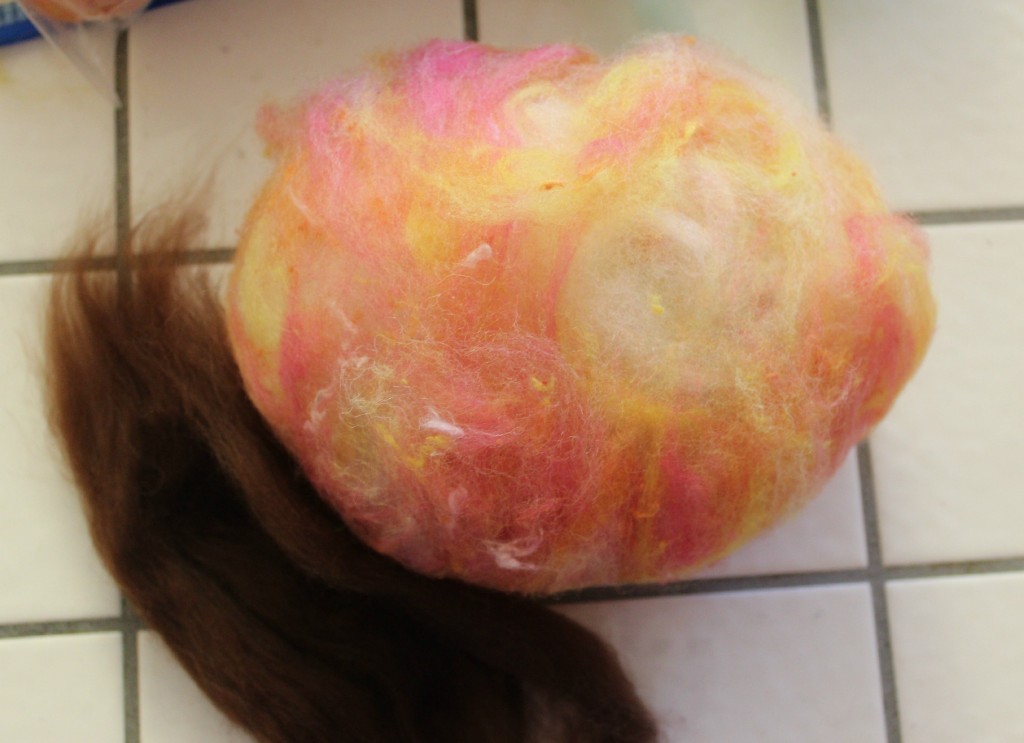 I  continued by applying thin, flat layers of earth colored roving in opposite direction to the layers below.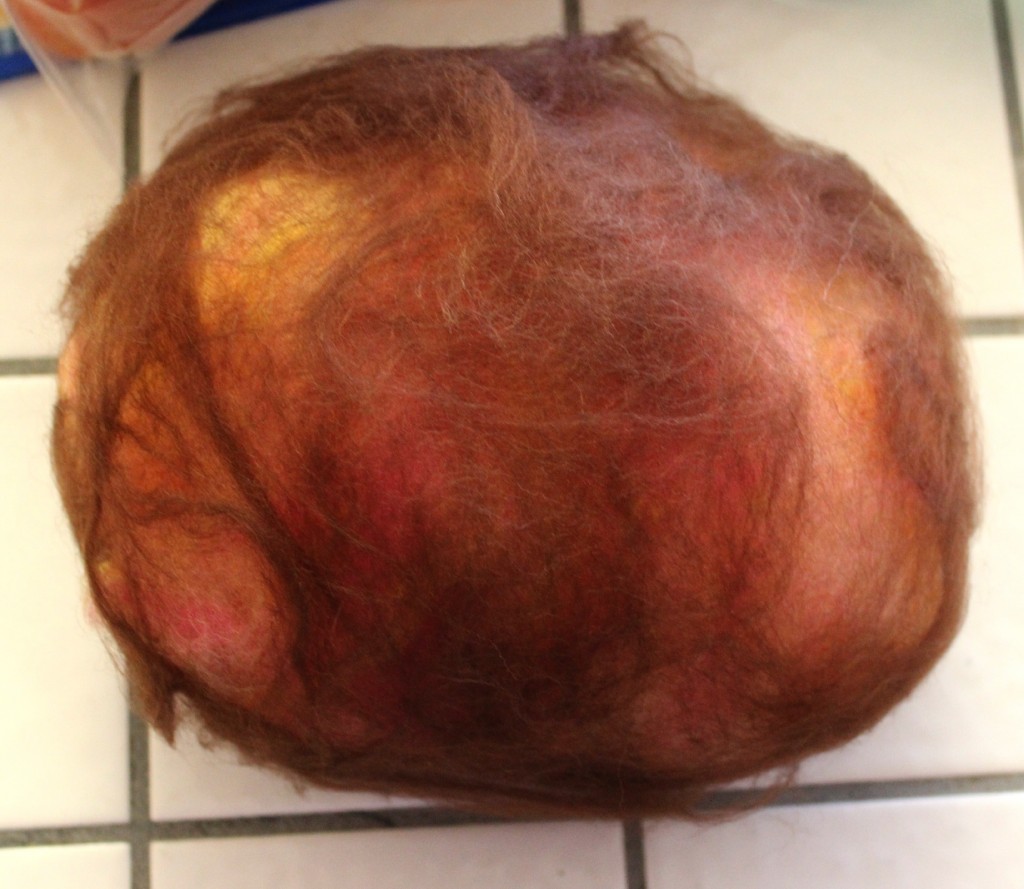 … adding thin, flat layers of green roving.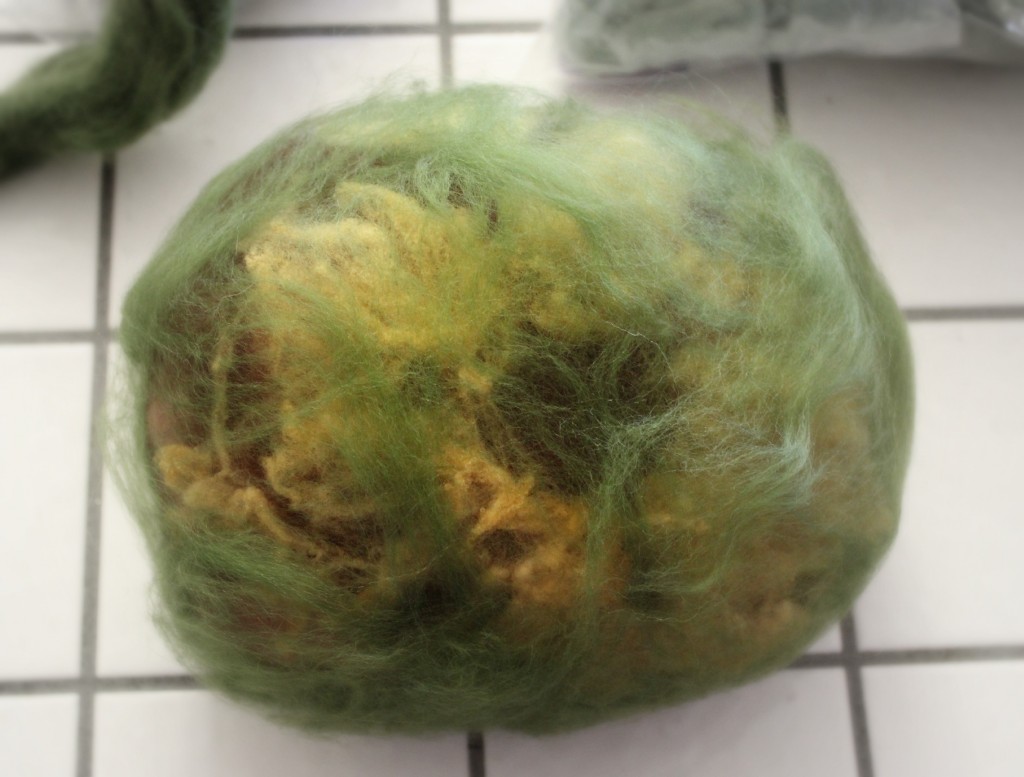 Thin layers of green fleece and roving have been added onto the foam egg. I like working with fleece, which is more sticky and rougher than wool top. Now my "egg"/burrow is ready for liquid soap and boiling water.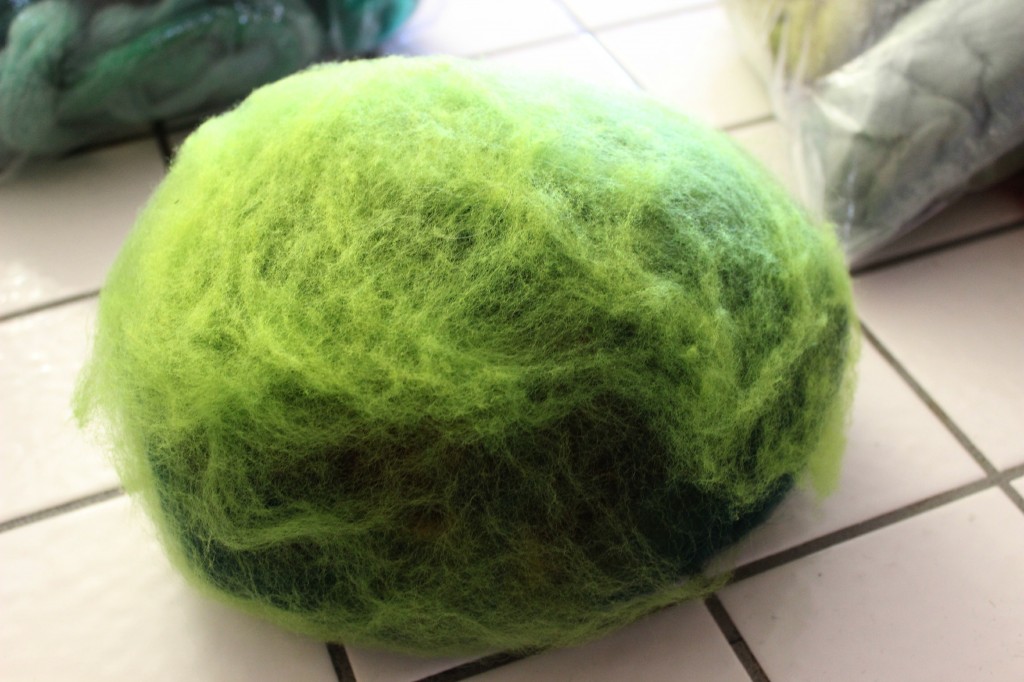 I could not photograph the subsequent steps because my hands were wet and soapy. Here was what I did. I squirted very thin streams of dishwashing liquid soap over the egg, then I poured thin, small streams of boiling water onto the felt.
As much as I could handle, I gently pat the egg (with soap and boiling water on it) to get the water to soak through the whole "egg" but careful not to disturb and displace any of the wool.
I did this "patting/caressing" for about 10 minutes or less, before I applied any pressure.
When the "egg" was felted and able to withstand pressure, I rubbed hard against it and washed off the soap (over my sinkful of dirty dishes) with cold water.
After the soap was rinsed off, I inserted this wet ball into a pillow case, tied up the pillow case and added it to the family laundry. It went into the washer and dryer runs. Perhaps the washer run was not necessary, however, I imagine the extra agitation in the washer may have felted my "egg" more tightly.
Wet-felted egg just retrieved from the dryer.  I paused in my cutting, realizing a jagged cut will look more natural and appealing.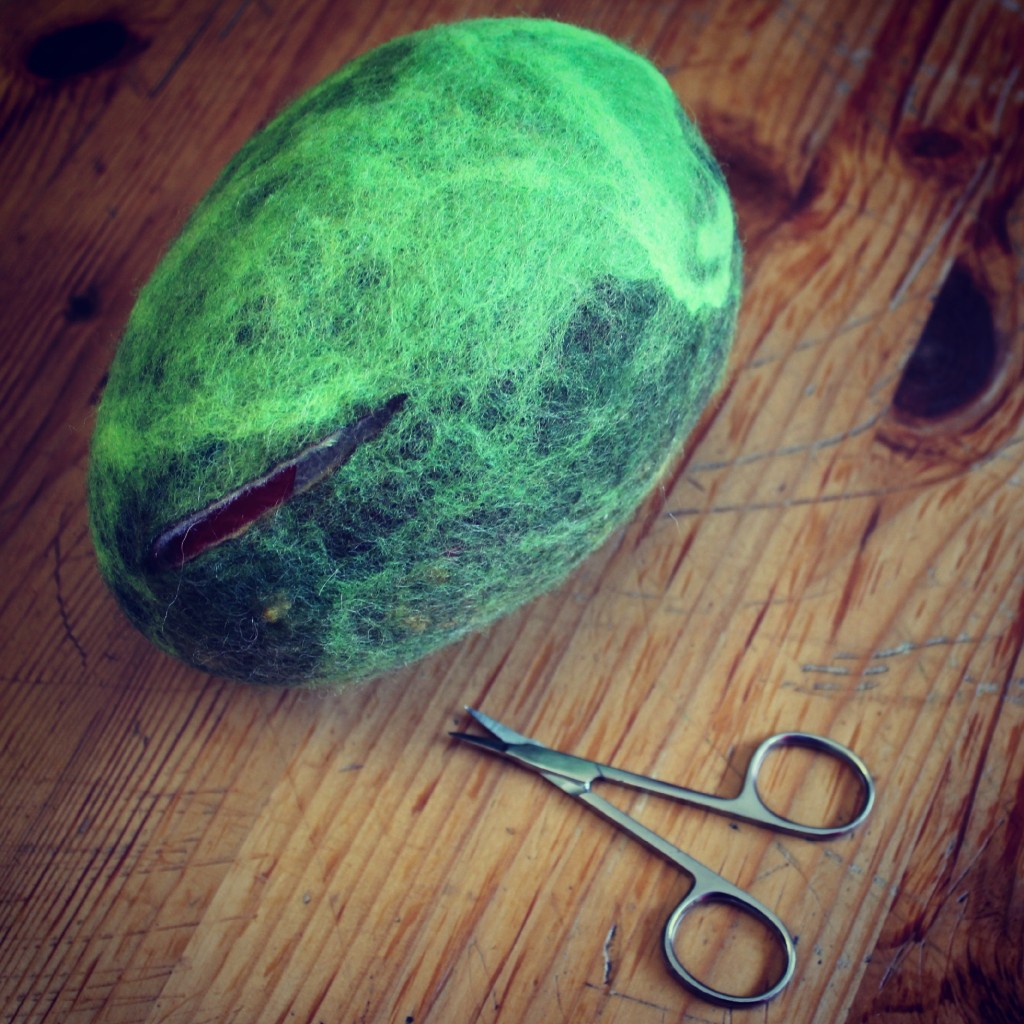 I did most of the wet felting at night or when Nunu was at school. After cutting the wet-felted "egg" in half (this process above yielded 2 burrows), Nunu helped me decorate it with spring flowers.
March 23, 2013. Saturday. Nunu and I needle-felted bunnies. We made extra bunnies and gave one white baby bunny to our friend Anicka as a present.

When you flip the burrow over, you get a hill. I like toys that surprise or are multi-functional.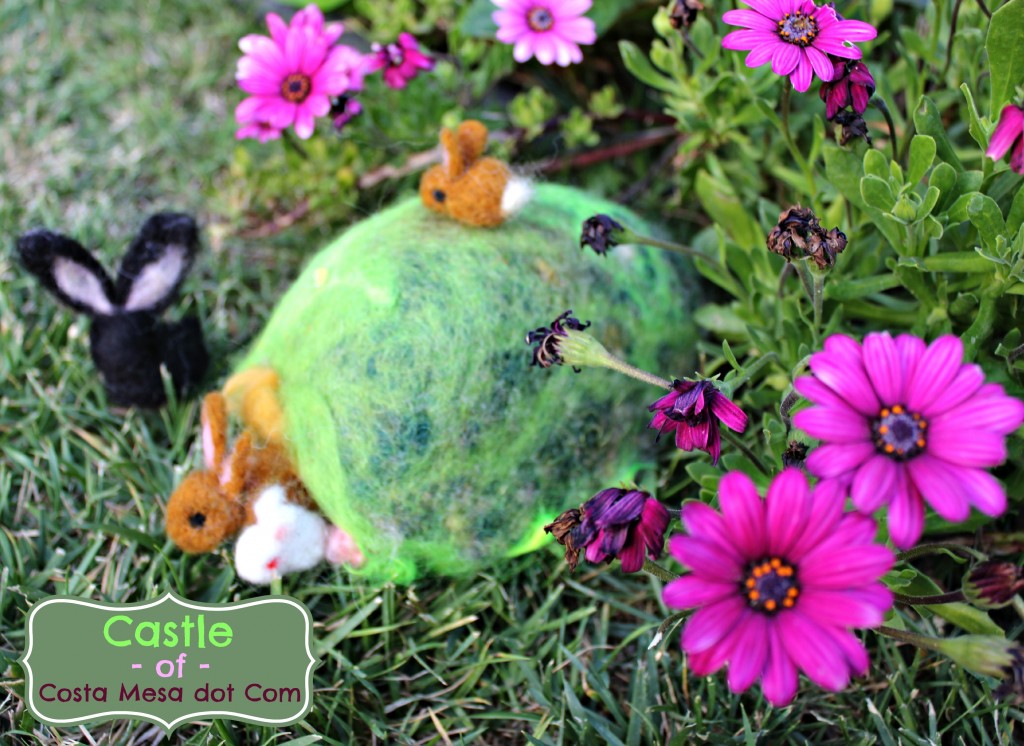 Bunnies peeking out of the rabbit hole…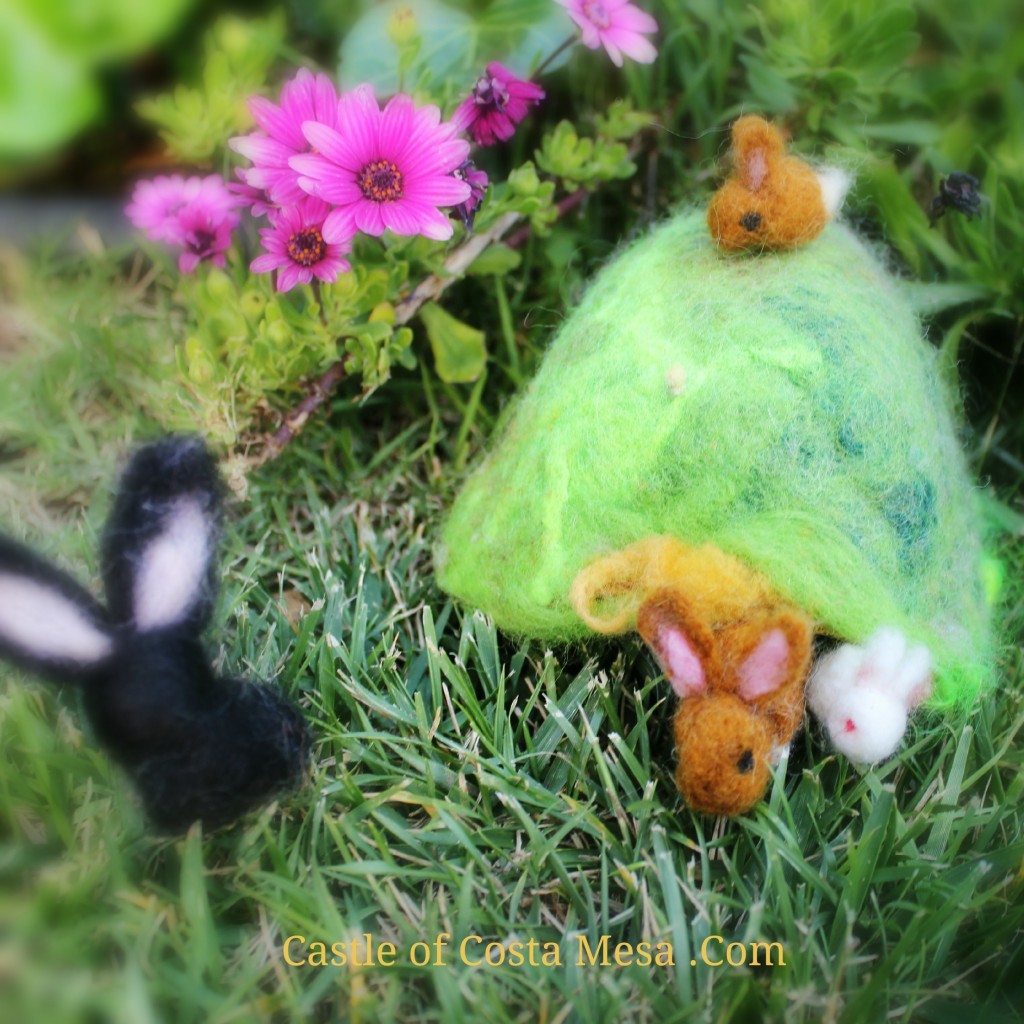 We will be using this family of bunnies and their home in a scene for our upcoming mother and child puppet show performance at the Waldorf School of Orange County on April 25, 2013. At 3:30pm, we will be performing "Snow White and Rose Red" table top puppet show.
Here is our homemade puppet show, performed in the past for Nunu's 7th birthday.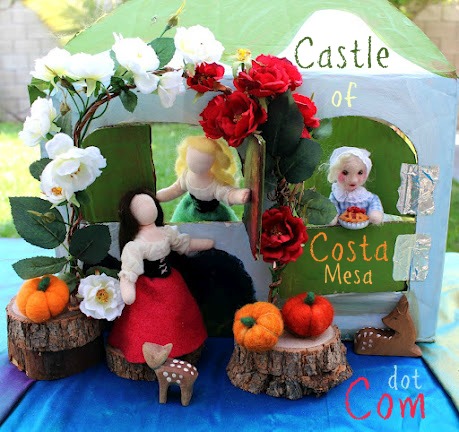 Back then, we did not have handmade bunnies, so we used plastic ones. Not anymore, now we have our own handmade ones!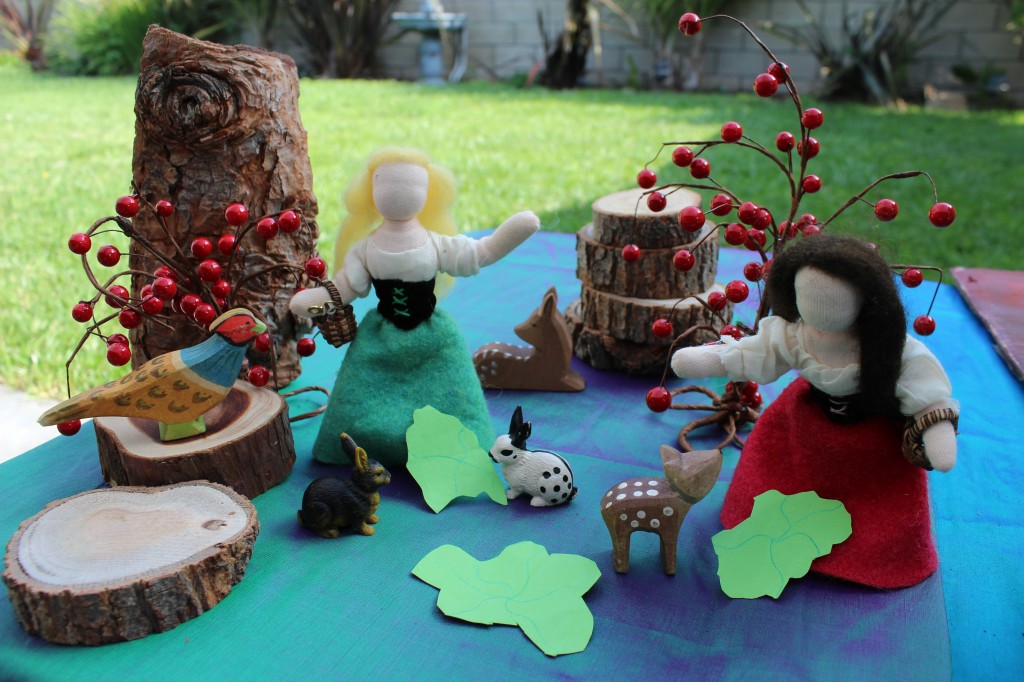 Click here to view some other Spring season table crafts we made…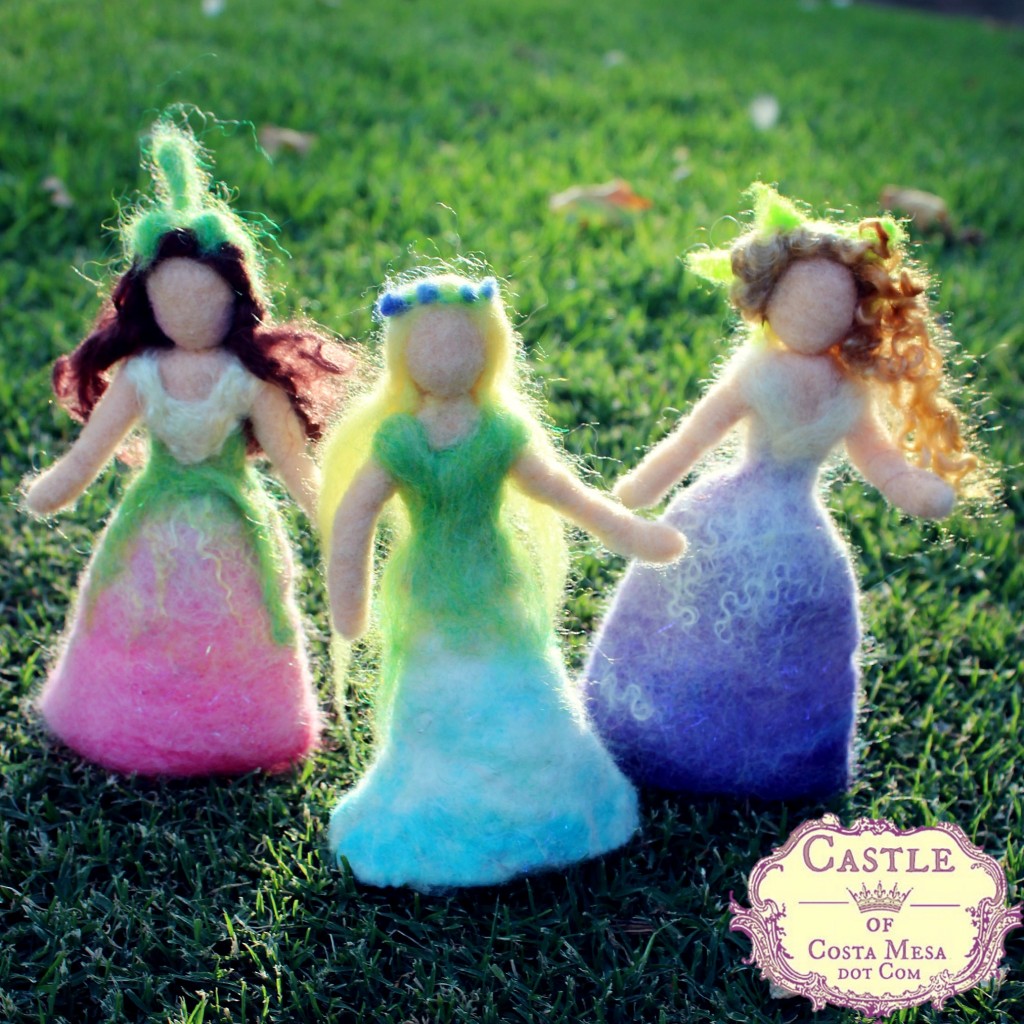 Waldorf Seasons Table Dolls by Castle of Costa Mesa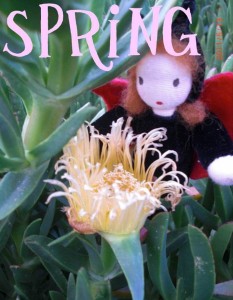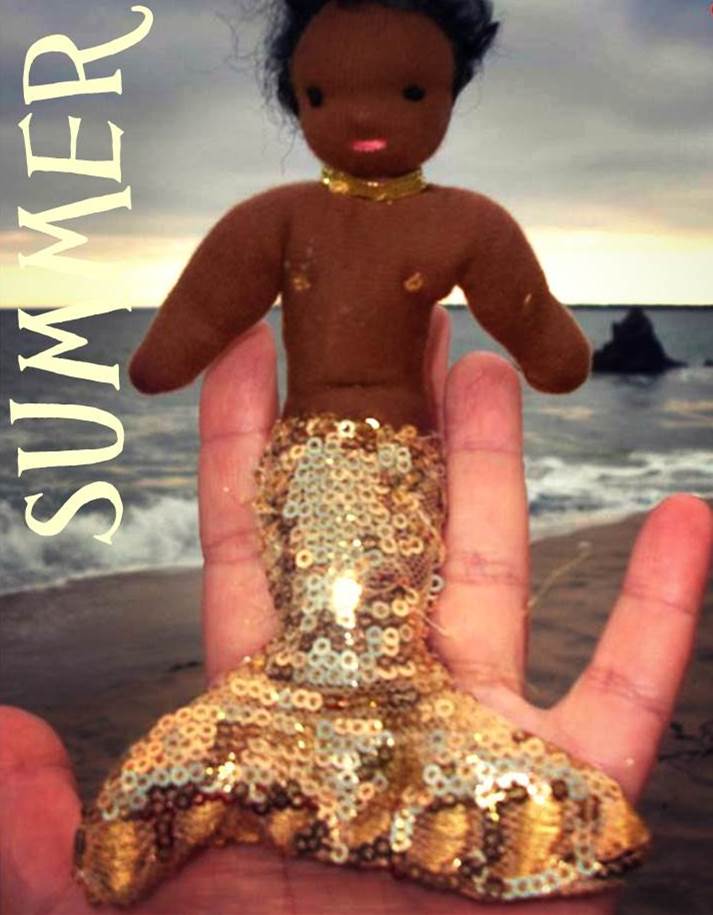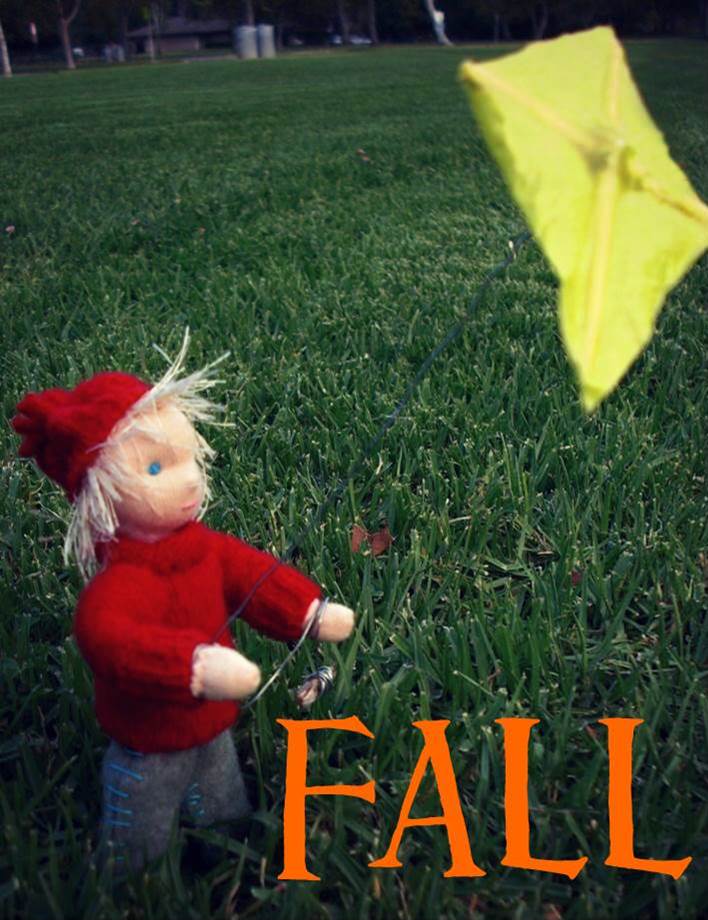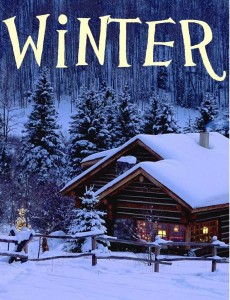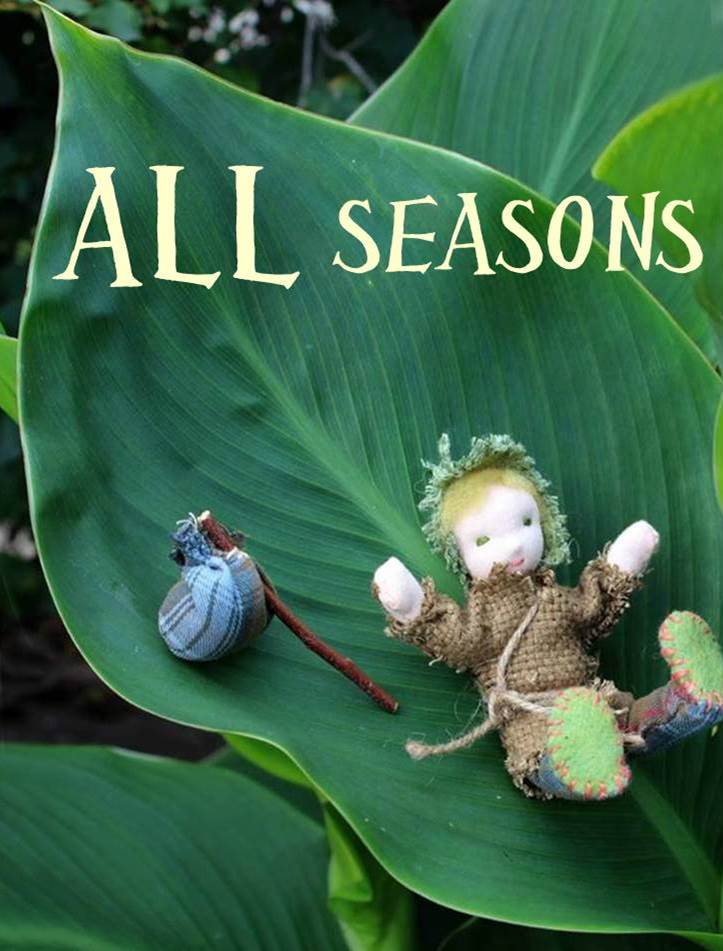 Castle of Costa Mesa's Etsy Store
Click on the image below to enter Castle of Costa Mesa Etsy store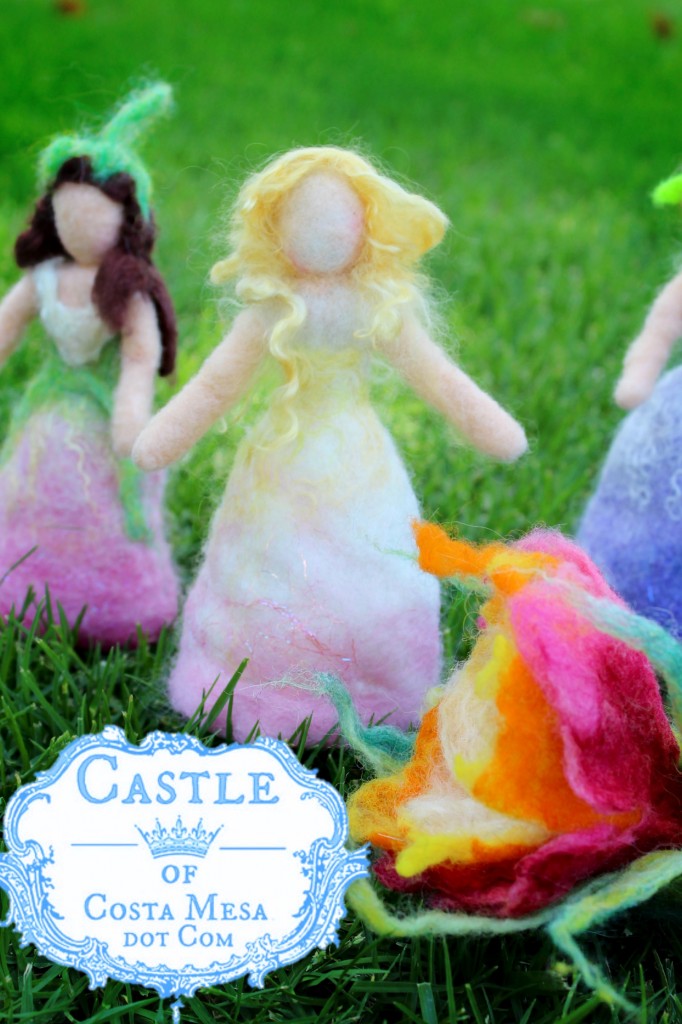 Click here to view a gallery of my handmade dolls.
Castle of Costa Mesa Handmade Doll Giveaways

I give away my lovingly handmade dolls periodically. If you "Like" my Castle of Costa Mesa Facebook page, you will be notified of upcoming giveaways. Click here to view the list of my past giveaways. Perhaps the next winner could be YOU?
Photos from Waldorf School of Orange County Craft Group