The Secret of The Waterfall.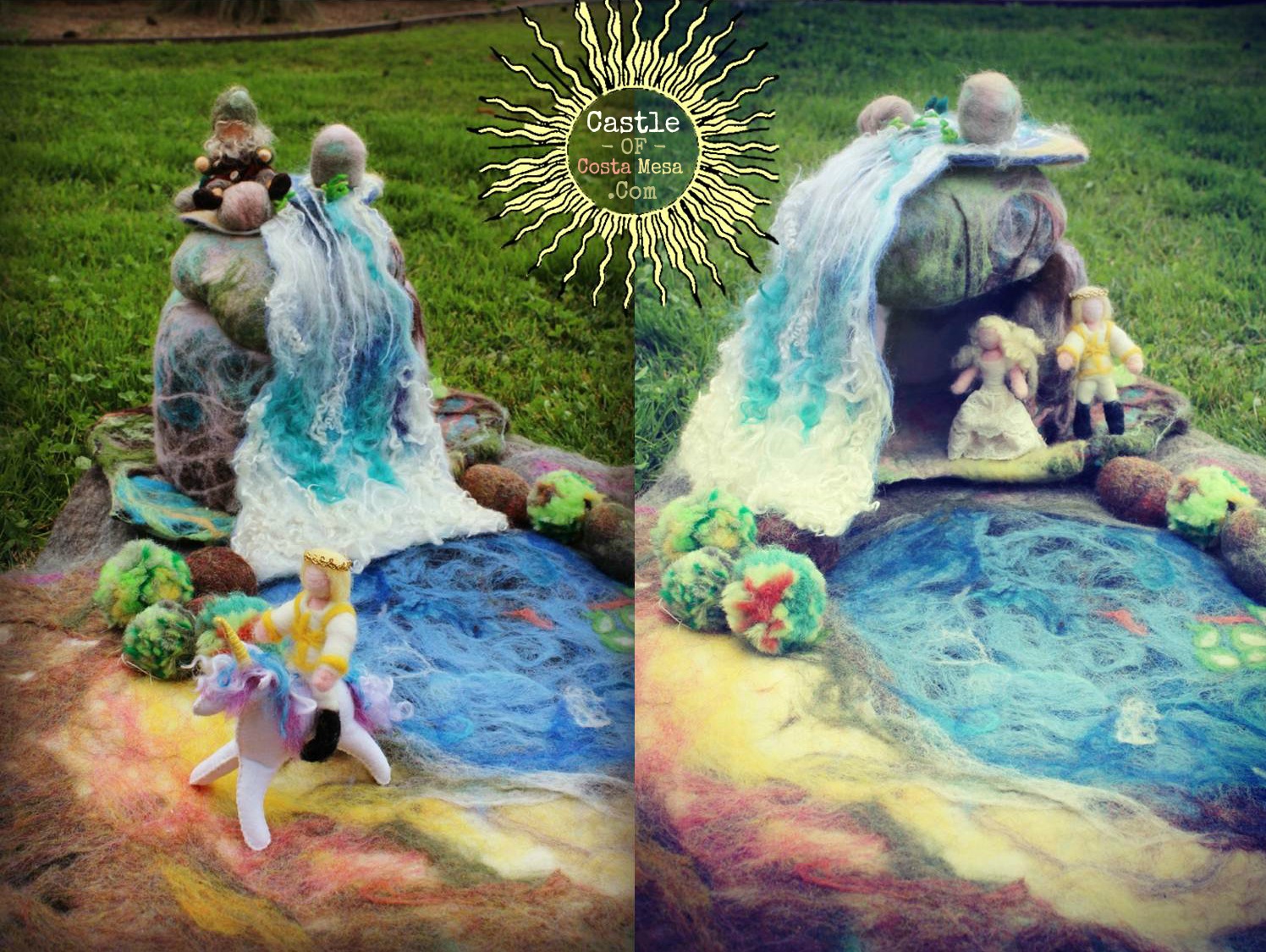 A work in progress. Click on image above to enlarge.
February 7, 2013. Thursday. This was my first attempt at wet-felting a playscape. It was fun! I felt like a playful child making this "Waterfall with a Secret"! I had let too many decades elapse between me and my childhood! What gross negligence! Oh!
As an adult, I had to have an excuse to "play", thus this was my excuse: I am making this wet-felted playscape to donate to our Waldorf School of Orange County Annual Gala + Auction Spring 2013. So please support my excuse for creative play, click here to bid on something wonderful on this link to support our school!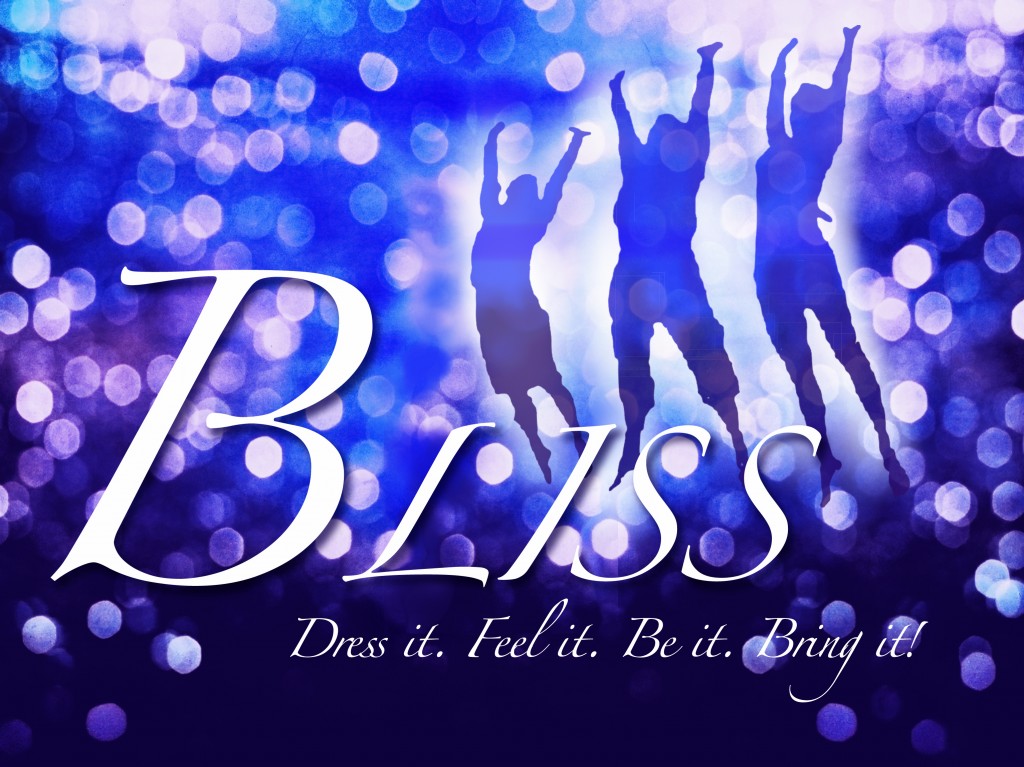 The Story of The Secret of The Waterfall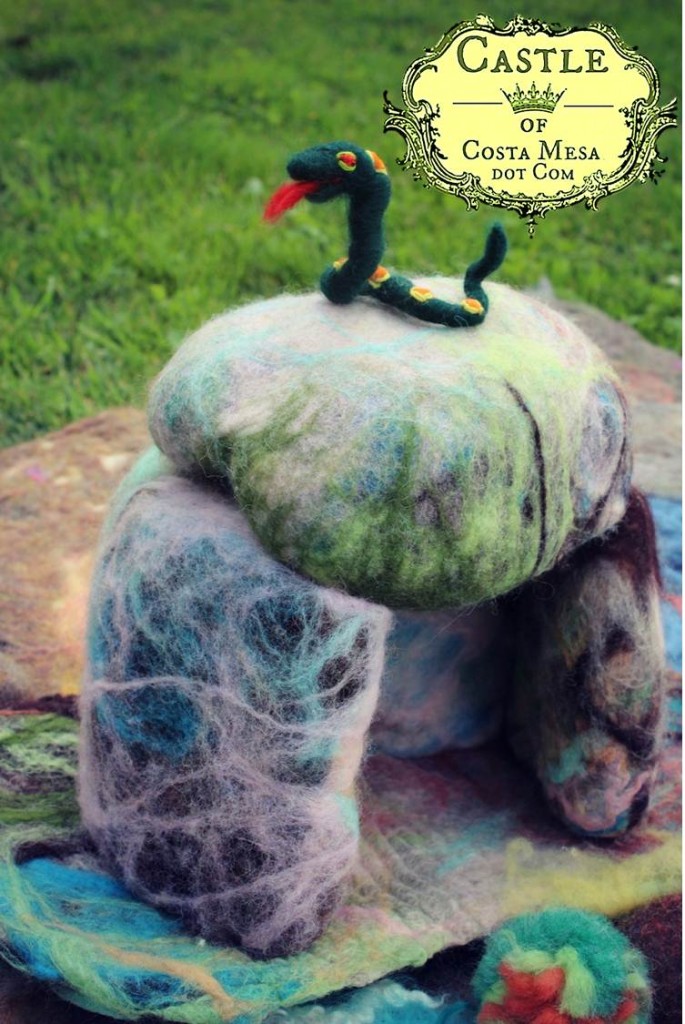 The Princess and her brother were banished into the mysterious woods by the evil king.
Look out! The serpent lurks in the bushes.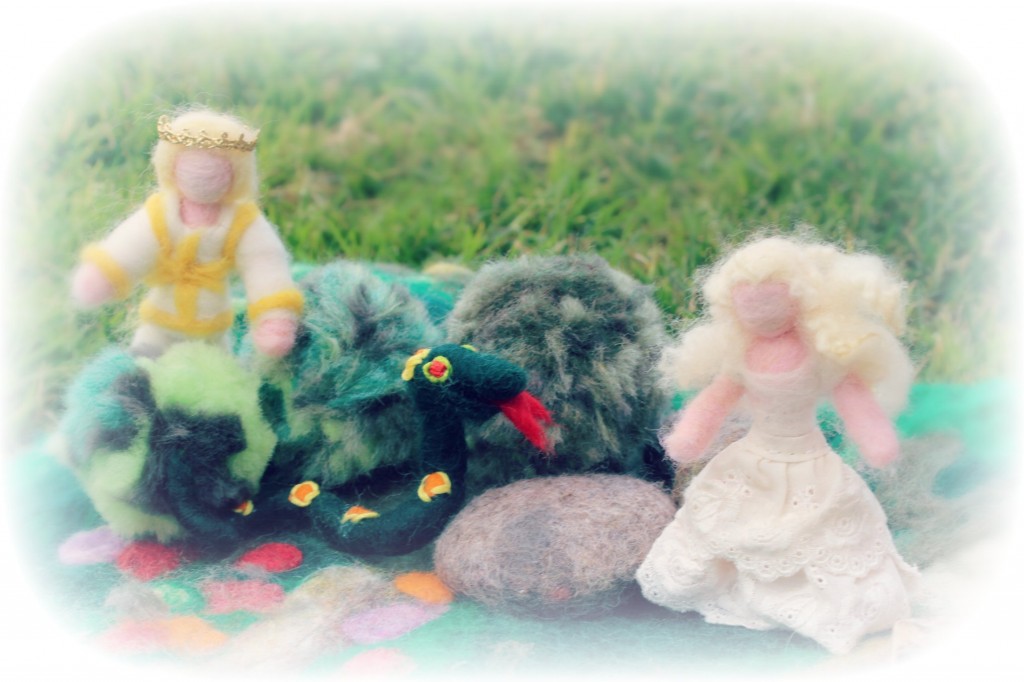 Tired from wandering in the woods, the princess lamented, "what shall become of us?"
By dusk, the siblings wandered to the foot of a gushing waterfall.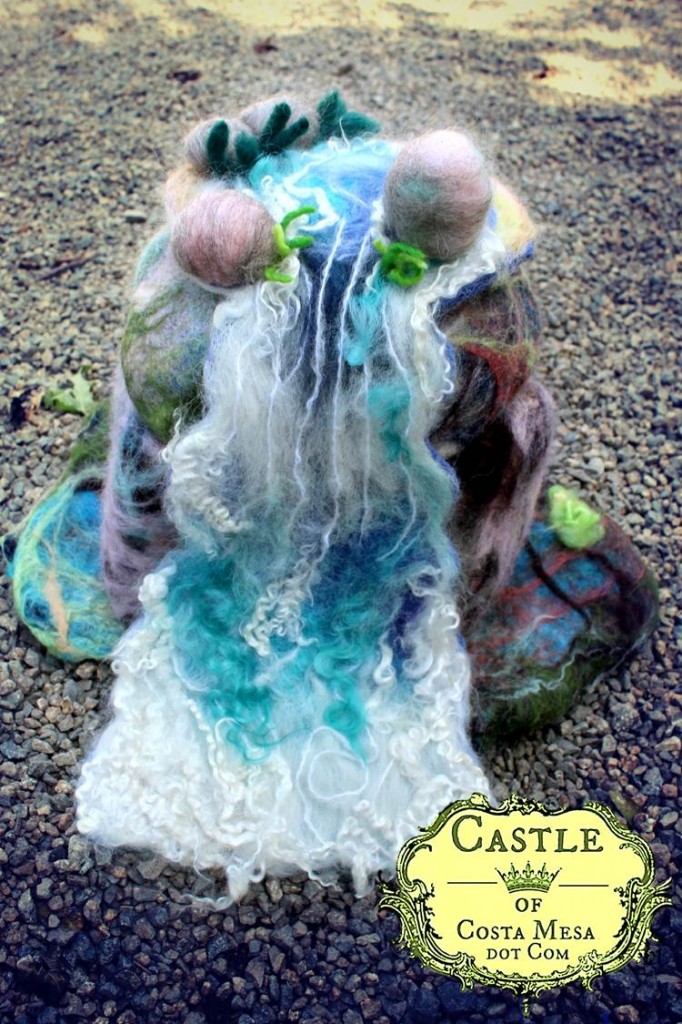 The prince sang a magical tune that their mother taught them when they were wee children.
"Oh brother, you still remember the song mother sang to us!" the princess smiled "Mother told us, whenever we are in danger, this magical tune will keep us from harm's way."
The magical tune made the mountain rumble like the belly of a greedy king who had not eaten for half a day.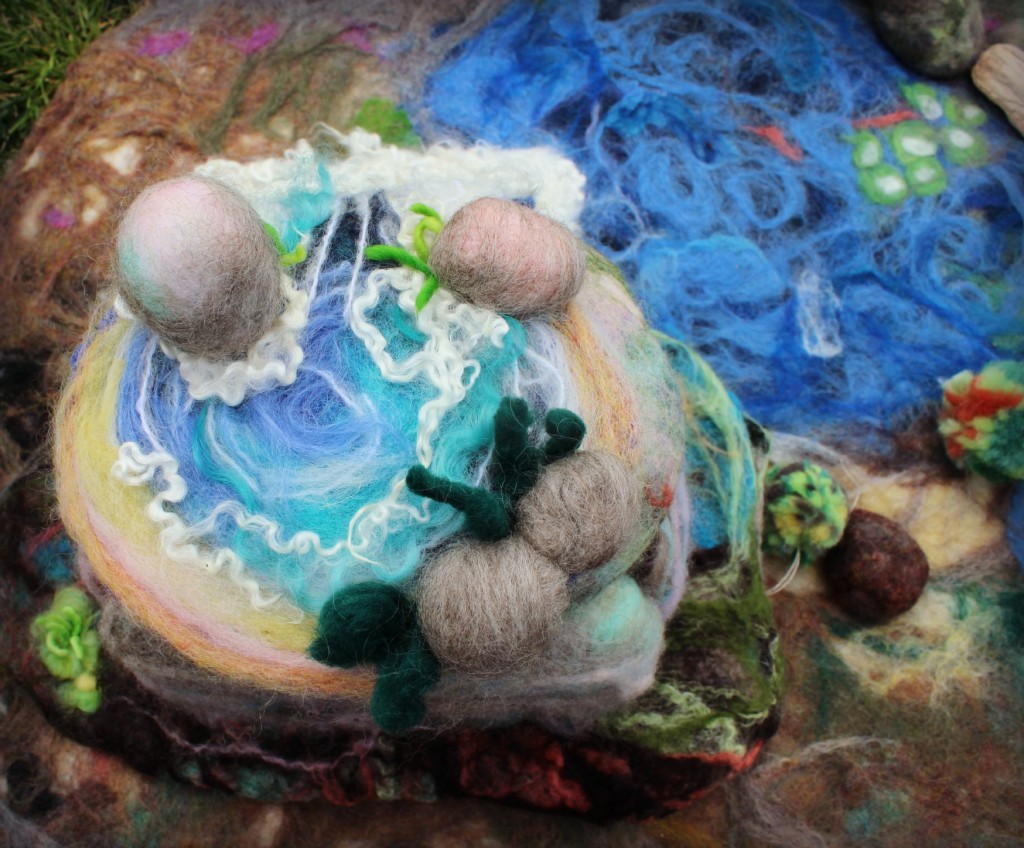 To the surprise of the Prince and Princess, the curtain of rushing fall moved to a side!
Lo and behold! There was a dry and safe cave behind the waterfall.
"Alas! Now we have a safe place to to rest our weary bodies until the day breaks!" cheered the  brother and sister gratefully!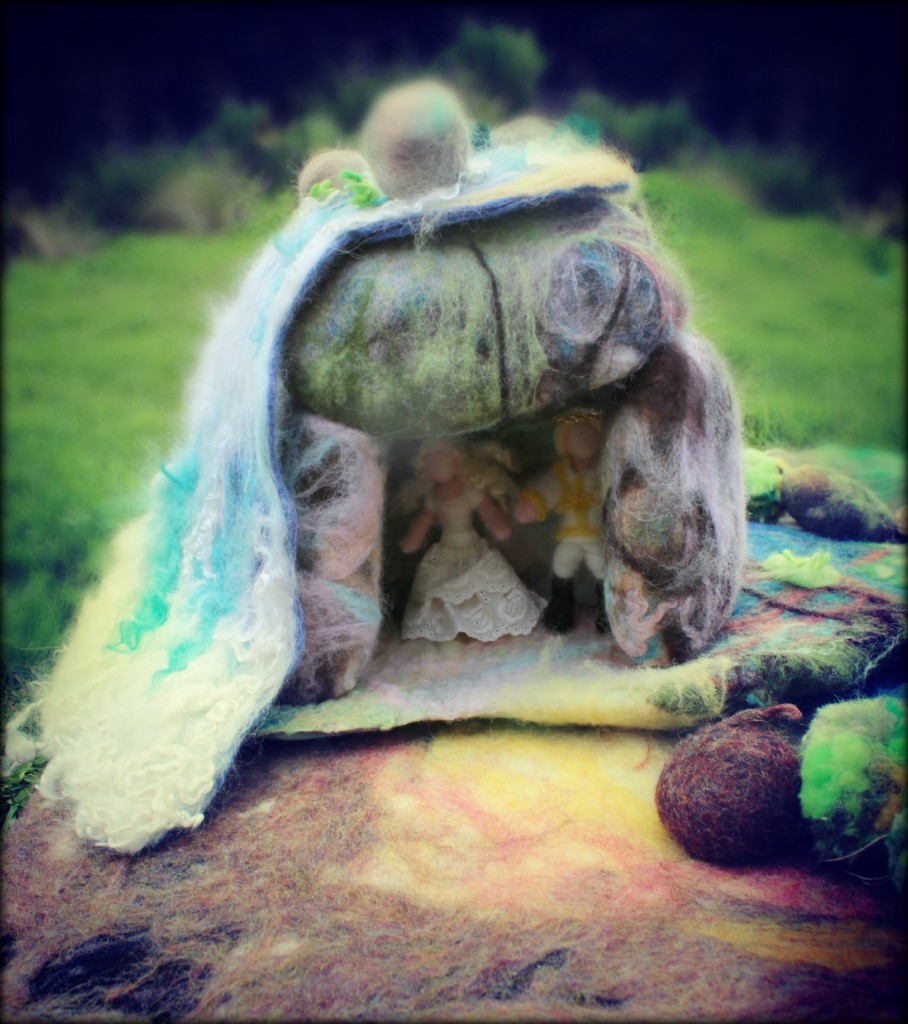 "This enchanted cave shall be our home as long as we stay in these woods."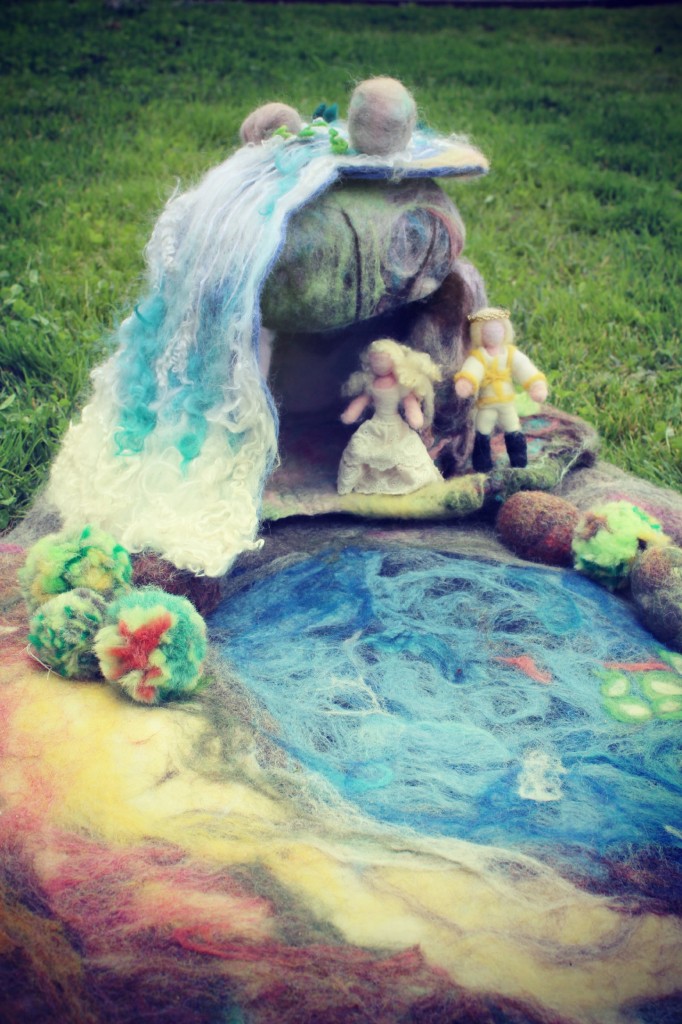 It was a secret kept by the brother and his sister, for no one else knew that behind that ferocious raging river, lies the woodland home of the royal siblings.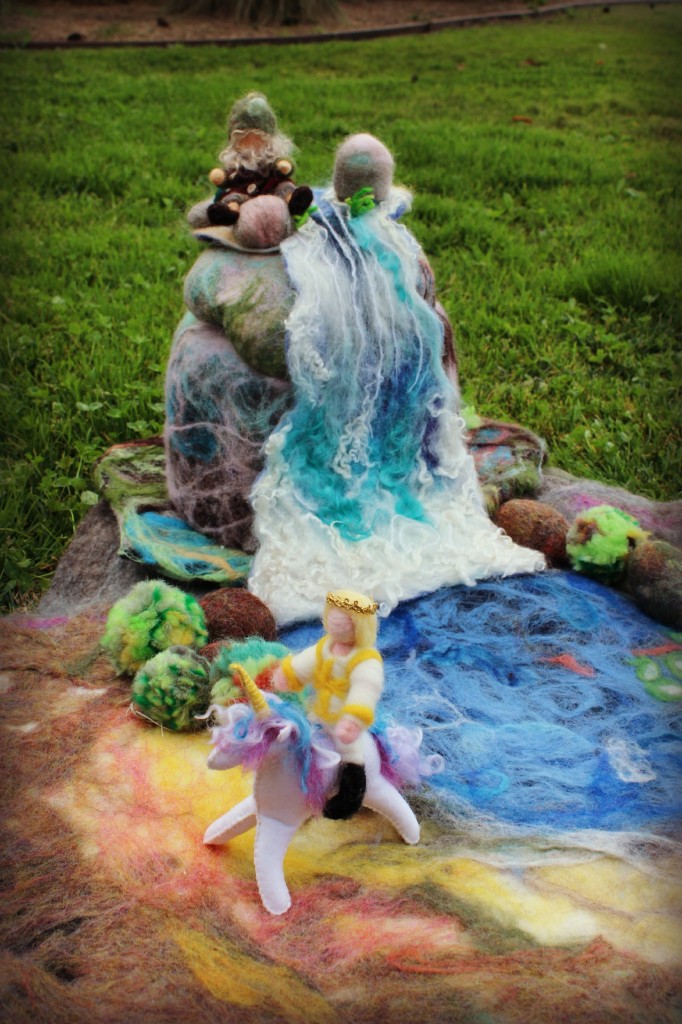 The secret of the waterfall. I made this wet-felted waterfall to house a secret cave behind the cascade of water, to allow discovery and surprises for the young child who will eventually play with it. The idea came from the Chinese Fairy Tale, The Monkey King (孙武空) who bravely leaped past a curtain of waterfall and discovered a safe haven for his fellow monkeys to live in peace amidst the dangerous forest. – Jzin, CastleofCostaMesa.Com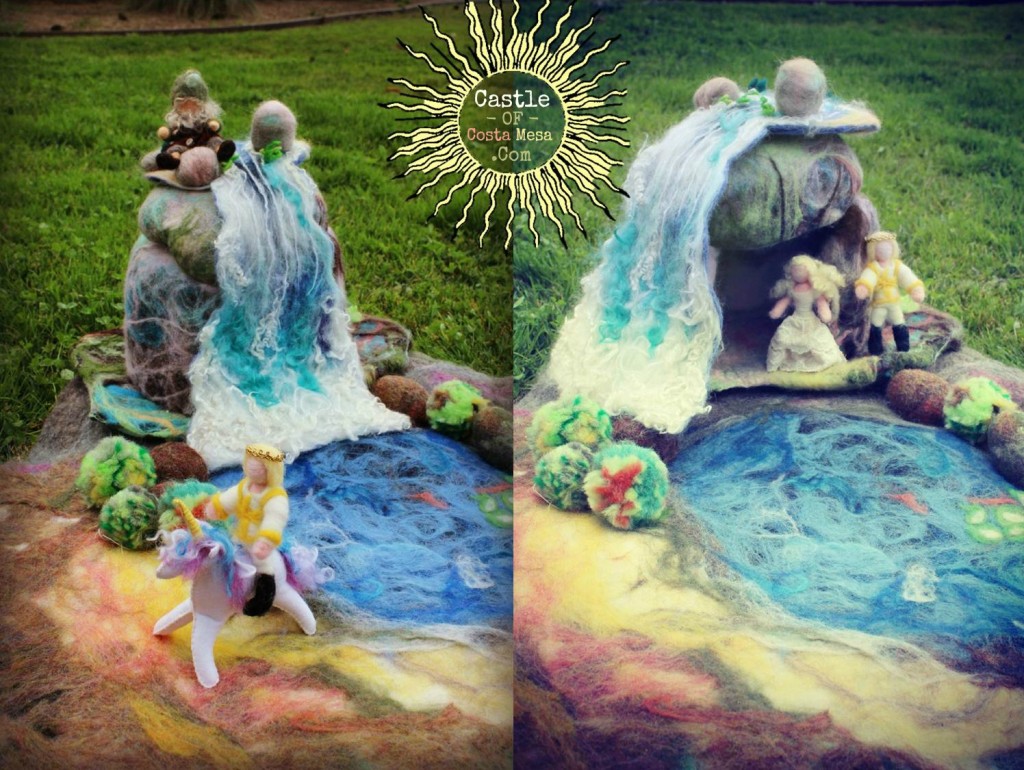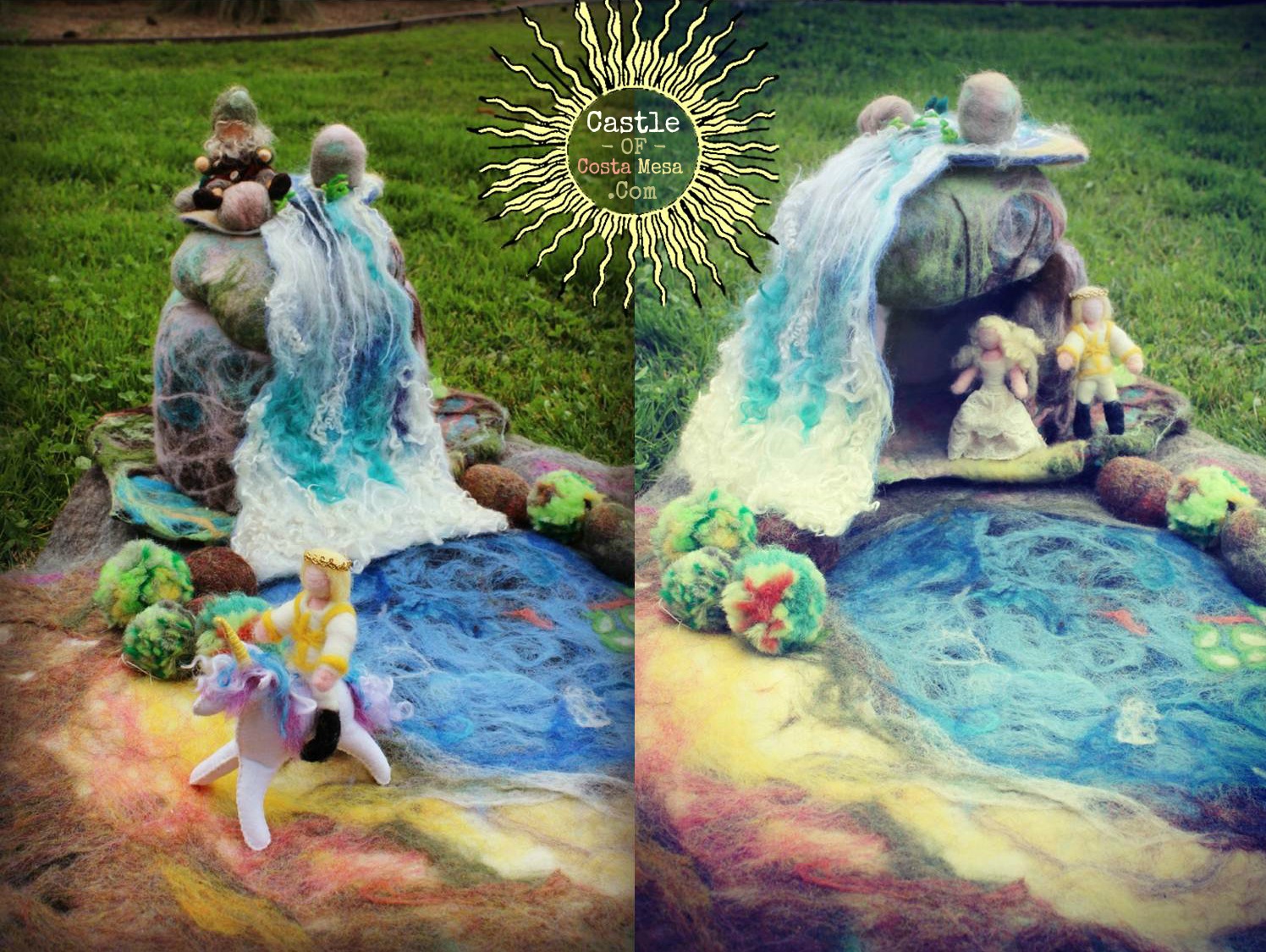 February 6, 2013. I felted these miniature dolls and "The Waterfall with A Secret" last week with the intention of donating them to our Waldorf School of Orange County for its upcoming "Spring 2013 Bliss Gala + Auction."
The wet-felted playscape blanket was made by our school's craft group. Here is a pictorial tutorial on making this very playscape.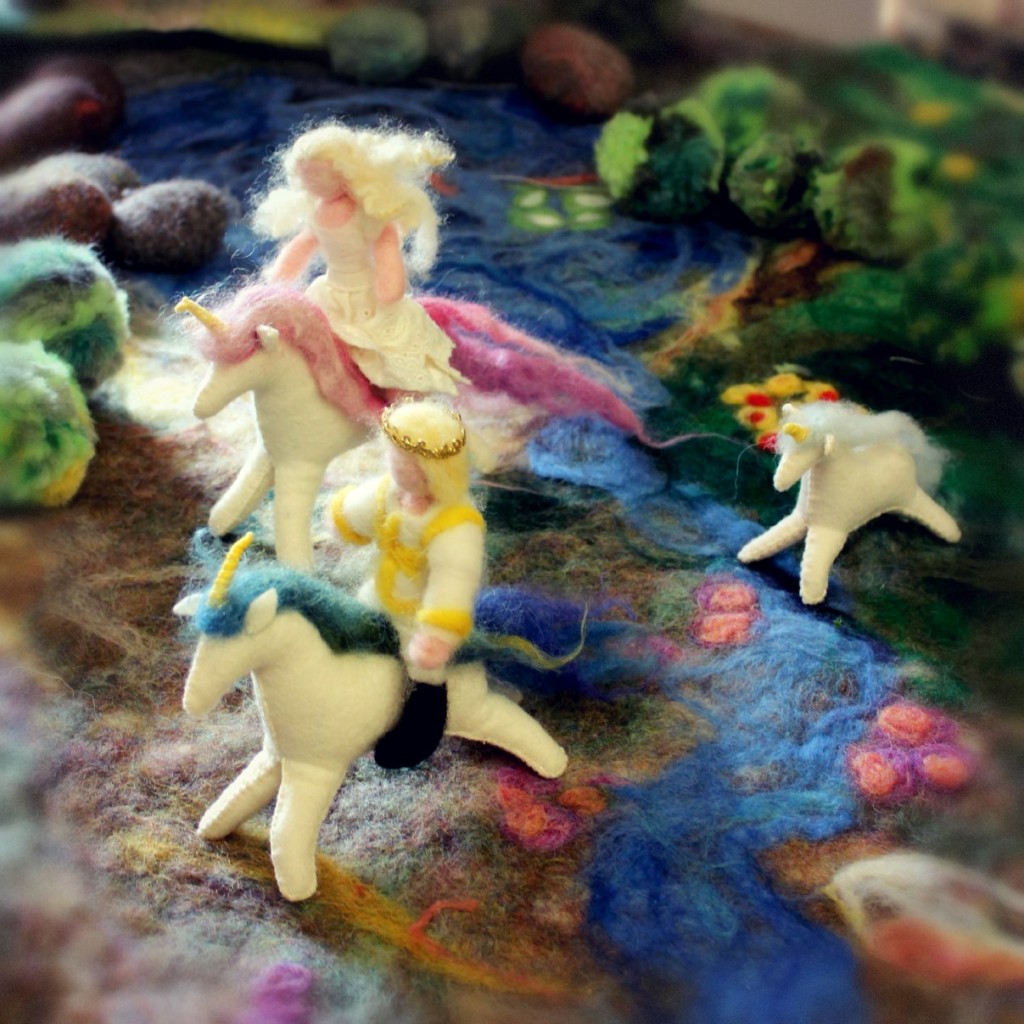 February 7, 2013. The beautiful mommy, daddy and baby felt unicorns were handmade by Renuka for her children. She generously made new ones to donate to our "Enchanted Woodland Fairy Tale" playscape set. Check back on this link next week to bid on our gorgeous playscape.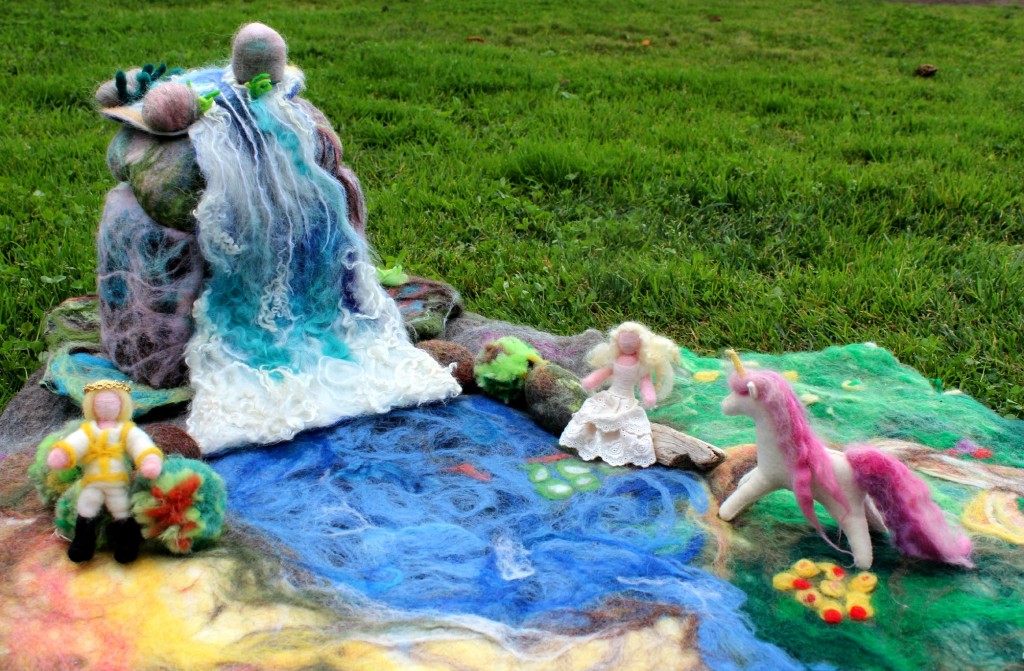 This playscape will live wonderfully in our child's memory as a special toy set at home, or as a beloved feature of your classroom. Your child can also use this to make up table top fairy tales for her friends, as my children had done with our handmade table top puppets see below.
This playscape will be wonderful for use in your table top fairy tale puppet show because the pieces are removable. You can add them to the scene as your story unfolds.
Apple Cake by Nienke van Hictum homemade puppet show. Nunu's 6th birthday. Click on the link to be inspired by pictures of the puppet show we made at home!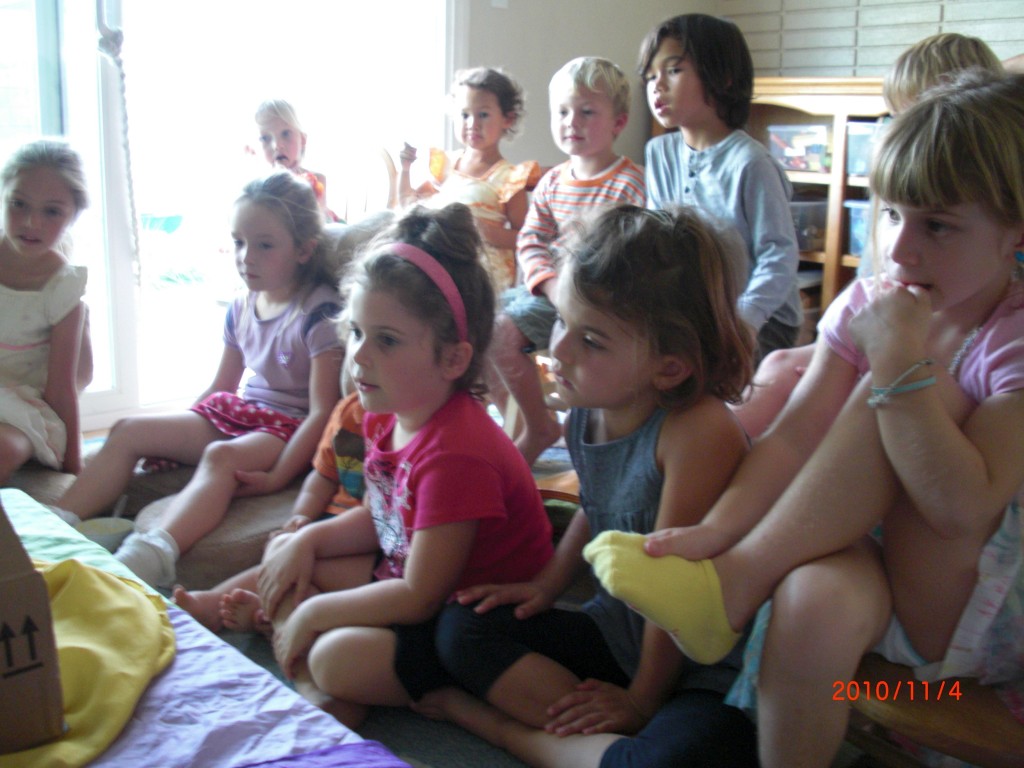 Snow White and Rose Red homemade puppet show. Nunu's 7th birthday. Click on the link to be inspired by gazillion gorgeous photos of the puppet show!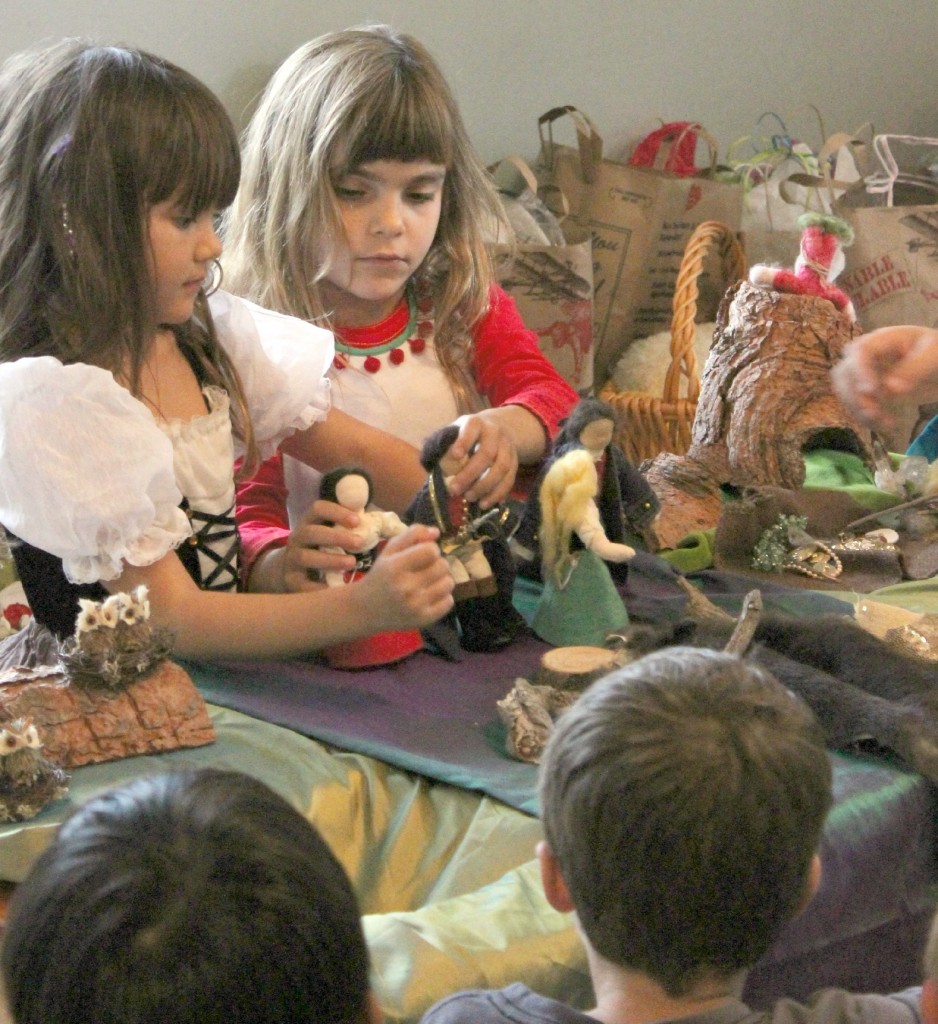 Laibao's Quest For A Bride 來寶求親 Homemade Chinese Fairy Tale Puppet Show. Nunu's 8th birthday. Click on the link to be inspired by many lively photos on this link.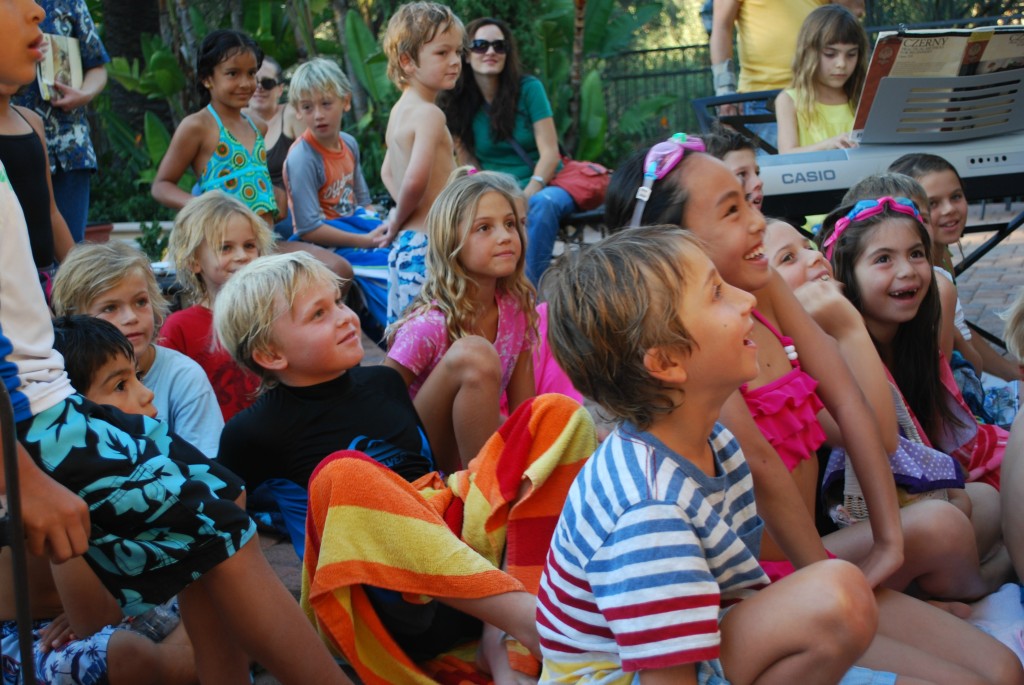 Photographed by Renuka Sharma.
The Making of The Secret of The Waterfall Wet-Felted Playscape
I learned how to wet-felt a playscape at our Waldorf School of Orange County craft group last week.
January 30, 2013. Wednesday morning. Our craft group made a wet-felted playscape.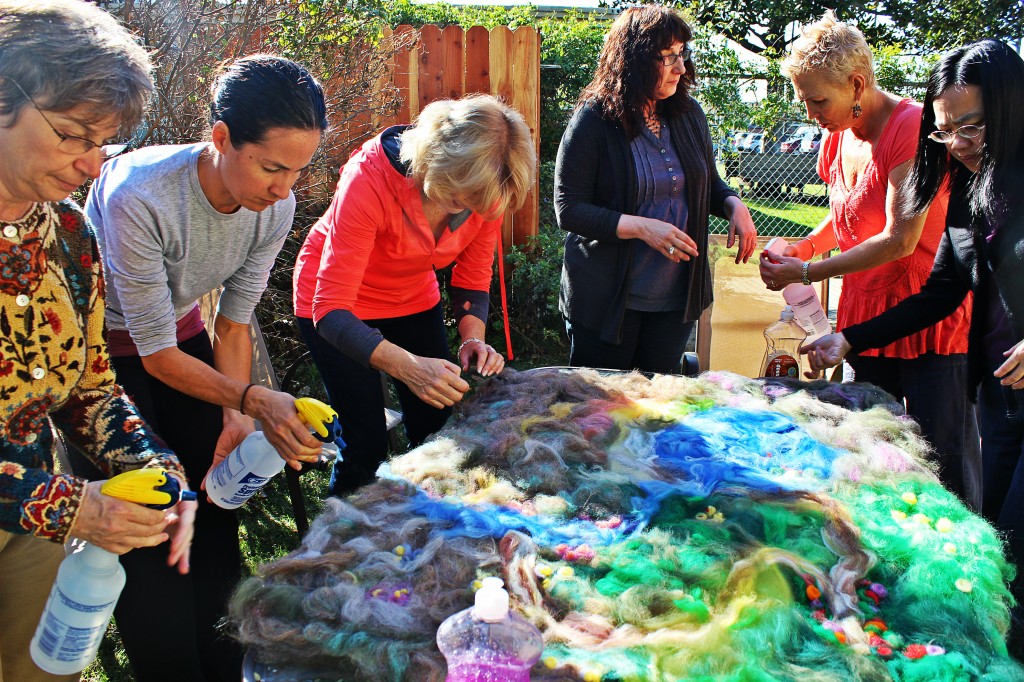 Click here to view a gallery of our craft group past projects.
I was inspired by Phaedra Phoenix's wet-felted waterfall (below). I was itching to try making a majestic fall like that. However, the Chinese epic fairy tale of the Monkey Key 孙武空 was in my mind and I wanted to make a secret dry cave behind the curtain of water, to surprise the children who would be playing with the playscape.
Majestic waterfall by Phaedraphoenix. Source
I wanted to make a mountain that is removable from the rest of the playscape (so that the playscape could be rolled up for storage) for versatile children's play. It had to be sturdy. I considered chicken wire as armature but between chopping wood and carrying water and a pile of children at home to cuddle and kiss, I never made it to the hardware store.
So, I pulled out some foam pads from JoAnn's fabric store and started creating…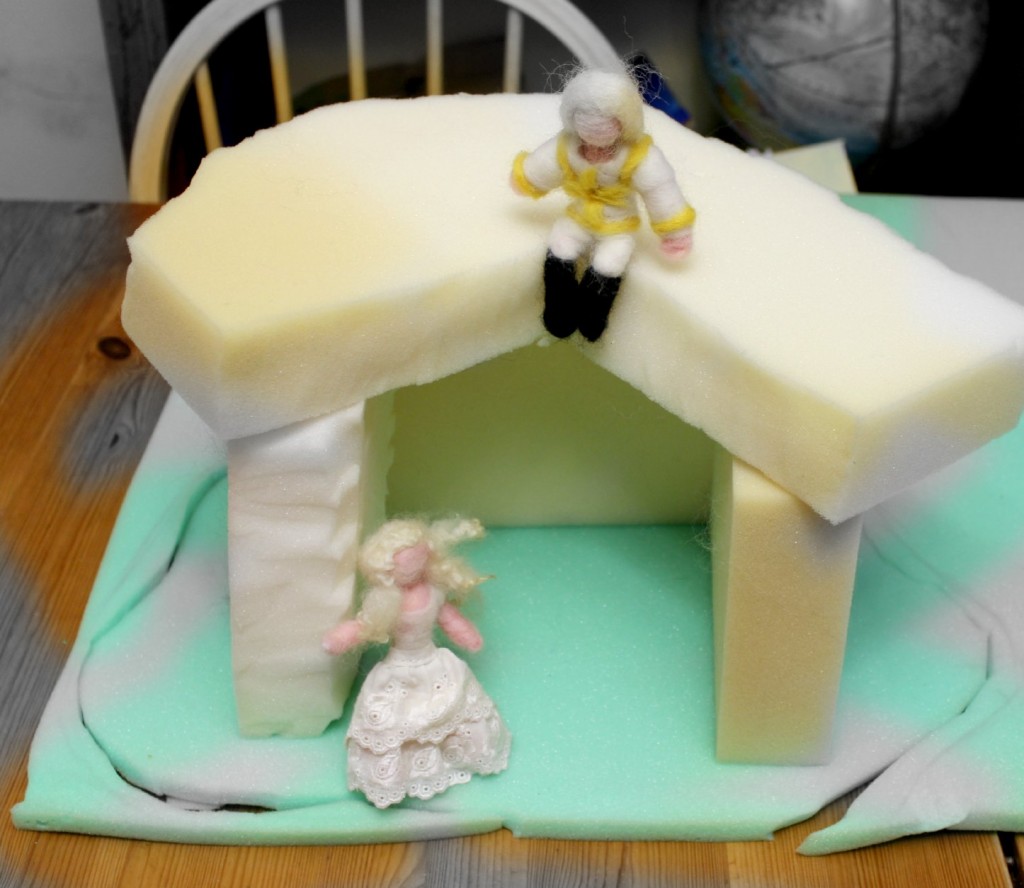 Note on cutting synthetic foam with scissors: Foam is so unforgiving on your craft scissors. Cutting the foams and triming the angular edges to shape round rocks dulled my sewing scissors.
The dining table as my craft space. I reported to my husband when he got home from work, "We have too many children eating dinner at the table and not enough crafting space!" Just kidding, I would not exchange my 3 precious children for all the treasures of the sea!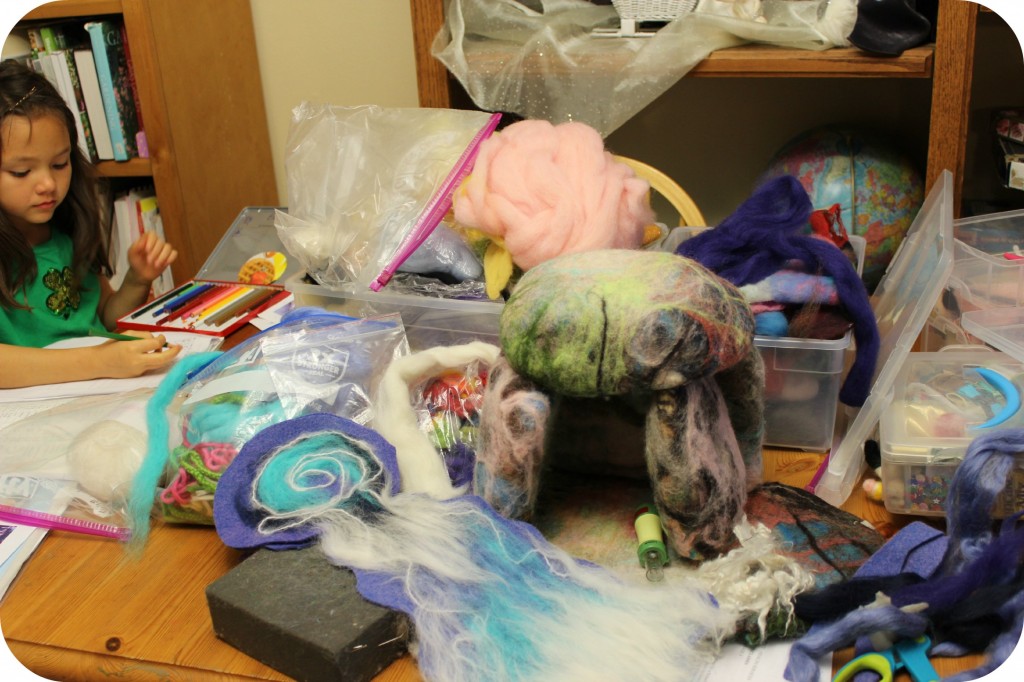 The children enjoyed playing with hot soapy water. So after dinner, I had 2 little helpers helping me wet-felt the rocky walls of the cave. After washing off the soap, I tied the "rocks" in old ballet tights and tossed them into the washer and dryer to felt.
Below is the cave of variegated colored marble rock we made after dinner.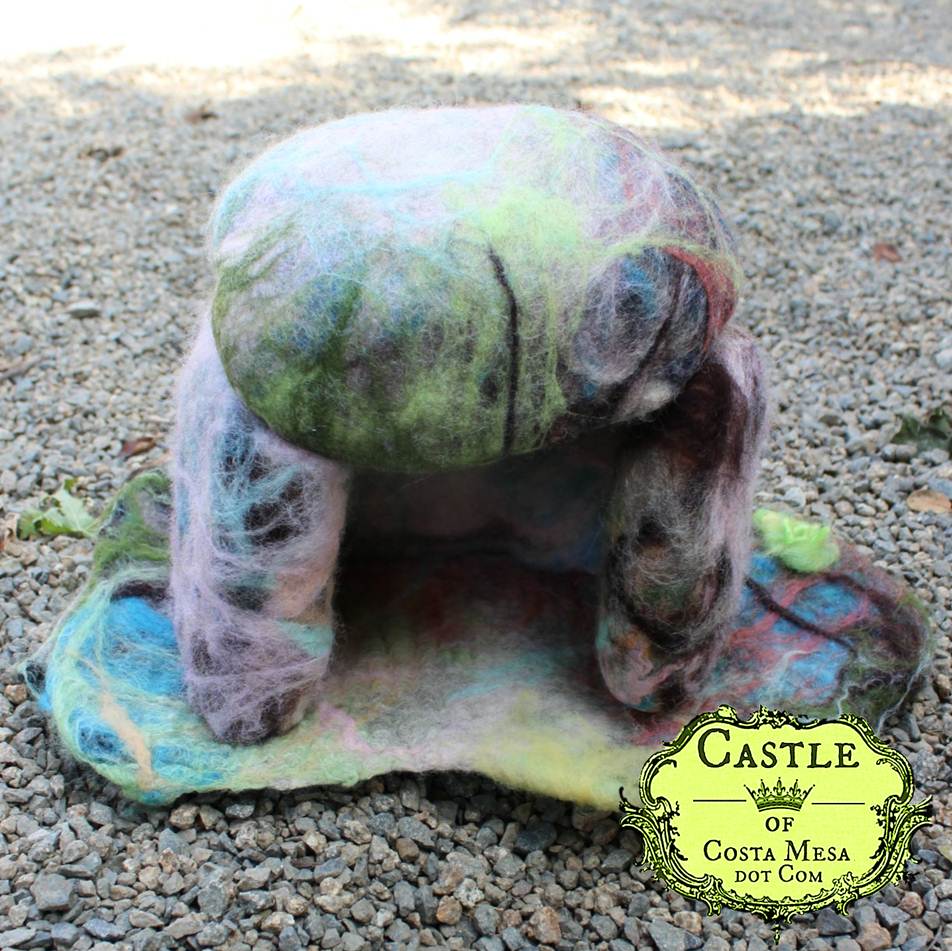 Front view. I glued the pieces to hold them in place, then sew them together to allow for rougher play.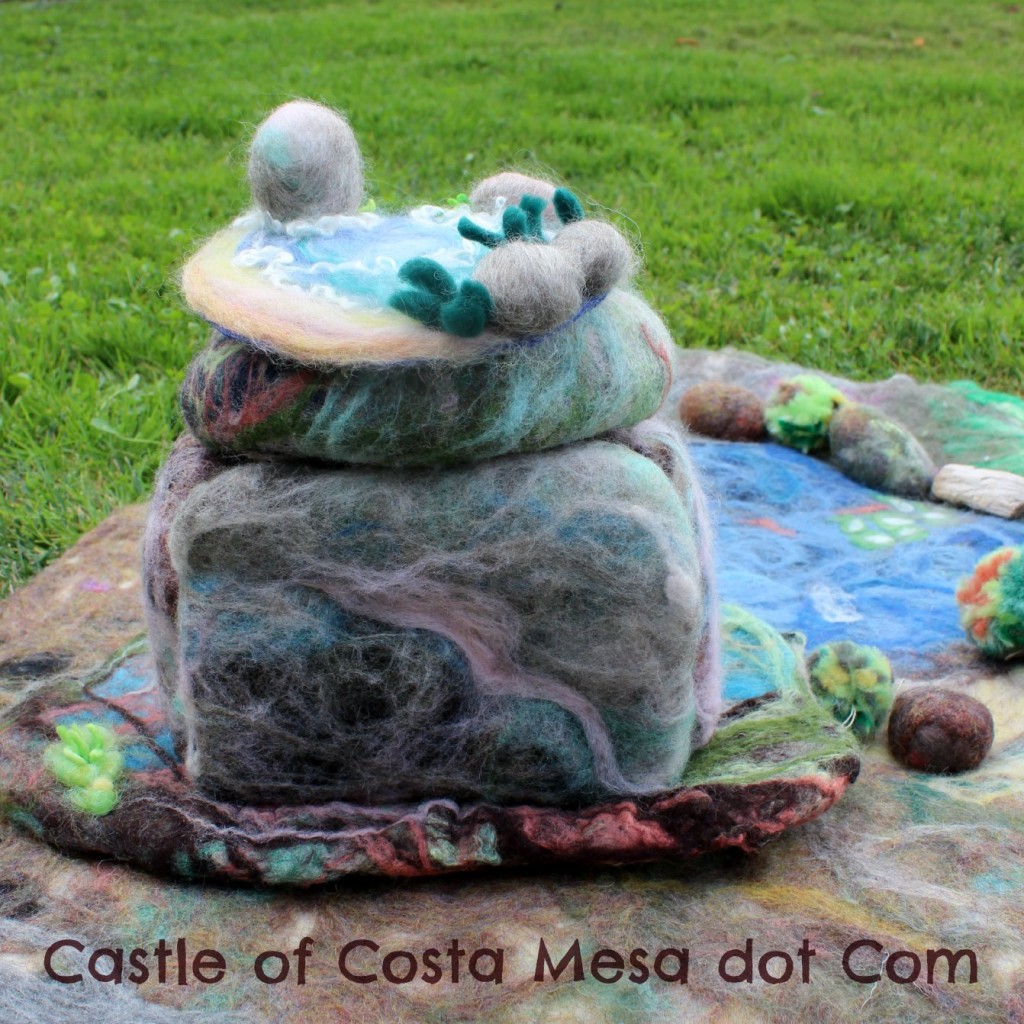 Back view. A good spelunker could grasp onto the back rocky wall to climb her way up to the top.
The roaring water can be removed and played separately as a spring and river.
I purchased the lovely white Cotswold Wool and mohair yarn from our neighborhood Piecemaker Store.
A book of tales of yore, well beloved by us at home: The King and The Green Angelica.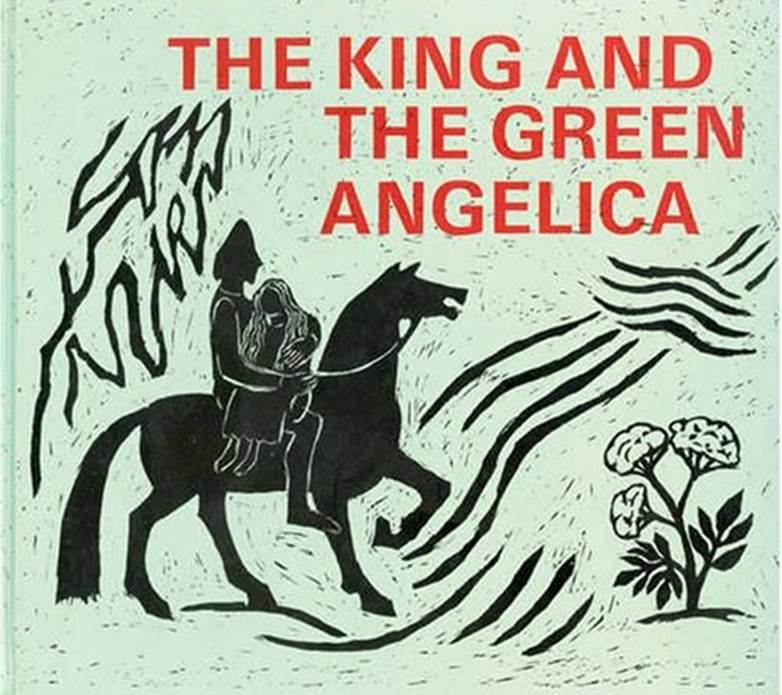 February 7, 2013. Thursday. I hope you like my wet-felted playscape. Please "Like" my facebook page. I giveaway my handmade dolls and works from time to time. – Jzin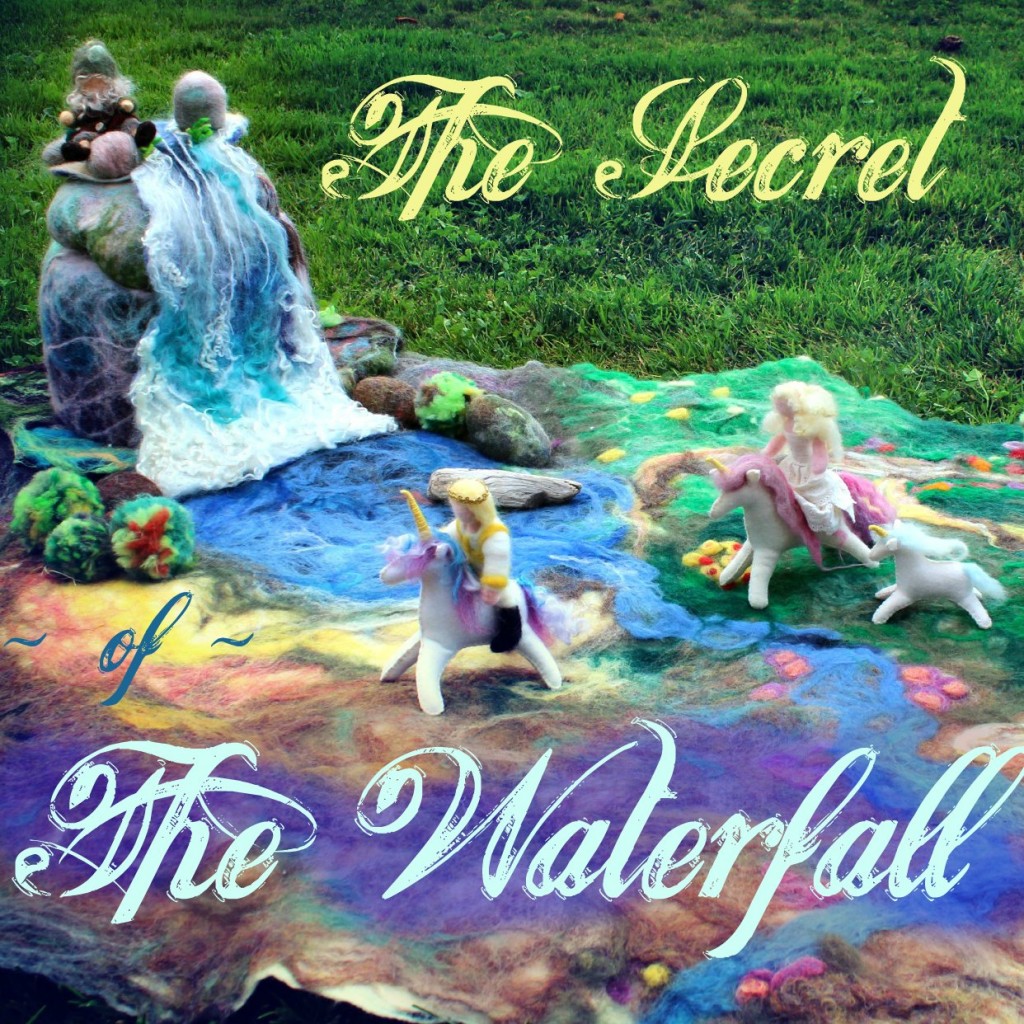 Click on my handmade doll below to view my gallery of handmade dolls.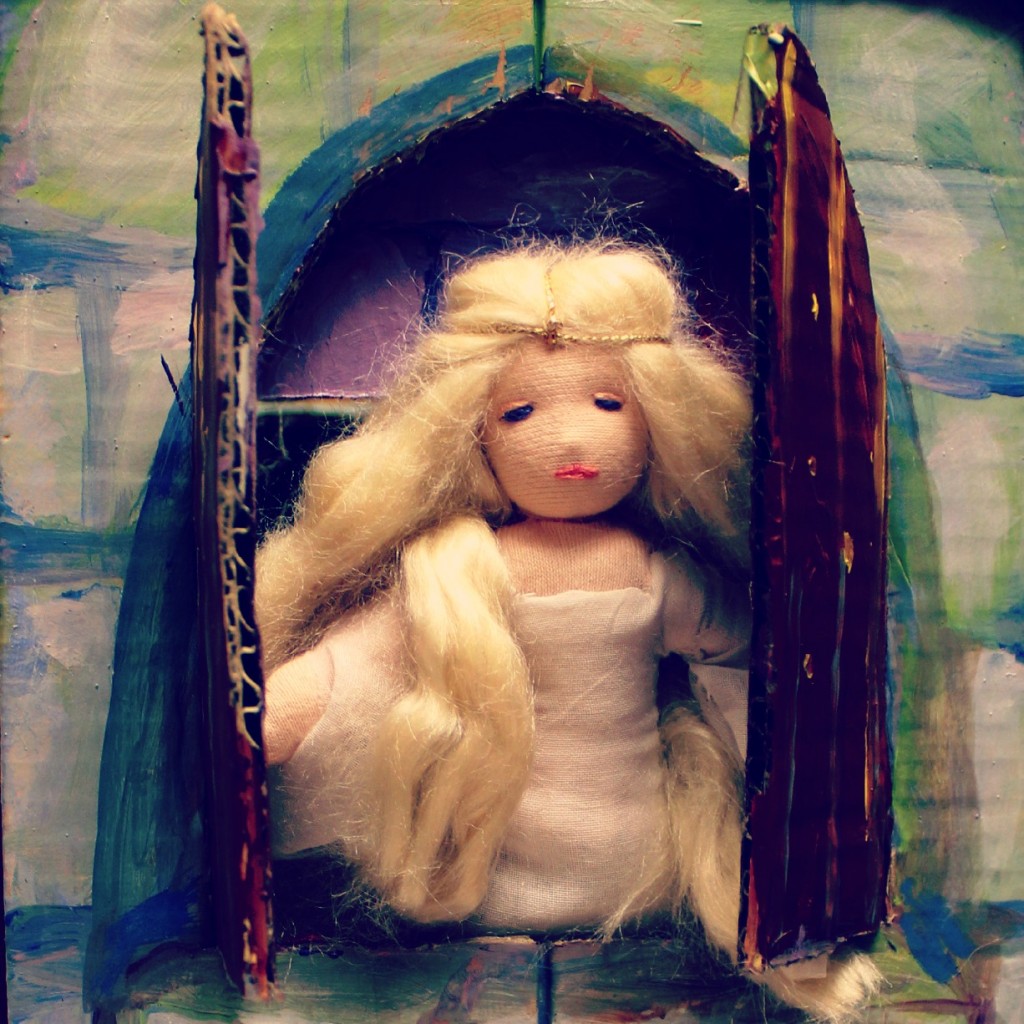 Support our Waldorf School of Orange County Annual Gala + Auction Spring 2013.  click here to bid on something wonderful on this link to support our school!  Thank you so much! – Jzin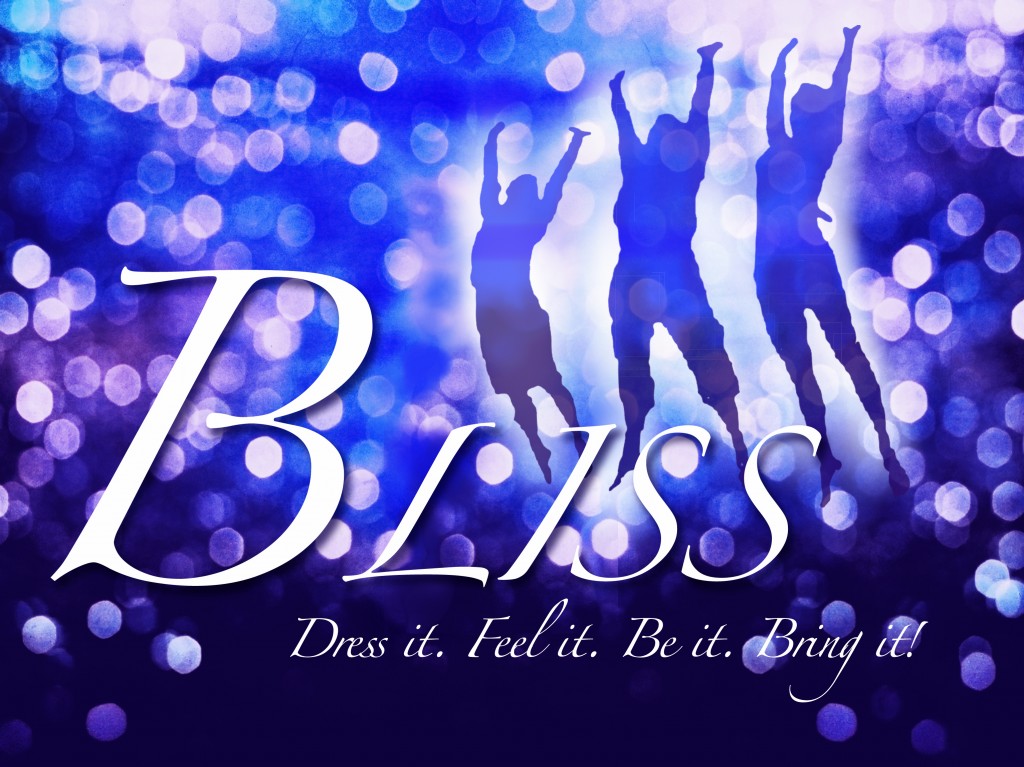 Wednesday Morning Craft Group
Click here to view a gallery of our weekly local craft group projects.