Hooray! One look and you shall remember all 37 Chinese Bopomofo/Zhuyin Phonics Symbols!
by jzinius on December 22, 2011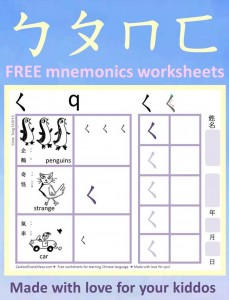 December 21, 2011. YAY! I finally completed this project in less than 1 year! Woo Hoo! (Happy Dance) Using awesome Waldorf Education approach (Thank you Rudolf Steiner and Chris Bennett), I made mnemonics worksheets for people on this planet to learn Mandarin Chinese Phonics ("Bopomofo"/Zhuyin Fuhao). With one look, you will always remember the phonics symbols, no more rote writing of each symbol a gazillion times in your exercise books! If you looove doodling like I do, this is an errorless way to learn zhuyin since the wrong symbols cannot fit the picture/meaning of that symbol! I want to thank all my school teachers for looking the other way when I was student, doodling these teaching aids during classtime under my textbooks (and passing these doodlings back and forth with my friend Pei Shan, later with Shan Lee and Han Cheng…sorry, I am naming names!). After many years, my in class doodling is now a useful educational tool, if I say so myself! Please leave me a comment below if this aide is useful to your little ones. You can download these FREE worksheets here.
Please subscribe (top of sidebar) to my blog and check back again. I will add pronunciation/ sound later when I learn how to. Meanwhile, click here to listen to the pronunciation of each symbol.