Apple Cake by Nienke van Hichtum Homemade Puppet Show for Emily's 7th Birthday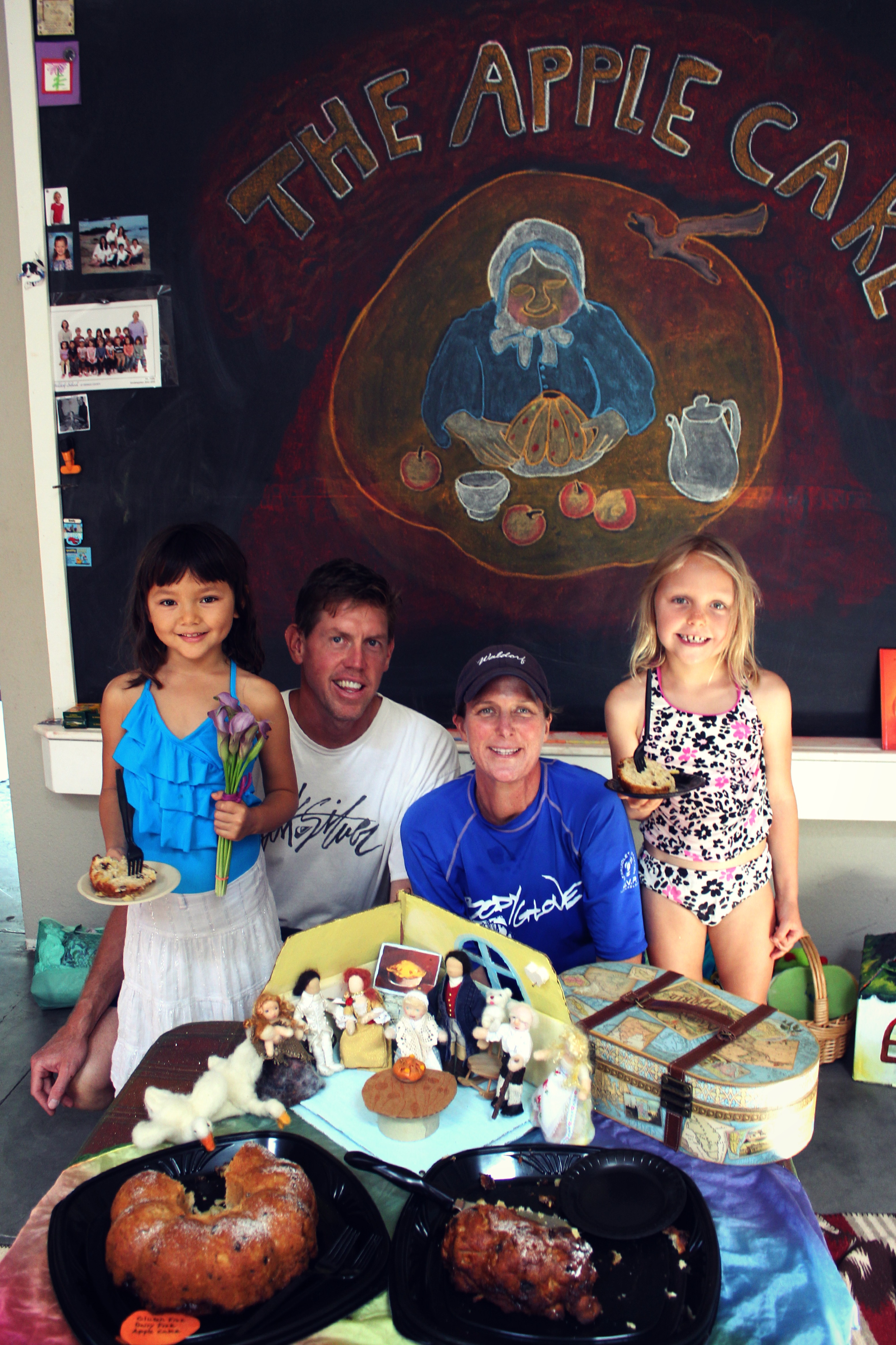 Friday afternoon. July 12, 2013. Today we gathered at Emily's home to celebrate her 7th birthday. Happy birthday, Emily!
Earlier this year, we have donated a puppet show performance for our Waldorf School annual Gala and Auction. Emily's family had won this puppet show performance in the fundraiser event. Today, my daughter and I performed Apple Cake by Nienke van Hichtum as a table top puppet show for Emily's family.
Southern Californian style summer party: swimming in the backyard pool.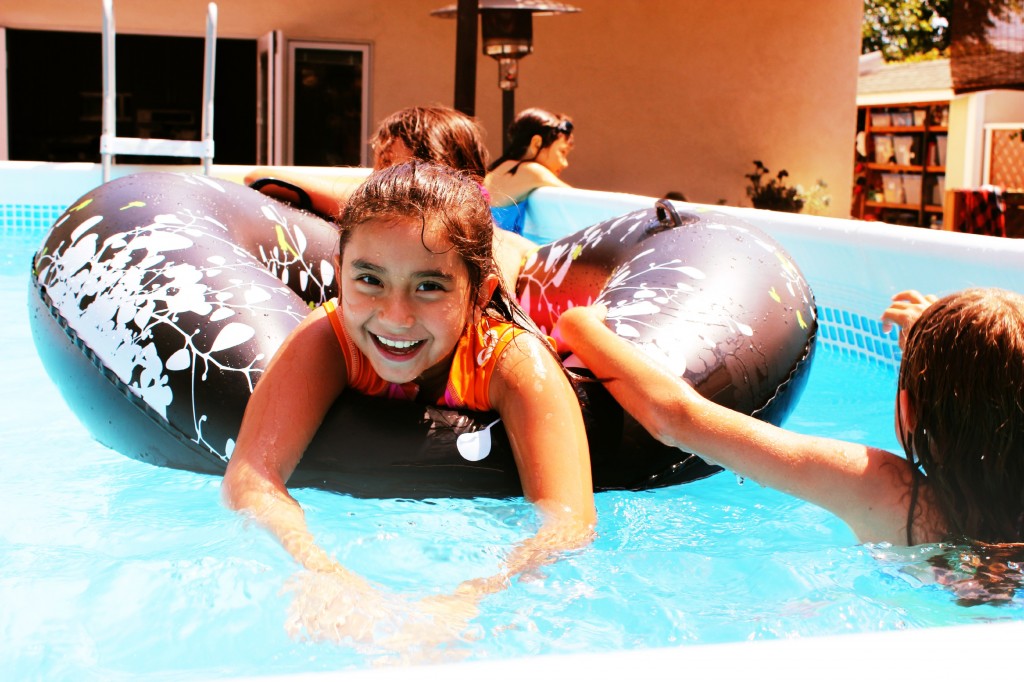 My two assistants: My 8 year old pianist Nunu (nickname) on the left and Emily the birthday girl (turns 7), on the right.
It's 3 pm! Nunu and Emily were excited to start performing the table-top puppet show!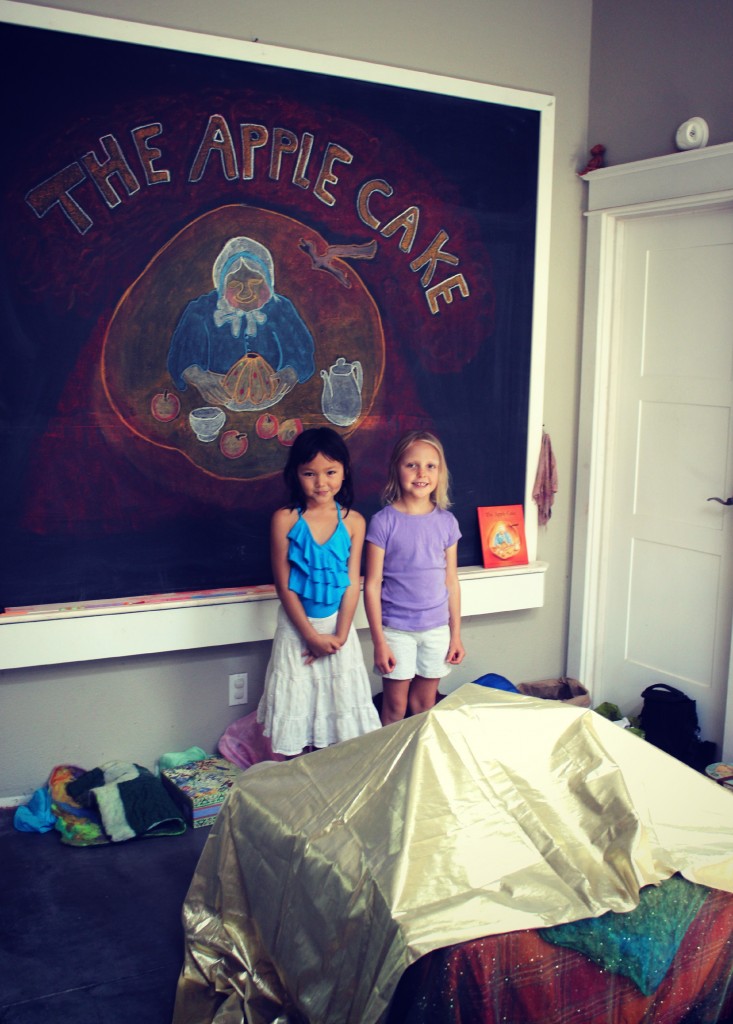 Peter did a magnificent chalk drawing for the Apple Cake story!
The Apple Cake by Nienke van Hichtum. A Heartwarming story. You can get a copy of this book on Amazon.com below…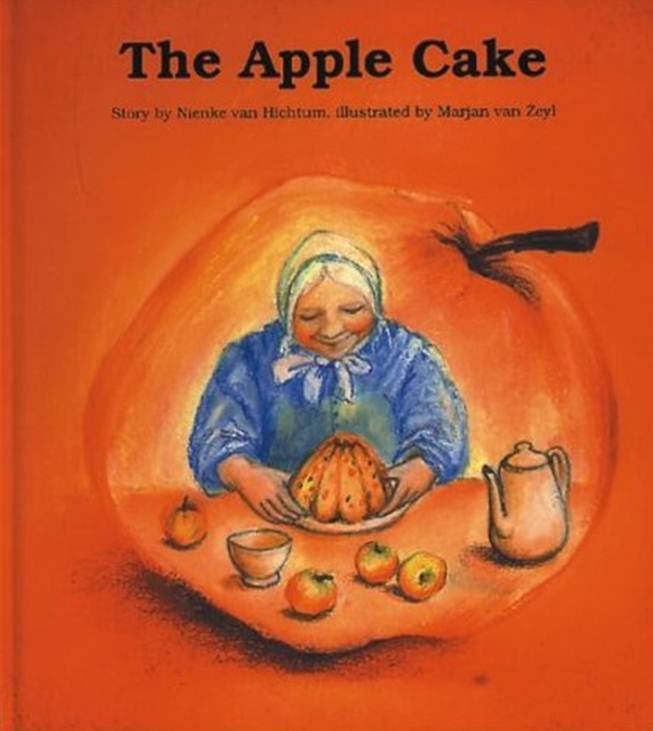 …take a peek under the golden lame fabric before the start of the puppet show…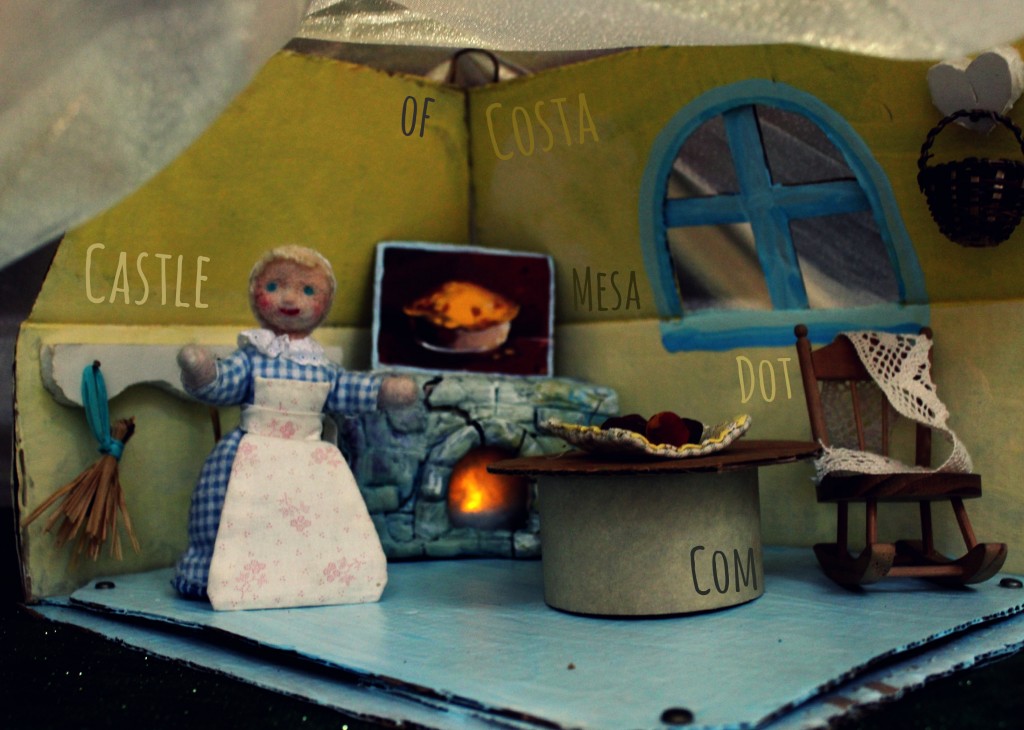 My 8 year old pianist started the puppet show with Dimitri Shostakovich's Joke Waltz. Emily lent her a pillow to sit on so she could reach the piano keys.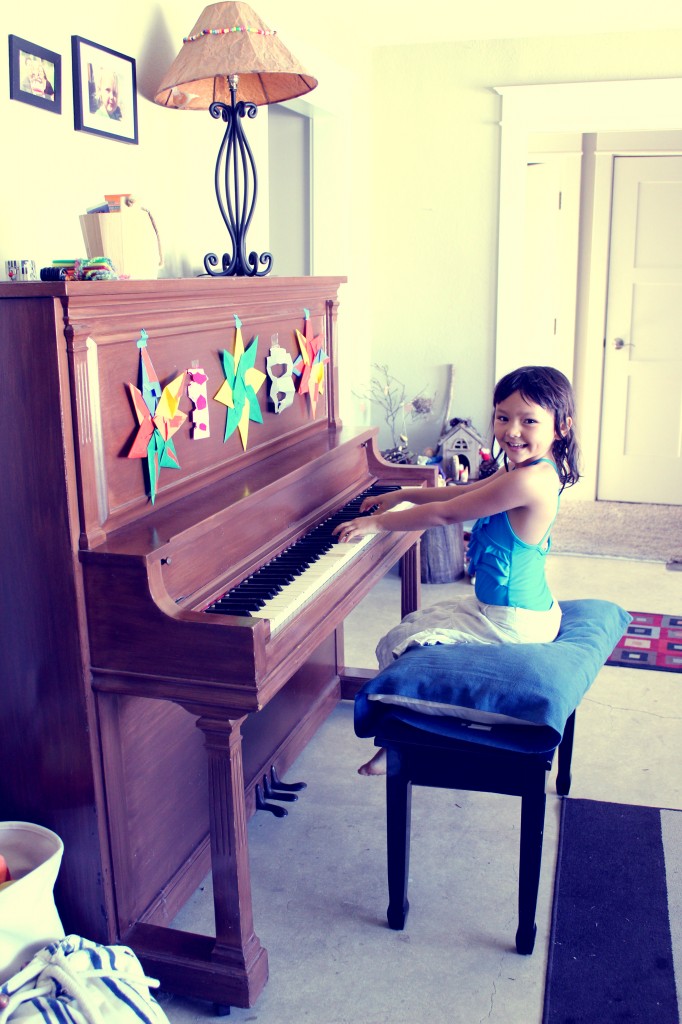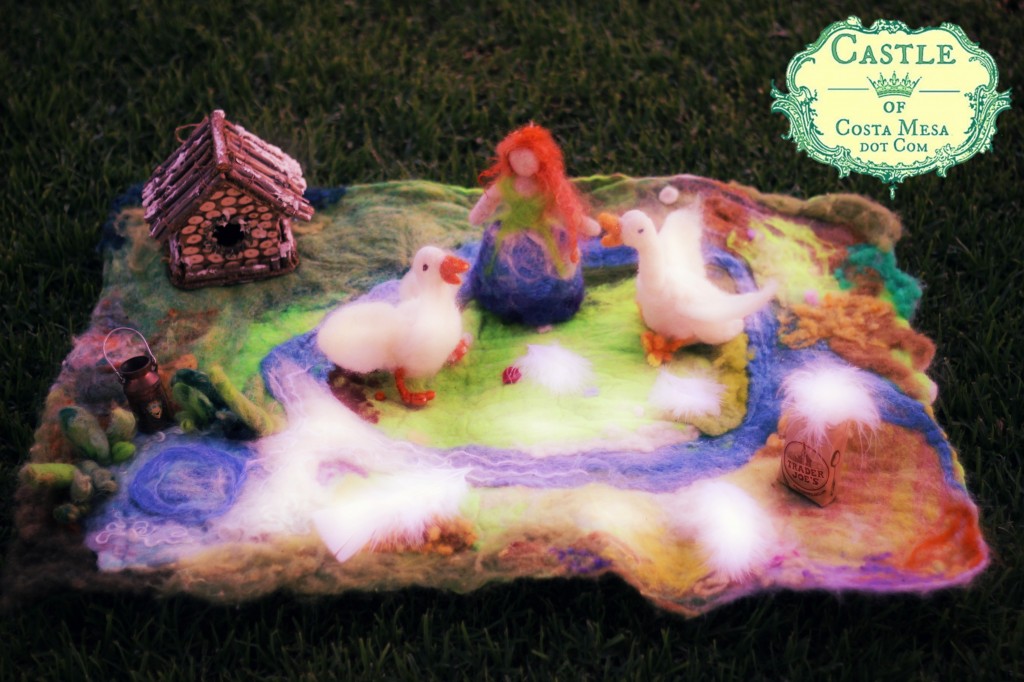 Our birthday girl Emily and Nunu performing for friends.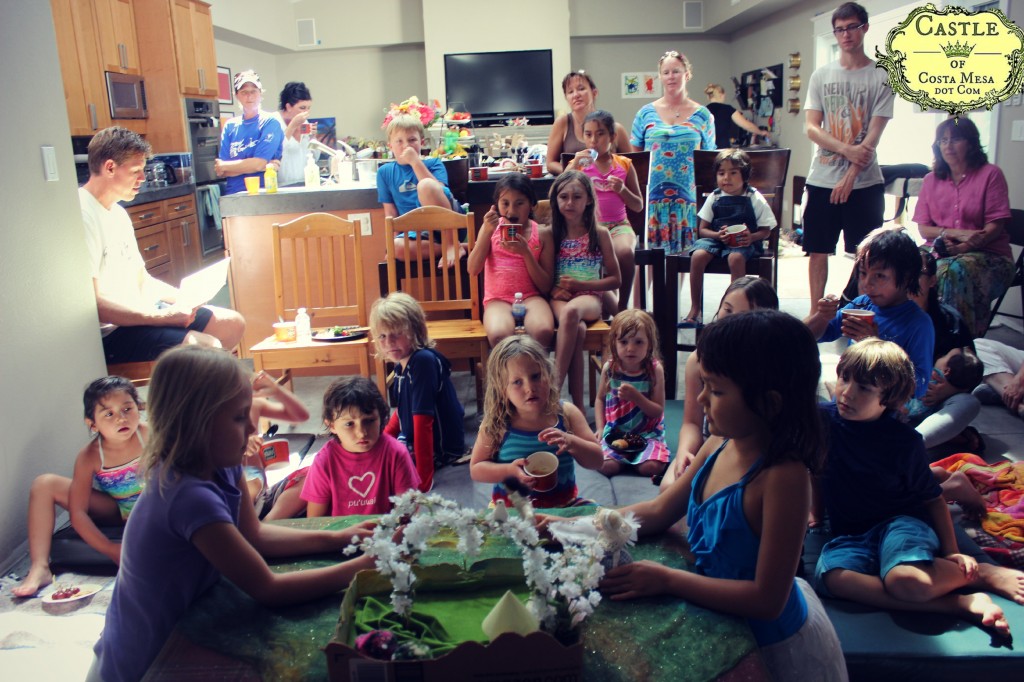 Up the hill she went, and down again. Then she came to a garden full of beautiful lilies, lilac, violets, roses, every kind of blossom. Never had she seen such a lovely garden! She stopped to look at the flowers, and there she saw a man and a woman sitting in the garden, and heard them quarreling.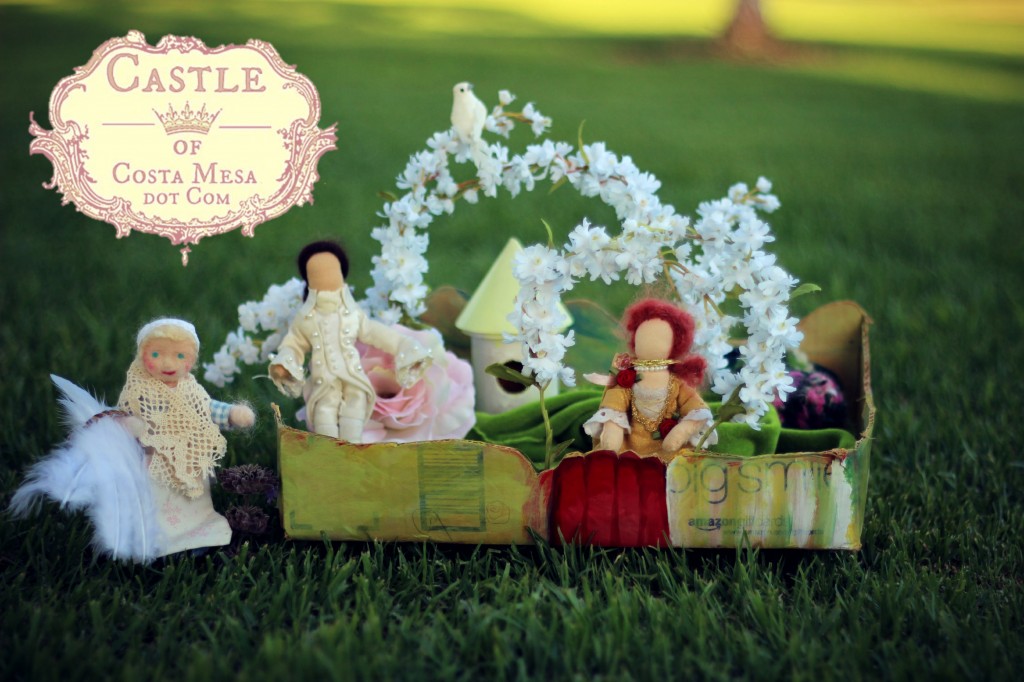 … They laughed and smiled like happy children, and then they went round the garden gathering the loveliest flowers for the old woman: roses, lilies, lilac, violets – what a beautiful bouquet!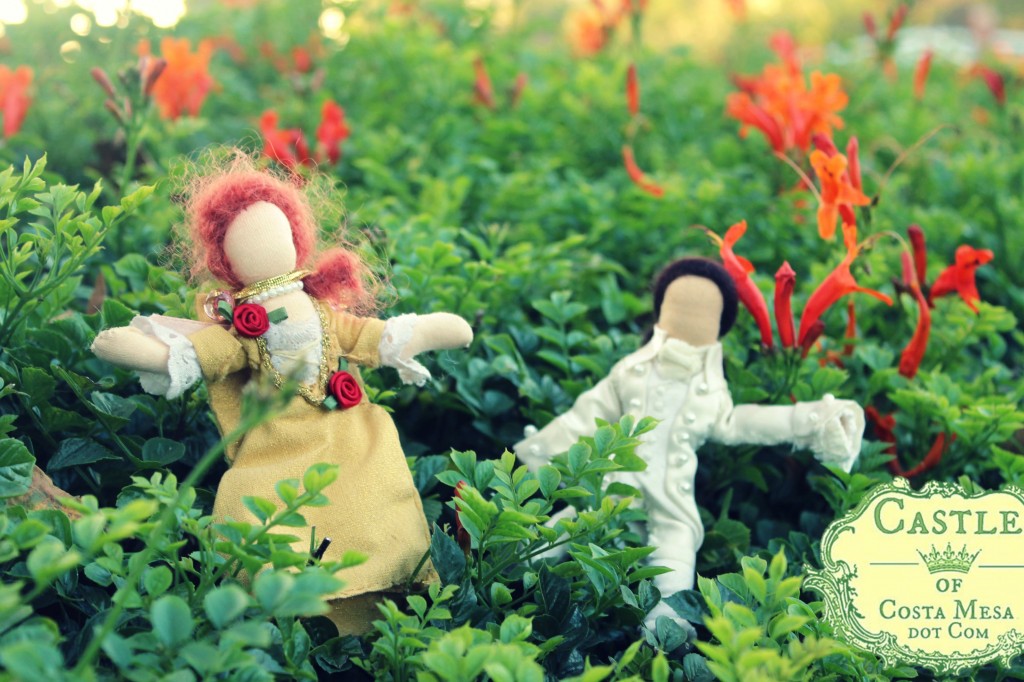 "… A little further on she saw a handsome young man coming towards her. Her was dressed in his very best clothes for he was going to visit his sweetheart. He would have been even more handsome had his face not looked so gloomy, as if he had not a friend in the whole wide world."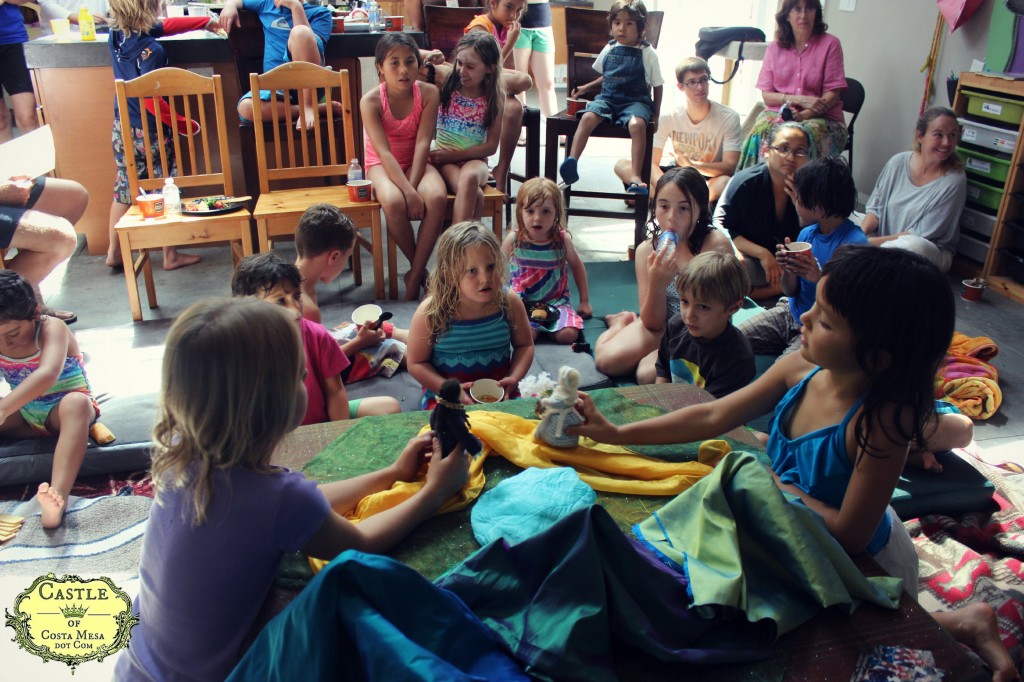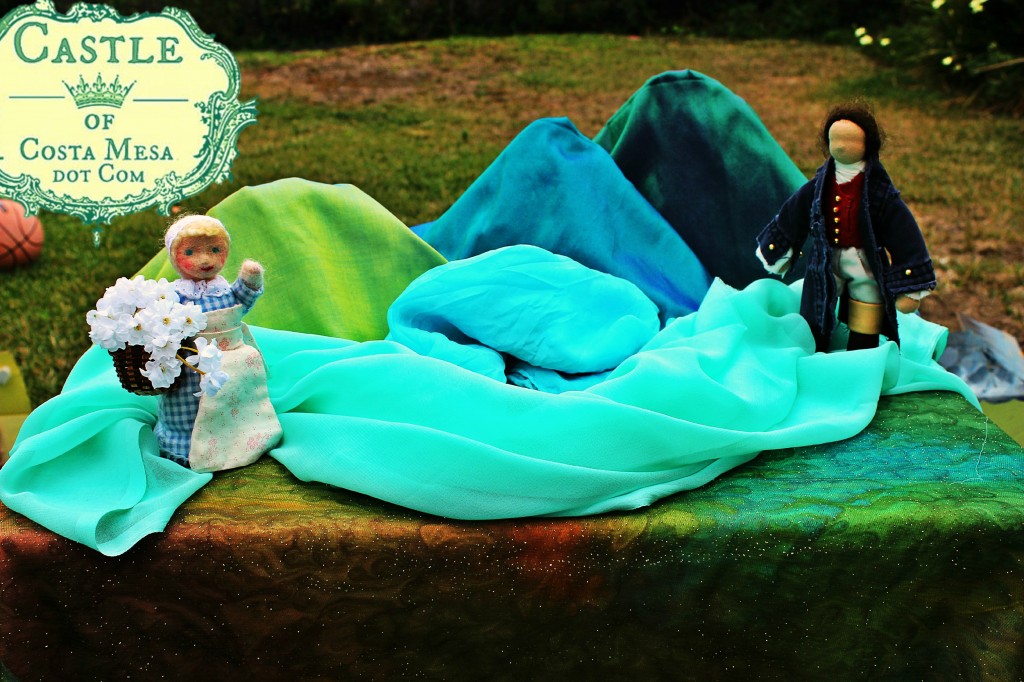 "Better to go with empty hands than with an empty heart," said the Old Woman, "But we are only young once, and so I'll give you something to fill your empty hands, even though I won't get my apple cake."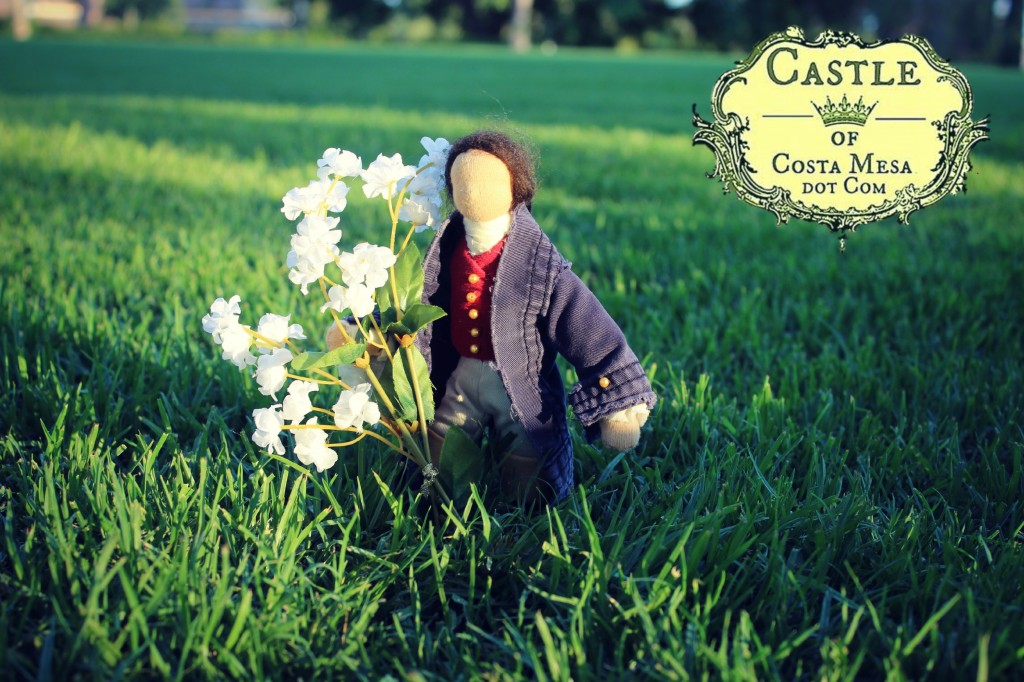 "Well," said the Old Woman, "never let it be said that I enjoyed a nice apple cake while my neighbor went hungry." With that she let the gold chain fall into the poor woman's lap and off she went without waiting for thanks.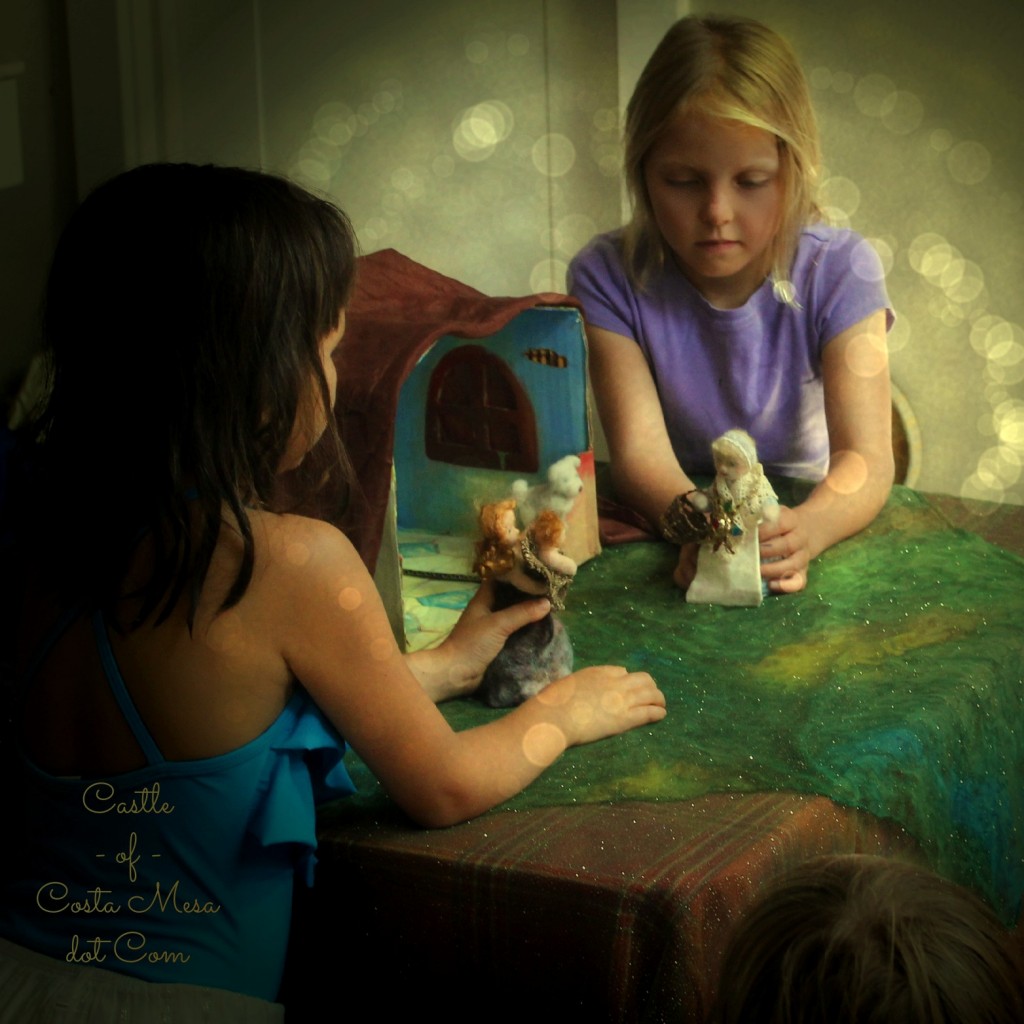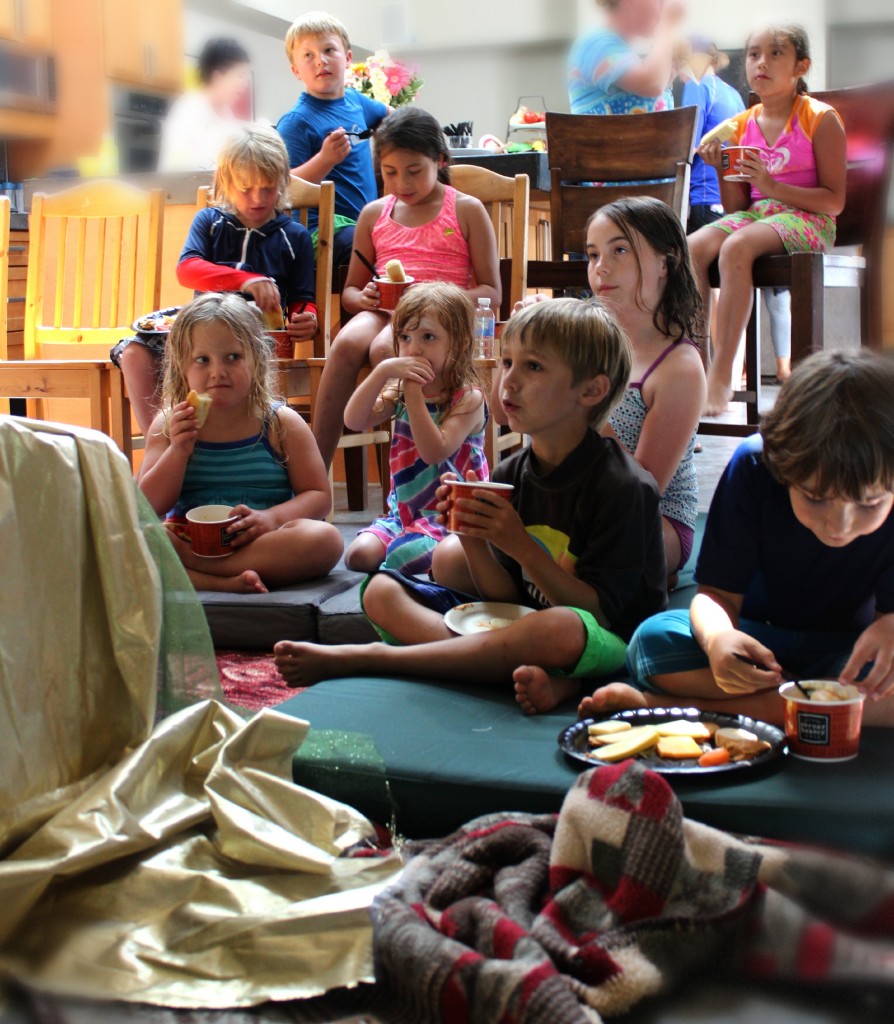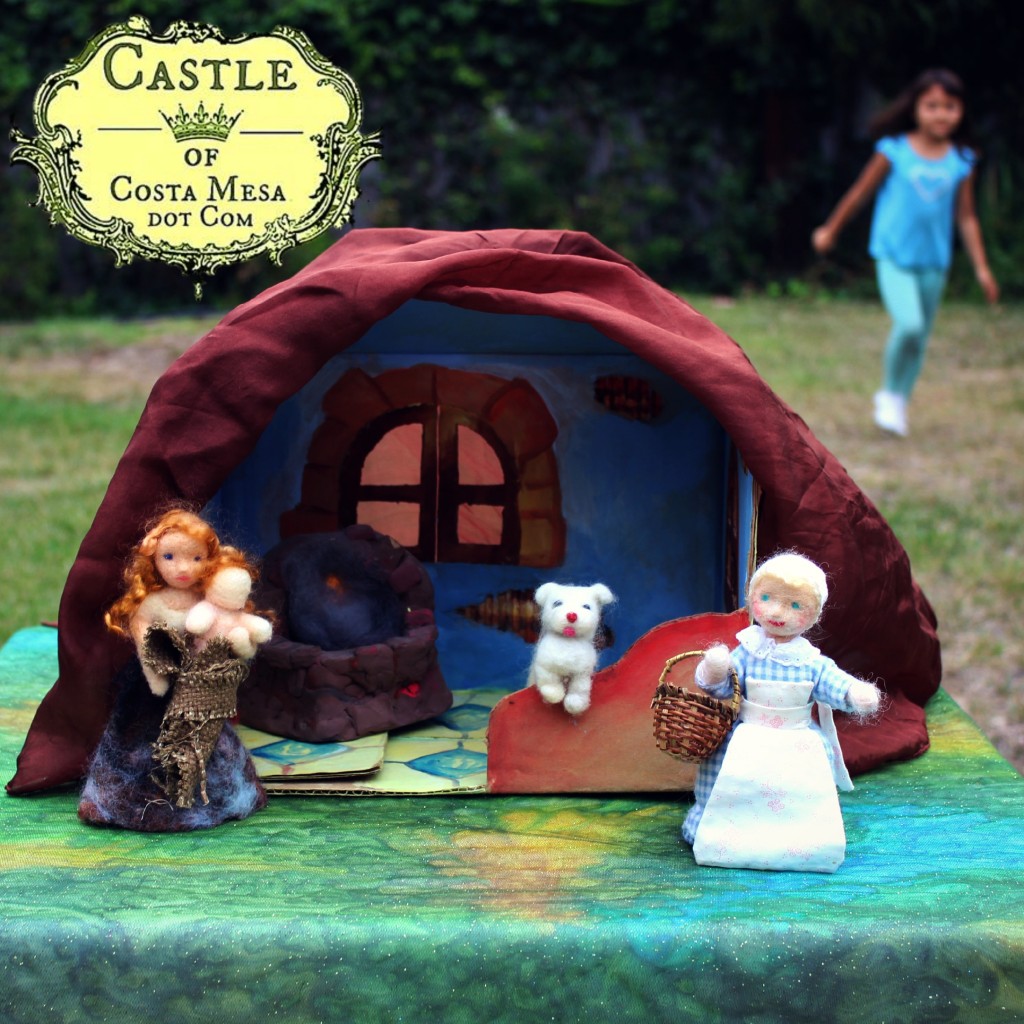 Daddy narrated the story.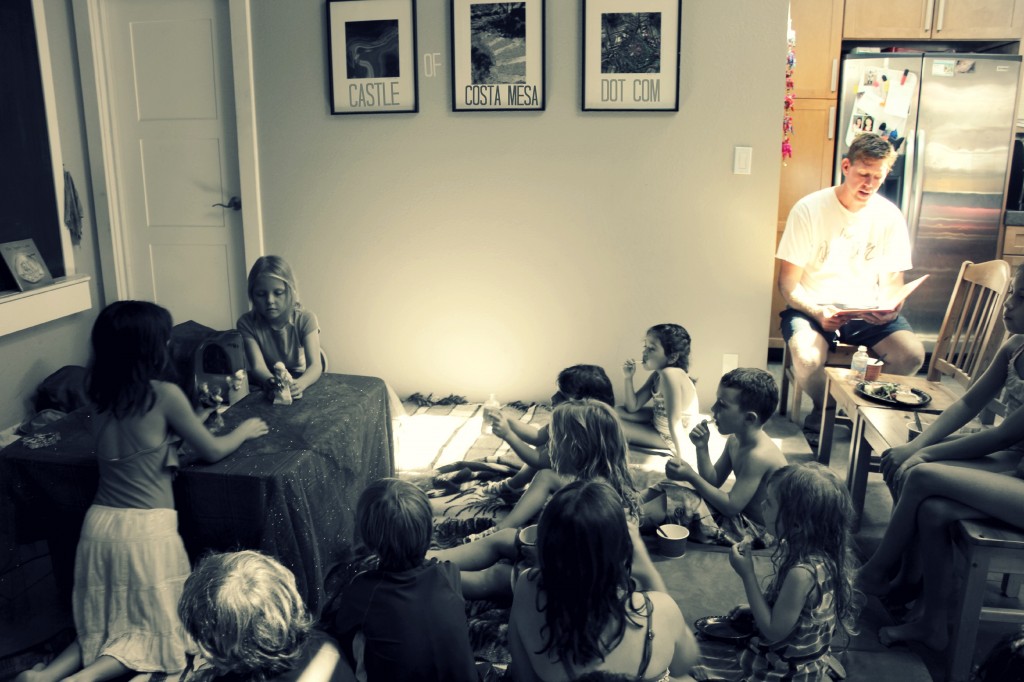 …And see – she had not walked for five minutes before she saw in a garden an apple tree laden with lovely red apples.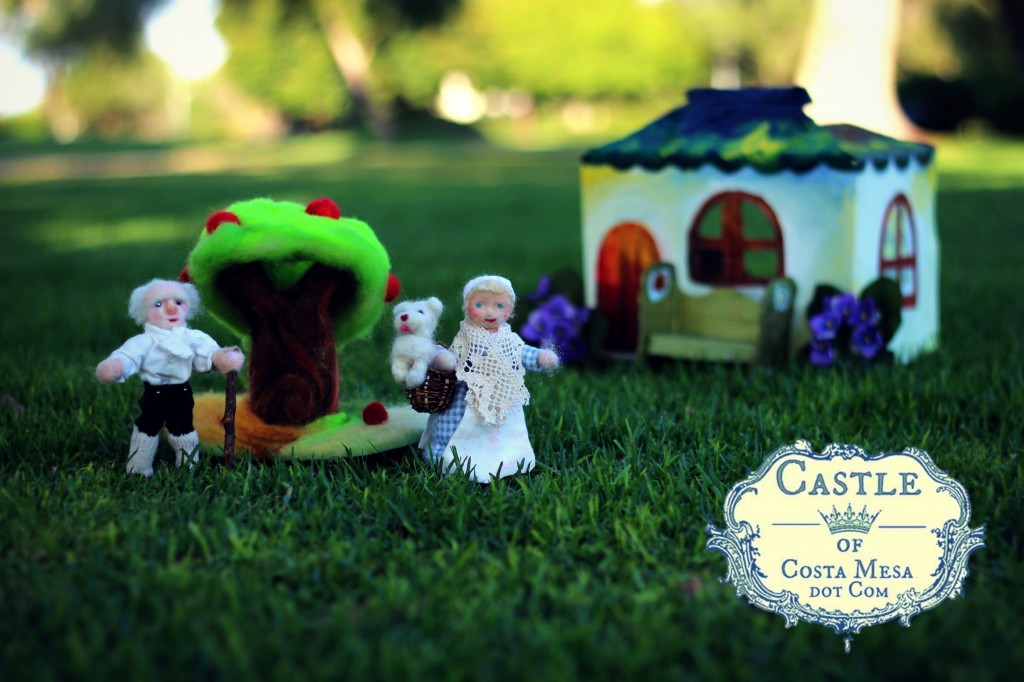 Finale, rehearsal photo.
At the end of the puppet show, Nunu presented "The Goose Girl" handmade doll to Emily as a birthday present.
Nunu wet-felted and needle-felted this doll with a little help from me, as a birthday present for Emily. It was made as a flower fairy. It can also don an apron to be a Goose Girl, a ragged apron to transform into Cinderella, or without apron, to be a princess. Happy birthday, Emily! We hope you like your handmade gift!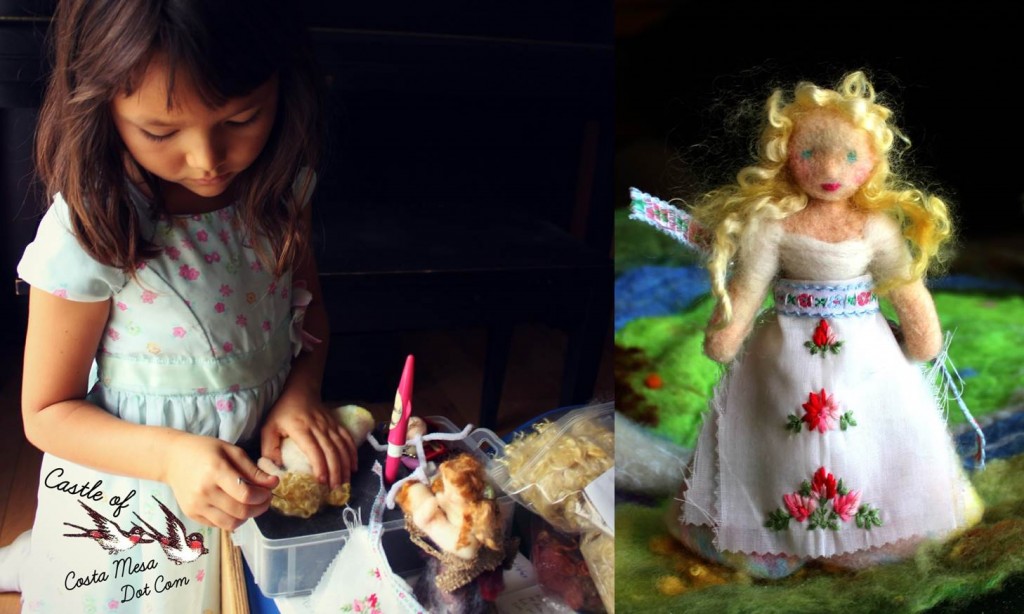 Peter baked the birthday girl apple cakes in regular and gluten-free, casein-free versions!!!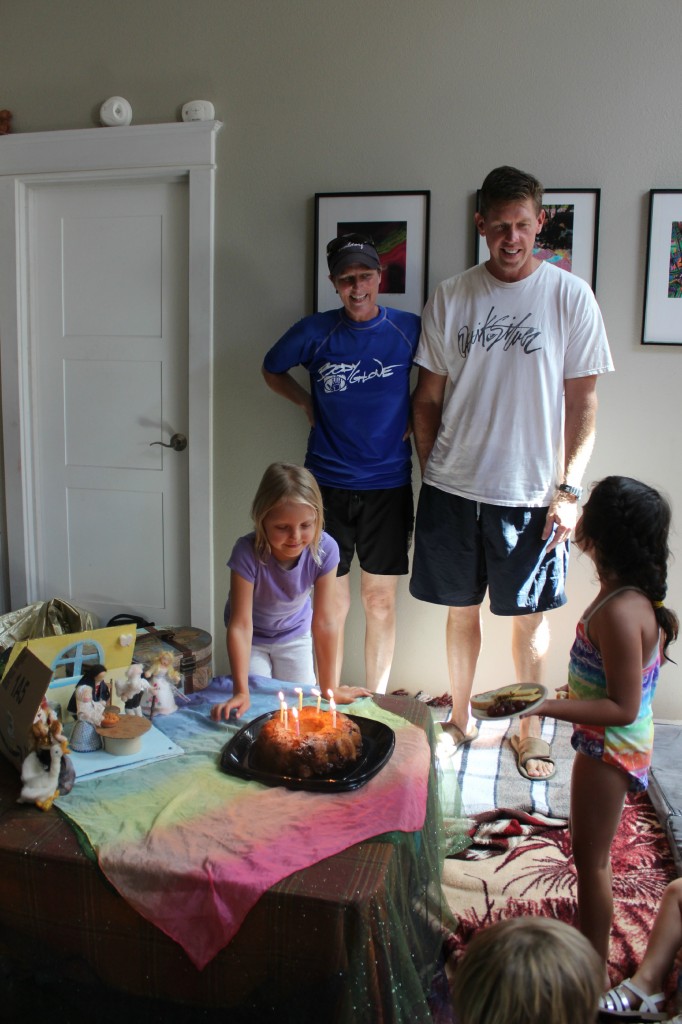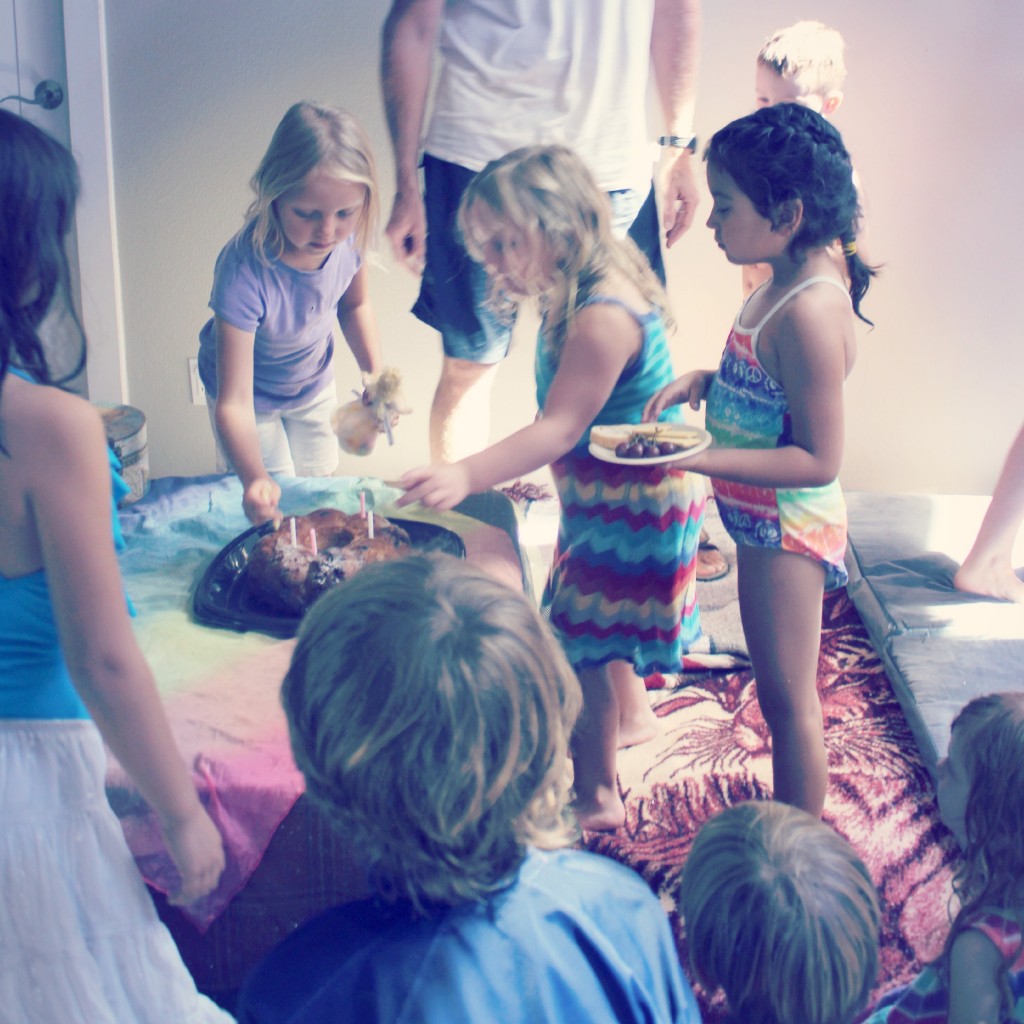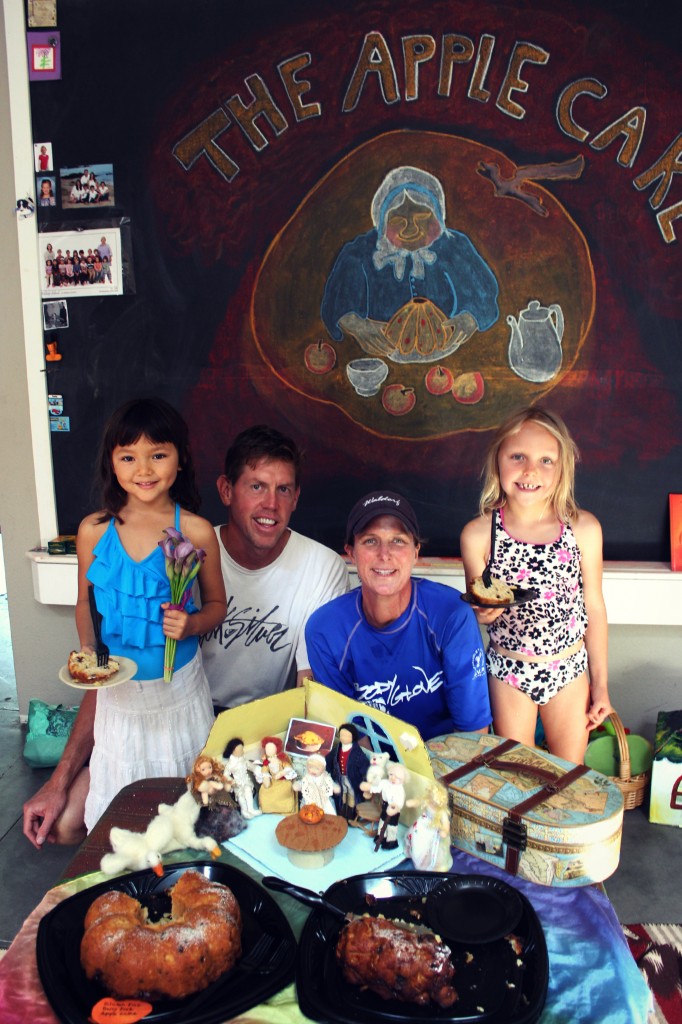 Mmm…mmm! The apple cake was delicious! Here is the talented baker with 2 apple cakes: regular and gluten-free, casein-free versions!
On the next morning, we received a note from Peter…
Saturday, July 13, 2013. 8:12am.
Hello and good morning Jzin,
A huge thank you to you and (Nunu) for such a fun time yesterday. The children all love the puppet show and listening to (Nunu) play her beautiful piano was such a special touch. The dolls and the scenes are just beautiful and what a special gift you and (Nunu) have given Emily, the Goose Girl doll, she love it. At the end of the party after everyone had gone home Emily played with her Goose Girl doll and she began making special apron's for her and when it was time for Emily to go to bed Emily made a special little bed for the Goose Girl and tucked her in. This is how we know that Emily loves that doll, it's because she takes such good care of her.
With love and gratitude from our family to yours
Peter, Erica and Emily
——————–
Oh! What a wonderful note! Makes us so happy! (big smiles) – Jzin
Other Homemade Puppet Shows by Nunu and I
Click on the photos below to see other puppet shows performed by Nunu and I…
Click the photo below to see Nunu and I performing the same puppet show a few years ago for Nunu's 6th birthday celebration.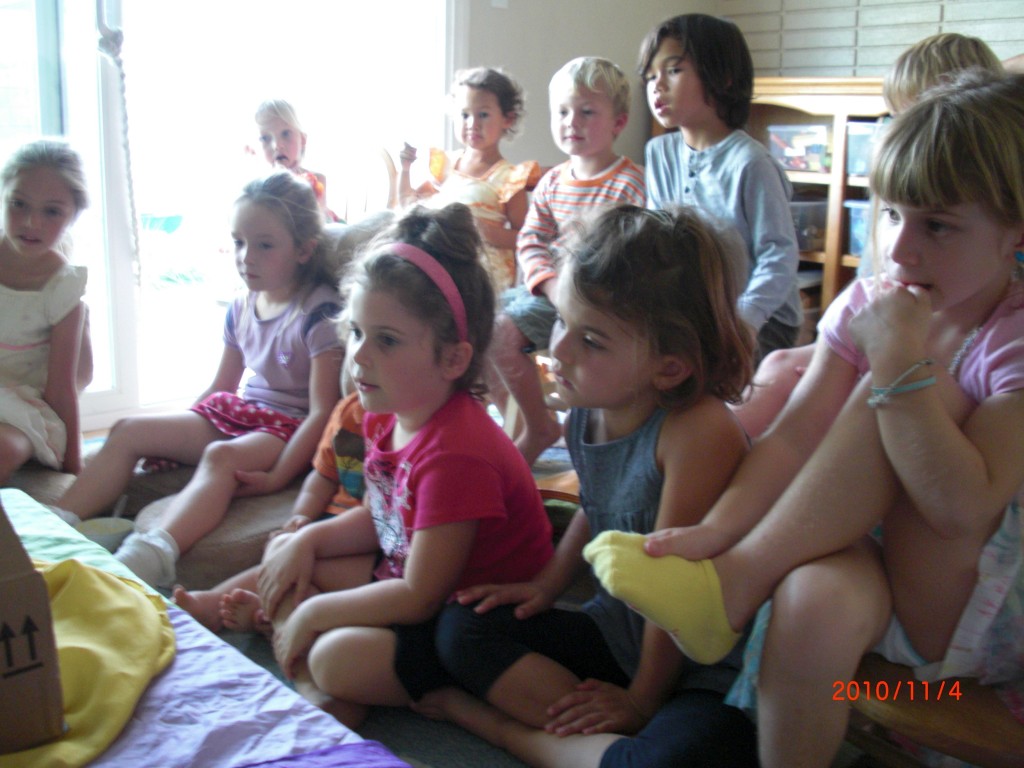 Nunu's 7th birthday: We performed "Snow White and Rose Red by the brothers Grimm."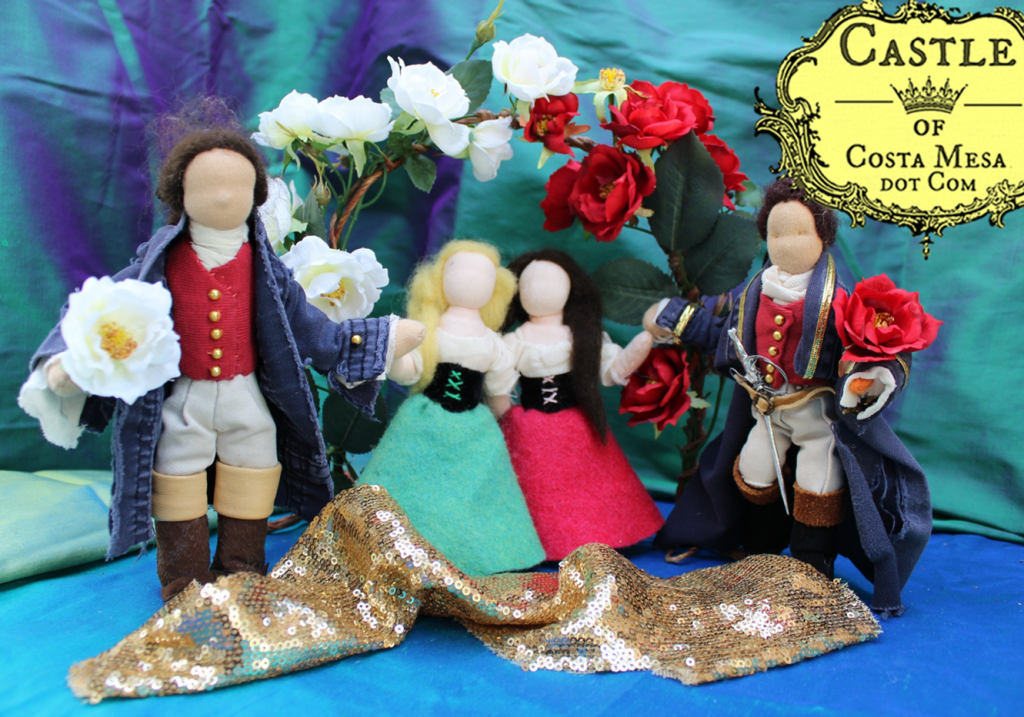 Nunu's 8th birthday: We performed traditional chinese fairy tale, "Laibao's Quest For A Bride" 來寶求親  Click below to view our gazillion pictures! It's a very good story… brings tears to my eyes everytime I read or tell it!
April 25, 2013, Thursday. Performance of Snow White and Rose Red for Ms Tiesha's aftercare program.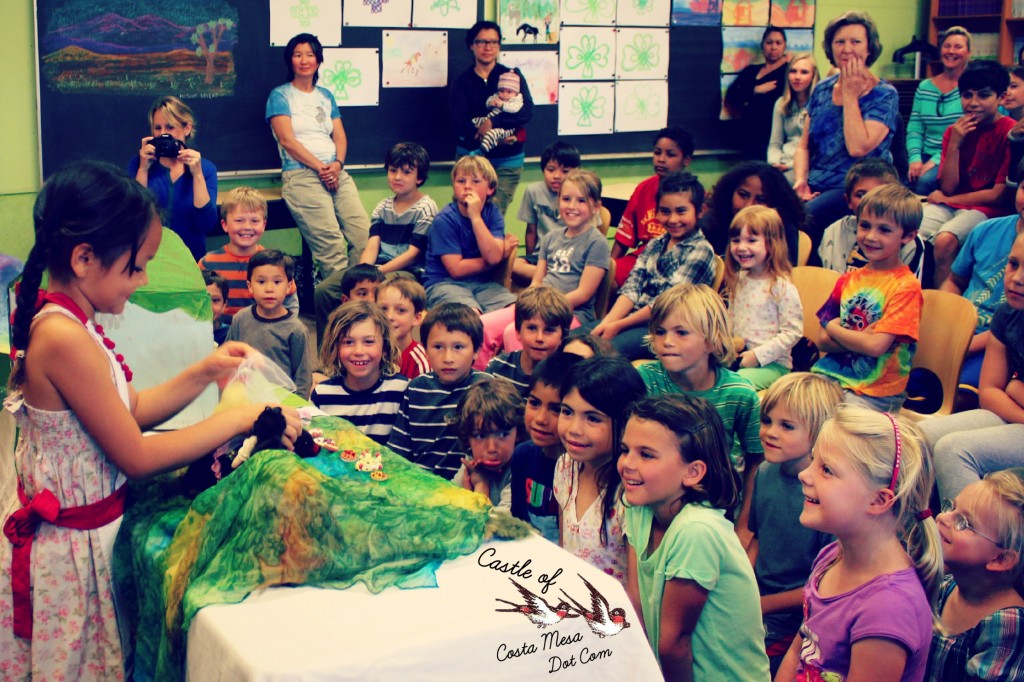 Please "Like" us on Facebook
We frequently GIVE AWAY our handmade dolls. Please "Like" Castle of Costa Mesa on Facebook to be notified of upcoming giveaways.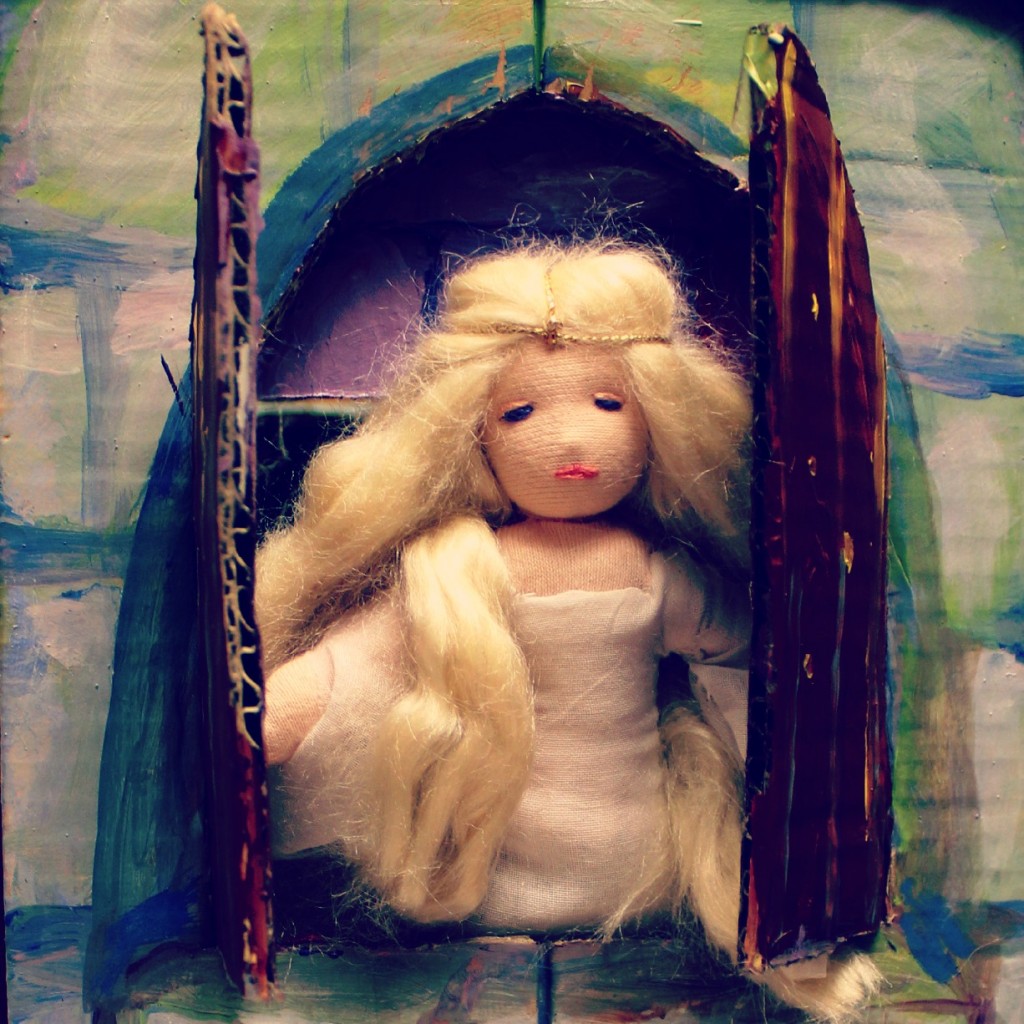 CastleofCostaMesa Etsy store
Here is our handmade dolls on Etsy. We take custom orders.