"Snow White and Rose Red" Table Top Puppet Show Performance for Miss Tiesha's Aftercare April 25, 2013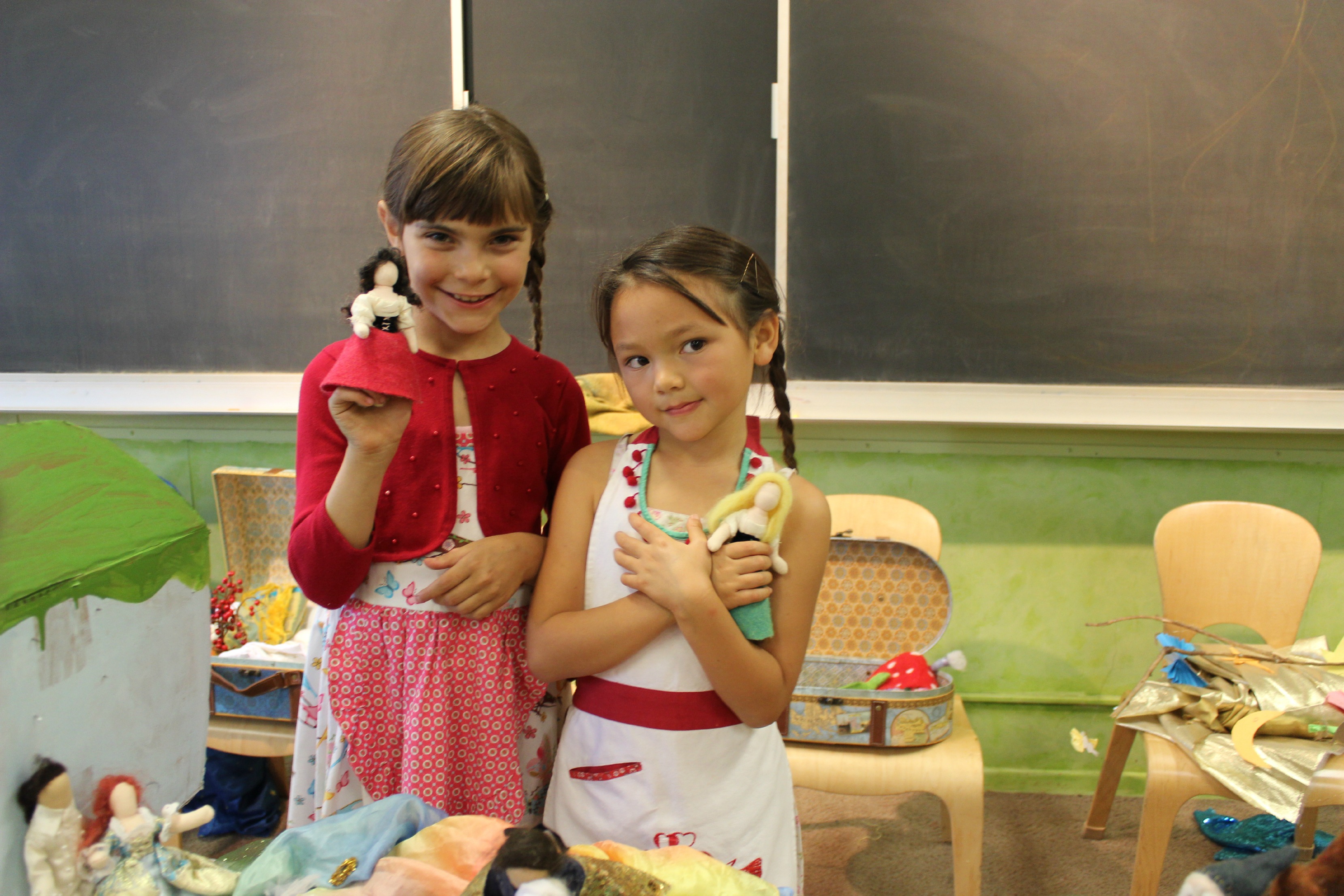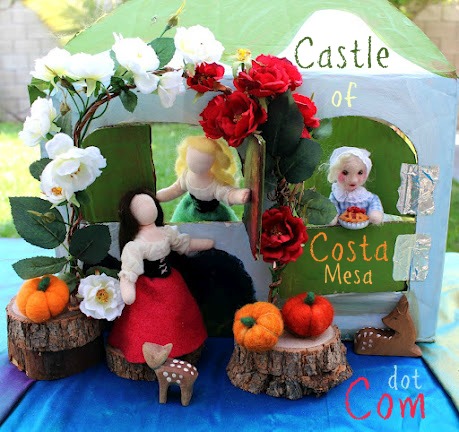 Thursday 3:30pm April 25, 2013. This afternoon, we performed a homemade "Snow White and Rose Red" by The Brothers Grimm Table Top Fairy Tale puppet show in 7 scenes for Miss Tiesha Hutchins-Utai's aftercare program at our Waldorf school. It ran exactly 20 minutes with live piano accompaniment by my 8 year old pianists and assistants Nunu (nickname) and Anička. I am so proud of my girls!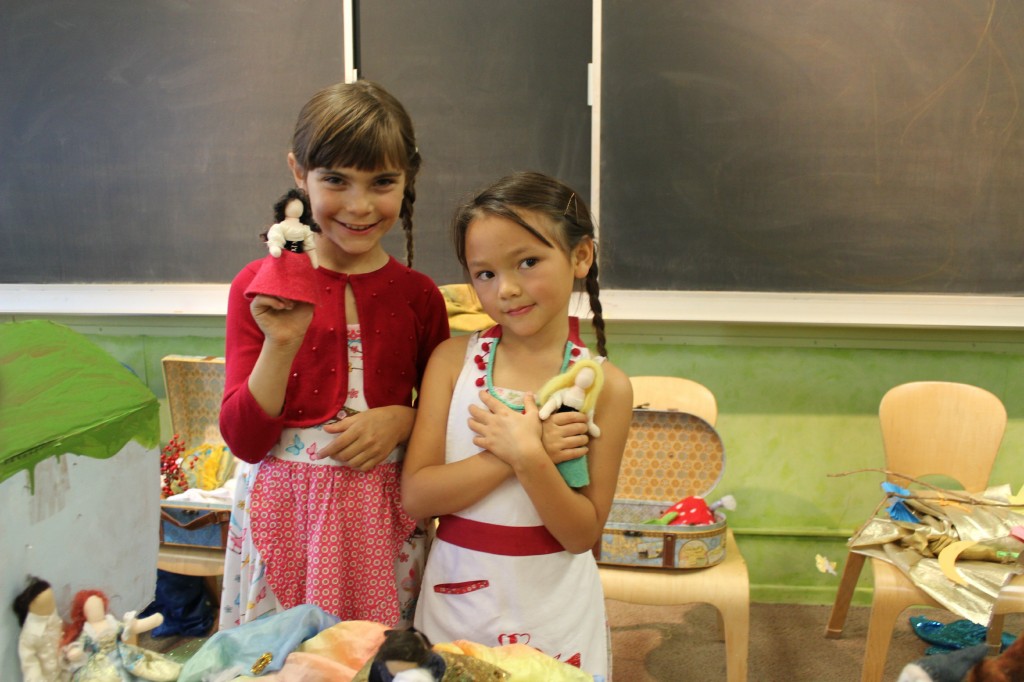 Snow White, Rose Red and The Grumpy Dwarf in the woods, the entire set was handmade by me with some help from Nunu, Anička and her mom, Alena.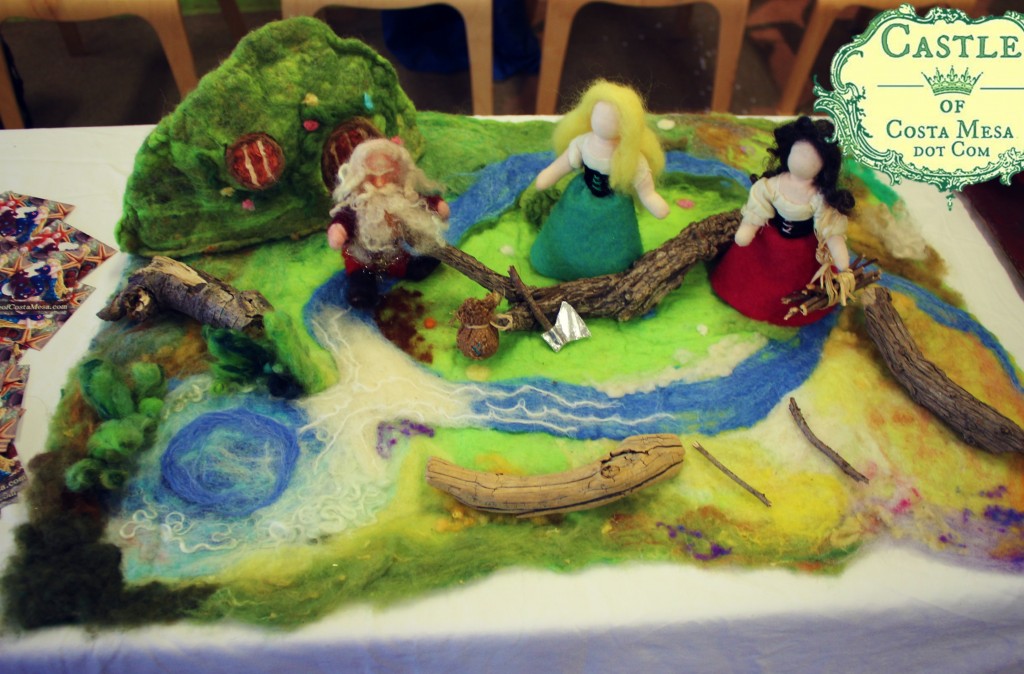 Click here to view my children's process of making the above wet-felted playscape and here to view the making of the rest of the puppet show set.
Here, Anička played a lively Lemuan Etude while my girl took the stage to perform a short comedic sequence. I am so grateful for all the smiles and laughter of the children.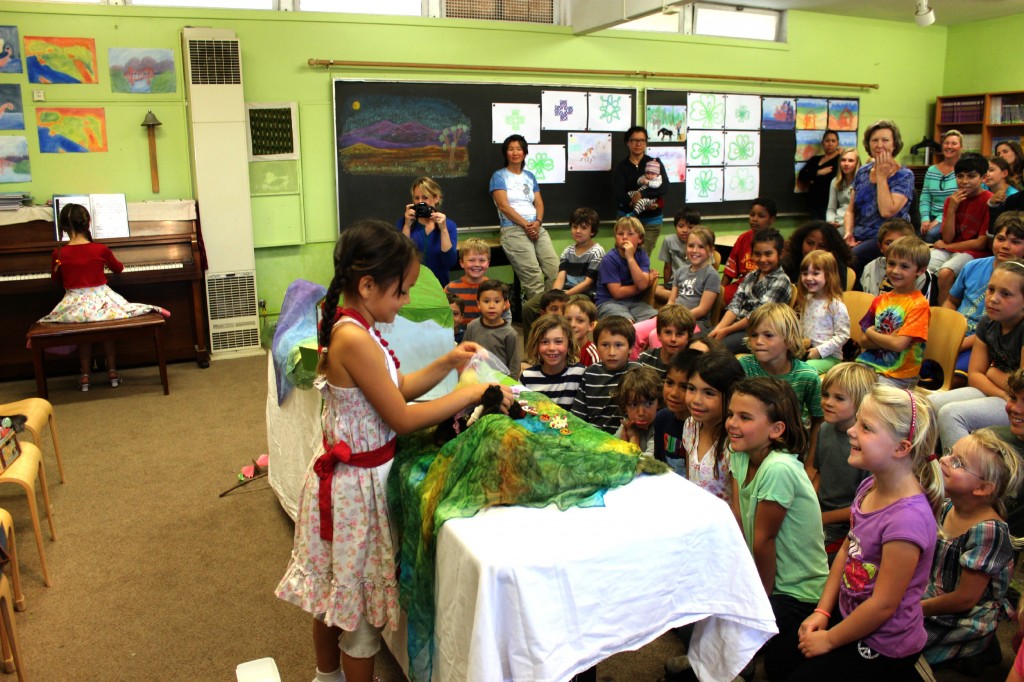 Click on photo to enlarge view.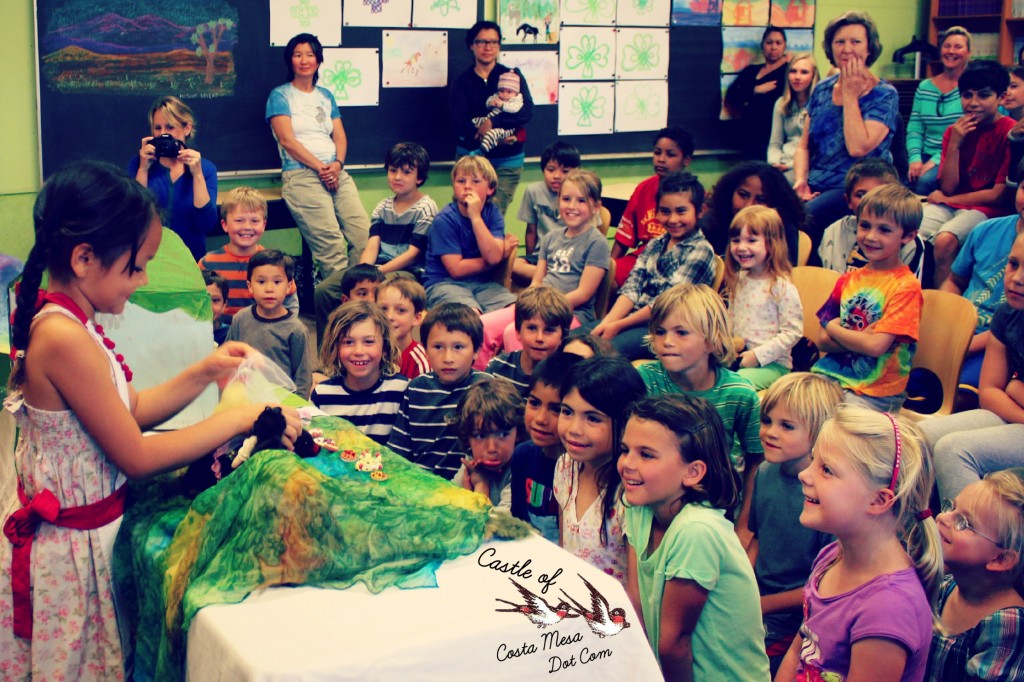 Anička performing Etude No. 17 Allegretto by A. Lemuan, for the bear and sisters scene.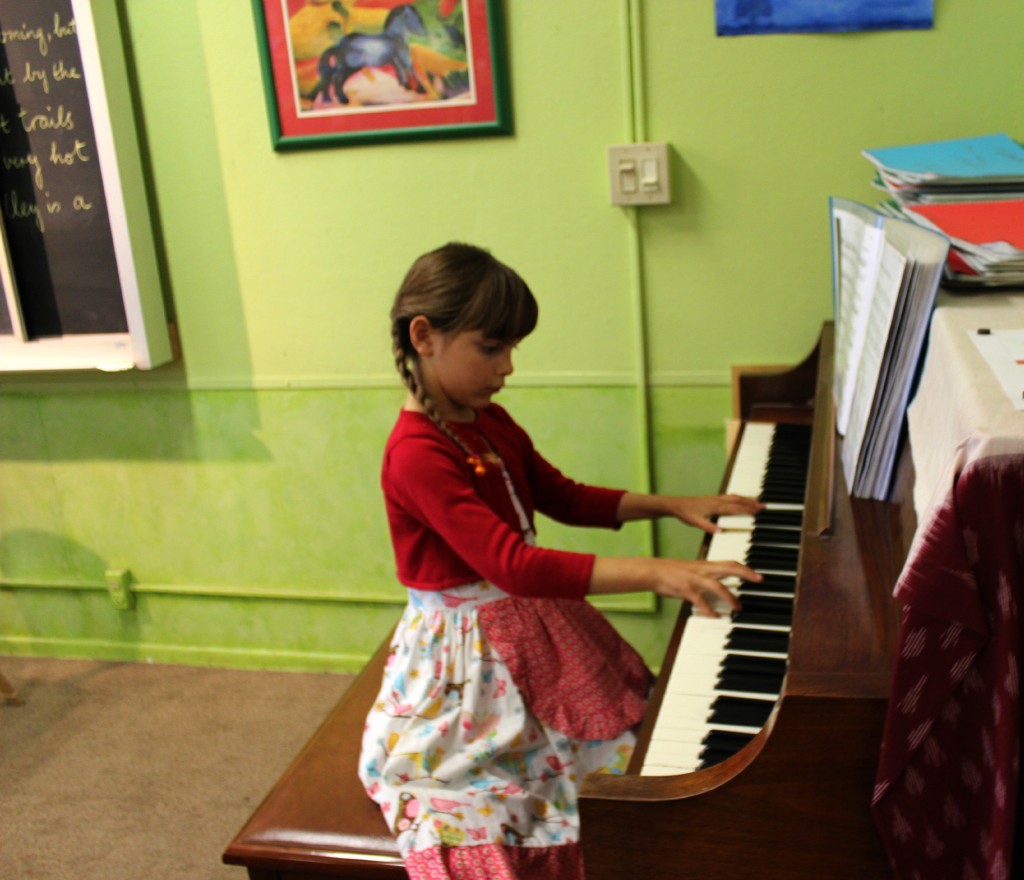 My little Miss pigtails performing to her rapt audience.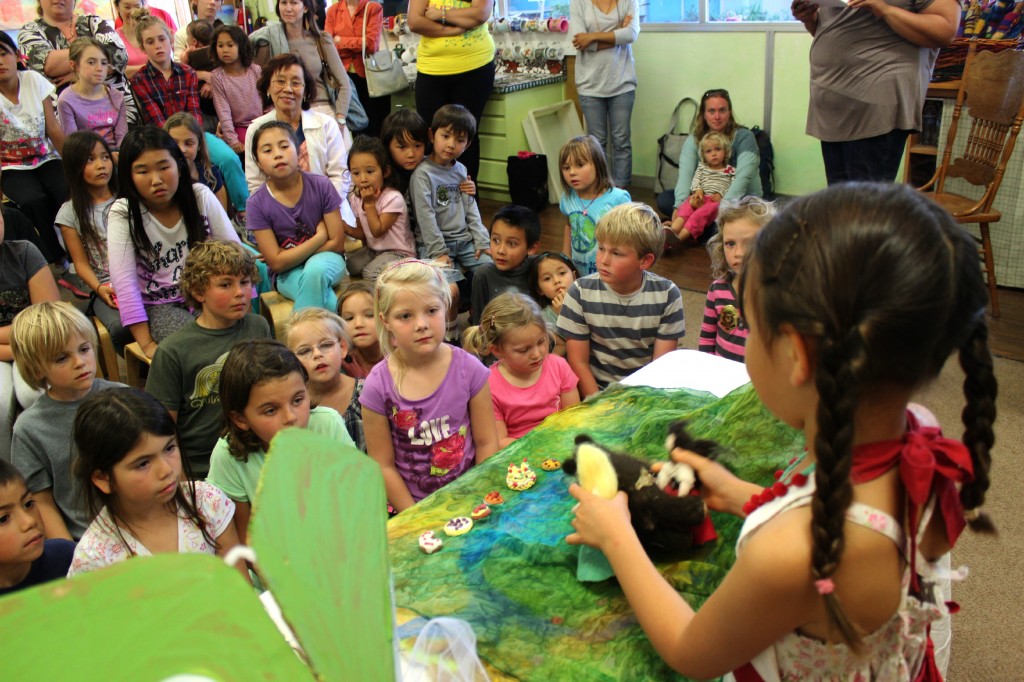 Nunu performing to our audience. Miss Tiesha narrated the story with her rich, soothing beautiful voice as Anička filled the room with lively music.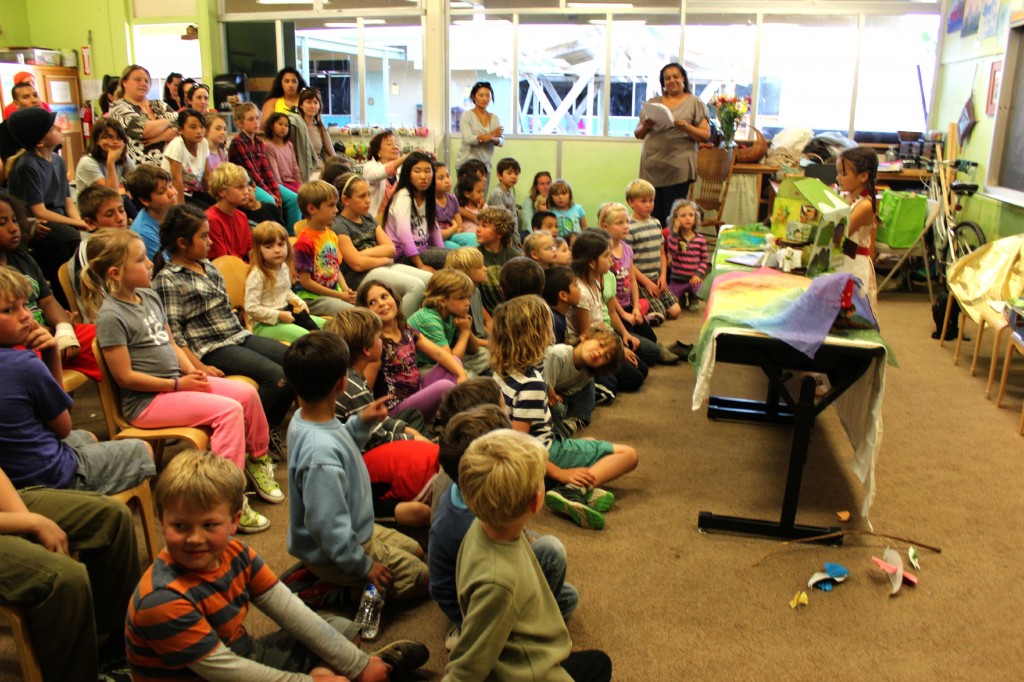 Nunu's "Ah Phor" (grandma, in Hakka language) flew across the globe to visit recently. Here she was laughing the heartiest!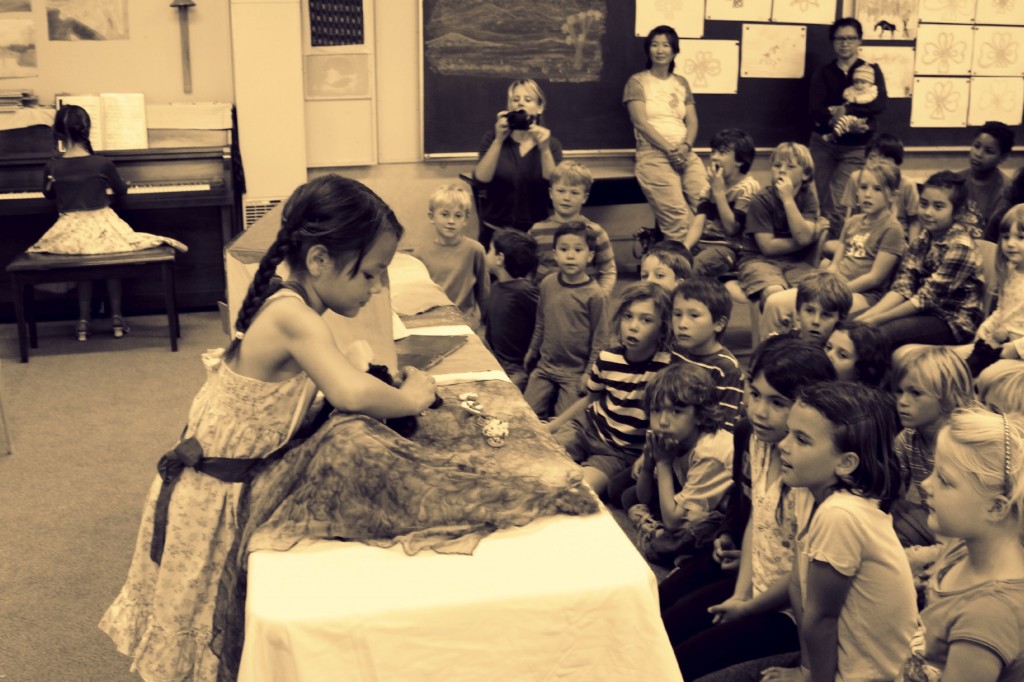 Nunu just after she finished performing "Joke Waltz" by Russian composer Dimitri Shostakovich.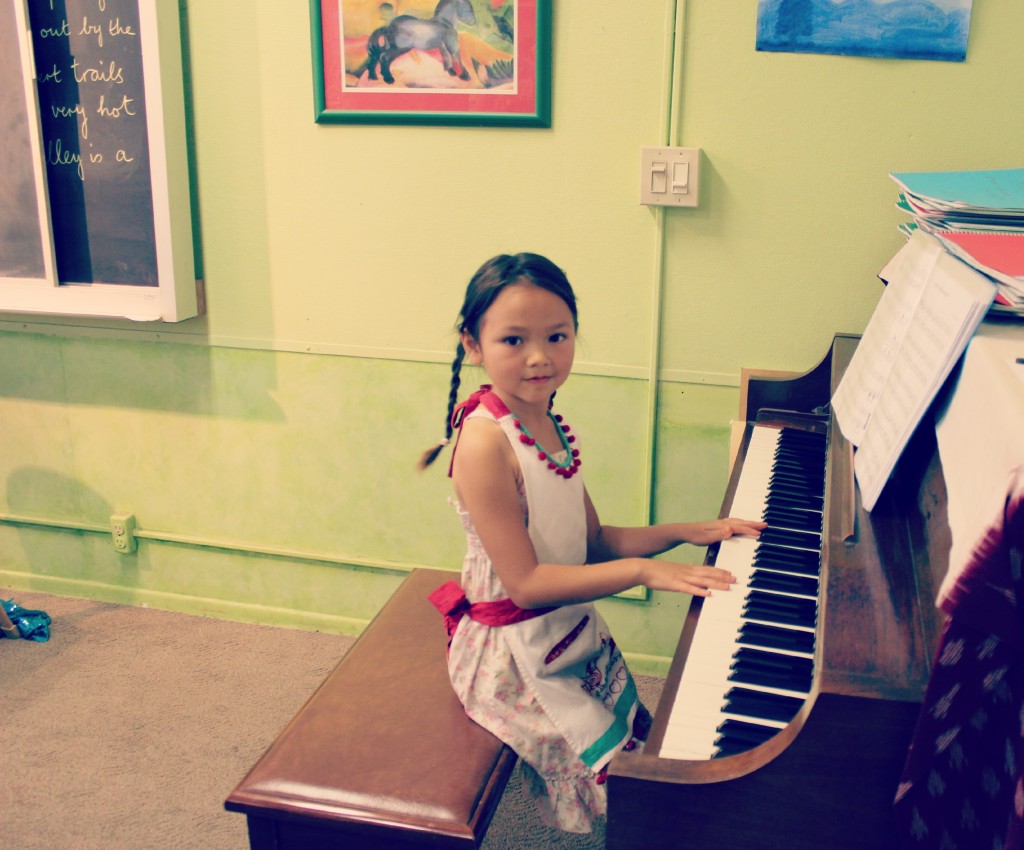 I enjoy Nicolas Kedroff's balalaika version of  Shostakovich's Joke Waltz. Watch that man who smiled and smiled in the back. This is the meaning of life.
Live Piano Accompaniments from 8 year old Nunu and Anička
Opening: Waltz No.19 in a minor, by F. Chopin, performed by Anička
Domestic Scene: Ukrainian Song (traditional) performed by Anička
Gnome Scene: Variations on a Ukrainian Theme by Kabalevsky performed by Nunu
Bear and the sisters Scene: A. Lemuan, Etude No. 17 Allegretto performed by Anička
Fishing Scene Variation III from Variations on a Ukrainian Theme by Kabalevsky performed by Nunu
Finale: Joke Waltz by Dimitri Shostakovich performed by Nunu
Truthfully, I created these puppet shows as a one of a myriad of ways  to motivate the children to practice their music. This is one way the girls make "gifts" of their musical craft and hard work for their peers and community.
Anicka opened today's puppet show with her performance of Chopin's Waltz in a minor. I LOVE Chopin! I did not record Anička's performance, but here is the piece performed by another pianist for you to enjoy…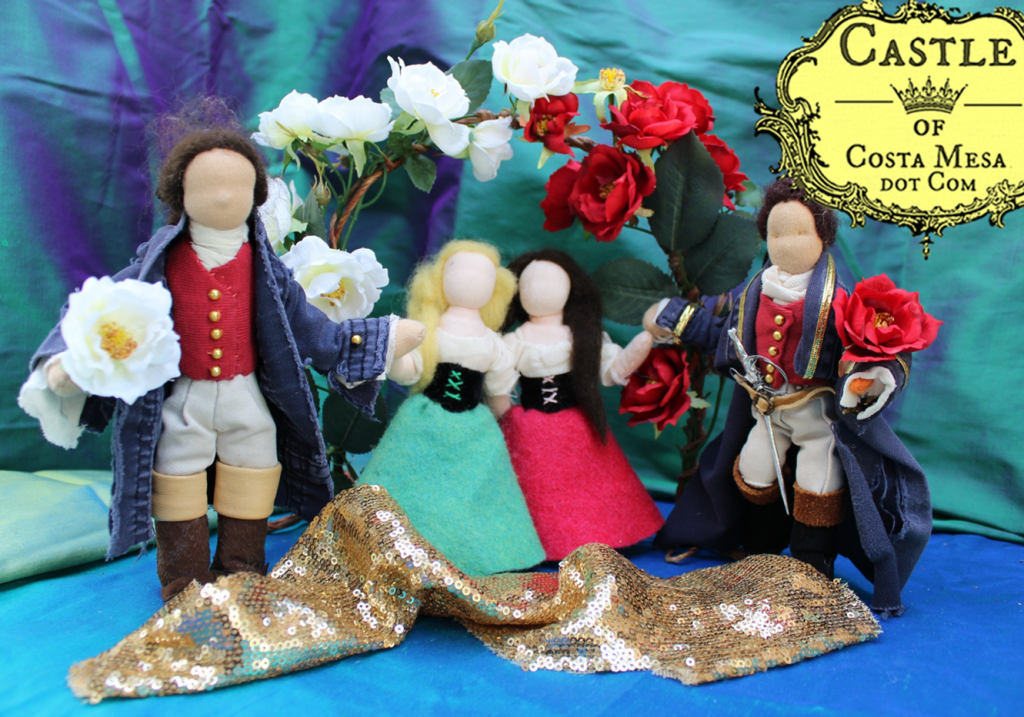 After The Performance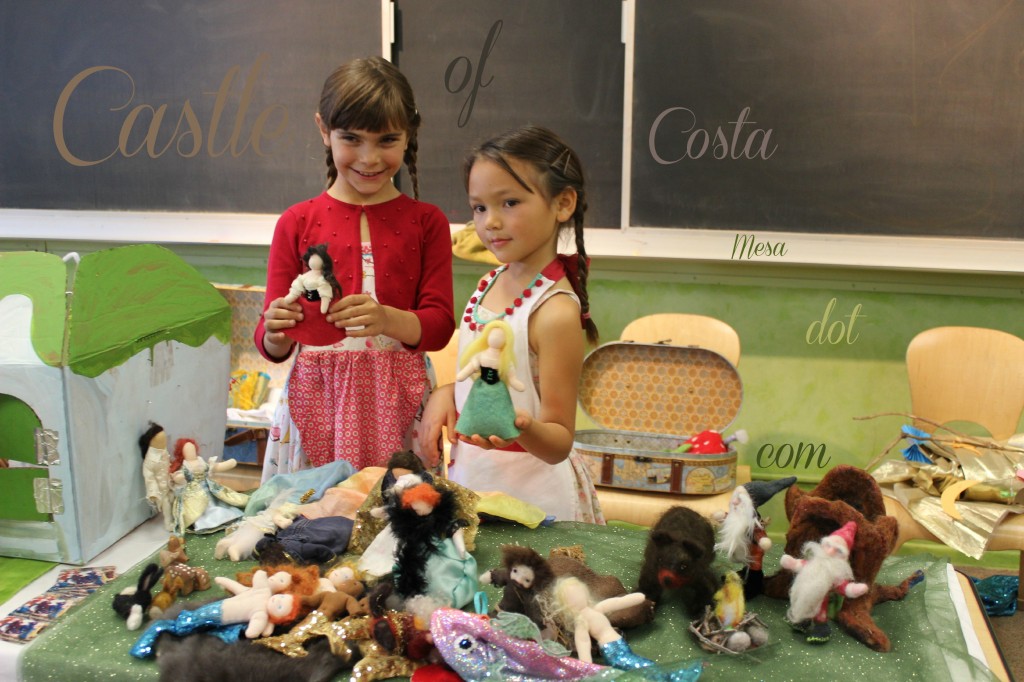 Our audience had a chance to view the dolls and scenes.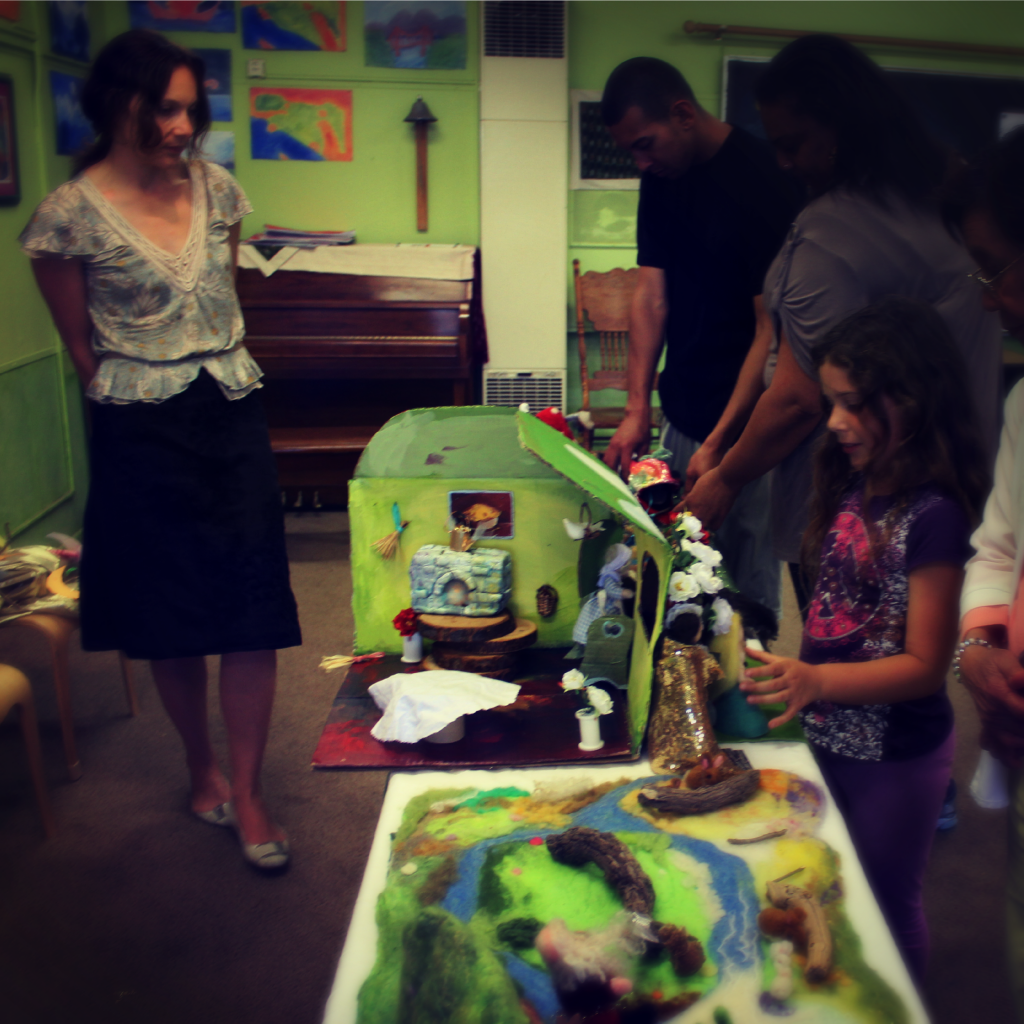 The sisters Snow White and Rose Red in front of their cottage.
The dwarf and his treasures gleaming in the evening sun.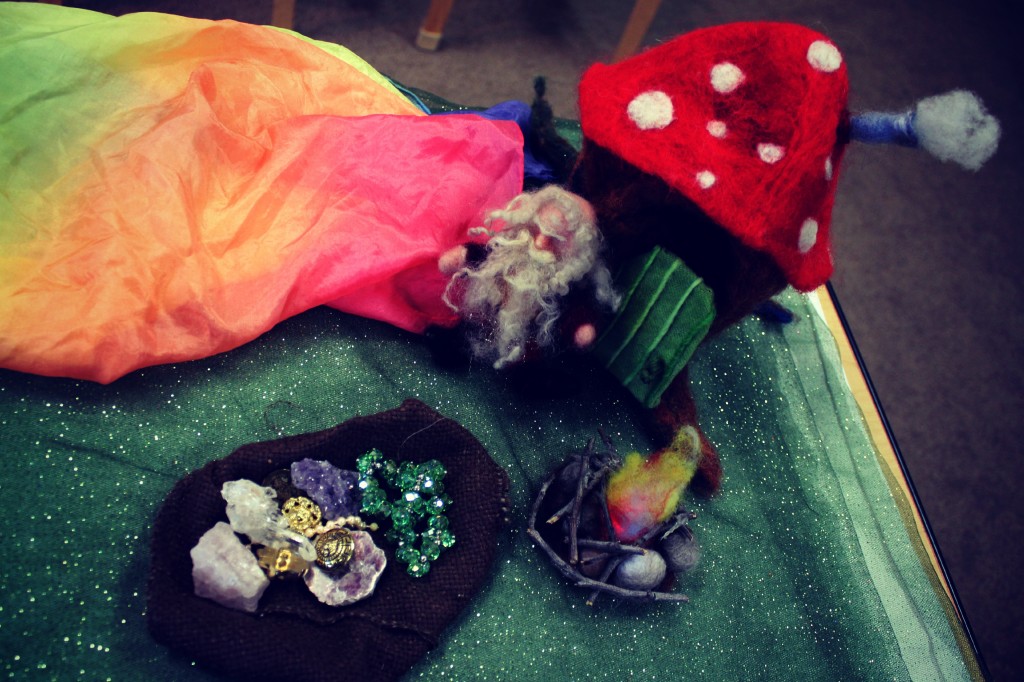 Click here to view our first performance of this puppet show. This link also contains ga-zillion scene by scene photos of the story.
'Poor bear,' said the mother, 'lie down by the fire, only take care that you do not burn your coat.' Then she cried: 'Snow-white, Rose-red, come out, the bear will do you no harm, he means well.' The bear said: 'Here, children, knock the snow out of my coat a little'; so they swept the bear's hide clean; Rose Red and Snow White sweep the bear gently and he stretched himself by the fire and growled contentedly.
With family and friends after the show.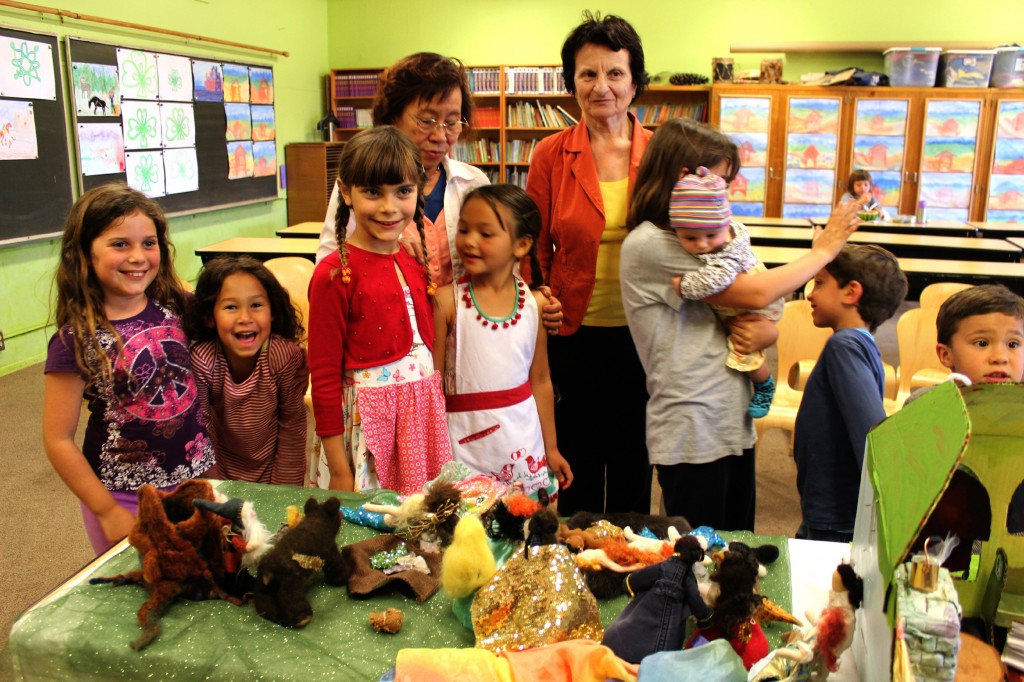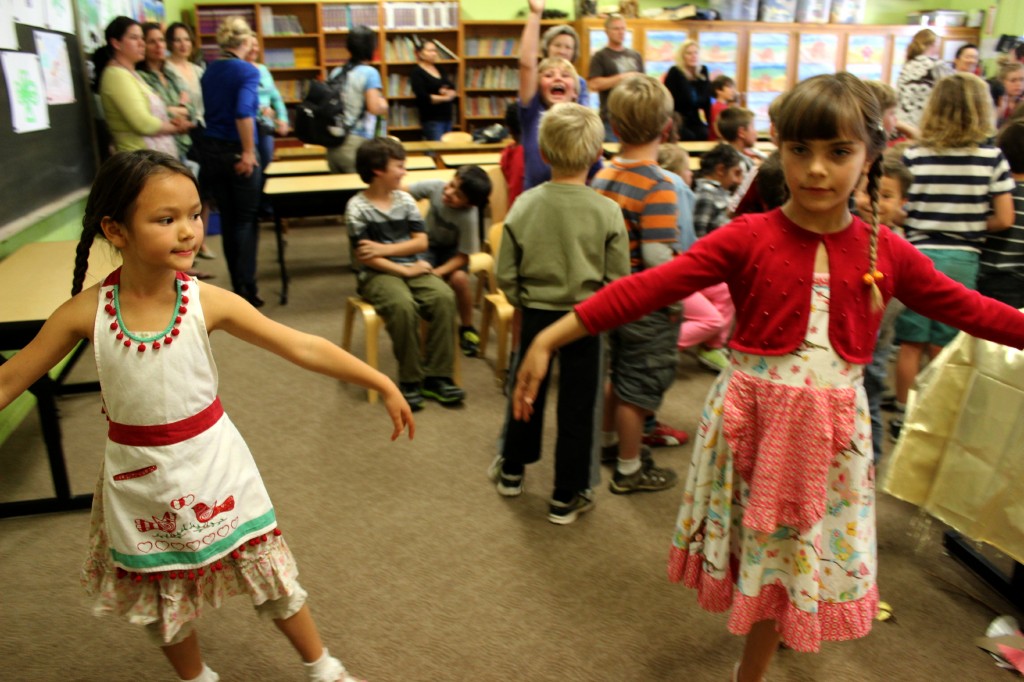 At the end of the day, we found the girls laughing, concocting soap bubbles mix and making giant bubbles in the backyard.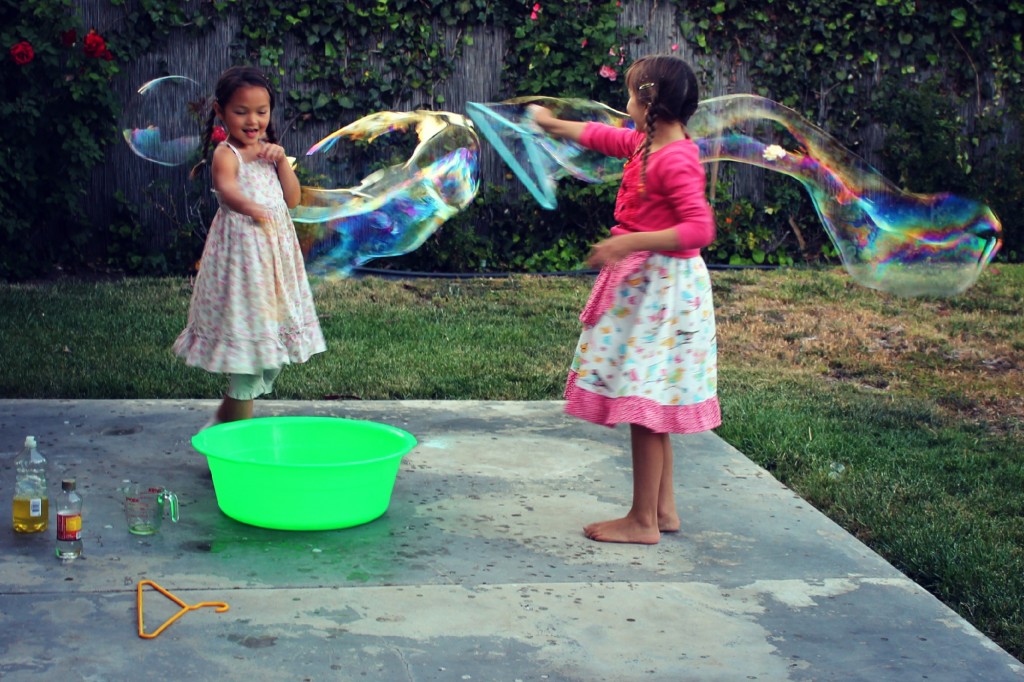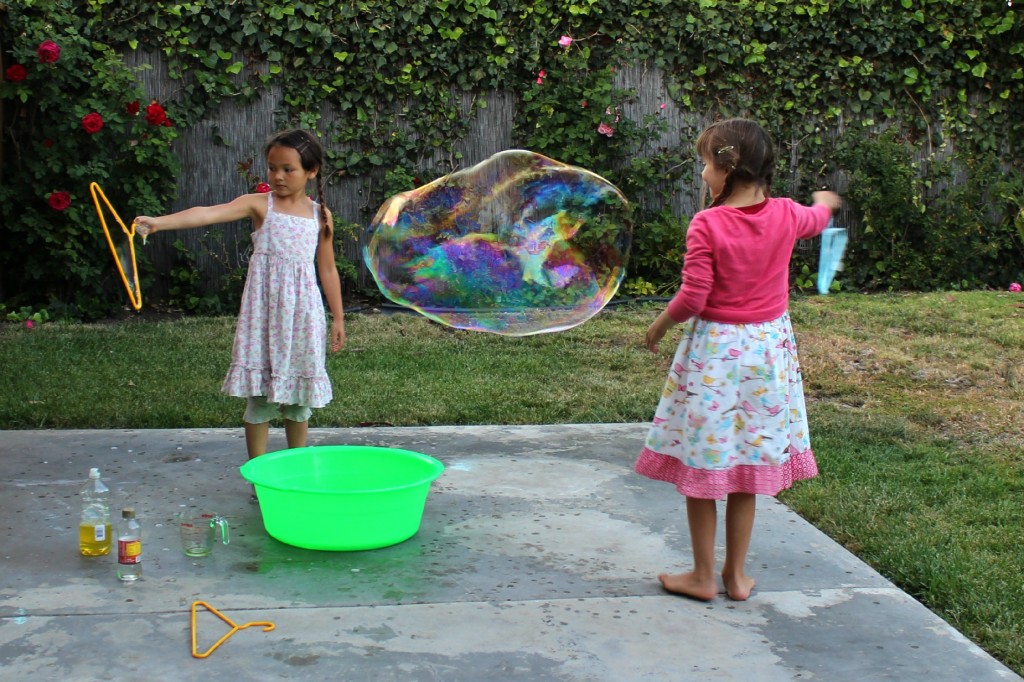 April 26, 2013 Friday. With this puppet show just ended, Nunu and I are already busy brainstorming ideas for our next gig… an epic musical or operatic theatre play with song, dance, piano music, original song and music composition, magic tricks and a cast of a thousand include humans and lifestocks ! Or just 2 kids with a bunch of props. Hahahaha! The fun is endless… Drop us a line if you want to join us. We plan for show time to be on Nunu's 9th birthday in November 2013.
Visit My Handmade Dolls Page
Click here to view my handmade dolls. I take custom orders. You can contact me on Etsy. My store name is CastleofCostaMesa. Thank you!

Please "Like" Us on Facebook
I giveaway my Handmade Dolls periodically. Please "Like" my facebook page so you will be informed when I announce the next handmade doll giveaway. Thanks!