Mermaid Kerensa
April 2011.
Something astonishing happened in Costa Mesa after the March tsunami! Throngs of writhing mermaids were seen strewn across lawns and streets…more plentiful than grunions! They were scooped up by local residents even before rush traffic hours. In captivity, many of them grew legs and ran away. Some melted into small puddles of waves. A few were left in their original form. Here is one such. Kerensa is for sale for $65. (She was sold in May at the Mayfaire in Costa Mesa)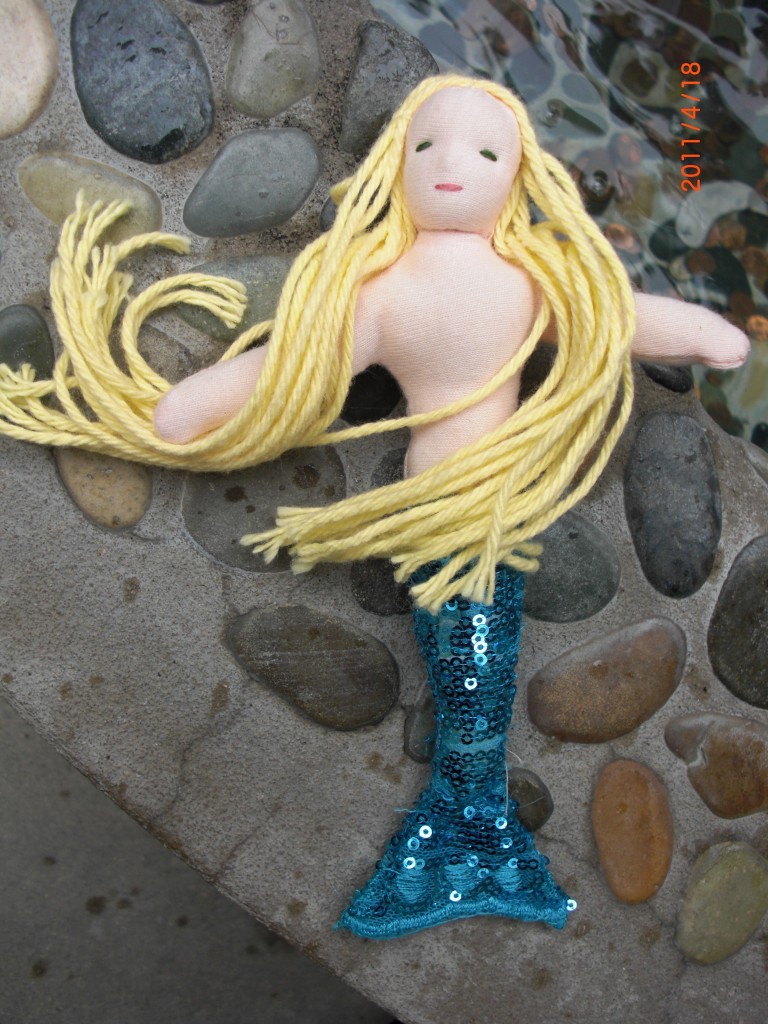 Mermaid Kerensa by the secret fountain of youth in the secret garden enclave of Newport Beach Public Library.
Langrous times under the sun…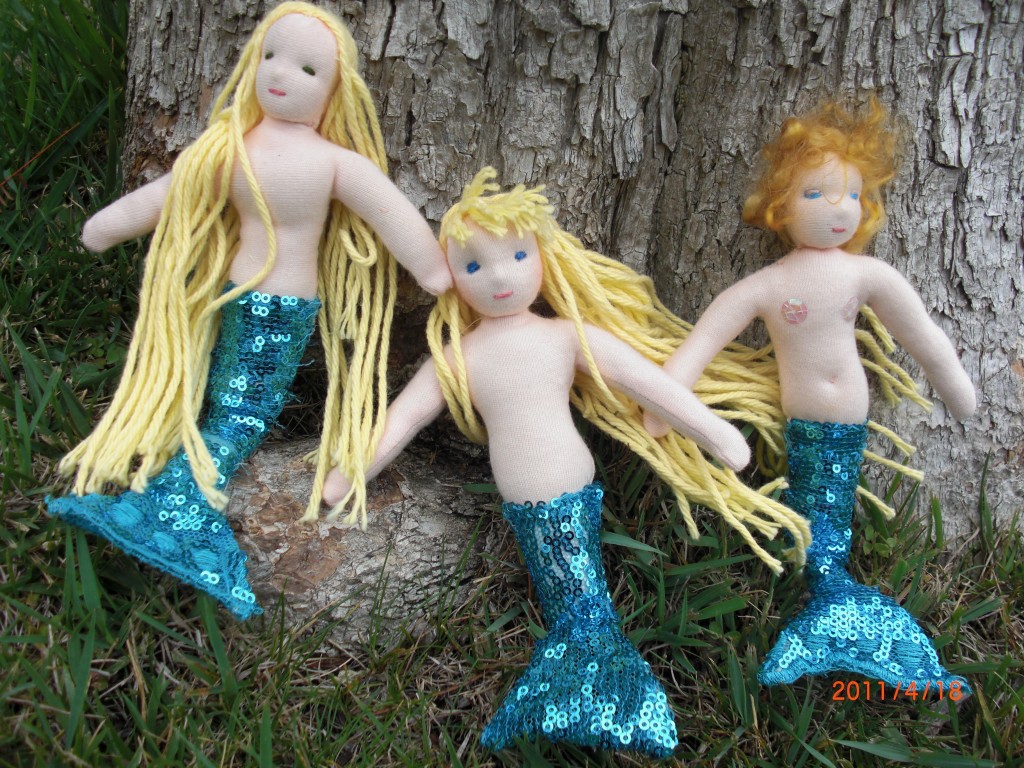 Mermaids Kerensa, Jora and Merah.
… discovering the aroma of wild roses!
This mermaid is 7.5 inches (19cm) from top of her head to the tip of her tail. Her arms and body are posable.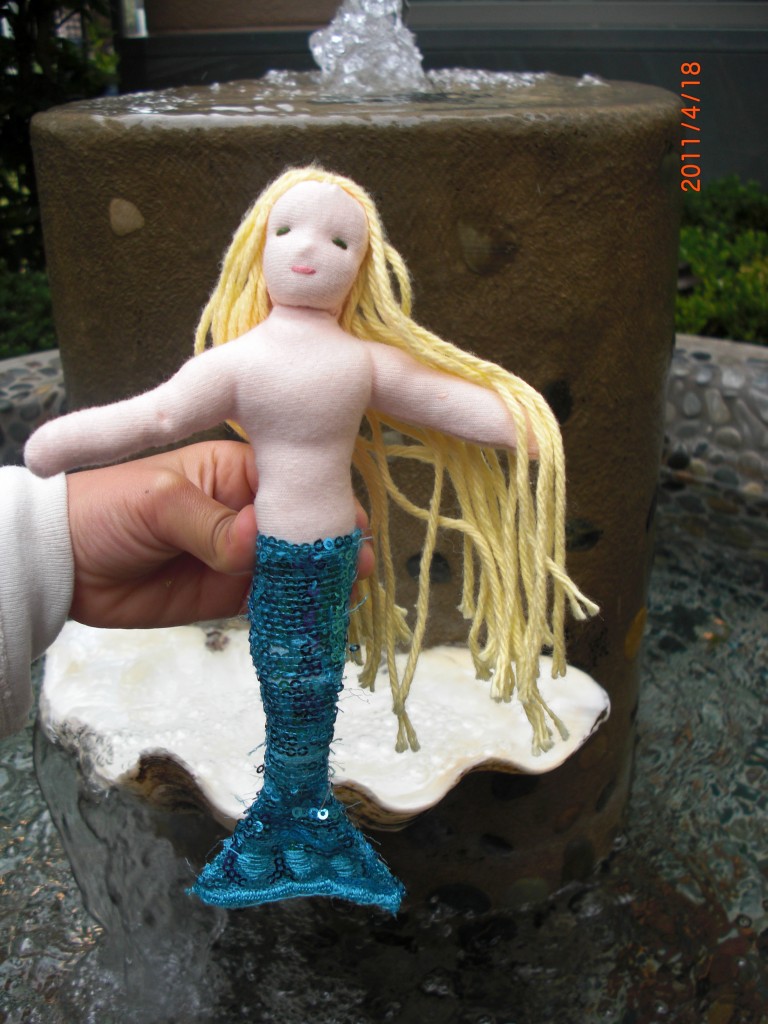 Kerensa is entirely handmade with quality choice materials. her face is individually handmade and embroidered simply, in the spirit of Waldorf dolls. (You know, simplicity requires focused concentration!)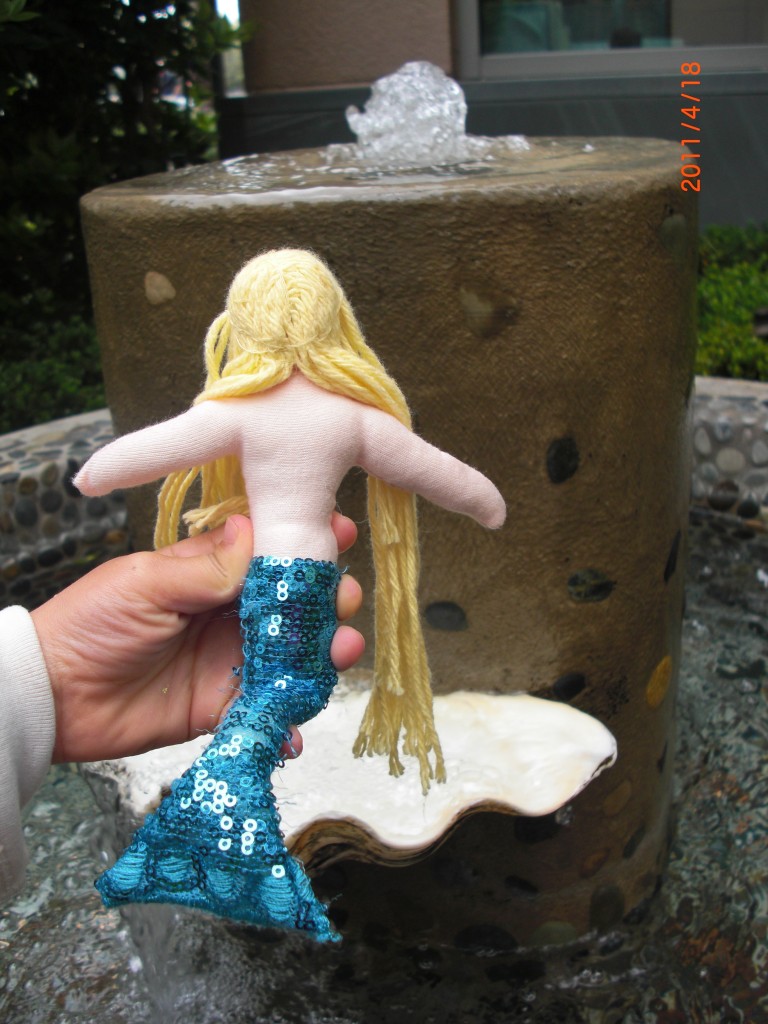 Her blue sequin tail glimmers and dazzles, especially in low sunlight hours such as during twilight…this is when Kerensa will send out her spell on you, with blue sparkley reflected sequin lights that will beckon you join her world in the deep unknown seas.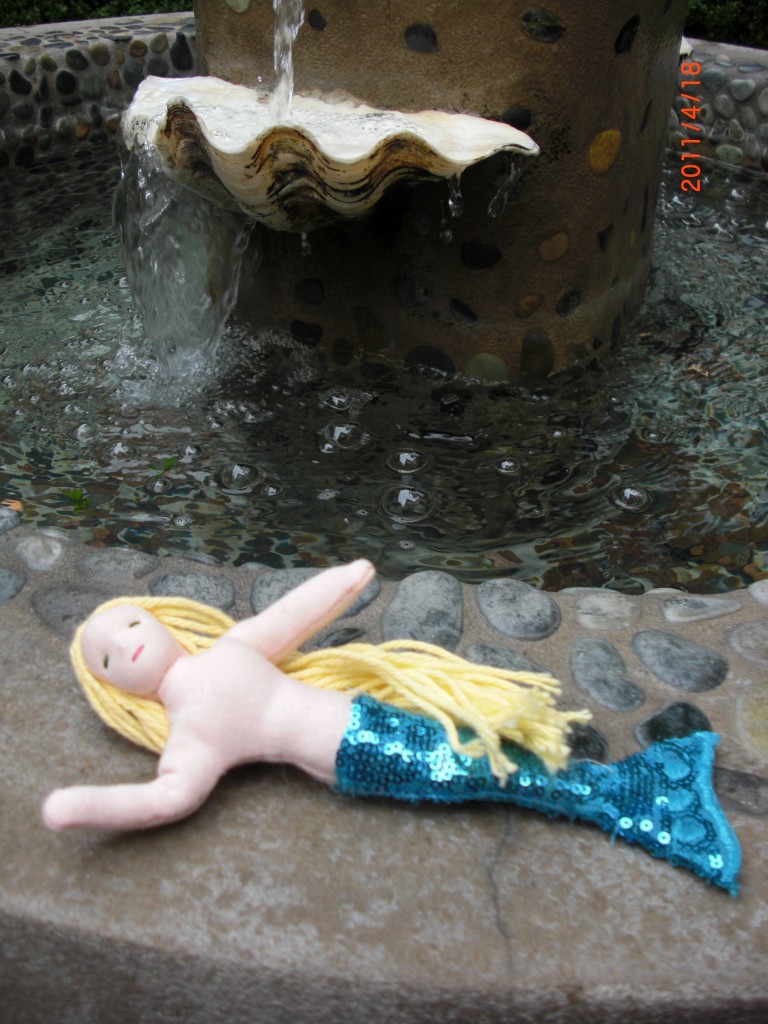 What would it be like, if I ever forgot how to swim? The mermaid muses on land.
This mermaid is stuffed with wool and premium dried Californian lavendar. 100% organic cotton knit was used for doll skin. Her 100% cotton hair smells faintly of sugar and cream. She will bring delight to your table top puppet show, summer seasons table, or glamor to your office desk. Kerensa makes a great companion for young and old. She is one of a kind!
Alas, Kerensa was sold at the Mayfaire in Costa Mesa that year. I can custom make a mermaid for you like Kerensa here!  Drop me a message in the comment box on the bottom of the page.
Mermaid Kerensa (on the left) and friends frolicking on the shores of the legendary Corona Del Mar, Southern California.
Left to Right: Mermaids Kerensa, Mondine, Jora, Andy and Merah
Return to Waldorf Seasons Nature Table page
Return to Dolls and Tales page
I am giving away a handmade doll in Fall 2012. Please leave a comment below and suggest the doll(s) you will like to see on my giveaways. – Jzin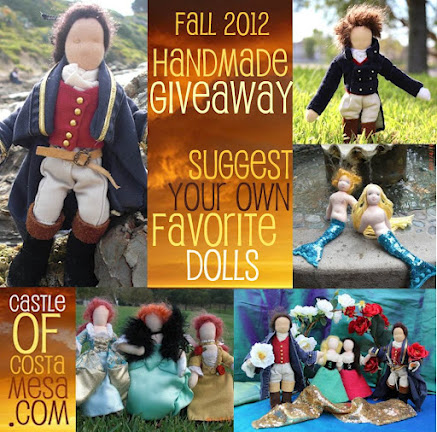 If you liked this page, please "Like" me on facebook! Thanks! – Jzin