Chinese Children's Songs: Little Bee
小蜜蜂 Xiao mifeng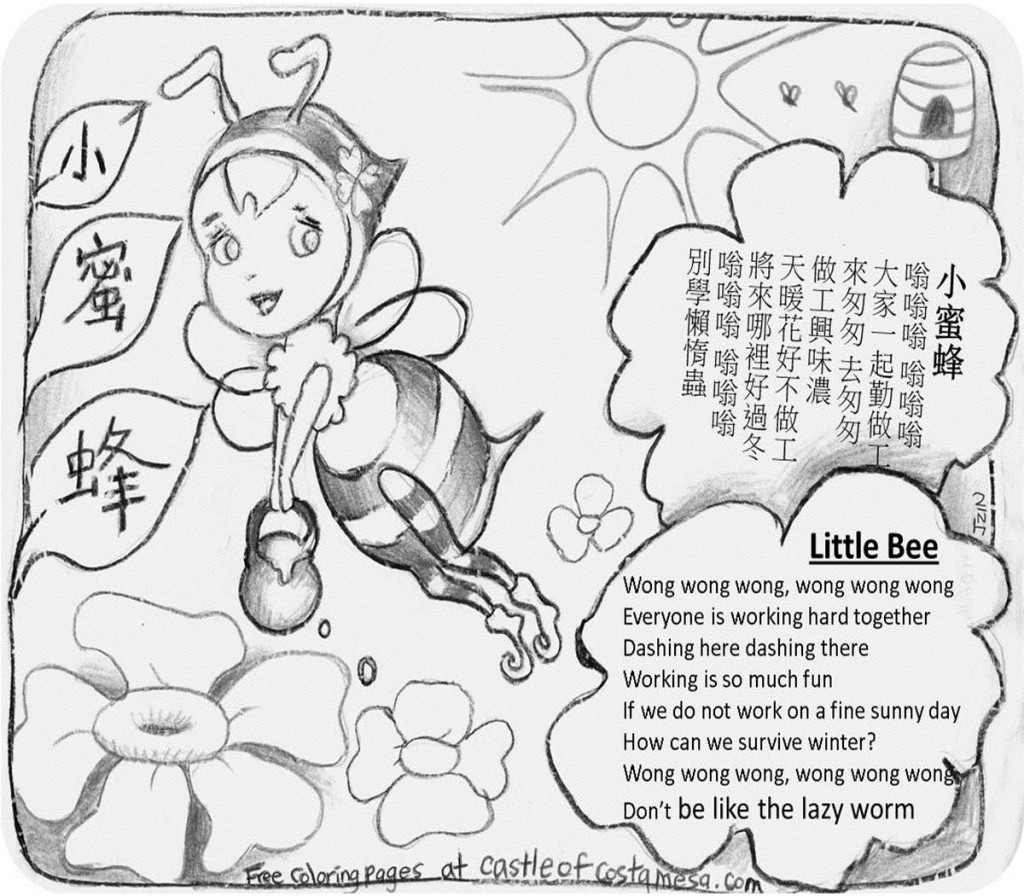 Above is a free coloring page you can print off your computer by clicking here.
Bisser loves it coz it reminds him of his favorite Maya the Bee cartoon when he was a little boy. Do belt out the song aloud as you color this page!
This is a cute and perky song!
小蜜蜂

嗡嗡嗡 嗡嗡嗡

大家一起勤做工

來匆匆 去匆匆

做工興味濃

天暖花好不做工

將來哪裡好過冬

嗡嗡嗡 嗡嗡嗡

別學懶惰蟲

Little Bee

Weng* weng weng, weng weng weng

Everyone works hard together

Dashing here dashing there

Working is so much fun

If we don't work on a fine sunny day

How can we survive winter?

Wong wong wong, wong wong wong

Don't be like the lazy worm
* "Weng" here is the mandrin onomatopoeia for "buzz"
小蜜蜂

(simplified chinese)

嗡嗡嗡 嗡嗡嗡

大家一起勤做工

来匆匆匆去匆匆

做工兴味浓

天暖花好不做工

将来那里好过冬

嗡嗡嗡 嗡嗡嗡

別学懒惰虫

Little Bee

(hanyu pinyin version)

Weng* weng weng, weng weng weng

dajia yiqi qin zuogong

Lai congcong qu congcong

zhogong xinwei nong

Tian nuan hua hao buzhuogong

jianglai nali hao guodong

Weng weng weng, weng weng weng

bie xue landuo chong
Click on the widget below to listen to or to download the version from award-winning CD 幼福-世界童謠精粹:
小蜜蜂 Xiao Mi Feng

Cartoon in Chinese. This song is not in here. Just to show the cute bees.

I digress some more, this song is not in the following video. I included it just coz its so cute….Japanese Cartoon 昆虫物語 みなしごハッチ

Cute little bee village:
Return to
Song List
. Go to next song: Butterfly