Waldorf Days
Please pardon this haphazard page…I have yet to complete this page! "Like" me on Facebook (top left sidebar) and check back here again. Thanks! -Jzin
Autumn
The Pumpkin King
A song for autumn that Nunu learned from Ms Holly's kindergarten.

The Apple Orchard Eurythymy
Nunu told Baba Zhenny a story she had learned in Kindergarten from Ms Holly. This is the Apple Orchard eurythymy which the entire class had been participating in.

The Story of Saint Michael and the Dragon
Nunu came home from Kindergarten today and told me this story which Ms Holly had been telling the class for Michaelmas.

A beautiful verse accompanied the kindergarteners' work as they polished their wooden swords.
This is my sword I polish with all my might
I will use it for what is right
Not for some silly quarrel or fight
But to drive away evil
I will try
And to protect those who are weaker than I

Lantern walk
Winter
Winter Festival 2010
Winter Festival 2009
Advent Spiral
Spring
May Faire
Summer
Ms Julia took the children to build houses in the Stumpile.
Eurythymy exercises
The Farmer Rose at the Break of Day Kindergarten Eurythymy
Nunu learned this elaborate eurythymy in Ms Holly's kindergarten class.

Willow Arbor
Click here to view gallery of past creations from our craft group get togethers.
Let's support our friends in our local Southern California Waldorf Community…
Check out my handmade Fairy Tale Dolls: Dolls and Tales page
Check out my handmade dolls for Waldorf Seasons Nature Table
I am giving away a handmade doll in Fall 2012. Please leave a comment below and suggest the doll(s) you will like to see on my giveaways. – Jzin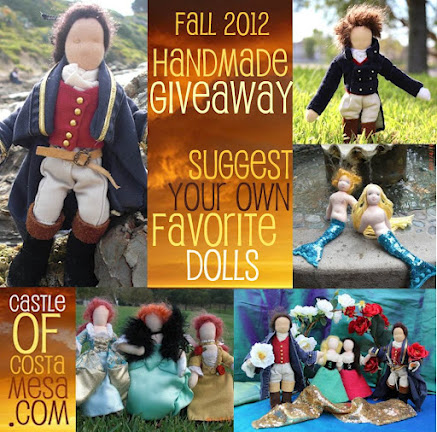 If you liked this page, please "Like" me on facebook! Thanks! – Jzin