Workshop: April Mondays with Homeschoolers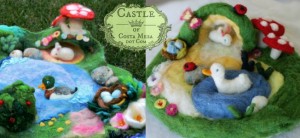 "Creatures in Their Homes"
Create a sweet little springtime playscape with cute little animals in their home! Felting is a natural and versatile medium. In this 3 week workshop, you will learn the basics of making shapes into creatures and their habitat. We shall be making parts of a springtime woodland playscape that will come together as a whole at the end of the three weeks.
1pm-3pm
3 Mondays: April 11, 18, 25, 2016
ages 8+ Homeschoolers, adults, and others welcomed.
$70 per 3 classes + supply fees
Instructor: Jzin Teng
Click here to print out a flyer of classes for homeschoolers/children's felt workshops.