Workshop: Mother's Day Greeting Cards. Saturday, April 30, 2016.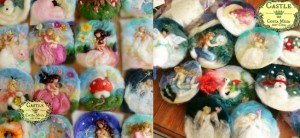 Needle-Felted, Natural Wool Greeting Cards/Mother's Day Gifts.
Saturday. April 30, 2016.
3 hours. 1:30pm – 4:30pm
No experience necessary
Adults and Children welcomed: A great mother and child experience!
$50 plus craft supply fees for 2 projects completed in class
Instructor: Jzin Teng
To reserve your spot, please register Piecemakers Country Store website here.
Click here to print out a flyer of classes for homeschoolers/children's felt workshops.
For the ones you love this year, handmake these soft and warm, keepsake greeting cards/fiber artwork that can be hung and displayed year round. This needle-felted craft is just in time for Mother's Day. These wool pictures are backed with water color paper (to write your personal greetings on) and can be hung and displayed on a ribbon. In this class, you will make 2 wool greeting cards. You will be guided, step-by-step to complete your first project. You can express your own creativity by designing your own second project with the guidance of your instructor. These make wonderful, personal gifts for Mother's day, birthdays or Christmas Tree Ornaments.