So, if anyone asks you why are you surfing this website, you say…to love and to learn the mandarin chinese language, history and culture. But here you are watching soap operas!
…but I do qualify, these are historical soap opera!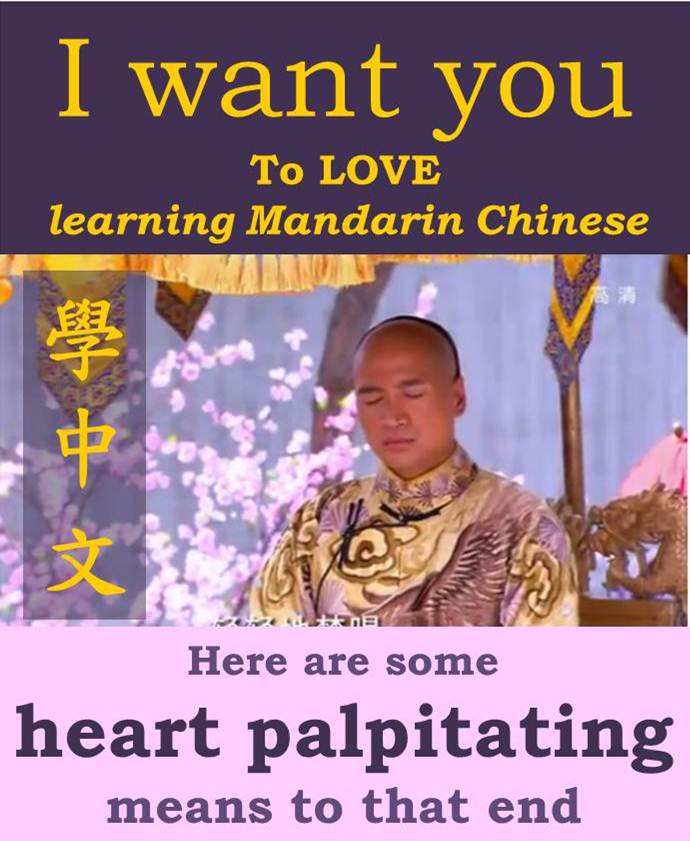 Let us pretend for a moment that time is an endlessly flowing abundant commodity and that our world rests and waits for us as we spend copious amounts of time diving into soap operas, dishes wash themselves, children feed, clothe, educate themselves, doctorate thesis complete all by themselves 10 minutes before deadlines… When questioned about your disappearance from normal life, you can give the same excuse I give "I have been studying ancient chinese history" Heh heh heh! It works!
Well then, let's dive right ahead to the twilight zone called: Chinese historical soap opera! They are addictive! Yummy!
Palace: The Locked Heart Jade 宮鎖心玉
Palace: The Locked Heart Jade 宮鎖心玉 is a juicy historical fiction set circa Emperor Kangxi (1654-1722 AD), the fourth emperor of Qing Dynasty. Ah! Palace intrigues, desperate plotting concubines, princes vying over the seat of the crown prince, flog-deserving palace girls, eunuchs, flying kungfu girls, brothel girls, dazzling chinese period costumes, sappy love songs with lyrics and translations provided by moi, last but not least earnest romance…so much fun!  Wikipedia entry. I have brought them to you with English (albeit sometimes Chinglish) subtitles.
Let us start from the end! Here is the tear-jearing grand finale of Palace Lock Heart! Bring out your hankies!!! For English subtitles, look at another version below this video. This version immediately below (no English subtitles) has high definition, with mandarin chinese translations is worth checking out just for the big beautiful shattering sobfest moments where the female protagonist leaves her beloved prince to go into the palace with the emperor in order to fulfill a bargain to save her beloved's life.
楊冪 – 愛的供養HQ (宮鎖心玉大結局-晴川與八阿哥訣別時刻)

Thank you scentlove62 for uploading this video on youtube.com
Palace Lock Heart 宫锁心玉 trailer with English subtitles.

Thank you wylane for uploading this trailer on youtube.com
Trailer (part 1 of 2) with English subtitles. Do not watch the whole thing, delicious as it may be coz it tells a little too much!

Thank you wylane for uploading Palace 2011-Trailer[1/2] with English subtitles on youtube.com
Palace 2011-Trailer[2/2]

Thank you wylanne for uploading this on youtube.com
To watch the entire series of Palace: The Locked Heart Jade, click here.
Palace:The Locked Heart Jade
Pearl-Returning Princess
The Emperor's Harem
Please send me links of historical soap operas you love! I will post them here!