This "Granny's Apple Cake" recipe was included our favorite story book, "The Apple Cake" by Nienke van Hichtum.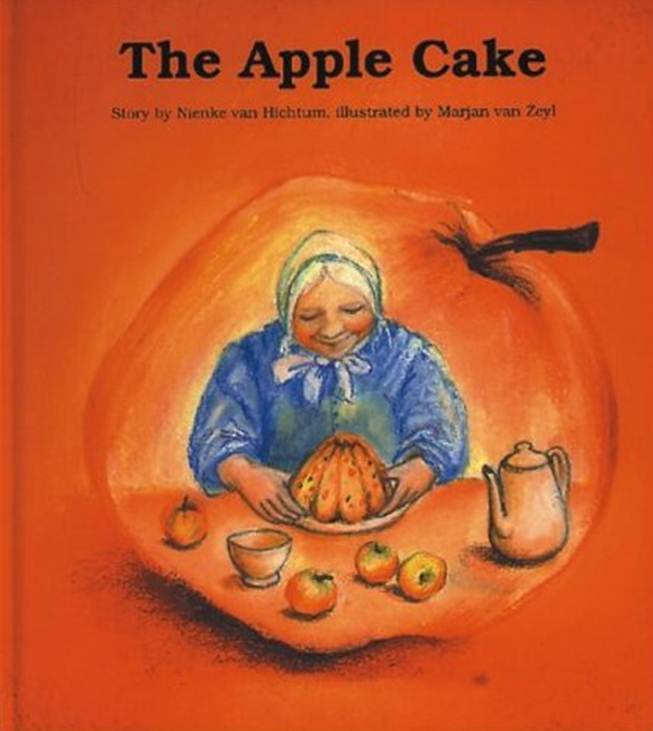 On Nunu's 6th birthday, she and I performed The Apple Cake puppet show for her friends. Click on the image below to go to the puppet show page.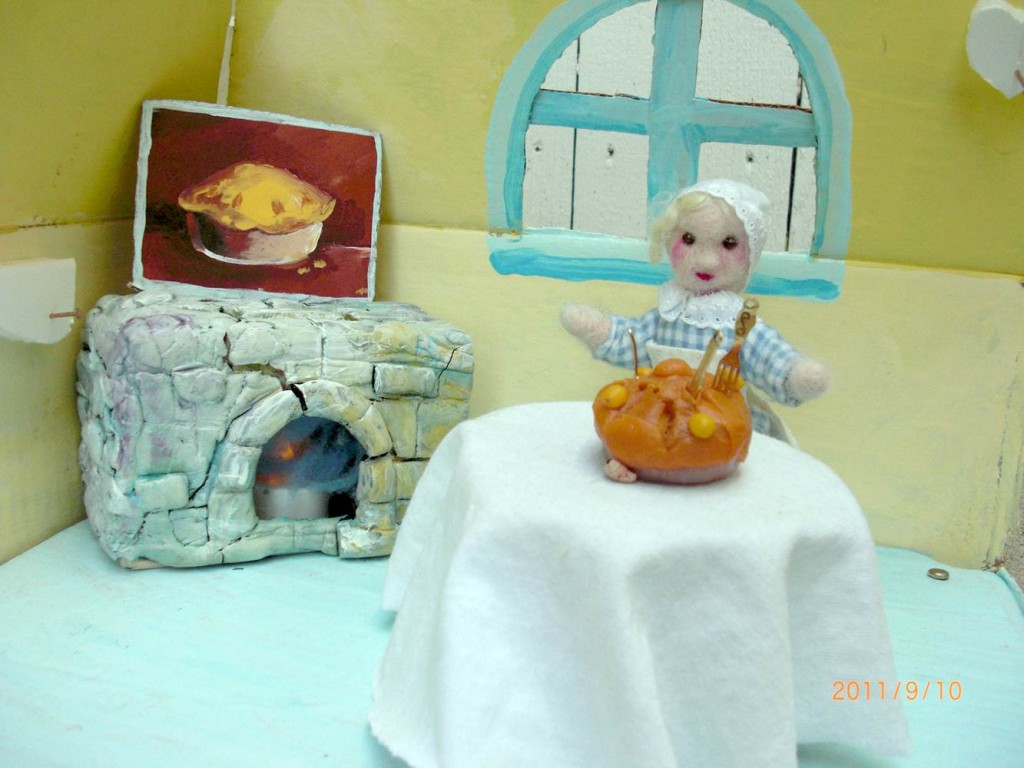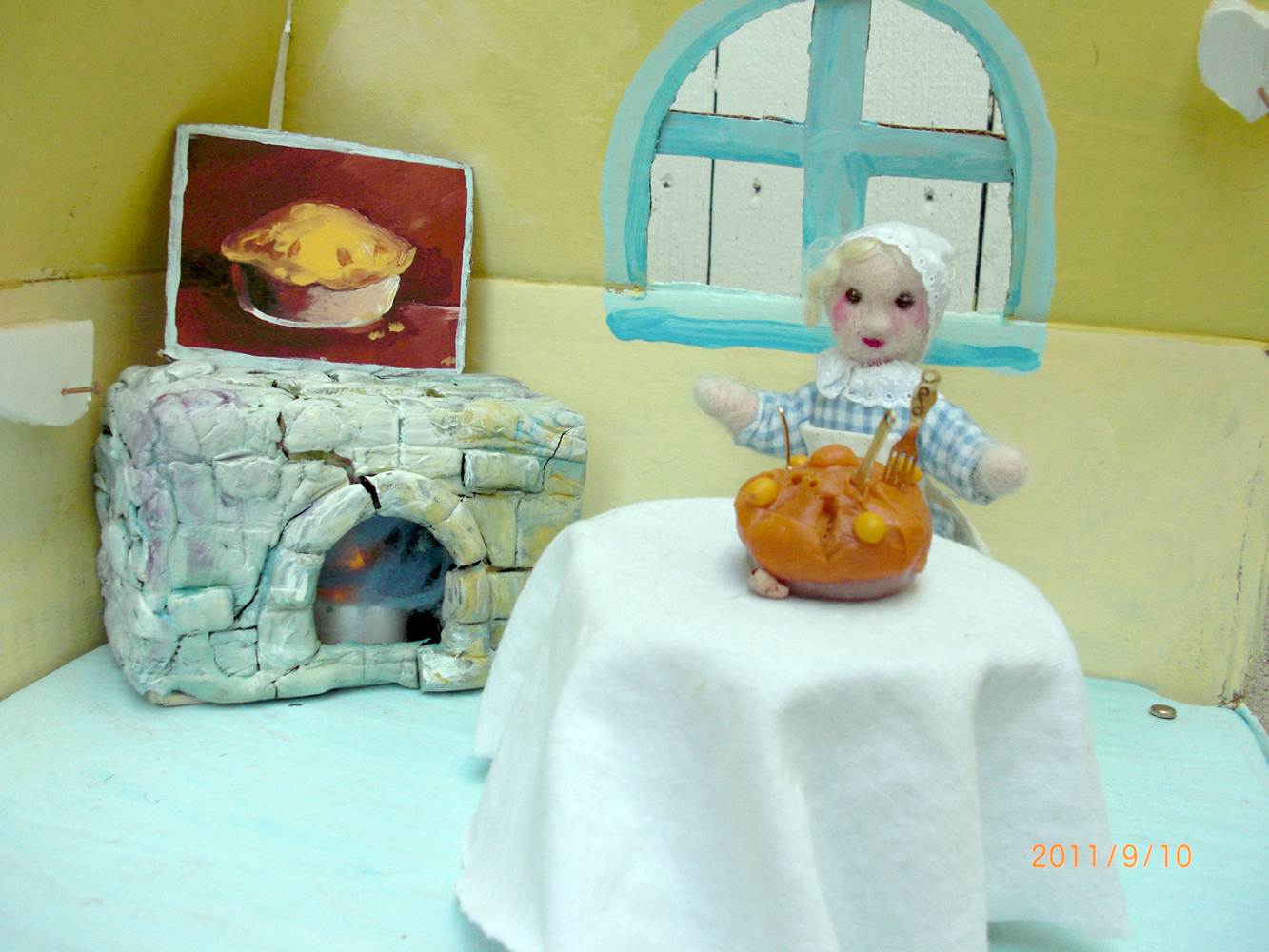 Our homemade puppet show, "The Apple Cake"
Our dear friend Michaela baked us this apple cake for Nunu's 6th birthday party. Right after the puppet show, all the guests enjoyed this lovely cake.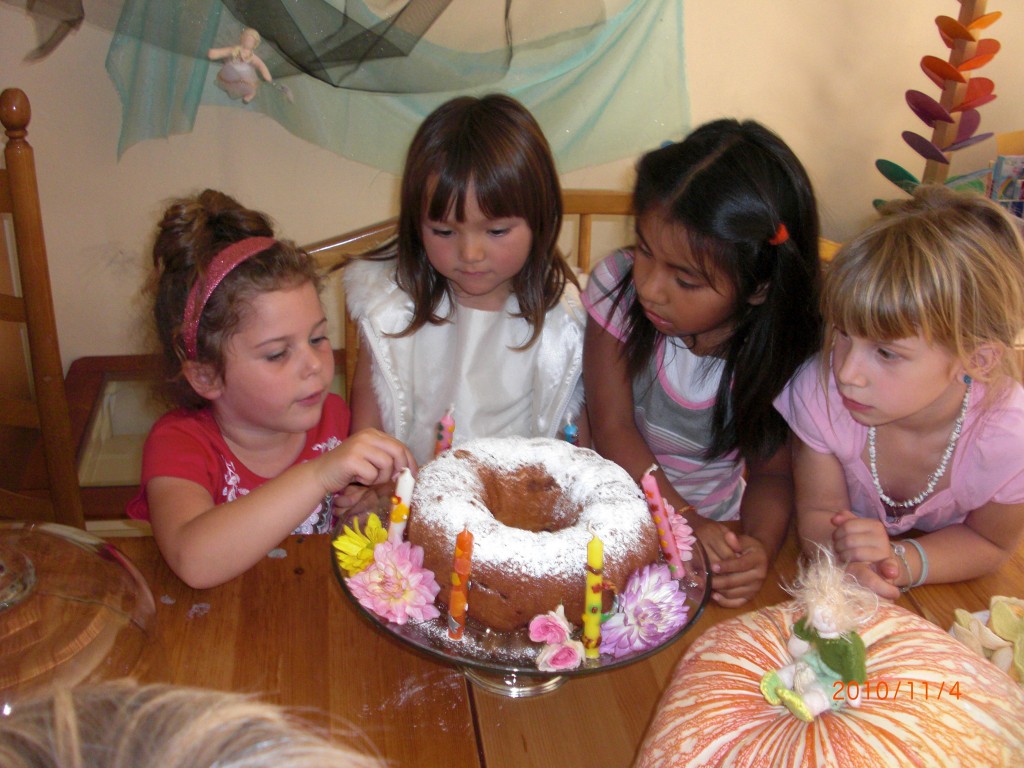 Here is the recipe from the back cover of Van Hichtum's beautiful story book:
Granny's Apple Cake by Nienke van Hichtum
4 cups flour
1 cup + 1 tbs lukewarm milk
2 tsp dried yeast
1/2 cup butter, softened
2 eggs
1/2 cup sugar
1/2 tsp salt
1 tsp cinnamon/grated lemon peel
2/3 cup raisins
3 tart apples, cut into little pieces
powdered (icing) sugar
optional toppings
1/2 cup sugar
1 tsp cinnamon
1/4 cup melted butter
Sieve the flour into a medium bowl, make a small well in the centre, and pour the yeast into it. Add half the lukewarm milk, and stir the yeast to a crumbly dough. Then let it stand for ten minutes. Now add the rest of the milk, butter, eggs, sugar, salt and cinnamon or grated lemon peel, and stir well. Cover the bowl loosely with a clean cloth, and allow the dough to rise (about two hours) until it has doubled in size. Then carefully stir in apples and raisins. Turn the mixture into a greased and floured cake pan. Allow the dough to rise again (about 1/2 hour).
Optional topping: Combine sugar, cinnamon and melted butter in a small bowl. Sprinkle sugar mixture over cake.
Bake the cake in the bottom of the oven at 350 F (180 C) for 50-60 minutes. Allow to cool for 10 minutes before turning the cake out. Shake powdered (icing) sugar over the cake. Let cool completely for several hours before serving. Enjoy!
-Nienke Van Hichtum
* This is the recipe right off the book. However, for our birthday cake, I believe Michaela made liberal modifications to this very rich cake.
Check out Michaela's Etsy.com Store. Make sure you put lots of hearts on her little home business and tell all your friends about her awesome boards!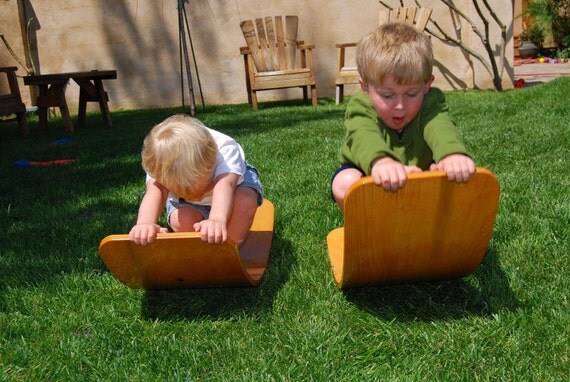 Here I am giving a free plug to my friend's awesome handcrafted business:
Handcrafted Curvy Boards on etsy.com