The Talking Bird, The Singing Tree and The Golden Water
The Journey
Somehow, the fantastic story of "The Talking Bird, The Singing Tree and The Golden Water" is very appealing to me. So I decided to make a table top puppet show of this tale, taken from the Arabian Nights.
Here is a little blog of my journey in preparing for this puppet story. Please check back to follow my journey!
Jzin
CastleofCostaMesa.Com
 Costume Research
"The Talking Bird, The Singing Tree and The Golden Water" is a Persian story from Arabian Nights. So I purchased "Persian Paintings – Five Royal Safavid Manuscripts of the 16th Century by Stuart Cary Welch" to study the costumes of Persian Nobility.
 March 31, 2012. Hooray! My used copy of this book arrived from Amazon.com. I love Persian miniatures! Such interesting jewels!!! Here I will show you some pages of this new treasured book.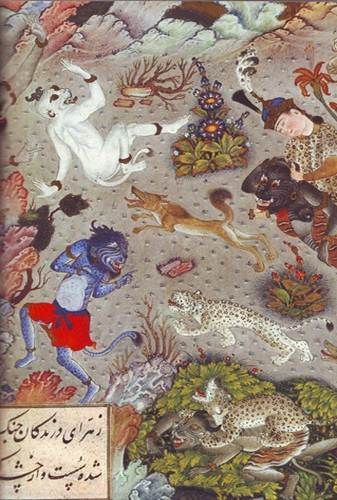 Ooh! I love those demons! Such raw, delicious renderings!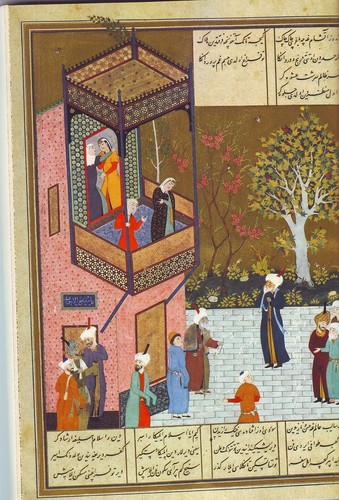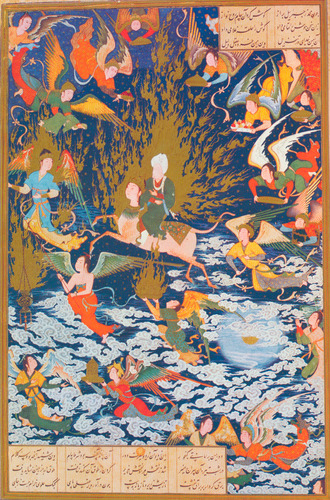 Much chinese influence in the clouds, faces, styles.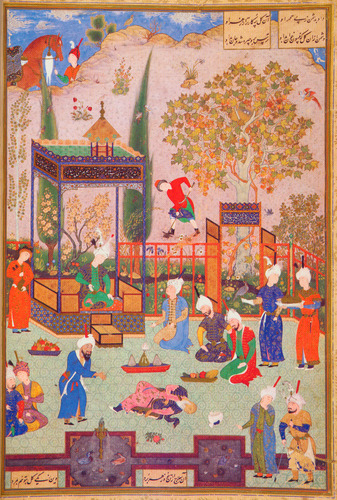 I love a good drama!
The Cast (Handmade Table Top Puppet Dolls)
I do have a tendency to want to include a cast of a ba-jillion. Thus, I remind myself here to limit the cast to about 20 or less. Here are the key characters to handmake for the puppet theatre.
Kosrouschah, Emperor of Persia. I will handmake this doll to be a "generic sultan" that I can use for all my other Arabian Night stories and perhaps slip him in the nativity scene for "Three Kings Day"
trusty minister/grand vizier
Sister 1
Sister 2
Sister 3 / Queen
generic baby in basket
Officer/ intendant of the gardens
Officer's wife
Prince Bahman, the eldest
Princess Periezade
Old Religious Woman
Dervish
horses for princes and princess
bowl
Prince Bahman's bloodied knife from vestband in a sheath. Life size or miniature? Life size is more dramatic…
Prince Perviz's string of a hundred pearls. Will I make this life size?
The Talking Bird. Should I make him extravagant or a very simple plain bird? The possibilities are endless!
The Singing Tree…magnificence or simplicity?
a flagon of water… April 16, 2012 My 7 year old pianist is already practicing Czerny's Opus 599 Etude No. 56 to go with the scene of Princess Periezade reviving exotic princess with a flagon of water on the rocky mountain…
Fountain of Golden Water
Foreign Pinces
Cucumber stuffed with pearls
…. to be continued
Scenes to Design
Some inspirations
How to fit all the scenes together for the puppet show…The gorgeous illustrated scroll gave my an idea of how to piece the scenes together.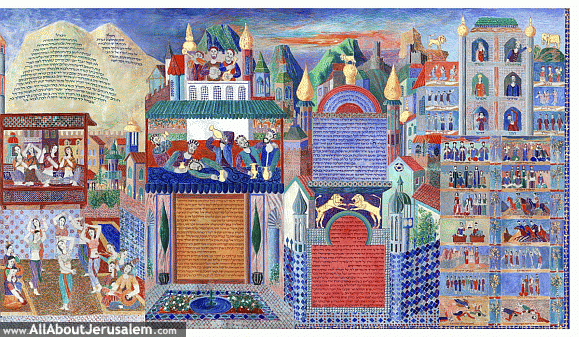 Hoarding of Lavish Worldly Materials!
Here are a partial list of the materials I will use to make these exotic dolls!
iridescent silks
animal pelts/fur
sequins
sheer, silk gold inlaid chiffon
wool felt
velvet
cotton with fine prints
recycled clothes from members of the family
beads
feathers
endless list of fun crafting supplies! hooray!
Prince Perviz
Click here to see the making of Prince Perviz. April 2012. Here is the first doll I am making from this story. The secondborn prince, Perviz.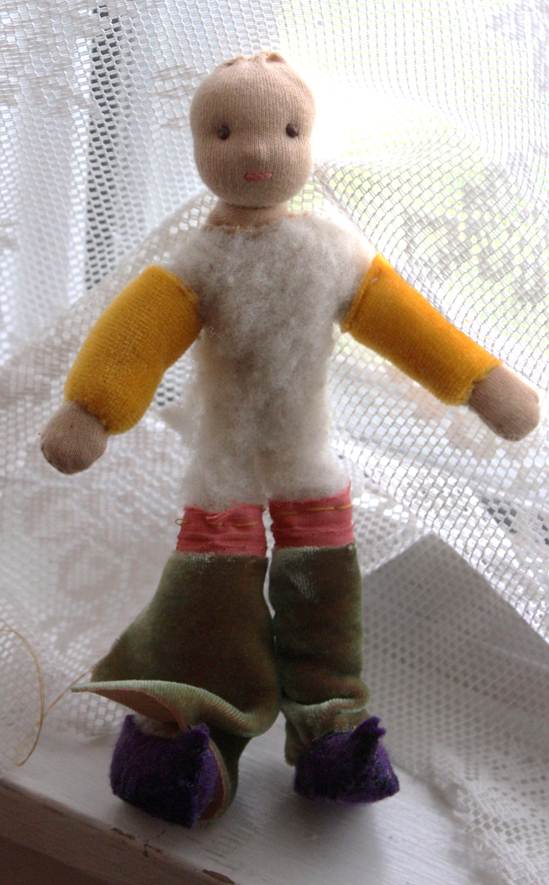 May 4, 2012. Here is Prince Perviz, his robe still being hand stitched.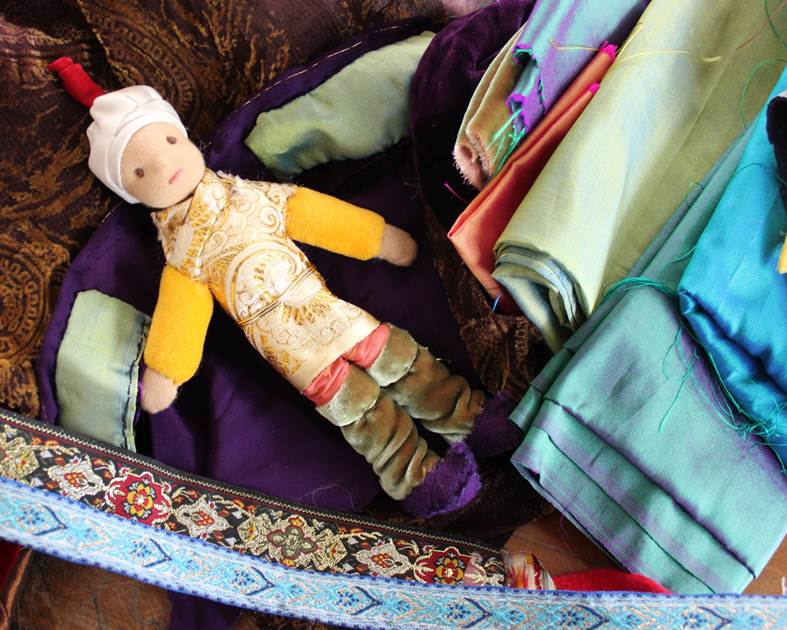 A little Digression!
Speaking of Esther… Here is a little digression. My favorite salacious reading from the Holy Land:  The Harlot by the Side of the Road: Forbidden Tales of the Bible, by Jonathan Kirsch.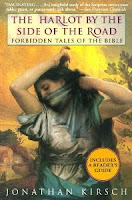 buy it from Amazon. It is a spicy read!