Auction Package No. 4: Snow White, Rose Red and Dwarf Fairy Tale Dolls Set Donated to Waldorf School of Orange County Spring 2013 Fundraiser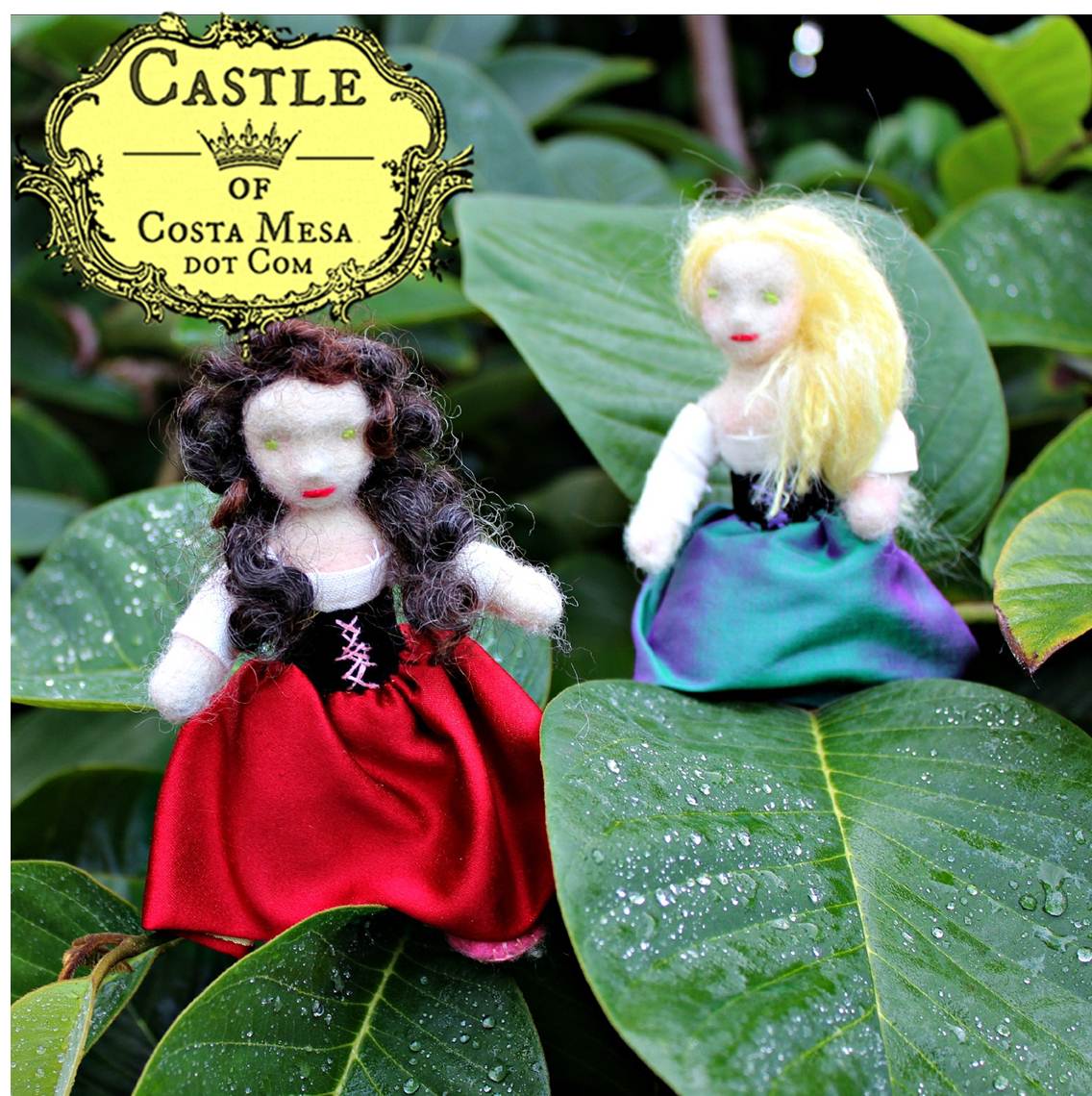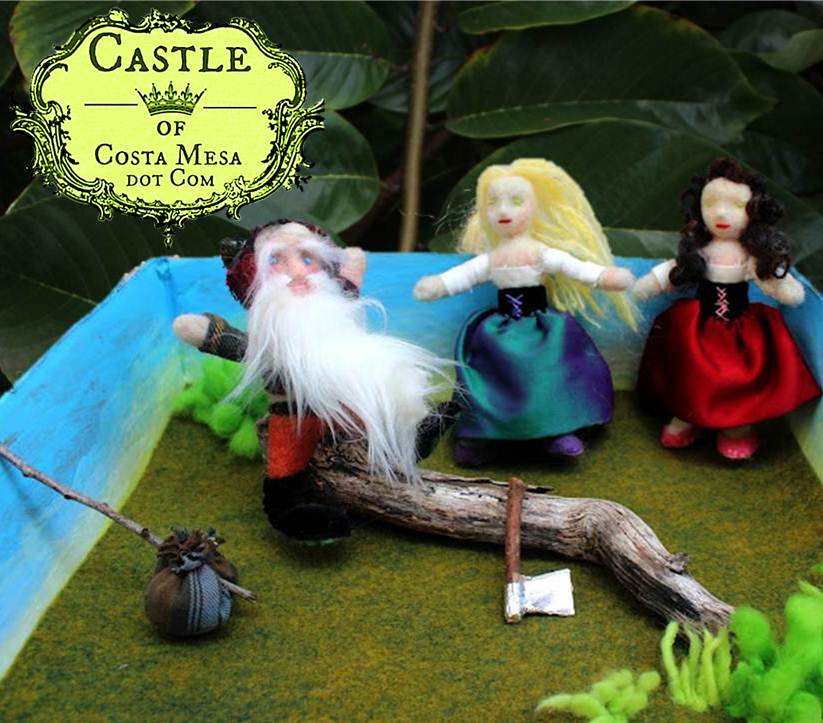 This fairy tale table top puppet dolls set above is available for bidding by clicking here. Your purchase of this handmade treasure will benefit our Waldorf School of Orange County in Costa Mesa, California, USA.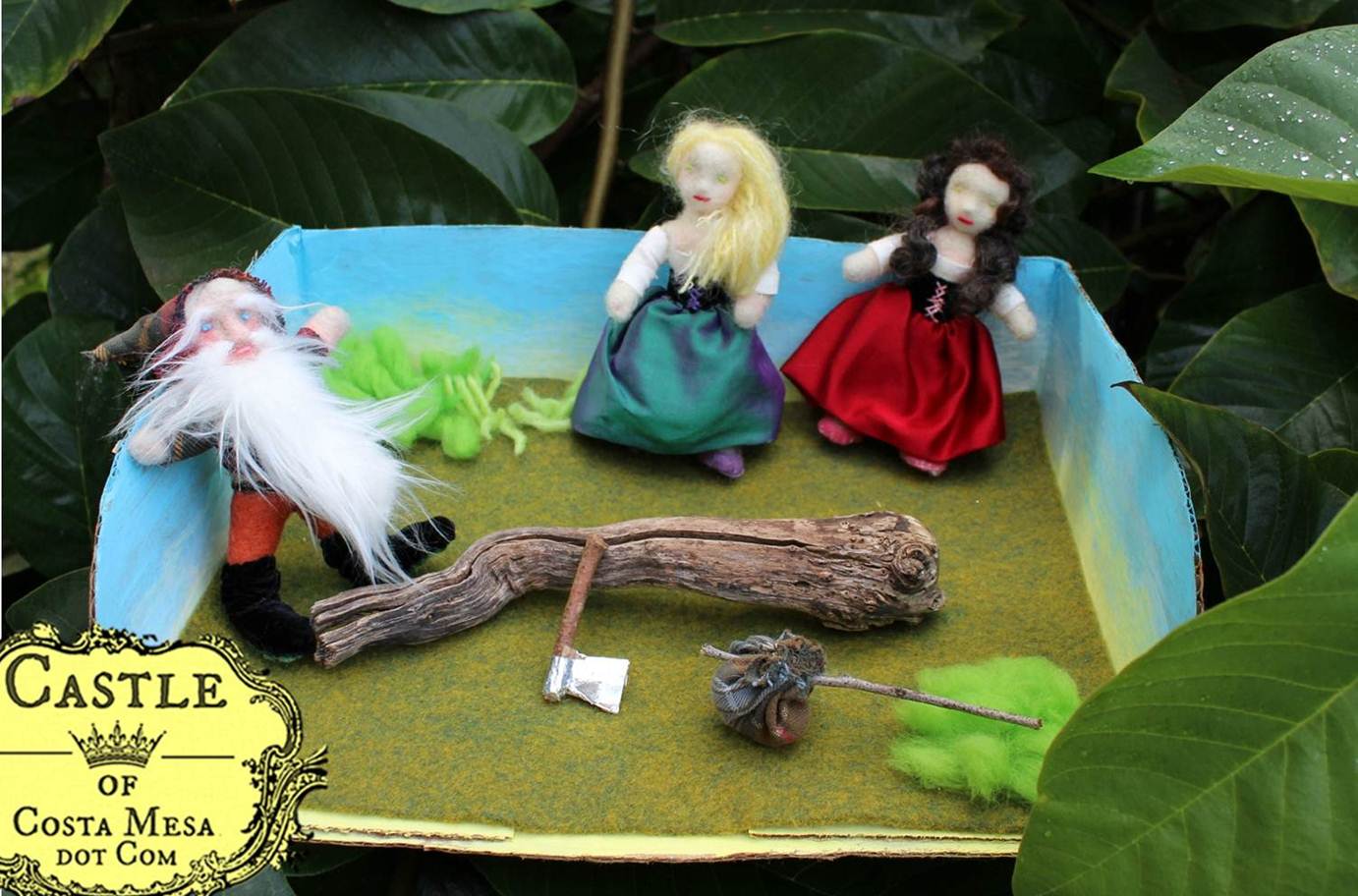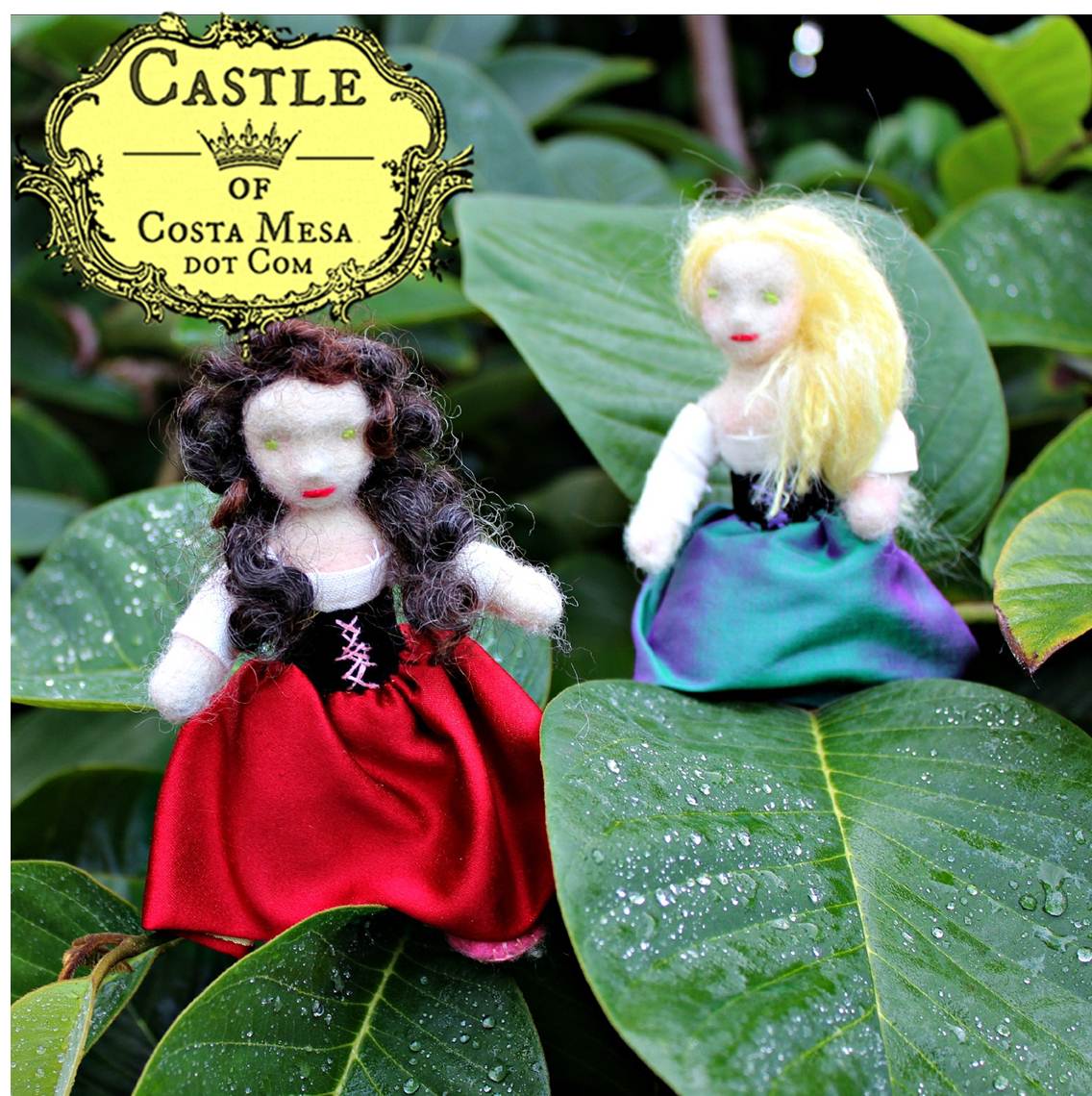 This fairy tale set above will be available for purchase at the Waldorf School of Orange County Spring 2013 Gala Fundraiser.
Photographed after a rain. December 13, 2012. Thursday morning at the cherimoya tree in front of The Company of Angels store in Costa Mesa, California, USA.
July 25, 2012. I decided to make something to donate to our Waldorf School of Orange County Spring 2013 Gala Fundraiser.
In the past, our craft group had made some pretty nifty crafts for our school fundraisers.
For example… our Under the Sea mosaic Planter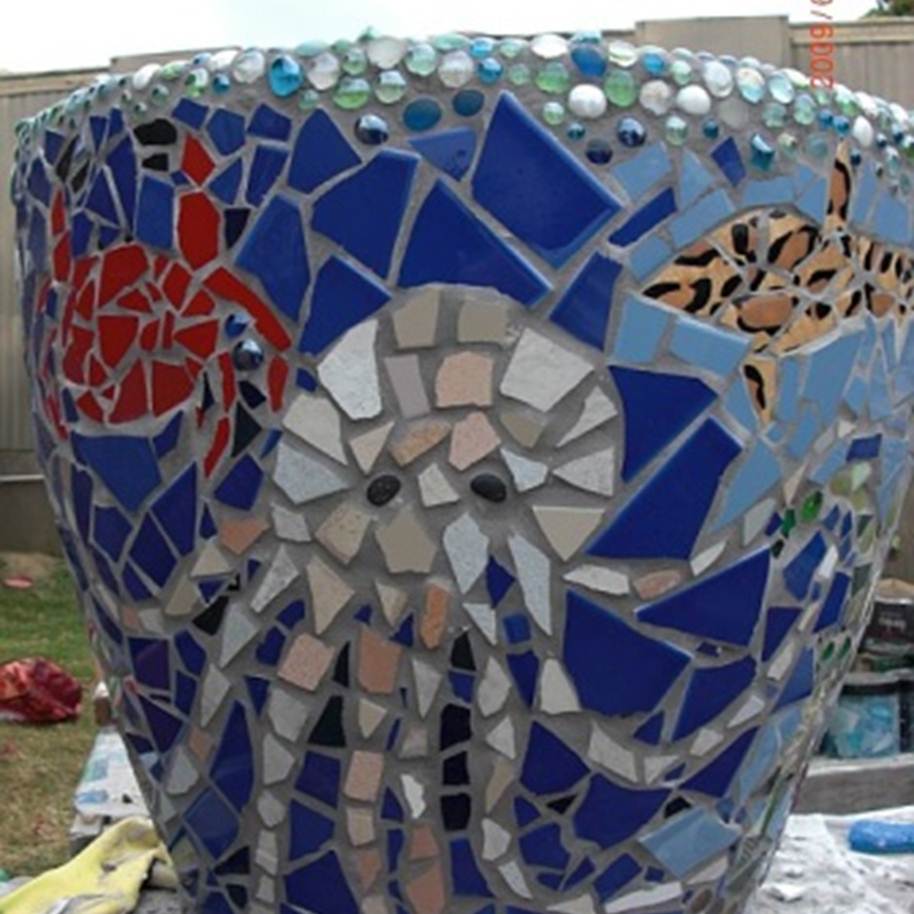 …and Knitted Farmyard Blanket (which won first prize at the local Orange County Fair 2012!)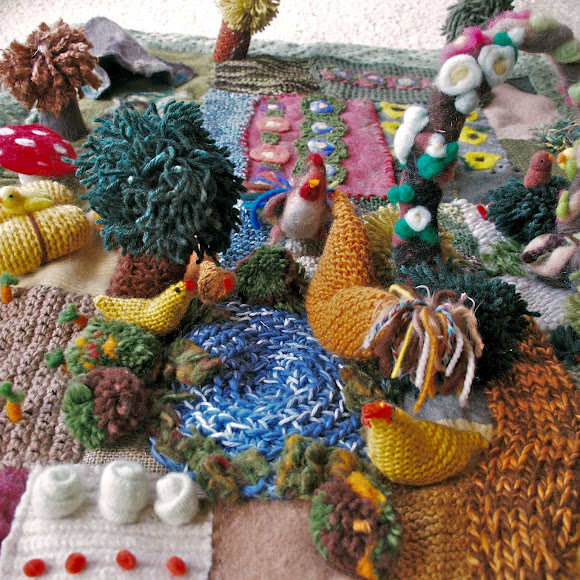 In July 2012, I made Snow White and Rose Red Fairy Tale set for this donation, since I love this fairy tale so much. In 2011, my children and I performed a homemade Snow White and Rose Red puppet show for Nunu's 7th birthday.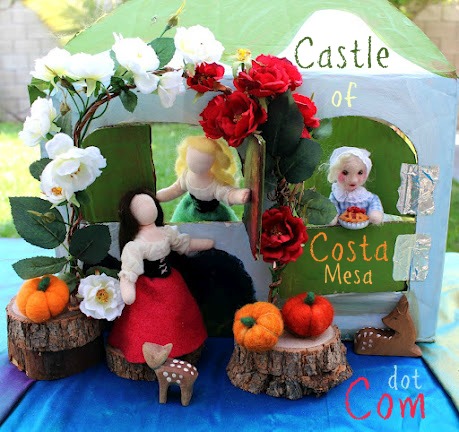 Items in the picture above is not included in the donation.
The wedding scene. Oh! I love a happy fairy tale! – Jzin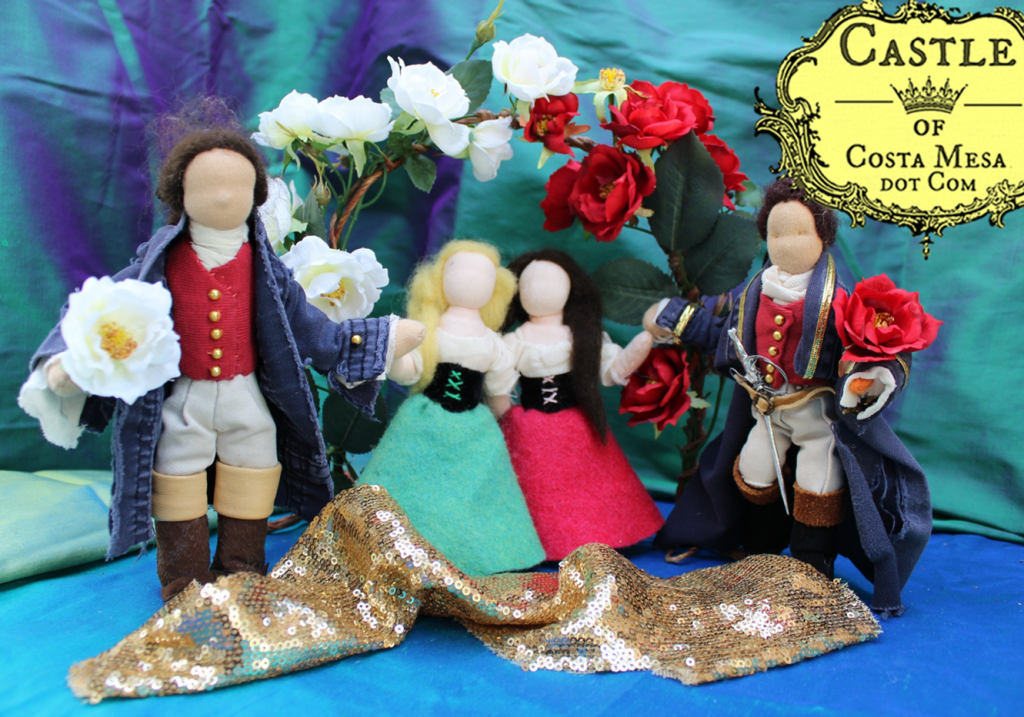 Items in the picture above is not included in the donation.
Click here to view Jzin's homemade "Snow White and Rose Red" Fairy Tale puppet show (tons of eye-popping pictures!) performed for Nunu's 7th birthday
I really love Sybille Adolphi's "Snow White and Rose Red" diorama, so I decided to make yet another set of Snow White and Rose Red dolls for the purpose of donating to the school.
Here is the original inspiration for this project: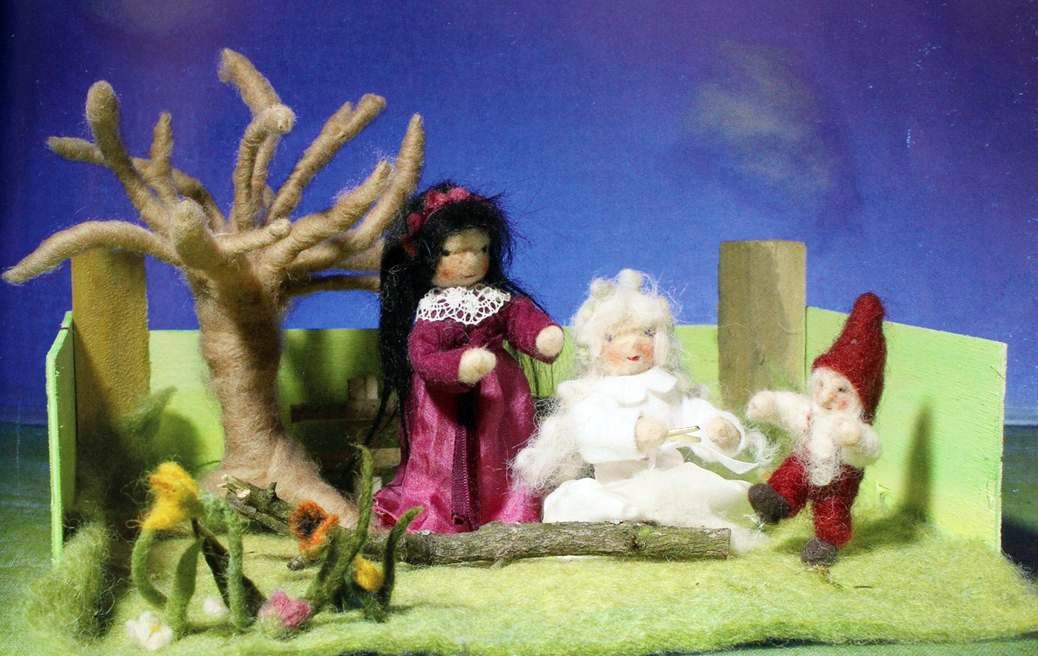 A project from "Making Fairy Tale Scenes" by Sybille Adolphi.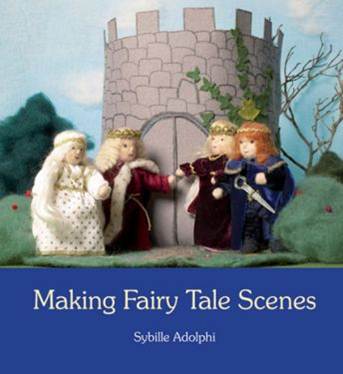 Making Fairy Tale Scenes by Sybille Adolphi.
Making Snow White
I started by making Snow White. Here she is. Her sister Rose Red was made next.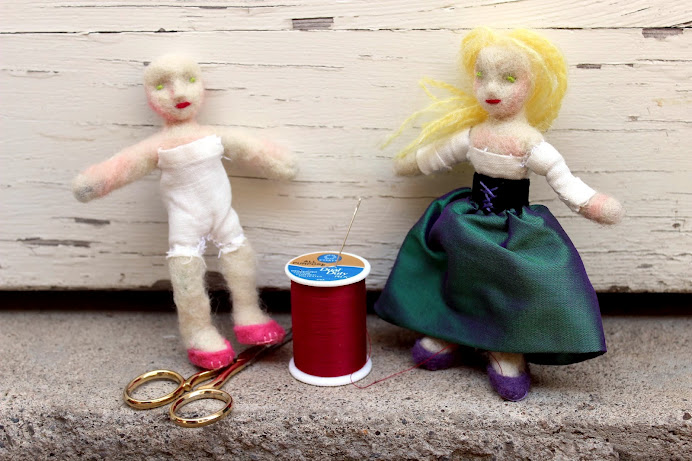 I am relatively new at needle felting faces. I love Sybille's charming and sweet needle felted faces. I find it much easier to needle felt a face when I have a reference in sight. Having some yellow scrap yarn on hand, it made me think of the little goat herd Manon in Manon des Sources, as performed by Emmanuelle Béart. So I needle felted Snow White's general look using Manon/Béart as an inspiration.
Inspiration of Snow White: Marcel Pagnol's Manon of the Spring. (Manon des Sources)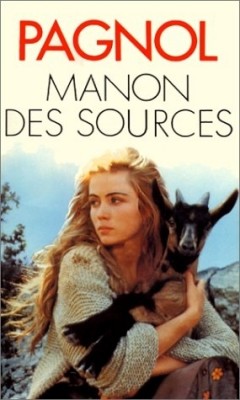 I ordered some iridescent silks online from Thailand sometime ago. This is the fun time I bring a small piece out to sew into Snow White's skirt. This very special 100% silk is purple/green. Fun little treasure. I LOVE silk!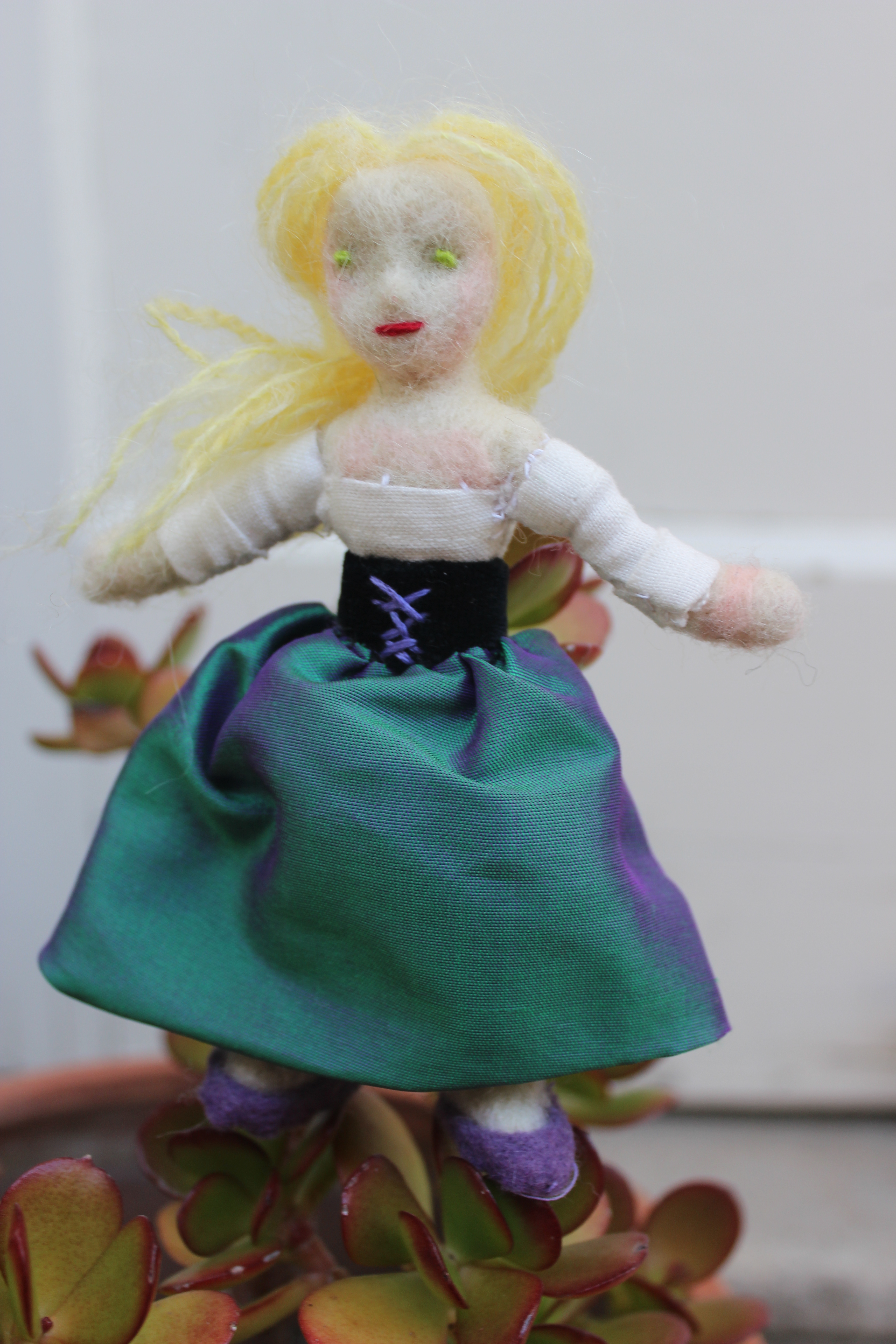 Snow White's shoes are 100% wool felt that was hand dyed. Her white linen top is recycled from my sister's arsenal of corporate power wear (Thanks sis!) Snow White's bodice is recycled black velvet. So much fun to stitch all these little parts up!
Making Rose Red
Next, I decided that Rose Red should contrast in looks from her sister, Snow White. I had some wild and lively black lambs wool which I have been saving to make King Neptune's beard. Here I decide to to make Rose Red pale like a Spanish lady with dark unruly curls in her hair.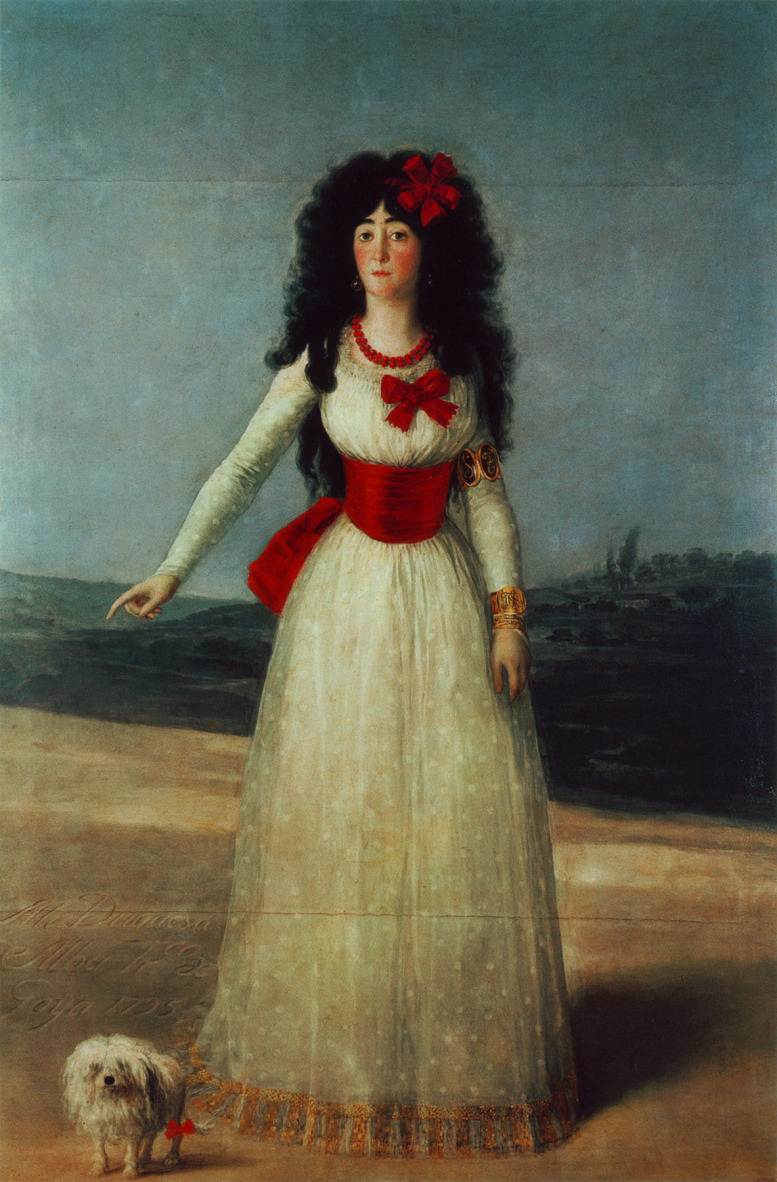 Maria del Pilar Teresa Cayetana de Silva Alvarez de Toledo, duchess d'Alba. As painted by Maestro Francisco Goya. Fiesty!
I decided to arrange her hair a la Juliette Binoche's Catherine in Wuthering Heights…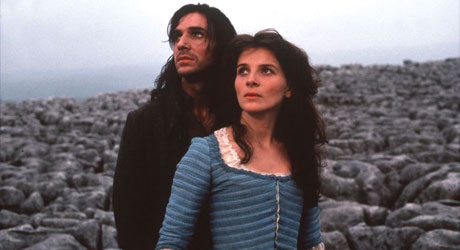 July 28, 2012 Saturday wee hours of the morning. While watching historical Chinese soap opera 大唐芙蓉园 online (About Tang consort Yang Guifei), I finished making Rose Red doll as well.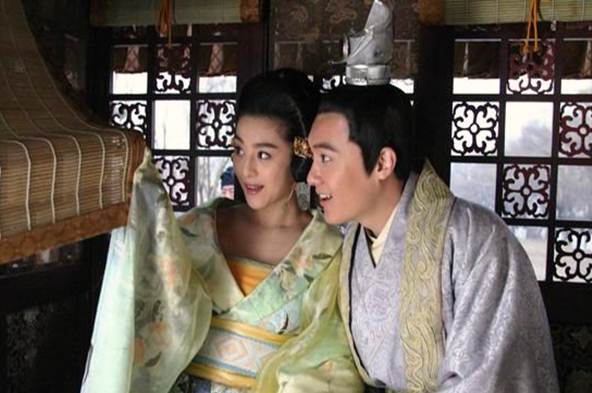 Chinese Historical Soap Opera about Emperor Consort Yang Guifei. 大唐芙蓉园. I give this fluffy eye candy film an average score. I simply cannot believe Consort Yang and the Emperor can both be so naive and oblivious of Yang Guifei's predicament. Unconvincing.
Tip: do not needle felt while watching any movies with subtitles. You risk shish kebab-ing your fingers.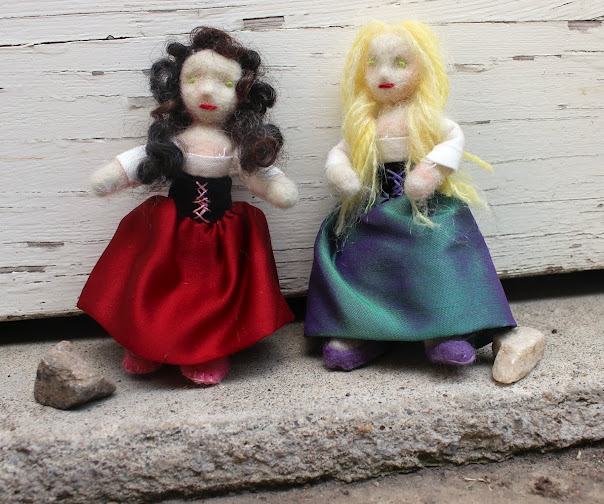 My 7 year old complained that the dolls have "too much lipstick". Okay, I will tone down the lip color next time.
Rose Red's spectacularly colored skirt was made out of salvaged 100% silk satin Ralph Lauren Home multi-colored swatch just wide enough for her skirt. So smooth! Thank you Christine Newell for giving me that big box of scraps of designer home decorater's silks and remnants (too small to be used by the theatre but a king's bounty to a crafter of miniatures!)
If you get your hands on these dolls, you will notice that the stitches are messy! They are like the scrawled scratching of a young child's handwriting. Every stitch is a brushstroke of love and striving that is human, in contrast to the monotonous perfection of mass production machines. I hope this handwriting/stitching comes into the child's play/contemplation in a positive way.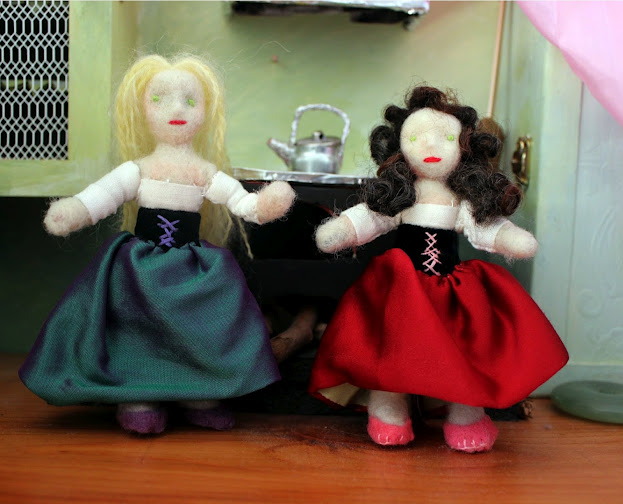 I am pretty pleased. Snow White and Rose Red look like they are made with much love. As I plan to donate these dolls, I wonder which little hands they will go into. I hope these dolls brings much happiness to some children.
Many years ago, when I first came across the scene from Akira Kurosawa's Ikiru (生きる) where the young girl said that she would love to work in a toy factory, this way, she will be "a friend to babies everywhere", at that time, I thought it was a funny wish, but the happy sentiment rushed into a deep unchartered corner of my heart. (Back then, I thought that anything worth doing had to be big and pompous a la mapping the entire human genome, stamped by the approval of a Nobel Prize, peer reviewed journal or lucrative patent). However, nowadays it gives me much joy to think that my lovingly handmade work can bring joyful wonderment to a growing person.
Ikiru by Akira Kurosawa
Making The Dwarf
I started the form by needle felting. I added pipe cleaner to render the dwarf posable. The dwarf's eyes are single knots of embroidery floss.
The dwarf without his beard yet…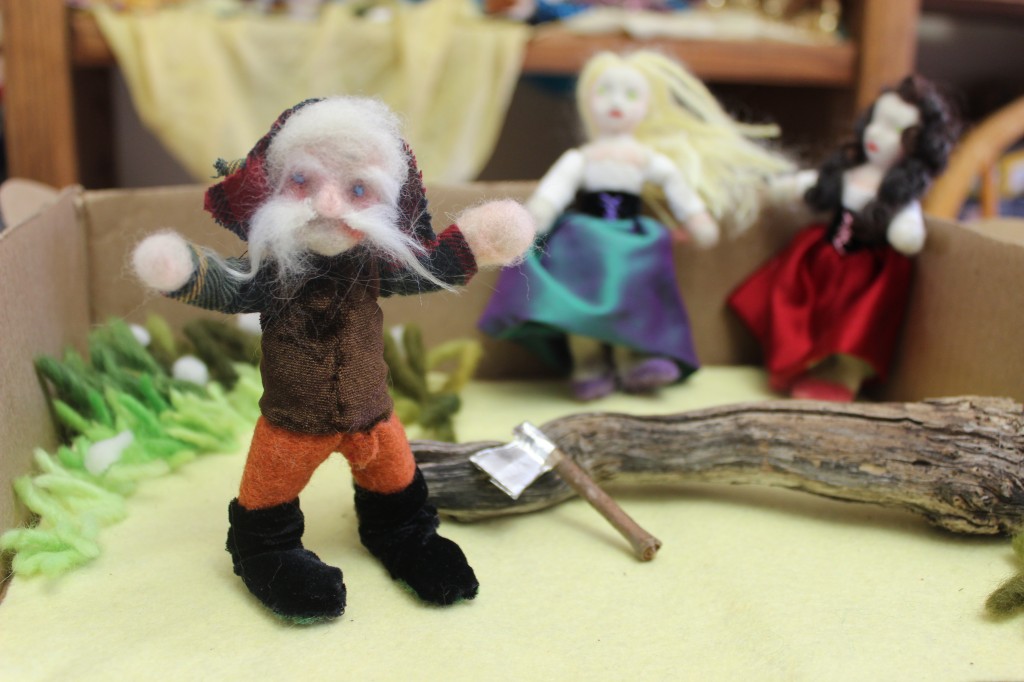 My sons' hand-me-down and torn 100% cotton flannel pajama pants were put into good use here for the dwarf's sleeves and hat.
Voila! Dwarf complete with beard! As much as I bemoan the use of anything not natural in a child's doll…I confess, the beard is faux fur. I could not get my hands on real, natural white beard.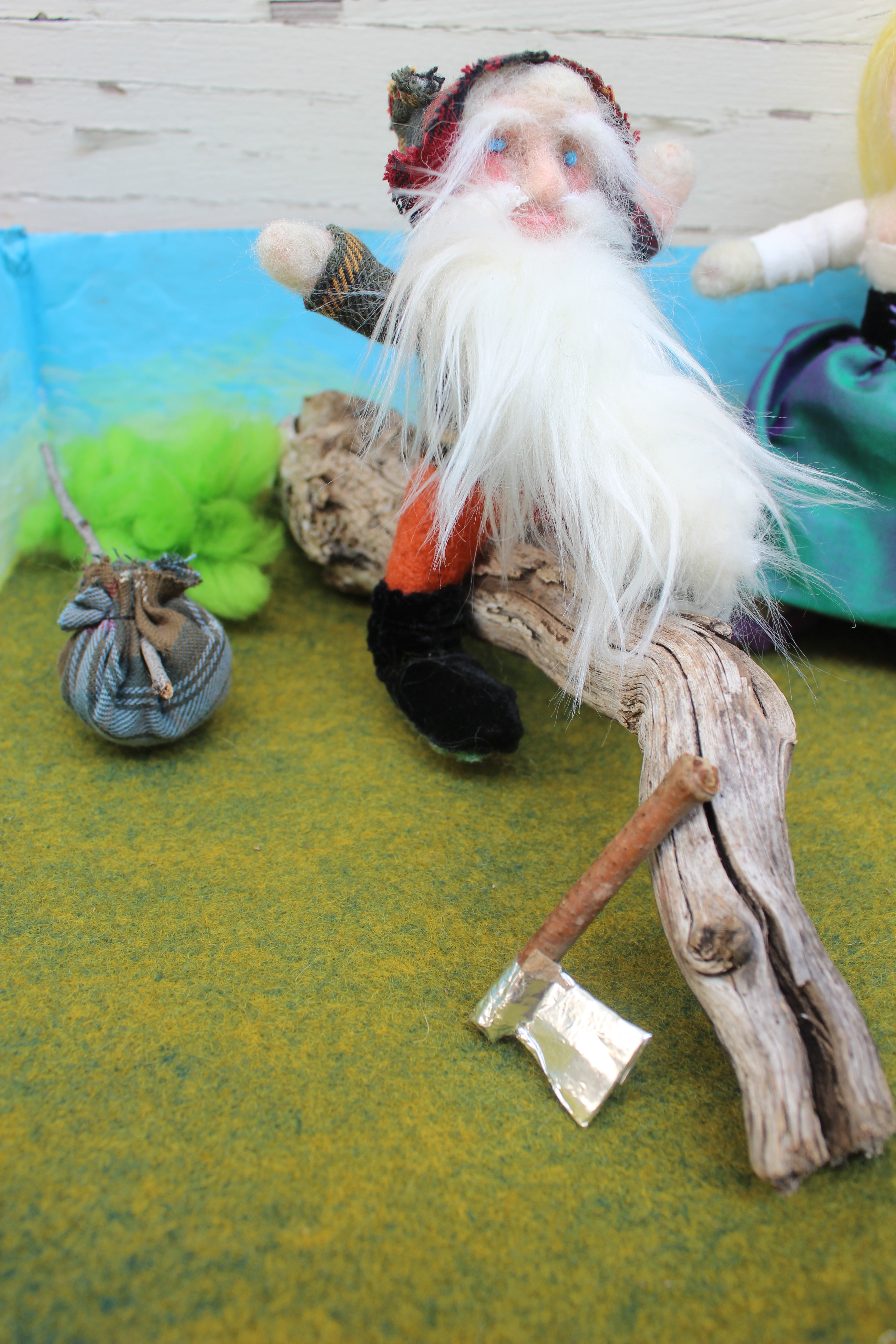 Note: I softened the face, in order not to scare a small child playing with the dwarf. I thought the original face had some tinge of mean-ness to it. (The plot did call for a grumpy gnome)
In truth, I made several attempts at dwarf making to finally arrive at a dwarf that is not too mean looking or scary to small children. For me, perhaps due to the sanguine portion of my temperament, it takes effort for me to make something look simple and plain. I have not succeeded yet in this instance. But well, alas, I have handmade 3 dwarfs in the end…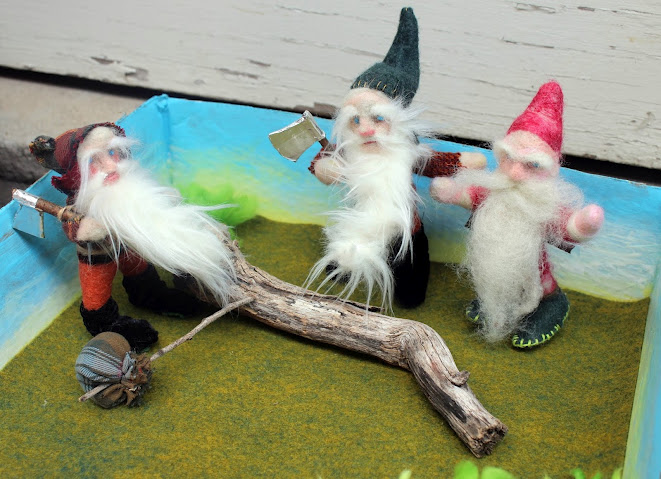 Well, what could 3 dwarfs be busy discussing?
View from the back…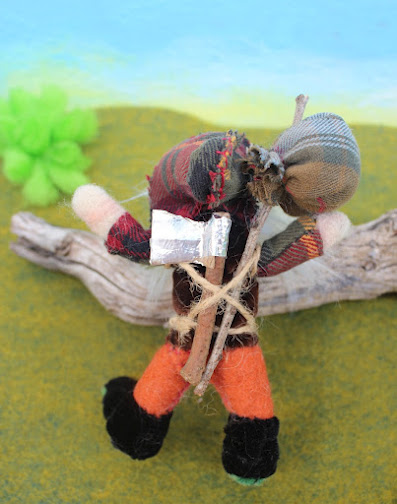 Making the gnome's axe
I made a tutorial for this very easy to make axe: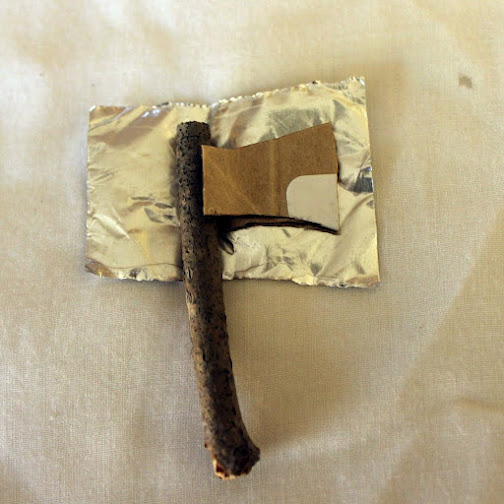 Tutorial: How to make a miniature fairy tale axe
The children helped make the scene box
August 3, 2012. 7 year old Nunu decided to add a surprise fishing hole to the bottom of the box.
Big brother got interested too…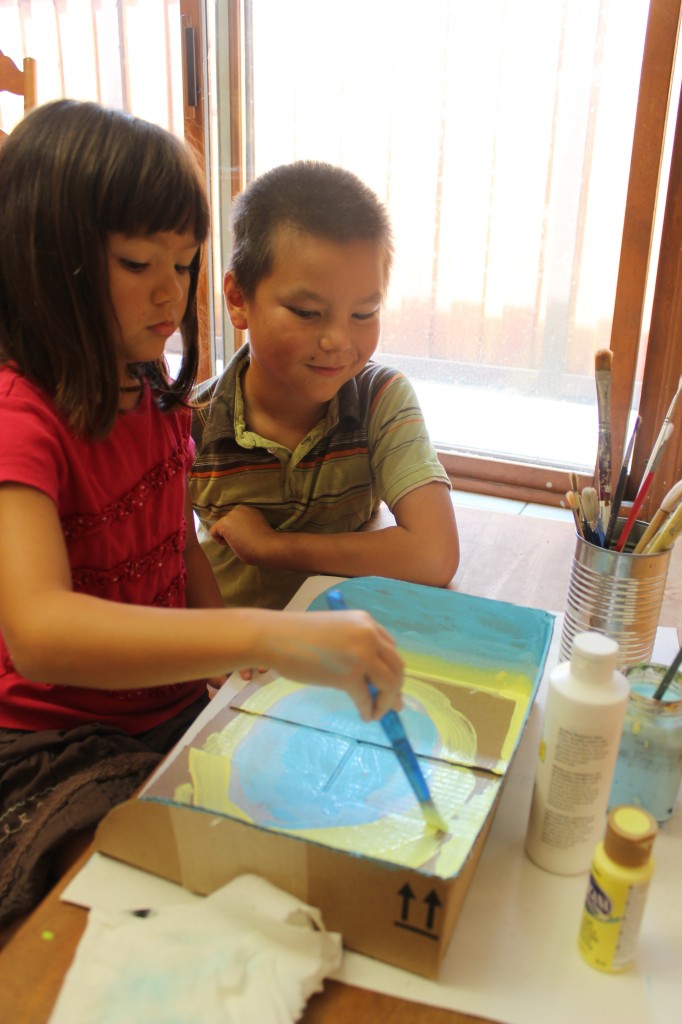 Pretty soon, we had a lot of helpers and we even completed another project: Rapunzel's tower. I will post that some other day!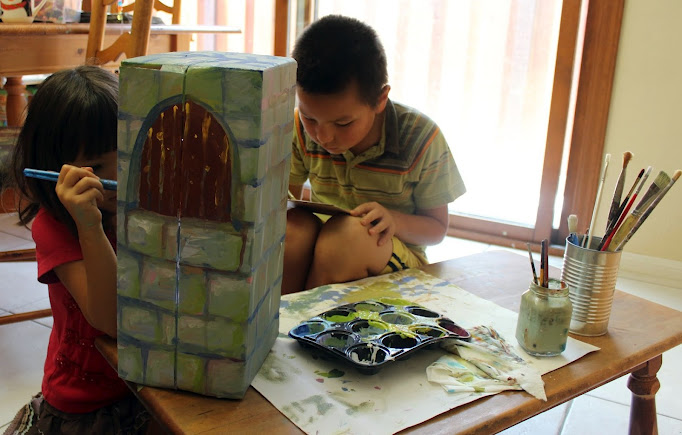 The finished scene box with a secret fishing pond.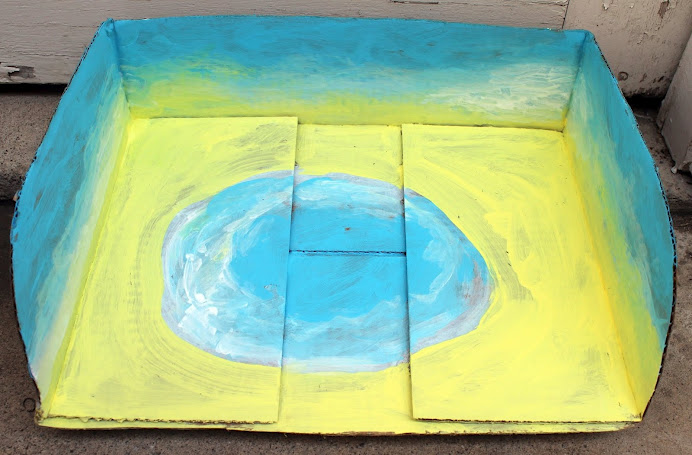 Below is the scene box with a piece of 100% wool felt mat with "grass" felted on it.  I was pleased with result of using pencil roving and other leftover yarn scraps to simulate grass on wool felt mat.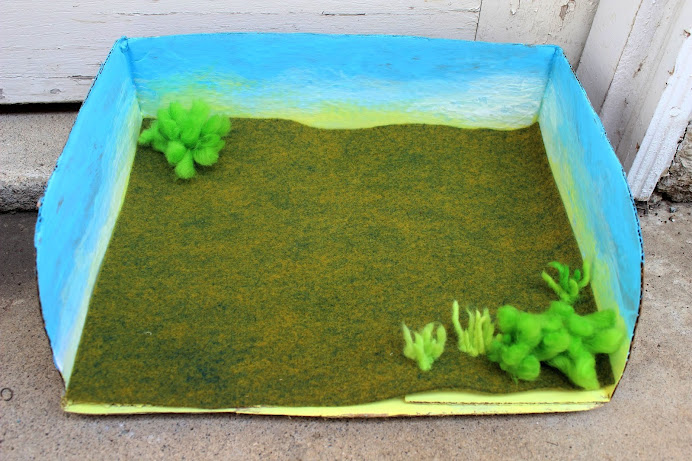 This beautiful green wool felt is hand dyed by Christine Newell. Christine hand dyes such beautiful colors of wool felts! They are available at the Company of Angels store at the Waldorf School of Orange County, Costa Mesa, California.
When you remove the green felt, you can have a fishing hole for the dwarf!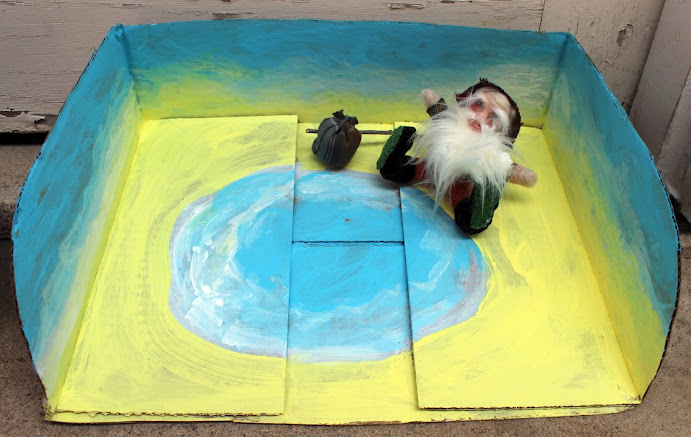 Friday, August 3, 2012. Hooray! Project finished! Every year, it has been a procrastinator's rush for me to hand in my donations to the school fundraisers. Not this year. It is early August and I am all ready with my craft items for Spring 2013!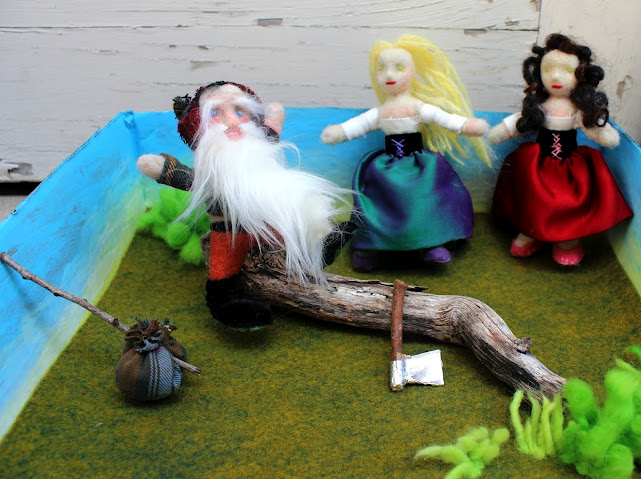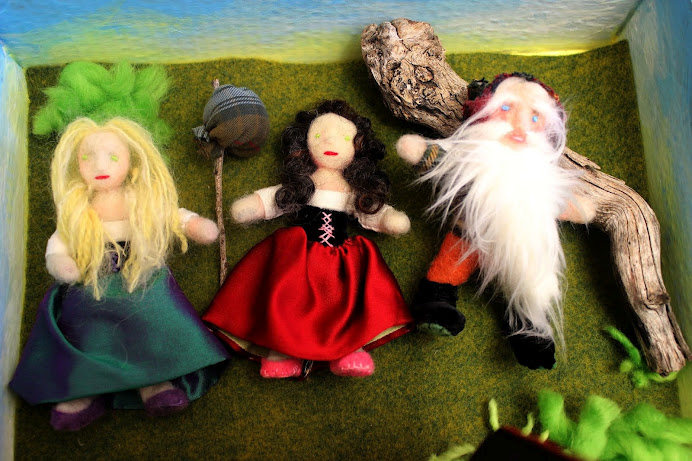 Click here to see the medieval wood-cutter doll I just made before this. I tend to like to make dolls which are opposite in characters in sequence. After making Mr. Scruffy Medieval Woodcutter, I had to urge to make a feminine slip of a girl, i.e., Snow White.
Here are some of my other dolls for fairy tales and dolls for Waldorf Seasons/Nature table.
Enjoy!
Please leave a comment coz I love to hear from people!
-Jzin, CastleofCostaMesa.Com
Please "Like" CastleofCostaMesa on Facebook
Please "Like" CastleofCostaMesa on Facebook so you will be informed of my future handmade doll Giveaways!
Fall 2012 Handmade Mermaid Doll Giveaway. End date: December 7, 2012 Pacific Standard Time.