January 2012: Chinese New Year of the Dragon
Events in Orange County, Southern California, USA
January 23, 2012 Happy Chinese New Year of the Dragon 2012!
Chinese New Year services and events at Paofa Buddhist Temple 寶法寺 in Irvine.
January 28, 2012. Free Metrolink Ride to Downtown Los Angeles Chinatown Chinese New Year Parade! Click on pictures below for more information on metrolink website.
Sunday January 28, 2012. Tustin Library 2012 Lunar New Year Celebration.  Joy / Music / Dance / Fashion Show / Photography / Arts / Appreciation / Friendship / Culture Exchange Tustin Library, 345 East Main Street, Tustin, CA, 9278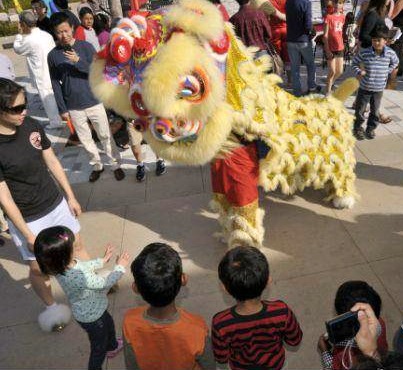 Tustin Library 2012 Lunar New Year Celebration
 Asian Garden Mall in Little Saigon. Yelp comments on Asian Garden Mall.
Little Saigon Lunar New Year Celebrations.
Vietnamese Lunar New Year Celebrations: Tet Festival Spring of Peace 2012. Check back later for schedule of events.
Last year: 2011 Tet Parade The city of Westminster presented its annual Tet Parade featuring traditional music, dance and costuming. 9:30 a.m. Saturday. Parade began at Magnolia Street at Bolsa Avenue and turns right onto Bushard Street, ending at Bishop Place, Westminster. 714-895-2860. Last year's Dragon Dance rehearsal for Irvine Chinese School Spring Carnival.
Sunday 10am to 2pm. March 18, 2012. Outdoors Spring Carnival at the Irvine Chinese School , 9 Truman, Irvine, CA 92620.  Phone: (949) 559-6868. Fun games, delicious Chinese foods. Tickets go on sale February 4th to March 4th. Take advantage of the Pre-Sale discount: 12 tickets for $10. Regular ticket price at the event will be $1 per ticket.
Hacienda Heights
January 2012: Chinese New Year of the Dragon
Events in Los Angeles, Southern California, USA
Downtown Los Angeles Chinatown
Monterey Park
San Gabriel
February 4, 5, 2012. Vietnamese "LA Tet Festival 2012" in El Monte, CA.
Orange County Shopping for Chinese Items
Asian Garden Mall in Little Saigon.
Little Saigon, Westminster.
Orange County Grocery Stores
Diamond Jamboree chinese late night eateries.
Orange County Chinese Eateries
85 degrees bakery
JJ Bakery
Dim sum at Capitol Seafood in Diamond Jamboree Center, Irvine
Southern California Shopping for Everything Chinese
Shopping for Chinese goods in Downtown Los Angeles Chinatown.
San Gabriel, California
Monterey Park, Califoria
Alhambra, California
Local Chinese Grocery Stores
Online Shopping for Chinese Goods
Online shopping for Chinese clothes, books
Chinasprout.com
Childbook.com
YESAsia
Chinese props and cultural items: Chinamart.com
Local Chinese Schools
Irvine Chinese School , Irvine, California
Tzu Chih Chinese School, Irvine, California
Tshin-Tshin Chinese School, Huntington Beach, California
Buddhist Temples

(Not really chinese but worth noting) Spend a day at Deer Park Monastry, Escondido, California. Venerable Reverend Thich Nhat Hanh Wikipedia article.
Deer Park Monastry

Pao Fa Temple close to Barranca and Jamboree, South of The District Shopping Center in Irvine, California. Please visit with a sense of reverence. This is a place of spiritual practice.
Chinese Churches
I am in the middle of composing this page. If you have anything else to add or comment, please leave me a note in the box below! Thank you!