Once upon a time there lived a king and queen who were grieved, more grieved than words can tell, because they had no children. They tried the waters of every country, made vows and pilgrimages, and did everything that could be done, but without result. At last, however, the queen found that her wishes were fulfilled, and in due course she gave birth to a daughter…   – Charles Perrault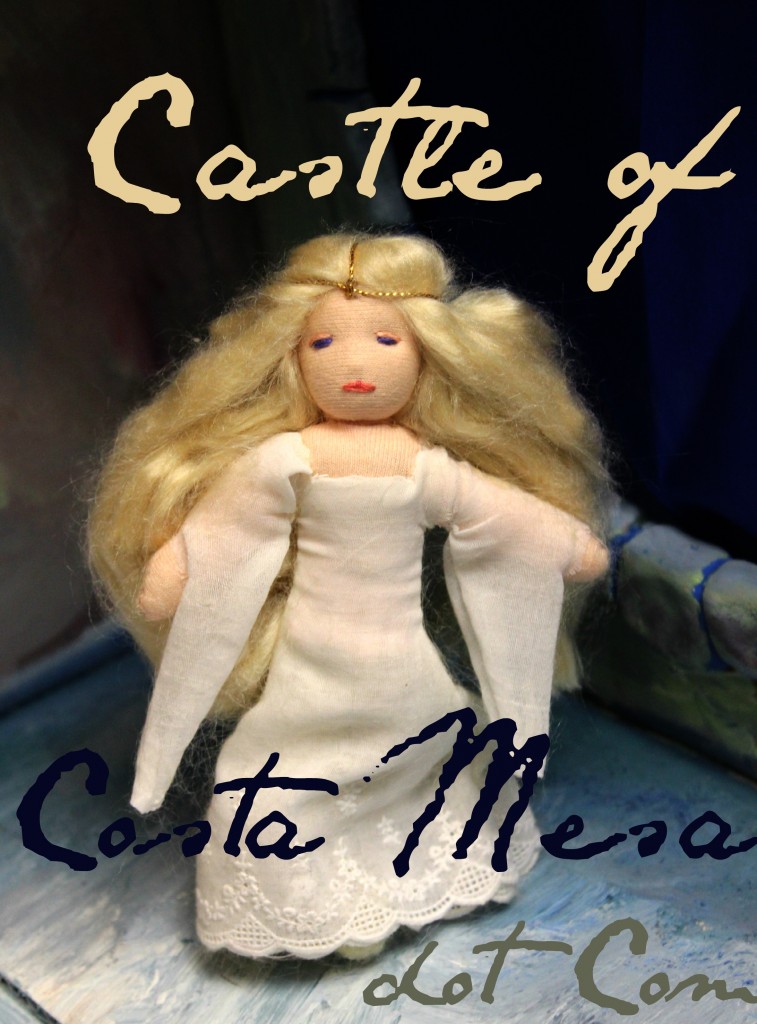 … At the end of fifteen or sixteen years the king and queen happened one day to be away, on pleasure bent. The princess was running about the castle, and going upstairs from room to room she came at length to a garret at the top of a tower, where an old serving woman sat alone with her distaff, spinning…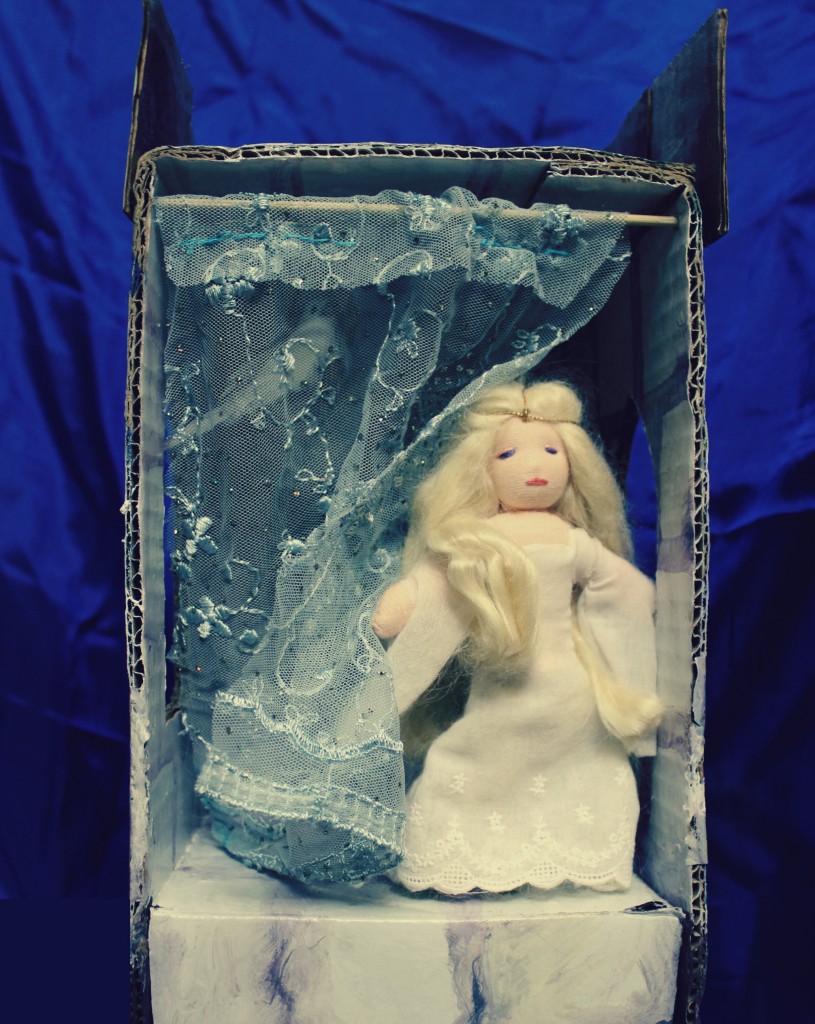 … Partly because she was too hasty, partly because she was a little heedless, but also because the fairy decree had ordained it, no sooner had she seized the spindle than she pricked her hand and fell down in a swoon…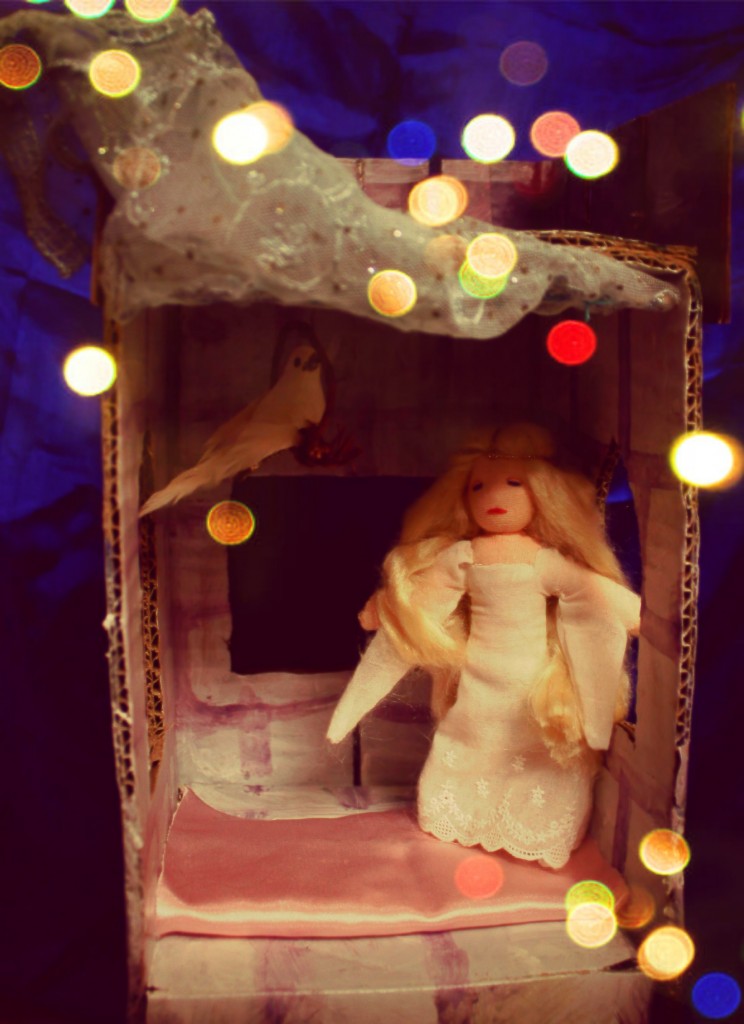 Sleeping Beauty swooning.
… You would have thought her an angel, so fair was she to behold. The trance had not taken away the lovely color of her complexion. Her cheeks were delicately flushed, her lips like coral. Her eyes, indeed, were closed, but her gentle breathing could be heard, and it was therefore plain that she was not dead. The king commanded that she should be left to sleep in peace until the hour of her awakening should come… -Charles Perrault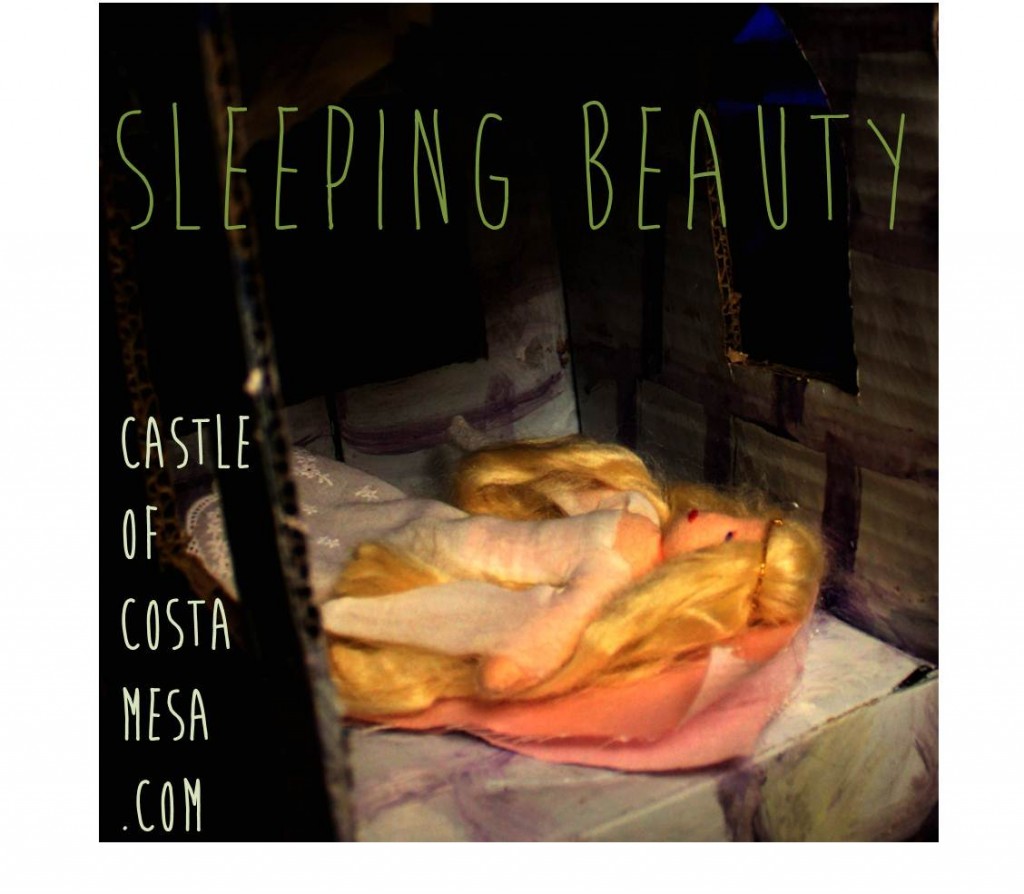 Crafting the handmade Sleeping Beauty doll
October, 2012. We were invited to Nunu's classmate Luna's 8th birthday party. Yay! Another excuse for momma to handmake a doll as a birthday gift. The last time, we made a mermaid mother and baby in a watery home set as our handmade gift. Both Nunu and I had enjoyed the process.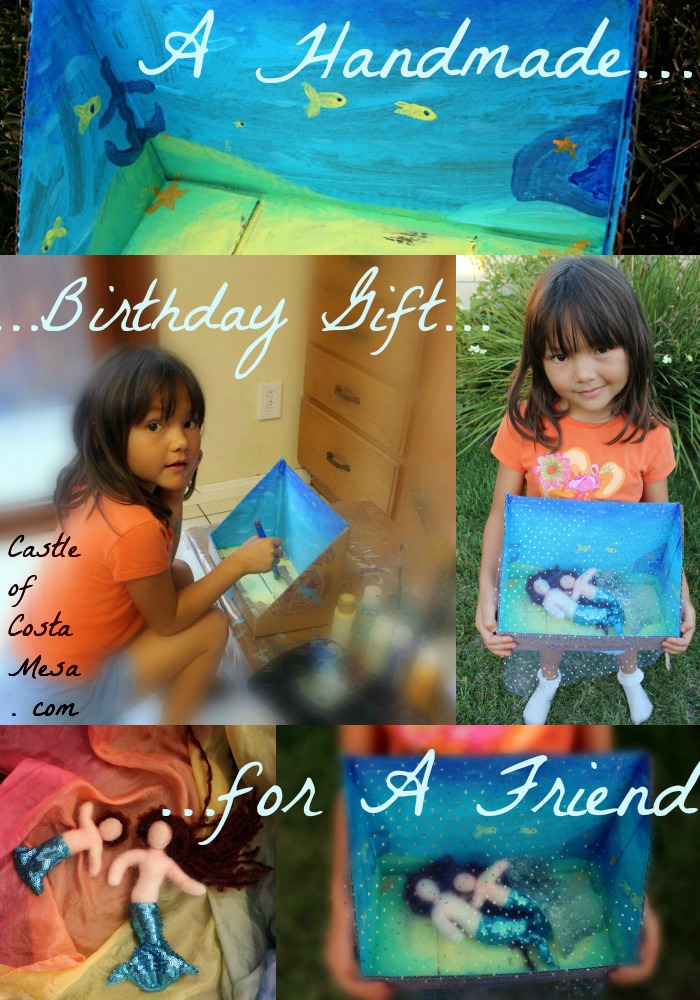 Our last handmade doll and set for another birthday child.
What should we make? We wondered. Nunu wanted to learn how to make a needle felted flower fairy for her friend. So I showed her how to make one. (Photo pending). However, she fell in love with her first handmade doll. "Mama, since this is my first handmade doll, I want to keep it." So we kept the first doll we made for Luna.
Then, we decided to make another doll, perhaps a needle felted mermaid with glittering sequin tail for Luna. Halfway through it, the doll looked like a handsome mermaid boy youth, which I took a liking to. Then I decided to keep that one for my mermaid family set.
As the birthday approached, I decided to give the birthday child something that was already completed, such as Princess Emerald and her tower. Since Luna has dark brown hair, perhaps she would like a medieval princess with dark brown hair…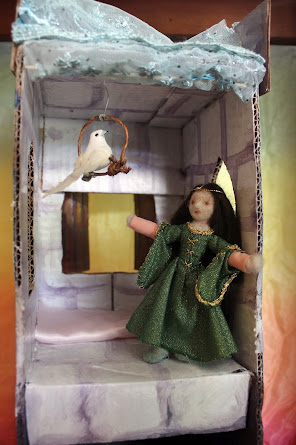 That notion was vetoed by Nunu. She has other grand plans for Princess Emerald.
Finally, we (I) decided to make a Sleeping Beauty doll. It was the night before the birthday.
Sybille Adolphi's Sleeping Beauty below had inspired me to make little dolls every since I laid eye on her.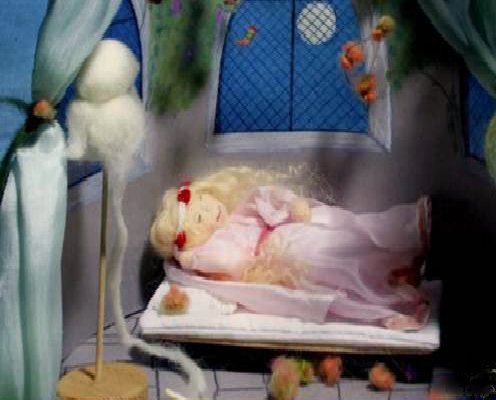 The adorable picture above came from Sybille Adolphi's book, Making Fairy Tale Scenes. This book provided me with the desire to make puppet scenes for children. Such joy! Thank you Sybille!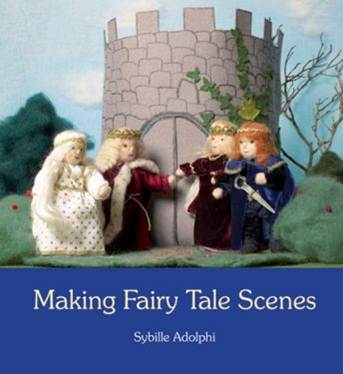 You can get a copy of her book from Amazon.com
So here goes. I bit the bullet and undertook this project the eve of the birthday party. A lot of things would not have gotten done if not for deadlines.
October 26, 2012, Friday. After the children were fast asleep, in the company of a sinkful of dishes and 3 loads of laundry bemoaning to be folded and sorted, I proceded to start crafting this doll. It will be done by day break. I vowed.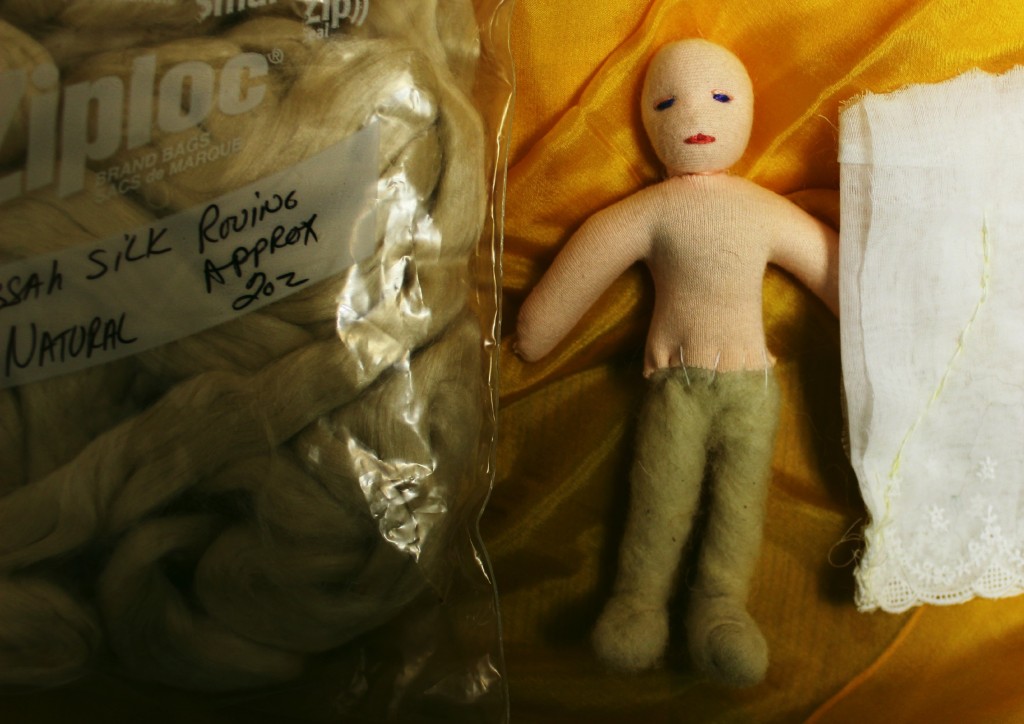 This doll was originally intended to be a mermaid and had a mermaid torso, which I modified to include needle-felted legs, for the lack of time.
Oh! What joy it is to bring forth a handmade piece. I alternated dishwashing with laundry sorting and doll making. In the silence of the night, kept vigil by my solitude,  this is my current state of domestic bliss.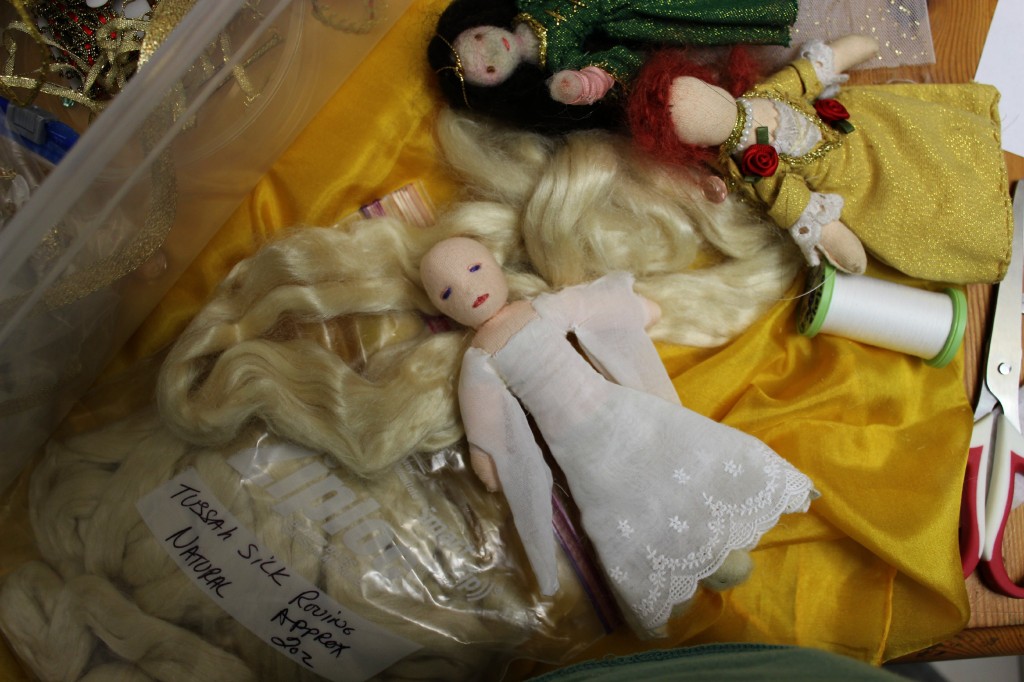 Sleeping beauty's hair is made of tussah silk. This magical substance is an absolute visual and sensory treat! So soft, so silky, thank you mother nature!
What is tussah silk roving? You may ask…
Tussah or wild silk worms live naturally in tropical or semi-tropical forests. Their silk is gathered after the moth emerges. There are many varieties and shades of wild silk. As the caterpillars eat all kinds of different trees, all rich in tannin, the silk is beige to brownish toned. Tussah silks are wildcrafted and thus may be considered "organically raised". They are naturally tan, and generally are stronger and more resilient than cultivated "white" silks.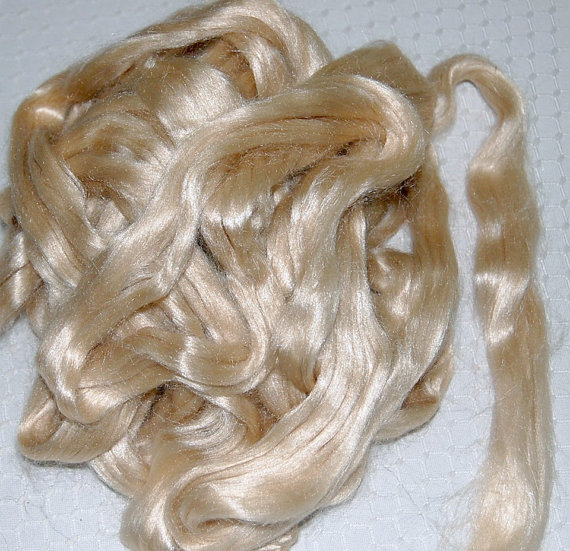 I got my Tussah silk from LaTeaDaDesigns on Etsy.com.
I used a beautiful piece of white vintage lace from Piecemakers for Sleeping Beauty's white gown. Ah! Piecemakers is a crafter's heaven! I always find such rare and exciting materials there that inspire me to craft.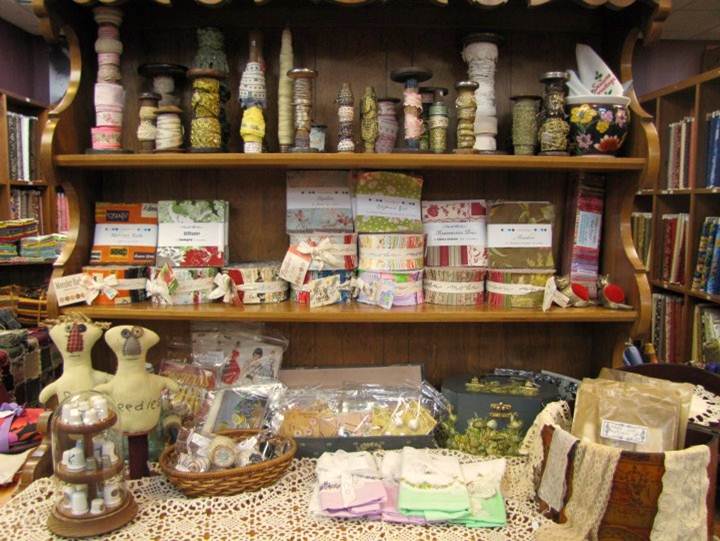 This is where you will find me if I was missing on a weekday morning. Here or Mother's grocery store.
Speaking of Piecemakers, please support our one-of-a-kind local neighborhood brick and mortar craft store in these difficult economical time for them. They also have an Etsy store and a facebook page.
I scavenged my stash of craft fabric and found this very, very large piece of gold dotted taffeta from Piecemaker's Peddler's Fair recently. What a steal! Here, sleeping beauty is covered under the taffetta as if she was lying under a heavy spell of deep slumber.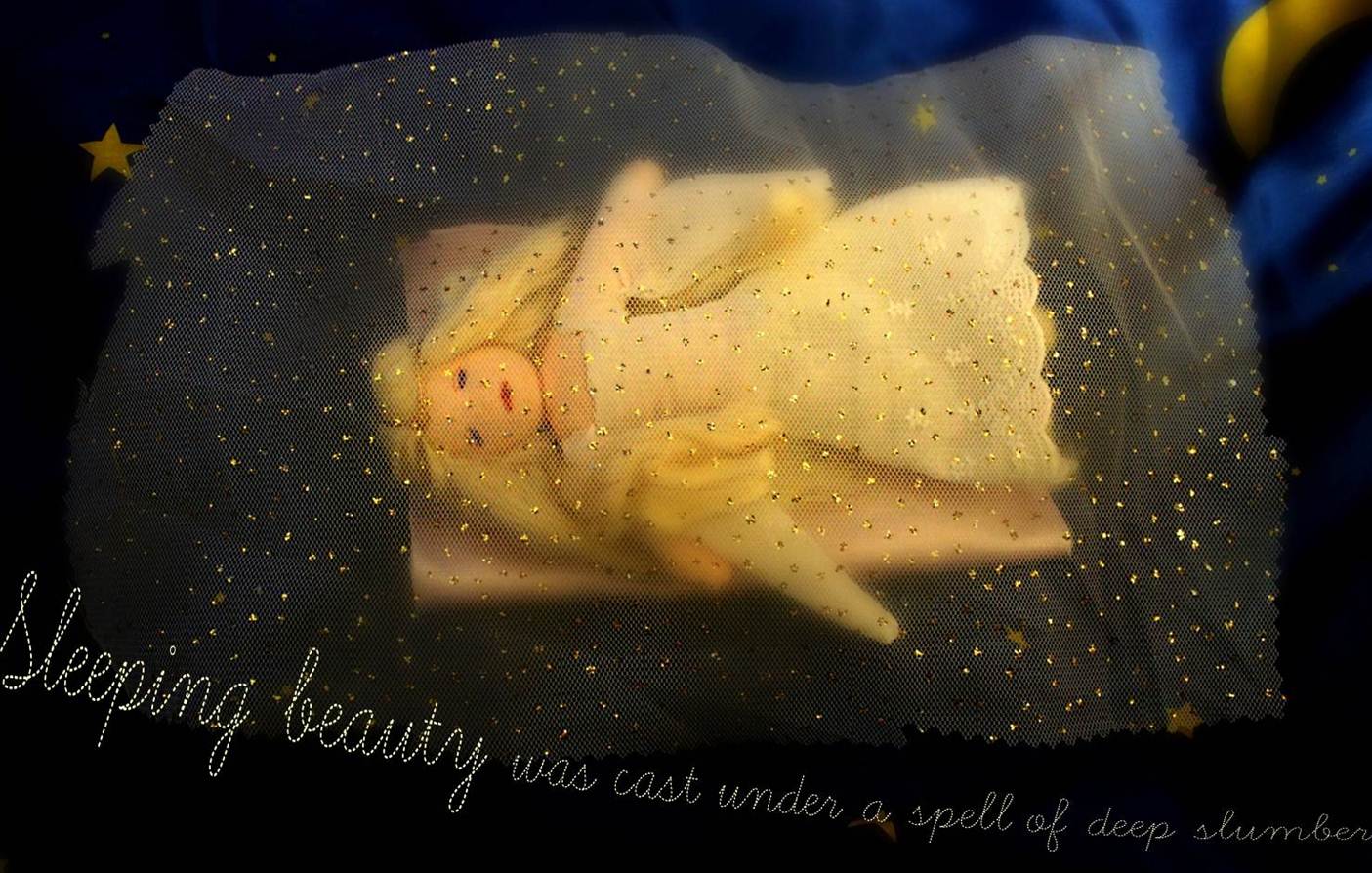 Luna's 8th Birthday. Saturday October 27, 2012.
The Sleeping Beauty princess was completed, alas before the break of dawn and I did magically managed to wash all the dishes, put away 3 loads of laundry (for this, I deserved a big trophy), plus starting 1 more load of wash, and finished crafting this handmade doll. Even I could hardly believe it. There are barely enough hours in a day for a passionate crafter!
Thanks to our Japanese teacher Masami sensei, Nunu loves origami and she made a cute origami house as a birthday greeting card for Luna.
 Happy 8th Birthday, Luna! Hope you like Sleeping Beauty!
She said she liked it. Yay!
October 27, 2012. Saturday. A scene from Luna's 8th birthday party. The children in rapt attention. At the end of the party, they felt triumphant for creating their very own friendship bracelets. Great job, Luna's mom Arieta for organizing a meaningful and lovely party!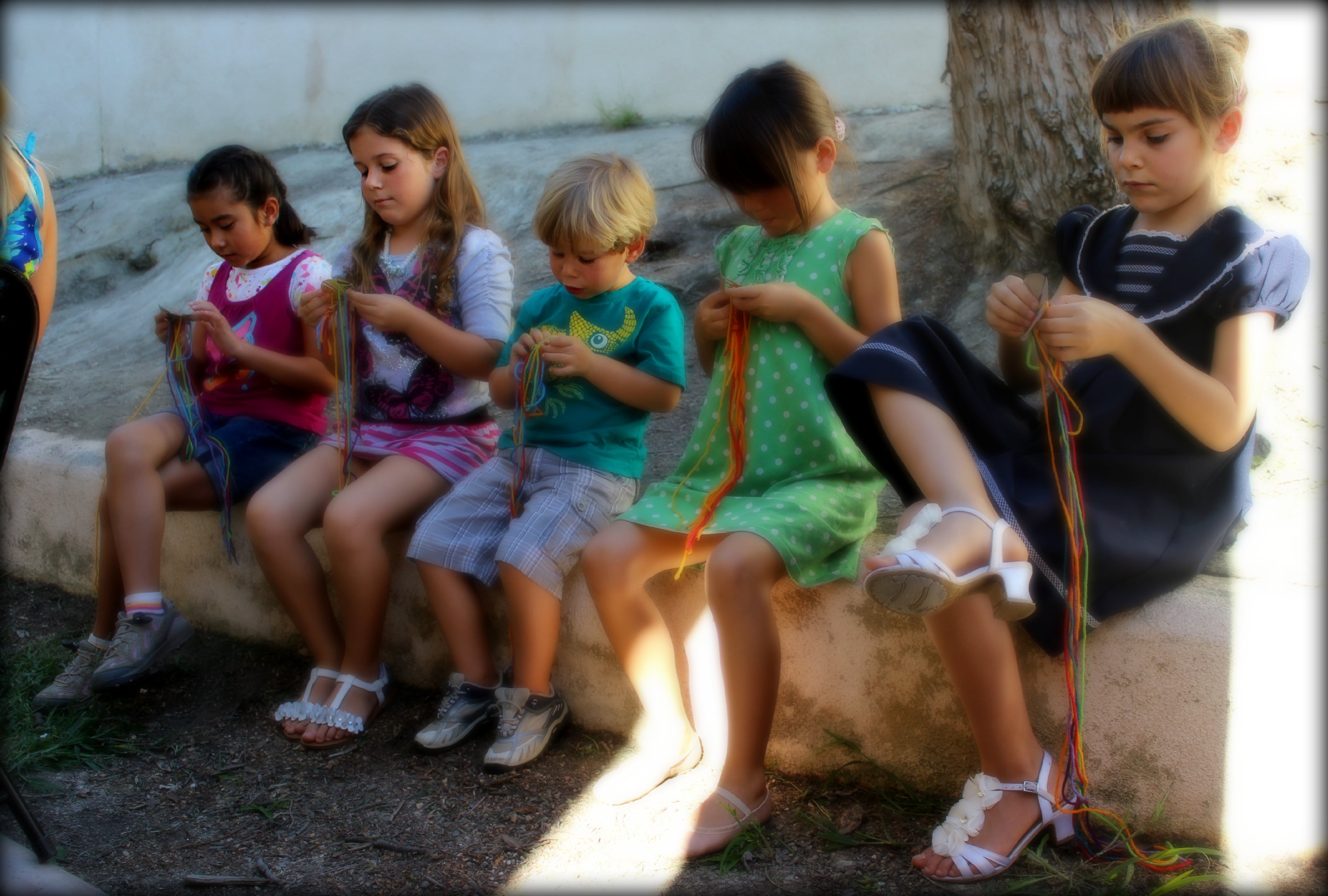 Sleeping Beauty illustrated by Martina Müller


Amazon.com
Please "Like" my Facebook page
I am collecting "Likes" on CastleofCostaMesa facebook page. Please help "Like" my page (top left sidebar of this page)! I hope to get a gazillion people liking my website, so I can make heaps of income from this passion of mine! Then I will travel the world, and craft more dolls while I hire people to do my housework.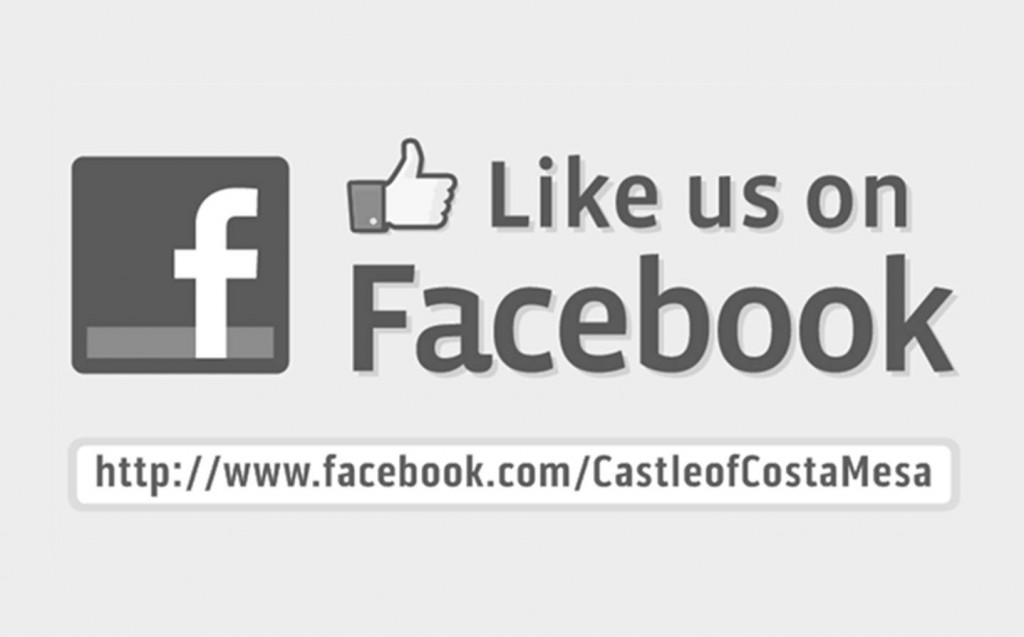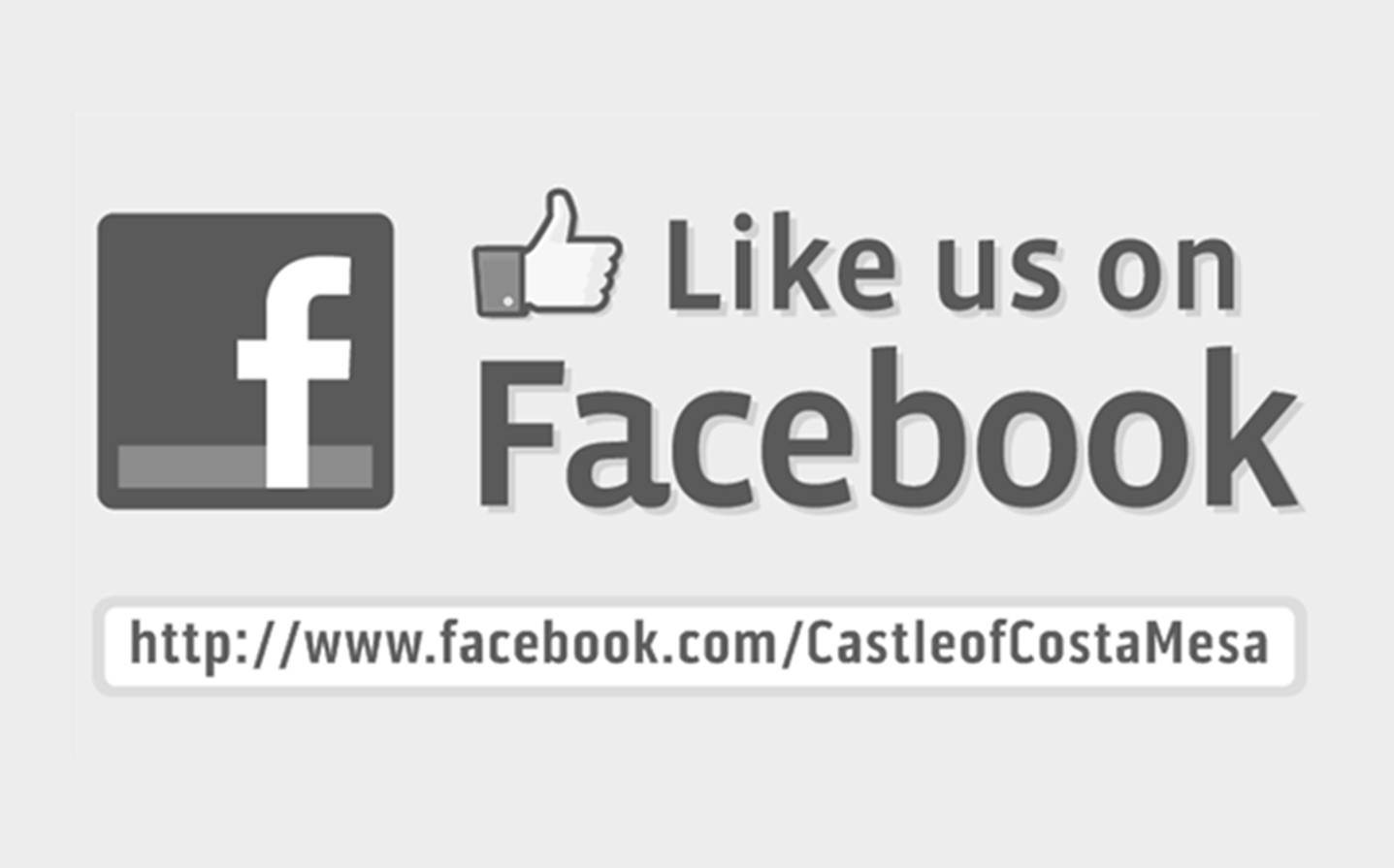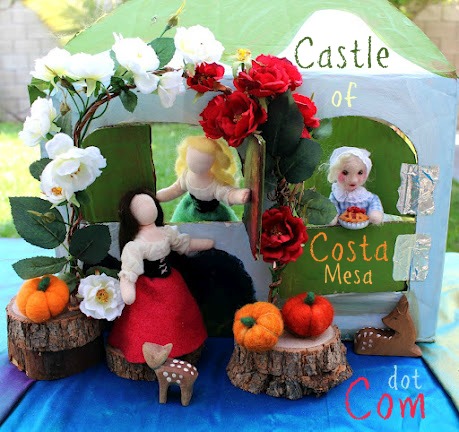 My local Wednesday Morning Craft Group blog
Read about how I get my mojo running with crafting, tea and friendship every Wednesday morning.
Southern California Waldorf Community Page
Let's support our friends in our local Southern California Waldorf Community…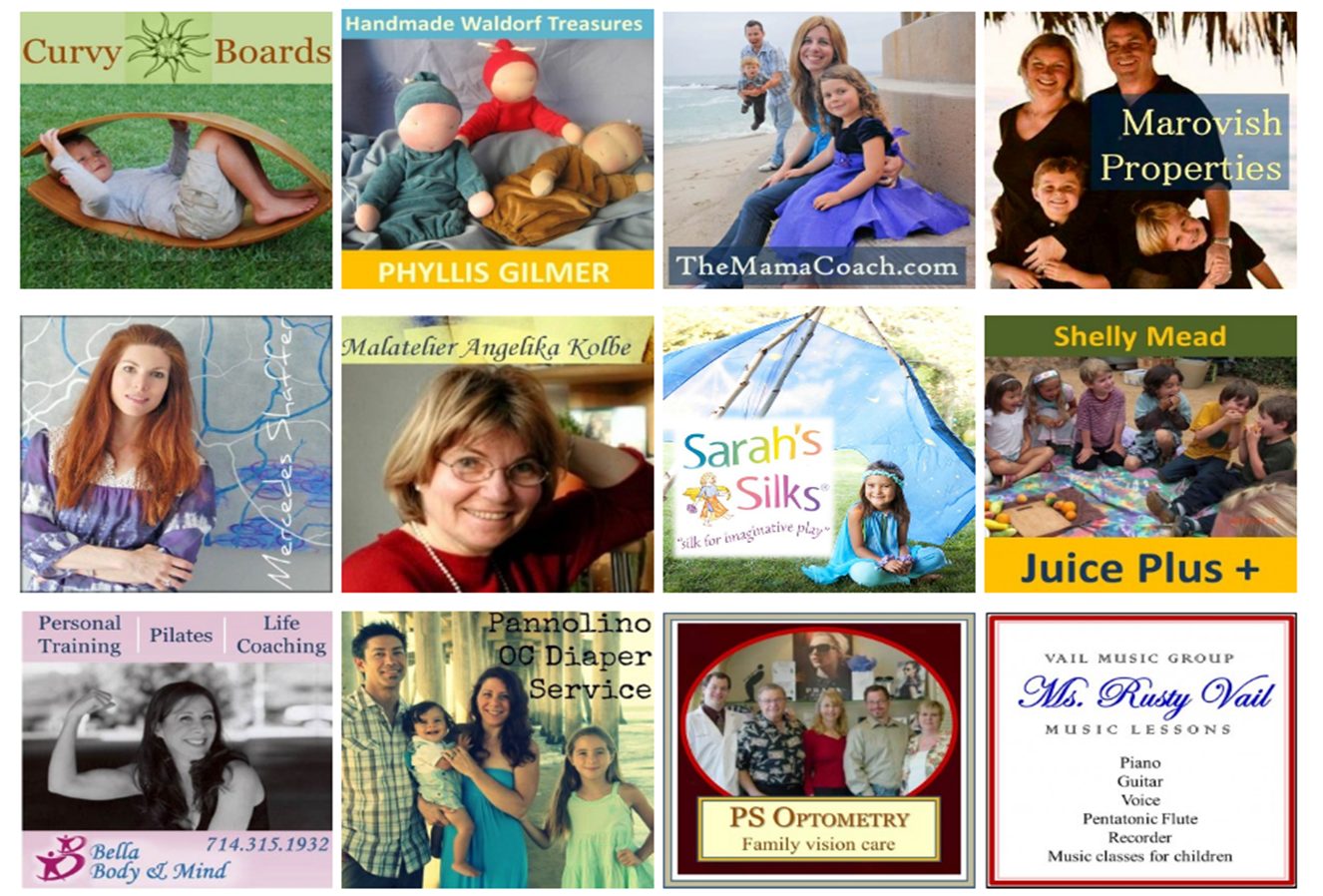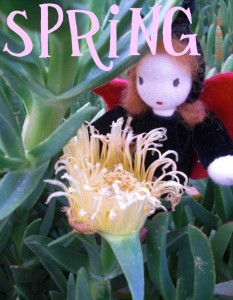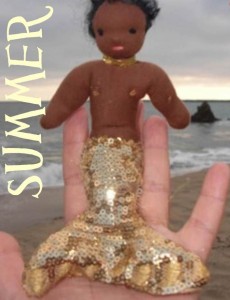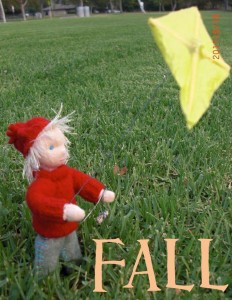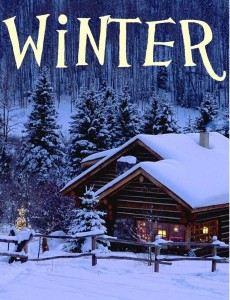 Almost Upcoming Giveaway!!!
I am giving away a handmade doll in Fall 2012. Please leave a comment below and suggest the doll(s) you will like to see on my giveaways. – Jzin