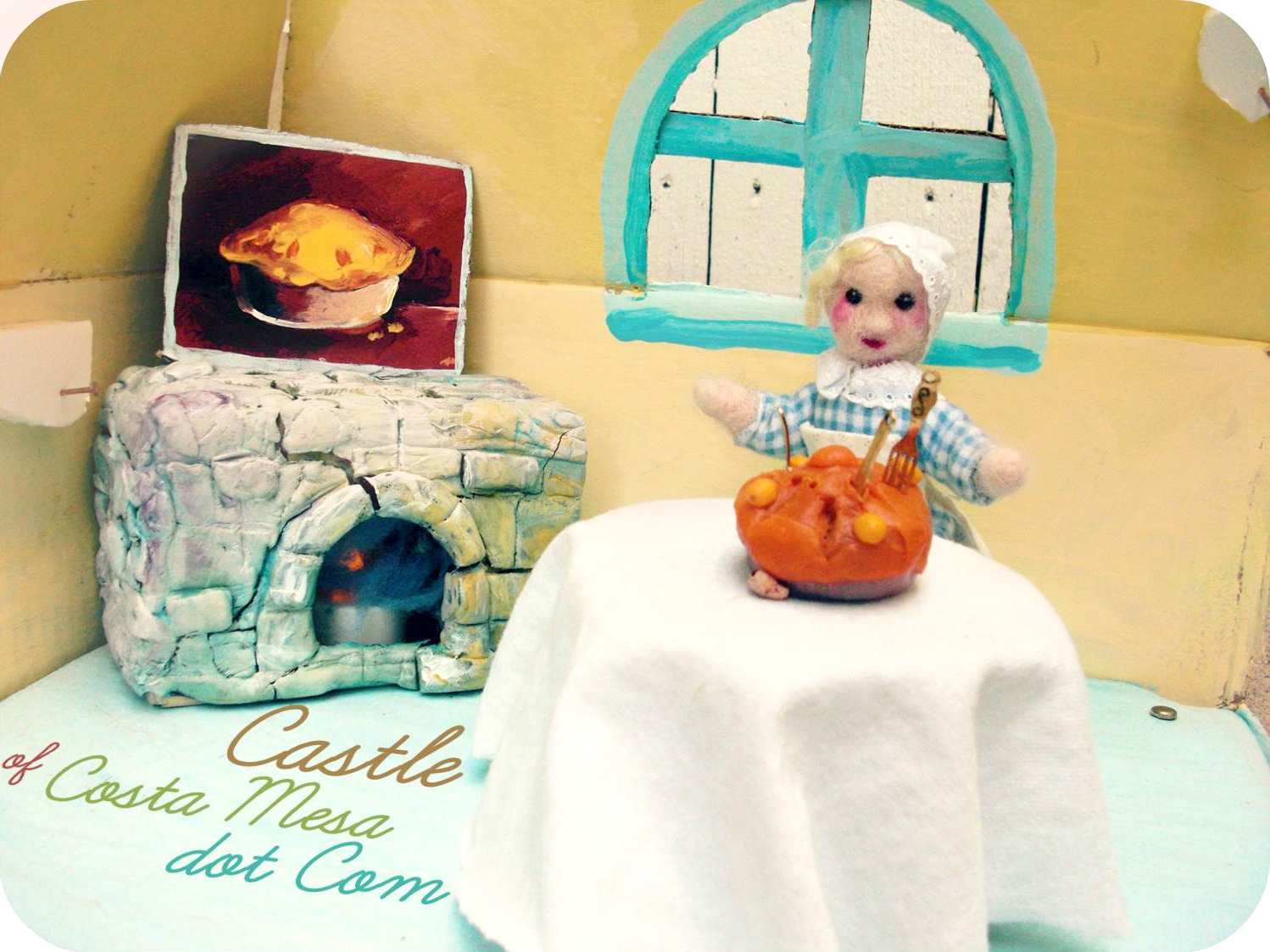 The first time I read this story to Nunu, she was 5 years old. I remember the joyful tears in her eyes when she listened to the part of this story where the handsome youth's face lit up when he received a desperately needed kind gesture from the old lady. What an endearing story! How this lovely tale nourishes the soul!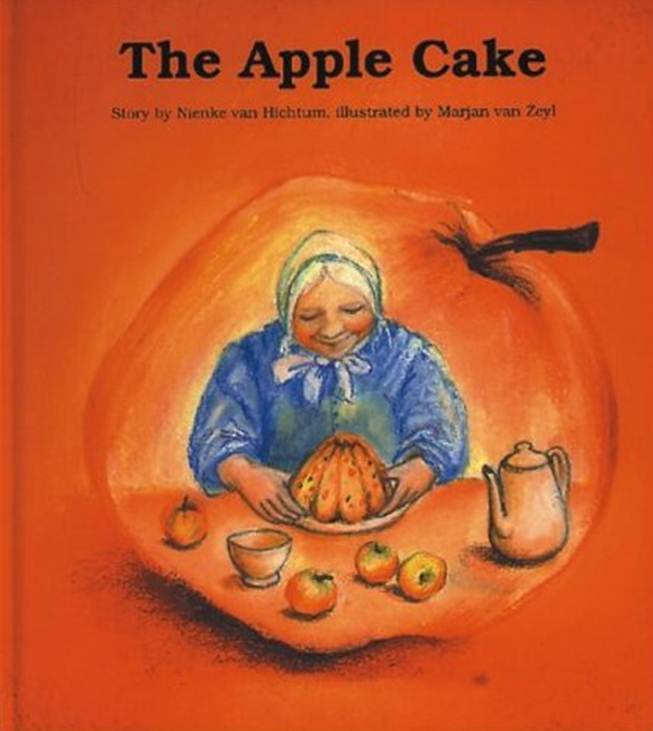 I decided that Nunu and I should share this story with her friends on her 6th birthday in November 2010.
I read that when Tasha Tudor was raising her own children, she used to put together puppet shows with her children's help. They would invite the neighborhood children to come and attend. This way, the Tudor children made extra pocket money. Hot drinks and some baked treats were served. When I read about this, I loved it so much that I was compelled to try it at home!
November 4, 2010. Nunu's 6th birthday party puppet show at home. We had the best possible audience ever! The children were entranced by the story.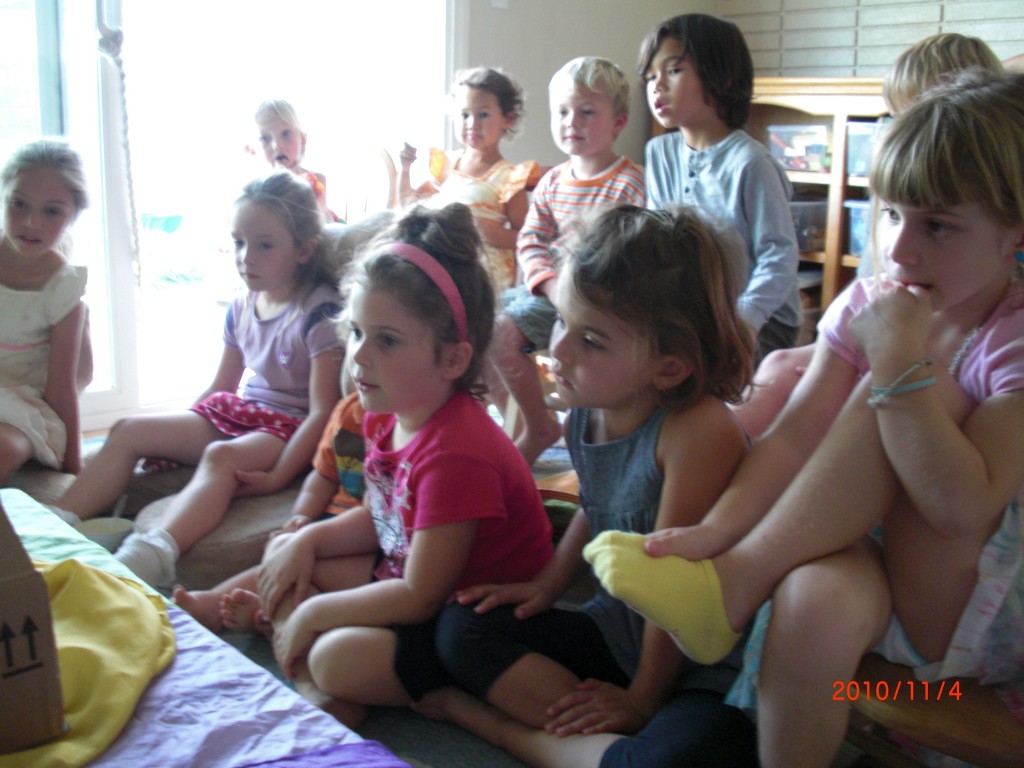 Nunu and I singing the opening song for our puppet show (over a small Amazon.com delivery box recycled into a little handmade cottage)…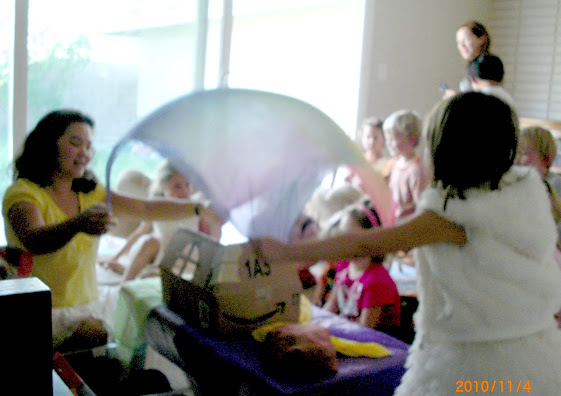 This delicious story starts like this…
There was an old woman who took a fancy one day to eat an apple cake. She had plenty of flour, sugar and butter, and enough spices. But the one thingshe did not have was an apple. She did have plums: a whole tree full of plums, the roundest and reddest that you ever saw. Well, you just cannot make an apple cake from plums, even if you try your very hardest!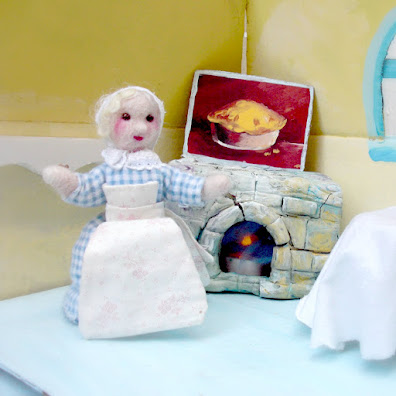 I edited out the bickering scenes to avoid the negative energy, thus saving me 2 extra dolls to make.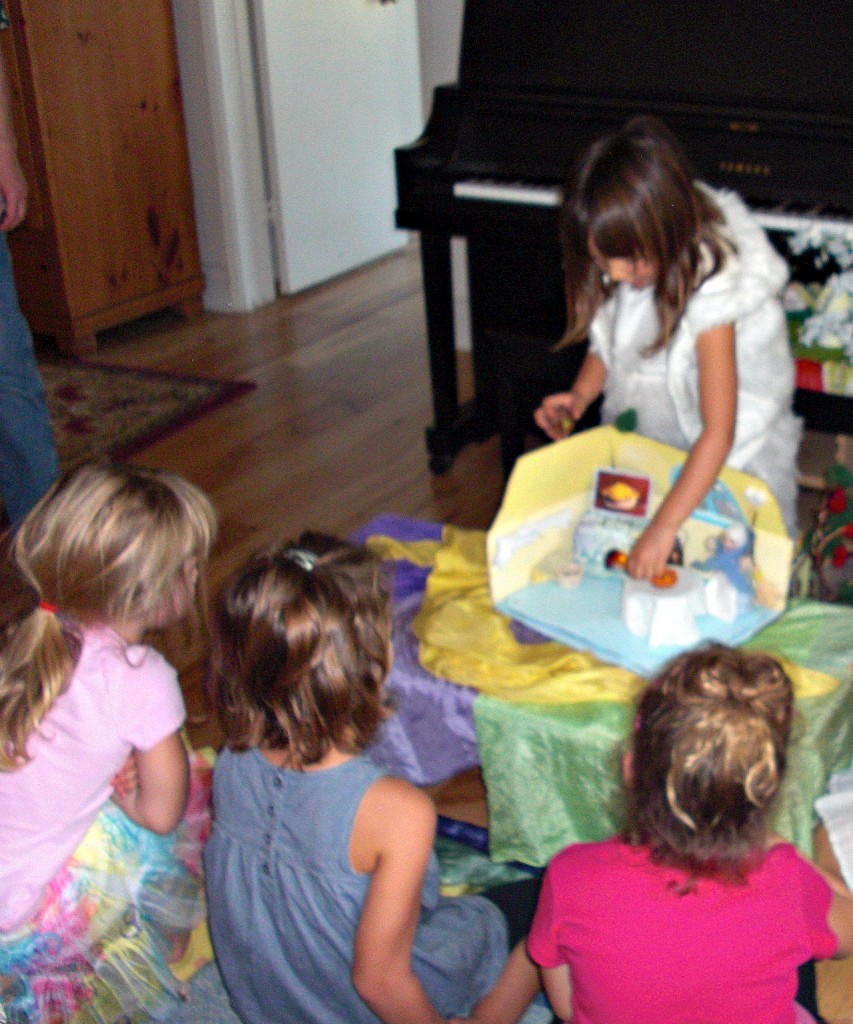 The old woman visits a young woman in her garden full of blossoms of every kind. For economy of time, we did not make a new doll for the young woman, but used Cinderella's Sister for this role.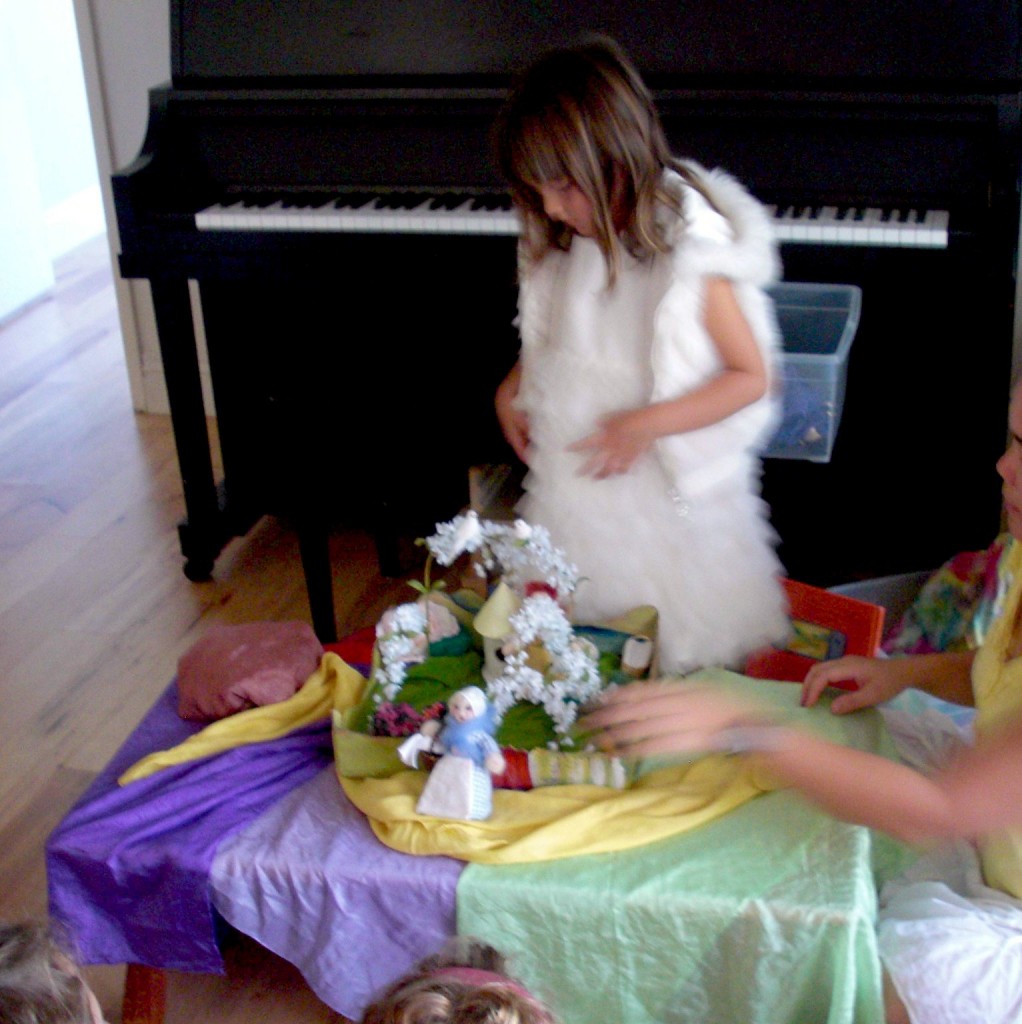 The actress on the right won the role for the lady in the garden…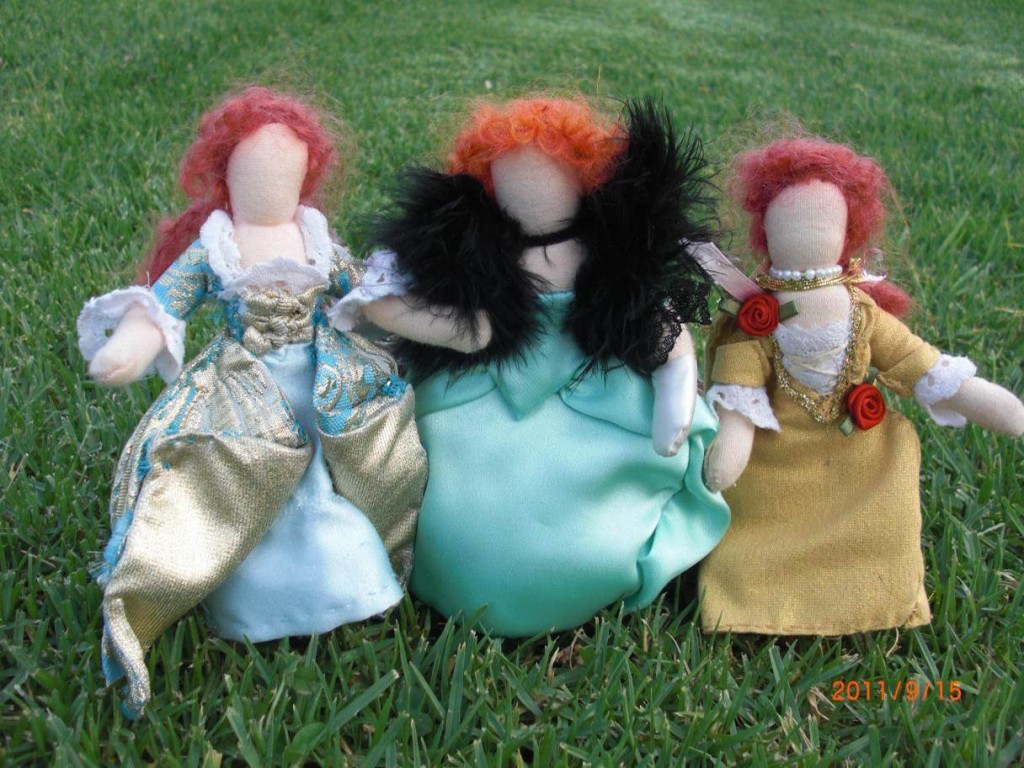 The handsome youth scene. We only had a maritime sailor doll that day. So, we used him. Deviation from the original character!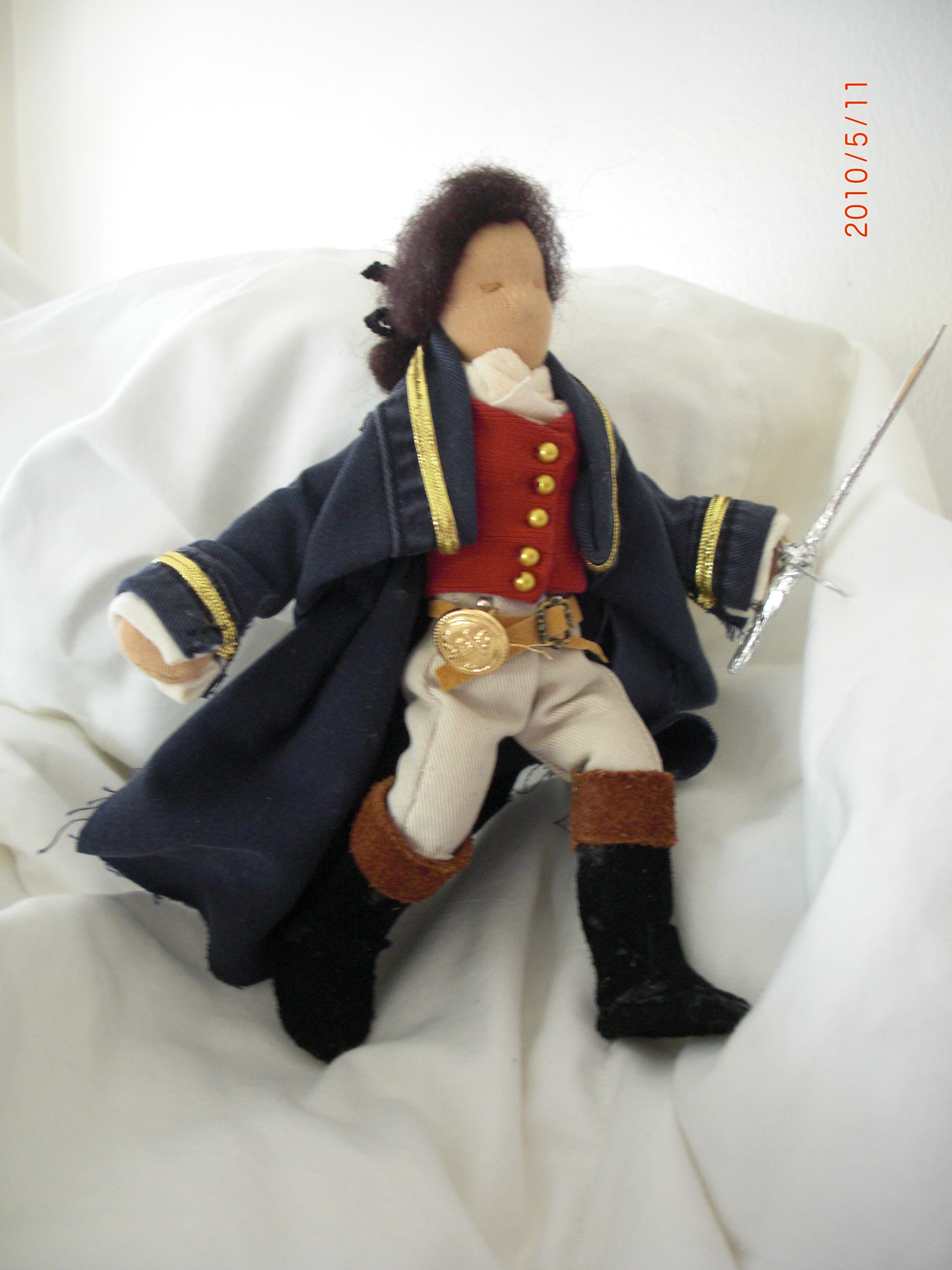 The old woman took the flowers from her basket and gave them to the young man. At once his face lit up, the frown vanished from his forehead, and now he was the handsomest and finest young man that ever the sun shone down upon.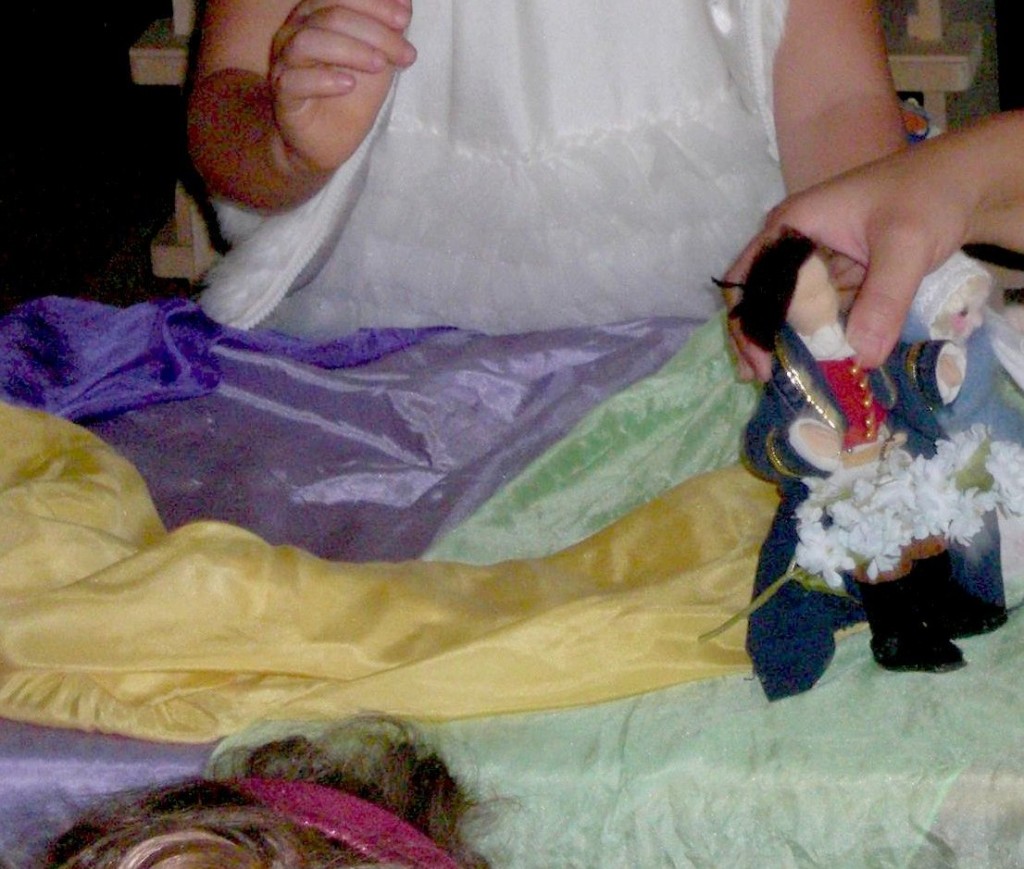 "… But she had hardly gone ten yards before she saw a poor woman with her two children sitting on the doorstep of a tumbledown cottage, all  of them looking as miserable as she herself was happy…"
To save time (for making a new doll), we dressed our mermaid doll in rags and cast her as the poor woman.
The little white doggie twisted out of pipe cleaner. He fitted nicely in the Old Woman's basket.
"…she had not walked for five minutes before she saw in a garden an apple-tree laden with lovely red apples. On a bench in front of the house was sitting an old man."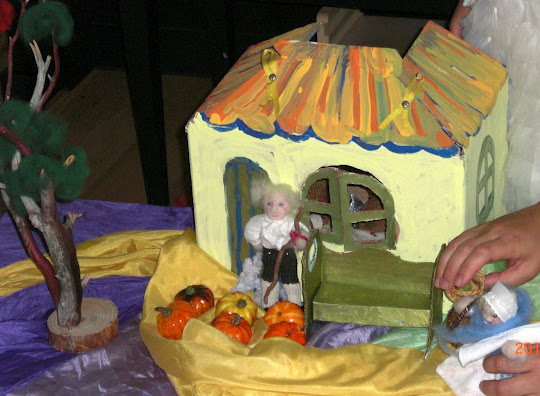 I needle felted the old man. I am very proud of how he turned out.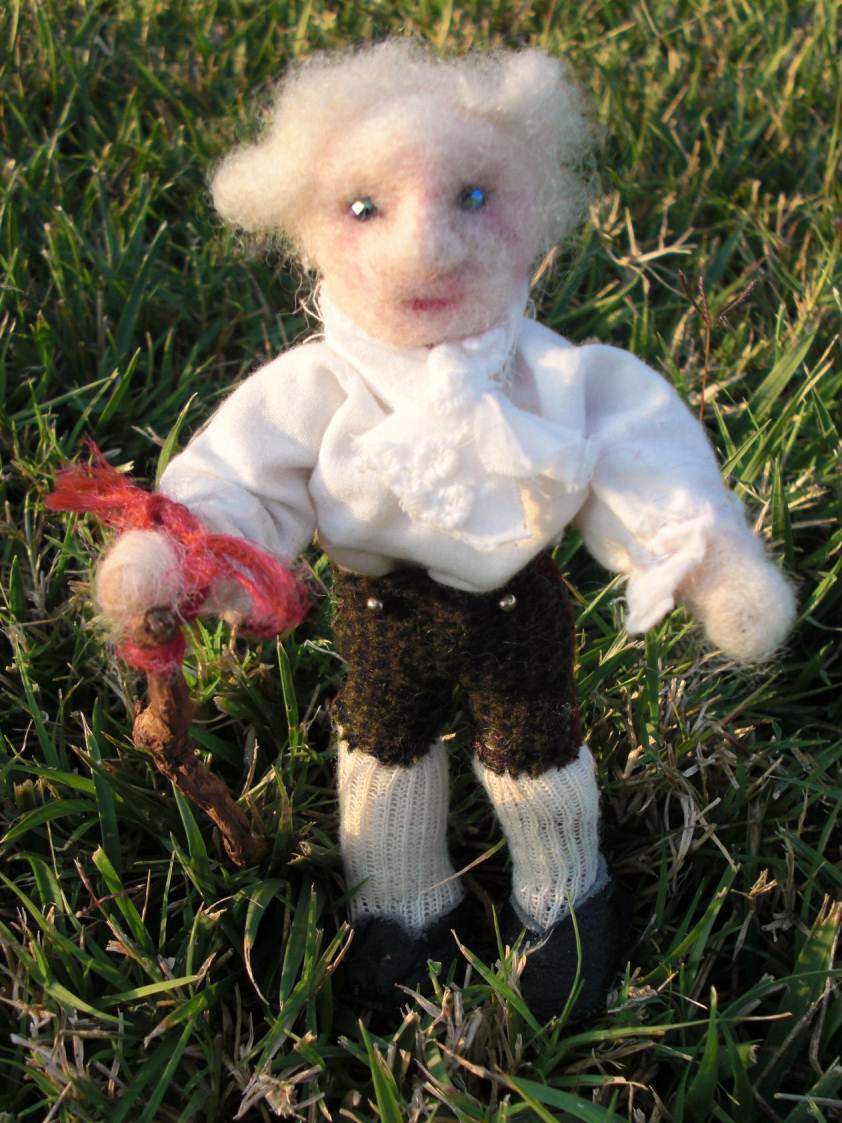 The Finale scene. Boy! Even I was getting hungry from the plot.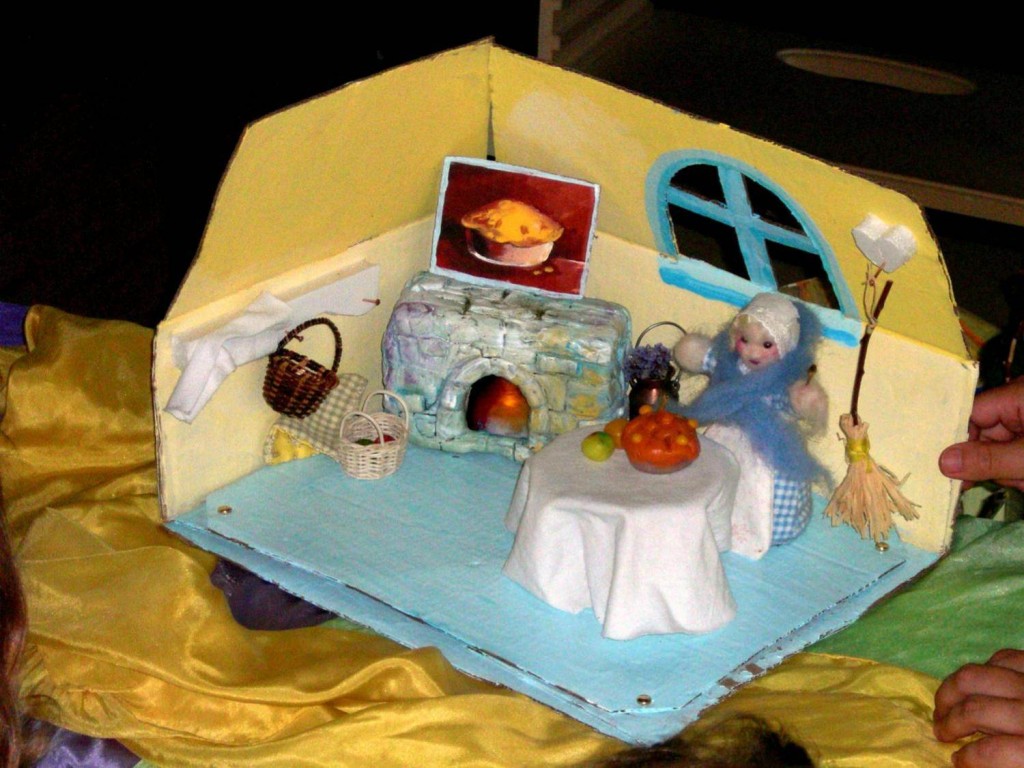 Curtain Call. Picture of the Old Woman and her new friend the (no longer) lonely Old Man.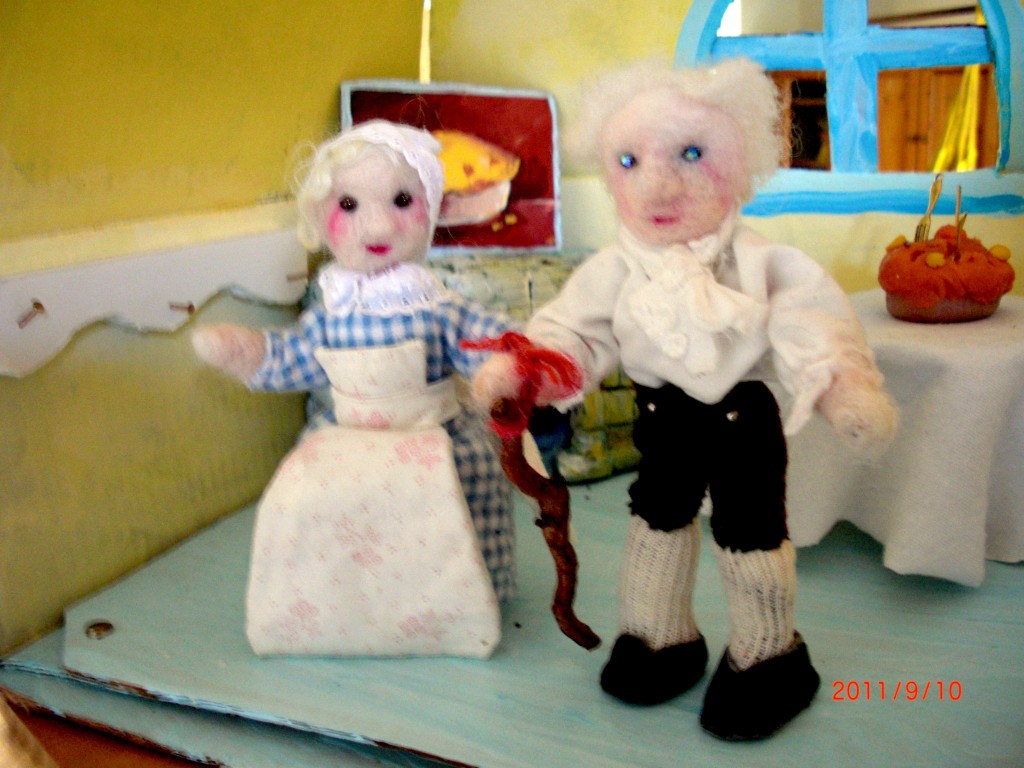 Wonderful, wonderful Michaela, owner of Openendedcreations baked an actual apple cake for the birthday! The recipe was found on the back cover of Van Hichtum's book.
Thank you Angela for being my on call photographer for the day.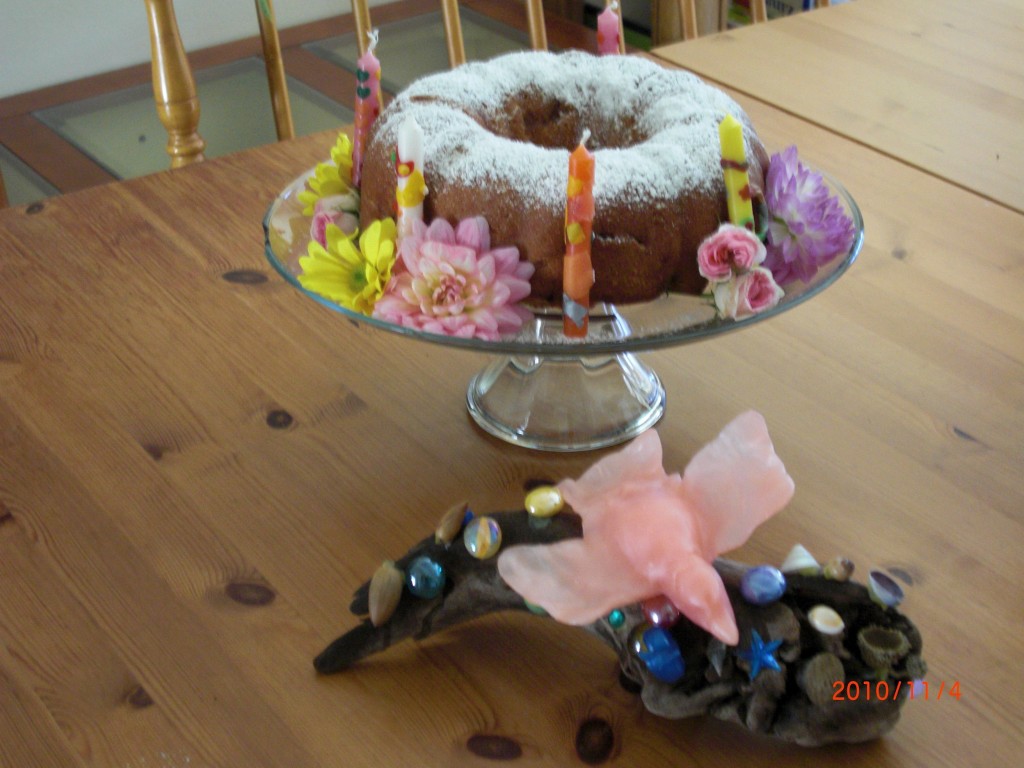 The children ate the birthday apple cake (click here for Nienke Van Hichtum's Apple Cake recipe) right after the puppet show.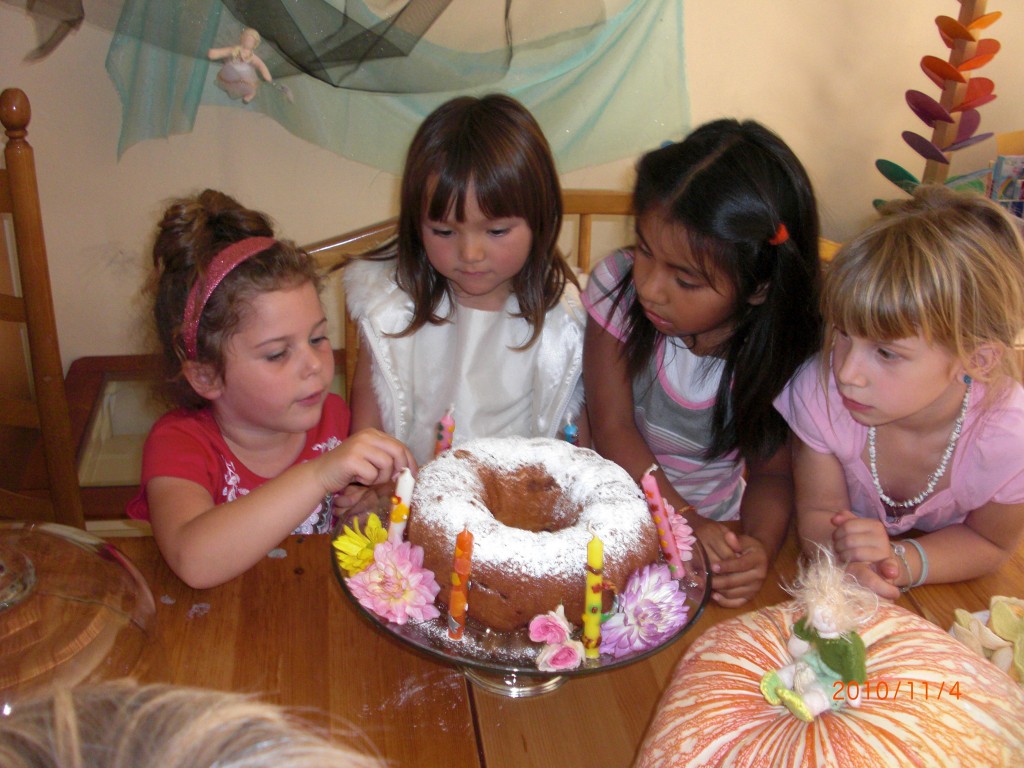 The children insisted on putting up an encore performance of the puppet show themselves! I was amazed by the creativity of these children.

Happy 6th birthday, Nunu (with her impromptu bouquet of dandelions!)!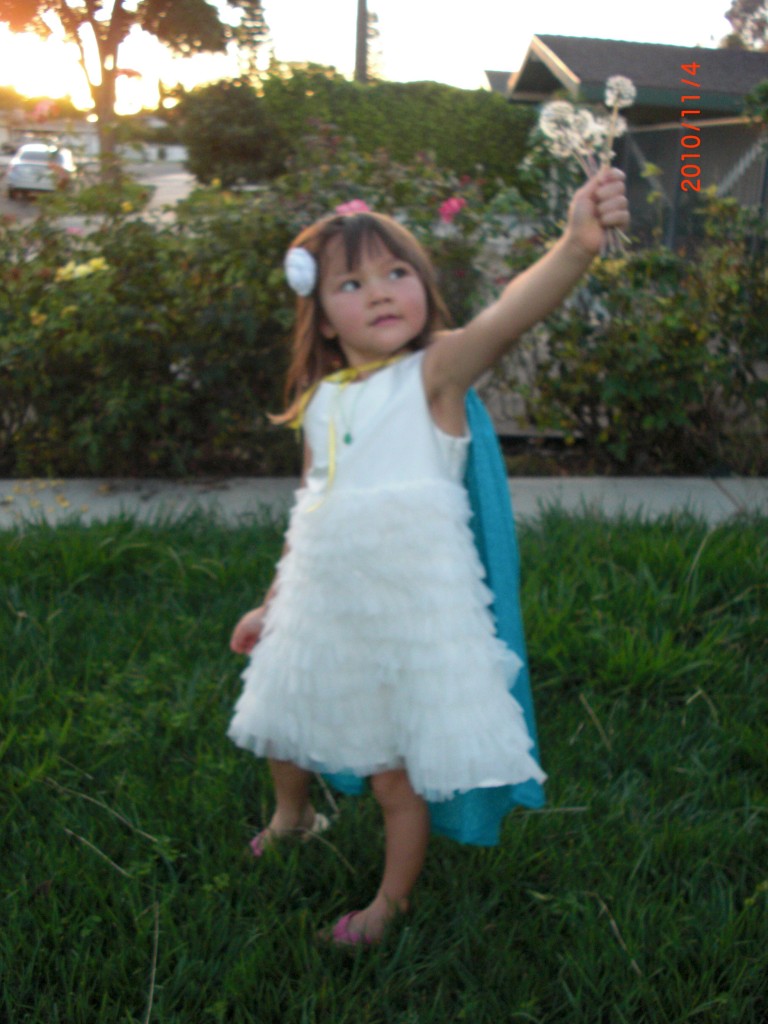 Another cast of Apple Cake as made by the Wednesday Crafting Group at the Waldorf School of Orange County. This beautiful needle felted set was auctioned off with the story book at a school fundraiser.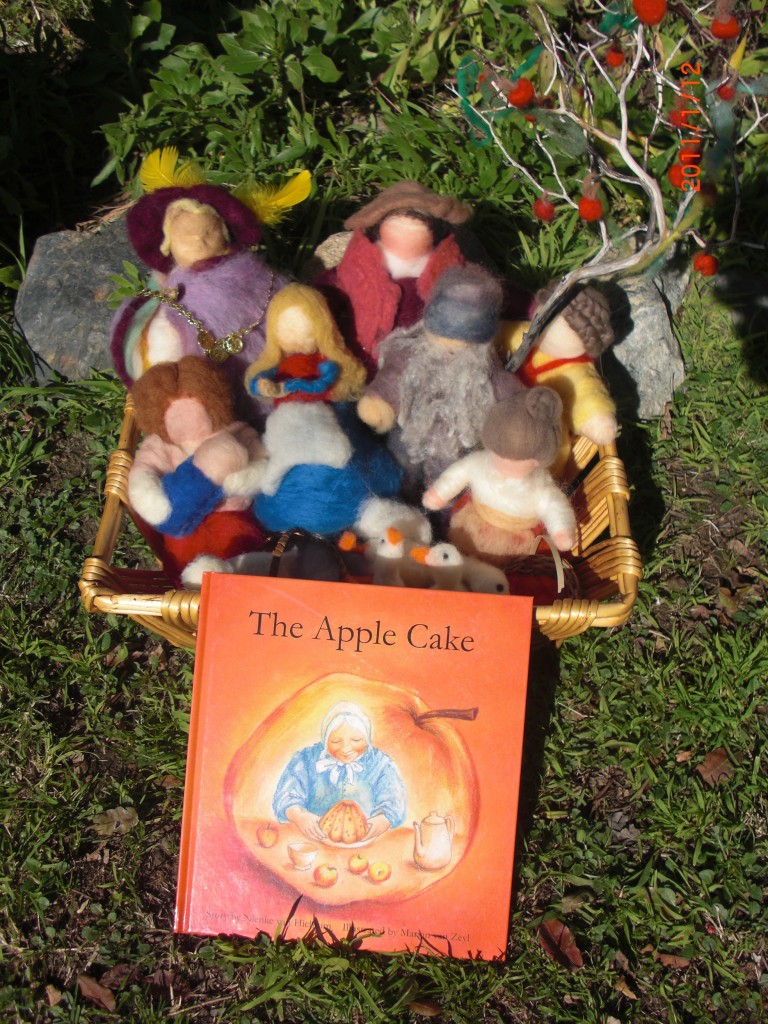 Needle felted cast of The Apple Cake, made by our Wednesday crafting group led by Rachel and Chirstine. I made the flamboyant youth. In retrospect, I could have tone down his dandy ensemble a tad.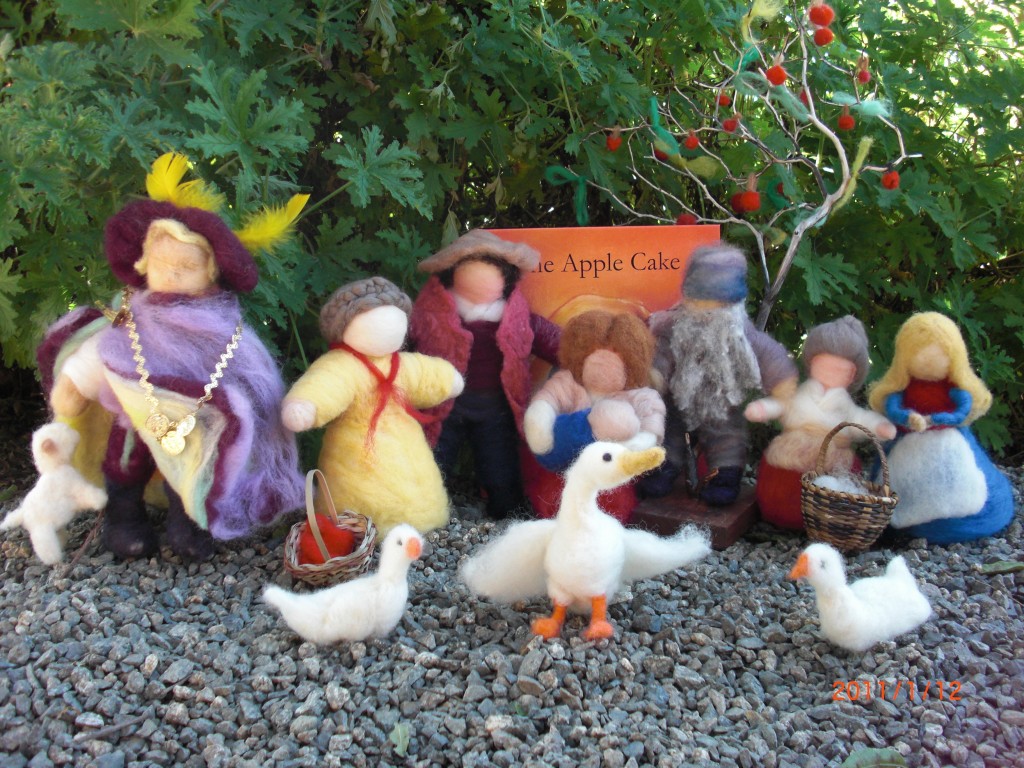 a link to this book on amazon.com
January 16, 2013. I love this set so much, I made a second set for a request for children in Brazil. Click on link below to view my crafting process for the Brazilian table top puppet dolls set.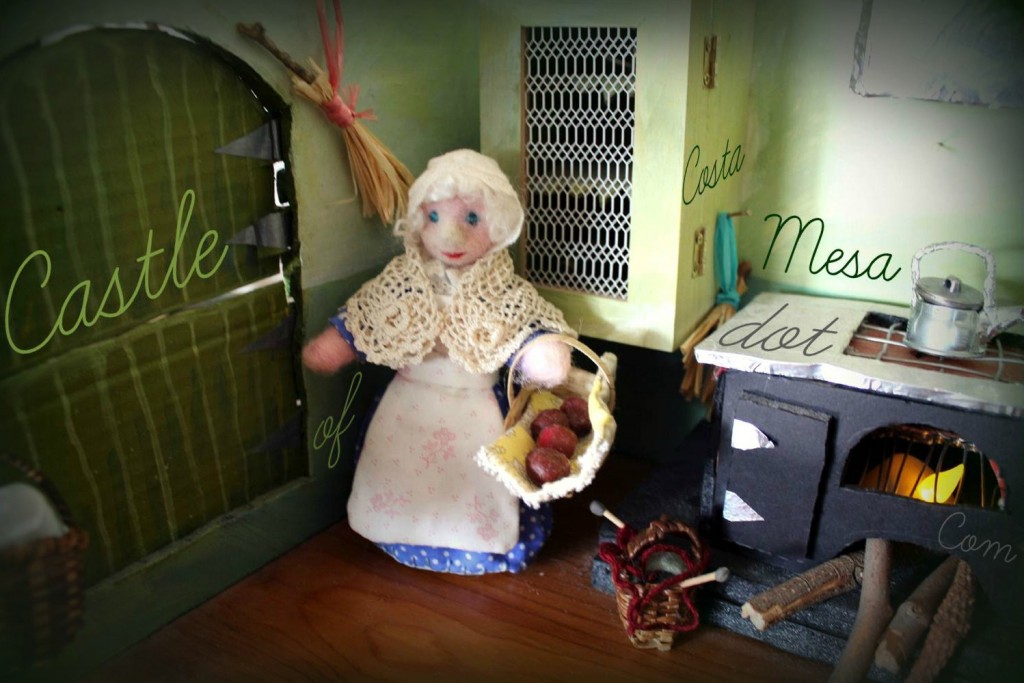 If you liked this page, click on the image below to check out the puppet show we staged in in November 2011: