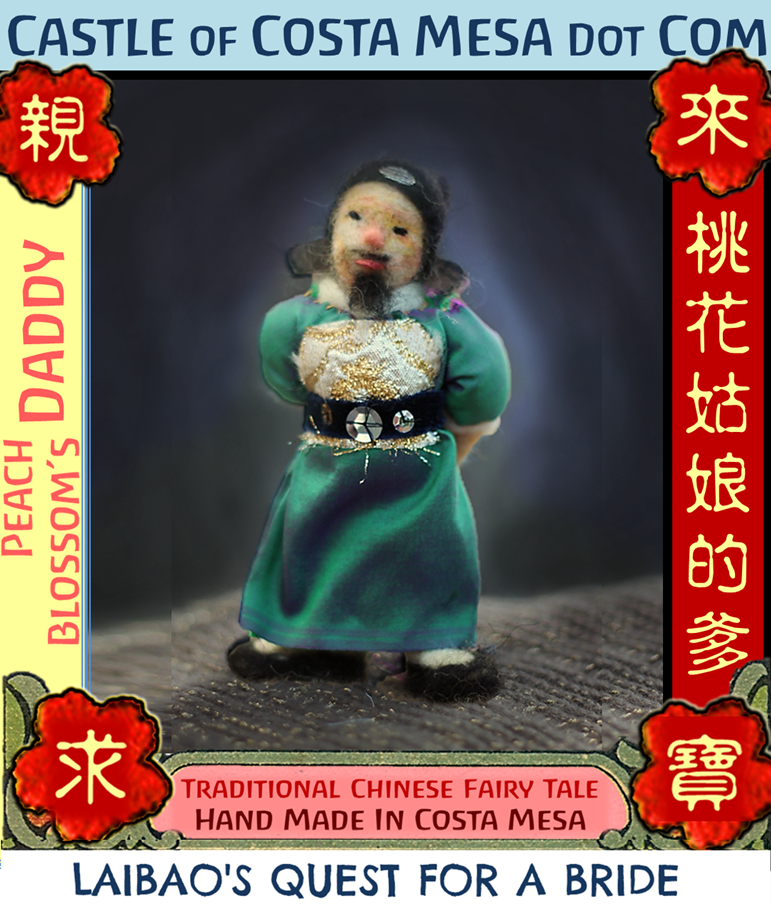 Click here to go directly to see our homemade puppet show "Laibao's Quest for A Bride".
October 10,2012. Wednesday Photo Shoot
This guy is "Peach Blossom's father" 桃花姑娘的爸爸. He lives in a big grand Chinese courtyard style mansion and wants only the best for his daughter…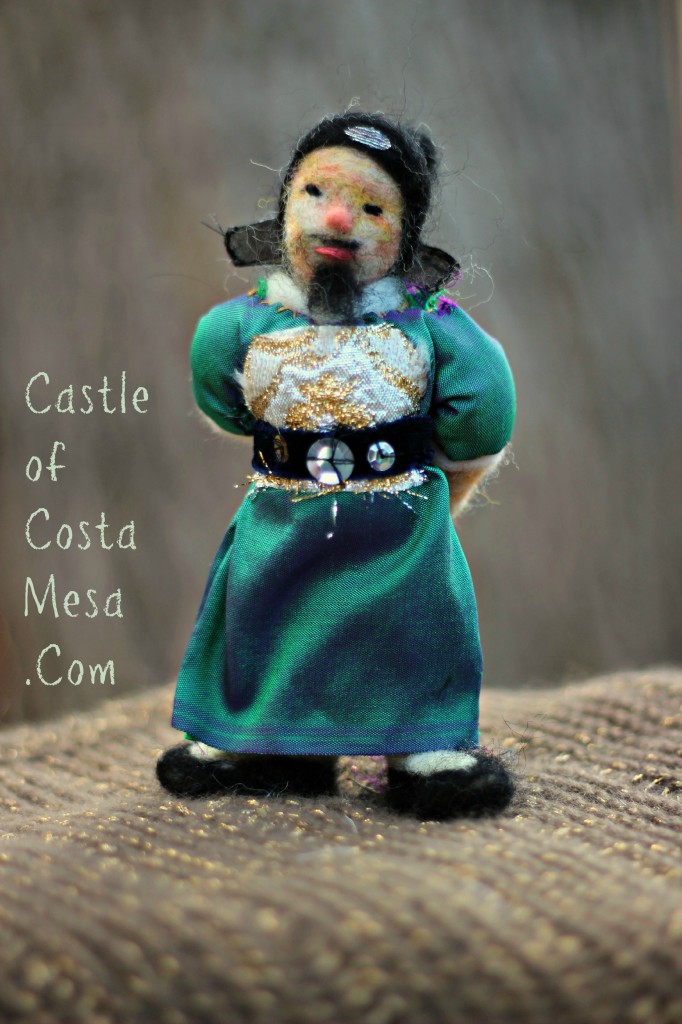 I just finished needle-felting, handstitching, gluing this little doll into being for our upcoming, heart-warming homemade Chinese Fairy Tale Puppet show.
October 8, 2012. Monday. Completed crafting this doll.
Today Nunu is finally well from her 3 day fever which coincided with the change of summer hot weather into cooler fall weather. Her older brother Vivi, is now down with fever. As I tend over the resting child, I started and finished crafting this new doll.
Check out the last doll I made: The Old Rice Farmer 老農夫 .
Costume Research
I was inspired by the comical corrupt official in this silly and fun Chinese Historical Soap Opera,  "Wrong Sedan Chair, Right Bride Groom" 上错花轿嫁对郎. Scroll further to watch the very long drama.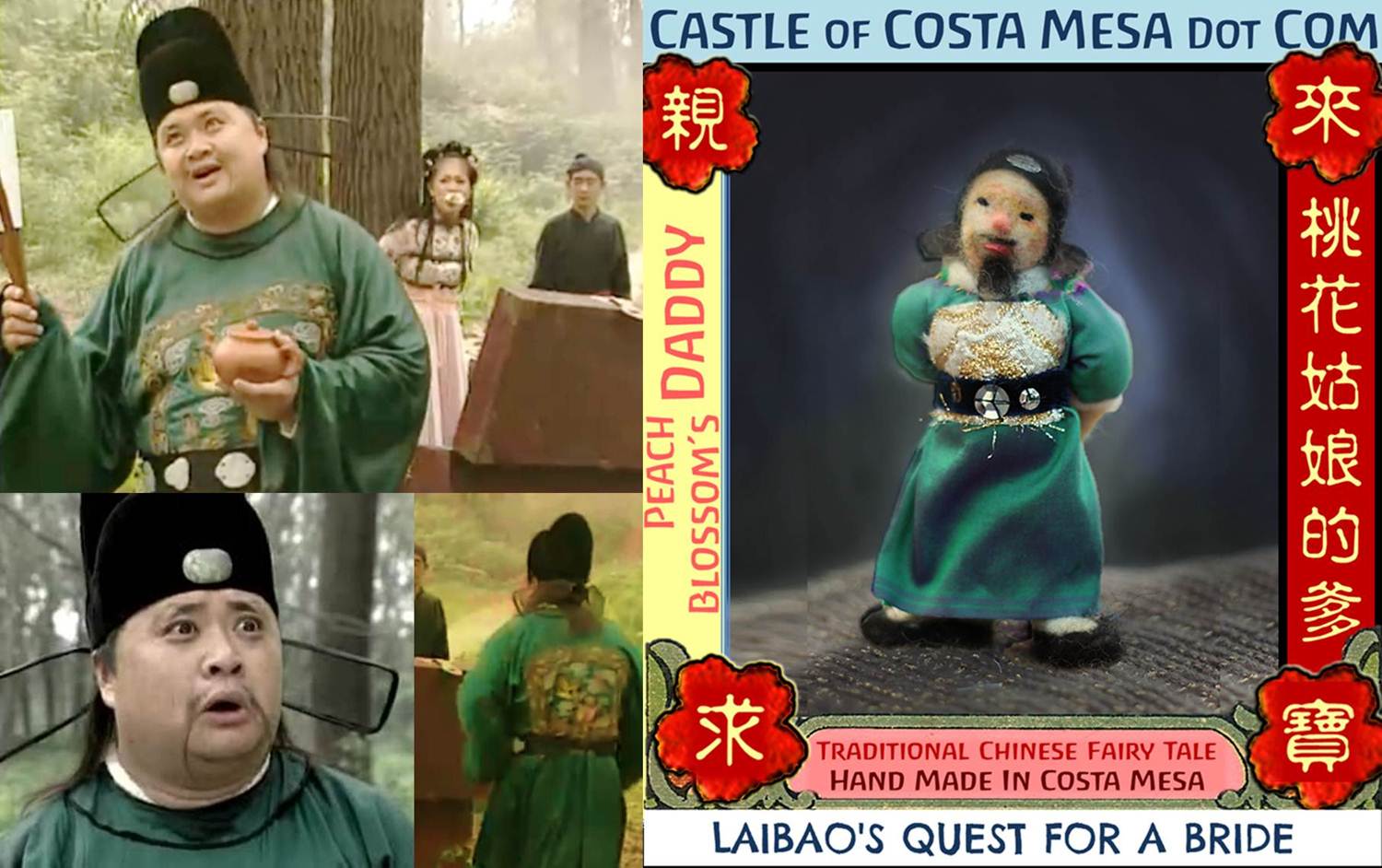 Source
Costume of Peach Blossom's Daddy was inspired by costume of the corrupt official in this Chinese Soap opera below. A silly and fun (very very long video with a zillion episodes) subtitled video.
 "Wrong Sedan Chair, Right Bride Groom" 上错花轿嫁对郎. With English (Chinglish) subtitles. This is a fun tongue-in-cheek historical drama.

Thank you Wylanne for uploading this Chinese Soap Opera series on youtube!
I know the above video leaves more to be desired in the department of good resolution. For those who do not need subtitles, you can view the clearer version below:
Click on image to view drama series in Mandarin Chinese, no English subtitles.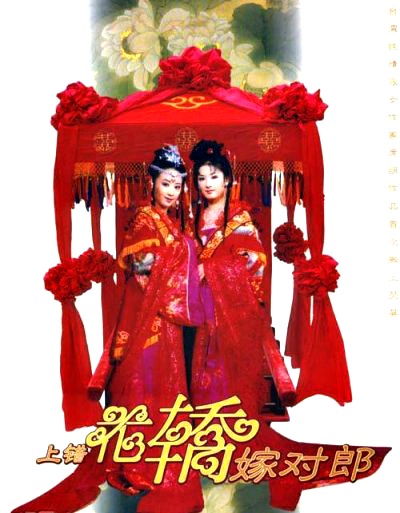 View Mandarin Chinese video, no English subtitles
Puppet Story Stage Design Research
Period costume research: Chinese Dress. From The Qing Dynasty to The Present. A fun foray into ancient chinese costumes: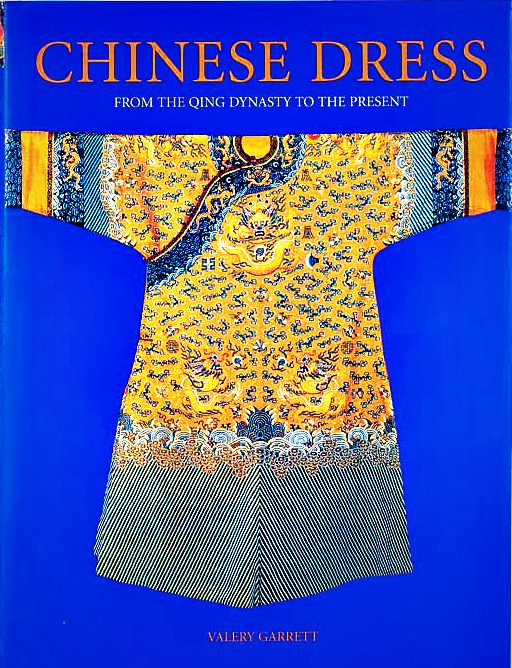 Amazon.com
While doing a costume research by looking through the reference above, I came across an image that struck a chord and lived with me for a long time, until I decided to craft this mansion as a part of our Chinese Fairy Tale Puppet Show in 2 days…A Bureaucrat's Mansion in Peking 官僚府邸 (北京) in those days when Beijing was still Peking.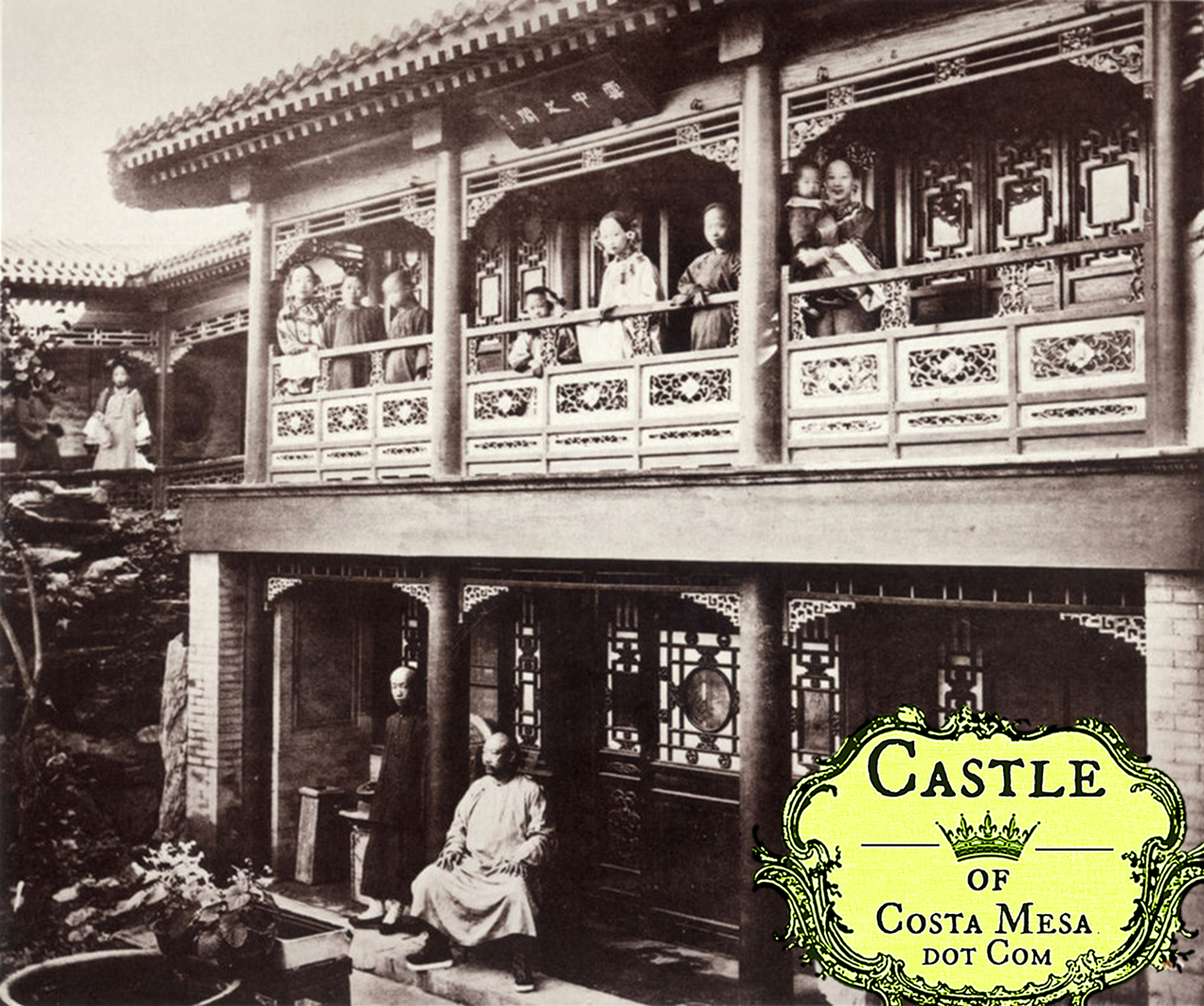 Source 官员的房子,北京,1871年至1872年。Photography by John Thompson 摄影师约翰·汤姆森
I wanted to craft a grand chinese courtyard style 四合院 so I can house little doll concubines, servants, pekinese puppies and motley crew of other chinese inhabitants. It would be grand, for the finale gala wedding scene. You know how I love gala endings!
In my final corrugated cardboard mansion for our homemade puppet show, I even kept the wooden sign for  雲中之閣 /Mansion in the Clouds as a tribute to the original mansion.
Crafting the Mansion
Since the original image was in black and white, I had to do a research to find out convincing colors for our puppet show mansion. Here are some references from my research.
November 2012. I love the endless possibilities of cardboard!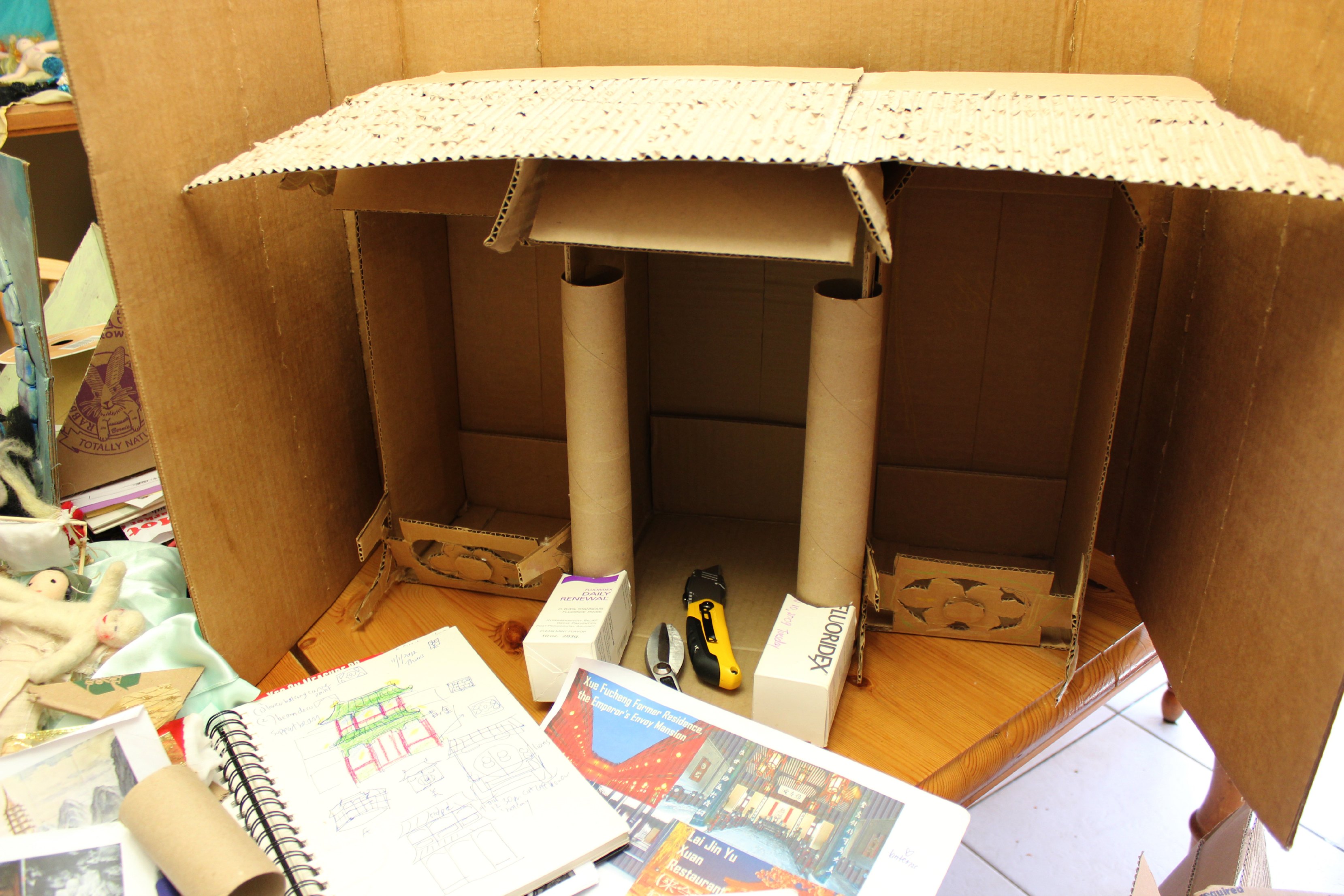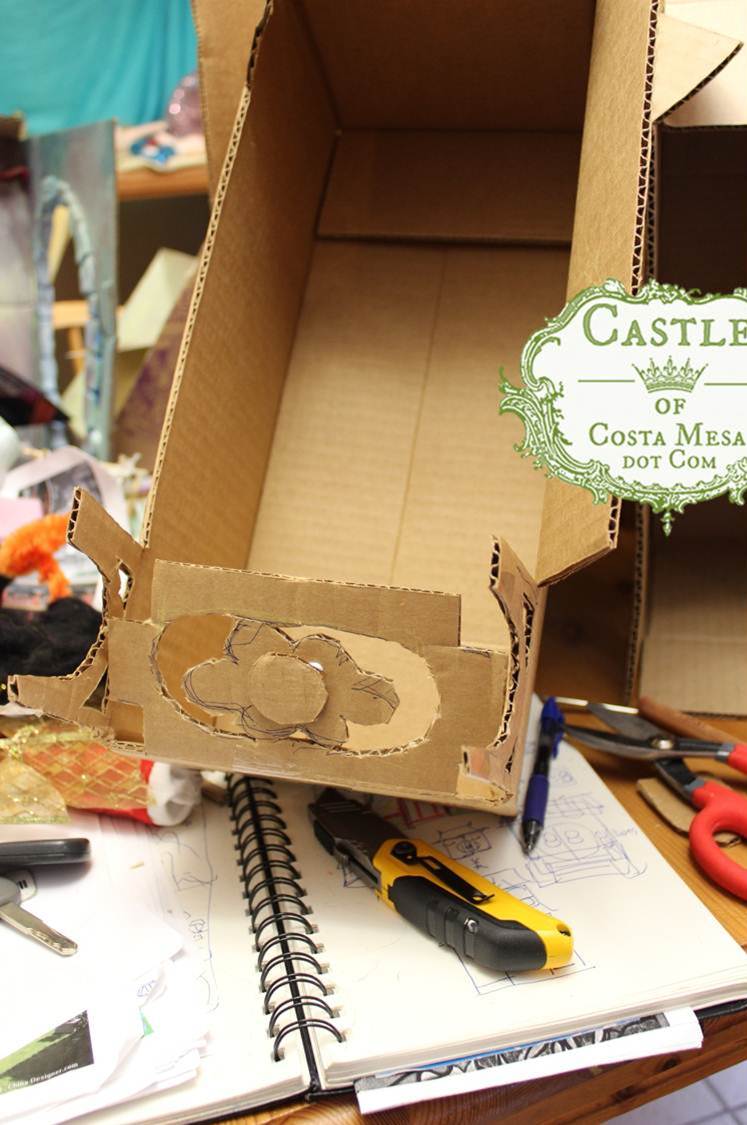 Cardboard is magically being turned into balcony railings of a chinese mansion.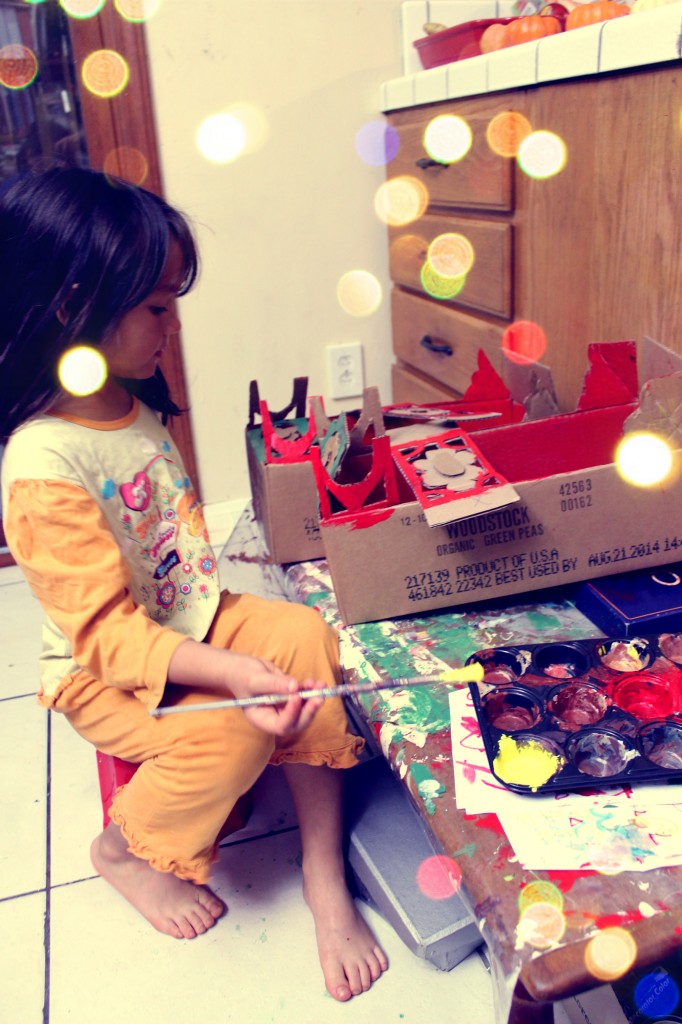 My enthusiastic helpers at work.
Nunu painting the balconies of the Grand Mansion.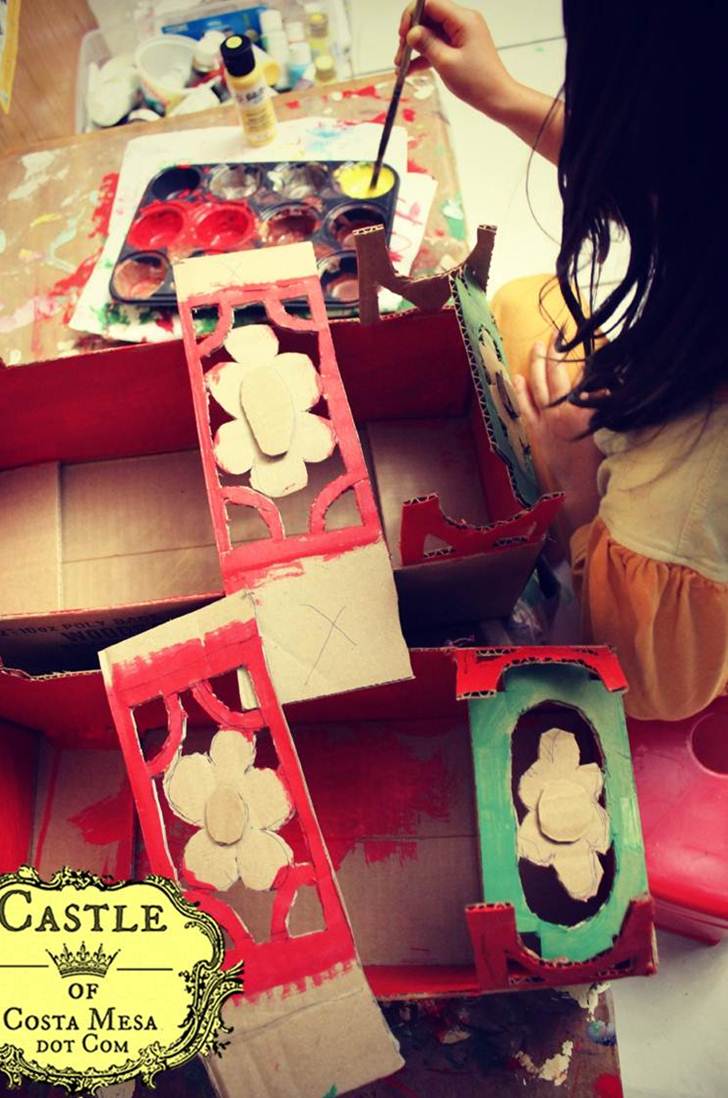 Late night. The mansion is placed together. Next step is to secure all the parts into one whole unit.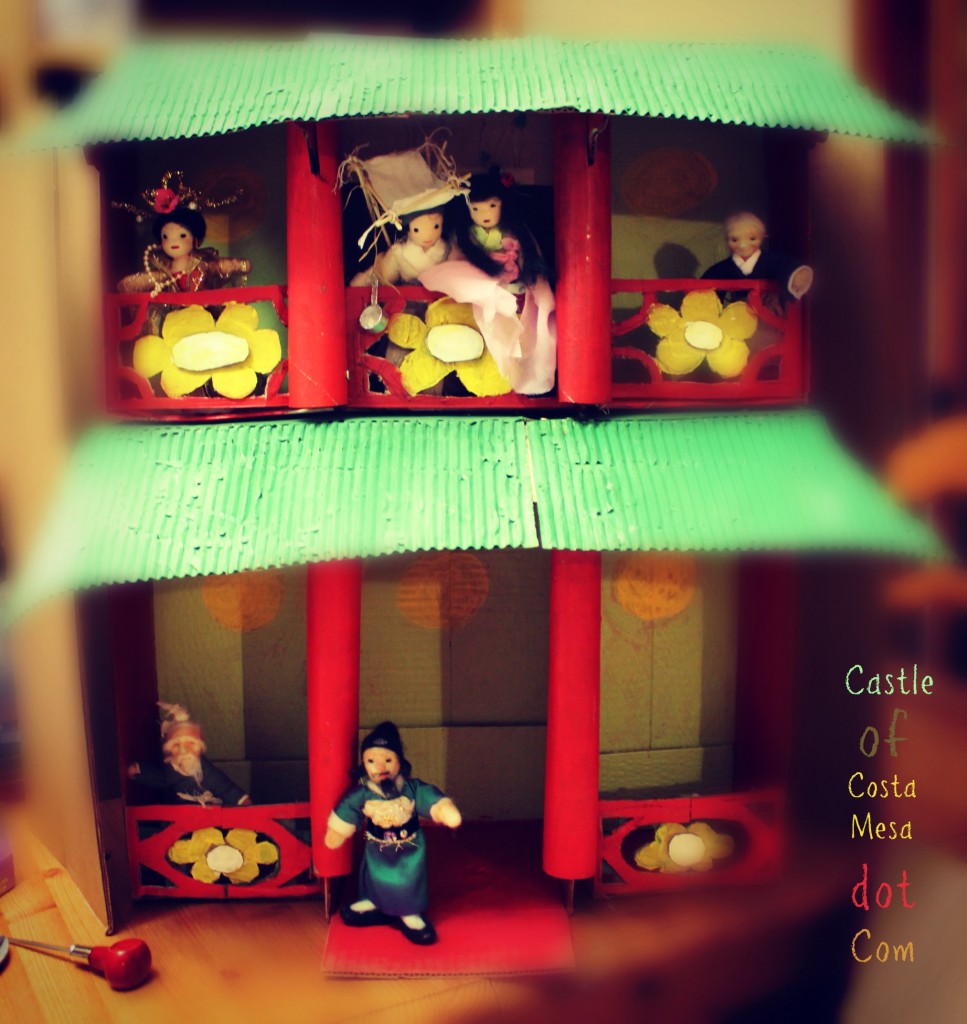 November 5, 2012. Showtime!
Nunu's 8th birthday. Anichka and Nunu performed live piano music and also assisted me in performing "Laibao's Quest For A Bride" homemade puppet show.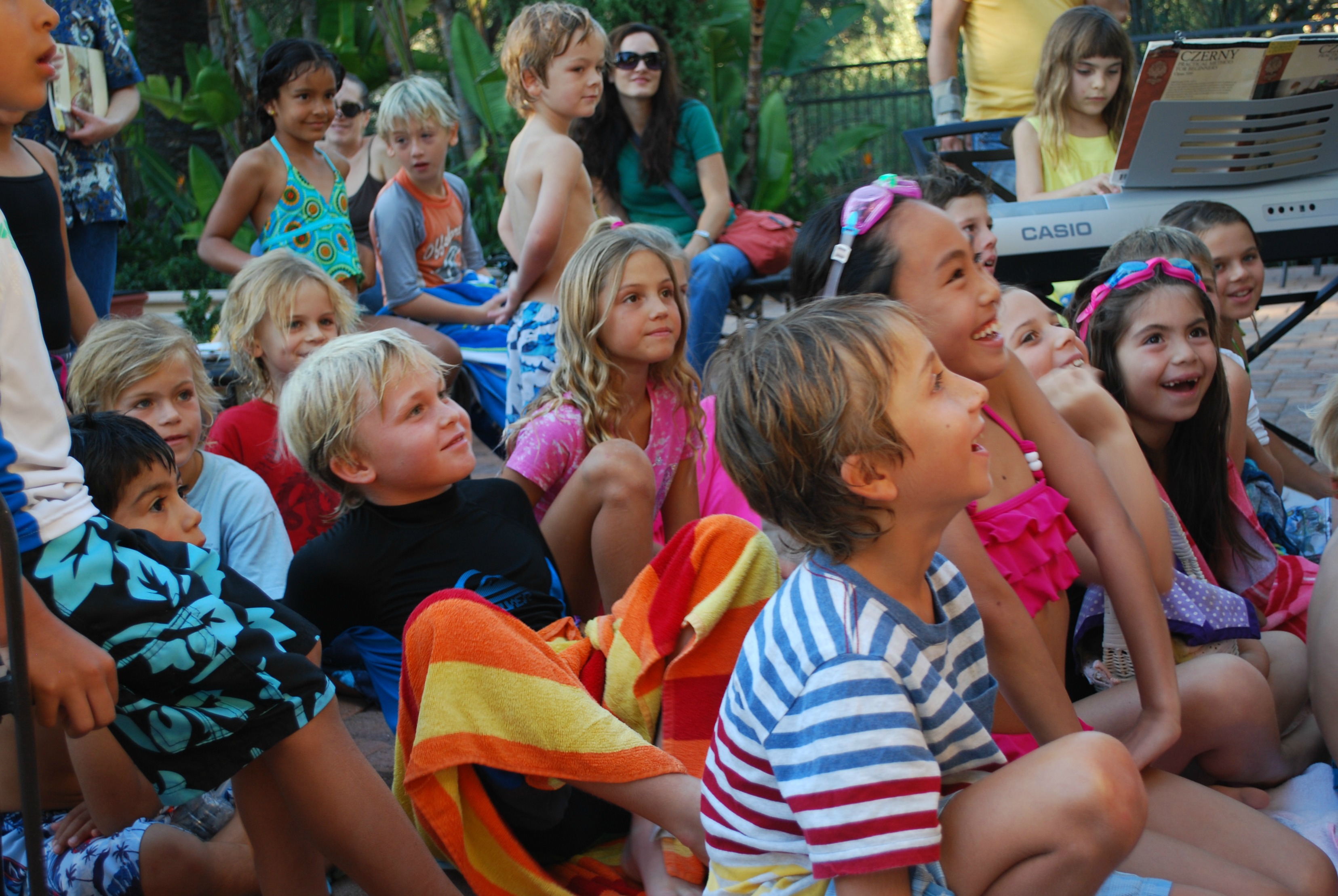 Photograph of the laughing children by Renuka Sharma.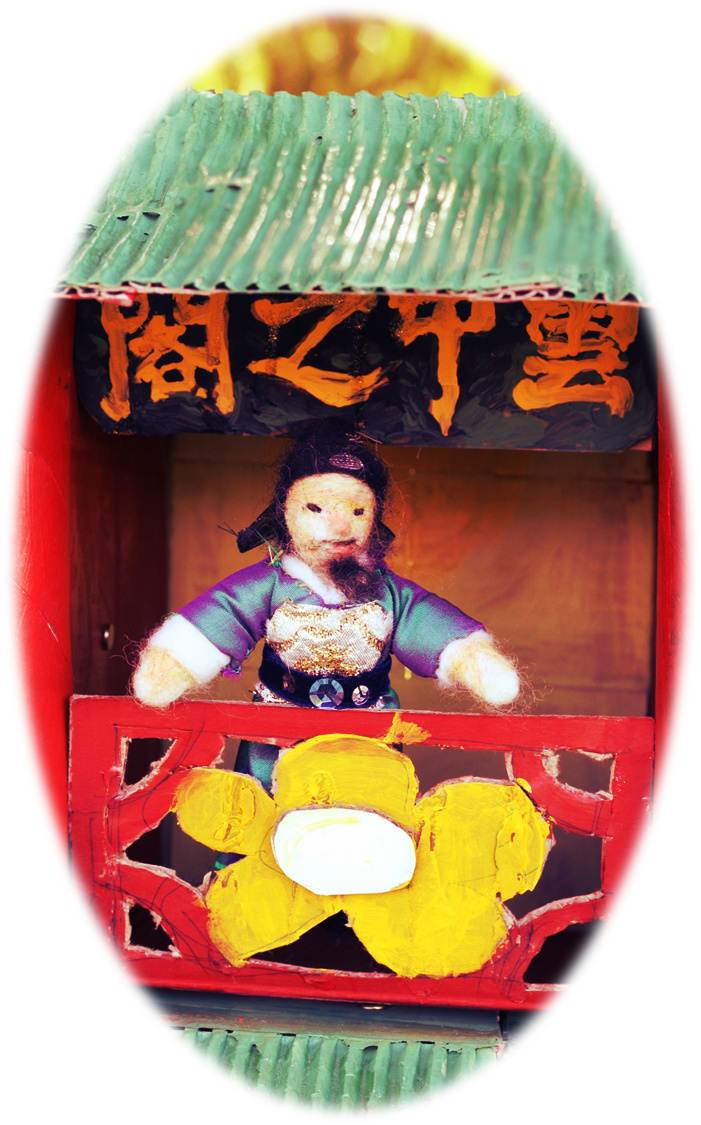 There are tons of gorgeous photos on this link as you scroll down. Enjoy! Please "Like" us on Facebook and stop by to say hello!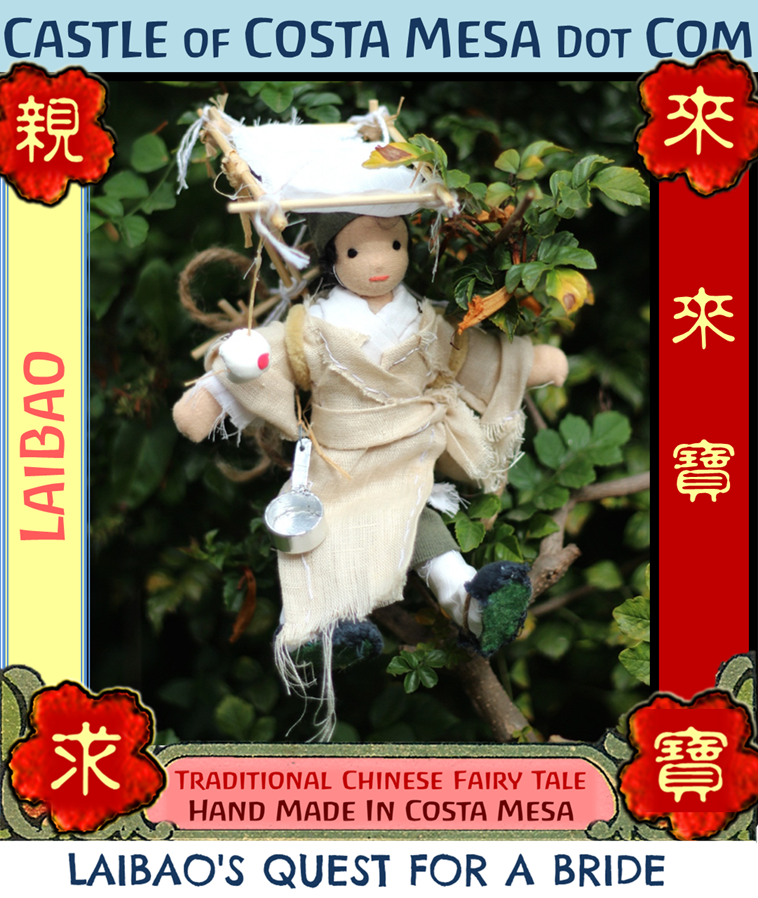 Laibao's Quest for a Bride
Please "Like" Castle of Costa Mesa on Facebook
Please "Like" me on facebook so you will be in the loop when my Fairy Tale Puppet Shows are presented. Also, I giveaway my handmade dolls periodically. I announce the giveaways with Facebook. Thanks! – Jzin