Our little Handmade and Homespun Fairy Tale puppet Theatre…
Snow White and Rose Red by the Brothers Grimm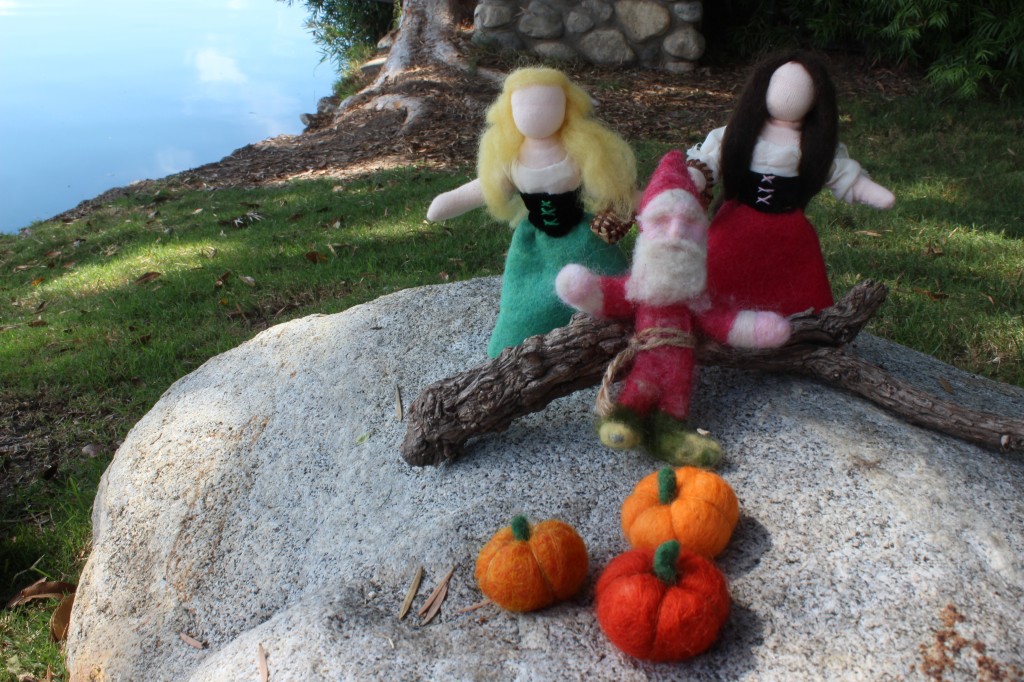 Birthdays are a wonderful time for a child to give back to her circle of loved ones. On Nunu's 7th birthday we decided to give the gift of a puppet show (6 year old Nunu and her piano comrade Anichka were my assistant puppeteers) and piano music (Nunu and Anichka performed 3 piano pieces each).
Months before the actual birthday, we practiced our piano pieces and prepared the show. Here are some of what we put into bringing out a puppet show.
1. Coming up with a story
2. finding the images. Tenggren's costumes.
3. making the dolls
4. making props
5. choosing the script. Edit, edit, edit.
6. choosing the piano pieces and practicing the music
7. incorporating music and children's parts into the script
8. Deciding to get a narrator
9. rehearsals
10. photographing the set
11. Set up, scene boxes and logistics of the show
12. Click here to view the final "Snow White and Rose Red" Fairy Tale puppet show performed on November 4, 2011
Coming up with a Story
A happy seed was planted in my heart to make this puppet show, when I first laid my eyes on Sybille Adolphi's needle-felted/sewn version of this tale many years ago: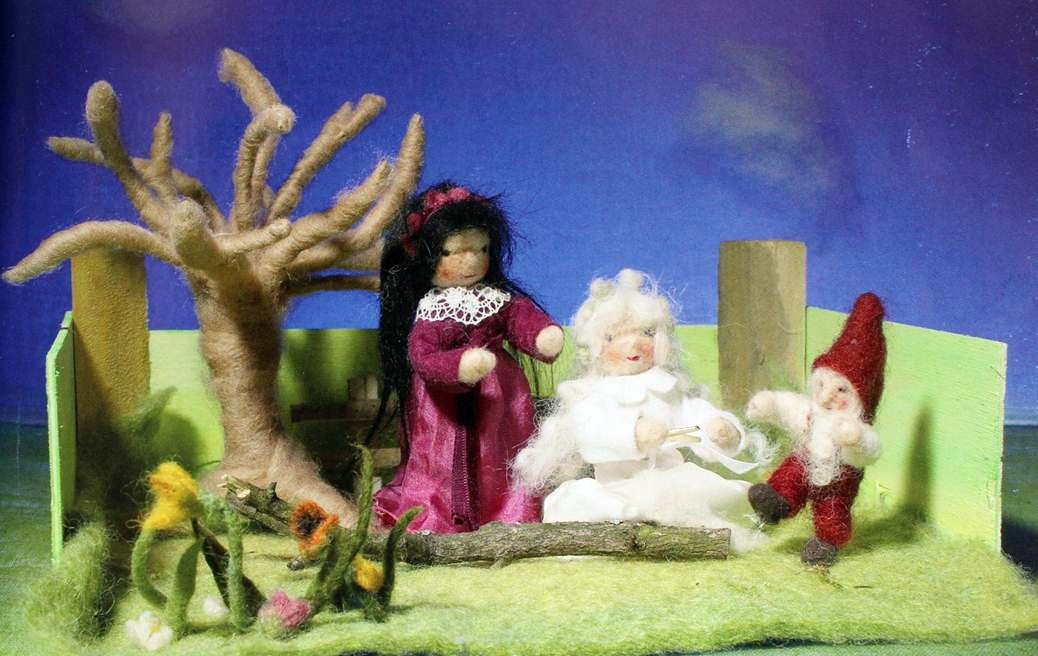 The adorable picture above came from Sybille Adolphi's book, Making Fairy Tale Scenes. This book provided me with the desire to make puppet scenes for children. Such joy!  Thank you Sybille!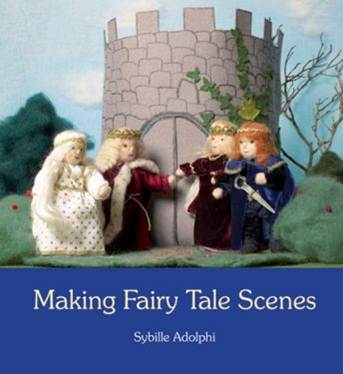 Choosing the look
I took some time to decide between a childish set of sisters to an adolescent pair. The costumes for one will be different that the other. I found a copy of Denise Marshall's Snow White and Rose Red in Miss Andrea's first grade classroom last year. The simple and sweet illustration provided much inspiration for me to do this puppet show.
Sweet, innocent and lovely illustrations by Denise Marshall.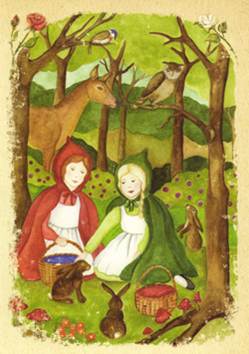 My heart melted when I saw these sweet little wooden children on etsy.com, handcrafted out of poplar by NaturalWoodToys. These are what sweet childhood memories are made of!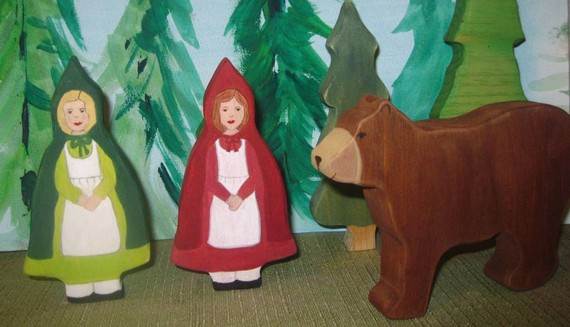 Do not forget to click lots of hearts when you visit Chris' adorable store!
August, 2011
Archipova's edition of this Fairy Tale on Steinerbooks.com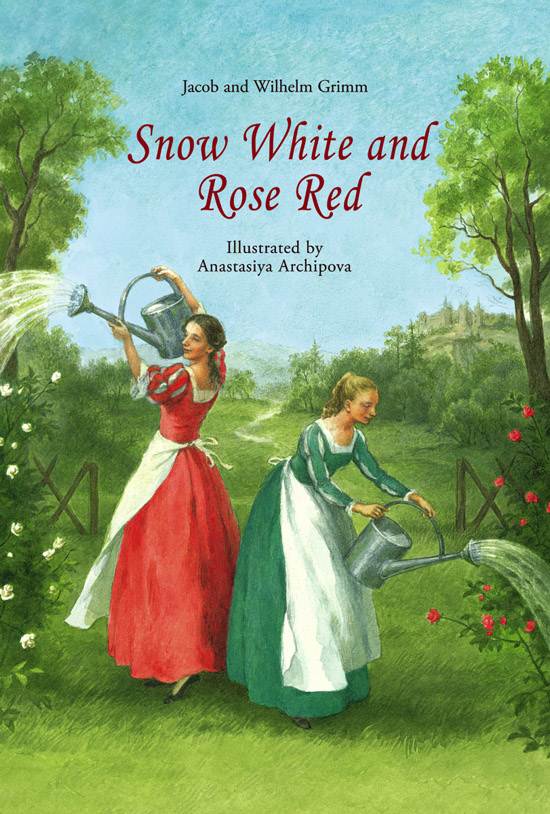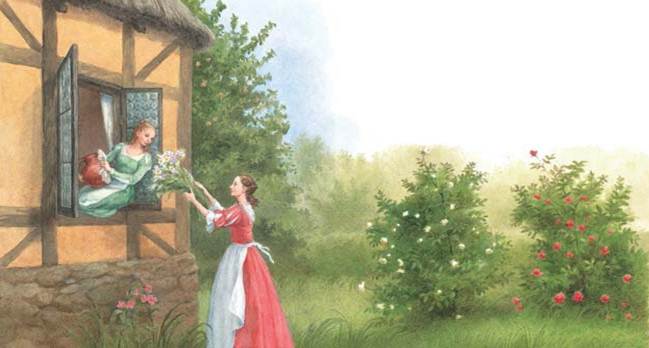 Naturally, the first choice was to make a set of sisters the age of my puppet show audience. The children would be around 5 to 7 years old.
However, since I am personally moved by romantic fairy tales, I decided to go with the more adolescent look. I was inspired to make the final costumes based on an out of print edition of Snow White and Rose Red with such delightful illustrations by Gustav Tenggren: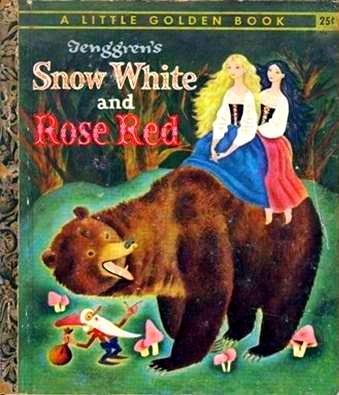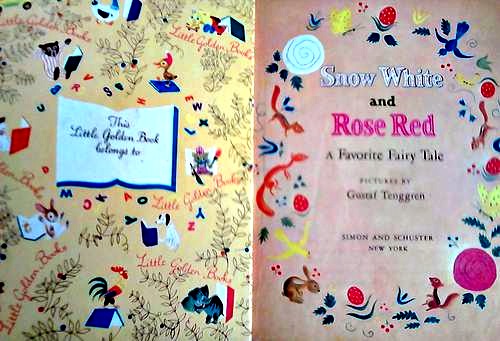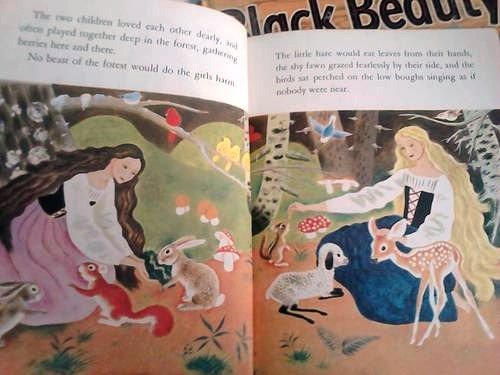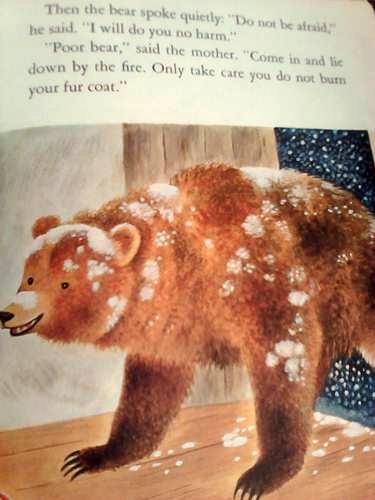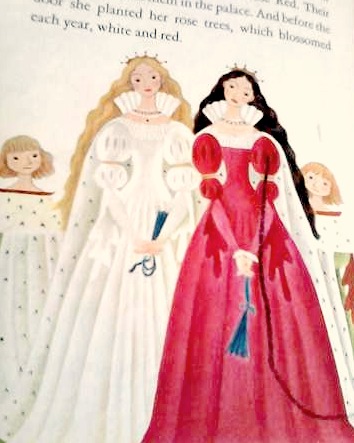 I loved the illustrations so much, I ended up buying the old copy of Tenggren's Snow White and Rose Red for $20 on Amazon.com used books stacks. It is now a cherished book in my growing collection of books.
Sometime in Summer, 2011.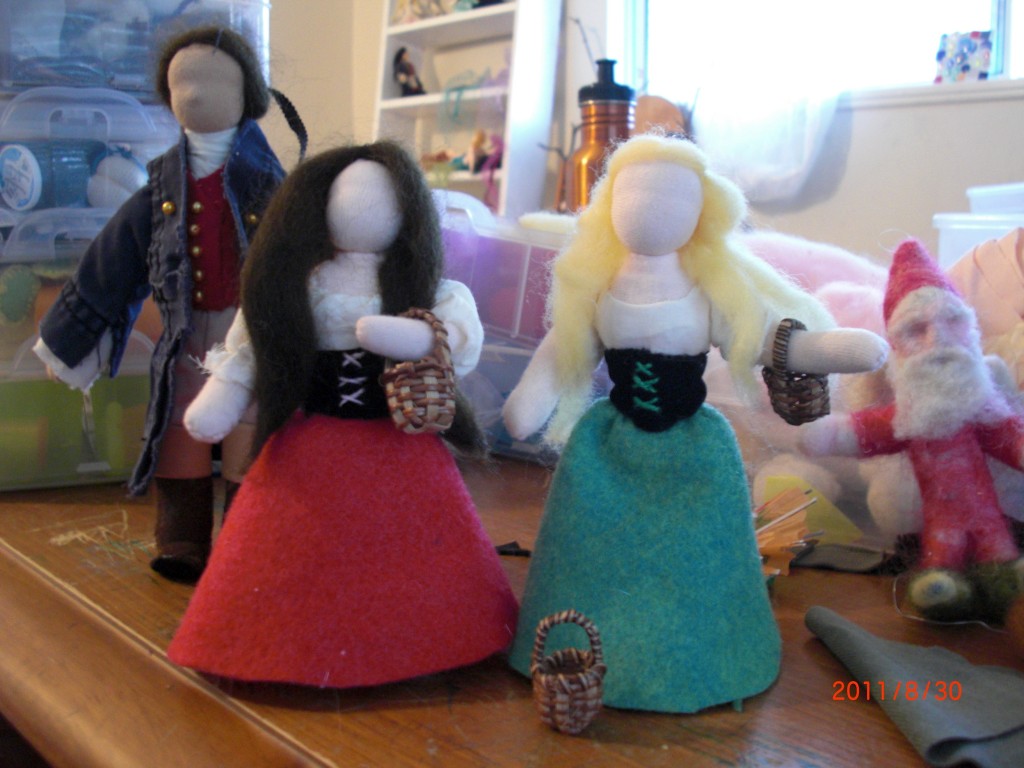 So far, we have handmade the two main characters, Snow White and Rose Red, plus the grumpy dwarf (beard already snipped before the curtain call!) in red. The tall fellow in the back on the left is from a different time period and does not belong in this story. (He is the evil heart throb Heathcliff from Wuthering Heights). I was inspired to make these maidens' costumes based on illustrator Gustav Tenggren's version of the fairy tale.
(Note in October 2011: We ran out of time, so I decided to enlist both Heathcliff AND the sailor prince as the 2 royal brothers in the final puppet show, despite the discrepancies in the period of costumes, but hey! 2 fewer dolls to make in a crunch!)
Wood Gathering, End of Summer 2011.
The children have been gathering wood, like these girls in the woods (in the story books) for our fairy tale scenes. We have been amassing some branches that are gnarly and full of character like the fiesty little gnome whose entrance in our puppet theatre will be accompanied by Alexander Fyodorovich Goedicke's Etude! OK, I digressed, I just enjoy saying Russian names! Александр Фёдорович Гедике! When I find my lost digital camera, I will show you the wood we have collected, full of personalities for our much anticipated puppet show!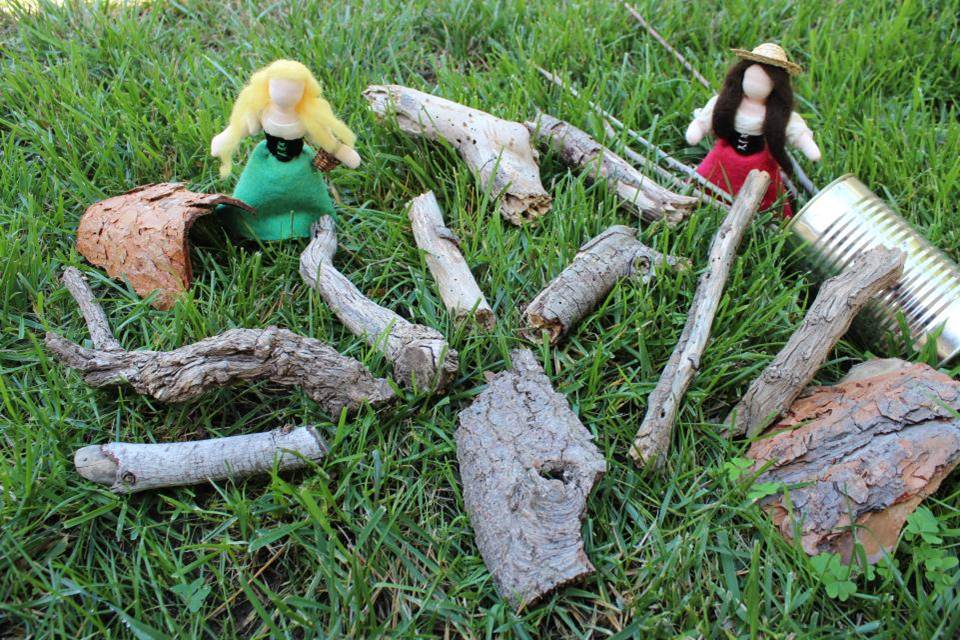 Here is a portion of our nature finds from one walk through the woods one late summer day at Shipley Nature Center. Wood gatherers ages 6, 8, 10 and our Palestinian friend Fateh enthusiastically hunted for gnarled branches that has some spitfire character like the gnome's in the story.
Around September 2011. Bear Prince in Pelt Robe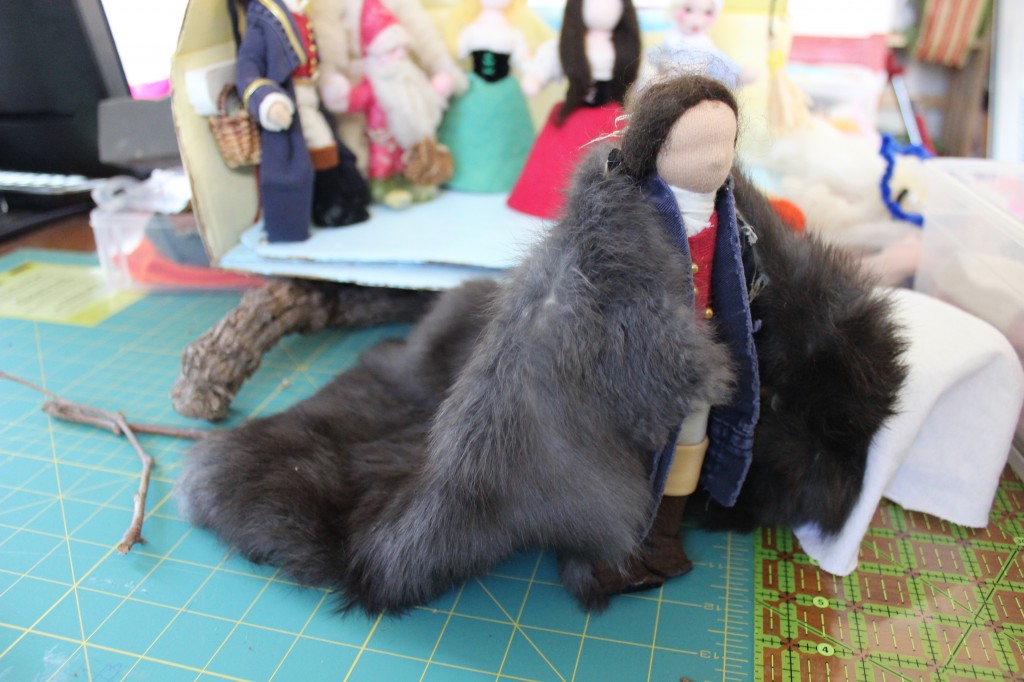 I wanted my bear prince to be manly and smell of animal, not one who dines on bon-bons for breakfast, lunch and dinner. I shopped for rabbit pelt, the first time in my life, on e-bay and chose some bear-like rabbit pelts that would make the prince look wild and beastly.
October 2011. YAY! I made the gleaming brass kettle in the morning!
Woo hoo! As the date of the puppet show is quickly approaching, I made this kettle out of cardboard, large button (the kettle lid), wire insulation and sheer will! Done! All in the spare moments of my busy morning! When one is not altering genomes of mamalian cell lines, these things do keep antsy hands occupied.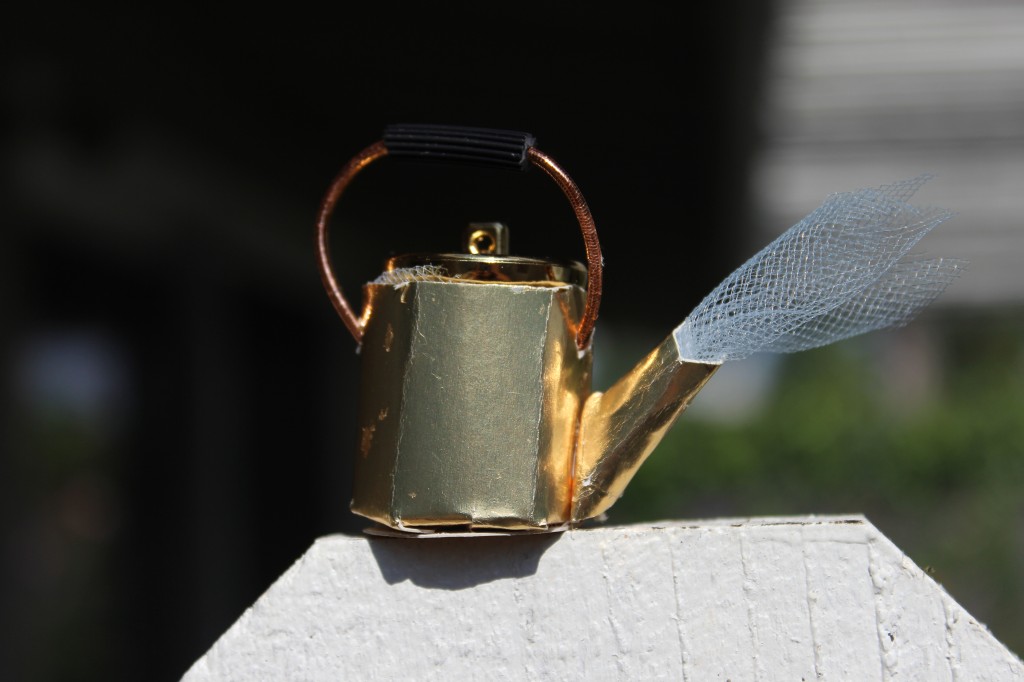 Making the fish.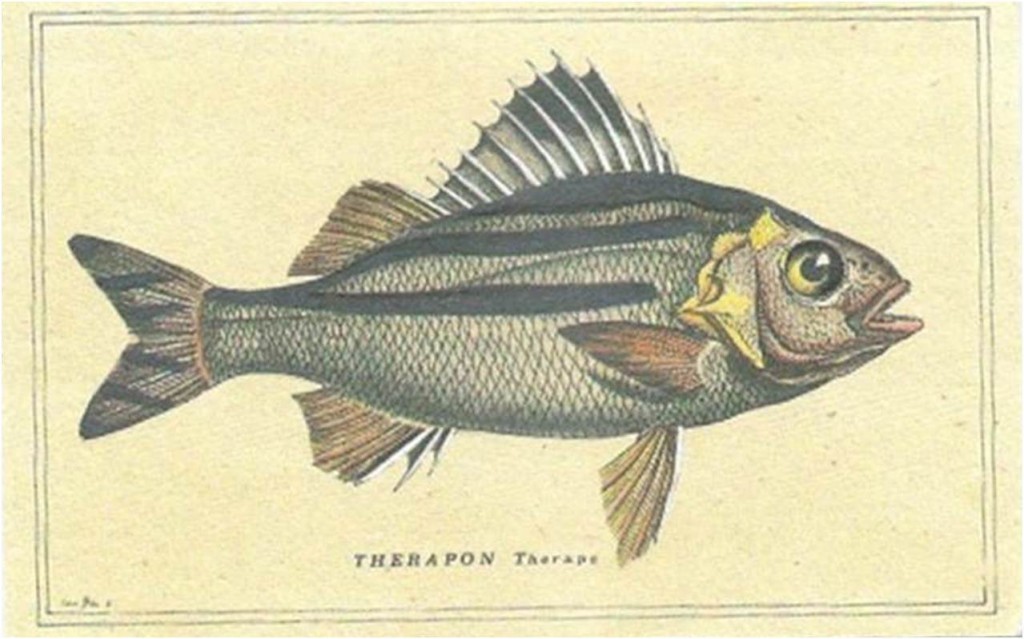 I wanted to make a fish that can be used for many puppet shows. One that can swallow and can be "cut" to retrieve what was swallowed. I considered using this fish for "Snow White and Rose Red", "Arabian Nights", "Tom Thumb" and perhaps some stories of the Old Testament.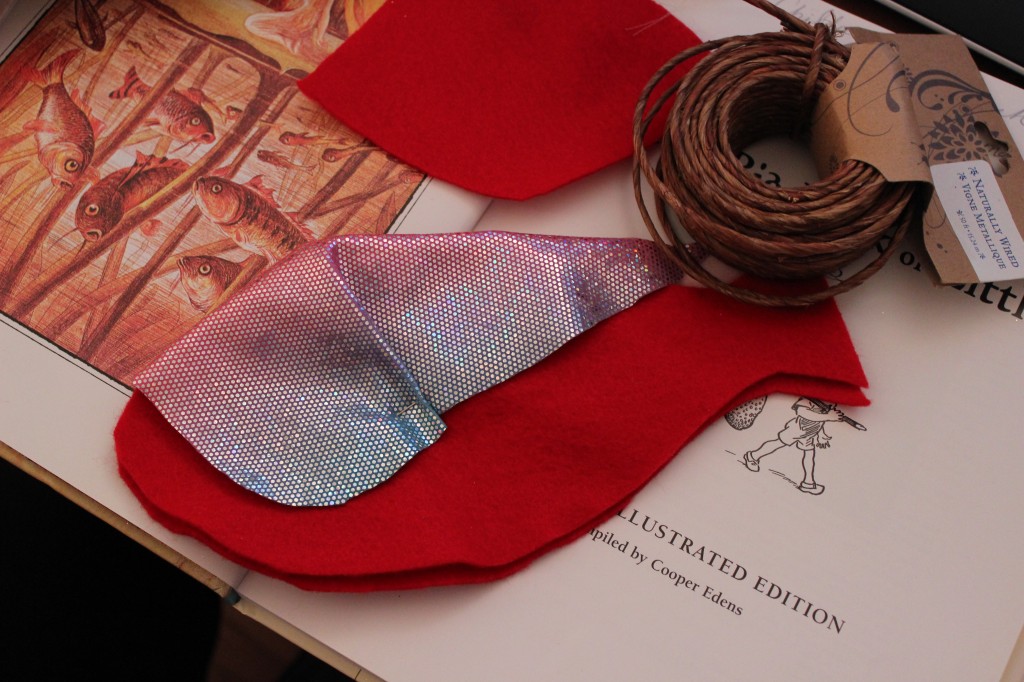 The making of this fish was more of a sculptural experience than a sewing one. Once the image comes to me, I am impatient. I want to capture it in form quickly before the image is lost.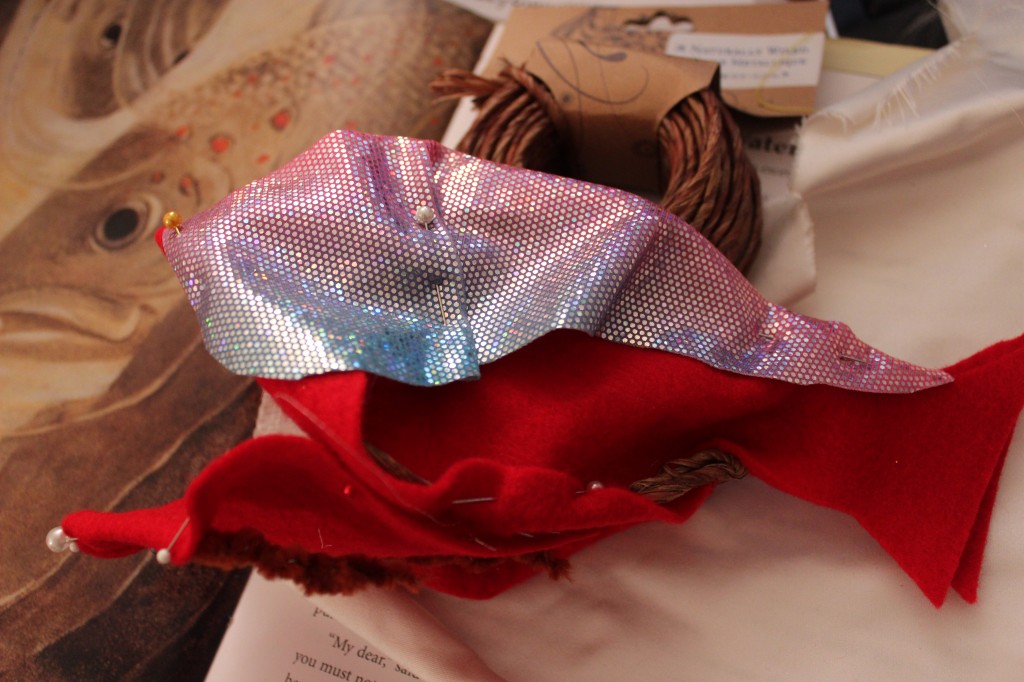 I enjoy putting in form, the image in my mind. Creative endeavors are spiritual exercises, really.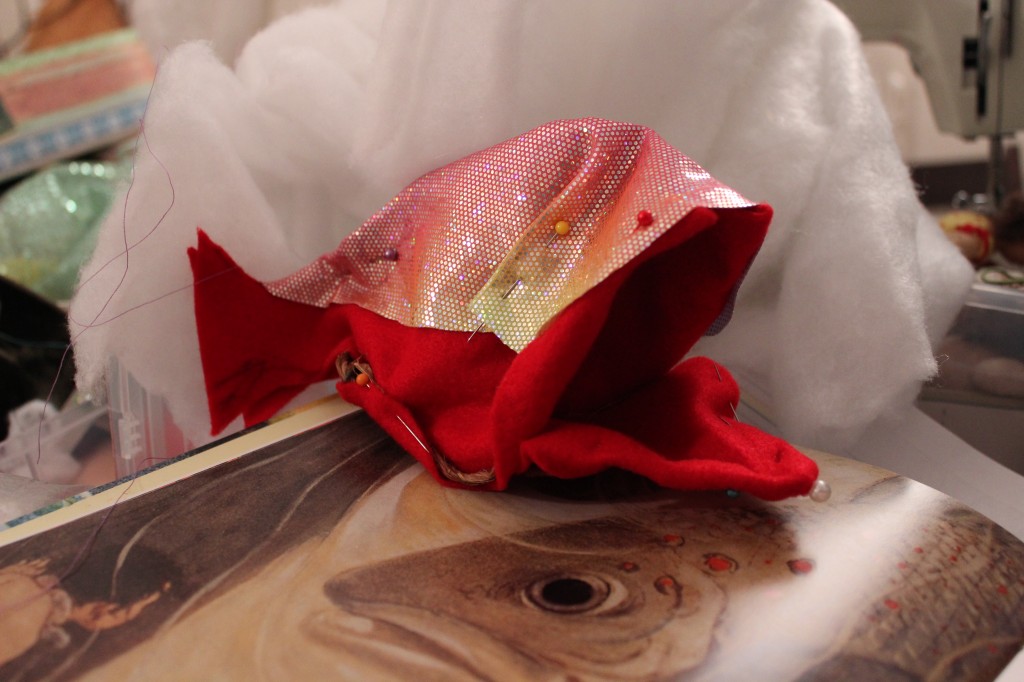 Somehow, in my mind, the fish that was calling to me was one that was huge, beastly and helplessly flopping at the verge of death. Somewhat like Giorgio de Chirico's sketch of a platter of fish being worshipped by men in a temple: large, dangerous, powerful towards others, yet desperately at the pinnacle of helplessness.
Here's another image that spoke to me: The finale game sequence of Roberta Williams' King's Quest II! (I wanted to be a computer programmer so I could work with fairy tales! Computer Science was my major before pre-med. My mustachioed Computer Science professor was a boolean: Dr. Noyes. Got it? No-Yes!) Then again, I digressed…somehow this scene below lived in me for a long time…the neon acid sky, sulfuric air, the huge looming carnivorous fish that was both dangerous and helplessly moribund… so this was the fish that lived in me and I was going to make!
October 30, 2011 Sunday morning 7am.  Today I finished making the fish for the dwarf's fishing scene. I started with wire and felt, covered by white silk for the fish's belly  and sequined fabrics to simulate fish scale and sequined fabric for fins and tail. It was fun to play with such glittery and beautiful materials.
This fish looks different on both sides (my ADD will not allow otherwise). Here is one side…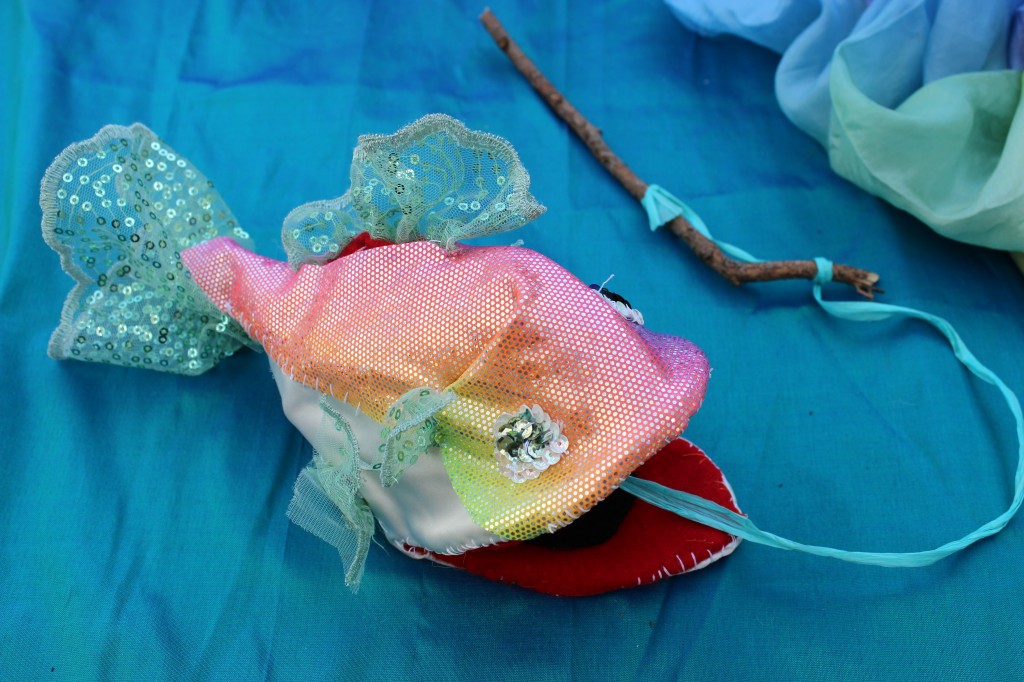 …and here is the other side of the same fish. (Why make 1 fish when you can have 2 ?)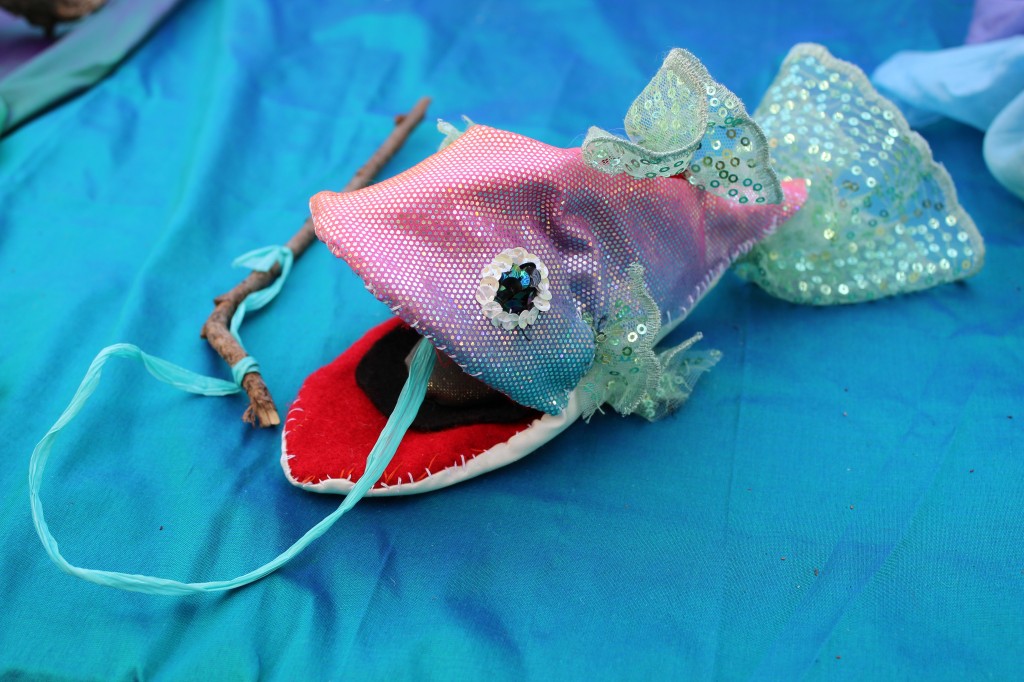 The Rose Vines
October 30, 2011 Sunday 9:30am ish. Nothing like a deadline to boost productivity! The puppet show is set to go on Friday November 4!  The Rose Vines must sing of resplendent joy and youthful beauty, it will be the vital in the climax of the show, i.e., at the wedding scene. I sat in the van and made this arch of Red and White rose vines. The morning sun is so pleasant on a flu-ish body! Thank you sunshine!
Making the Needle-felted Bear
The first bear I made for this puppet show was out of rabbit pelt. The snout broke and I gave up and used a teddy bear bought from Piecemaker's store as the Bear for the puppet show. After I finished sulking over the torn bear, I dove into making a needle felted bear. My interest was to make a bear pronto.
This needle felted bear was made in 1 afternoon, simply because I was too busy.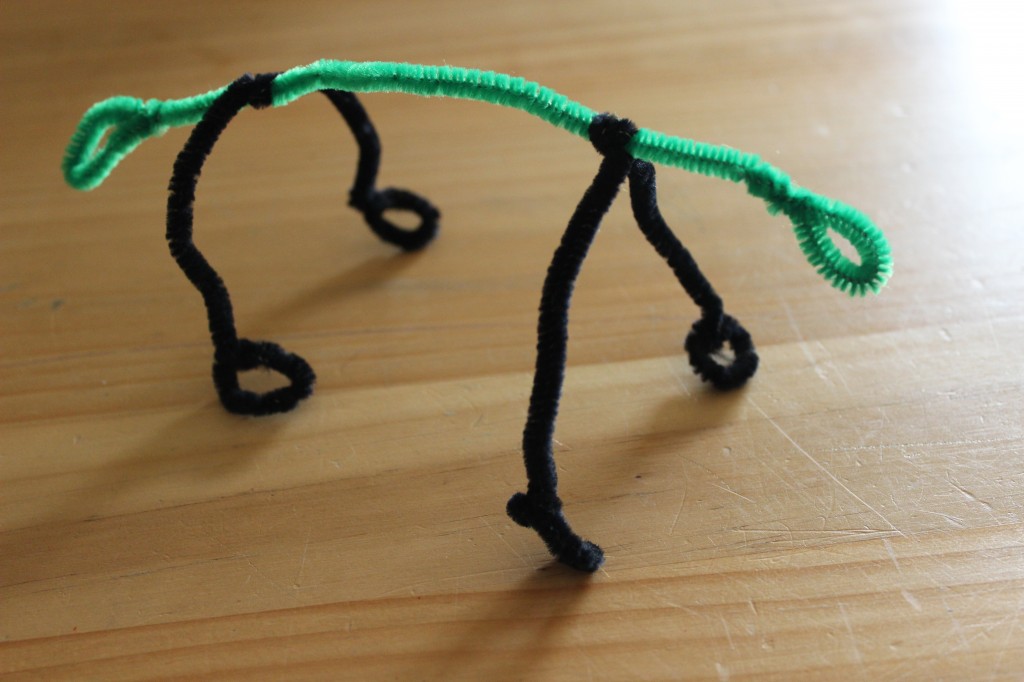 Pipe cleaners render the bear posable. This is necessary for a puppet show.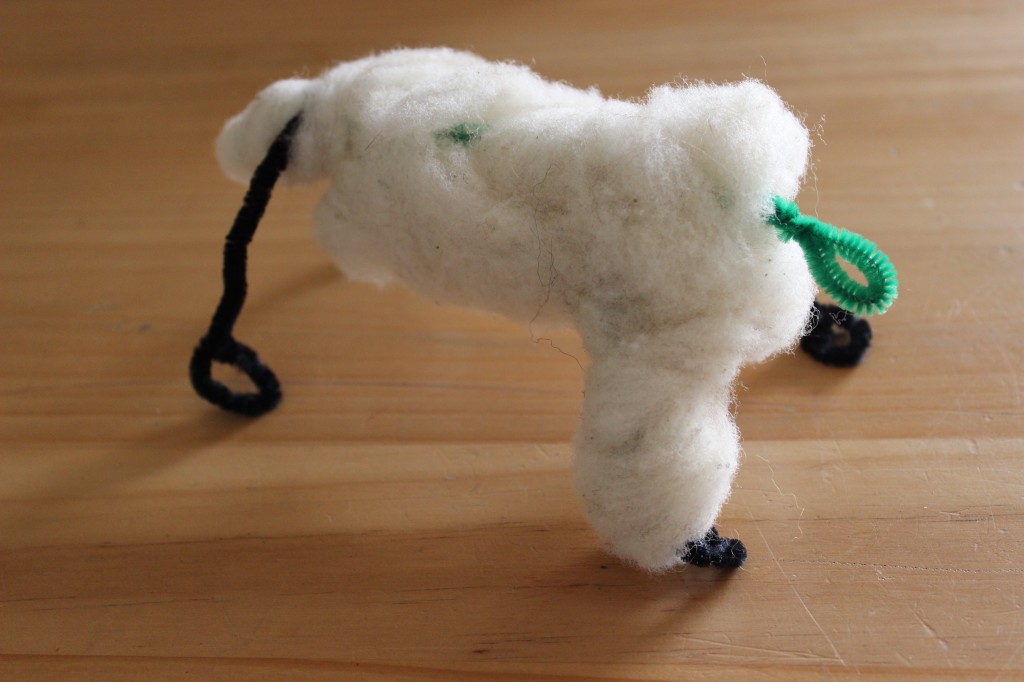 It is helpful to have a visual reference as you needle felt the bear. I used Scheich's black bear figurine as a reference.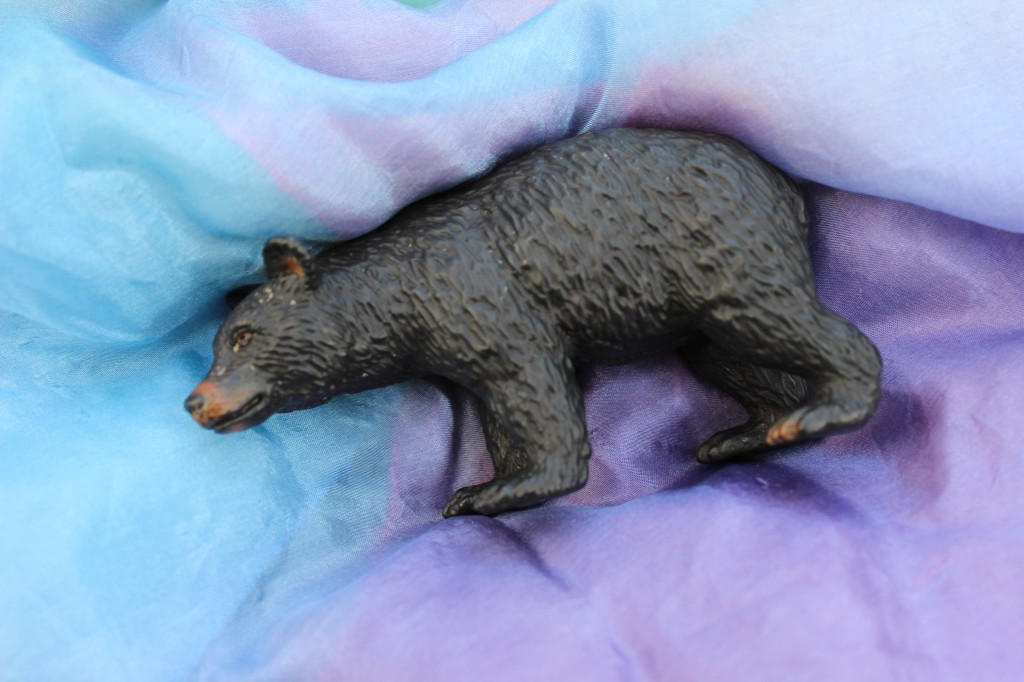 Needle-felting can be dangerous. Be careful not to shish-kebab your fingers.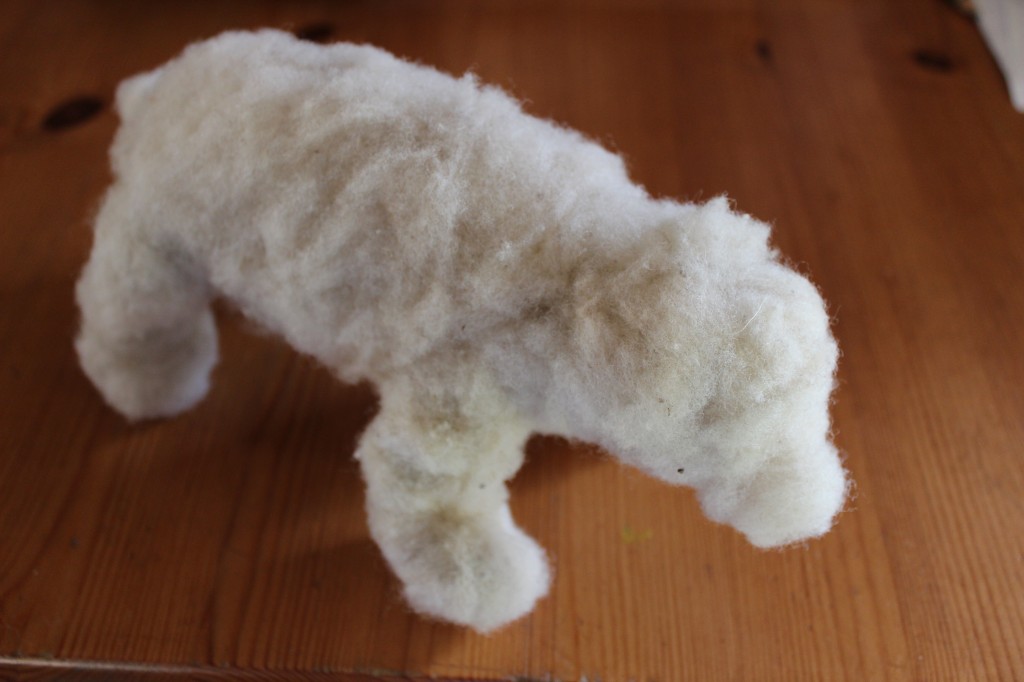 Layering the color. Thin layers stay on the bear the best. Impatience tells me to wrap the whole thing in thick roving, but thick layers will fall off.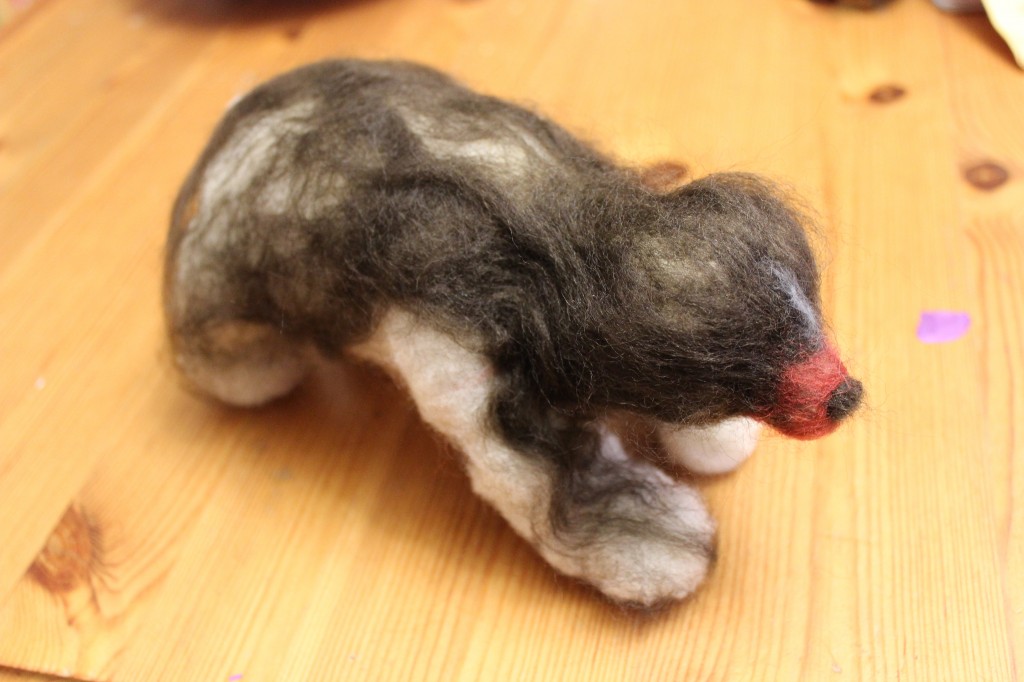 The golden strip of sequin fabric was sewn onto the bear with black thread.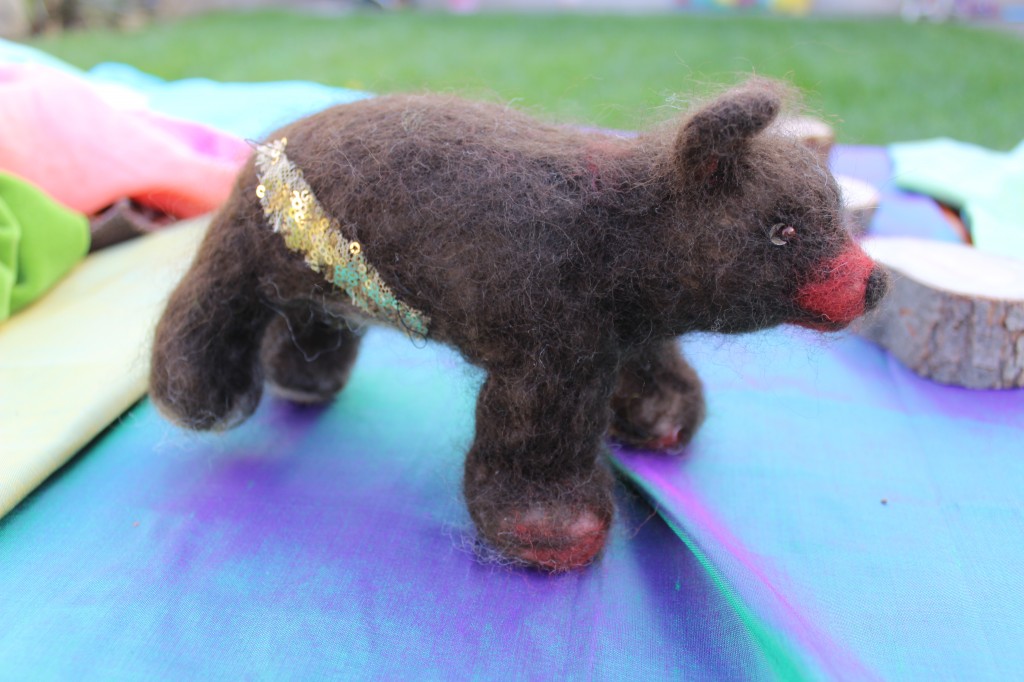 Finally, the bear is finished.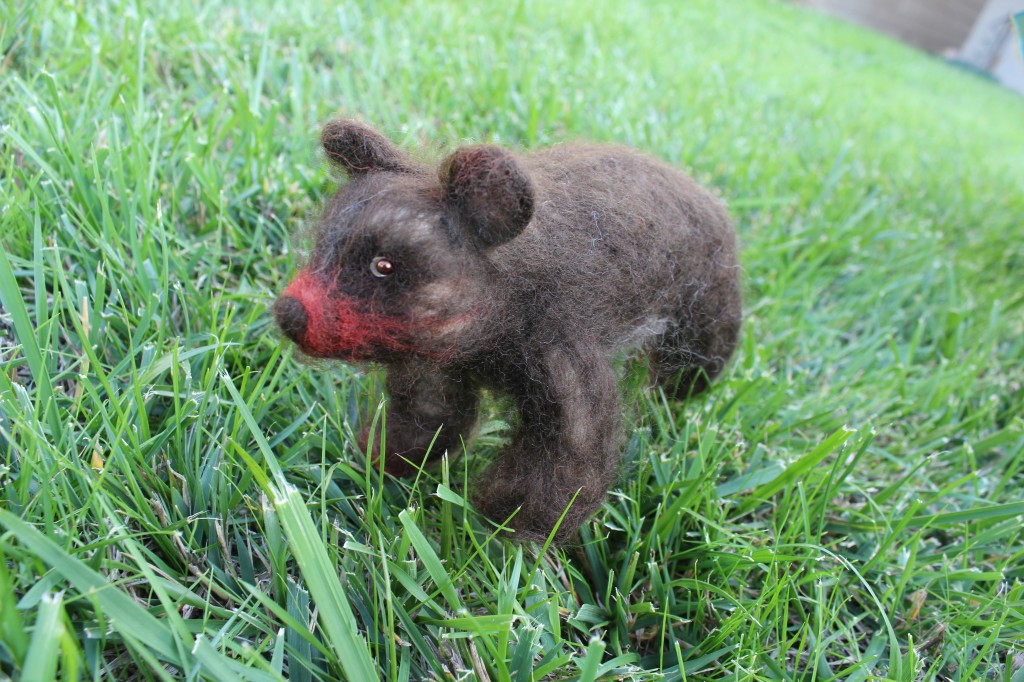 Dwarf's Cave
Thanks to Michaela's gift of a big bucket of local tree barks of Santa Ana, I have materials to make a charming tree hole home for our grumpy gnome
Dwarf's bonfire
Anichka pointed out the marshmellow anachronism. Astute Observation, Anichka!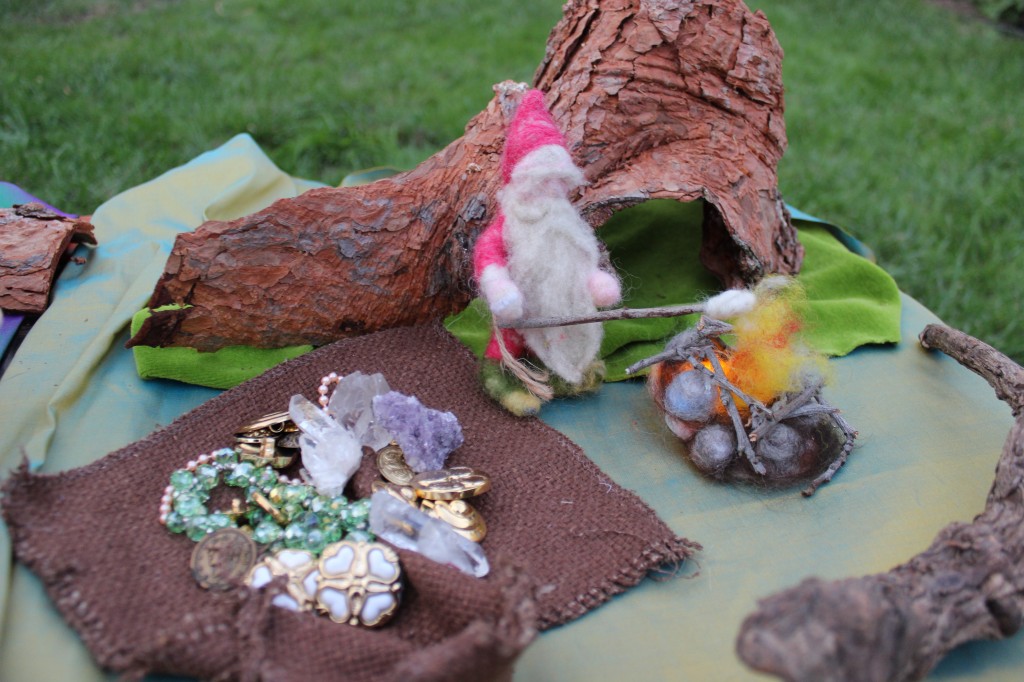 The little candlelit bonfire is one of my personal favorite prop for this puppet show. So much fun to make and to show! I was happy that the birthday party was on a dark and stormy day. This way my little bonfire glowed and flickered so warmly for the puppet show!
Cottage out of Recycled Cardboard Box
My little elves helped me to paint the cottage. They really enjoyed this part of the work. On October 30, 2011 I repainted the cottage roof green because a red roof do not show well with red rose vines.
Script
If you remind me, I will upload the script, so you may perform the same puppet show for your little ones if you choose to.
Choice of Piano Pieces
This puppet show was mainly made to (secretly) encourage my 6 year old Nunu (not her real name) to practice her piano pieces. The story was chosen to showcase her current repertoire of piano pieces. I am happy to walk the journey of piano practice with Nunu. With my energy alongside, it makes her piano practice more practically meaningful and meaningful. Here is my blog on this related topic: Motivating a 6 year old pianist.
Rehearsals
October 30, 2011 Sunday Afternoon.  Alena and Anichka came by and we crafted the final pieces together. We performed our first rehearsal together as well.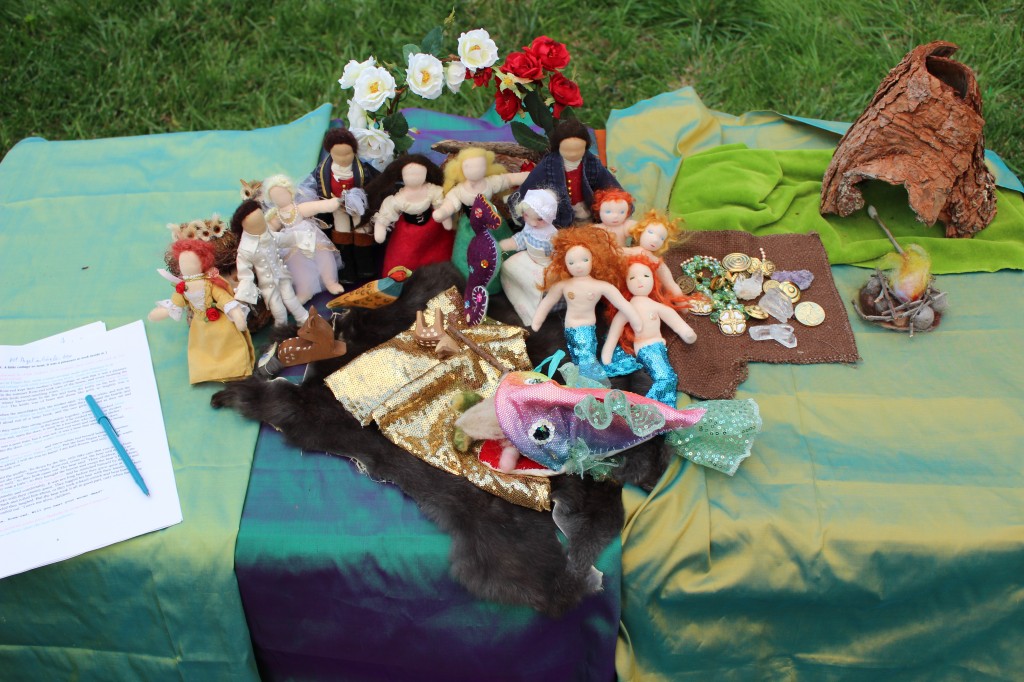 The Final Puppet Show on November 4, 2011
Click on the photo below to view the final puppet show!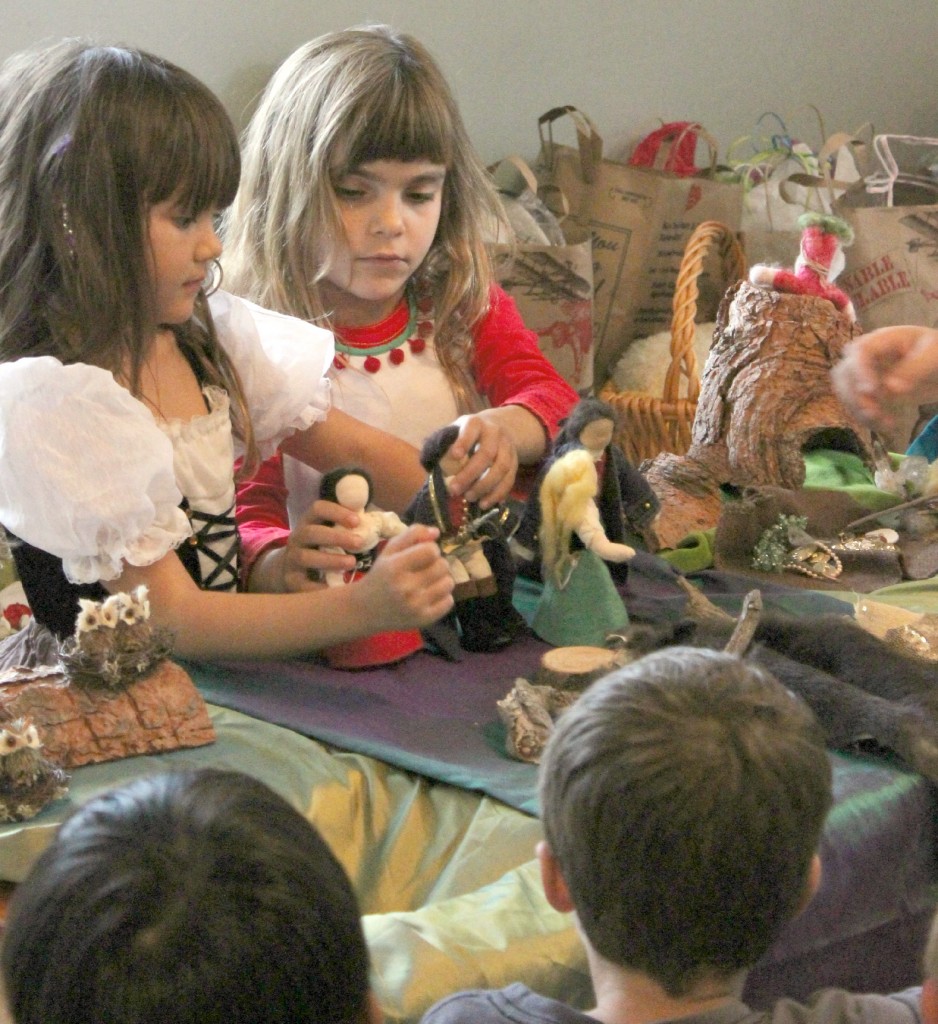 The actual day: Nunu and Anna were my 2 assistants. They also performed the piano pieces perfectly for the puppet show!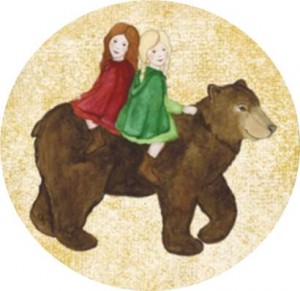 Please leave a comment if you enjoyed my creations! Thank you!