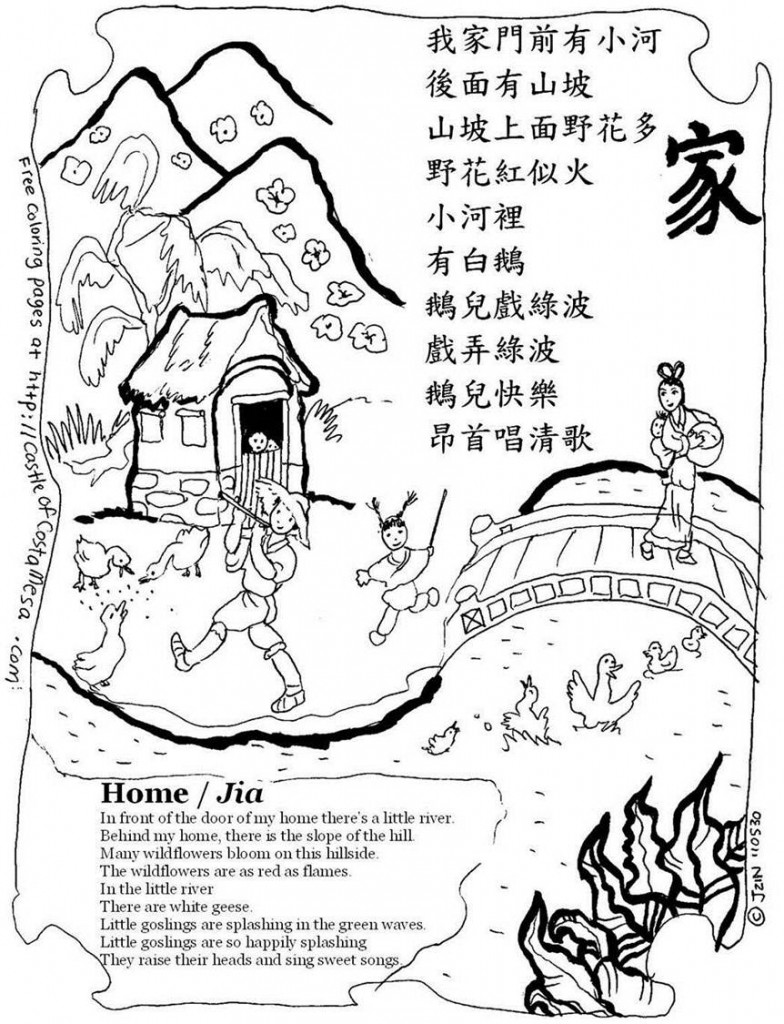 葉老師 (Teacher Grace Yeh) taught our children to sing this popular chinese children's song in class, in preparation for their little surprise performance, on the last day of Sunday Chinese Kindergarten. The hand gestures in the video below (scroll to bottom) differ a little from what Yeh Laoshi showed the children. The song is called 家 "jia" which means "home".
Here is a free coloring page you can print off your computer by clicking here. Do belt out the song aloud as you color this page! The video and audio (scroll to bottom) are here to help you learn this song.
家

我家門前有小河

後面有山坡

山坡上面野花多

野花紅似火

小河裡 有白鵝

鵝兒戲綠波

戲弄綠波

鵝兒快樂

昂首唱清歌

Jia/Home

By the front door of my home there's a little river.

Behind my home, there is the slope of the hill.

Many wildflowers bloom on this hillside.

The wildflowers are as red as flames.

In the little river

there are white geese.

Little goslings are splashing in the green waves.

Little goslings are so happily splashing

they raise their heads and sing sweet songs.
家

(simplified)

我家门前有小河

后面有山坡

山坡上面野花多

野花红似火

小河里      有白鹅

鹅儿戏绿波

戏弄绿波

鹅鹅快乐

昂头唱清歌

Jia (Hanyu Pinyin version)

Wuo jia men chien you xiaohe

Houmian you sanpo

Sanpo shangmian yehua duo

Yehua hong shi huo

Xiao he li you bai er

Er er xi lupo

Xi nong lupo

Er er kuaile

Angtou cang qingge

Click on the widget to hear the version from award-winning CD 幼福-世界童謠精粹:

Here is a water-color pencil painting of the song Home 家 created by Elena, age 6 and 1/2 as she sang along to this song on this webpage.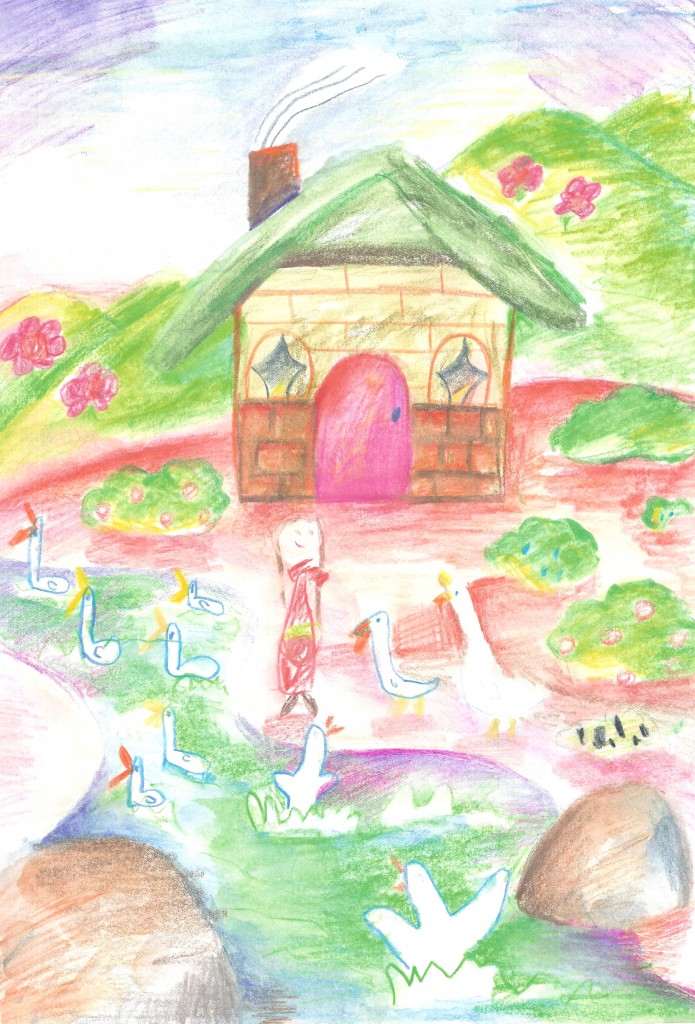 New word : 天鵝 (pinyin: tian er) swan
Fun note: 鵝 is goose, while 天+鵝 "heaven+goose" is swan.) What an appropriate name for these graceful creatures! The chinese call them "heavenly geese". Here is an endearing early Ming dynasty painting of a swan mama lovingly caring for her baby cygnets.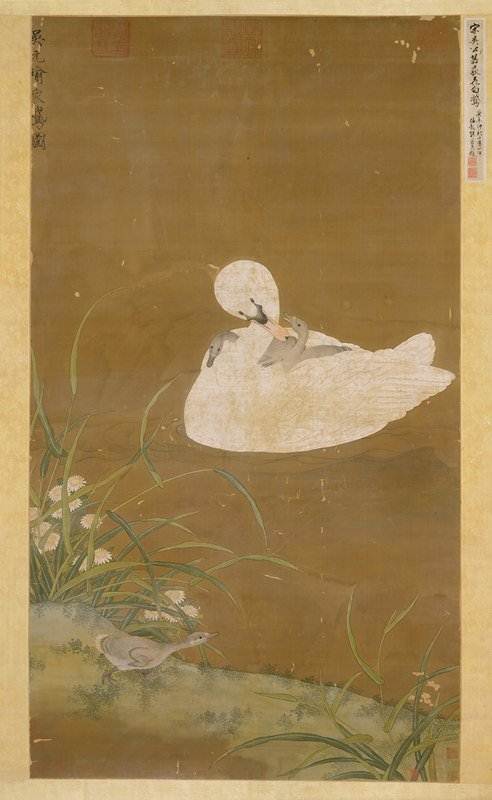 Title:Swan and Cygnets
Artist:attributed to Yuan-Yu Wu
Date:Early Ming dynasty
Medium:Ink and colors on silk

Home

家

Jia as delivered by The Four Golden Princes
s (sic)