March 17, 2014 Monday.
Christine Newell picked a raffle winner this Saturday March 15, 2014 at our Double Tree Hotel Waldorf School of Orange County 2014 Gala and Auction.
Congratulations! The winners of the raffle for our Starry Night community Hooked Rag Rug are Diane and Frank DiGrado! Thank you for all the hands that hooked this rug, and all the supporters of our Waldorf School of Orange County March 15, 2014 Gala and Auction!
Our Hooked Rag Rug is Completed and Ready to Bid on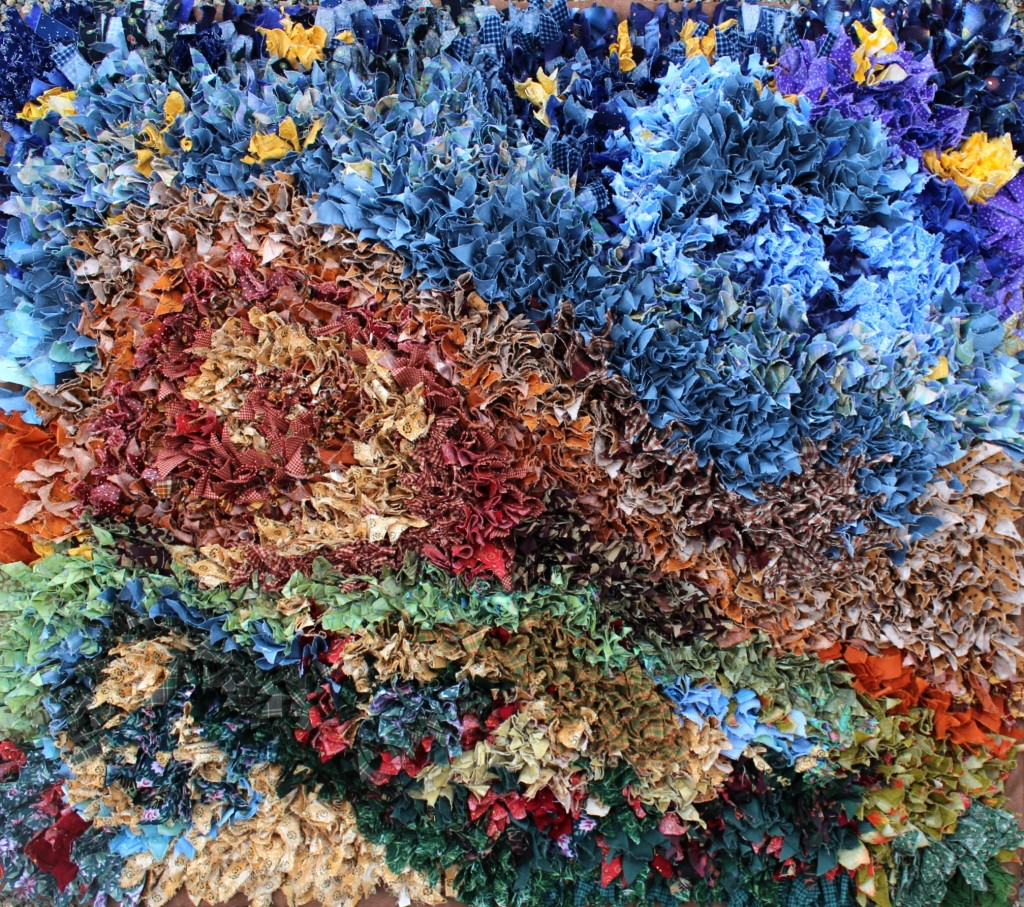 Our craft group have been working on this hooked rug since January 2014. Now, this lovingly created plush and luxurious rug is available as a raffle offering for our Waldorf School of Orange County fundraiser. $10 for a chance to win this. We ship FREE internationally to raffle winner: Enter WSOC on Bidpal. This ends March 15, 2014 8pm Pacific Standard Time.
Tuesday, March 11, 2014. Our hooked rag rug is DONE! Thanks to the many hands that worked on this!!! 3,900 plugs! Wow-za!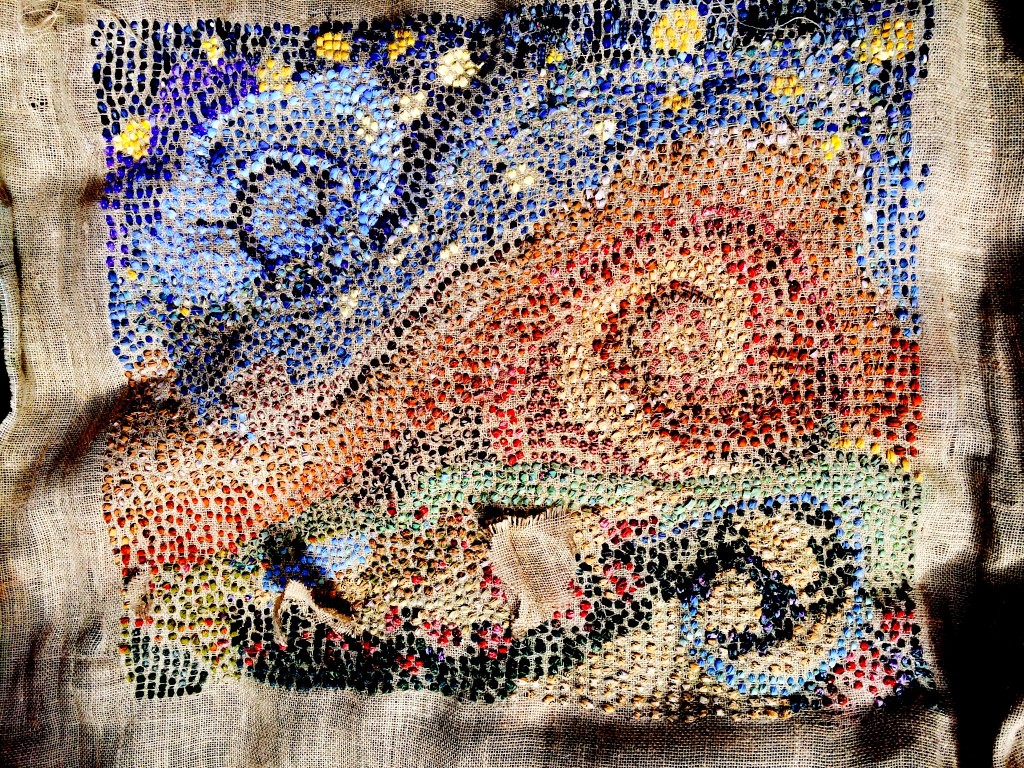 Thursday, March 13, 2014. Christine sew on a suede-like backing to this luxuriously sensational rug. Hurry! You can still bid on this until 8pm March 15, 2014 Pacific Standard Time.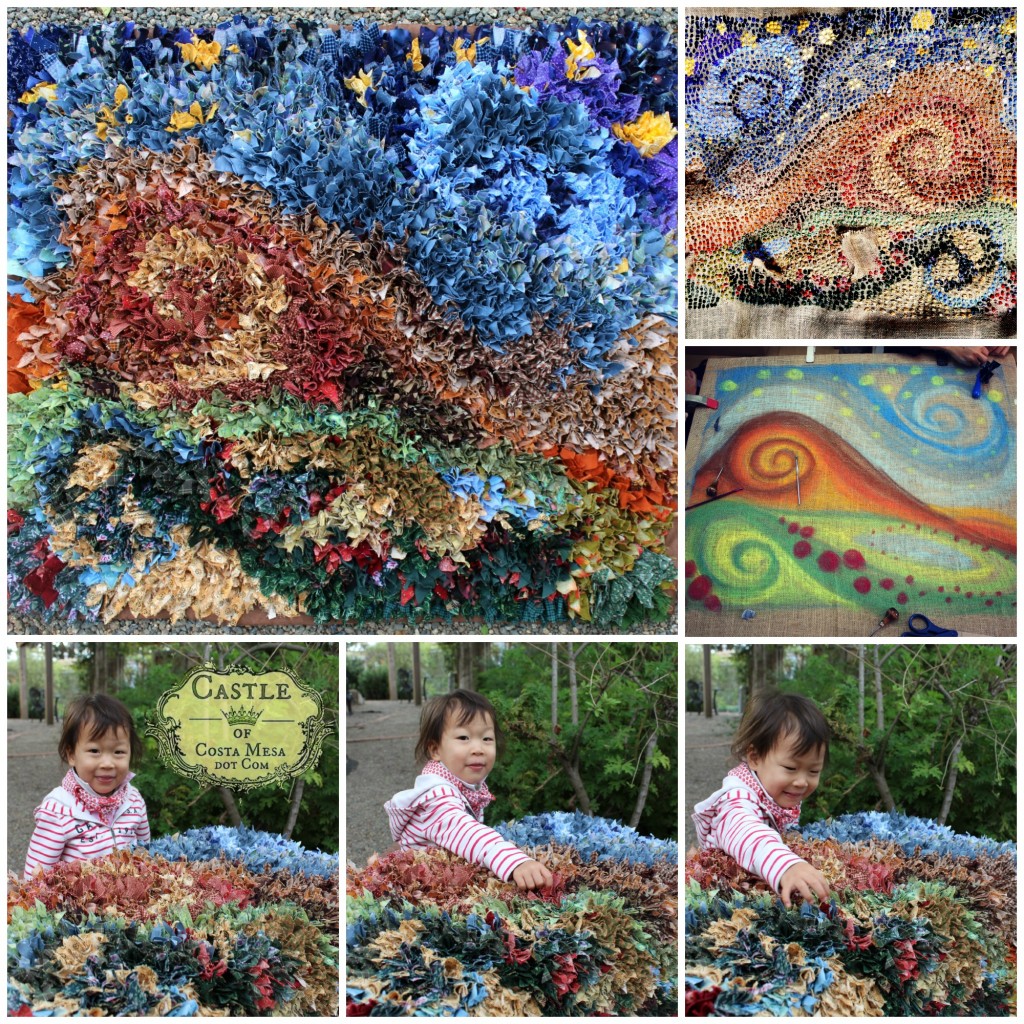 Irresistable! It is so lush and fun to touch…
Click here to bid on this rug this for our school fundraiser. Ends March 15, 2014 8pm Pacific Standard Time
Close up view of swirls and stars. 100% natural cotton fabric was used to hook this handmade rag rug.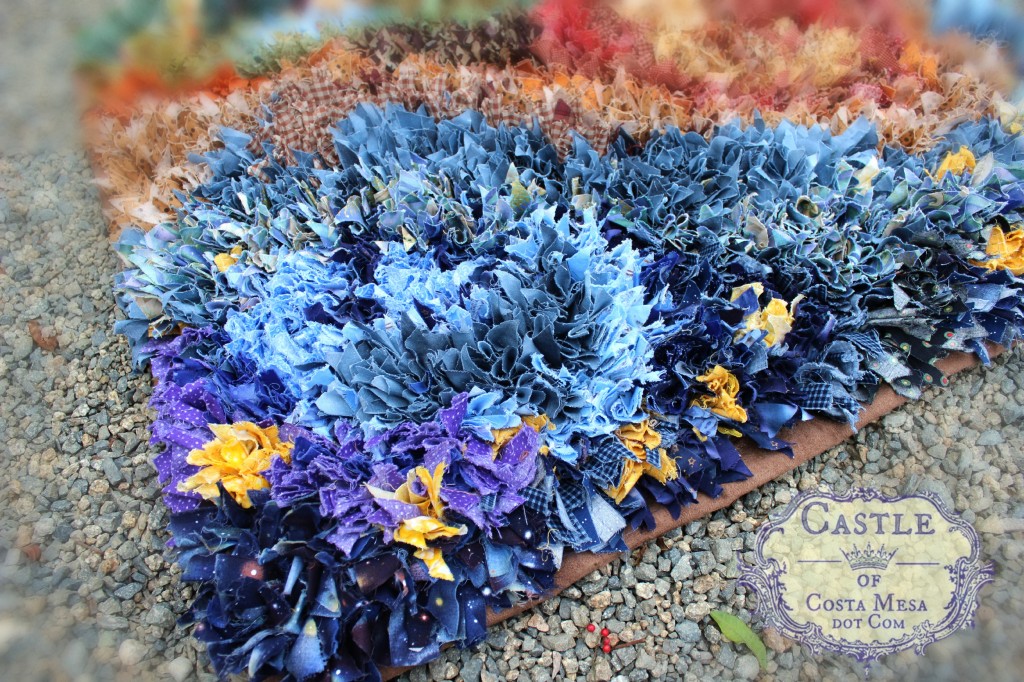 It is a luxury for your feet as you plant them down on the ground and your toes get lost in the forest of snugg-liness,  first thing in the morning. Ah! What a good life!
Close-up view from bottom right corner of rug.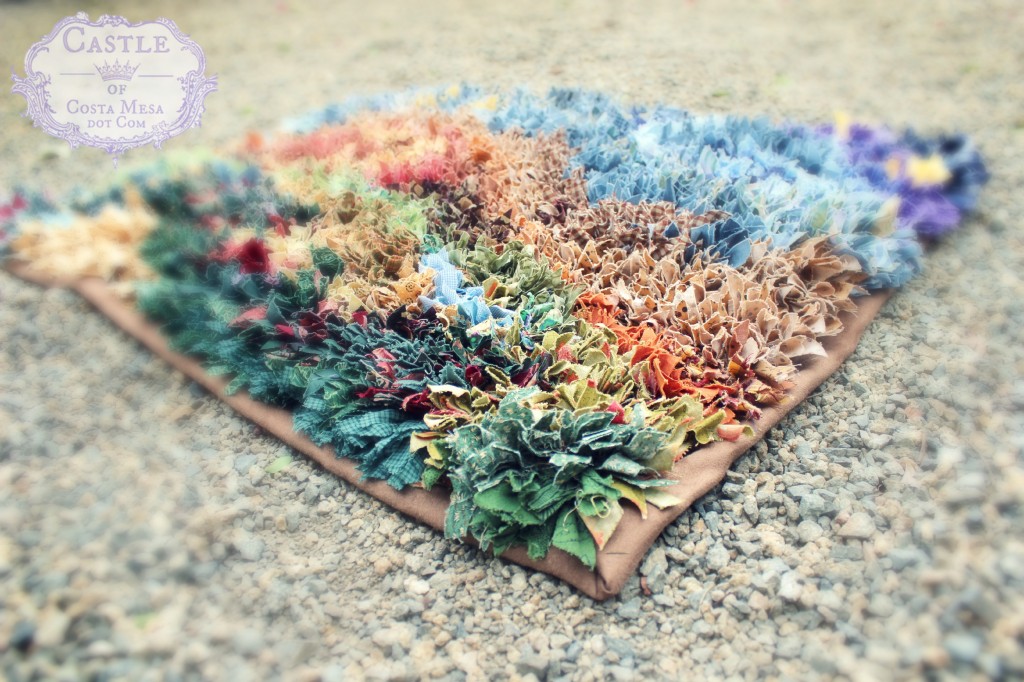 Shaggy and deep luxurious pile.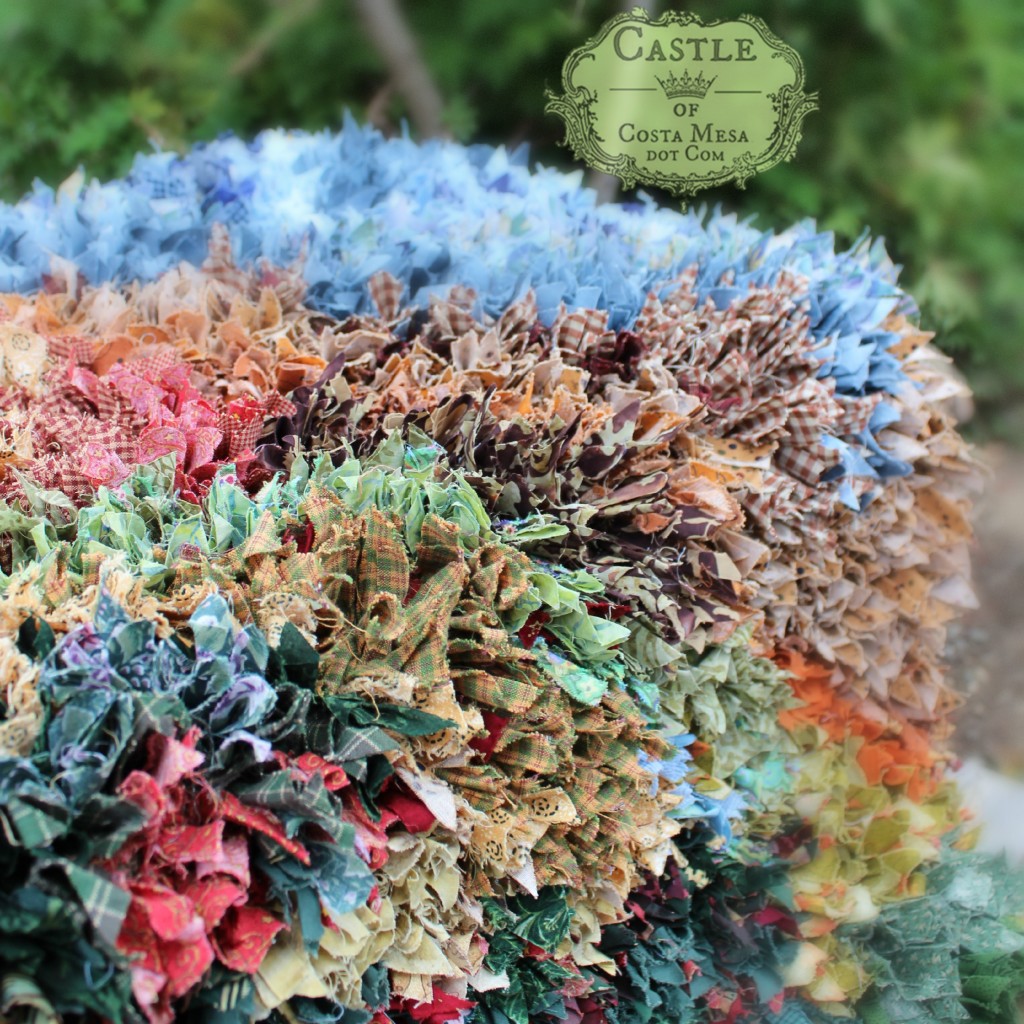 Its lush texture and design are tributes to Vincent Van Gogh's masterpiece Starry Night.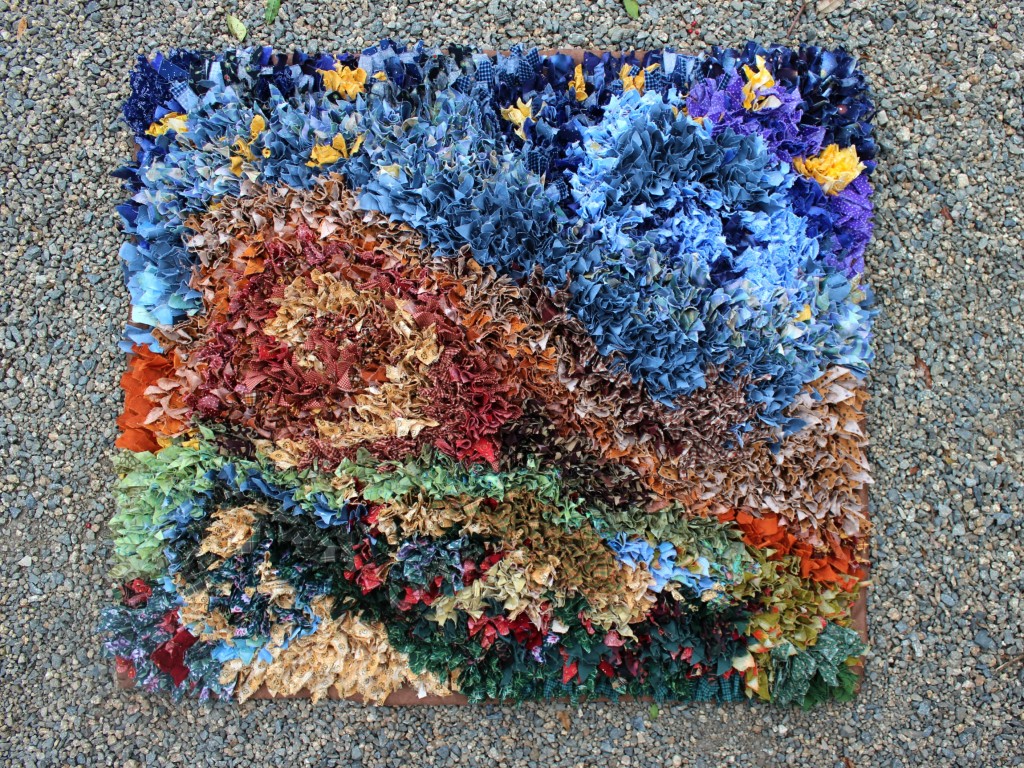 Click here to bid on this rug this for our school fundraiser. Ends March 15, 2014 8pm Pacific Standard Time.
Read on to see our creative process of hooking this community recycled rag rug. – Jzin
Hooking to Raise Money. January 7, 2014
Our beloved handwork teacher, Christine Newell introduced us to rug hooking. Back in Yorkshire, England, Christine's mother taught her how to hook rugs. They lived in a small village by woolen mills and were able to use old fabric scraps from the mills to hook rugs for use in front of their fireplace. Later, Christine carried this tradition down to her grand-daughter Renee.  This year, Christine led our craft group in making a hooked rag rug as a raffle offering for our Waldorf School of Orange County 2014 Annual Gala and Auction. In February 2014, Christine's 84 year old mother even came from Toronto to lend a hand in hooking this rug for us!
I documented our crafting journey on this page. – Jzin, February 2014.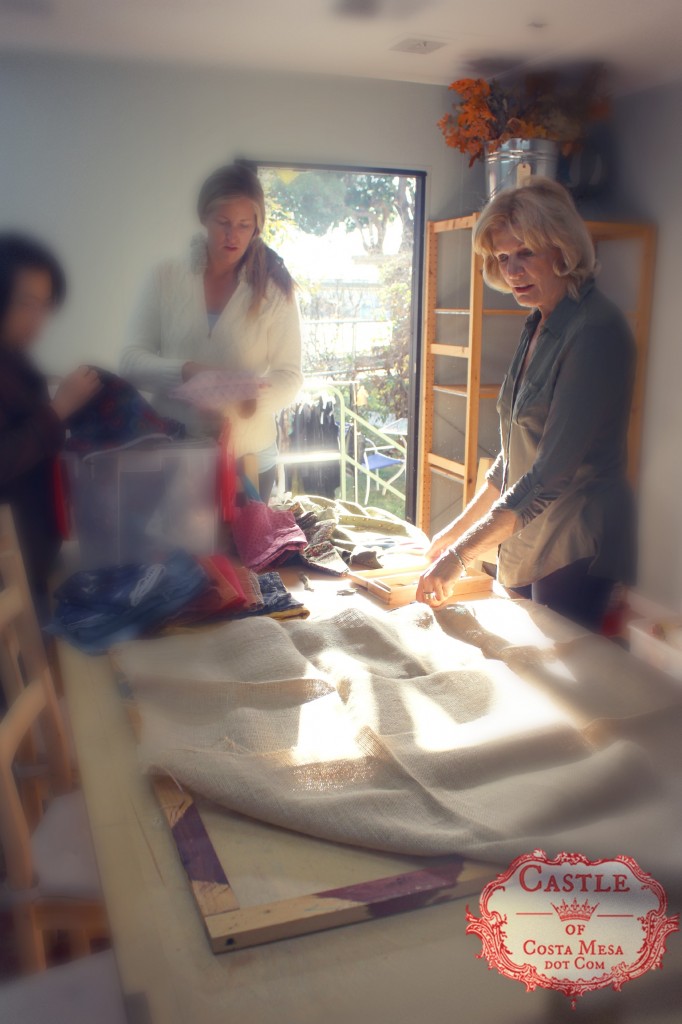 Tuesday morning, January 7, 2014
This is our first meeting in 2014! Today our craft group gathered again after a 2 week Winter break. It was wonderful to see everyone back at the school! – Jzin
Today Christine Newell started us on one of our several craft group projects to donate to our Waldorf School of Orange County 2014 annual gala fundraiser. Click on the picture below to enter Bidpal to support our school!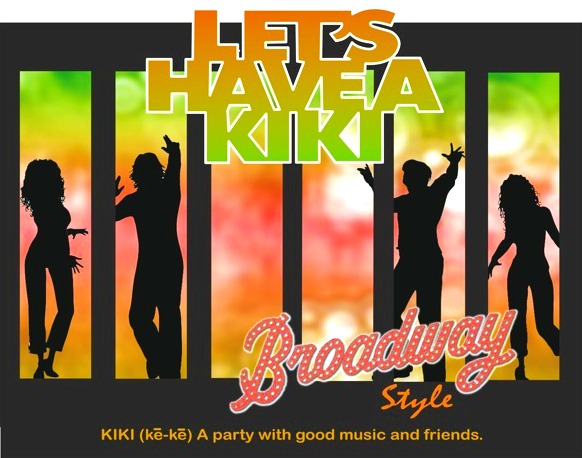 Enter Bidpal site to shop the goodies we shelled out for our school's fundraiser!
For 2014,  we are making a beautiful heirloom hooked rag rug for our craft group donation project (among other craft projects). This rug will be made by pulling loops of cut up strips of remnant cotton fabric through a stiff woven base (burlap). It will be a shaggy rug, wonderful to wake up to, first thing in the morning as you plunk your feet onto the floor from your bed.
Week 2: Hooking our Rag Rug: Adding Purples to the Blues in our Night Sky.
(scroll down to see week 1 and hooking tutorial)
Tuesday morning, January 21, 2014
More hooking was done today to our rag rug for our upcoming school fundraiser …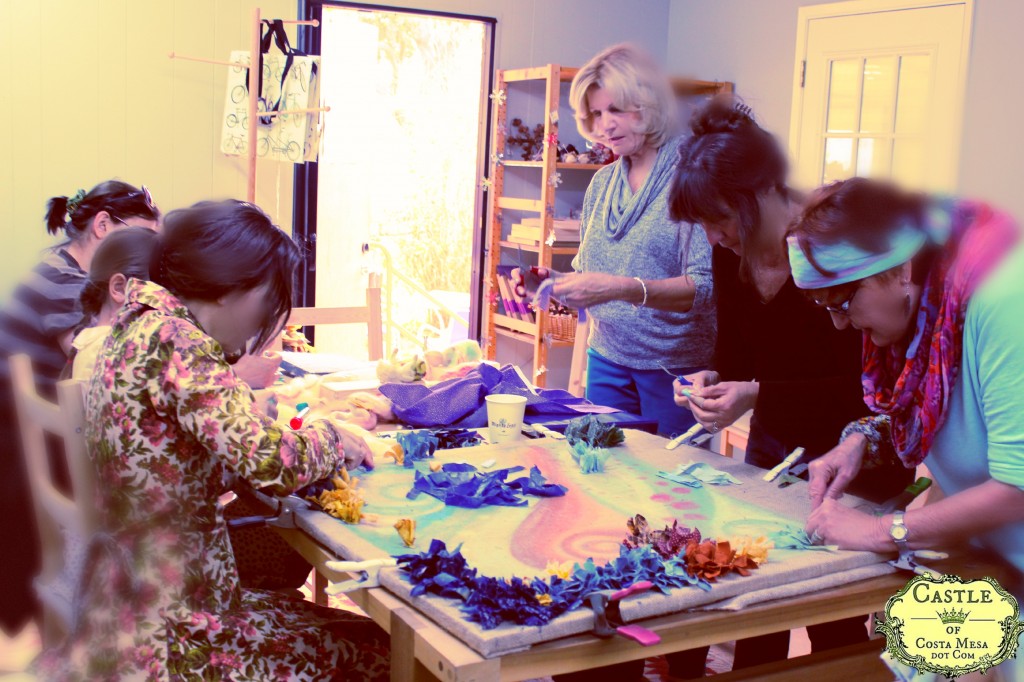 Alena boldly added purples to the blues in the top right sky of our "Starry Night Rag Rug".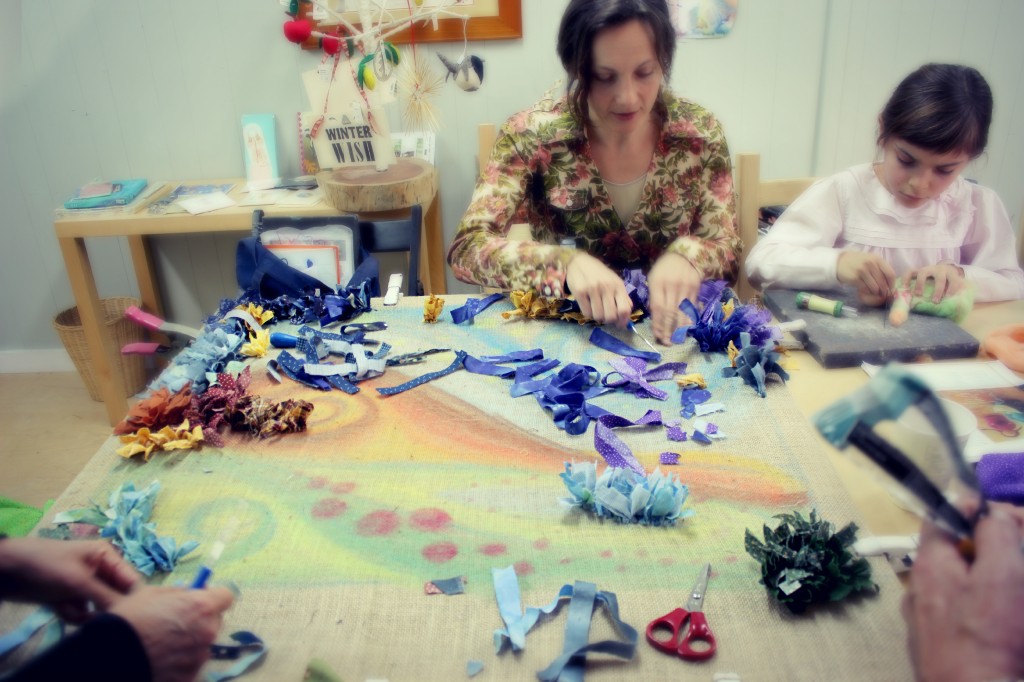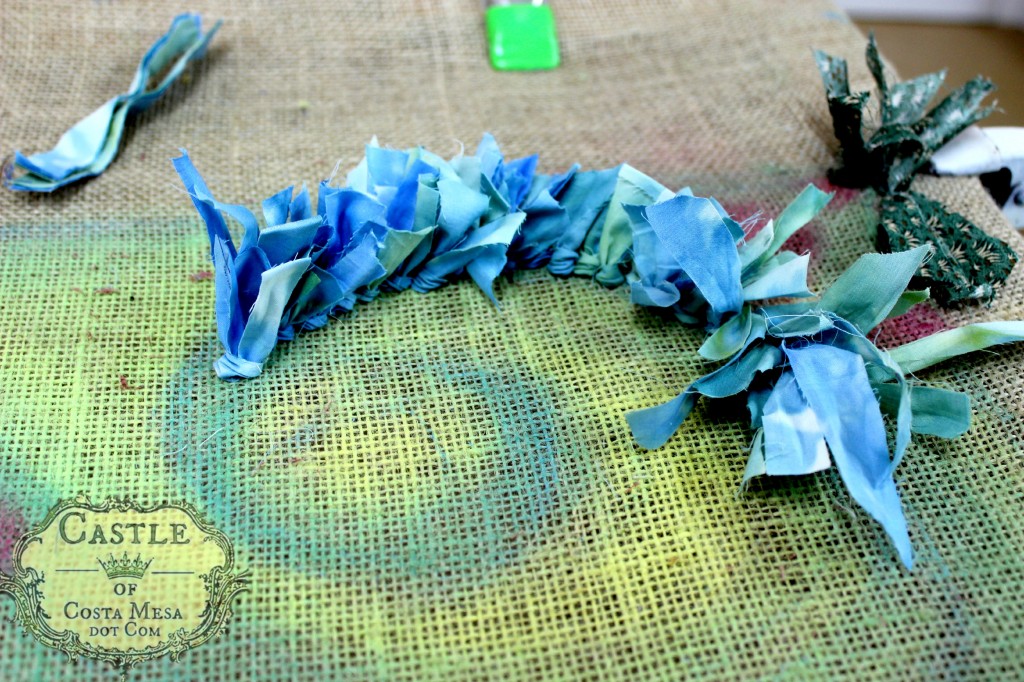 Click here to view our page and tutorial on hooking this rag rug.
Week 1: Hooking Our Shaggy Rag Rug
Tuesday morning. January 7, 2014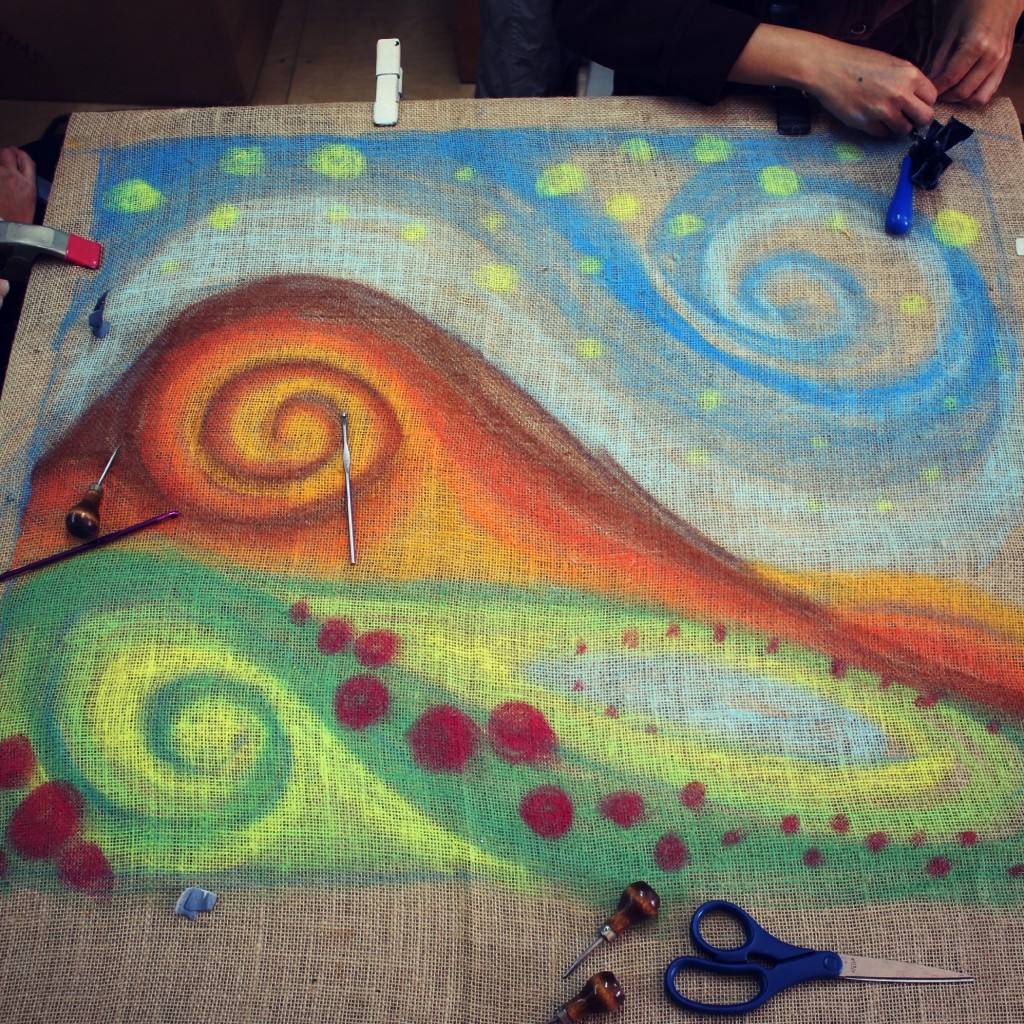 Tuesday morning, January 7, 2014.
Following Christine Newell's lead, the craft group ladies are hooking to raise money for our upcoming March 15, 2014 Waldorf School of Orange County  annual gala fundraiser.
Christine told us that she made this craft in her childhood. How wonderful this is to make with our children in promoting the "waste not" vibe. It is also a wonderful community project. An heirloom rug that's fun to make!
We stretched our burlap base onto a wooden frame. We tried using play clips from kindergarten but they are not strong enough, so we stapled the burlap onto our wooden frame.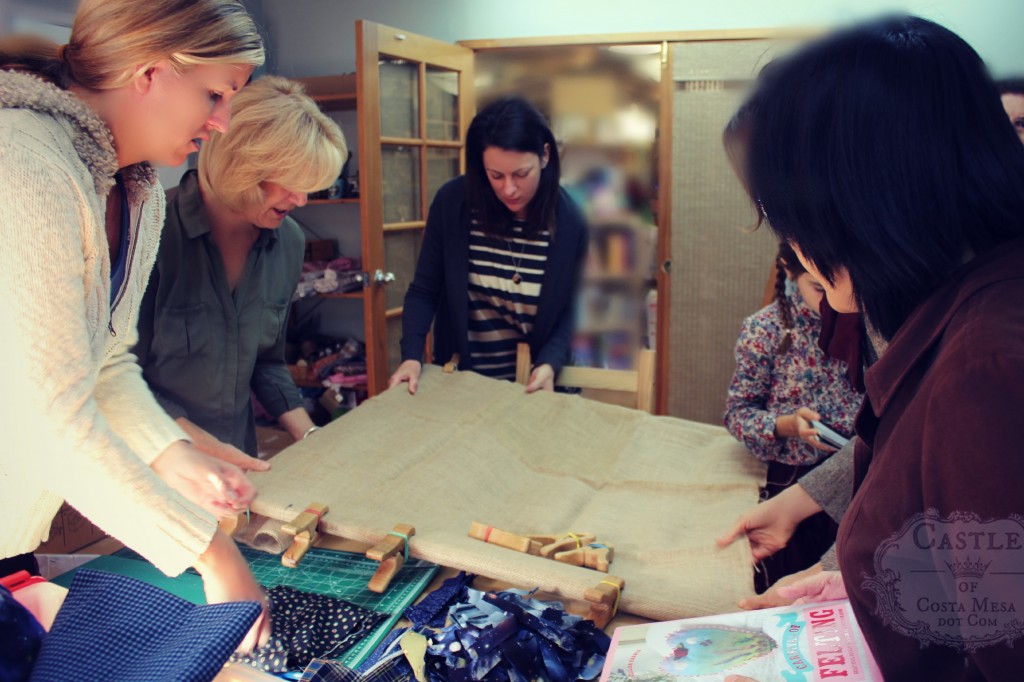 Christine stapled the burlap onto the wooden stretching frame. The rug will be removed from the frame support when it is completed.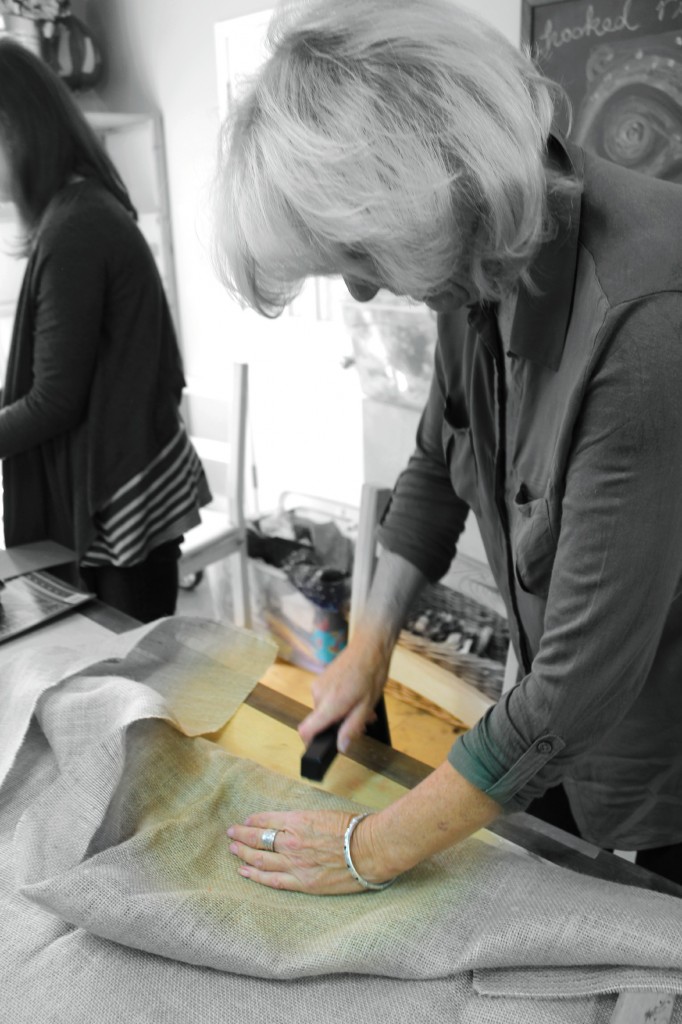 Christine has collected and saved much fabric remnants to be recycled into this project. As Kathy laid out the fabrics samples in earth tones, I wondered about rug designs that can go with earth tones.
Cotton fabric remnants. Christine shredded these fabrics into long strips using a rotary cutter.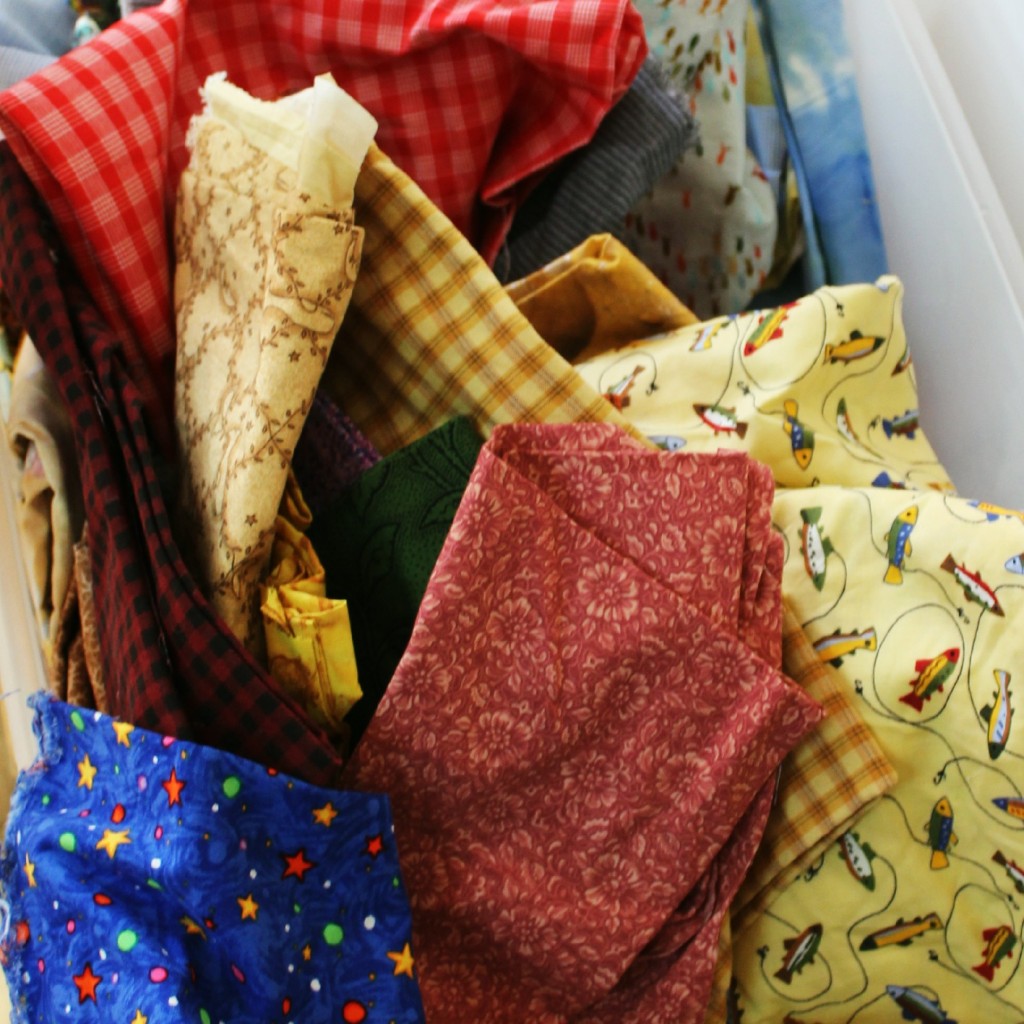 At first someone mentioned casually "let's make just a random design".  Aaaaugh! I am not very comfortable with random designs, in a secret panic, I quickly sketched out a swirly picture which our group agreed to adopt as template for our project. Thank you guys for accommodating me!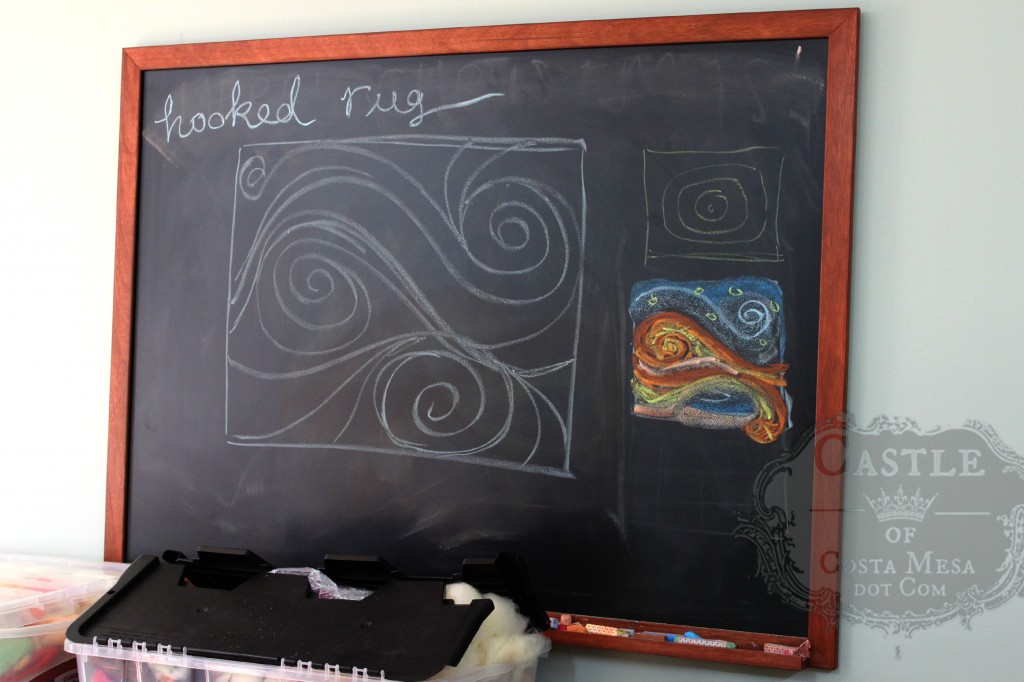 My colored preliminary sketch.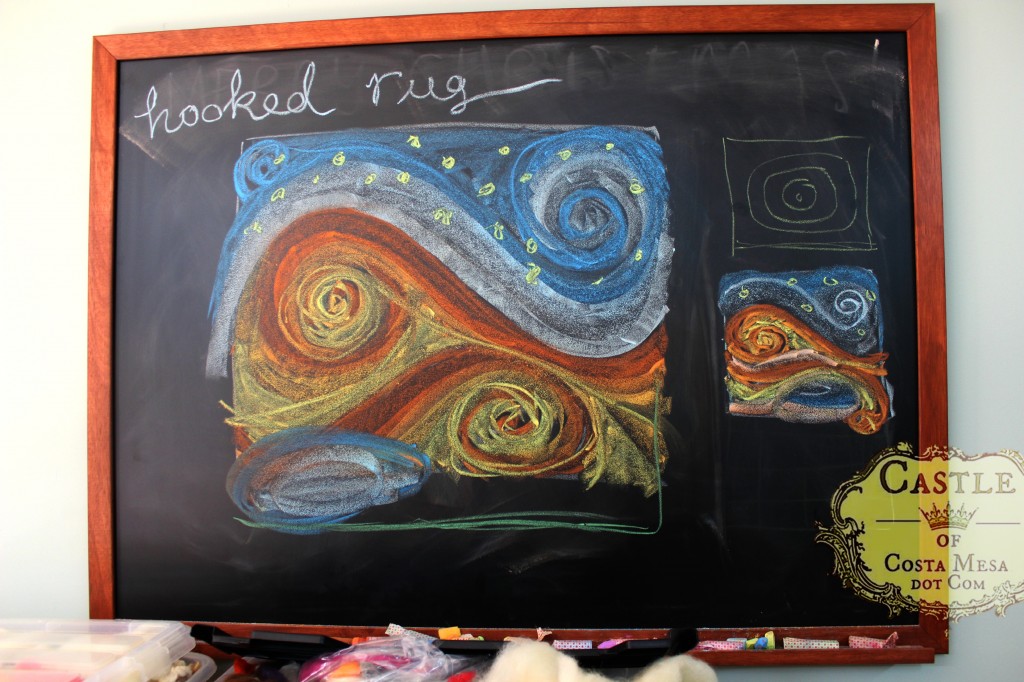 First fabric piece hooked onto the burlap base.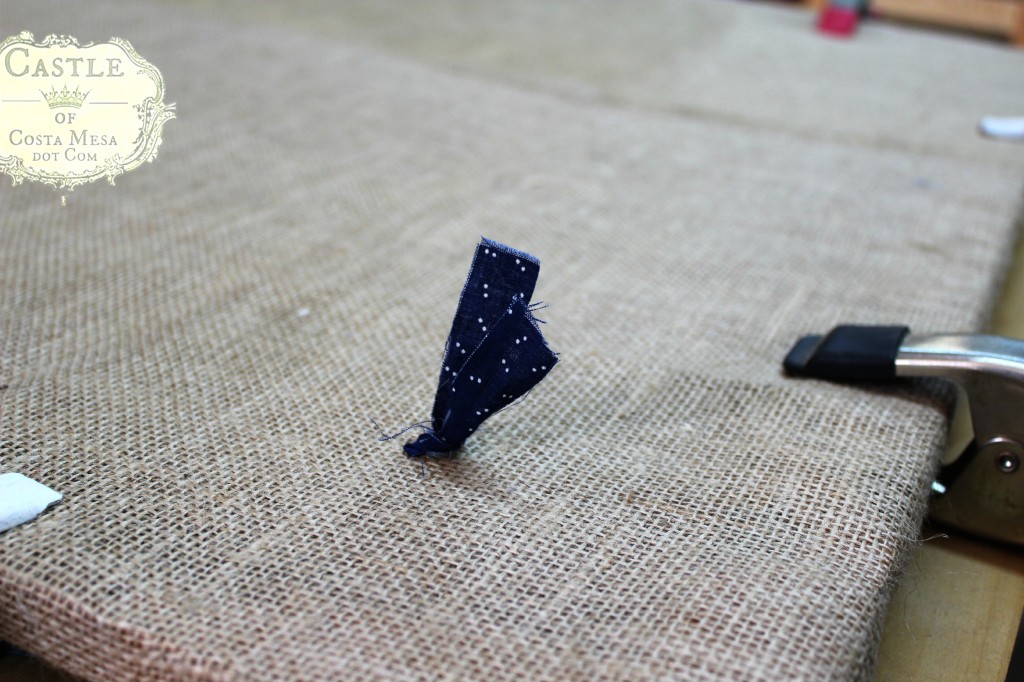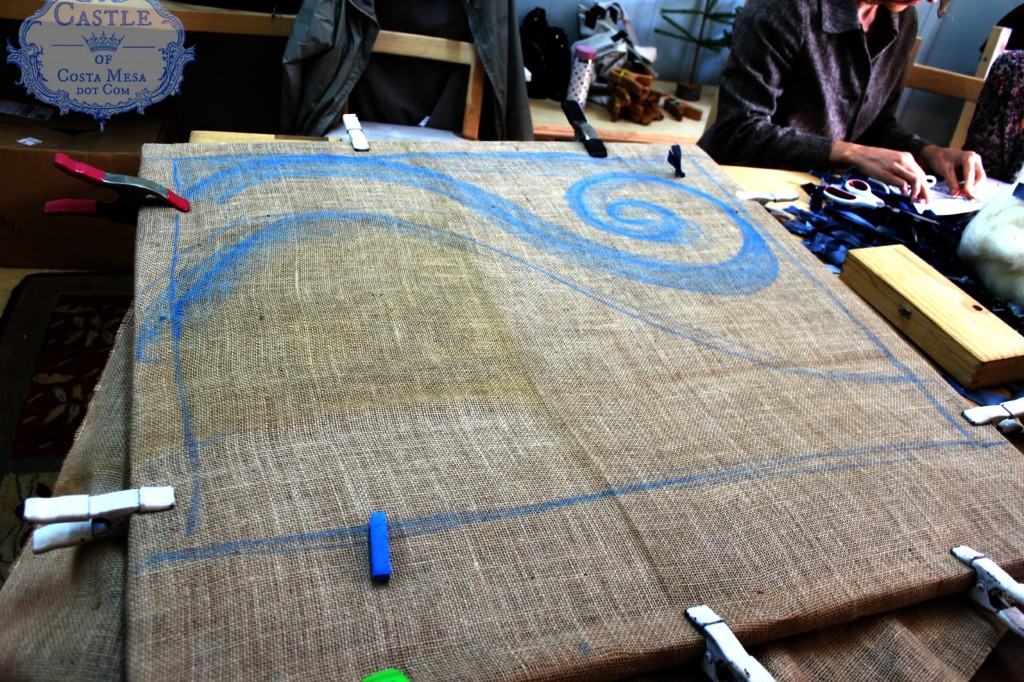 I finished sketching the colored design with chalk, onto the stretched burlap. Now the hooking can begin.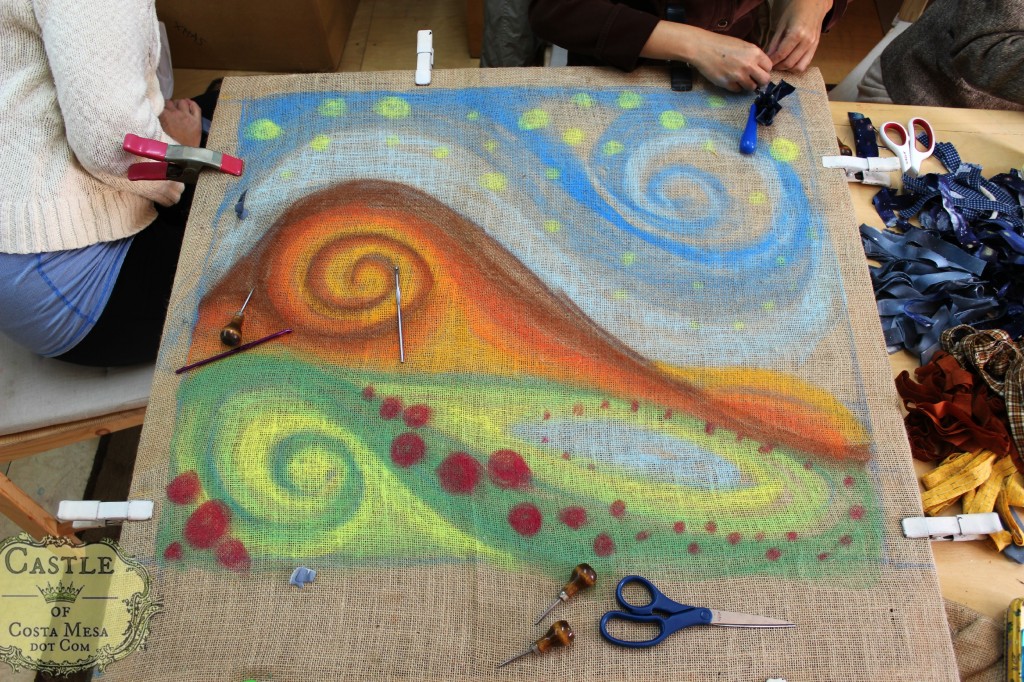 Paraphenalia of the hooker: Latch tool or crochet hooks, awls, scissors, stapler, rotary cutter for cutting fabric strips and other thingamabobs.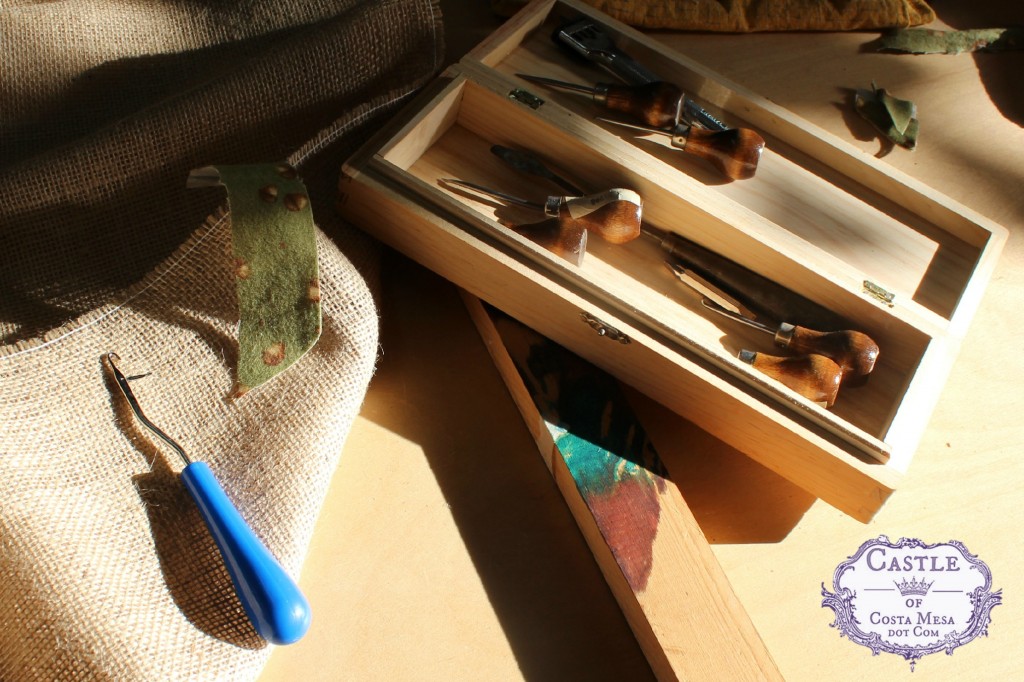 6 Inch Latch Hook Tool with Foam Grip Handle on Amazon.com to make that heirloom hooked shaggy rag rug with your rugrats.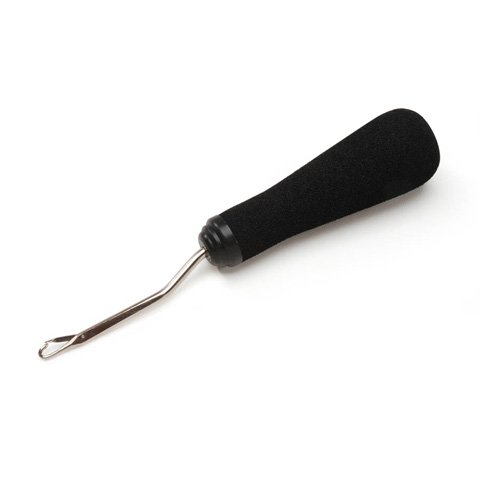 Amazon.com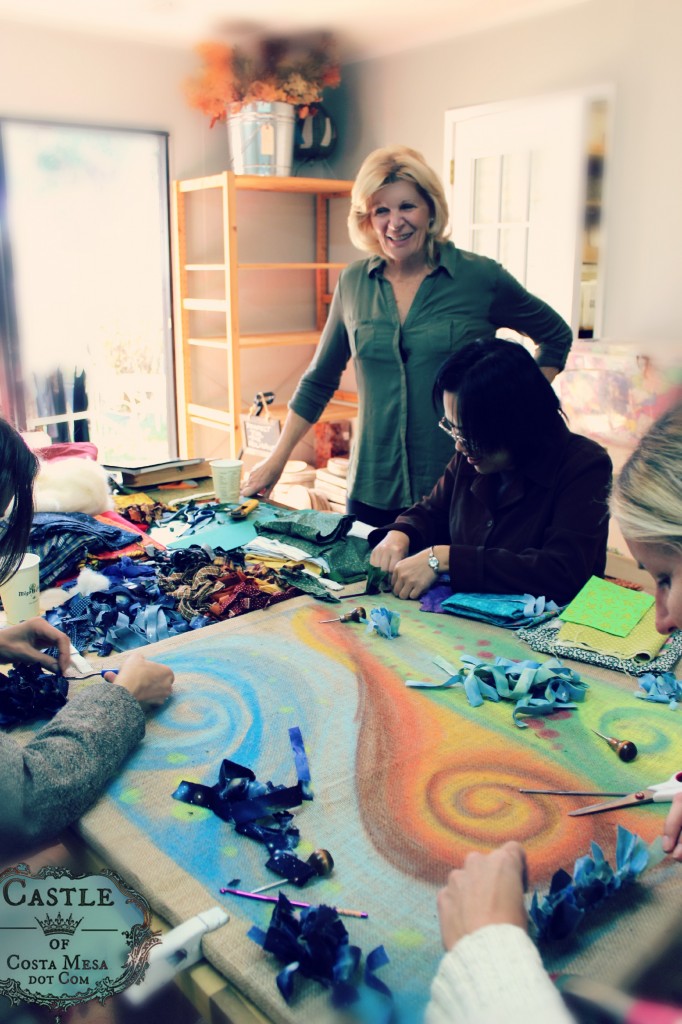 Hooked Rug Tutorial: How to anchor a fabric strip onto a your woven burlap base.
Here, our beautiful Alena demonstrated her hooking technique, step-by-step:
1) ORIENT your fabric strip so that in the final rug, all printed side face the same way (not shown).
2) STAB: the latch hook tool (or crochet needle) through the open weave of the burlap rug base.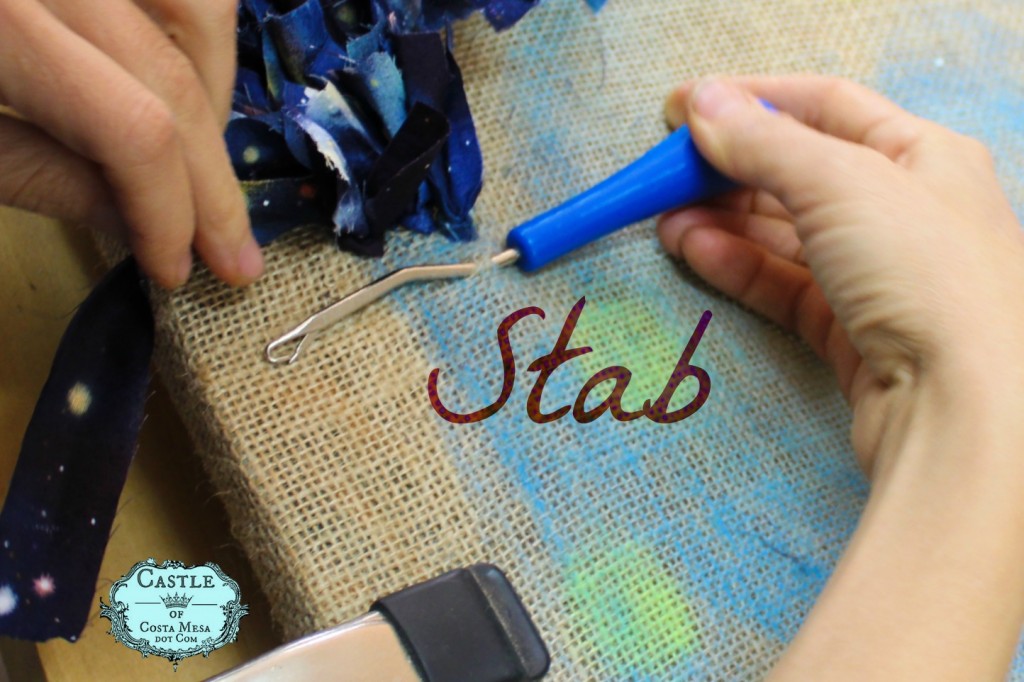 3) GRAB hold of the strip of fabric with your hook.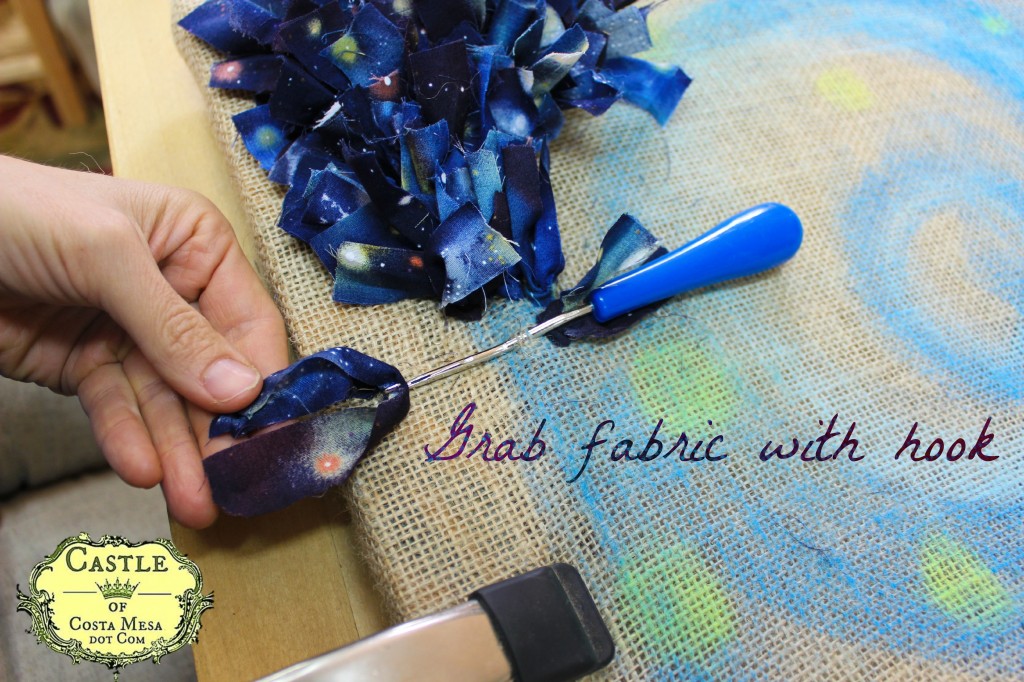 4) PULL THROUGH HOLE: Pull fabric back through that hole.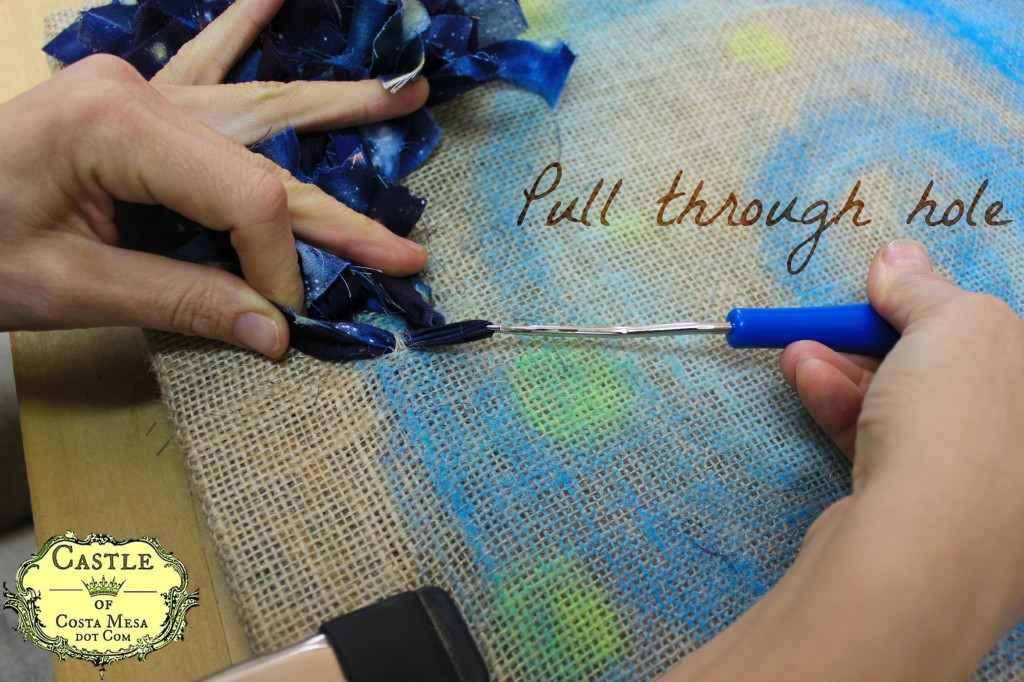 5) This forms a loop on the end which you are pulling. RELEASE FABRIC FROM HOOK, BRING HOOK BACK TOWARDS YOURSELF THROUGH THAT LOOP.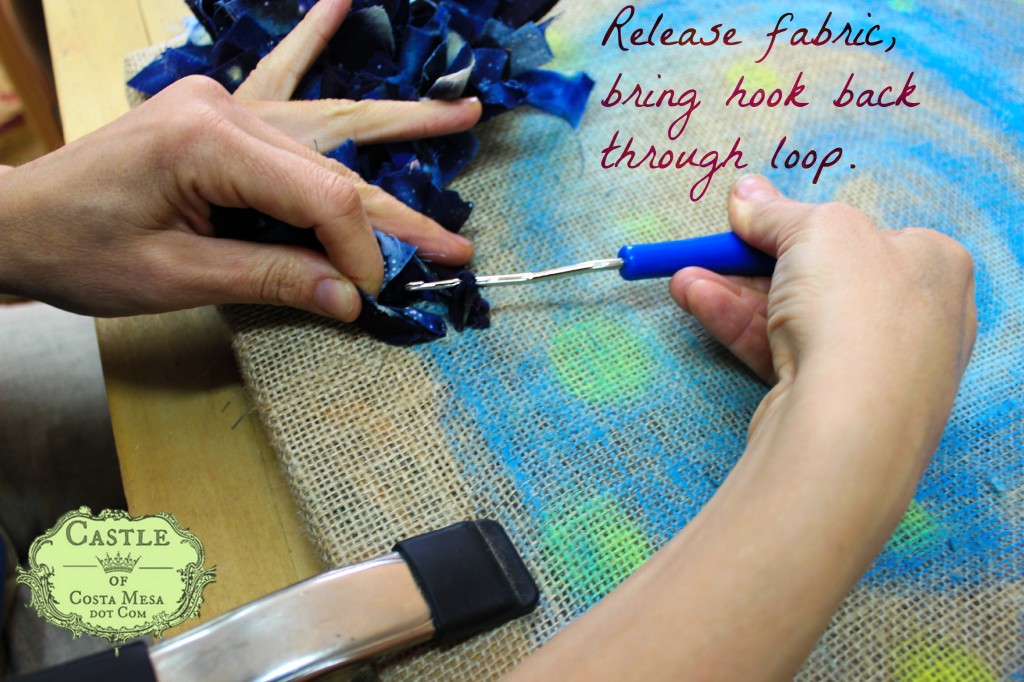 6)… GRAB HOLD OF THE REST OF THE FABRIC STRIP.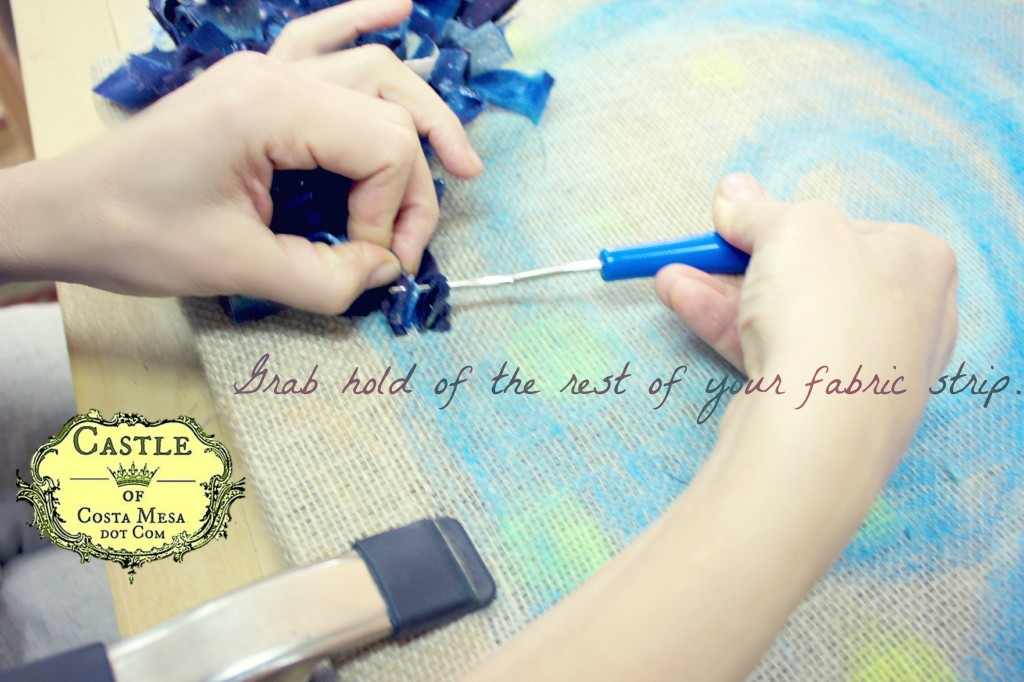 7) … PULL THE REST OF YOUR FABRIC STRIP BACK THROUGH THE LOOP.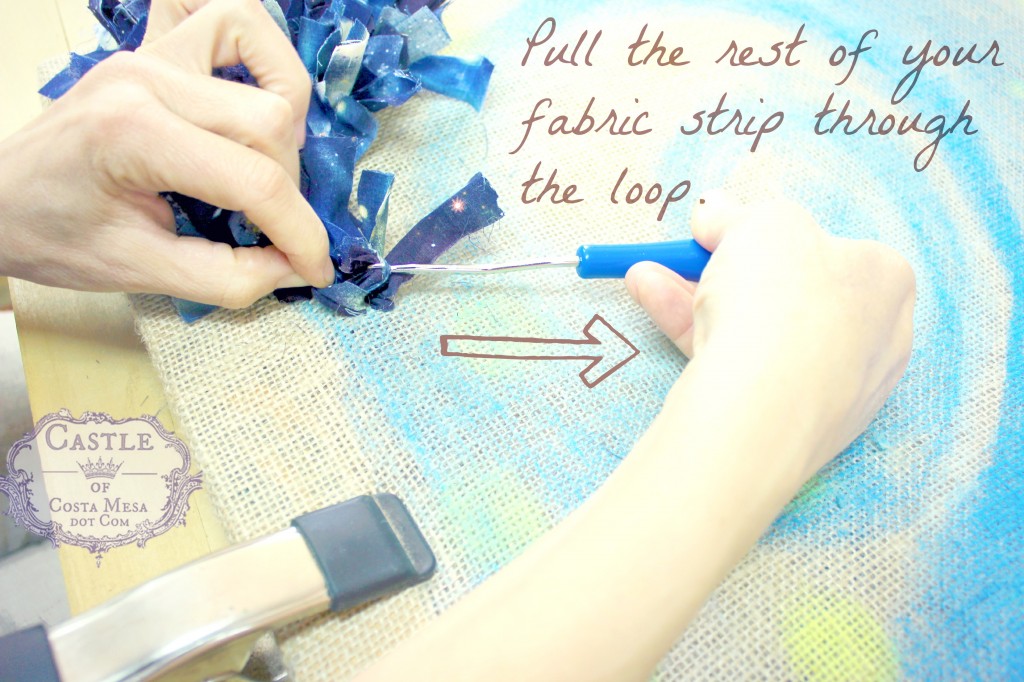 8)  DONE! you have anchored your fabric piece onto the burlap base of the rug.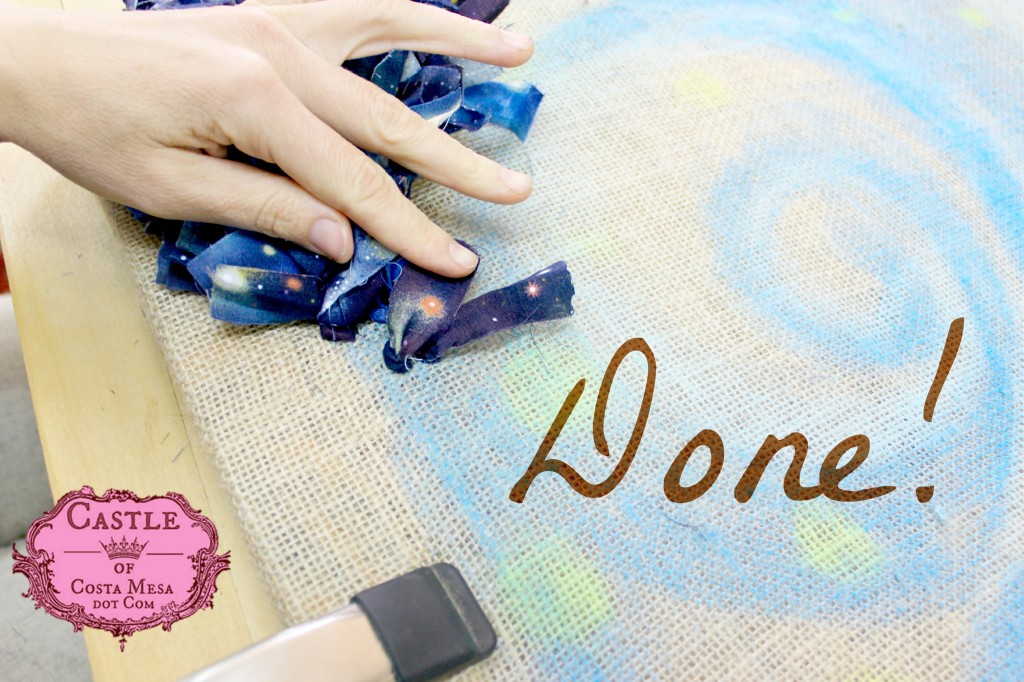 9) Optional: TRIM TIPS: The tips of fabric strips are now ready to be trimmed at an angle.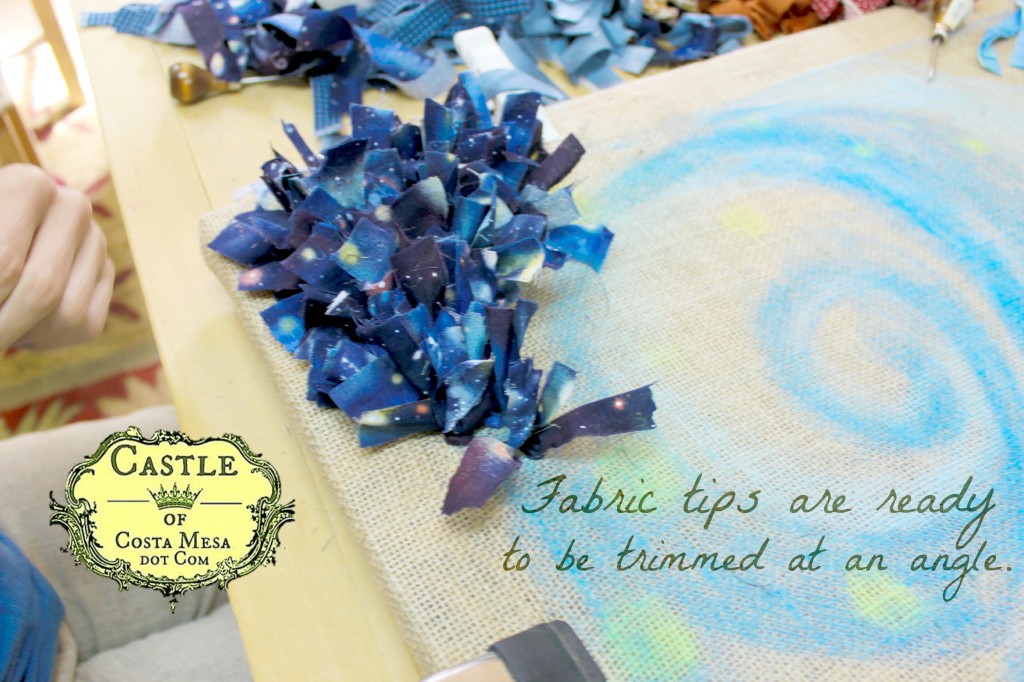 We did not have enough latch tools, so the rest of us used crochet hooks for the job.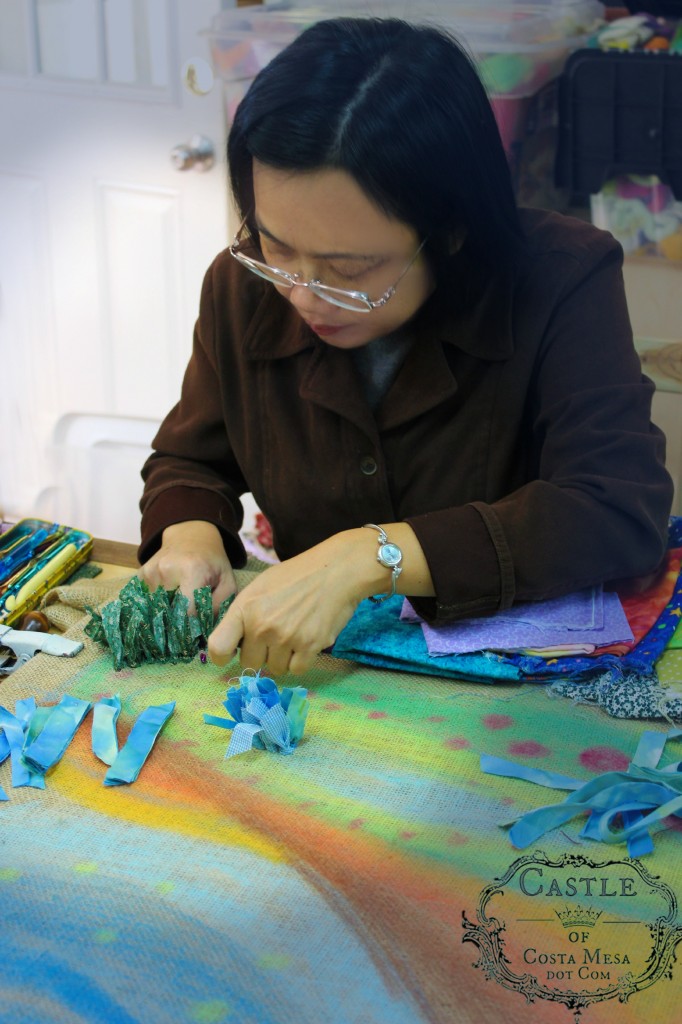 Here is an example of a lovely completed hooked rag rug mat by Rachel Knight on rugpegging.com: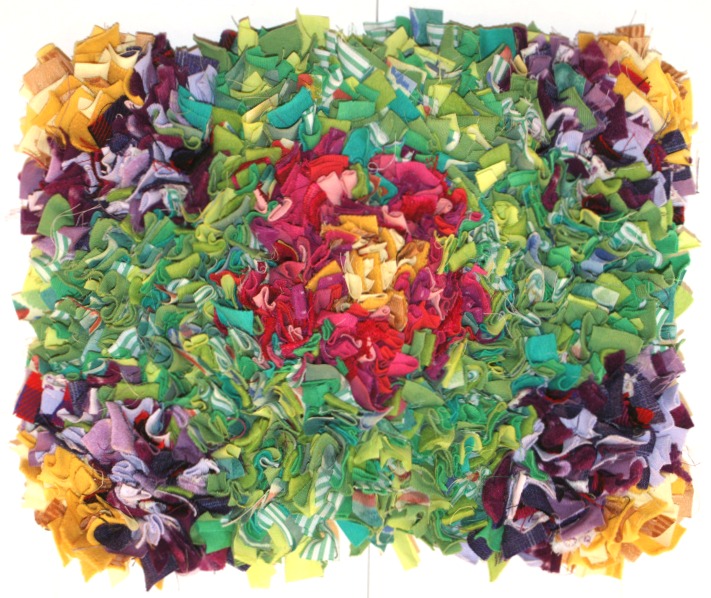 Image source: http://rugpegging.com/
Meanwhile Anička needle-felted a dog, while her aunt Nezehat, a visiting painter from Turkey, looked on.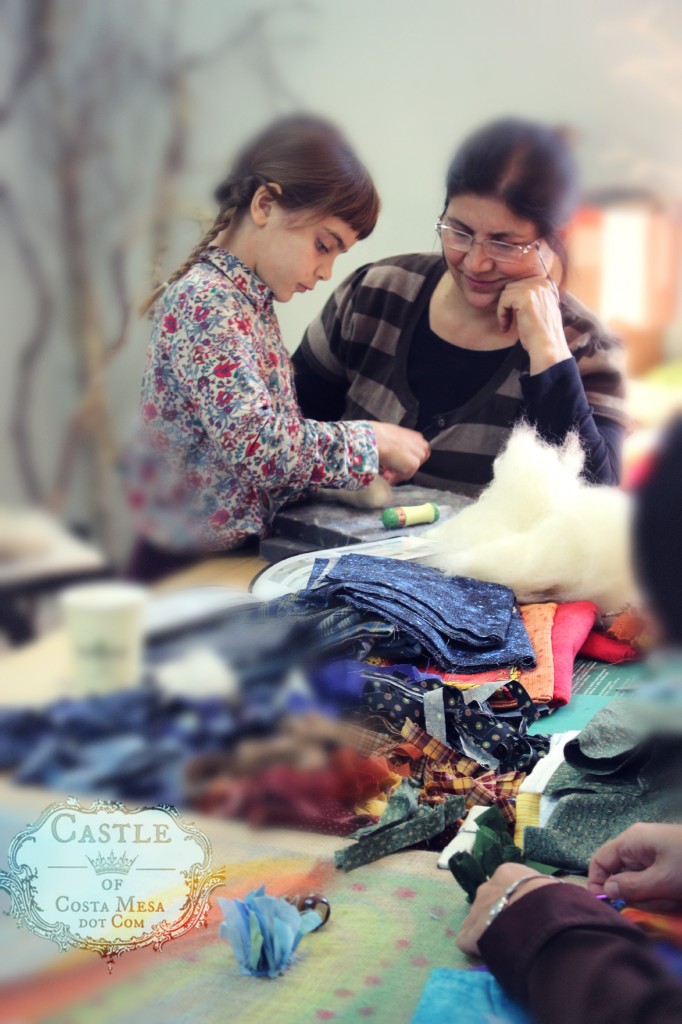 Anička is making a replica of her beloved dog, Pablito, using the beagle tutorial in this book. You can click on the picture below to purchase a copy of this wonderful needle-felting resource book.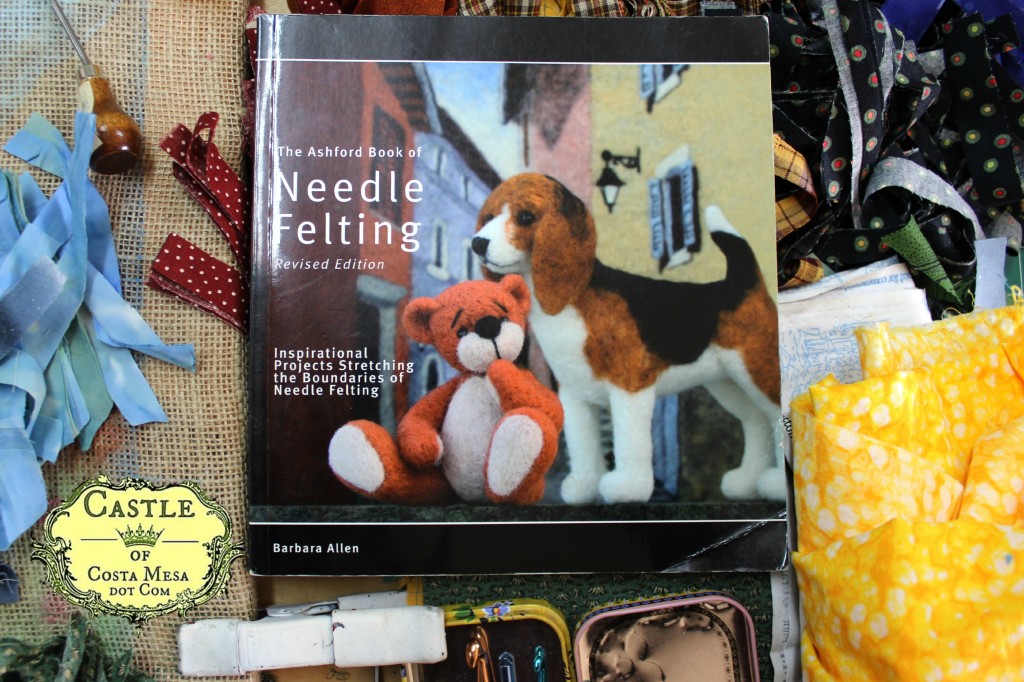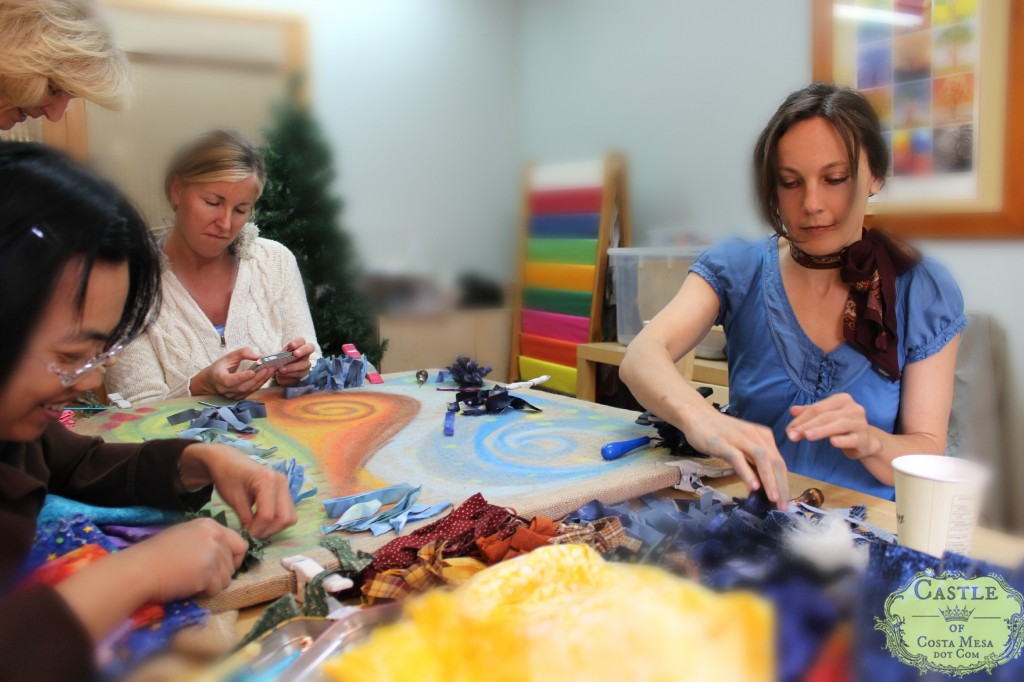 Our work thus far this morning.  To be continued the next few weeks. Please come and lend a hand!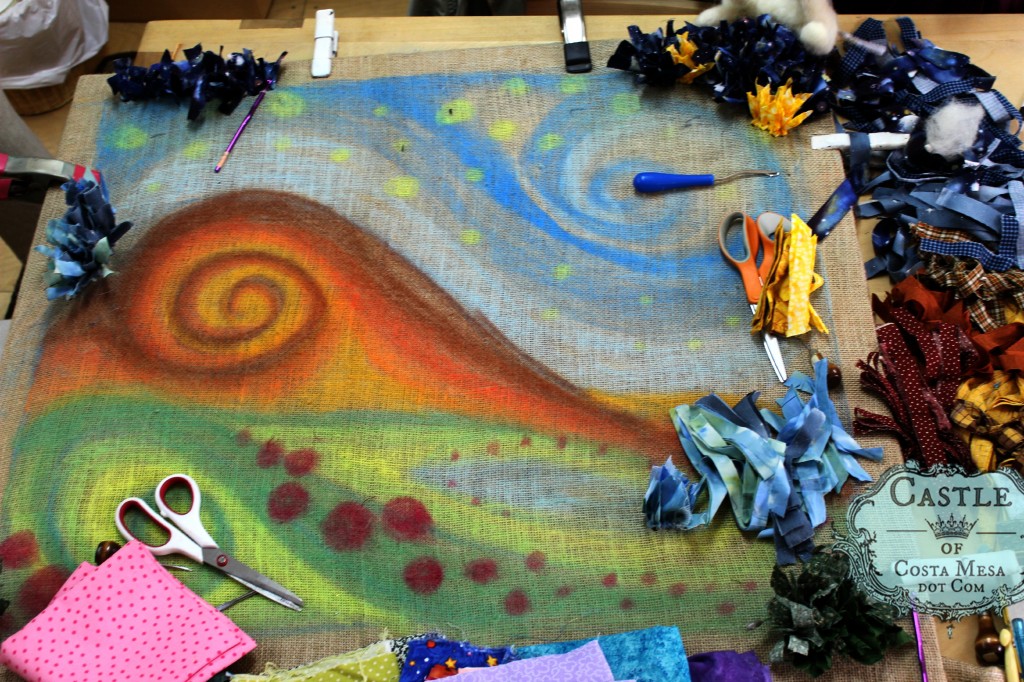 Jzin's needle-felting from last night…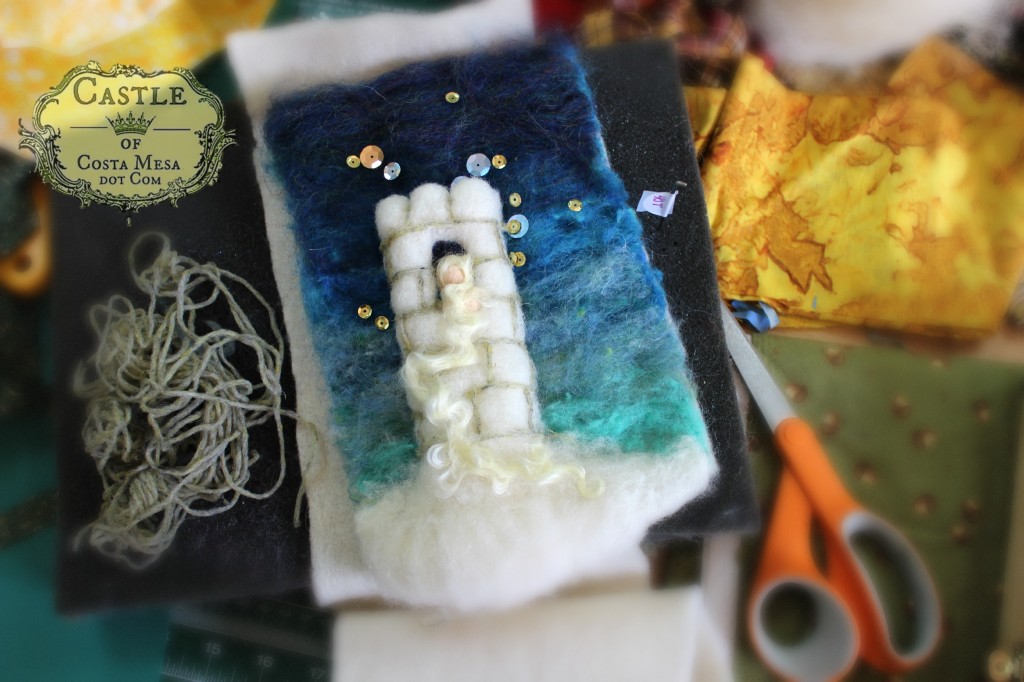 The final small wool tapestry is now available on CastleofCostaMesa's Etsy store by clicking on the picture below.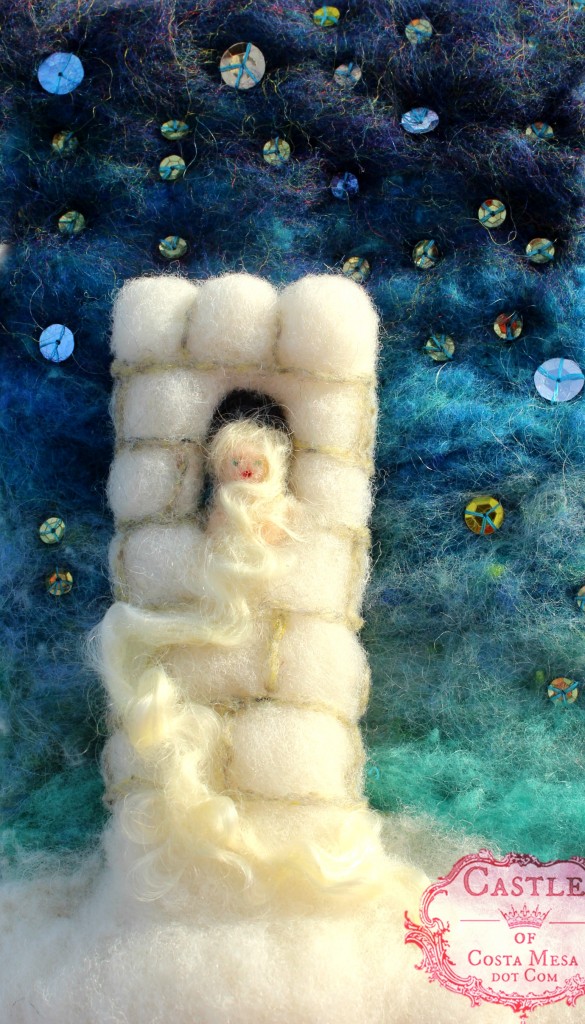 Rapunzel waiting for her beloved. The ever-present stars offer solace.
Do you realize that when our hearts sink, the ever-present nature, such as stars or crashing ocean waves hold and console us, so wordlessly. So, thank you stars!
You may give yourself this handmade one-of-a-kind wool picture for valentine's day to remind yourself that you are never too alone when nature is your friend! This is now available on CastleofCostaMesa's Etsy store.
February 11, 2014 Snapshot of Rug Progression
Tuesday morning, right after Heather worked on it.

Tuesday, February 26, 2014. Rug Progression Snapshot.
Christine Newell's mother visited from Toronto, Canada and lent a hand with our hooked rug project! This is the progression so far.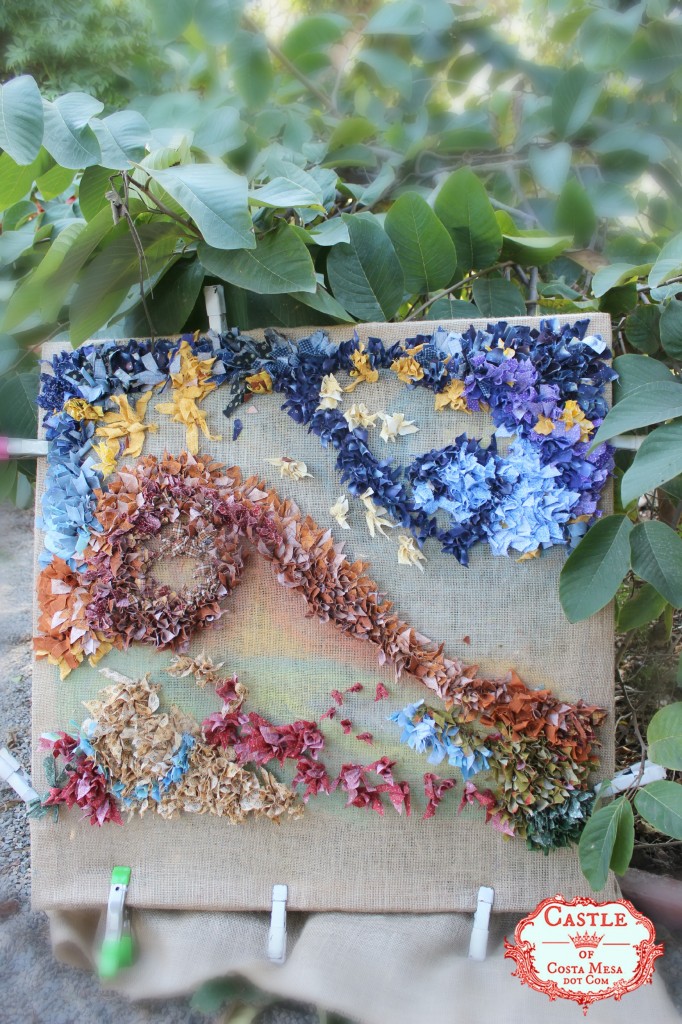 Tuesday, March 4, 2014 Progression Snapshots
Maria and Yvonne working on the rag rug while Valentina watches on. Hugo was climbing a tree.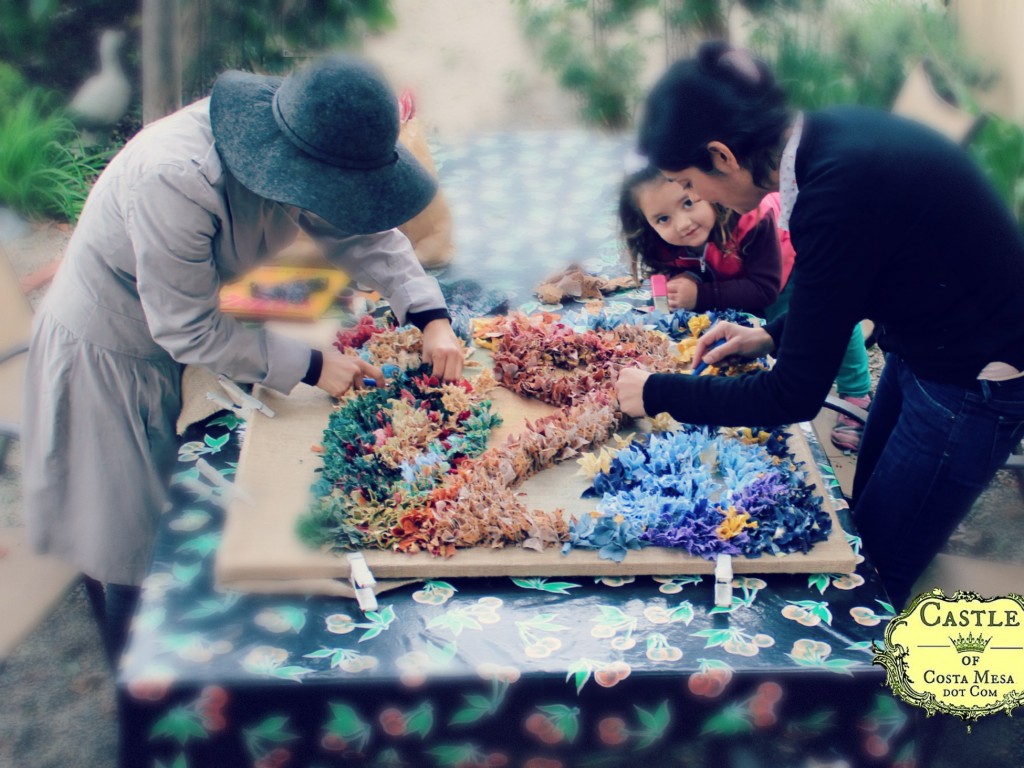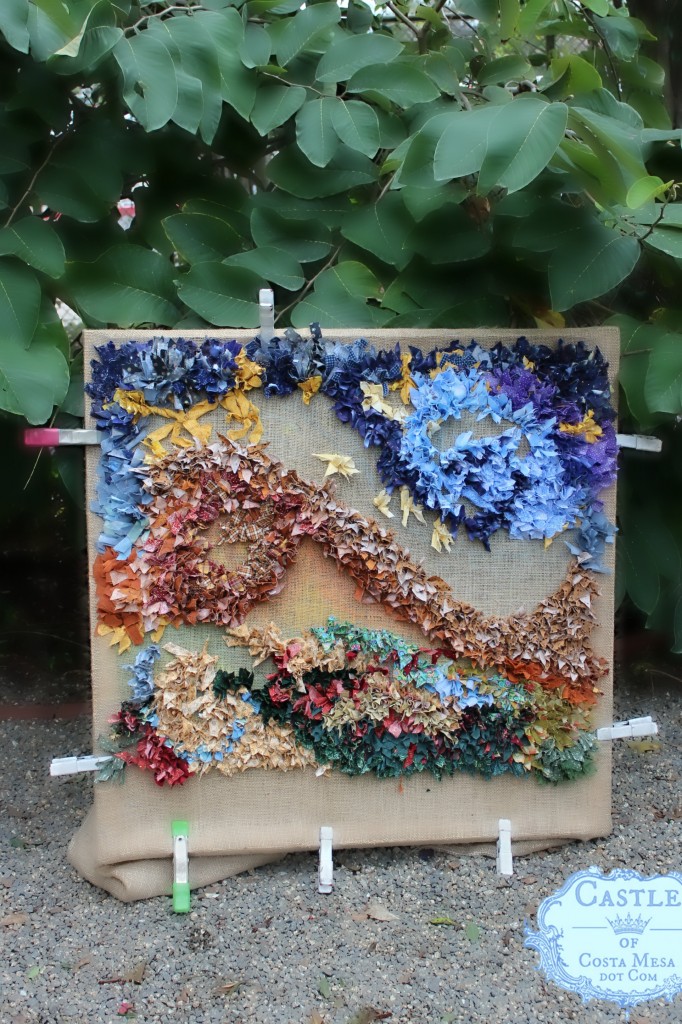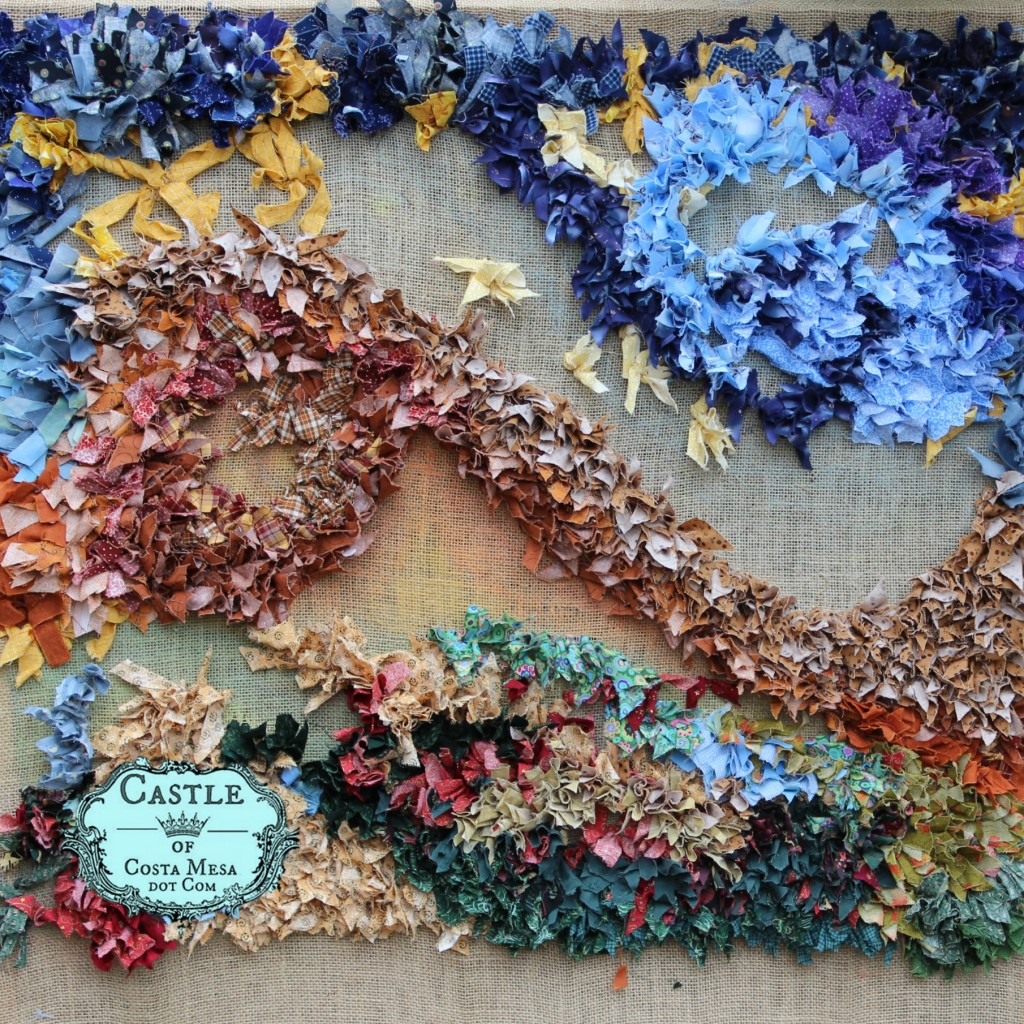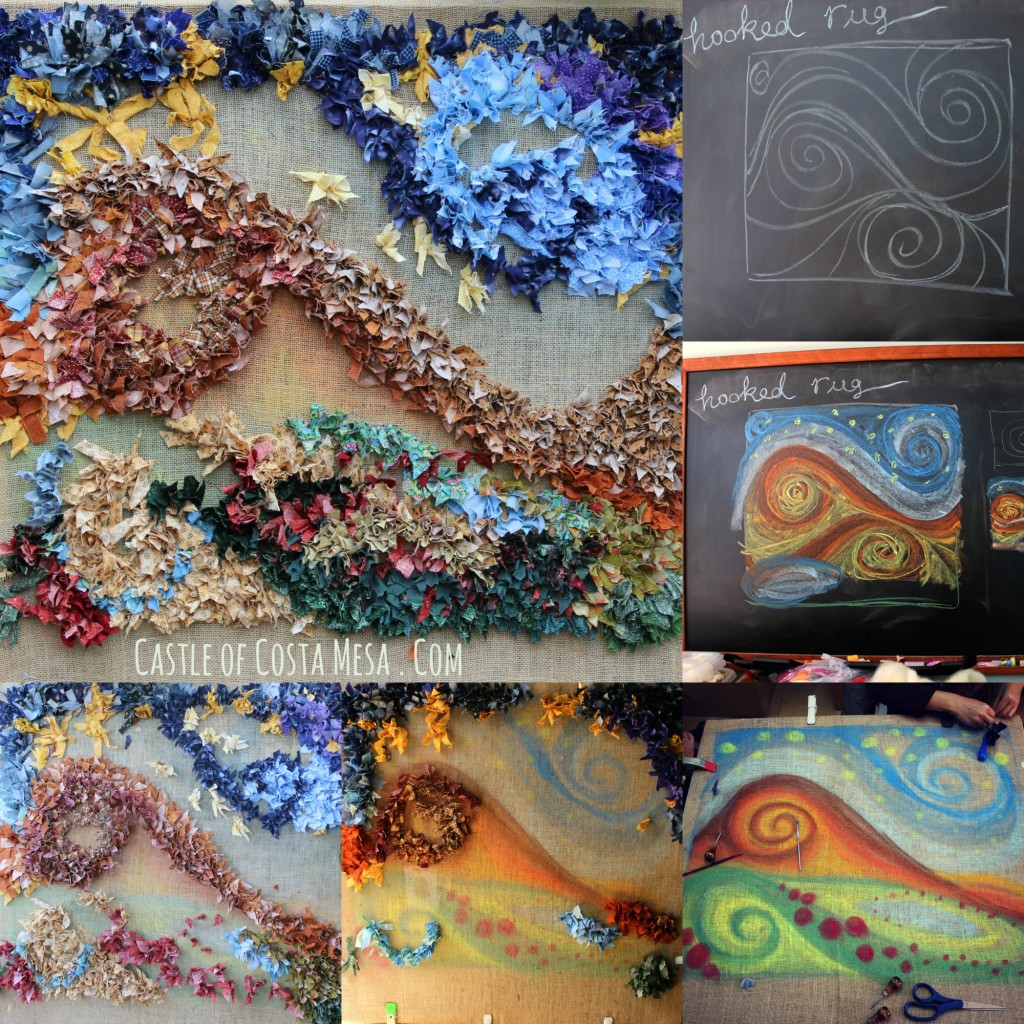 March 6, 2014. 6th Grade drawings in the front office.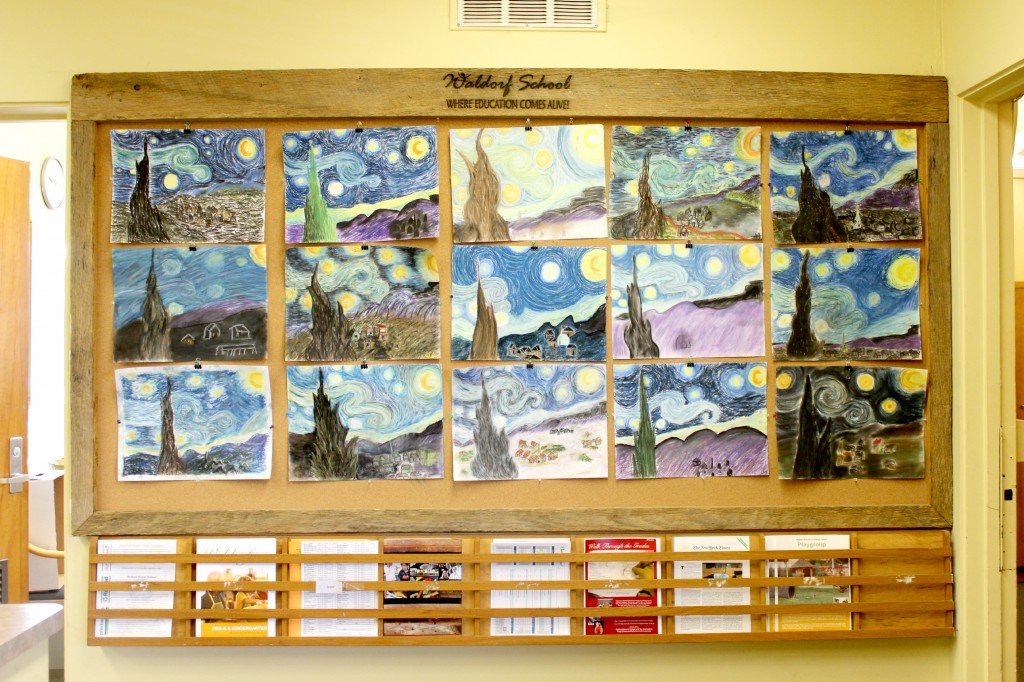 Monday, March 10, 2014 Progression snapshot
Thank you Lisa Maris for taking this photo below before Christine added a backing to our rug.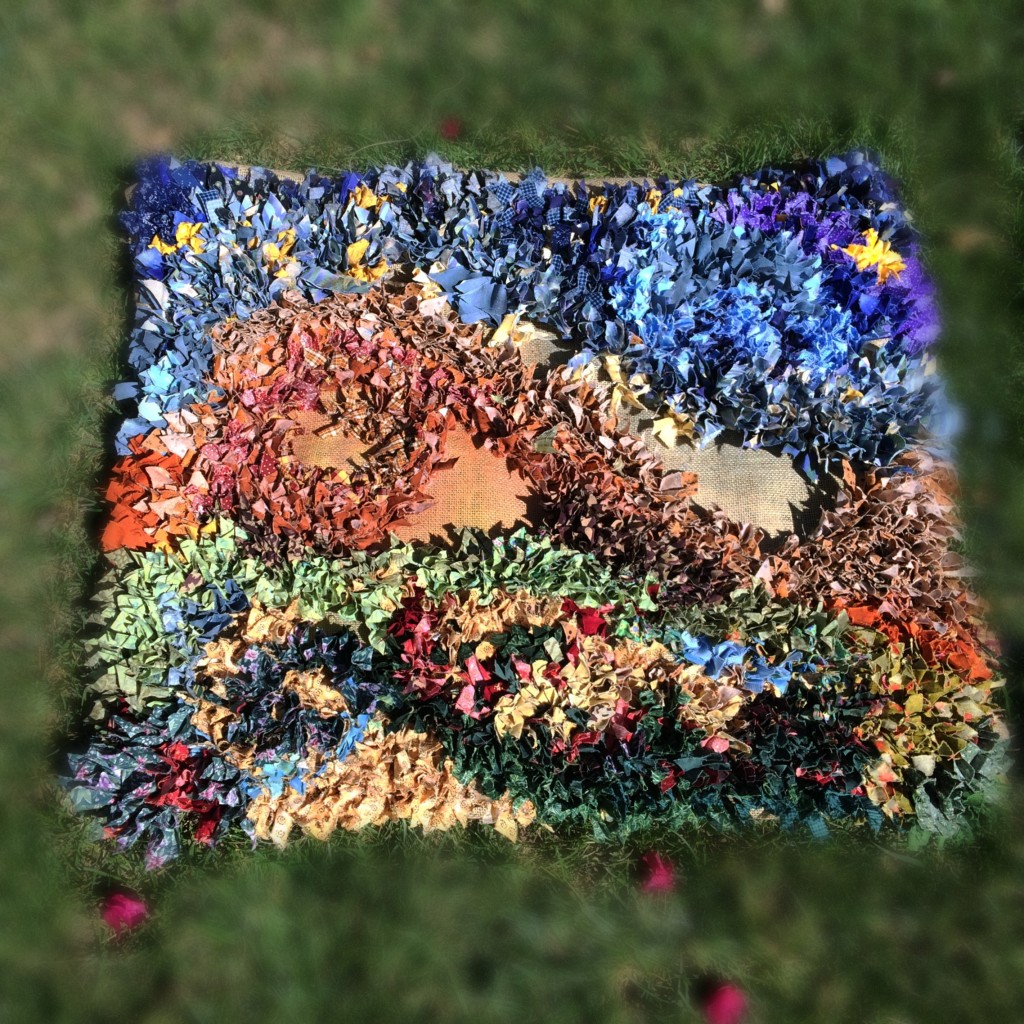 Tuesday. March 12, 2014. Photo from Lisa again: 3, 900 plugs from this rag rug of love!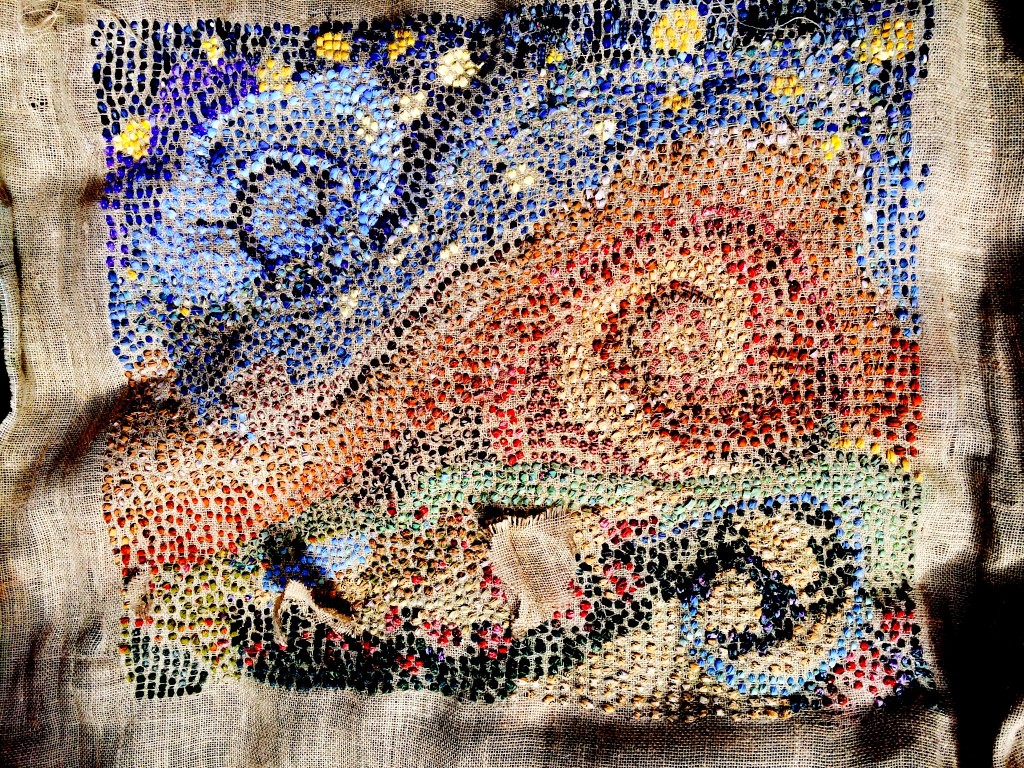 Next Week's Craft Project
I think Christine is going to teach us the Shibori technique! Oooh!!!! Cool stuff! Also, I think we will be continuing this hooking on the side too. So come and join the fun! – Jzin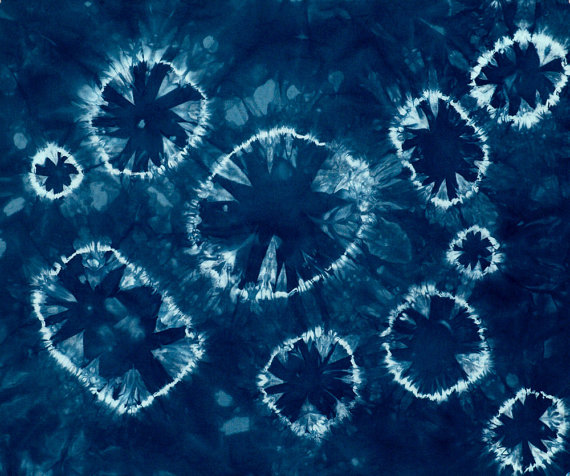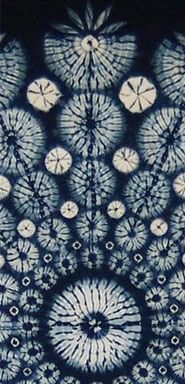 Please Support My Etsy Handmade Shop!
Crafting is so grounding and healing for me. Thank you for supporting my little handmade business ! Here are some of the new listings on my handmade Etsy store. Click here to see the rest: Castle of Costa Mesa Etsy store.
One way to get your children to eat more raw veggies: Lady Lettuce doll! she grows in your garden and is sweet on children who love growing, preparing and eating their veggies! https://www.etsy.com/listing/174547778/lady-lettuce-flower-fairy-needle-felted?ref=shop_home_active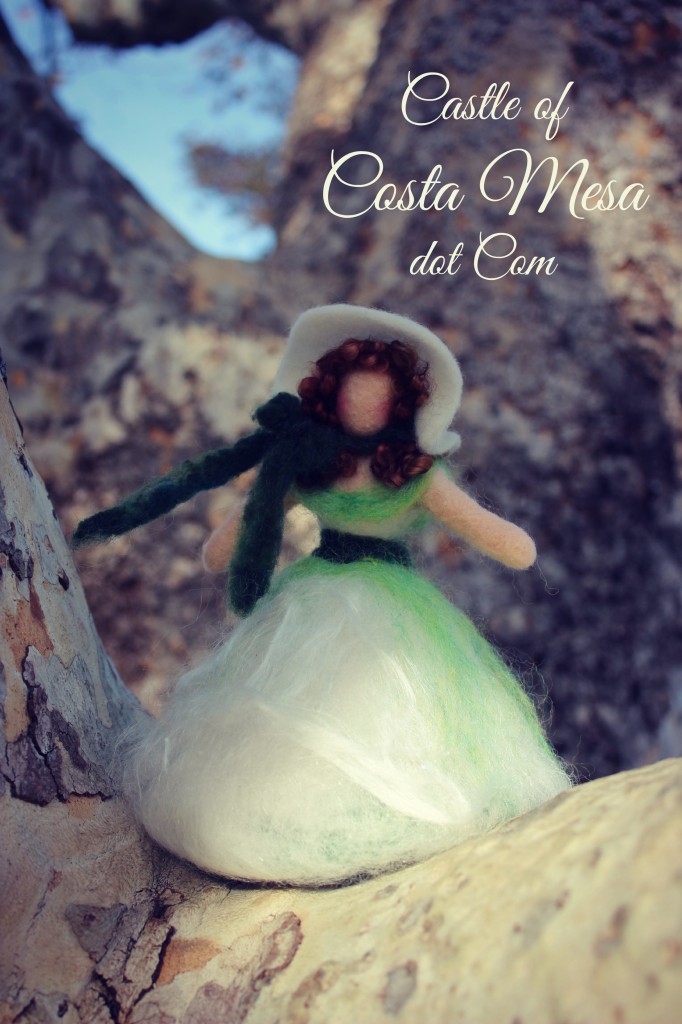 Mrs. Thaw is also available on Castle of Costa Mesa's Etsy store. She sweeps away the snow before the arrival of spring…
My mermaid Leonara injects a dose of romanticism to your nature table …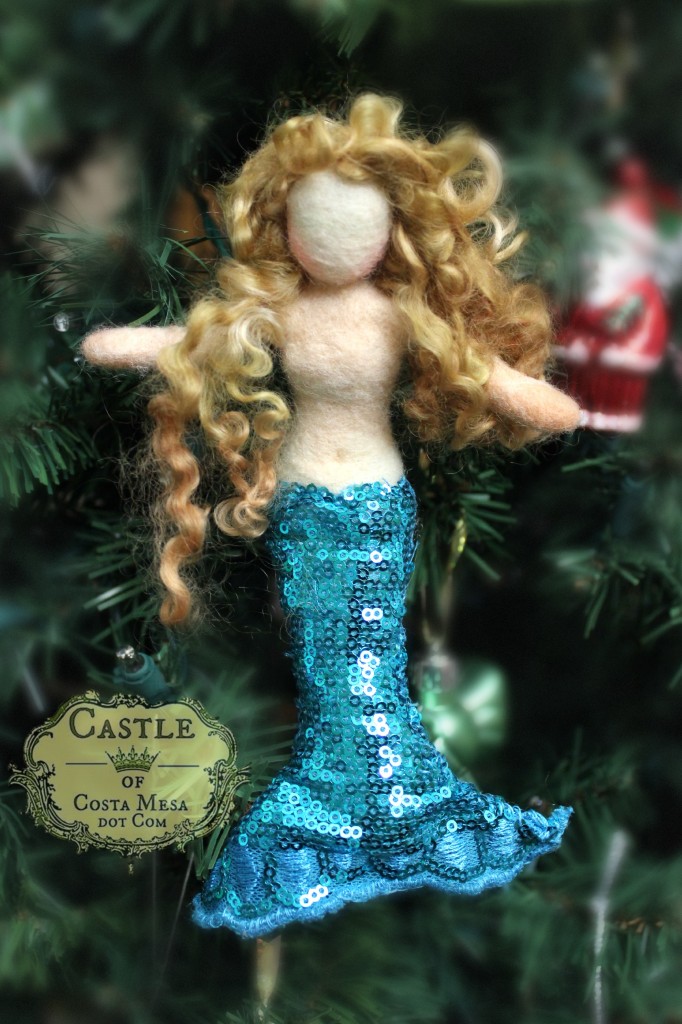 I just started offering handwork by my 3rd grader, Nunu (her incognito name). If you buy anything from my little apprentice, there will be squeals of joy at home, for sure.
My daughter's handmade mermaid Luciana on Etsy…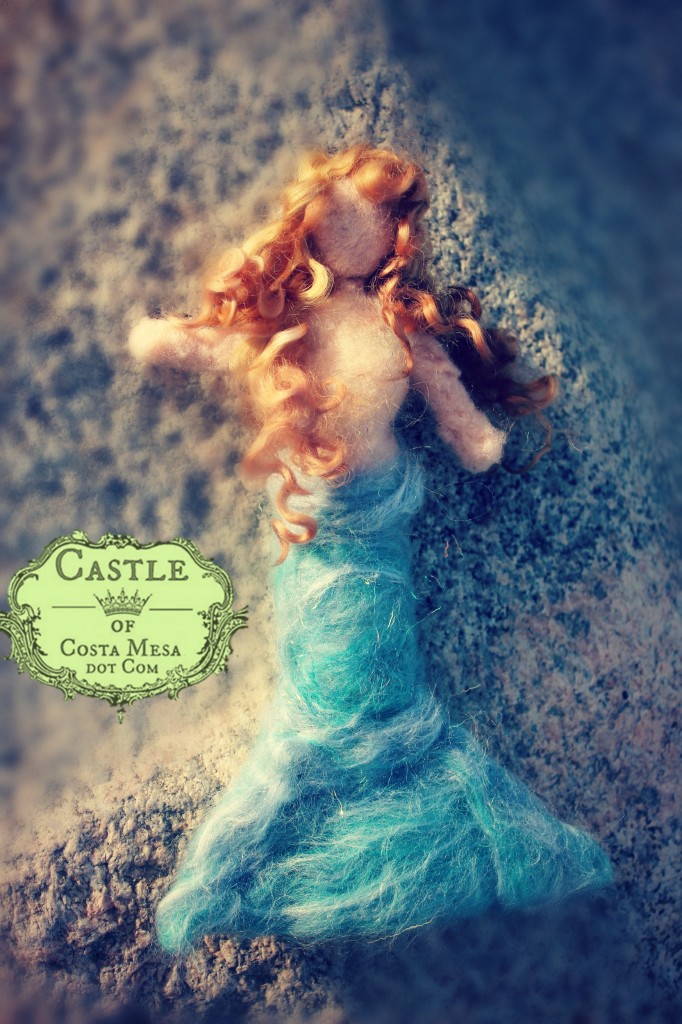 Gallery of Past Projects from The Waldorf School of Orange County Craft Group
Click on the image below to view our Waldorf School of Orange County weekly craft group projects.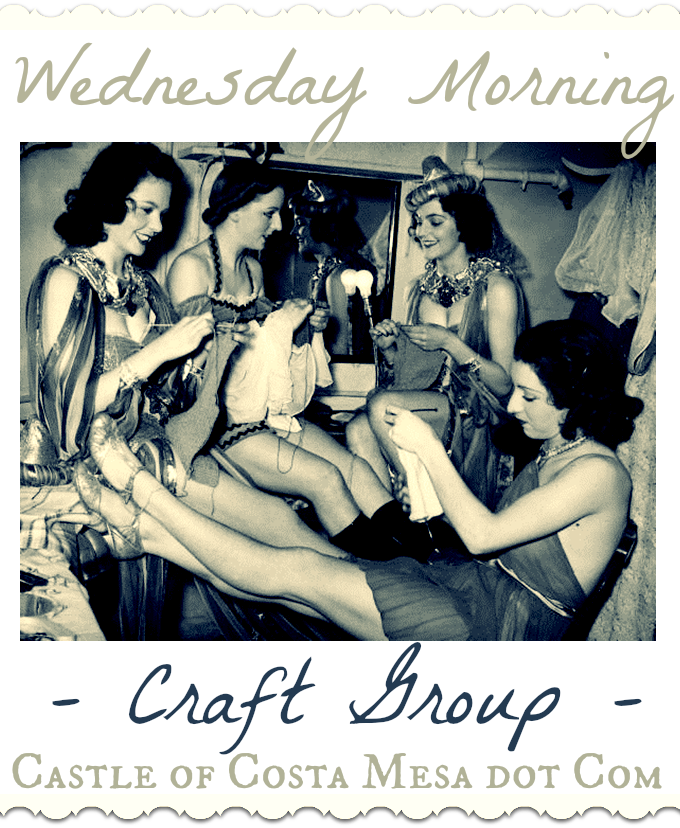 If you haven't yet seen the pictures from our beautiful Winter Festival 2013, here they are. Click on the picture below to enter page: Some of the 7th Grader elves assisting in the Elves' Workshop.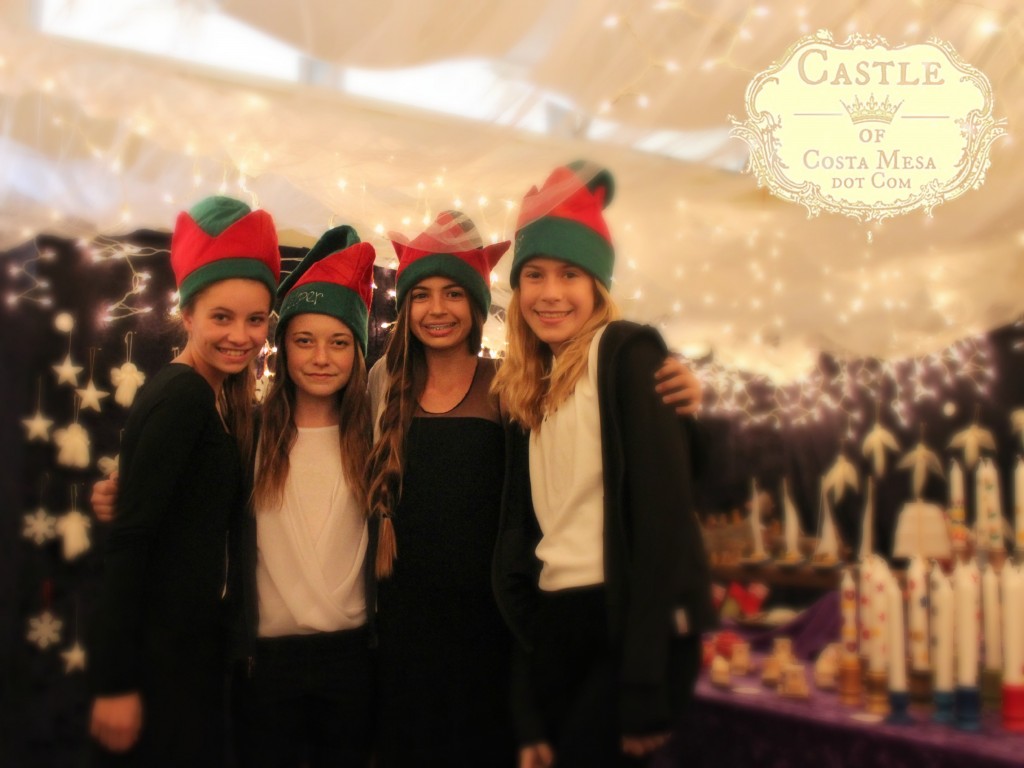 Be in the know for upcoming handmade giveaways: Like CastleofCostaMesa.Com on Facebook
I give away my lovingly handmade dolls and crafts every season. If you "Like" my Castle of Costa Mesa Facebook page, you will be notified of upcoming giveaways. Click here to view the list of my past giveaways. Perhaps the next winner could be YOU?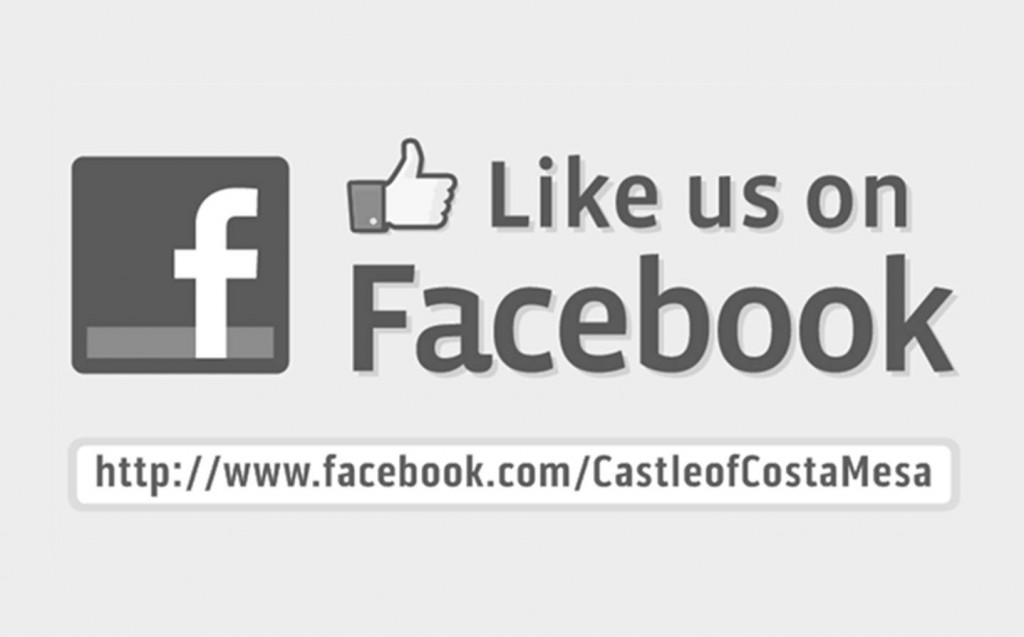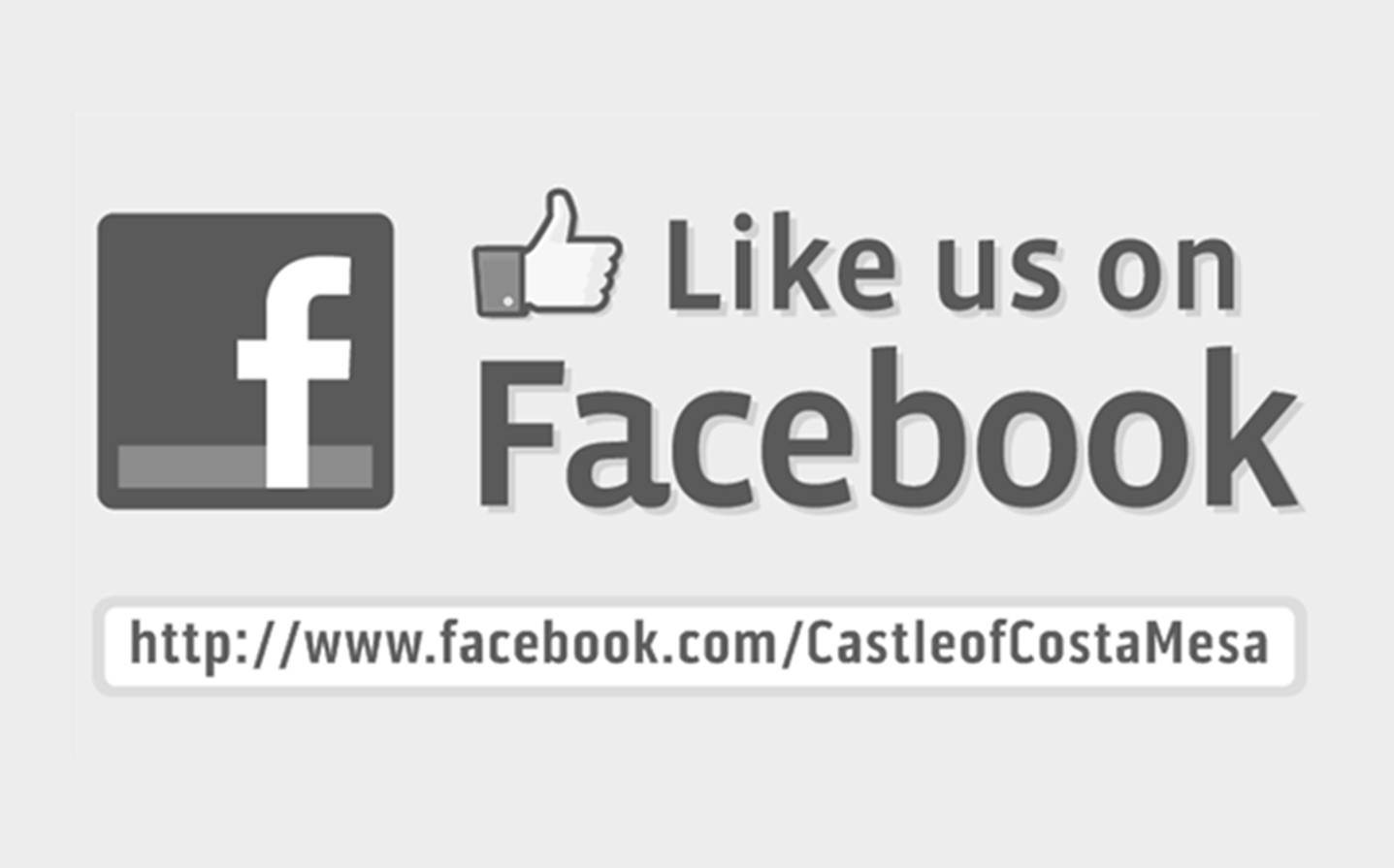 Our School Store Company of Angels has a Facebook page!
If you use Facebook, please "Like" our school store "The Company of Angels". Also, please tell all your local facebook friends about our school store! Thank you!

Gallery of Past Projects from The Waldorf School of Orange County Craft Group
Click on the image below to view our Waldorf School of Orange County weekly craft group projects.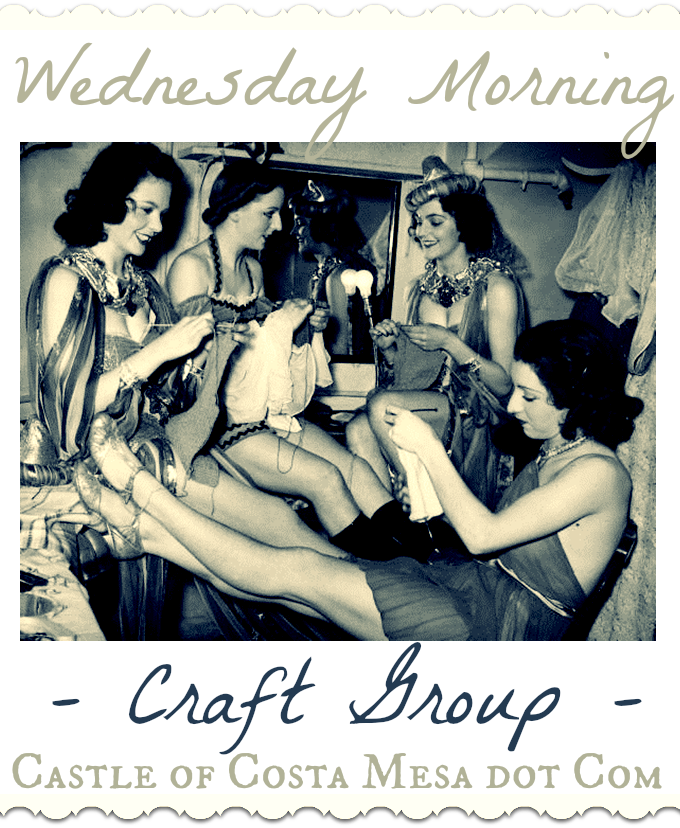 Support Our Local Waldorf Community/ Place a Free Ad
If you are interested in placing an ad on "Support Our Southern California Waldorf Community" (free if you are a member of Southern California Waldorf community) please e-mail me a good picture and a link.
Meanwhile, please support our local peeps! Thanks! – Jzin