Wednesday Morning Craft Group
Today, we gathered at 8:45am alfresco outside The Company of Angels store to mosaic picture frames. For a $10 fee, we had access to all the supplies. Thank you Christine Newell and Rachel Skelly for organizing yet another session of creation and fun!
Click here to look at gallery of past crafts
If you like this blog, please leave a comment on the bottom of the page! Thank you! – Jzin
Click here to see a cute little flower fairy doll made by Sharon this week.
As usual, Rachel made sure the crafters were well taken care of. Sarah's mom Judy baked us moist, delicious pumpkin cake and gluten free brownies! Thank you Rachel, Judy and other invisible snack fairies for feeding the craftsters!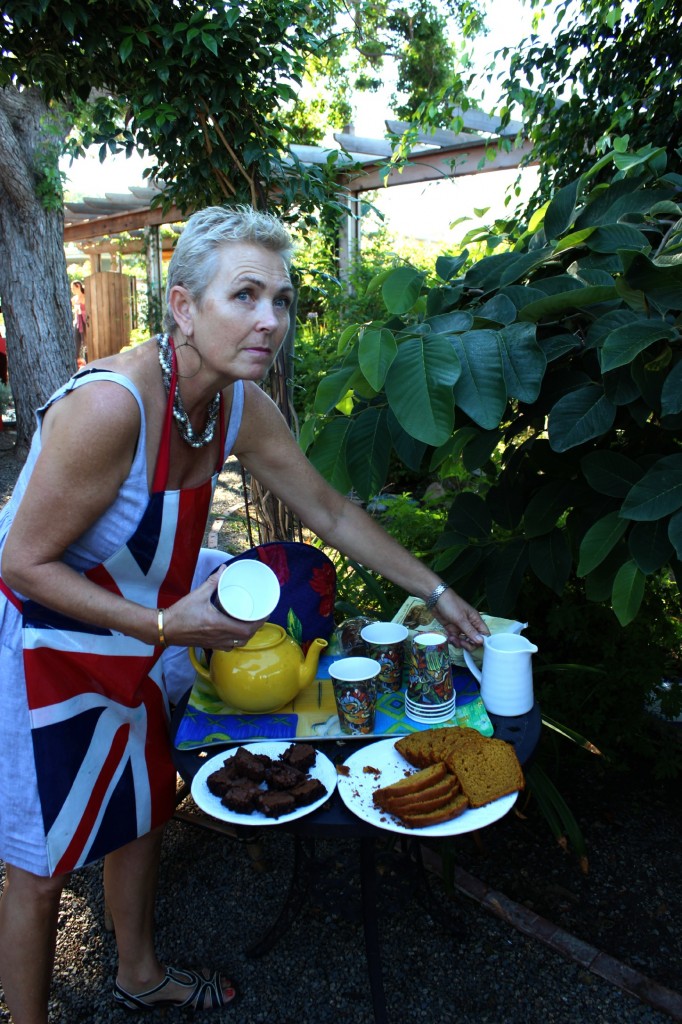 Rachel caught off guard by our new self-proclaimed "photographer to the gnomes".
Gallery of Past Craft Group Projects
Click on the photo below to see all the projects we made in the past.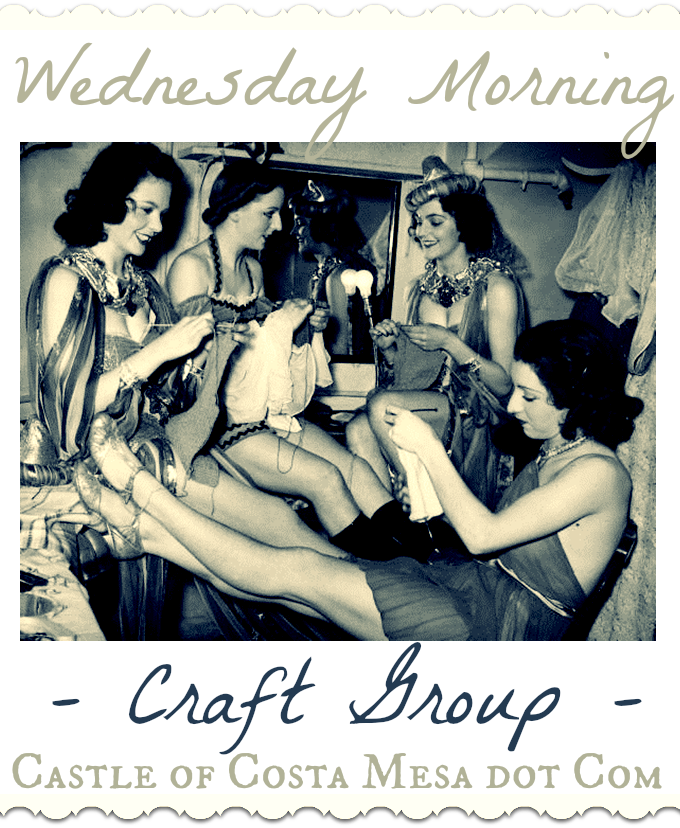 You can also follow us on Facebook to see our weekly crafts.
This week, we will be breaking tiles and gluing them onto wooden picture frames and letting them dry. Next week, we plan to grout the frames.
Here are some samples of finished frames that Christine brought to show us.
These donated Mexican tiles were lovely.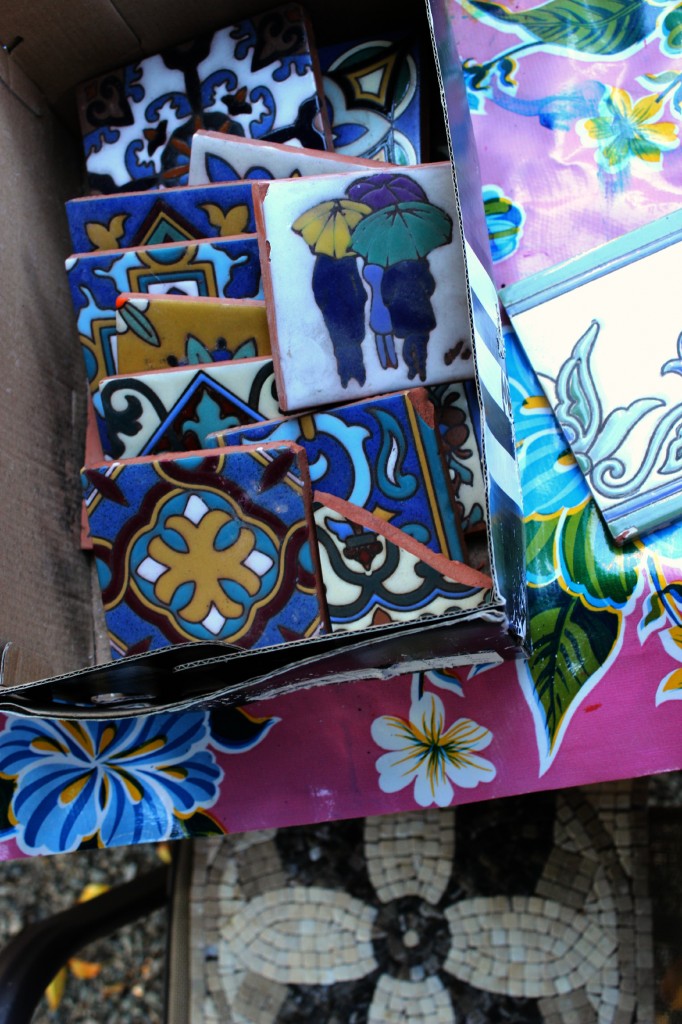 Thank you Rachel for supplying and organizing the tiles/ceramic. I say we should have a good and large storage system at school to catalog all our mosaic supplies. I see the impulse for this creative crowd to transform broken tiles and crockery into grand and beautiful things that currently reside in realms beyond our imagination!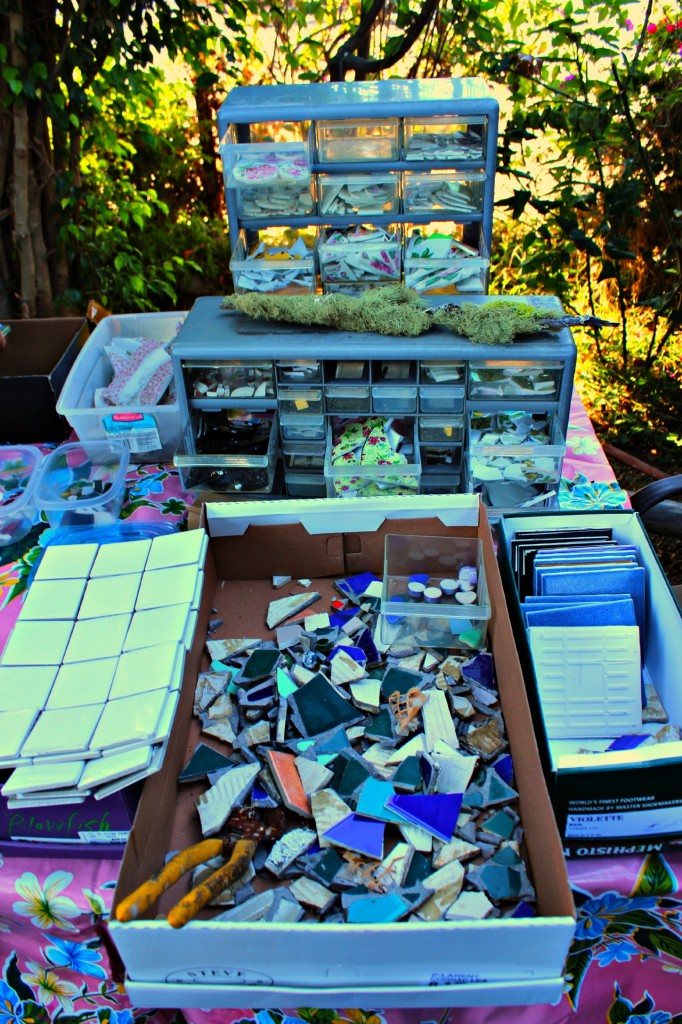 Breaking Tiles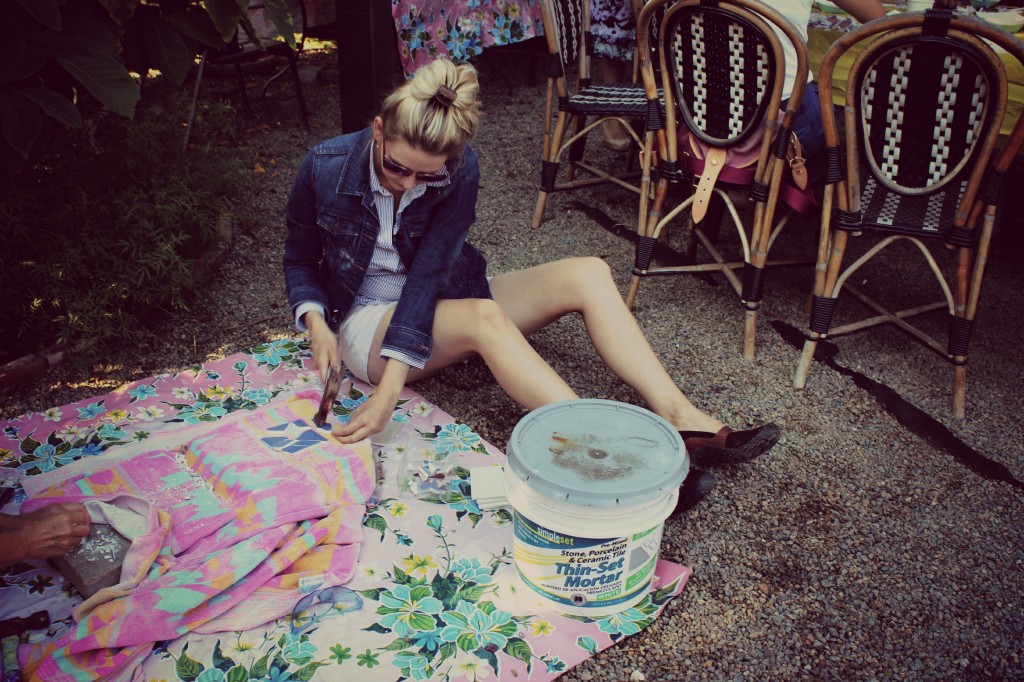 Tile breaking is done under towels to prevent splinters from flying off and causing injury.
More evidences of lovely people breaking lovely crockery.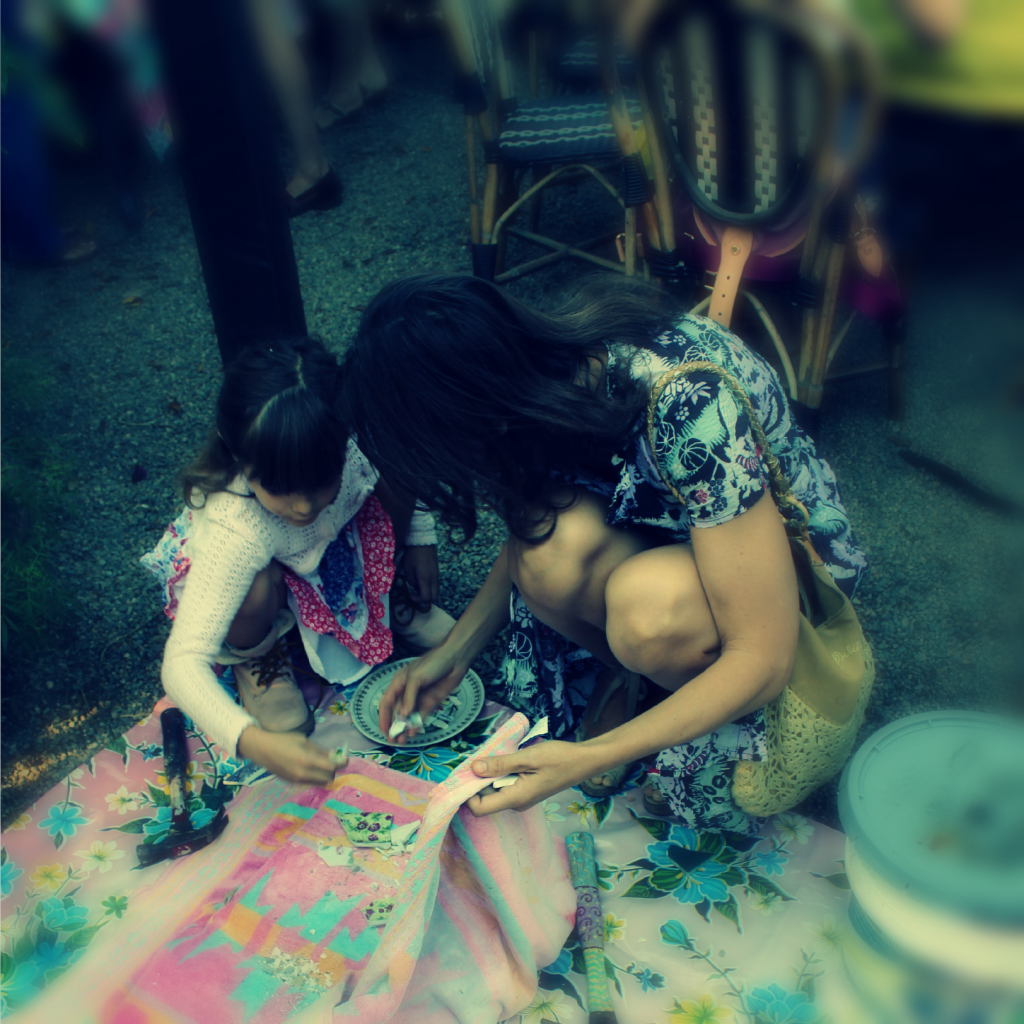 Glue/adhesive we used…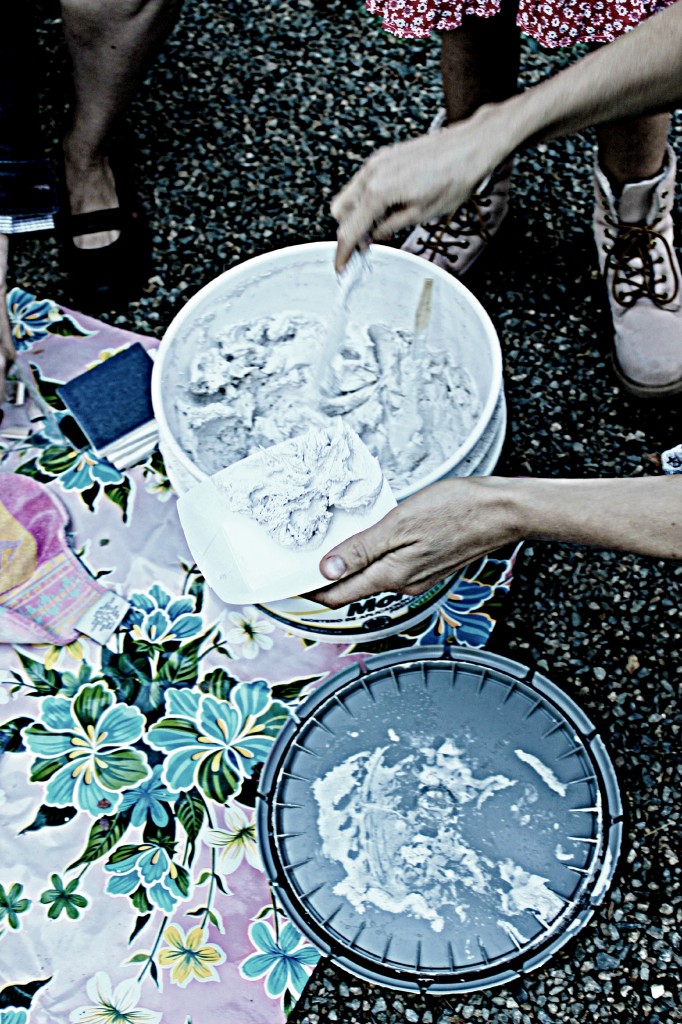 Want some? Here's the scoop…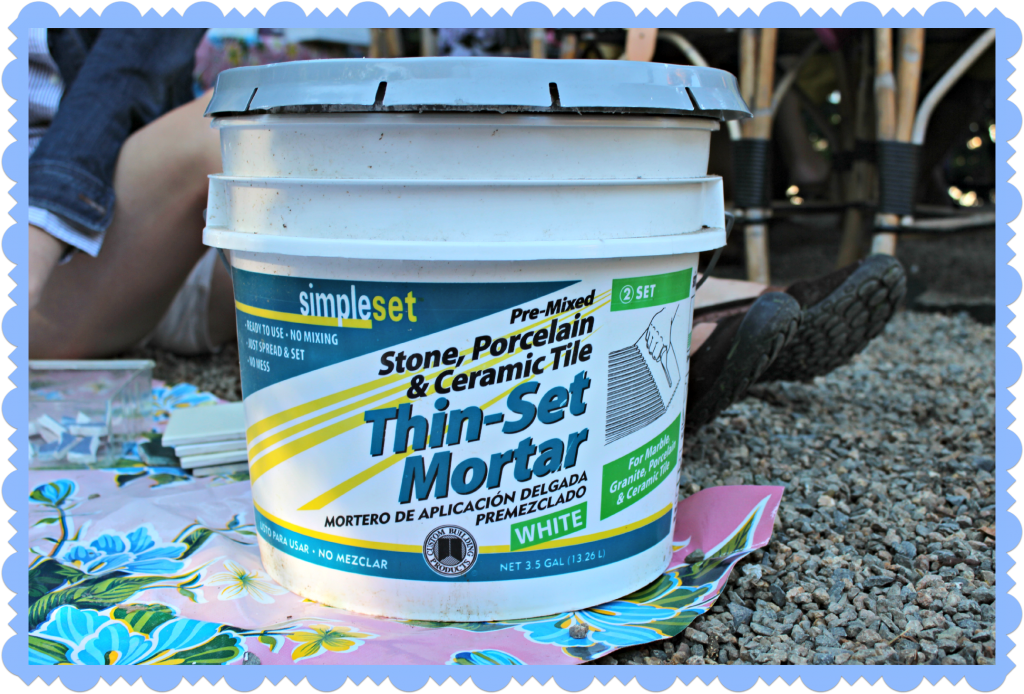 There are two ways to put your tiles onto the frame. (1) the butter the toast method. Once you can visualize what design goes into a general area, and you have gathered the broken tiles you need and place them next to you, you slather generous amount of adhesive onto the general area you plan to work on.  Then you arrange your tiles onto the glued surface. See below: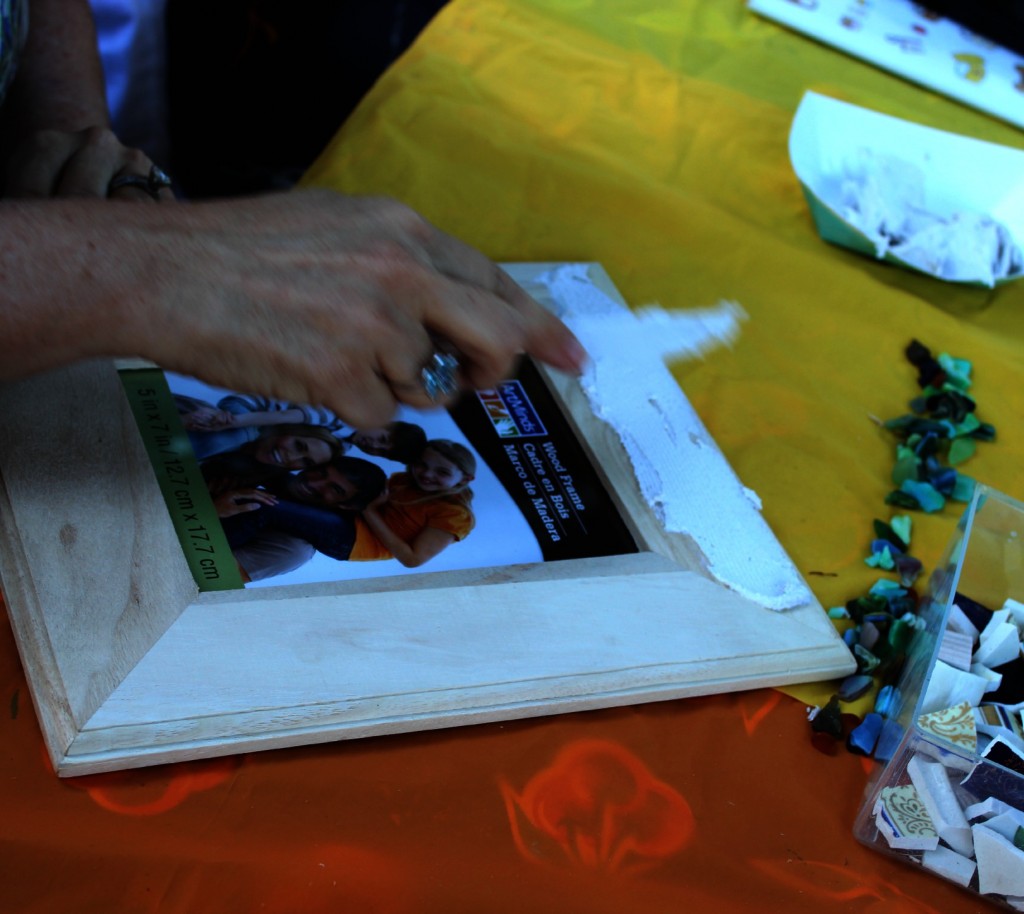 I love this method above because I am very impatient. You have to work fast so your adhesive do not dry up before you are done.
Method (2): Apply glue to each tile piece one at a time, then place each sticky tile onto the surface.  This will allow you time to compose your picture. This meticulous method takes longer to complete your mosaic. See below: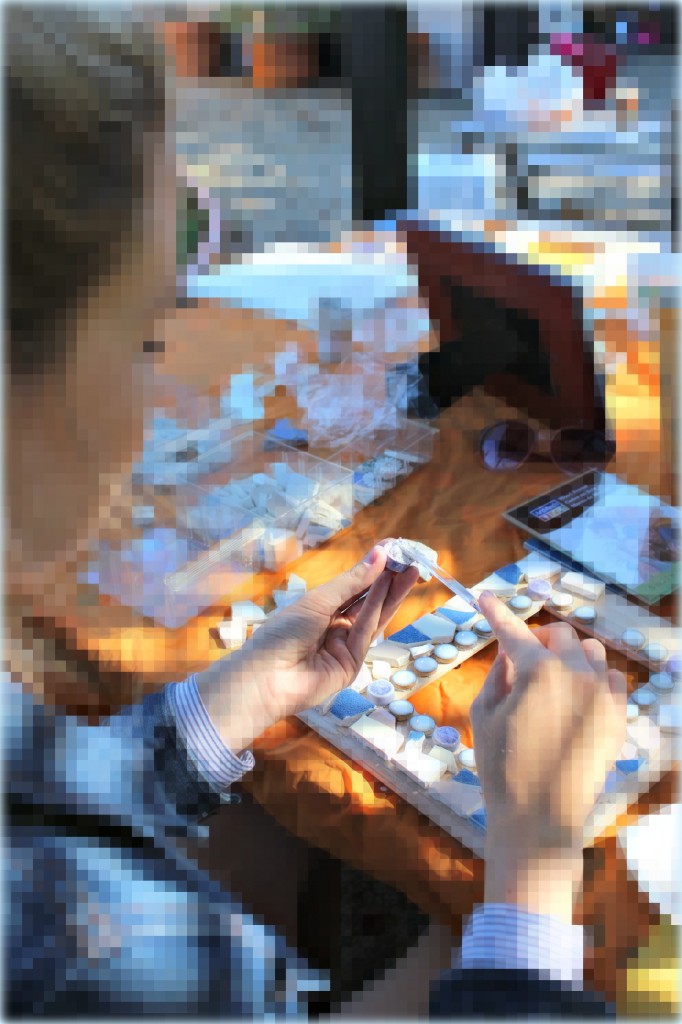 This method is good to use when it's a hot and dry day and the adhesive may dry too fast.
It is ideal to use tile pieces of the same thickness in the same proximate areas. The thin pieces may get lost/"sunken" in the grouting process if they are placed next to very thick tile pieces.
Here's Antoinette's work: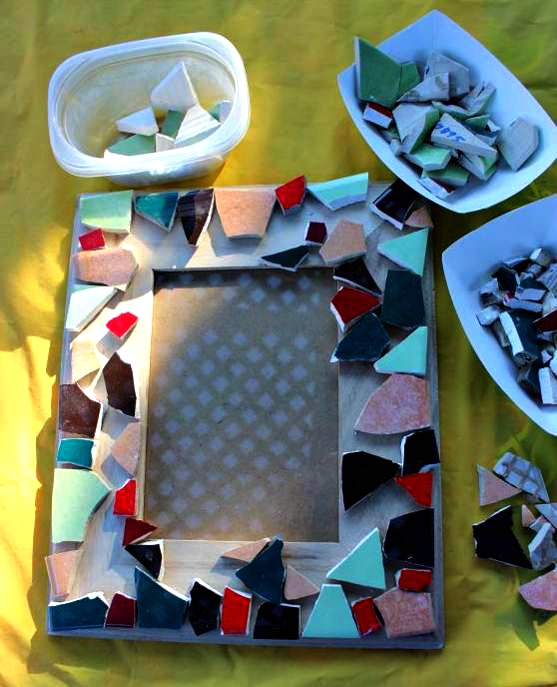 Mosaic ready to dry in the sun for the grouting stage, which we will continue next week.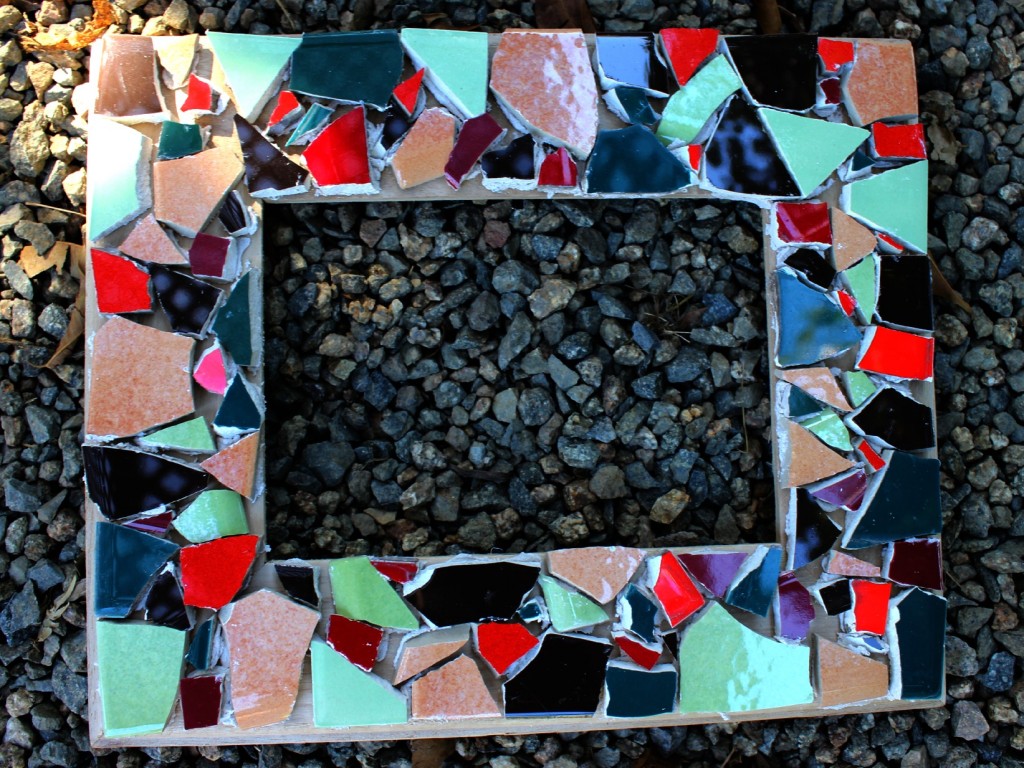 Speaking of Antoinette…do you know she just published a book ?! Congratulations! Click on the image below to check it out!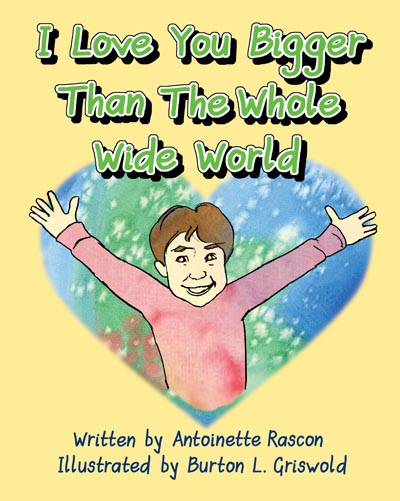 Spread the word! You can also buy a copy of our Antoinette's book from the Company of Angels Store.
Julie Fish and her disposable butter knife, going to town with the mosaicking.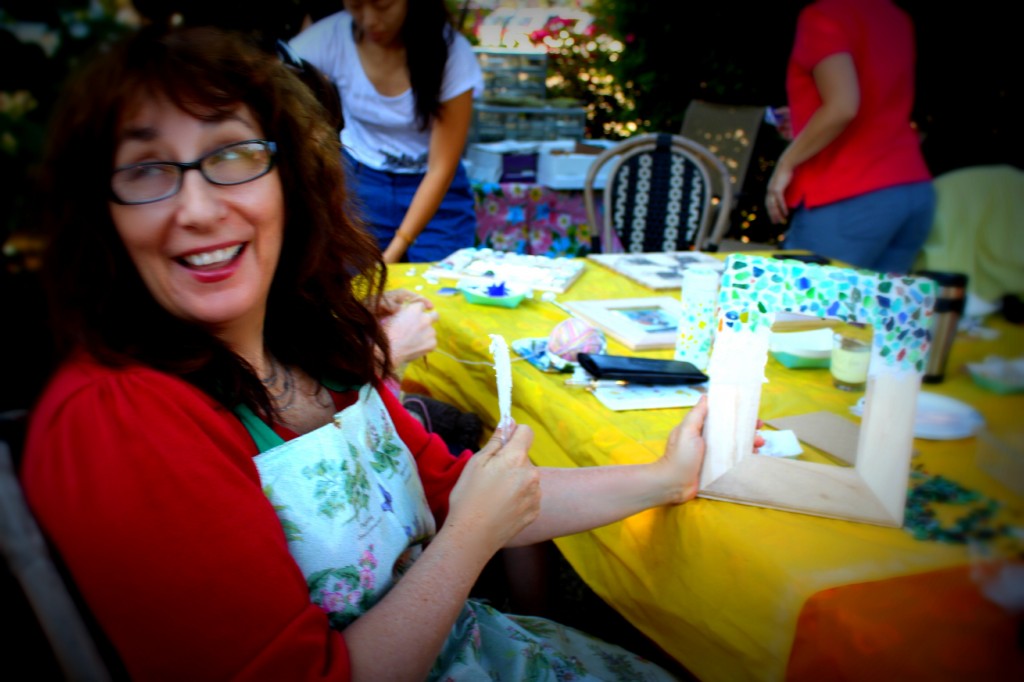 Ready to sun-dry.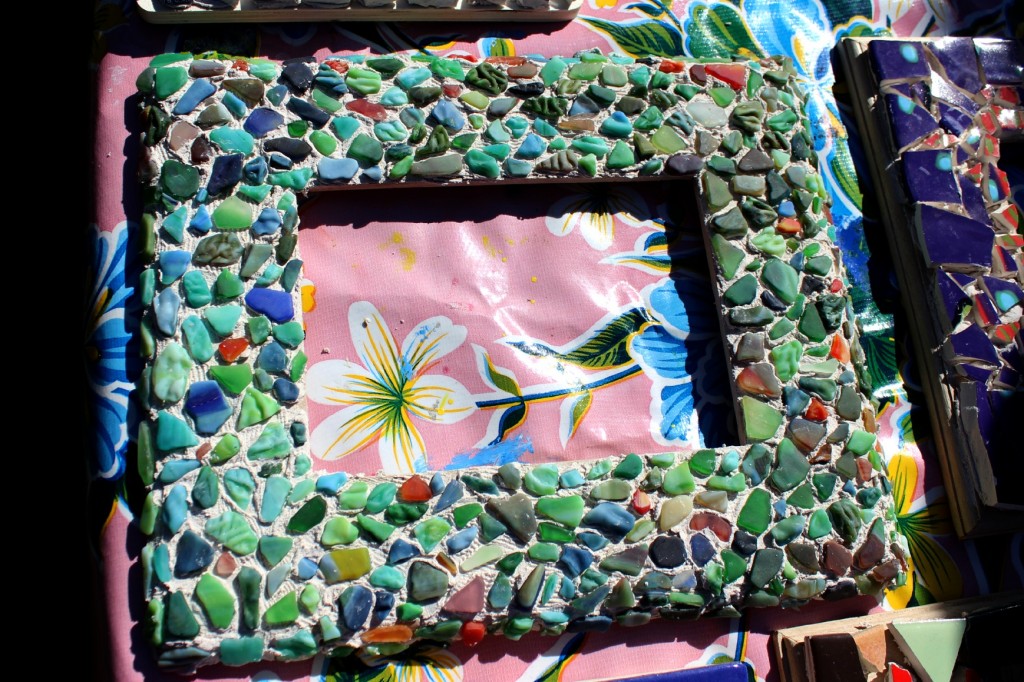 Composing tiles on wooden frame…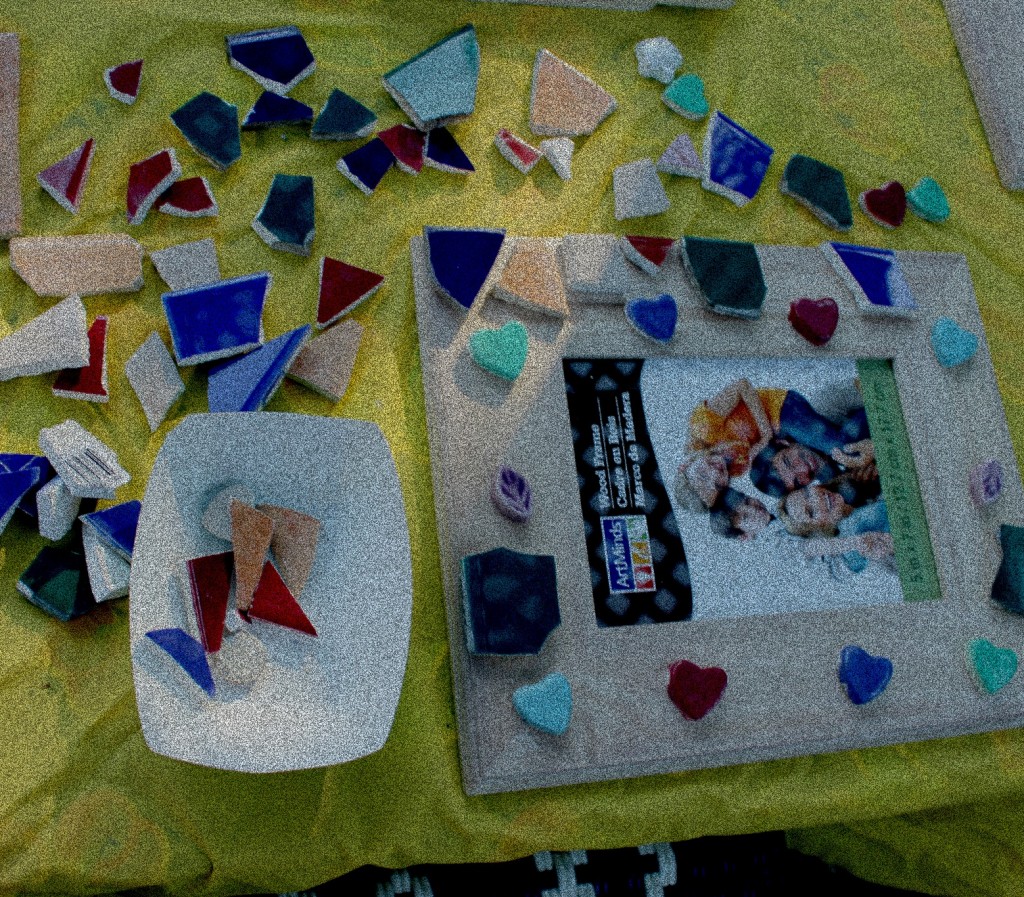 …and behold, beauty that resided only in the archetypal realm has been summon forth this morning!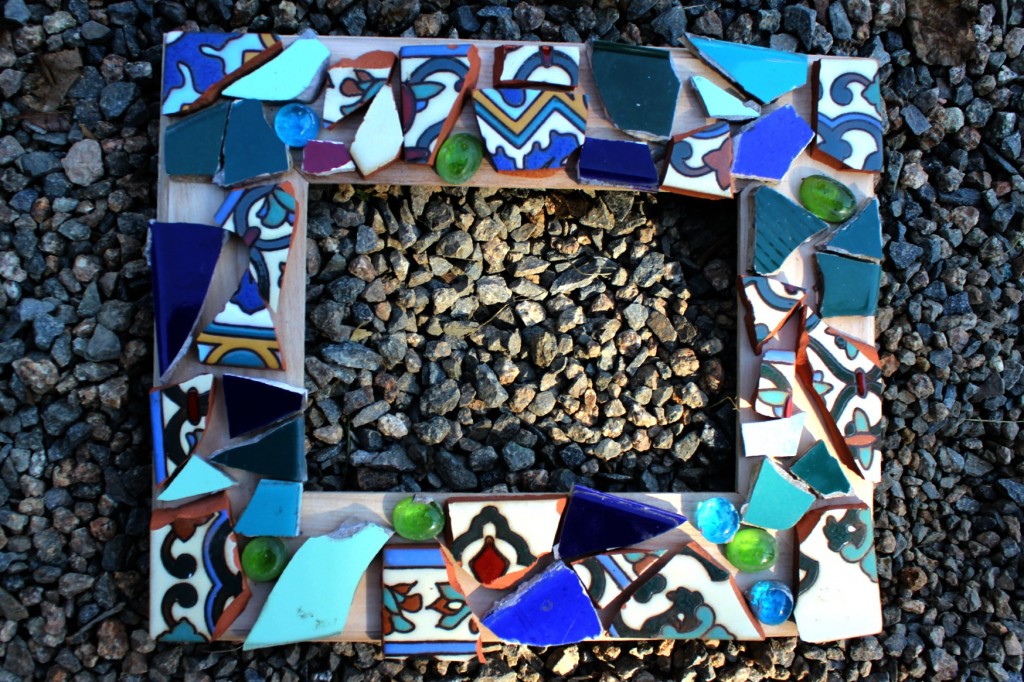 Welcome Alena and Anichka to our craft group!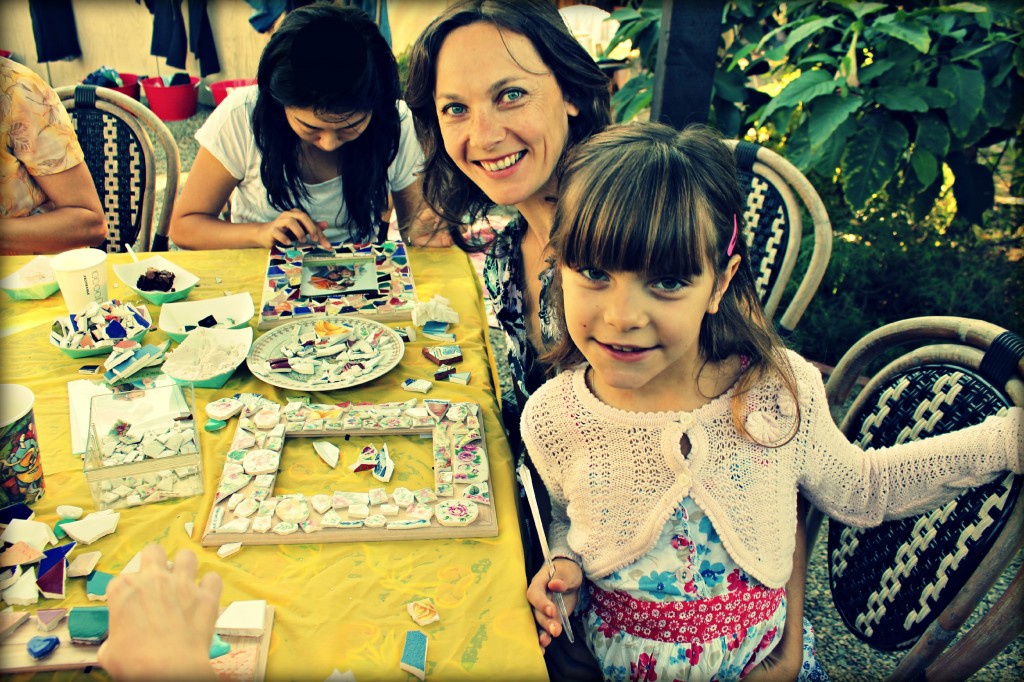 Work in progress…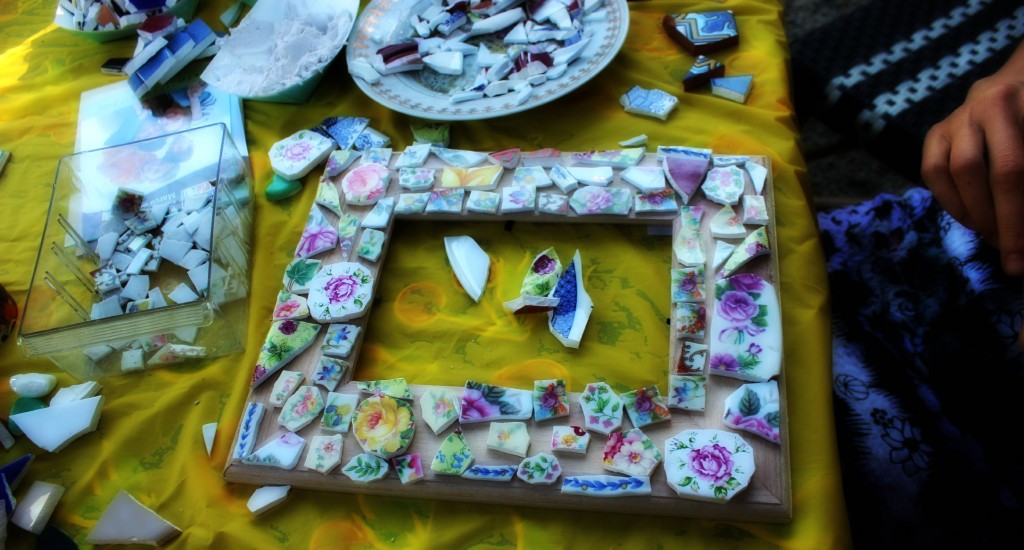 Little Anichka's romantic picture frame…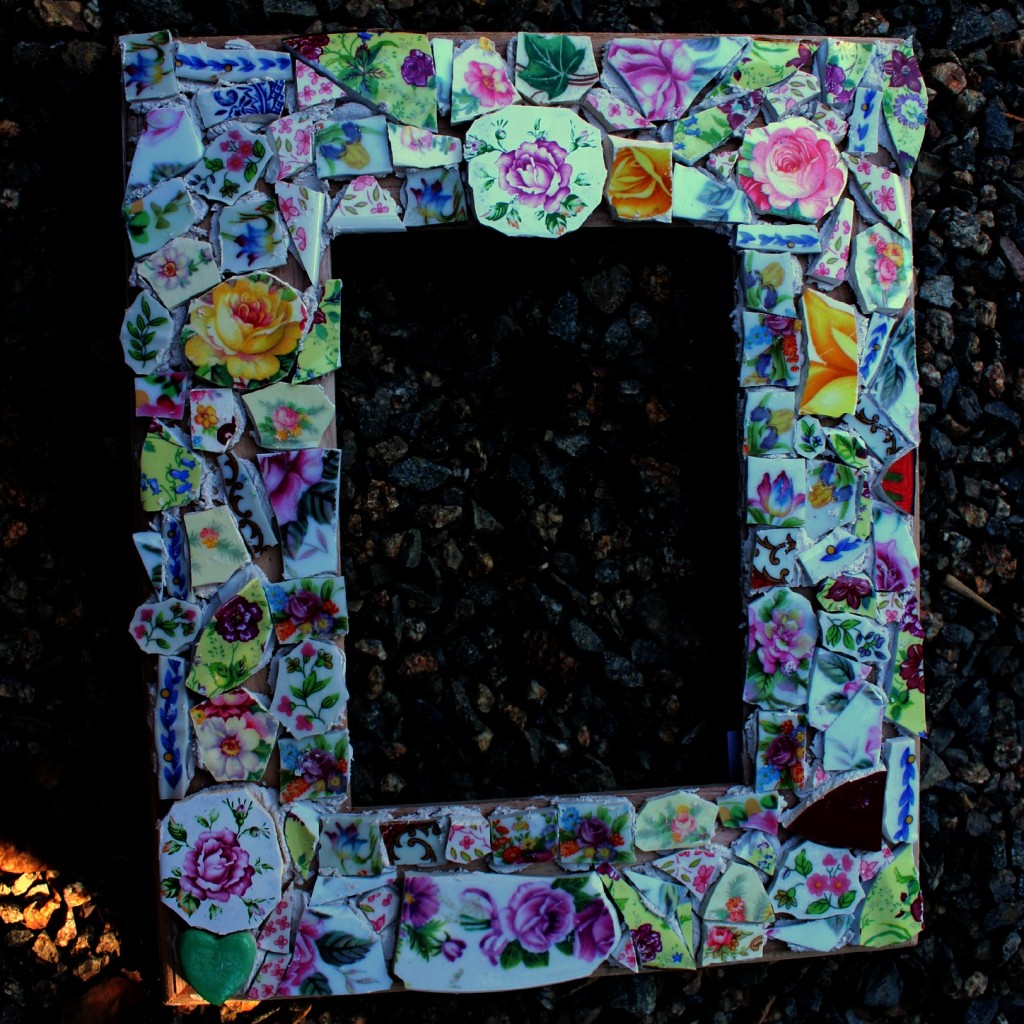 October 24, 2012. Anichka holding up her grouted mosaic picture frame.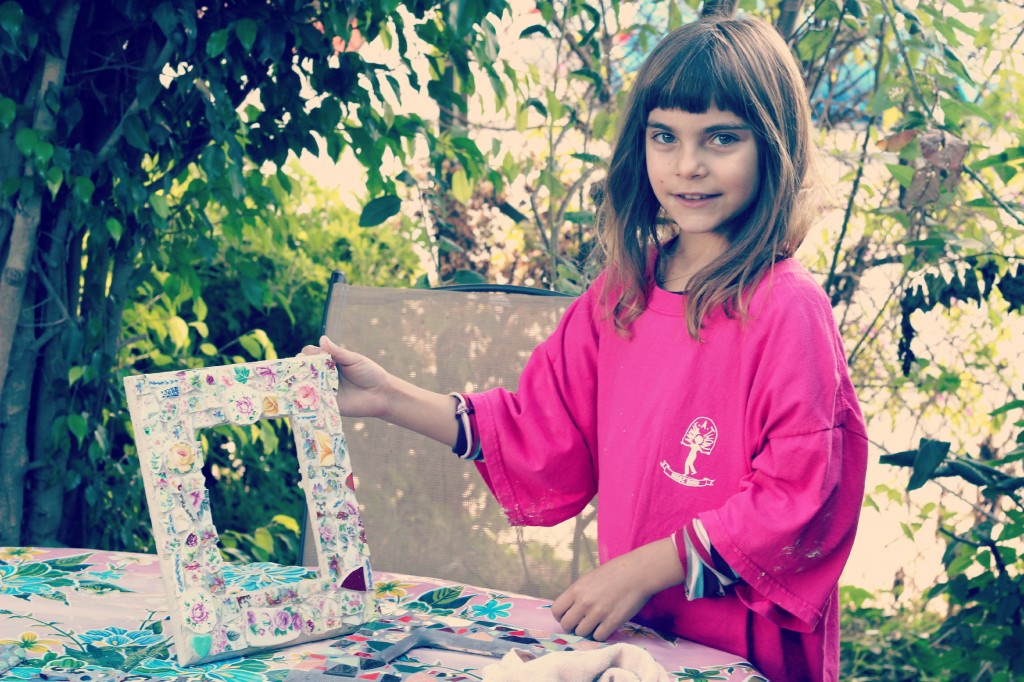 October 24, 2012. The completed project: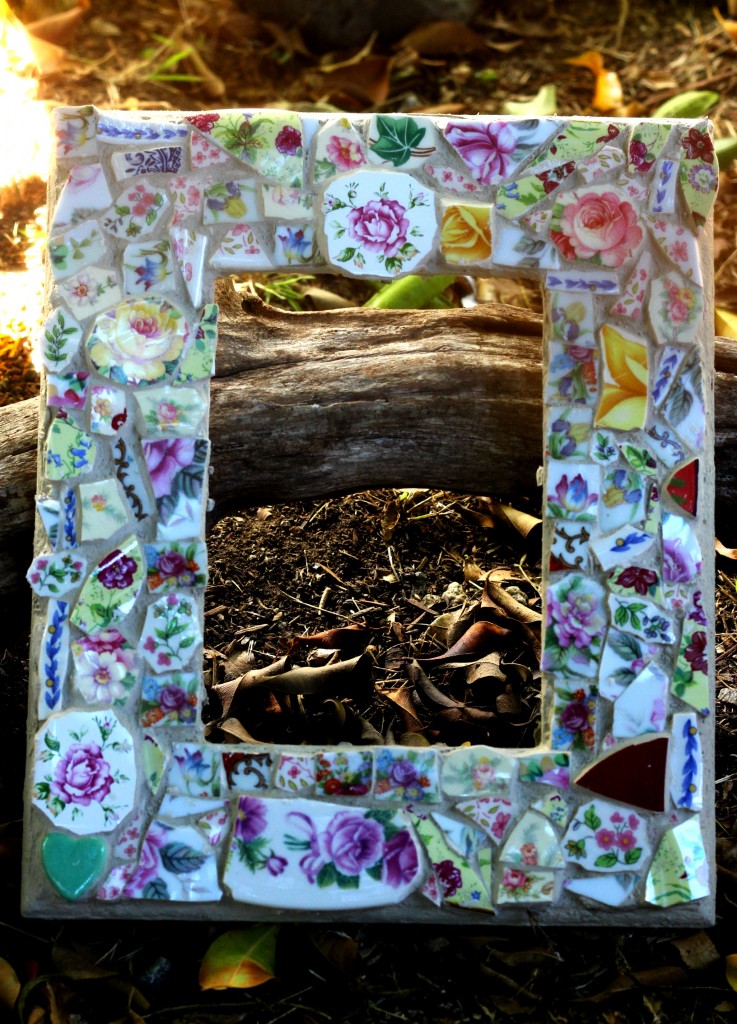 Kimmy with her picture frame…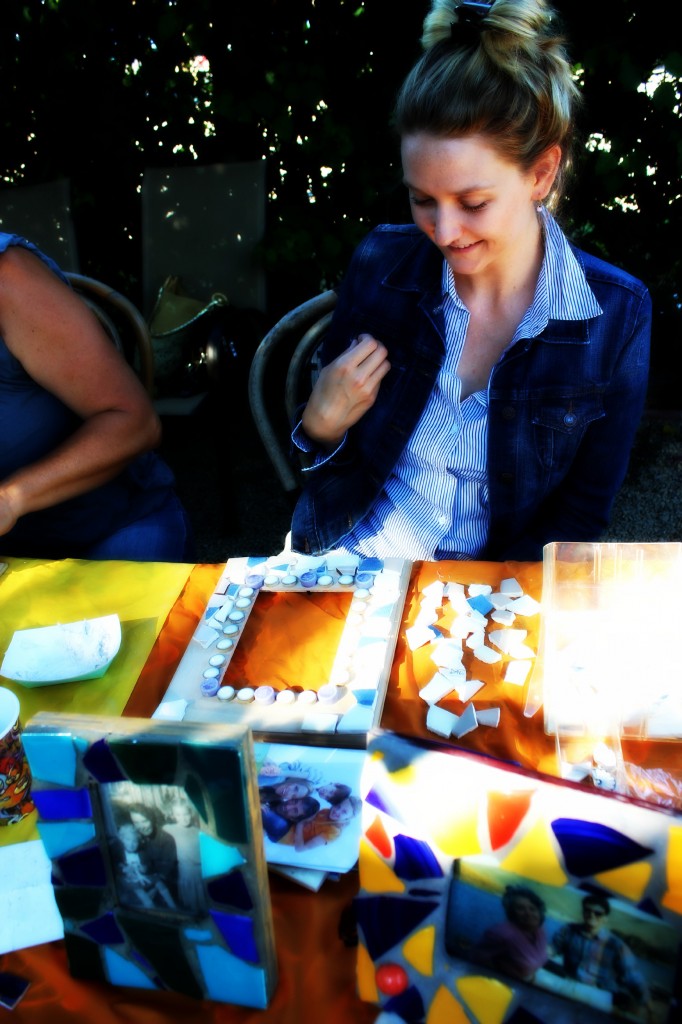 Maren joined us today. Welcome Maren!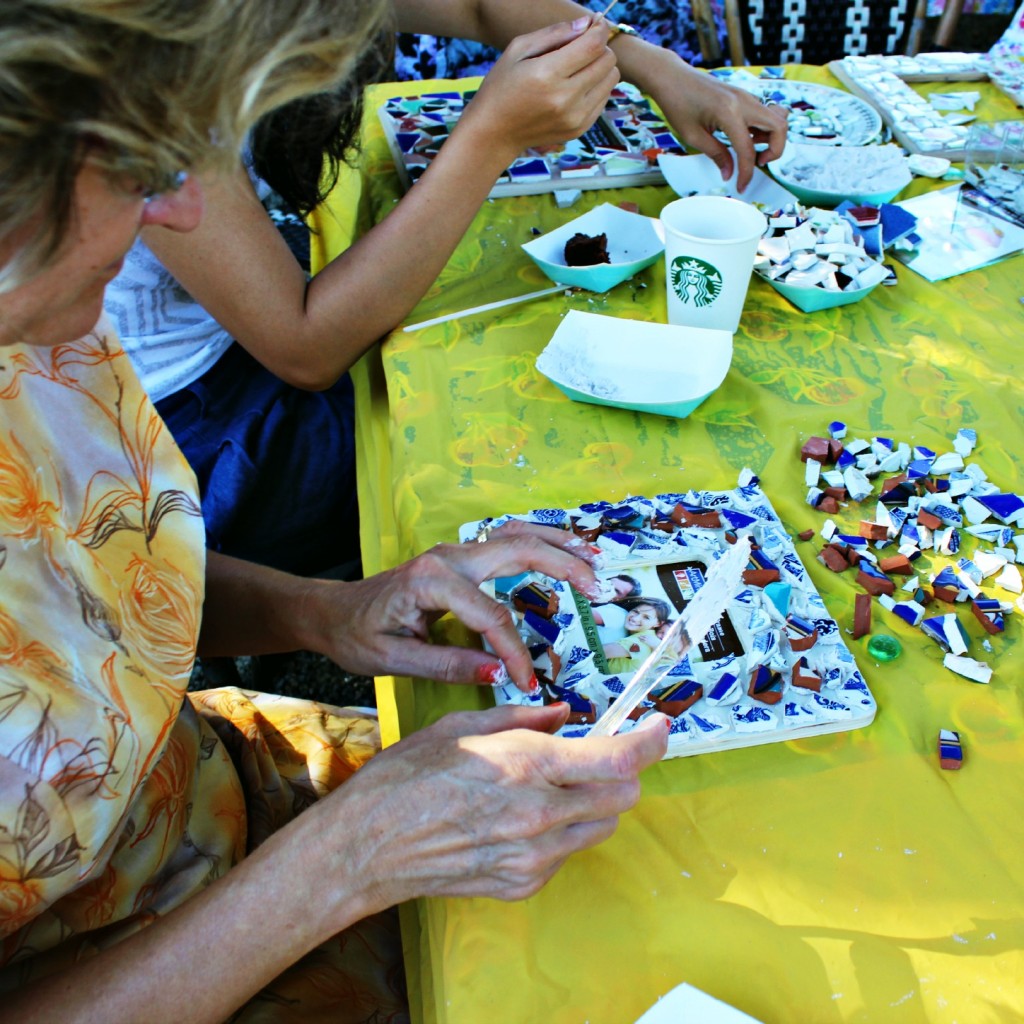 Ready for the sun drying…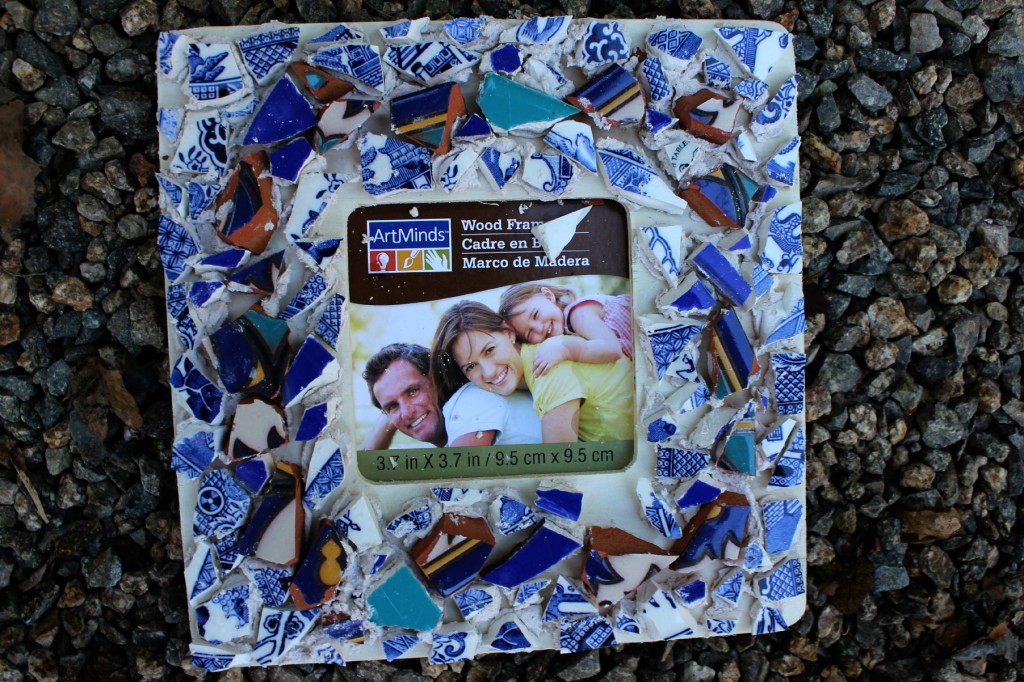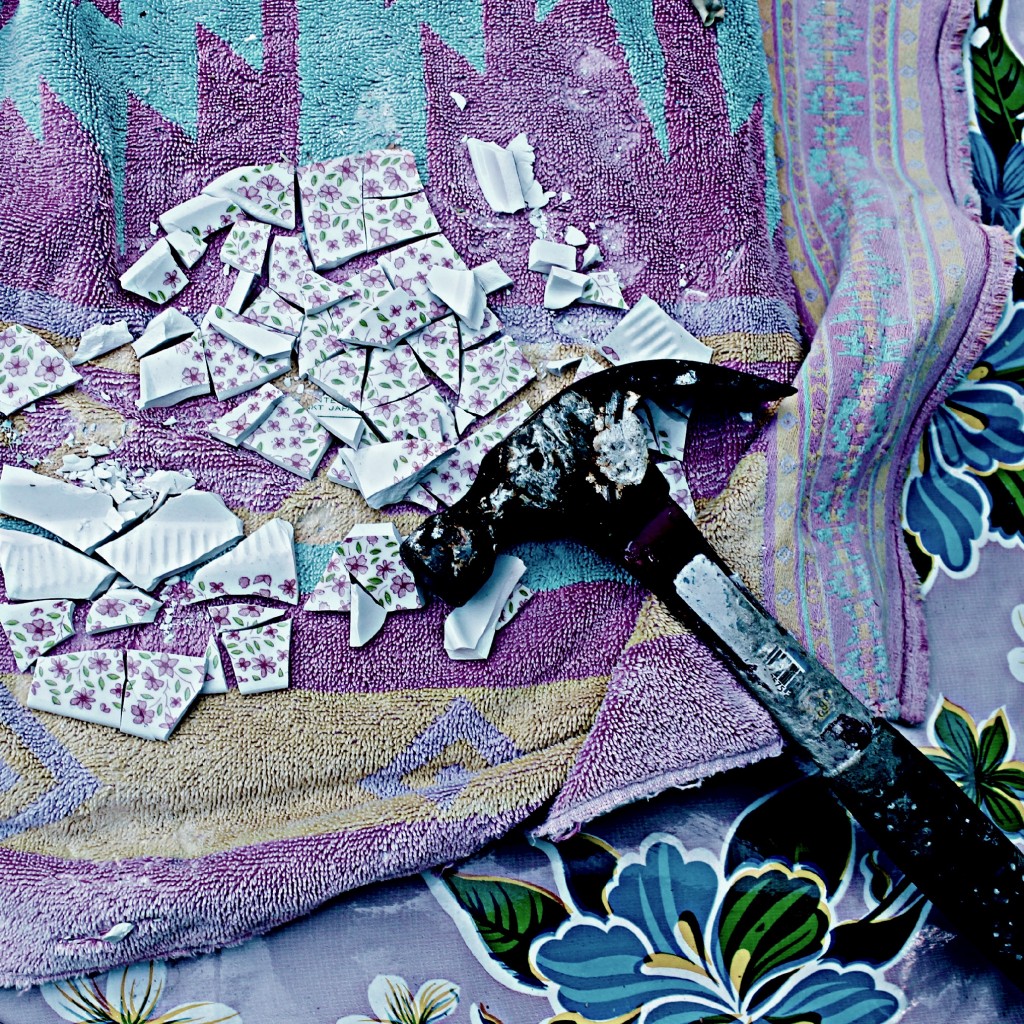 breaking beautiful crockery
Voila! Judy's shabby chic floral mosaic picture frame ready for the Californian sun-drying.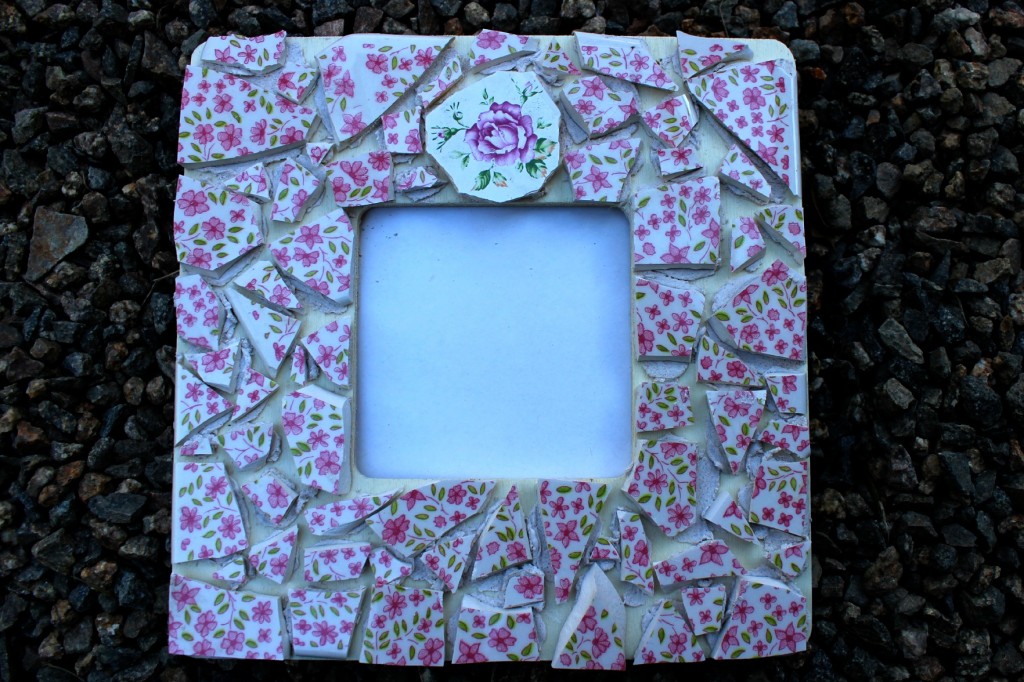 These professional models were hired to stand around and help make my photography look more cool.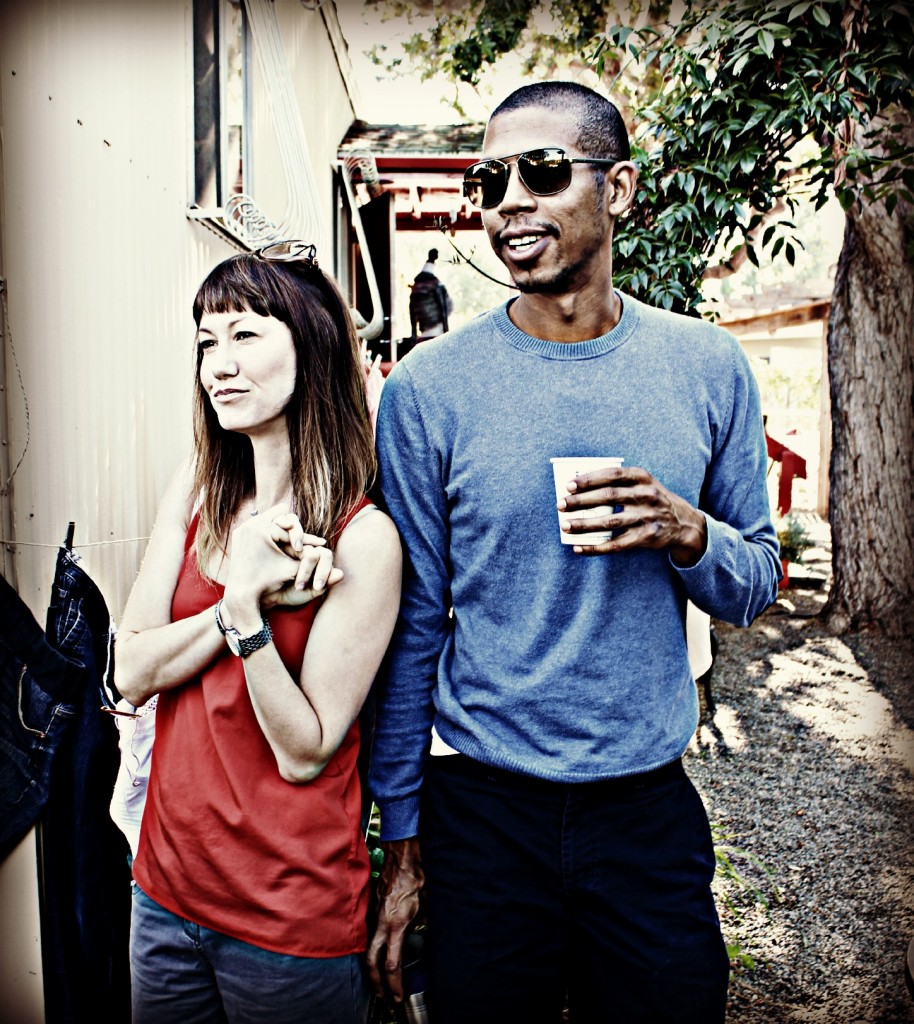 Angela and Chiron, beautiful people posing with coffee.
Kirsten's mosaic frame in the making…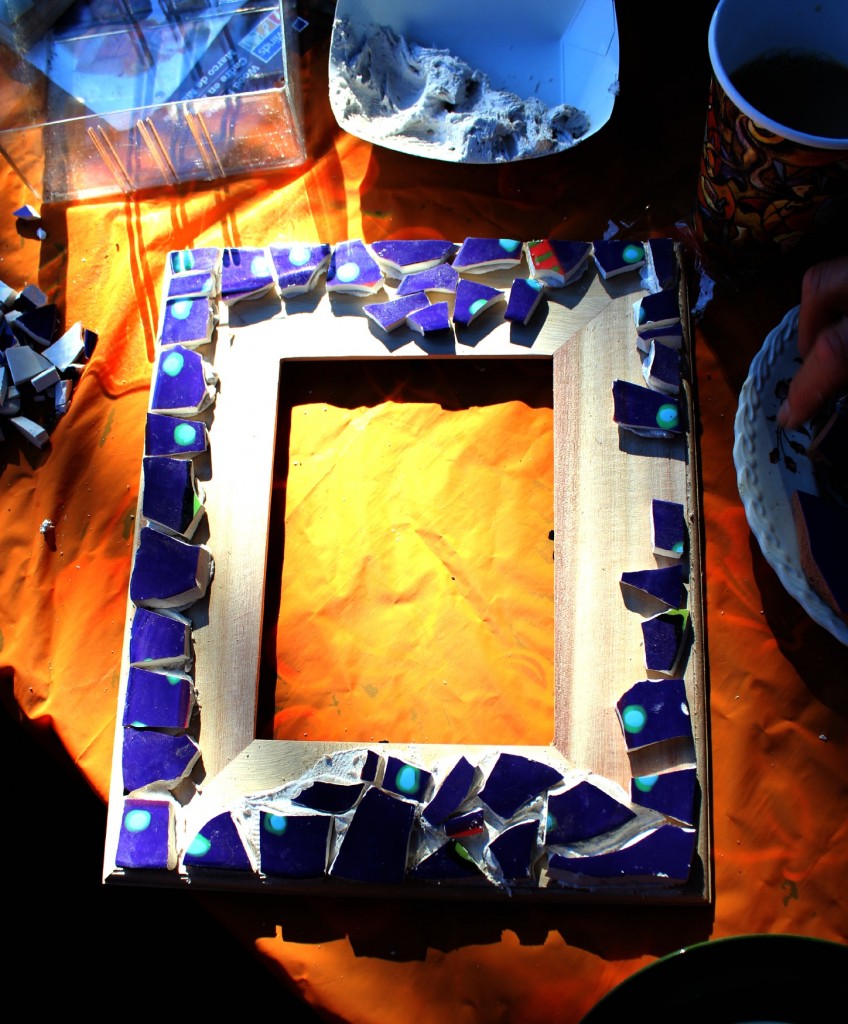 Kirsten's frame ready to dry and receive grout next week…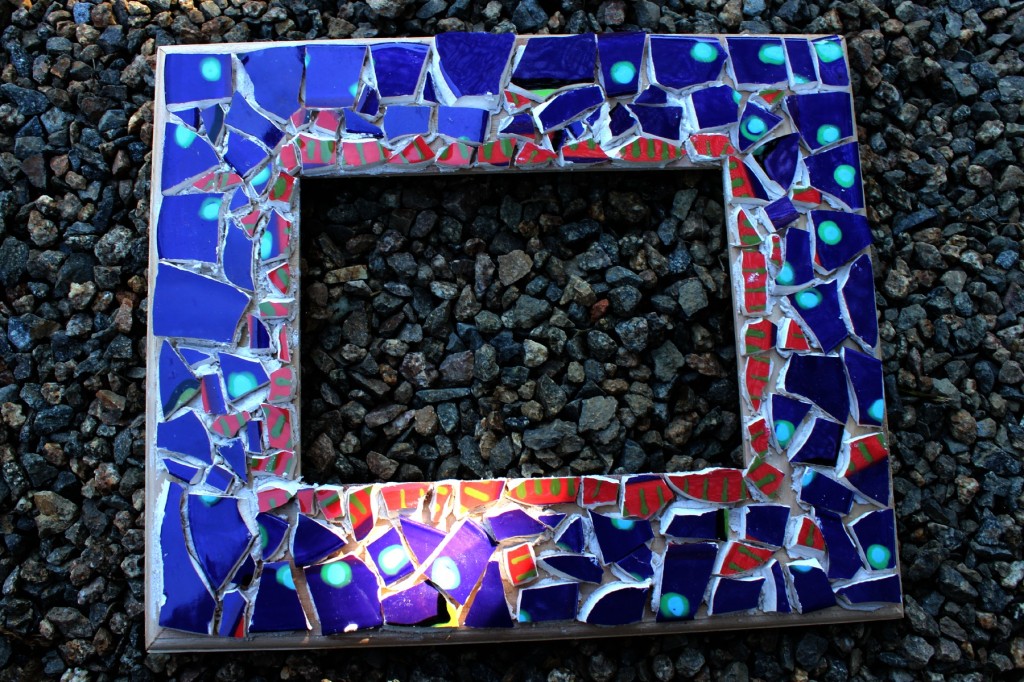 October 24, 2012. Voila! C'est fini!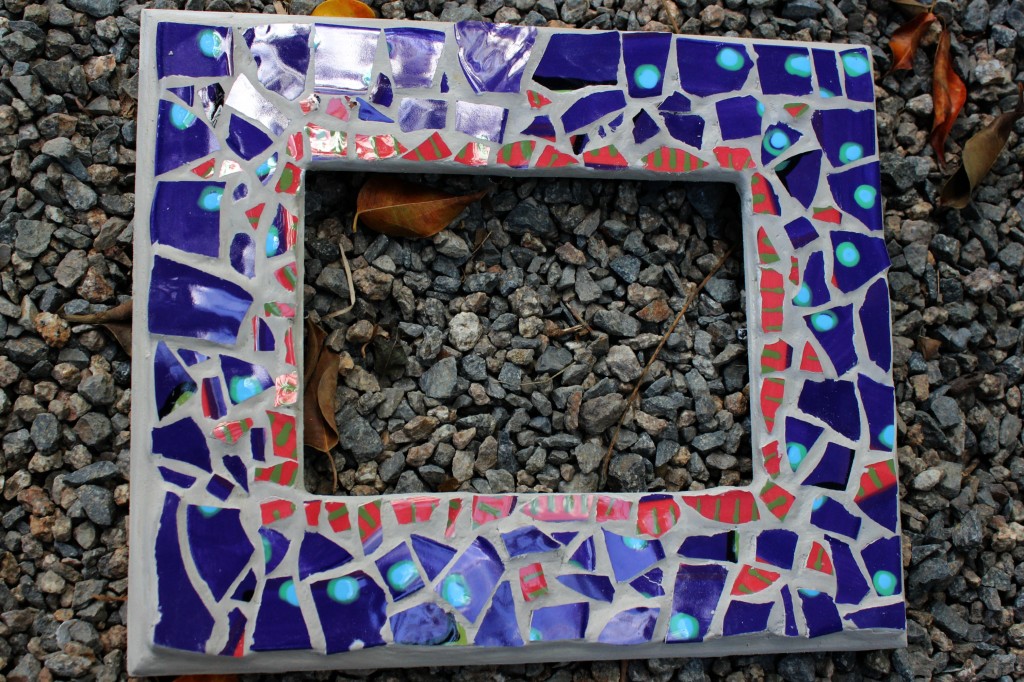 Gloria at one with her craft.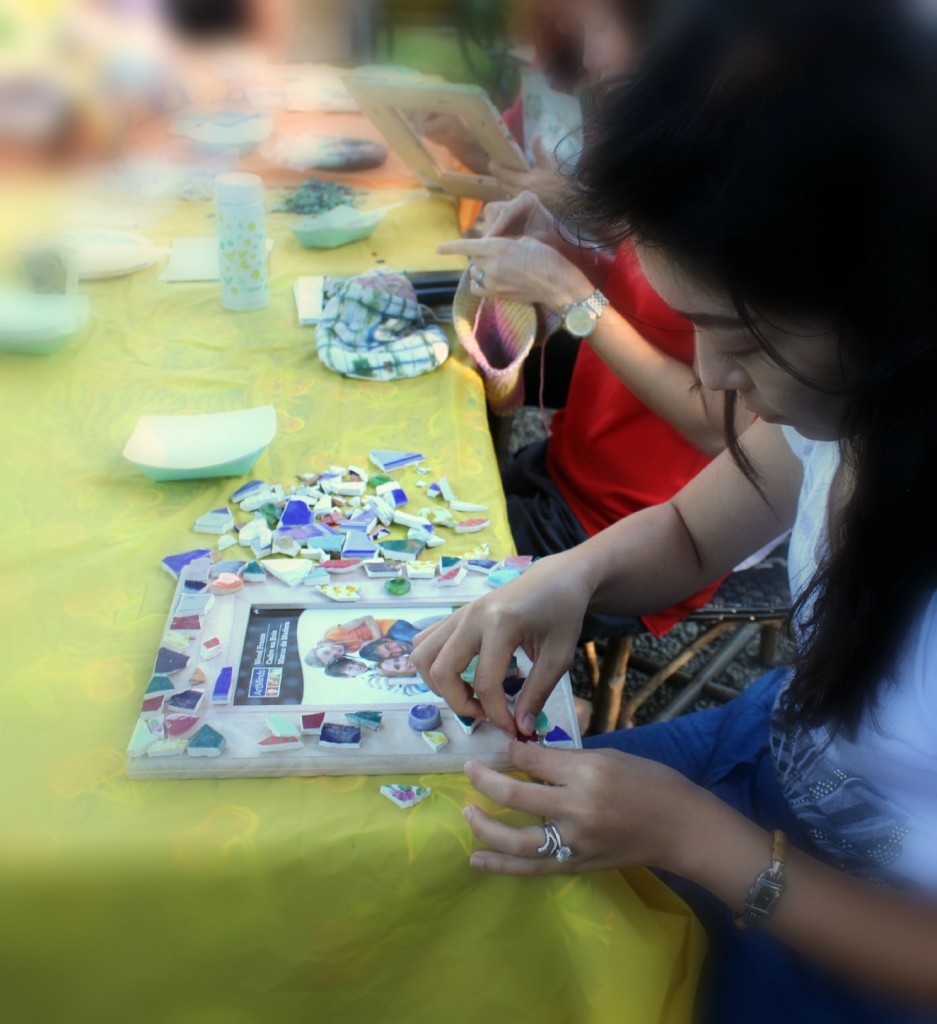 Our artwork drying in the hot October Southern California sun…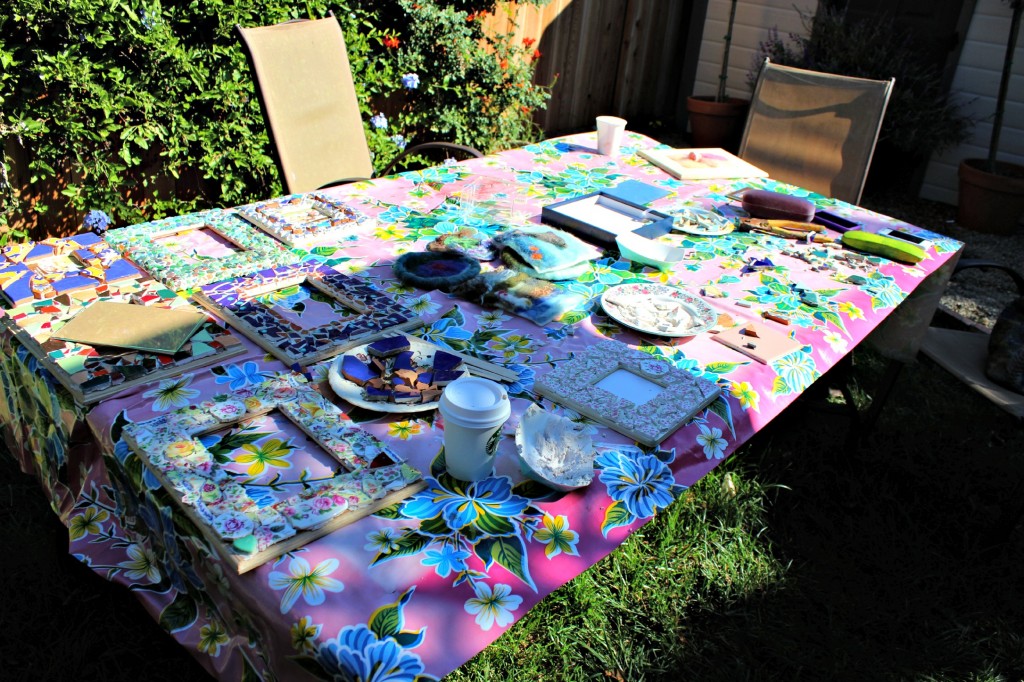 Pink table cloth makes craft work cure better.
Click here to see our grouting work and other crafting shennigans on the following week. October 24, 2012, that is.
Need help assembling Craft Kits for 2012 Winter Festival
So far, we have arranged and glued our broken tile pieces with with hardware store thin-set mortar/adhesive, onto our wooden frames. Our works were left to dry over the week. Next week (please dress grungy for dirty work!) we shall grout our mosaic. Christine is also asking volunteers to come and help make craft kits for Winter Festival Elves' Workshop. These kits will be left in the front office for volunteers to take home to make crafts for the chilren on the Winter Festival. Come join us next week!
Some 30 blossom fairies that I managed to get my group of friends together to handmade over tea, for last year's Winter Festival.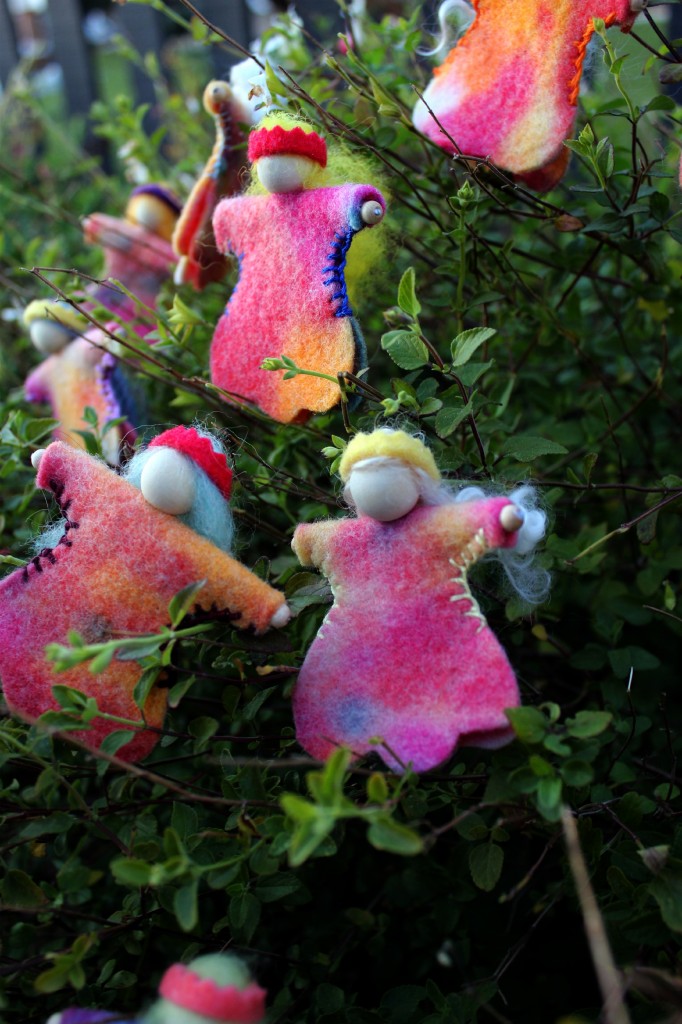 blossom fairies to delight the children in the Elves' Workshop at the 2011 Waldorf School of Orange County Winter Festival.
I have updated last week's needle-felting crafting blog to include more pictures of our craft work brought in today. In short, Gisela added borders to her needle-felted mermaid Christmas ornament picture plus she brought in a few more needle-felted Christmas ornaments to share. Rebecca crafted a stunning dolphin picture. See below.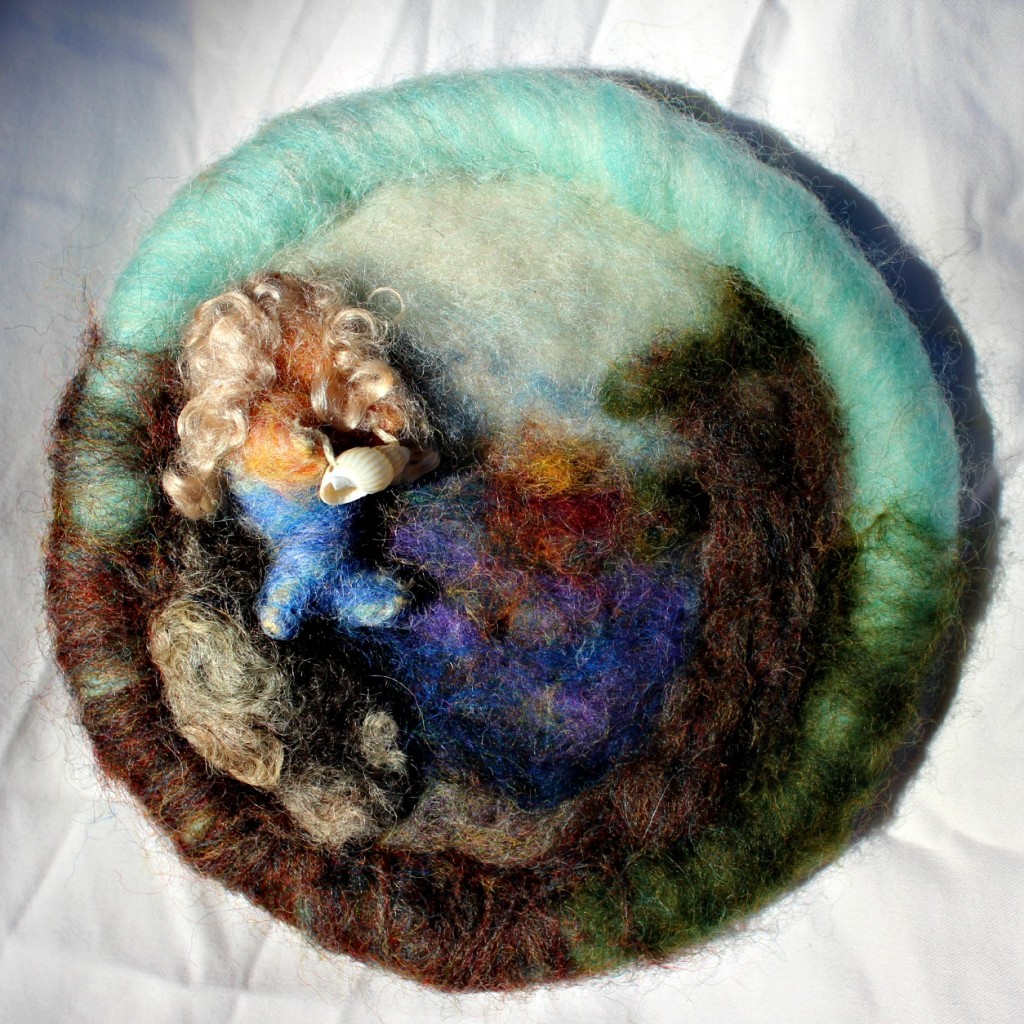 Rebecca's dolphin of beautiful blended-colored roving. I saw her at it on the carding machine last week. I love the blended colors! Oooo…I will have a try at the carder too.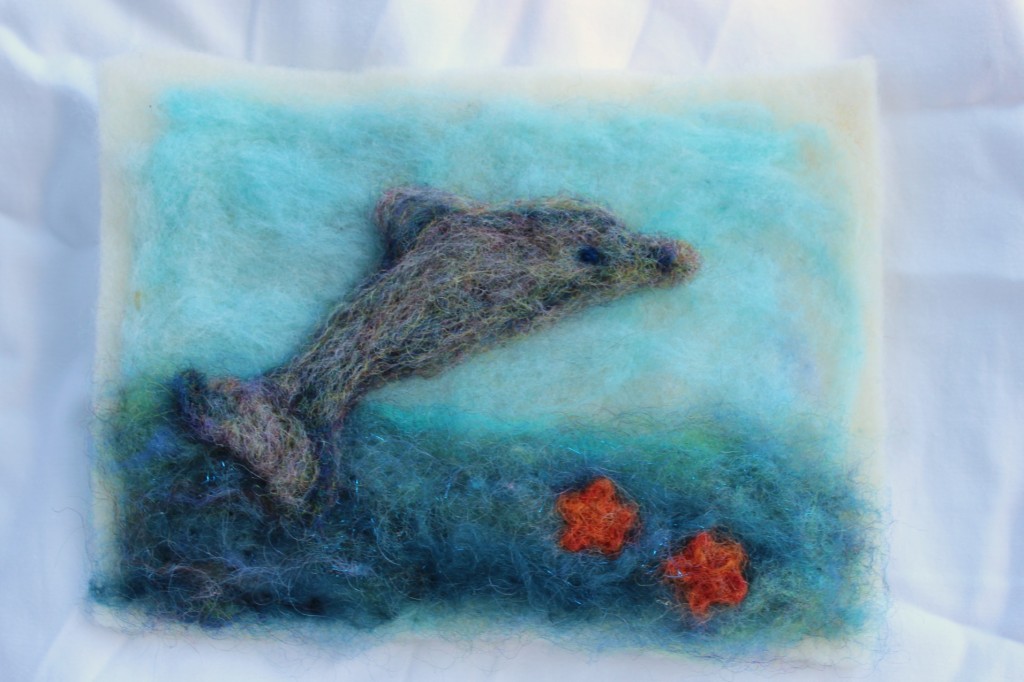 October 17, 2012. Gisela's painterly shrub of violet flowers. I enjoy how she used the bulky yarn for the stem, flower and soil, bringing the subject forward and giving the picture a 3D effect.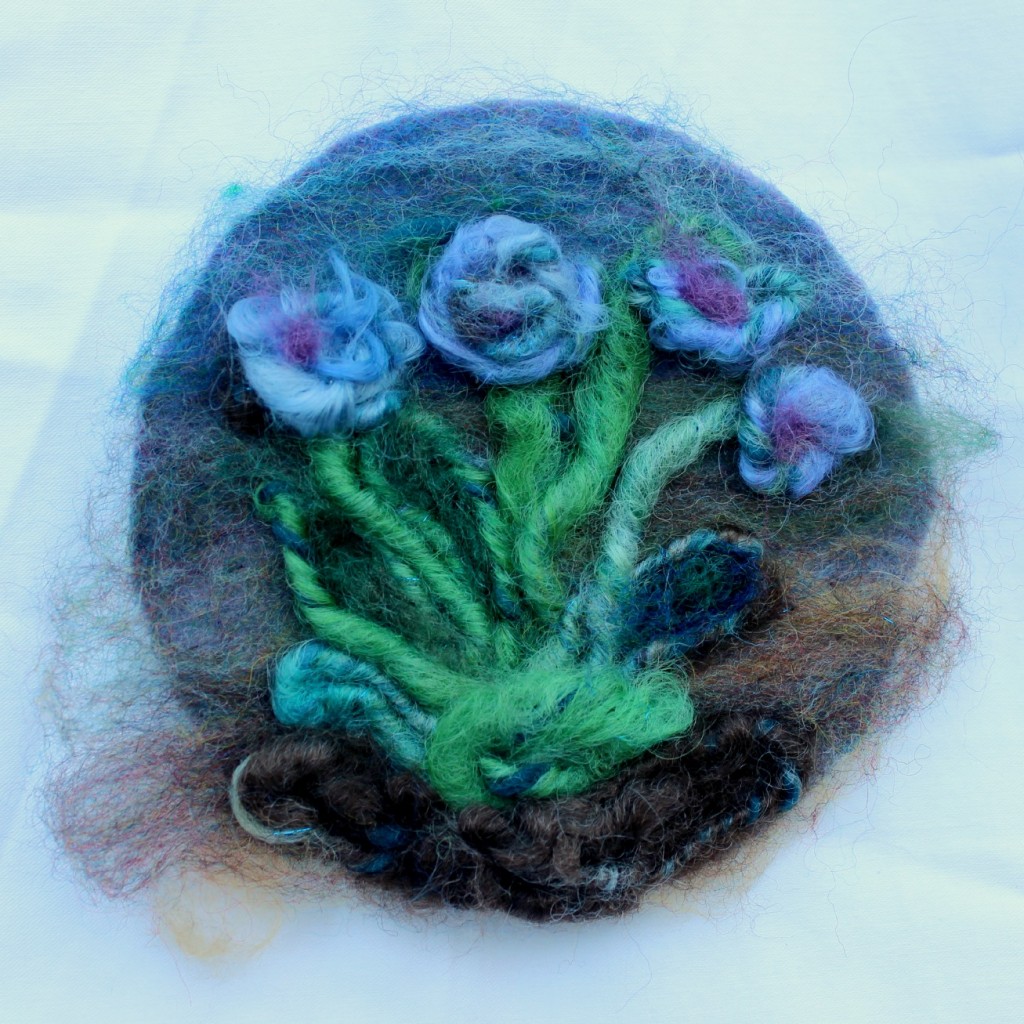 …if you want to see more, click here.
Making Flower Fairies with Christine
Here are some flower fairies that Christine made with some crafting mommas on Monday workshop. If you have more photos to share, do e-mail them to me!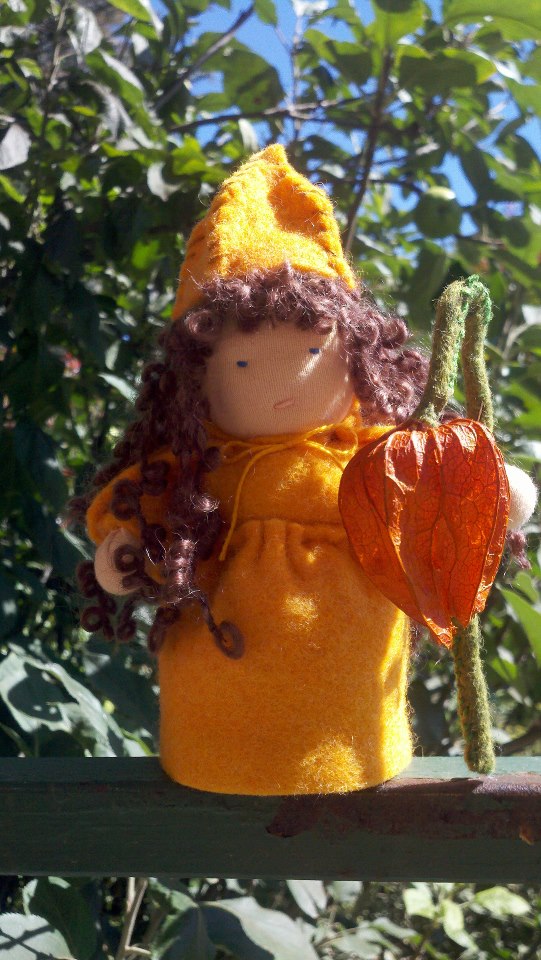 Sharon Pittenger's beautiful Chinese Lantern Flower Child. Photo courtesy of Sharon Pittenger.
Click here to jump back to the top of the page. Wheee!
As for myself, I did not make a mosaic frame today but reminisce with pride on our past group mosaic creation. Craft Group led by Rachel Skelly made this Under the Sea Mosaic planter which fetched a hefty $500.00 at a silent auction: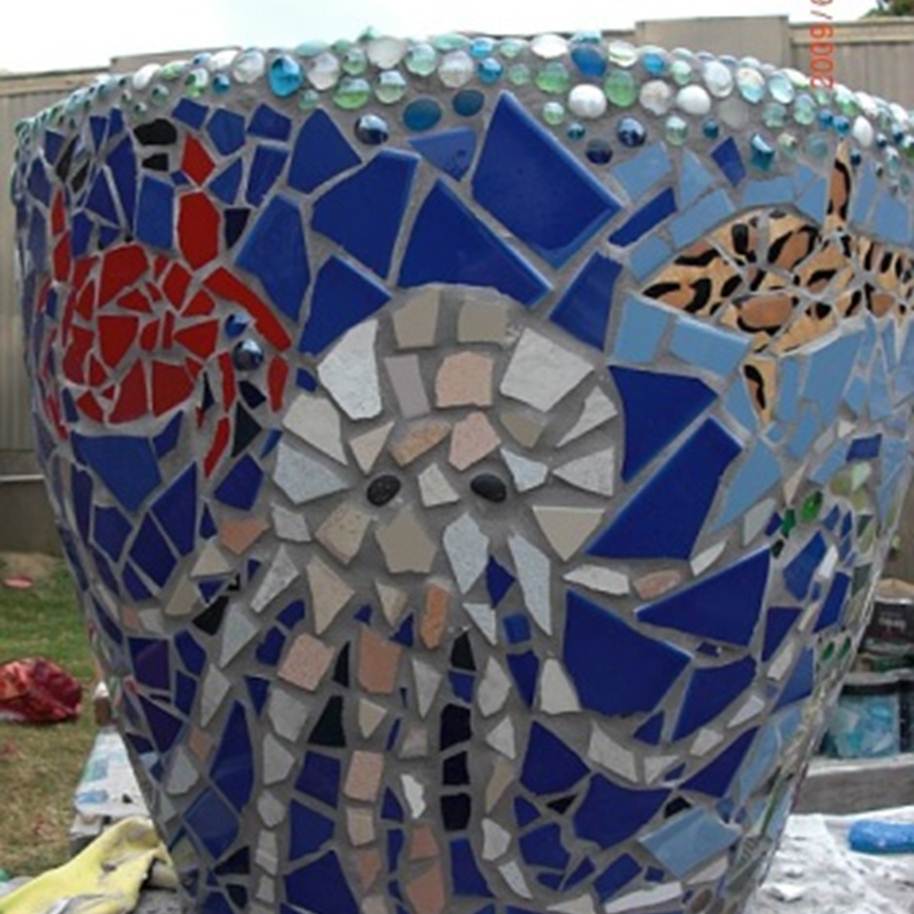 See our past craft group mosaics work…
I was busy helping eat the desserts, chit chatting, taking pictures of everyone's crafting process, eavesdropping about raising urban chickens and sewing my own fairy tale puppet doll. Here is a snapshot of the eager things which I am not trained or paid to do.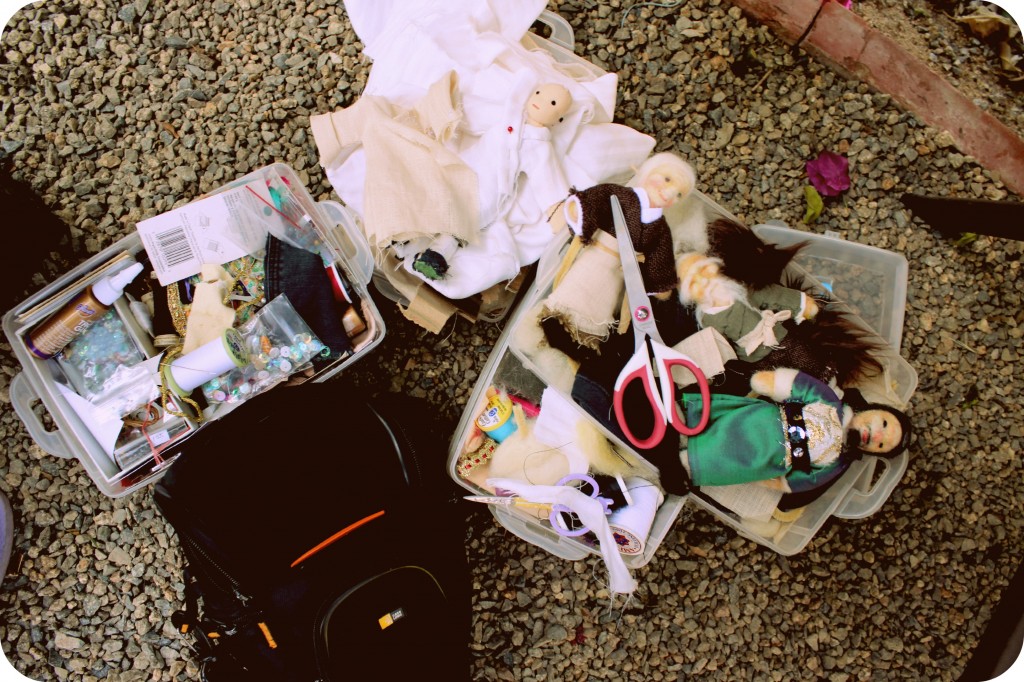 Jzin's crafting and camera materials.
Below is the my Chinese orphan Laibao, he is a simple and honest lad who is thoughtful and caring of his fellow friends. He wishes with all his heart to marry the lovely maiden, Peach Blossom. "Like" my facebook page (click on top left sidebar) so you are in the loop when my Chinese Fairy Tale is completed.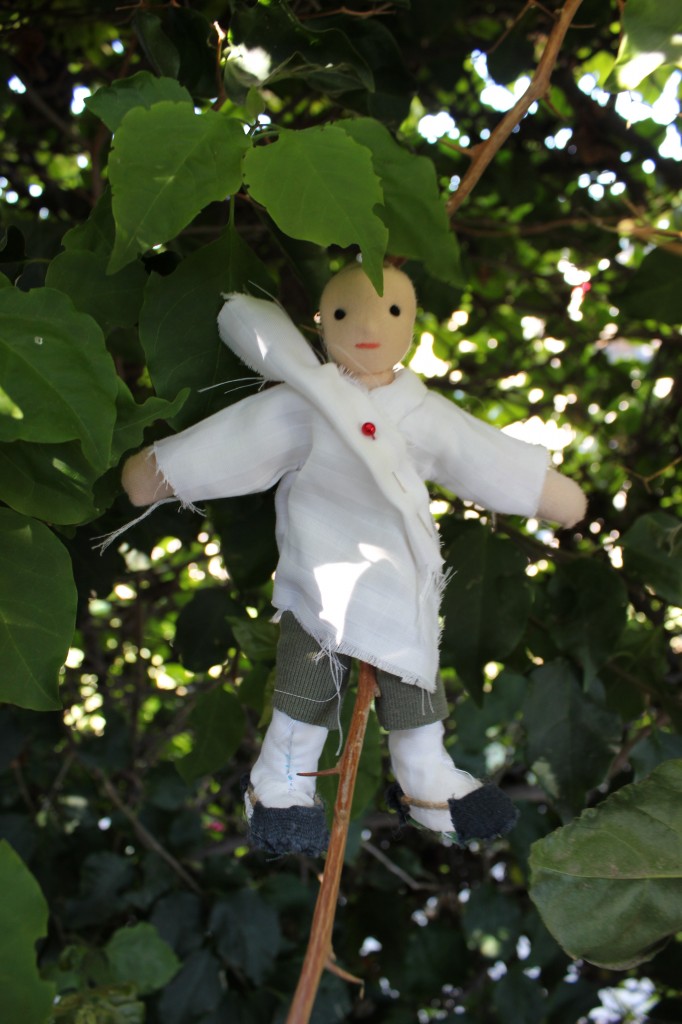 Chinese Fairy Tale Doll Laibao. My work in progress.
Calling Gnome Makers…
Christine gave me a moss covered driftwood from Oregon. Let's make "Snow White and The Seven Dwarfs" sitting on the branch for our school fundraiser. I can needle-felt a Snow White but I will need others to help me make dwarfs to join her. If you have a miniature handmade dwarf to donate for our auction, please bring to me on our Wednesday craft group get together!
Too-dle-loo! See you next Wednesday morning! If you have photos to share with me, please e-mail them to me so I may share them with others. Thanks!  -Jzin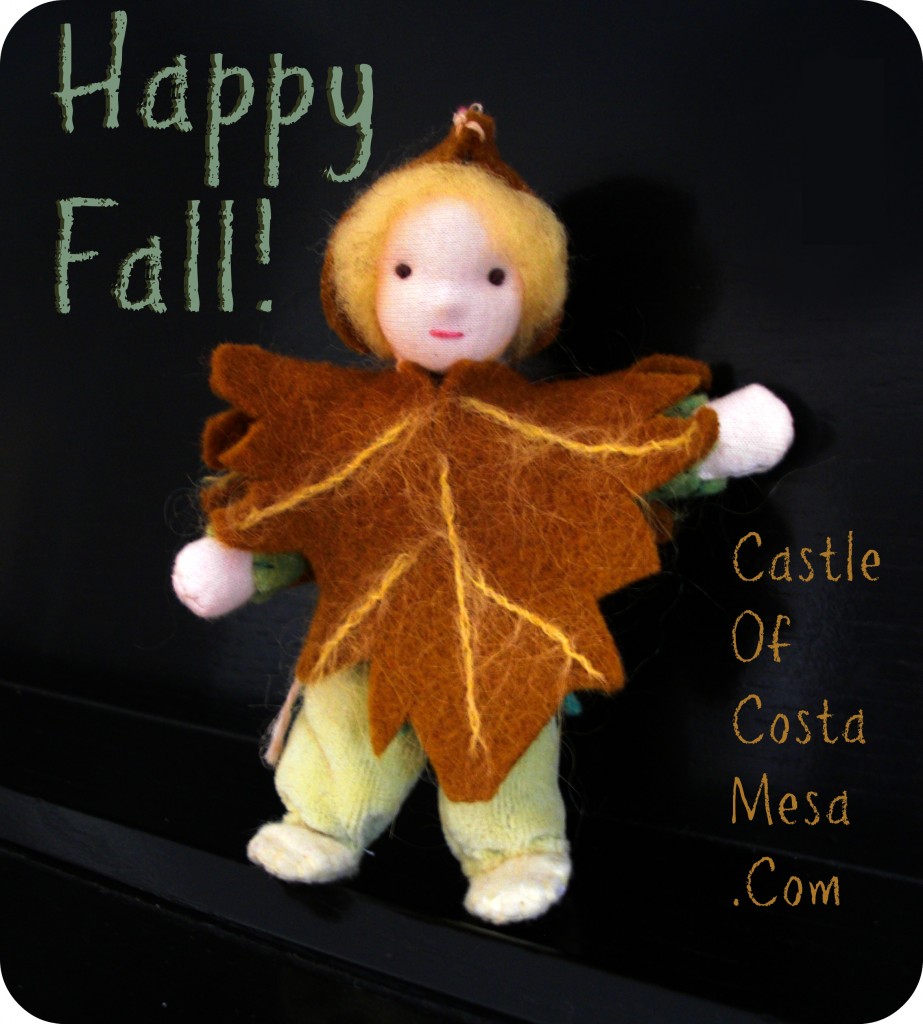 I sold my handmade doll above for a basket of chopped wood.
Southern California Waldorf Community Page
Let's support our friends in our local Southern California Waldorf Community…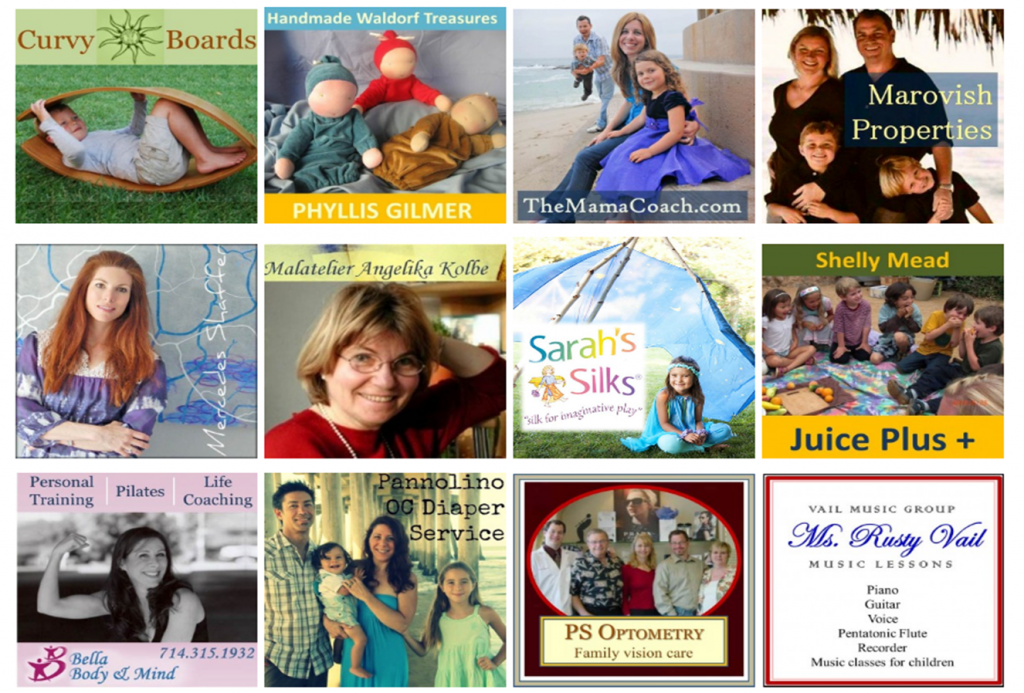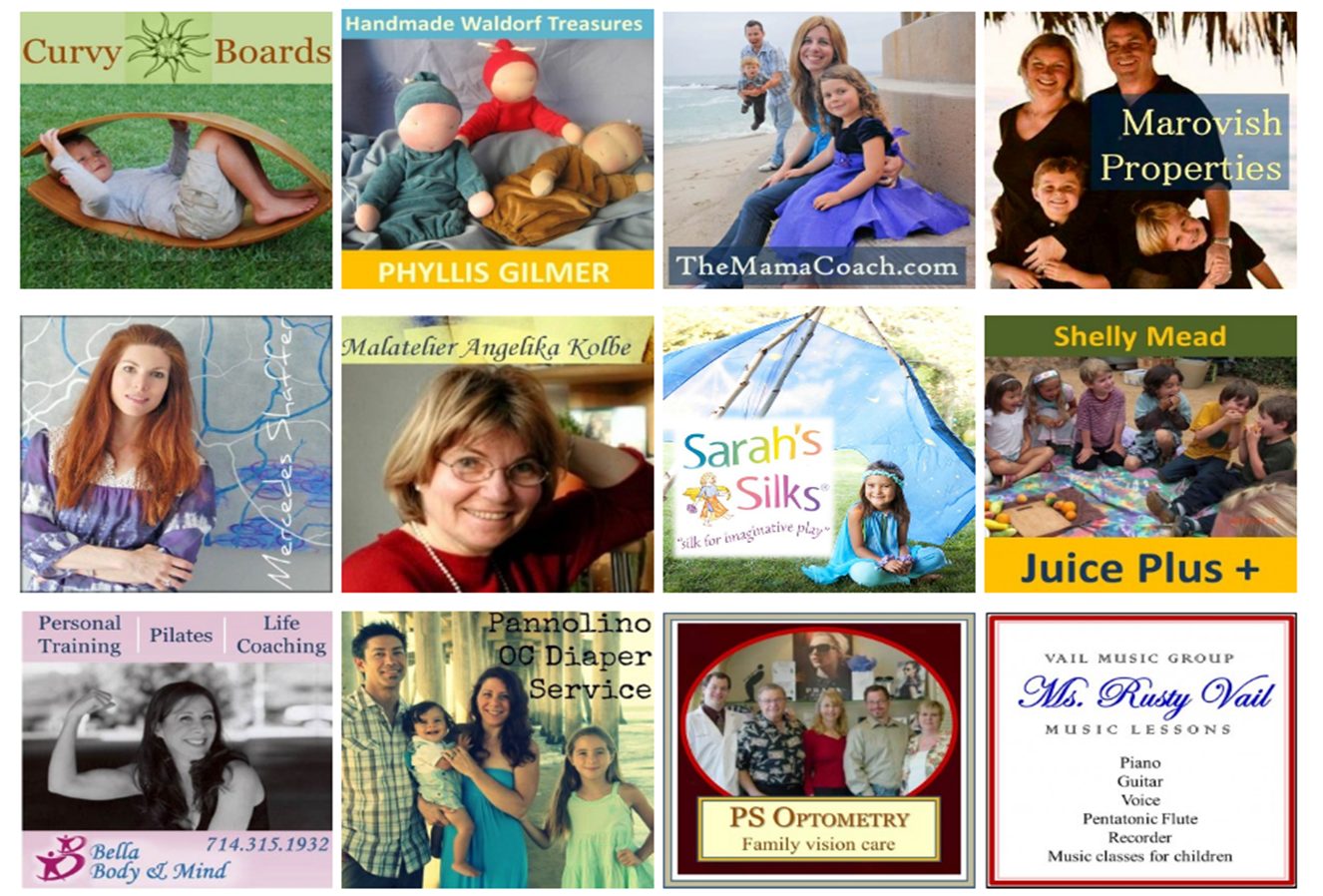 The Rest of this Page is Just Jzin Tooting Her Own Horn…
Check out my handmade dolls for Waldorf Seasons Nature Table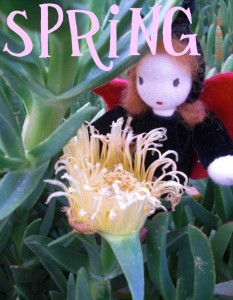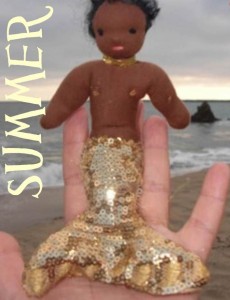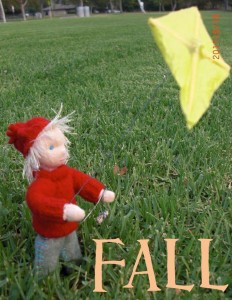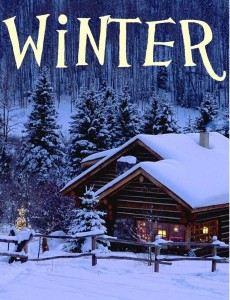 Almost Upcoming Giveaway!!!
I am giving away a handmade doll in Fall 2012. Please leave a comment below and suggest the doll(s) you will like to see on my giveaways. – Jzin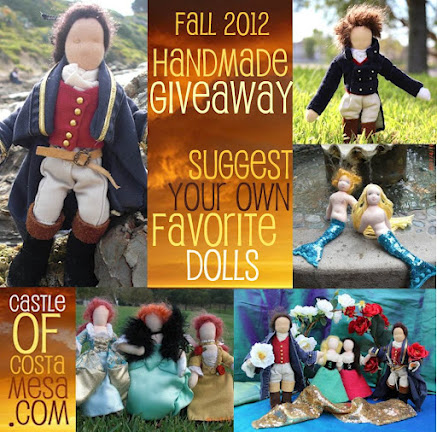 You might as well "Like" her facebook page already!
If you indeed read every morsel of tidbit on this page, you might as well "Like" me on facebook (top left sidebar of this page)! It will make my heart smile and glow in the dark! I will send you many "thank you"s in your days. – Jzin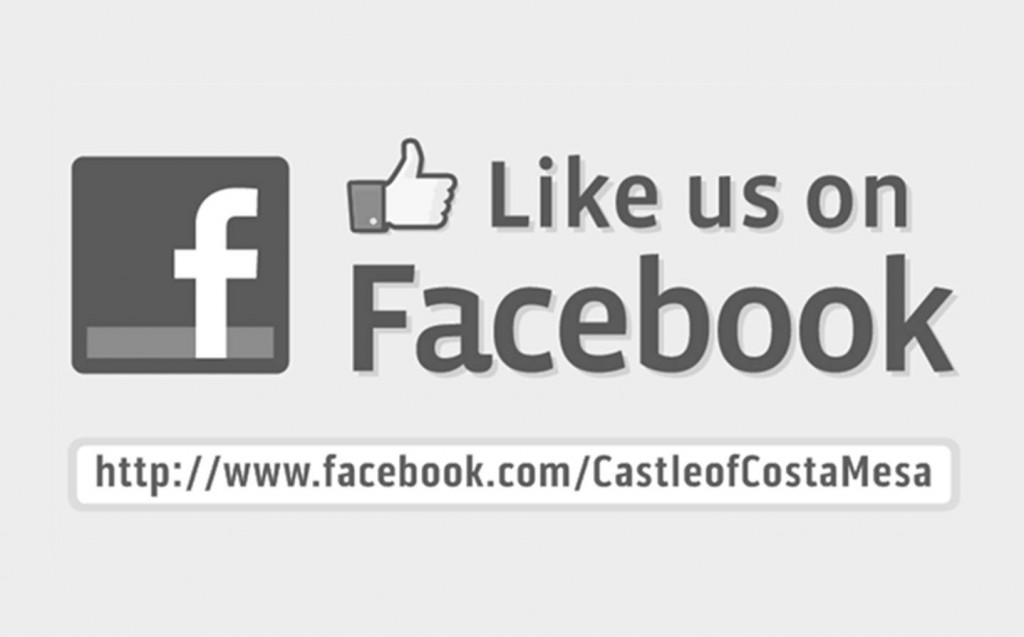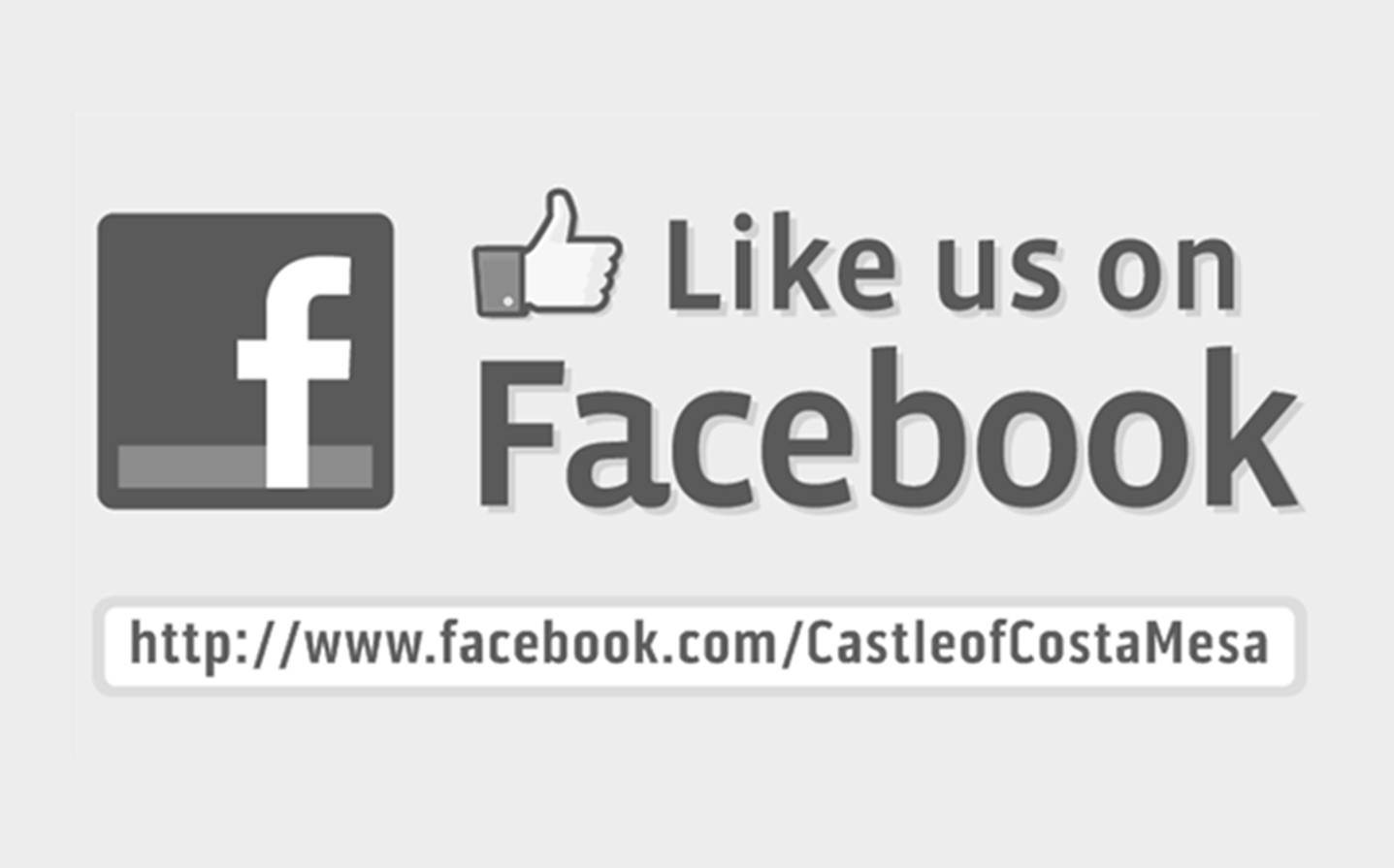 Check out my handmade Fairy Tale Dolls: Dolls and Tales page