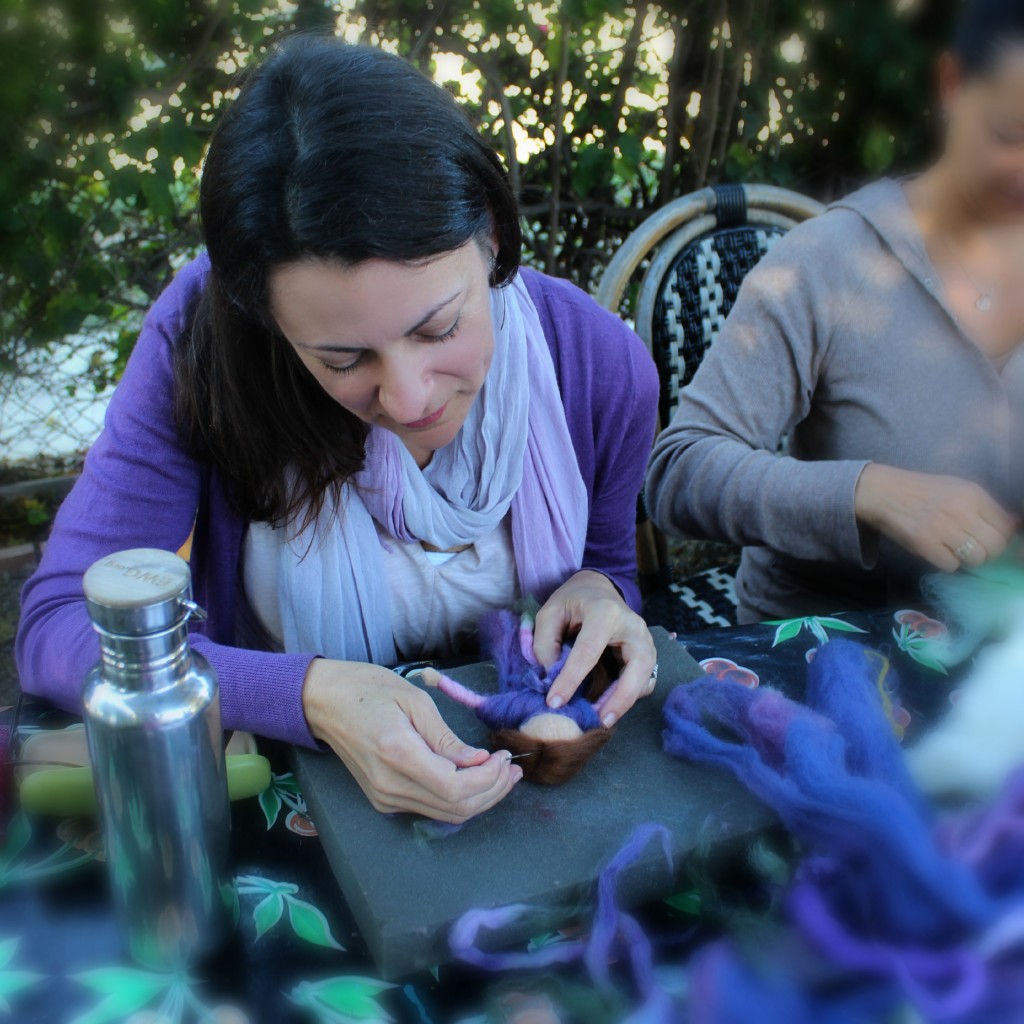 September 24, 2013. Tuesday morning in the gazebo outside of The Company of Angels school store. Thank you Rachel Skelly and Christine Newell for organizing our Waldorf School of Orange County weekly craft group get togethers! – Jzin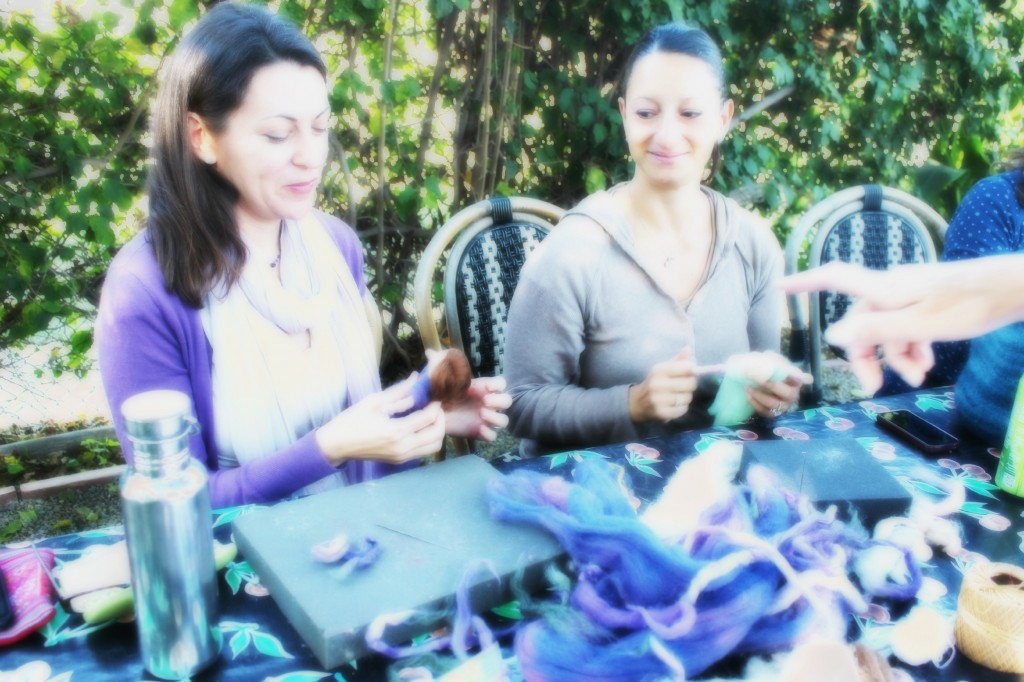 Due to popular request, Christine Newell-Smith is teaching our craft group to make roving angels again today. Click here to view photos from our December 2012 session making wool roving angels.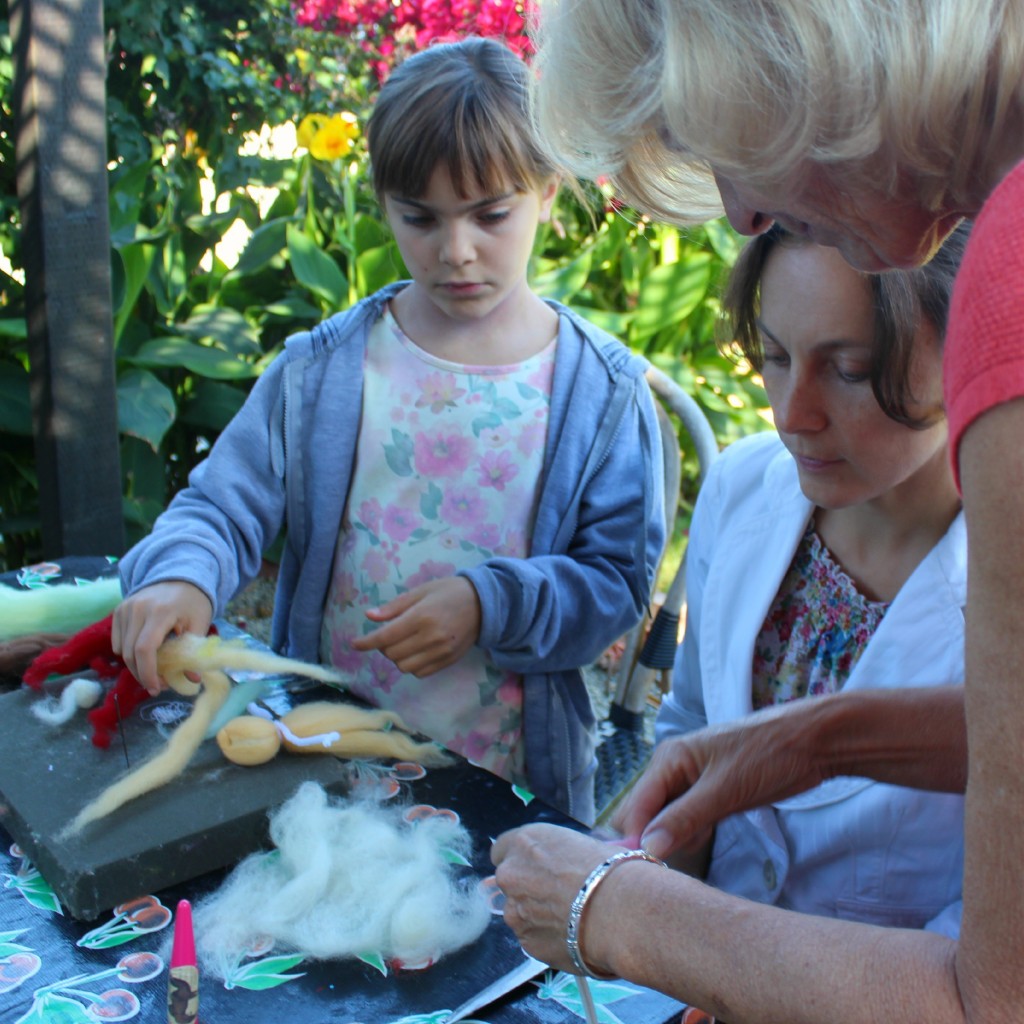 Josephine arranging the fibers on her roving angel's flowing skirt. Look at the gorgeous variegated wool roving freshly hand-dyed by Christine for craft group to work with!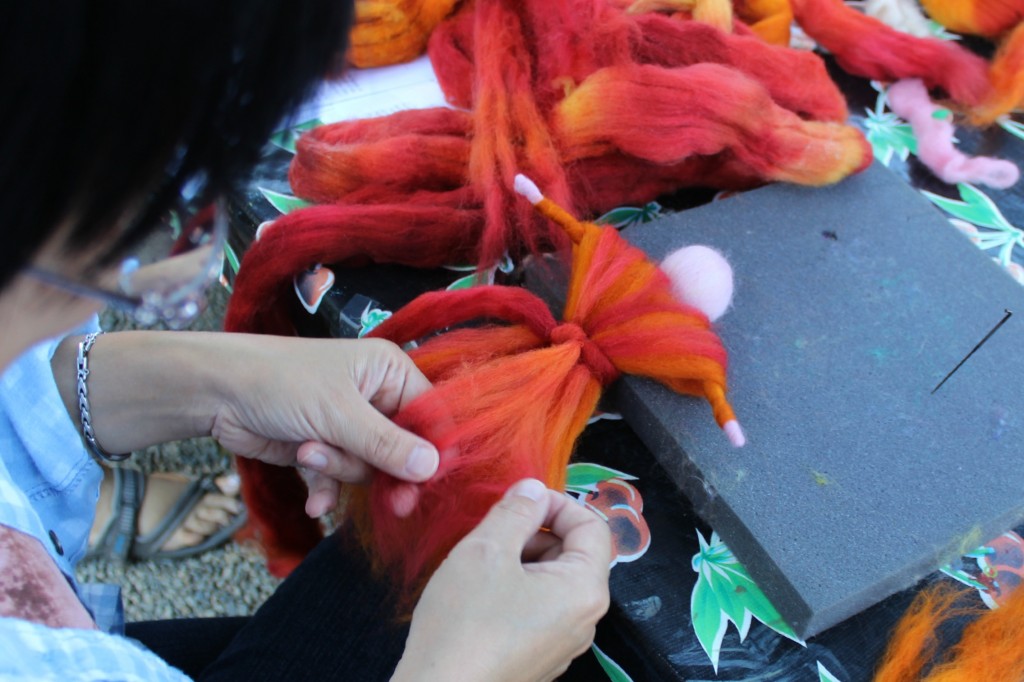 Yasmine's lavendar and green springtime roving angel in the cherimoya tree.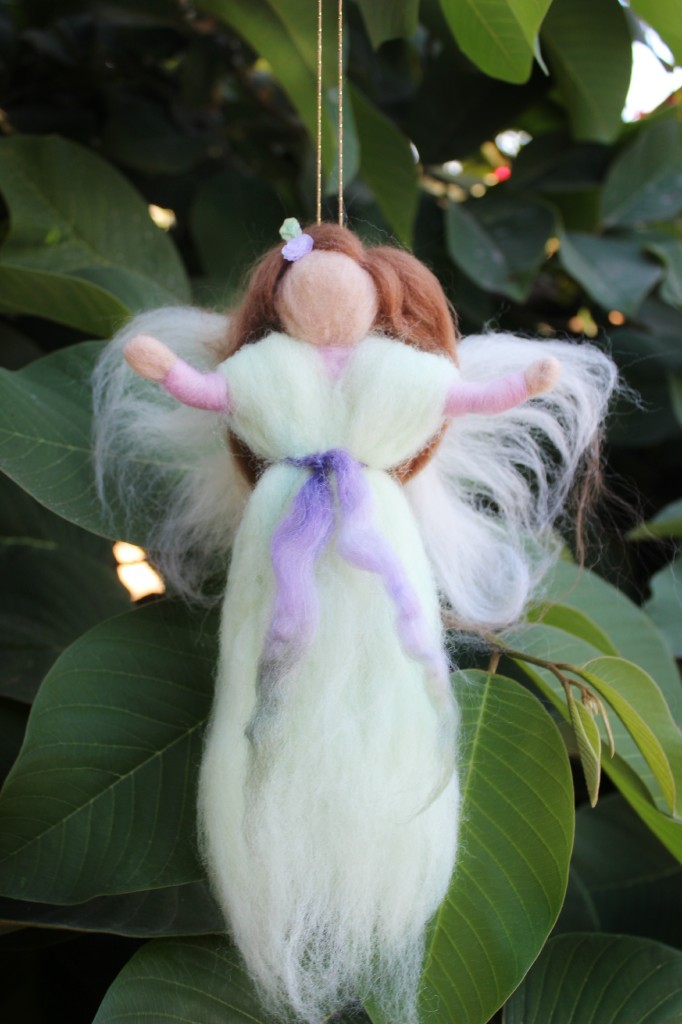 Liz Burnett-Shier's pulled roving angel resting in the garden.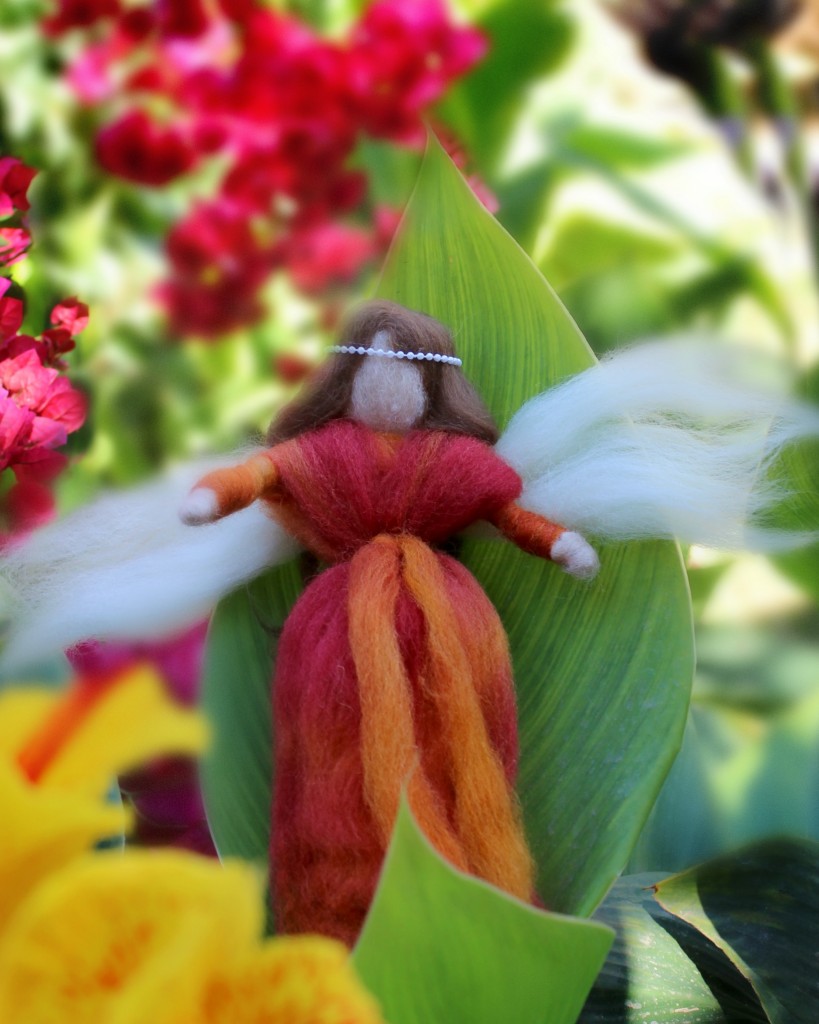 The same fairy by Liz with golden thread added for hanging.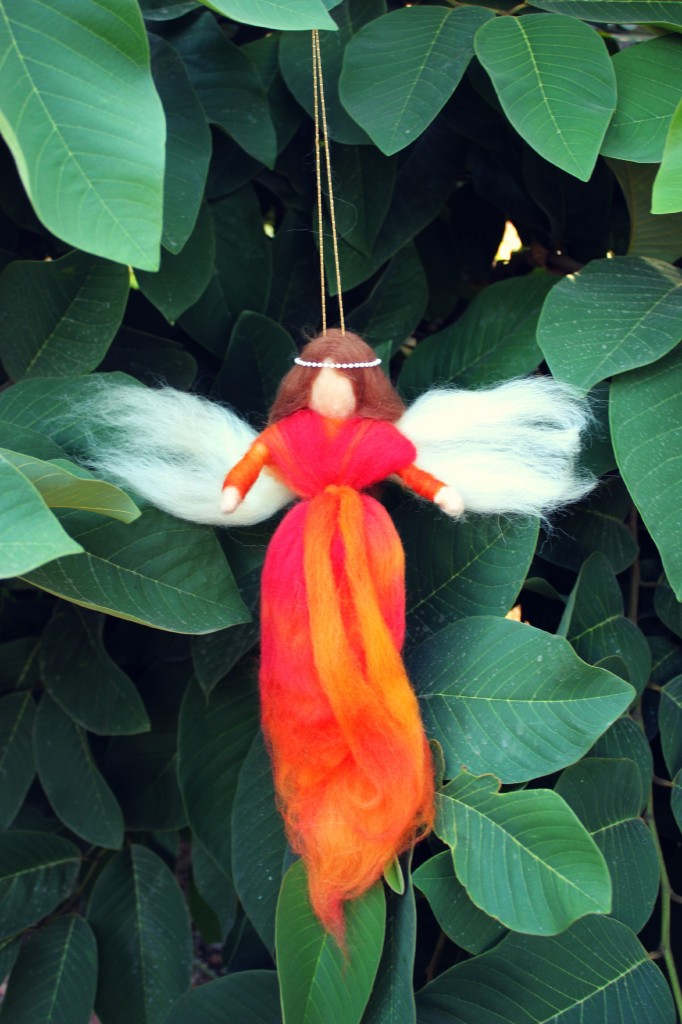 Meanwhile, I am catching up chatting with friends whom I have missed during the long summer break. Between taking photos and chatting, I managed to add final touches to my little Kite Boy (which was donated to Ms. Lorri's first grade classroom) and working on the head of a doll for the recently flooded Colorado Boulder Waldorf School Kindergarten classroom.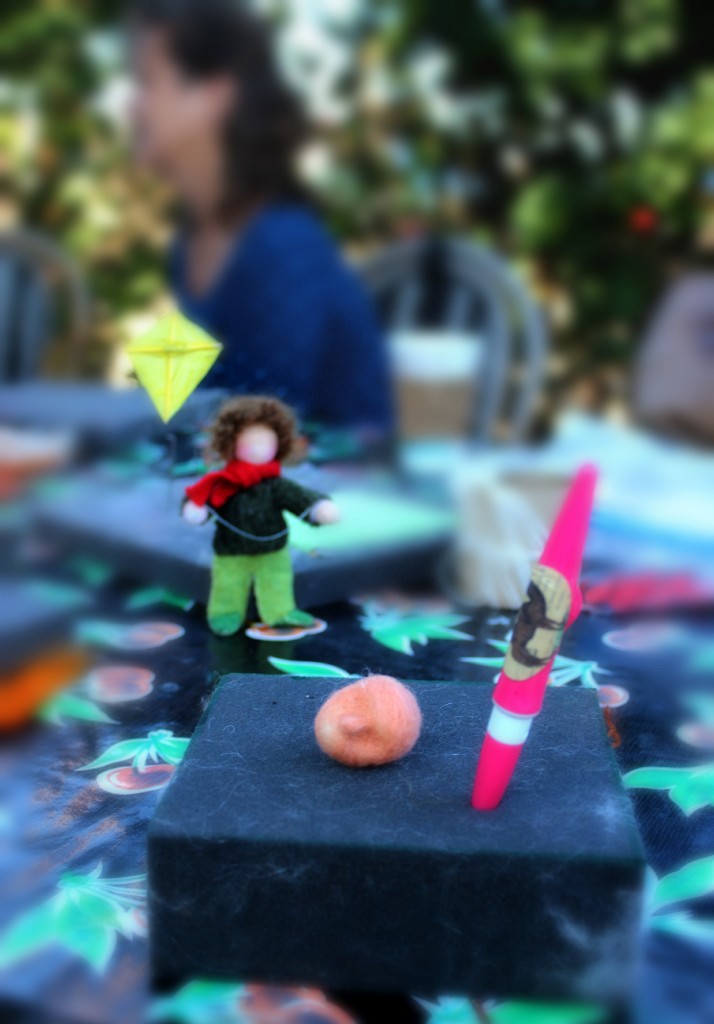 Heather's lovely lavendar fairy, just made this morning!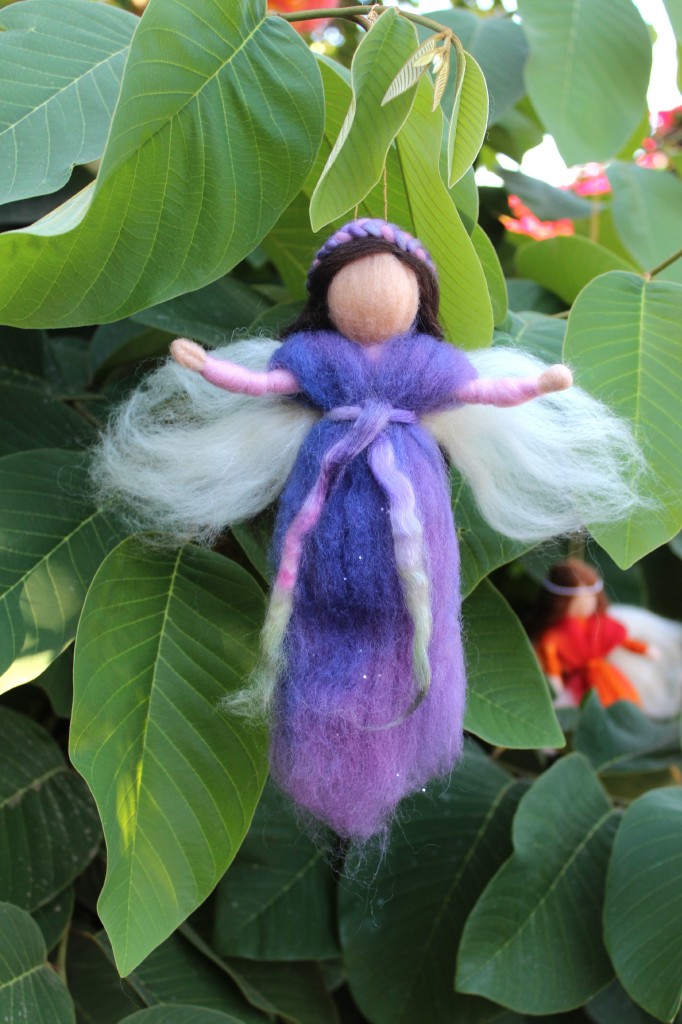 Below: Josephine's lovely autumn angel holding a sprig of maple!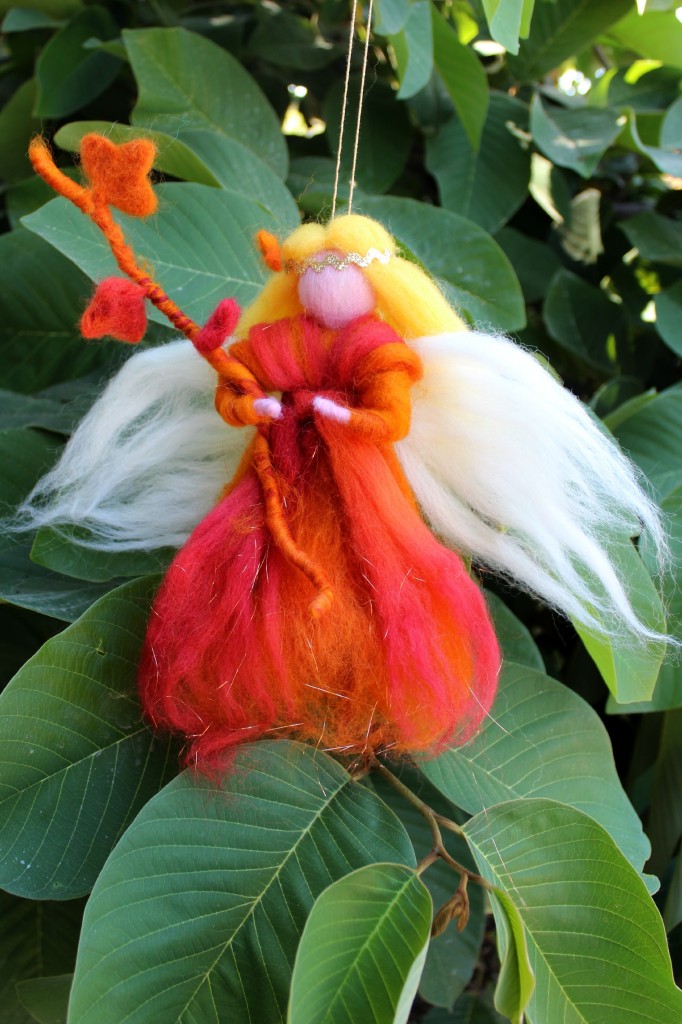 Josephine has a blog in mandarin chinese: 柳橙海岸記事 Momentoes From The Orange Coast : http://orangecoast.pixnet.net/blog
Visit Josephine's blog by clicking on the image below…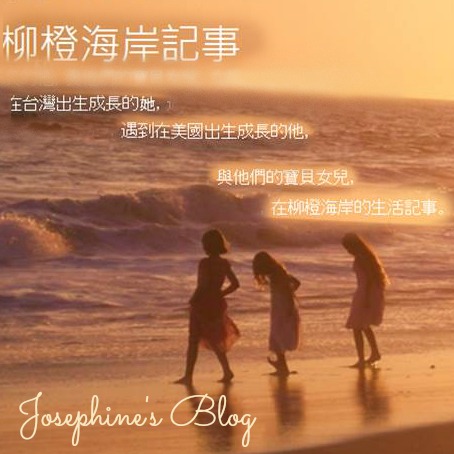 Alena pouring some silver glitter…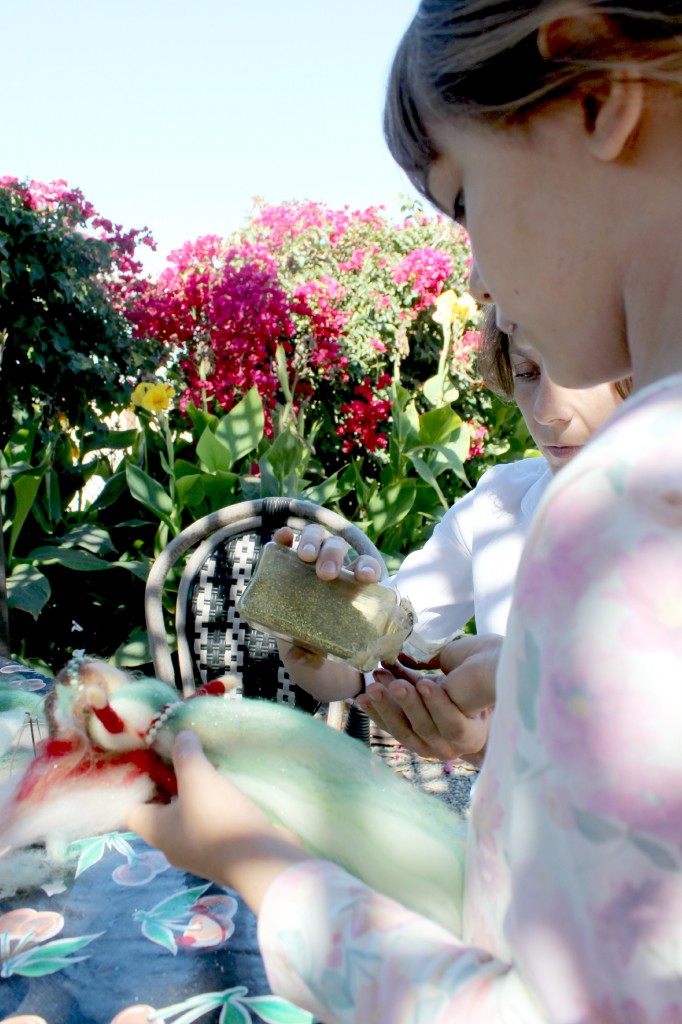 Anička sprinkling a little silver dust on her fairy…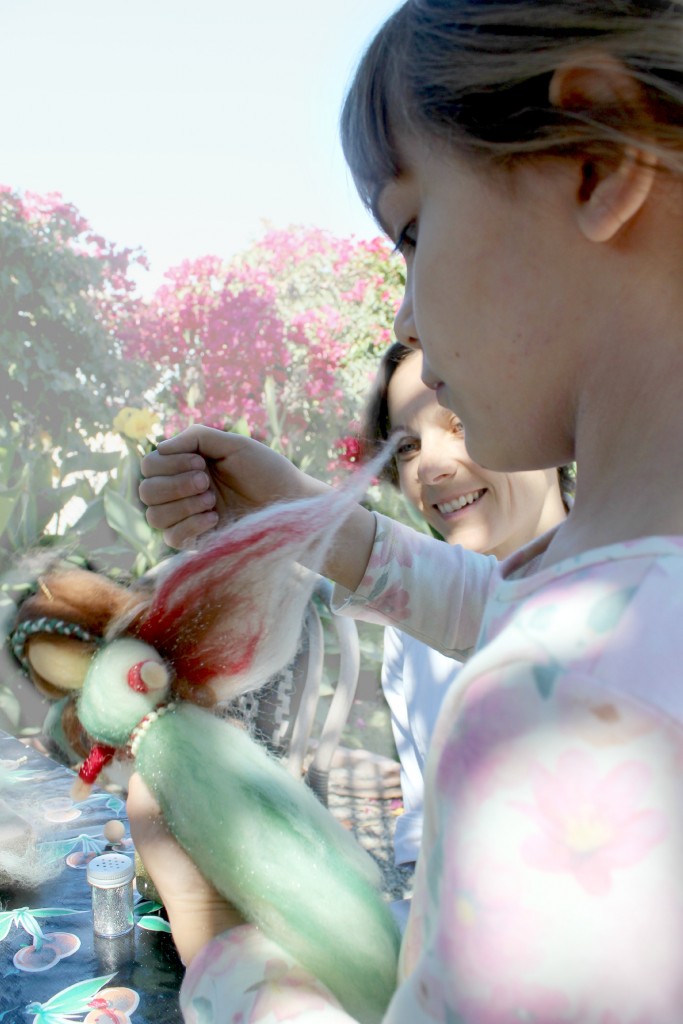 Alena and Anička's fairy hanging in the garden.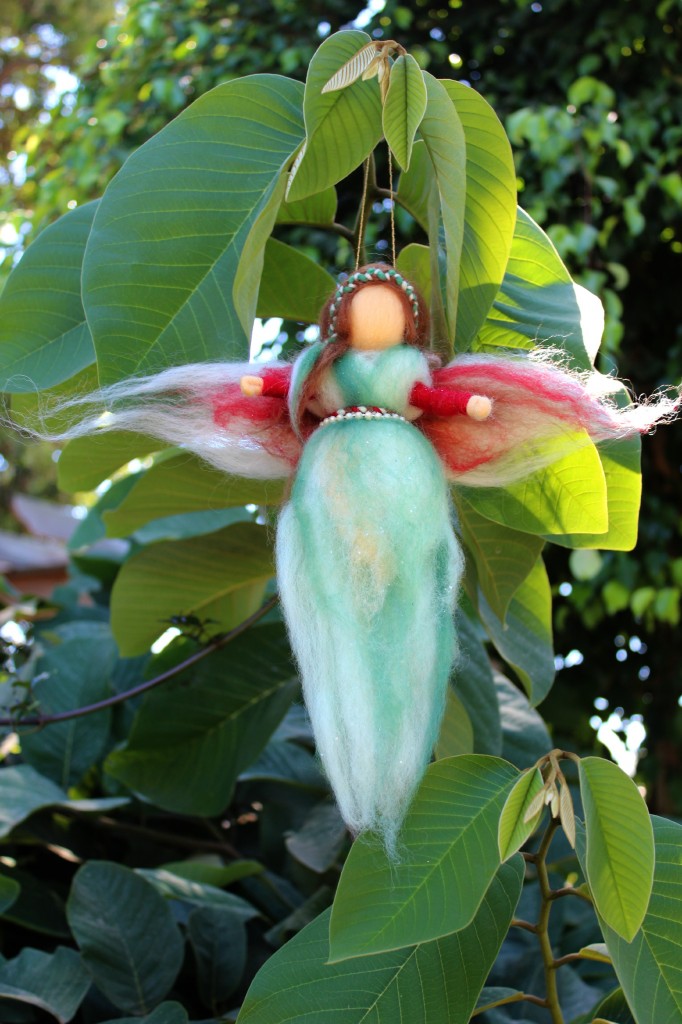 I love the braided hair!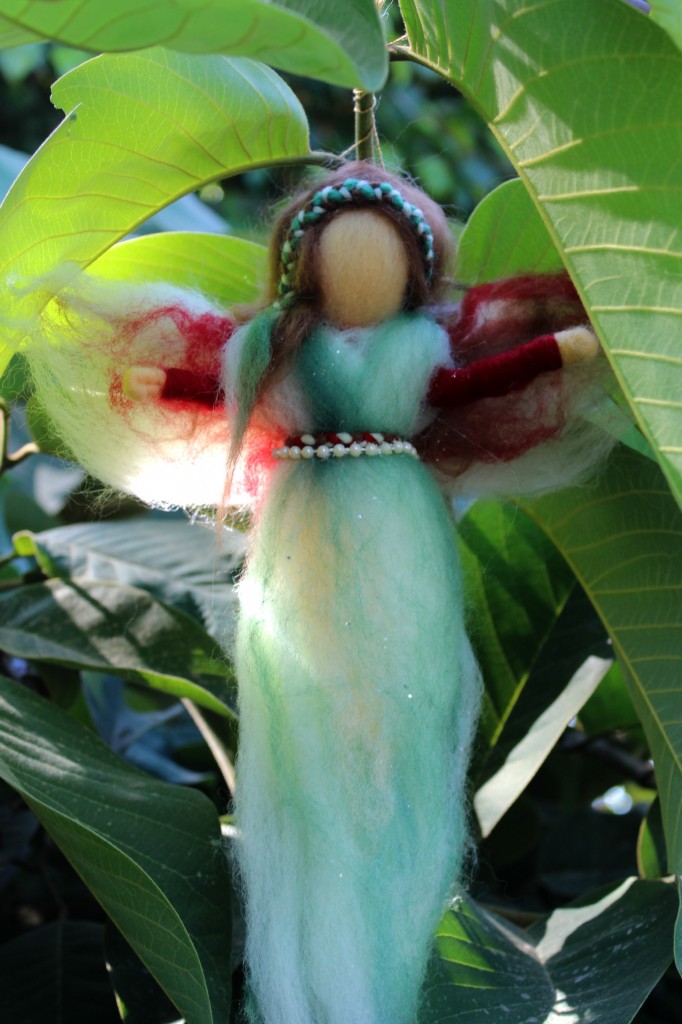 October 1, 2013. Gaby's autumn fairy.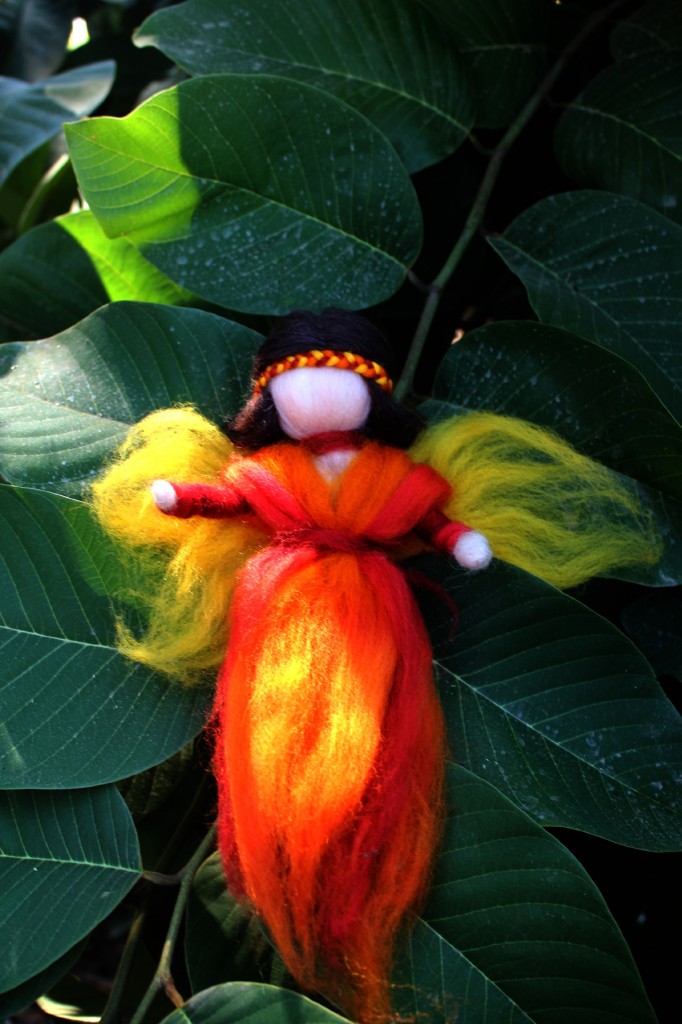 Click on the image below to see our craft group making pulled wool fairies in December 2012. Included on the page is step-by-step documentation of Christine-Newell's tutorial on how to make these fairies.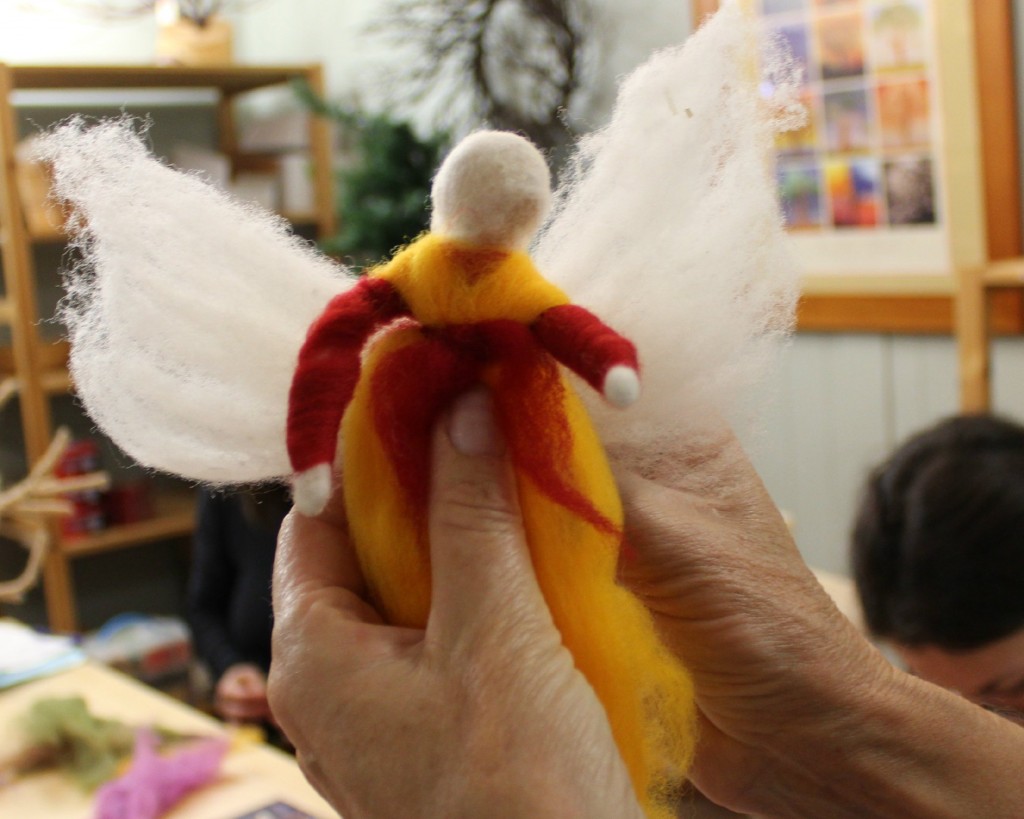 Here is the fairy I made that day which I used as our family's Christmas tree topper that year.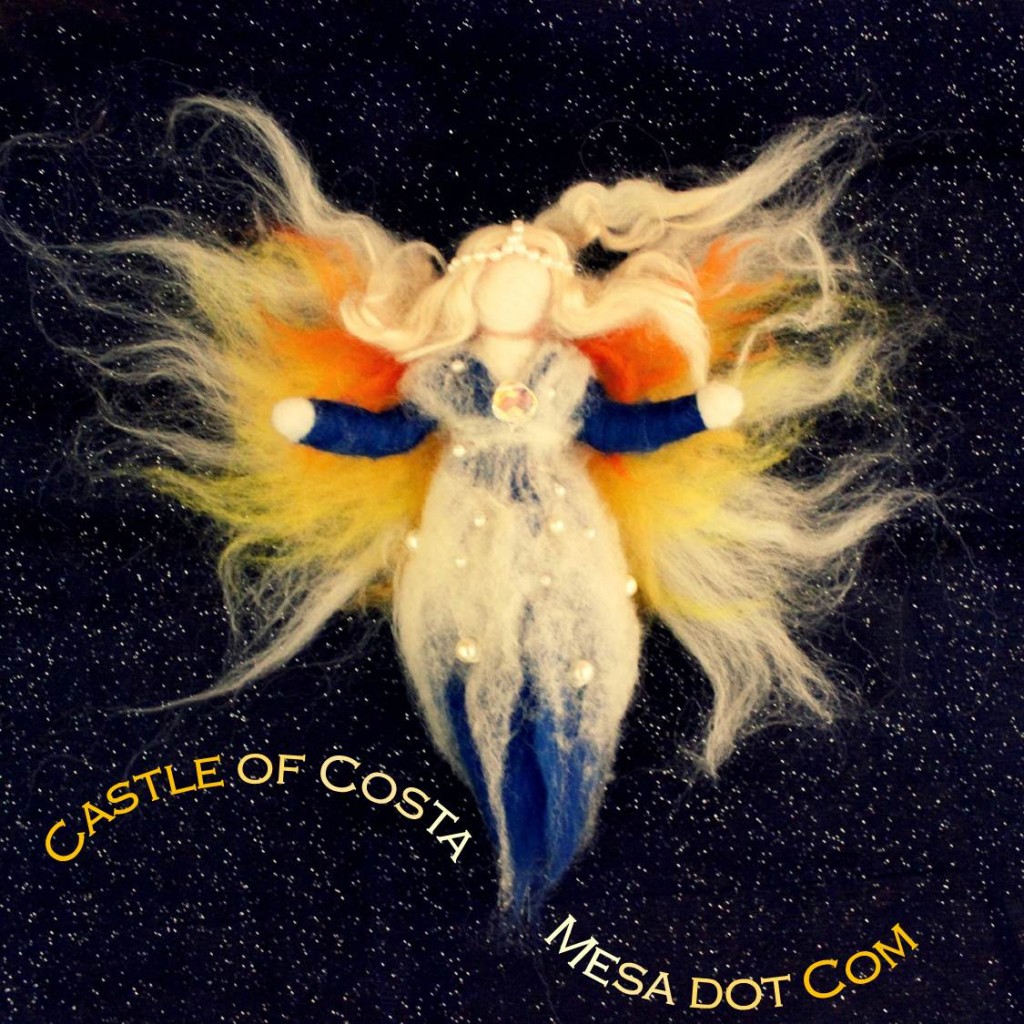 Next week Christine will show our craft group how to make table top puppets! Exciting!
Here is one of very our homemade table top puppet show, "Snow White and Rose Red" performed for my daughter's birthday. Click on picture below to see more.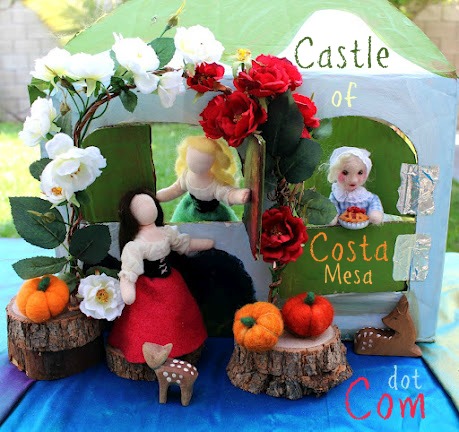 Magic Wool Fairies by Christine Schäfer has instructions and gorgeous examples that will inspire you to make your own fairies. You can buy a copy by coming into  the Company of Angels school store or online.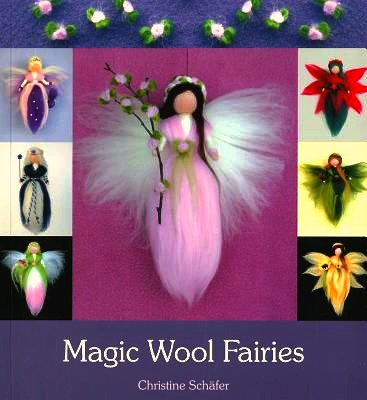 Magic Wool Fairies by Christine Schäfer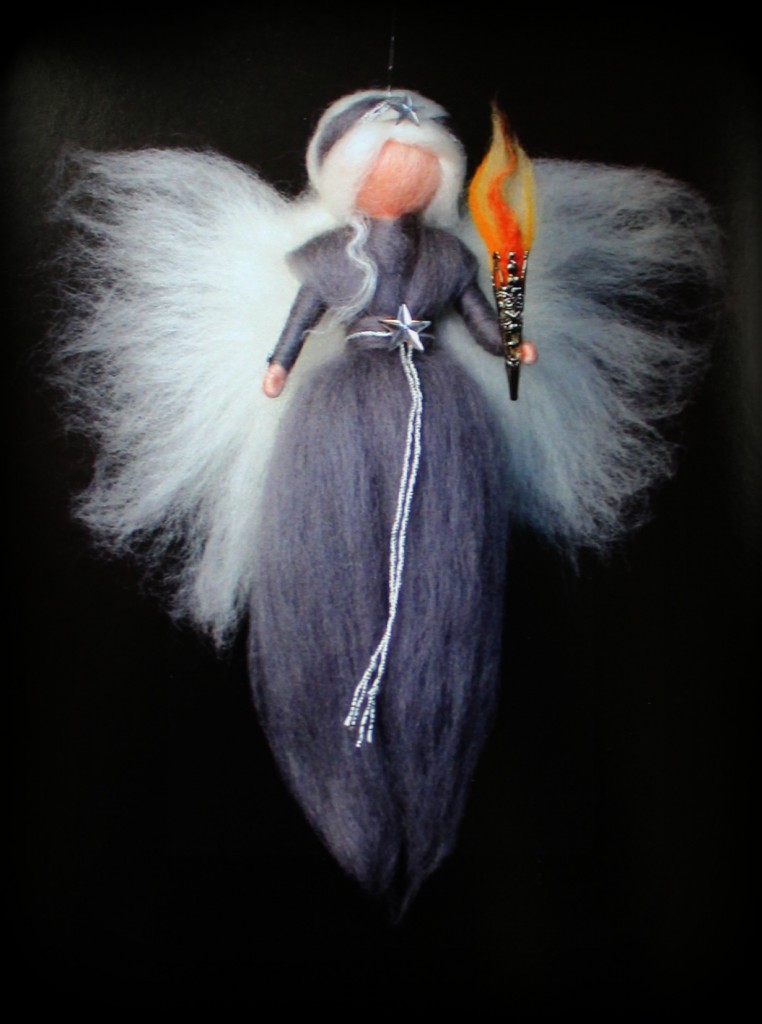 Excerpt: Magic Wool Fairies by Christine Schäfer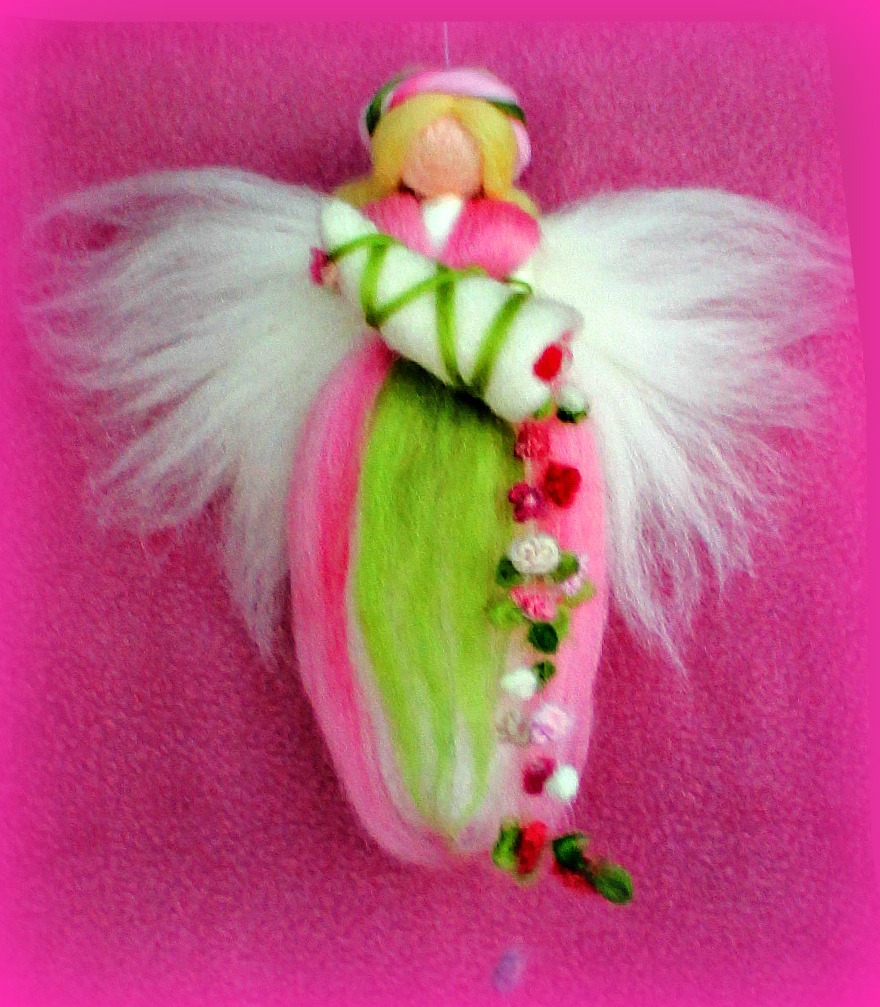 Christine Newell's Upcoming 16 inch Waldorf Doll Making workshops
Some of Christine's handmade 16 inch Waldorf Dolls.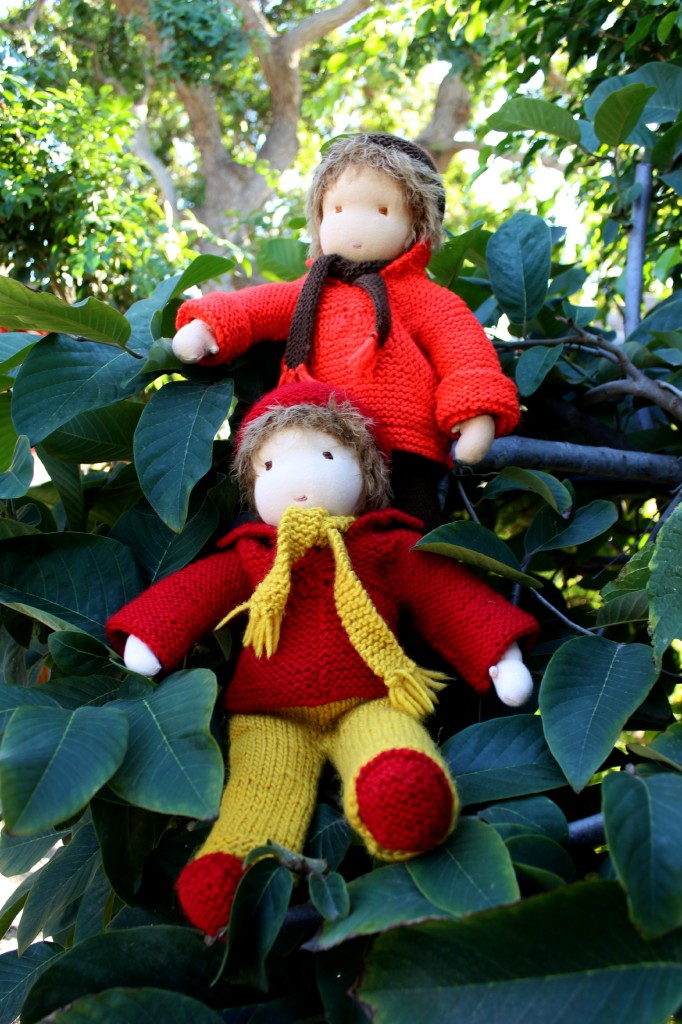 Click here to see gorgeous photos from her past workshops.
Cost: $100 all materials included.
Waldorf School of Orange County, Wednesday mornings 9am to 11:30am:
Waldorf School of Orange County, Thursday evenings 6:30pm to 9:00pm:
day 1 Oct 3rd, 2013
day 2 Oct 10th, 2013
day 3 Oct 17th, 2013
day4 Oct 24th, 2013
Maple Village School, Long Beach, Thursdays mornings 9:30am to 12:00pm:
The purpose of doing consecutive workshop allows you to join any of the 3 workshop at any location and time, you just need to complete day 1 through 4 to have a completed doll.
Sign up sheets will be in the WSOC Company of Angels and the Office of Maple Village School.
Recycled doll workshop:
Waldorf School of Orange County, 9:00am to 11:30am
Maple Village School, 9:30am to 12:00pm
day 1 Oct 31st, 2013
day 2 Nov 7th, 2013
Cost : $50 all materials included
Again you can join any location and time just need to complete days 1 and 2.
That's all for now, looking forward to seeing you and sharing new crafts.
Fall is here.
Oh! How the winds pick up my kite so high!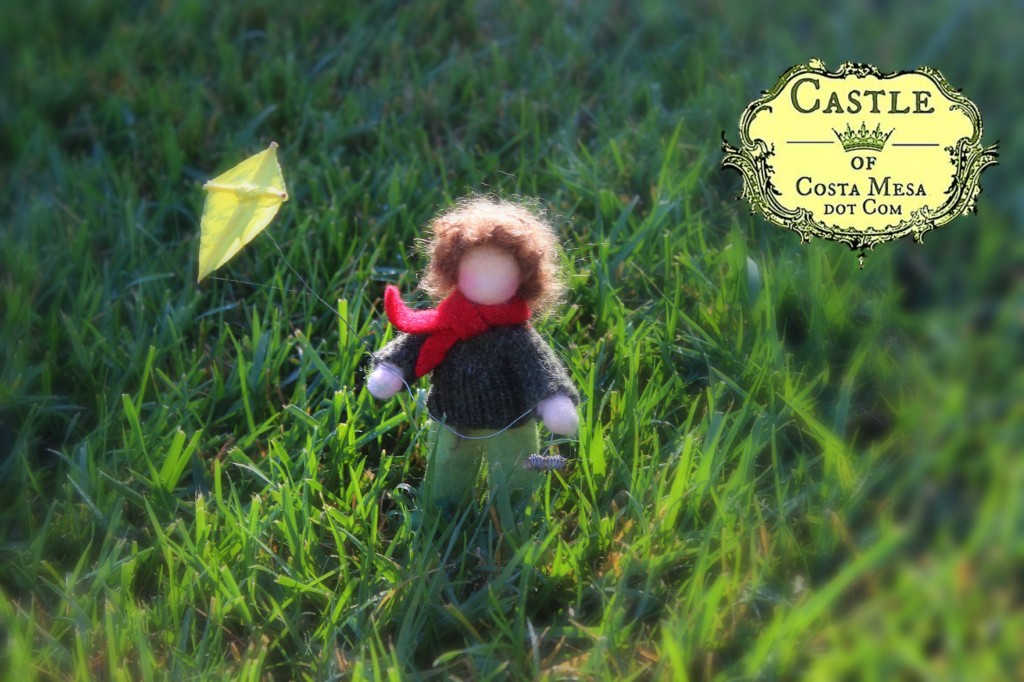 Summer is slipping away and autumn brings us the cold winds.
Here's a little boy and his kite which my daughter and I donated to Miss Lorri's first grade classroom nature table today.
Click here to see my other Fall season table dolls.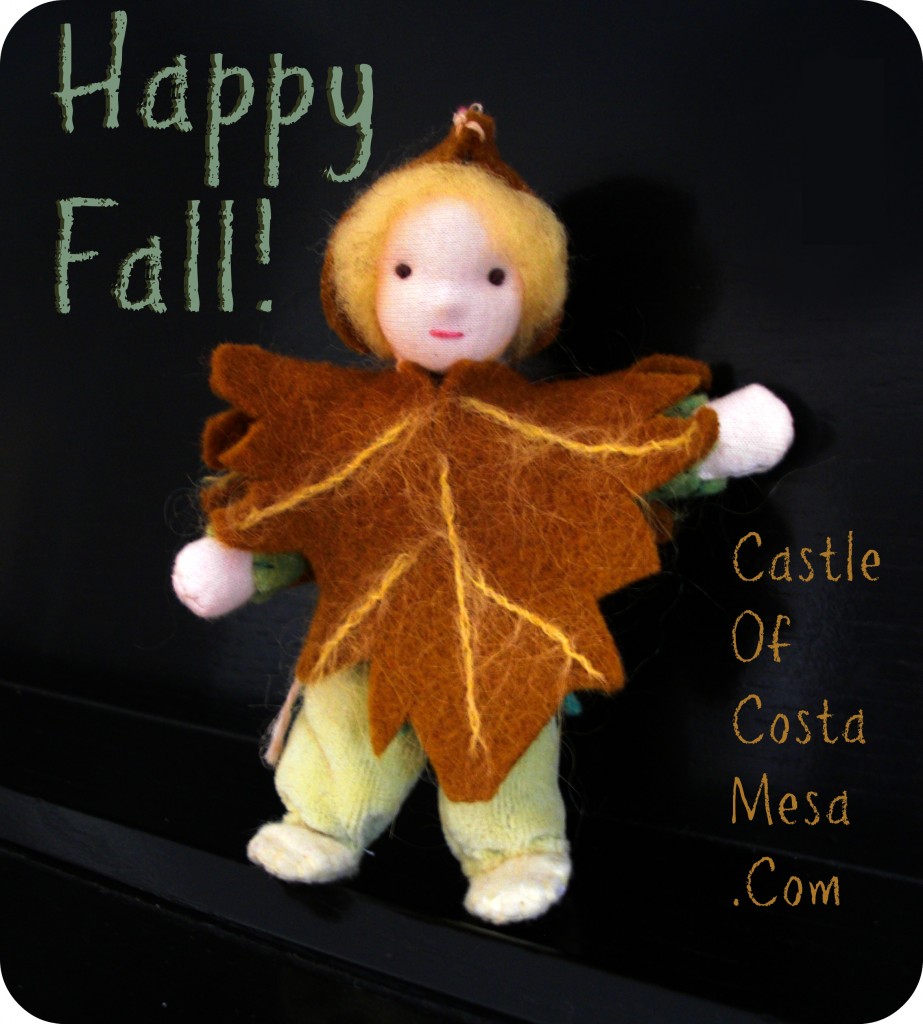 Handmade Love. Castle of Costa Mesa on Etsy.Com.
You may support my crafting mania by shopping on my handmade store: Castle of Costa Mesa Etsy store here…https://www.etsy.com/shop/Castleofcostamesa
Jzin's latest handmade Baby Fairy doll…
September 16, 2013. Our baby fairy is made with love. She loves to fly around your garden in the day time. In the evening, she gets very tired (after all, her wings are still so tiny) and falls asleep in her bed which is a large lily flower. She is afraid to sleep alone and would love to sleep next to the bed of your little child. A little blanket will keep her warm. She is available on Castle of Costa Mesa Etsy store, click below picture to go to Etsy.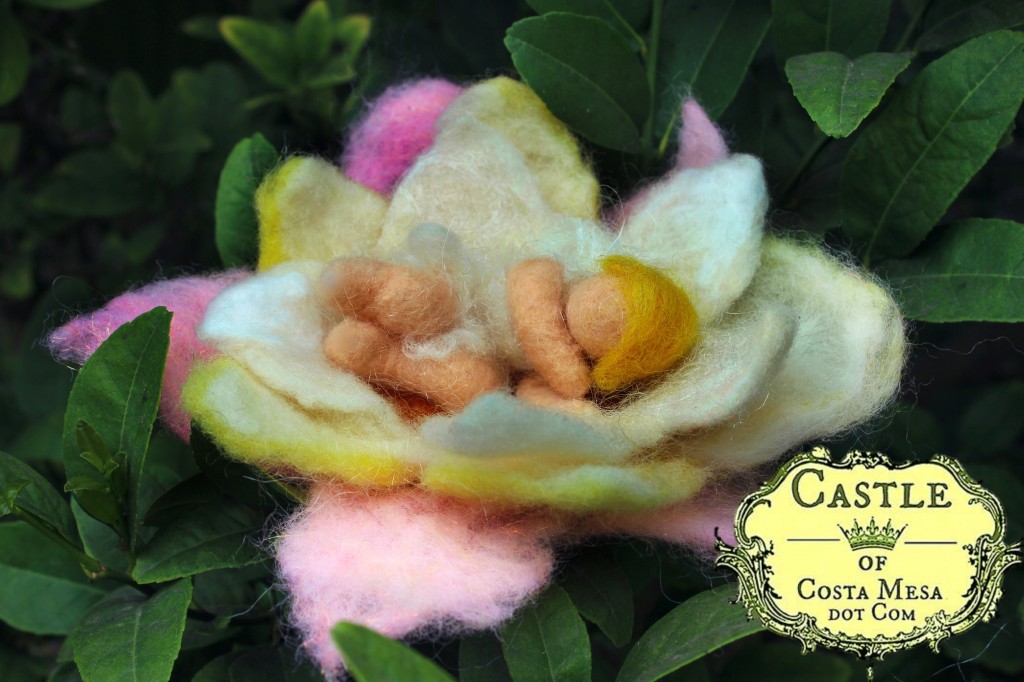 The flower above was wet-felted at craft group!
Support Our Local Waldorf Community/ Place a Free Ad
If you are interested in placing an ad on "Support Our Southern California Waldorf Community" (free if you are a member of Southern California Waldorf community) please e-mail me a good picture and a link.
Meanwhile, please support our local peeps! Thanks! – Jzin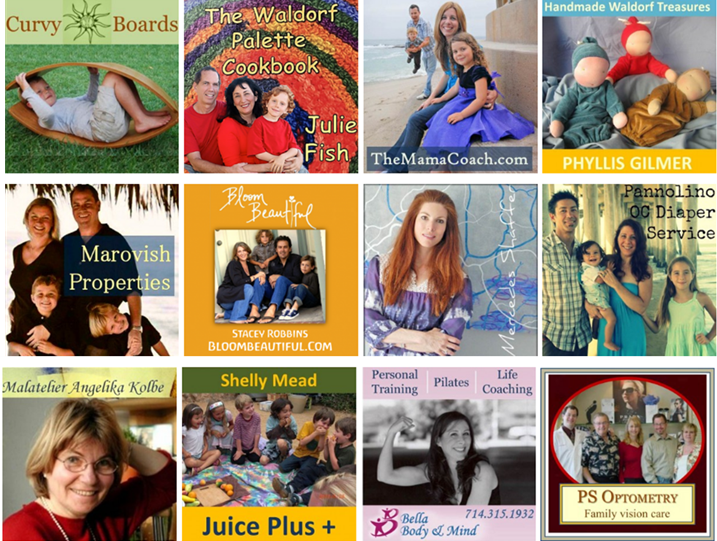 Waldorf Seasons Table Dolls by Castle of Costa Mesa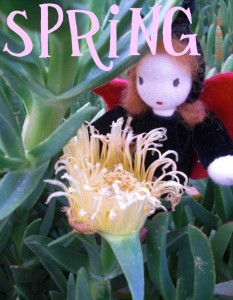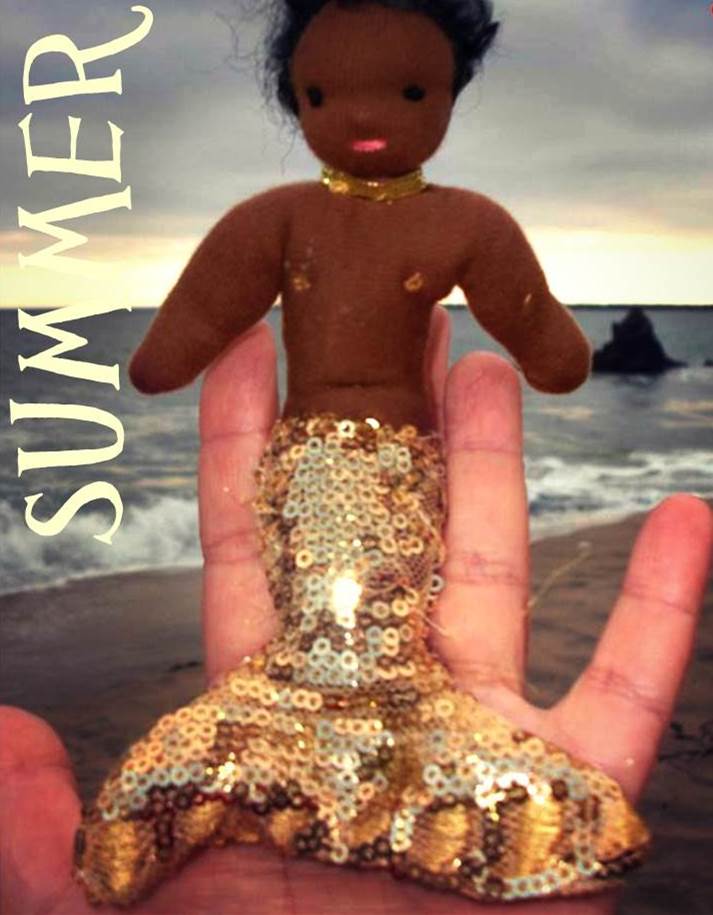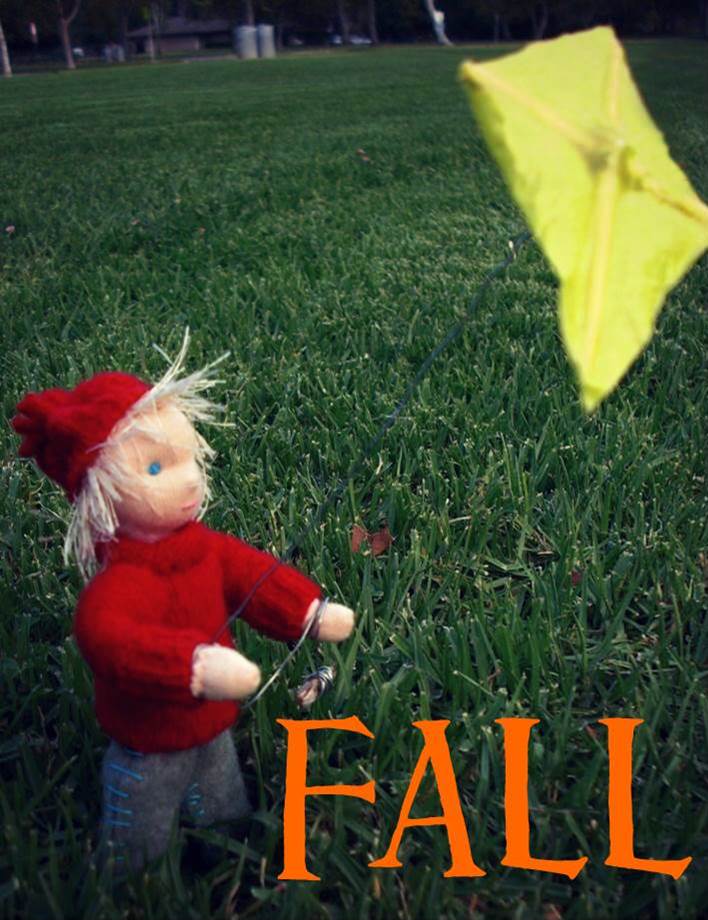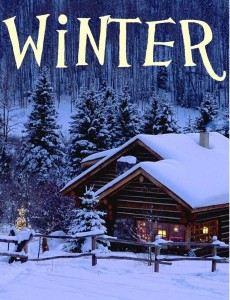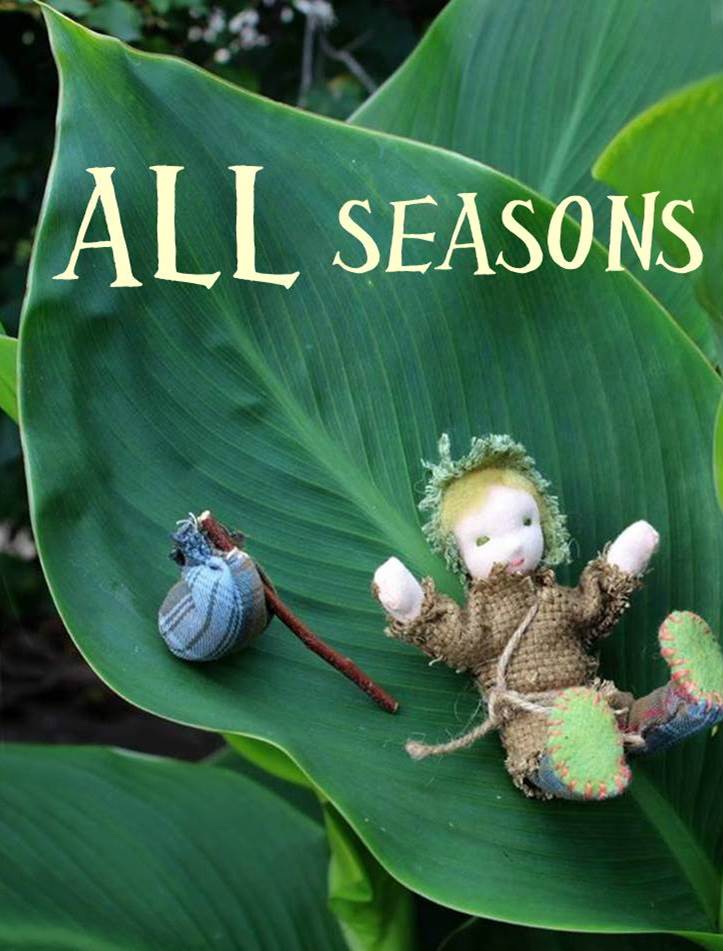 Castle of Costa Mesa's Etsy Store
Click on the image below to enter Castle of Costa Mesa Etsy store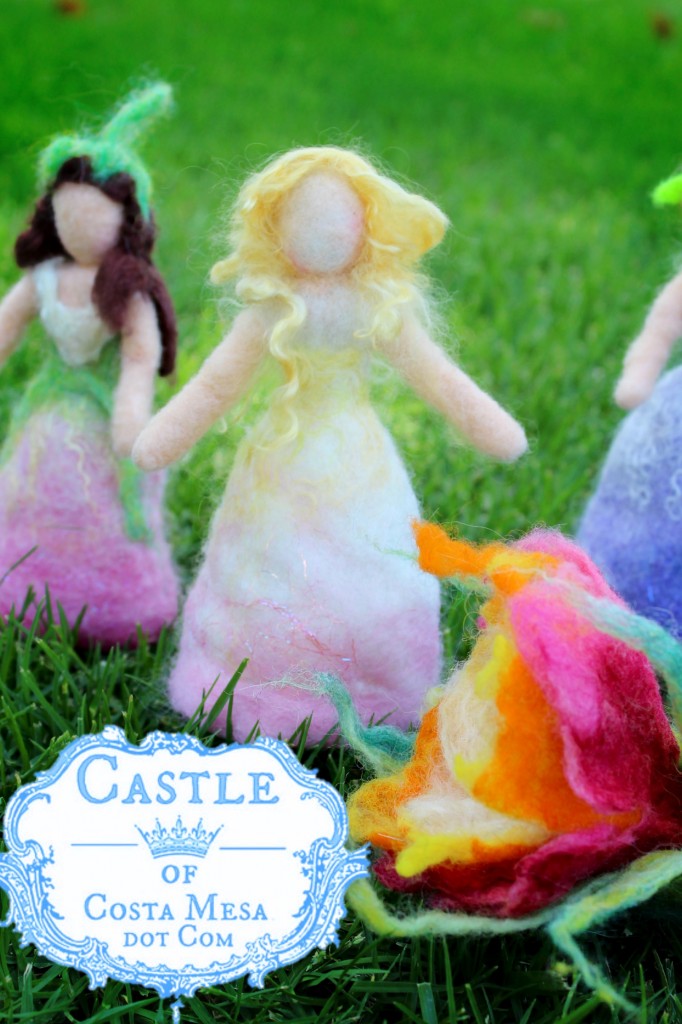 Click here instead view a gallery of my handmade dolls.
Castle of Costa Mesa Handmade Doll Giveaways

I give away my lovingly handmade dolls periodically. If you "Like" my Castle of Costa Mesa Facebook page, you will be notified of upcoming giveaways. Click here to view the list of my past giveaways. Perhaps the next winner could be YOU?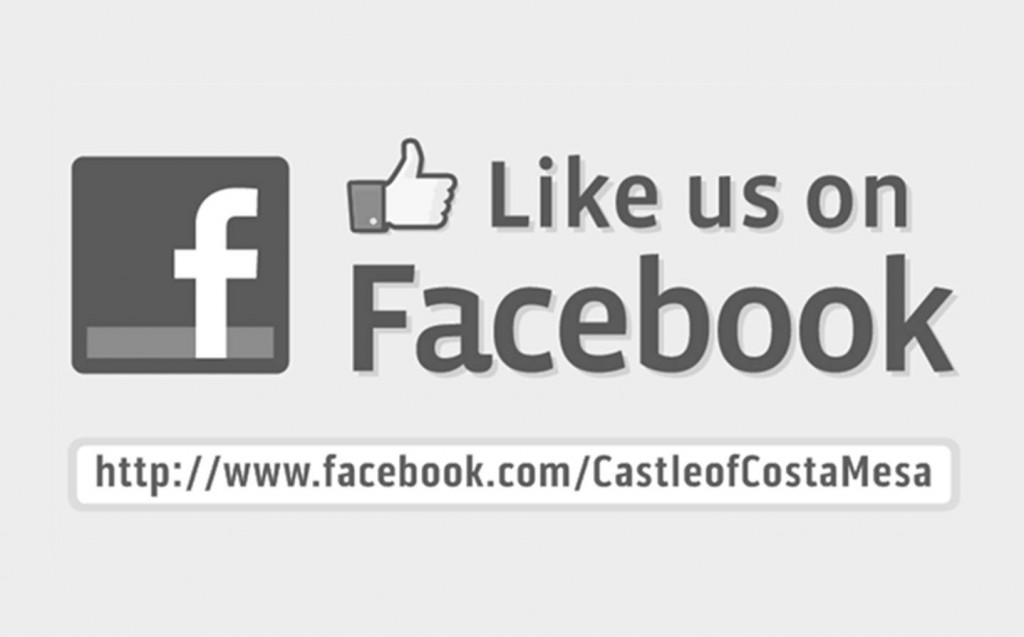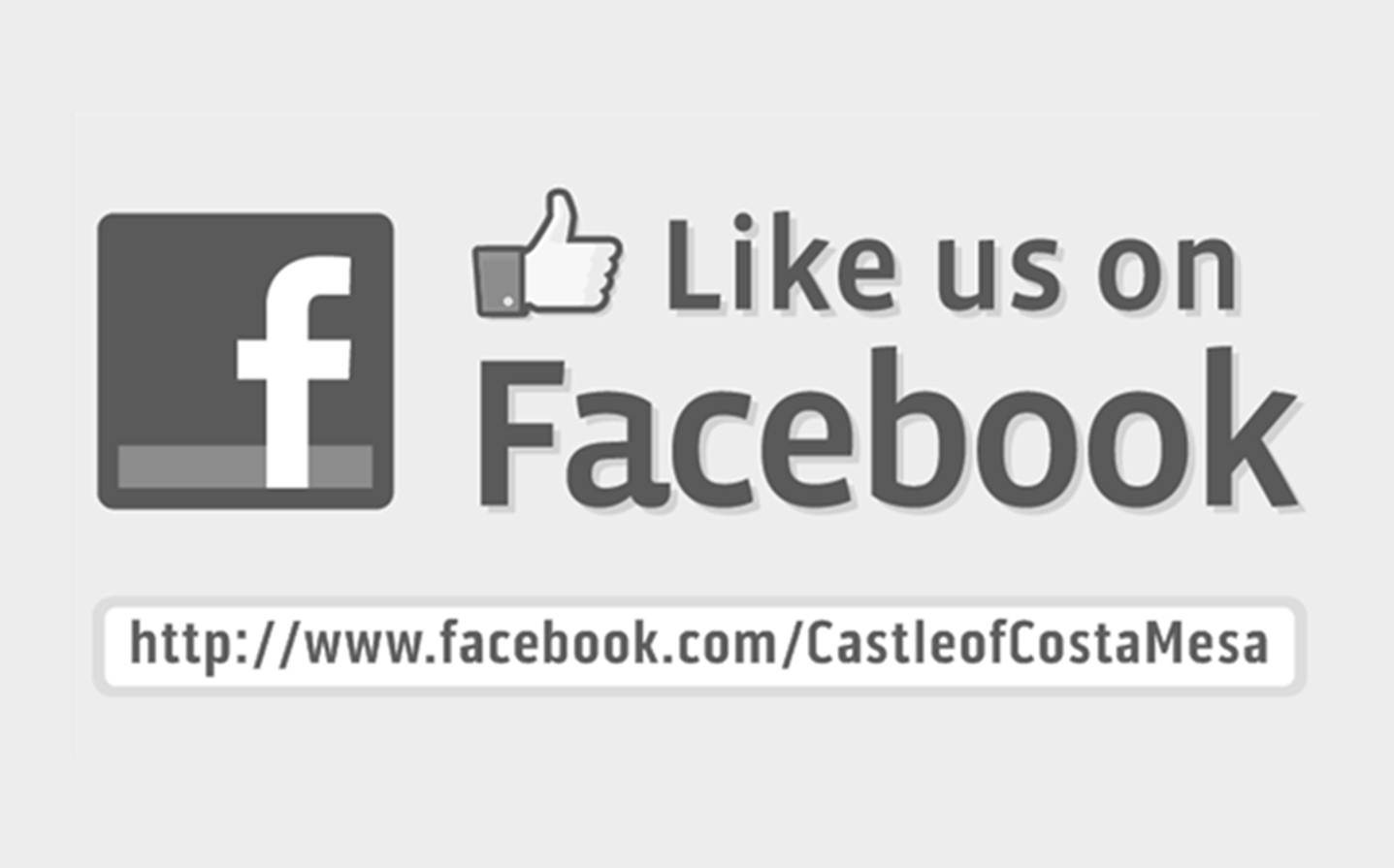 Photos from Waldorf School of Orange County Craft Group