Tuesday morning, October 7, 2013. Today, due to popular requests, our craft group gathered in the gazebo outside of The Company of Angels school store from 8:45am-11am to wet-felt flowers embellished with raw mawata silk hankies. Thank you Rachel Skelly and Christine Newell for organizing our Waldorf School of Orange County weekly craft group get togethers!
For $8 per flower craft fee, Christine Newell provided all the supplies and showed us how wet-felt this project. Also, thank you Rachel for providing our craft group with hot tea and pumpkin cake! – Jzin
Here is an example of my wet-felted flower embellished with Mawata silk hanky made at craft group 2 weeks ago. Click here to view more photos from that day at craft group.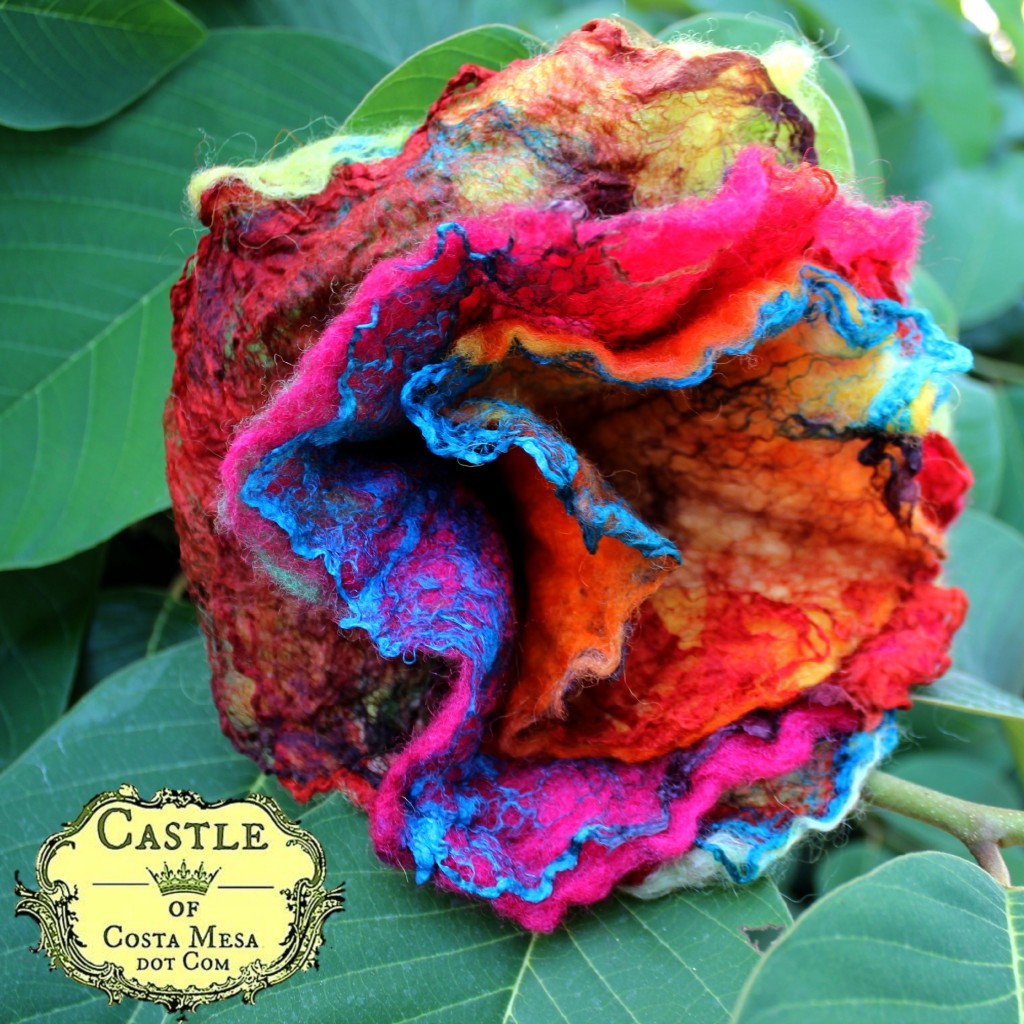 Gallery of Past Projects from The Waldorf School of Orange County Craft Group
Click on the image below to view our craft group projects from the past.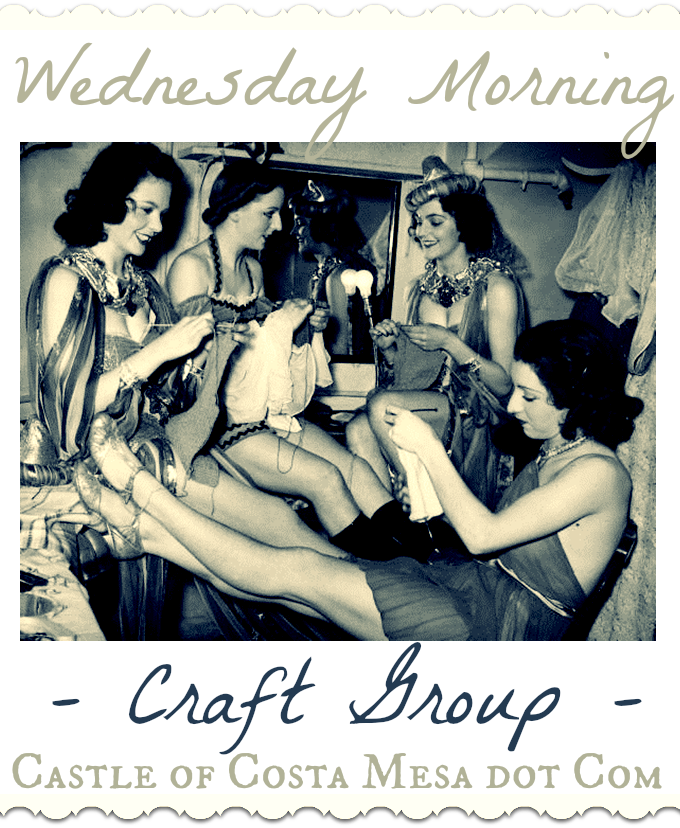 Christine brought in a huge colorful bin of hand dyed wool rovings and variegated mawata silk hankies ordered online.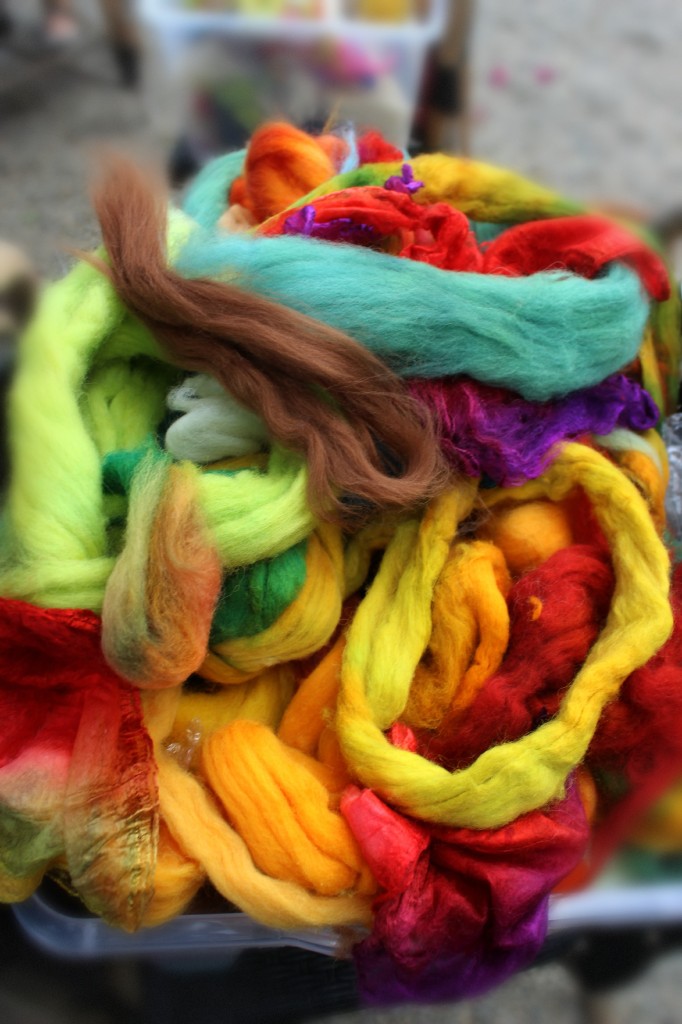 Selecting colorful roving to make 3 discs, each for a layer of our flower.
The little ones played and snacked alongside the crafting adults.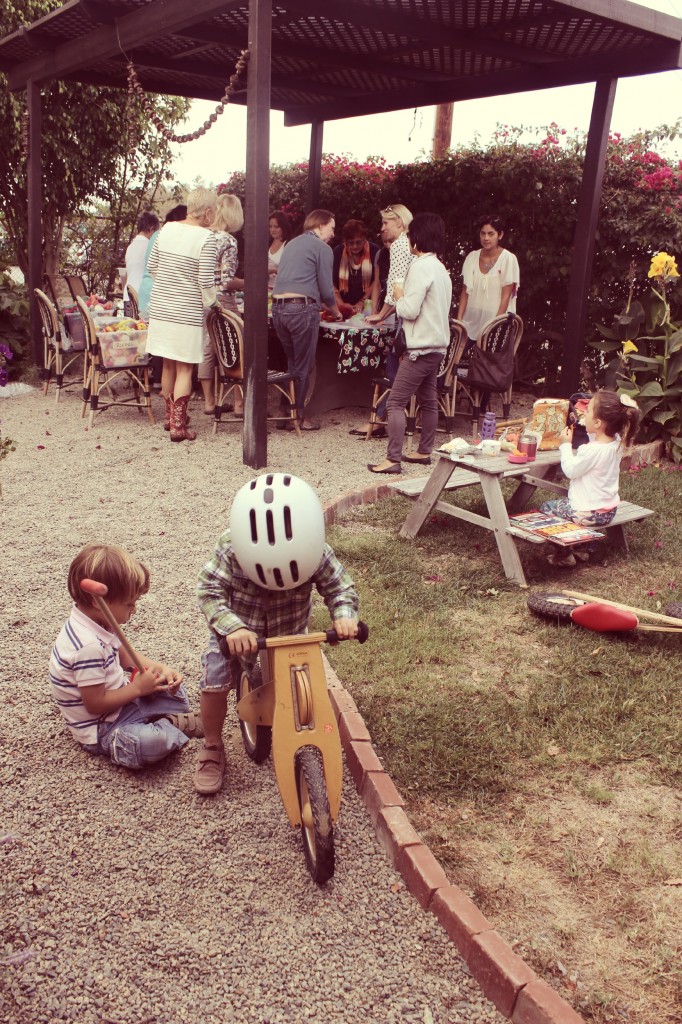 Gisela arranging thin layers of wool roving into circular discs for each whorl of her flower.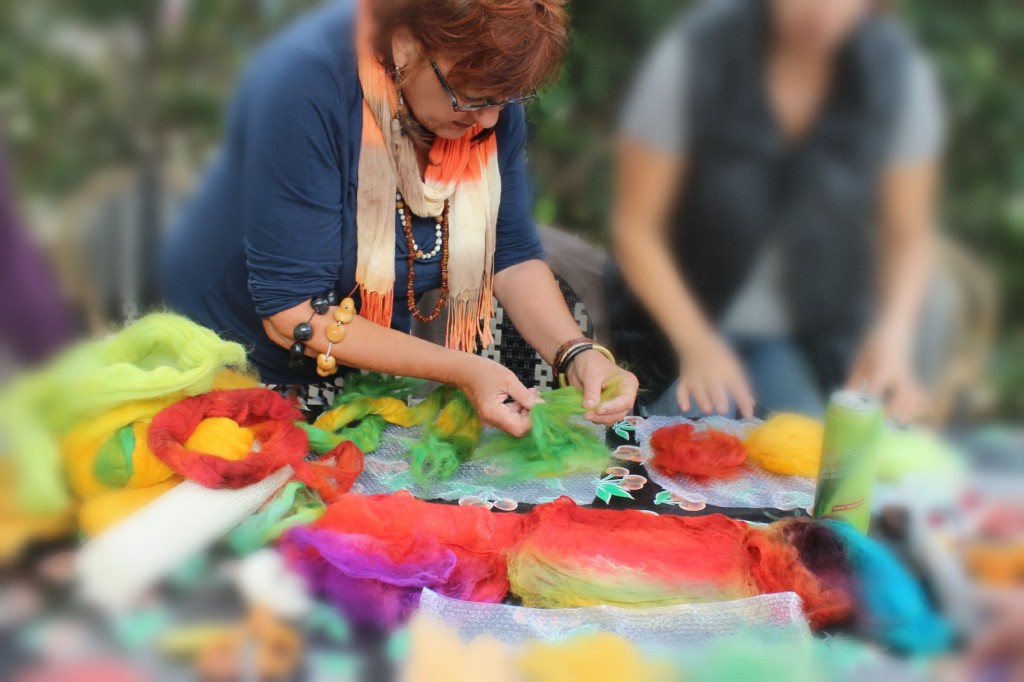 Mawata silk hankies, dyed in variegated colors. What a luxurious and natural material to craft with!
Christine pinching the center of  the square shaped mawata silk hanky to form a rounded shape on top of Geraldine's wet-felted flower.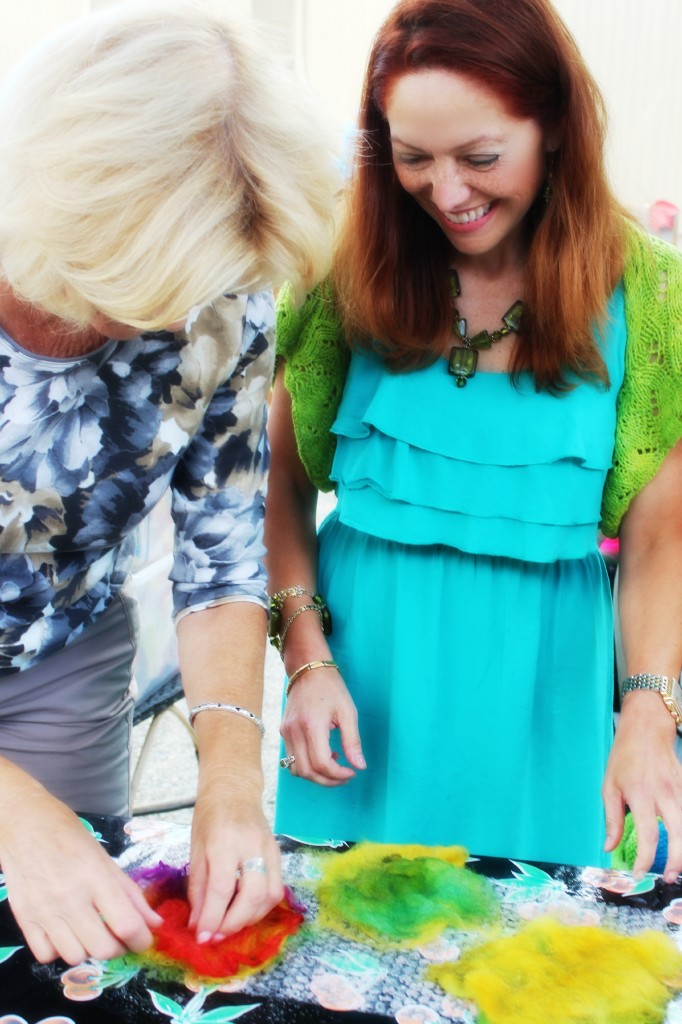 The roving and silk arrangements were sprayed with mixture of hot water and liquid dish detergent.
Gaby carefully arranging mawata silk hanky on her wet-felting flower roving.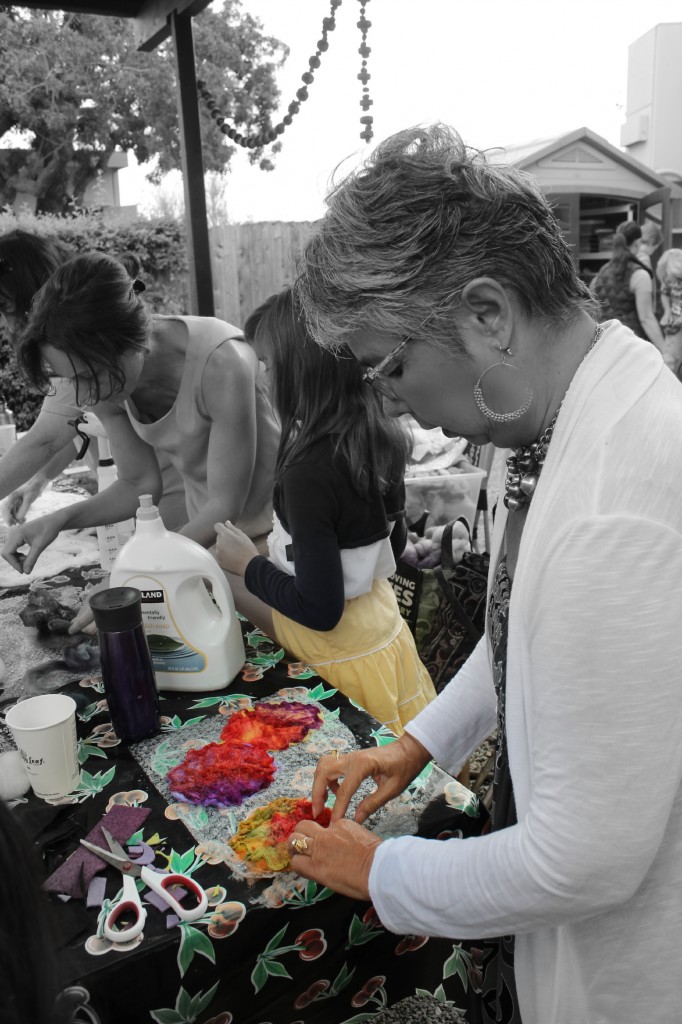 The 3 wet and soapy circular discs are now ready to be covered with bubble wrap.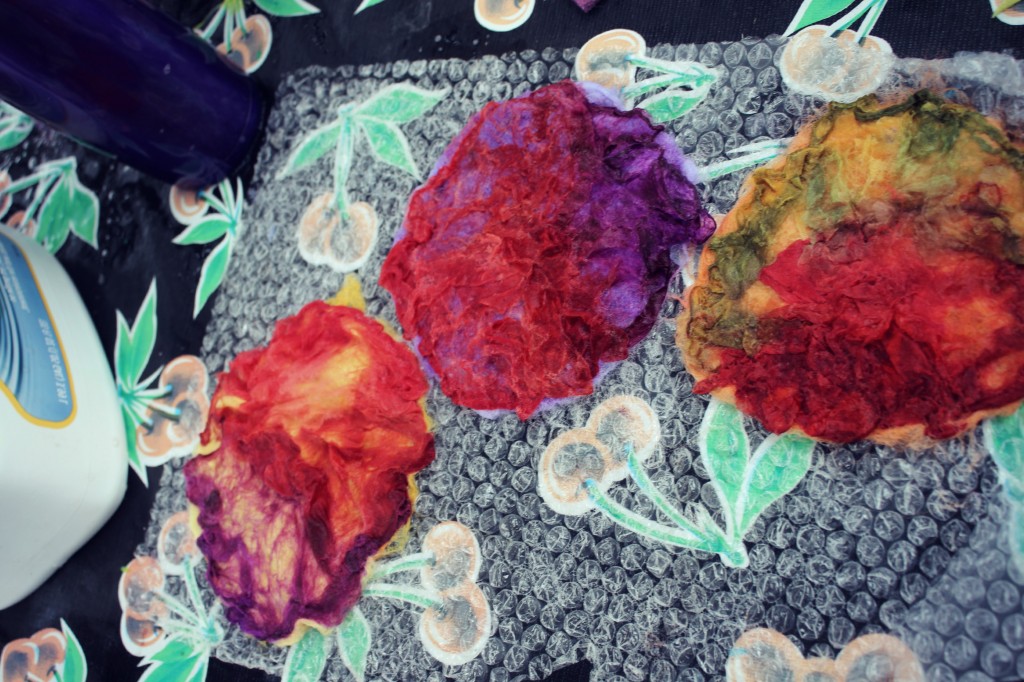 Gaby wet felting the center of flower layers together using bubble wraps with pre-cut holes in the middle.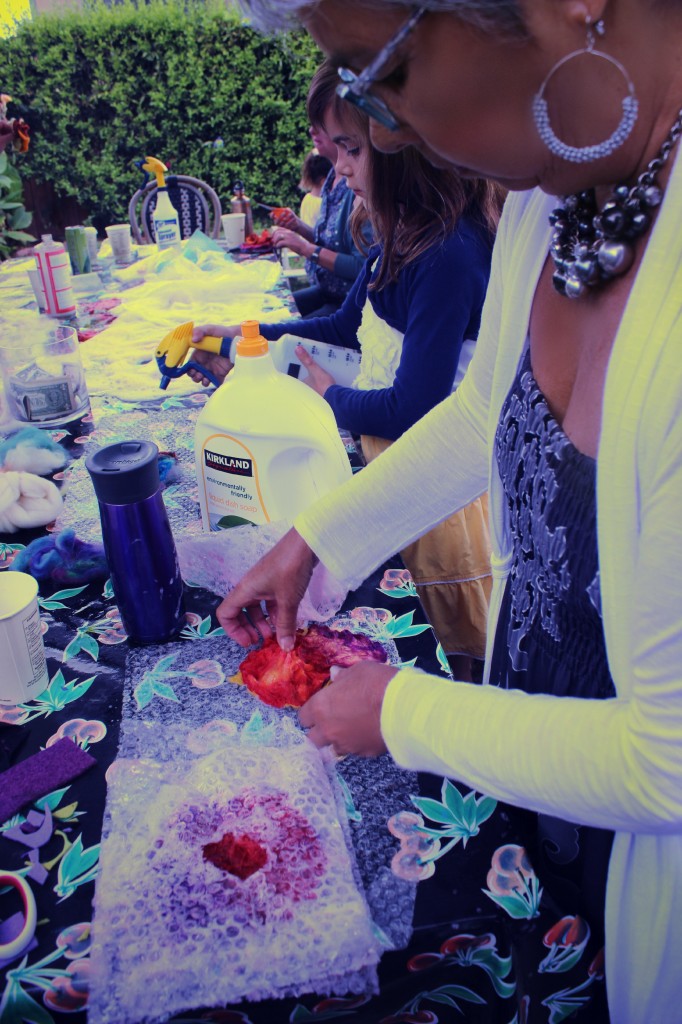 Rubbing on our circular layers layered between bubble wraps to felt our flowers.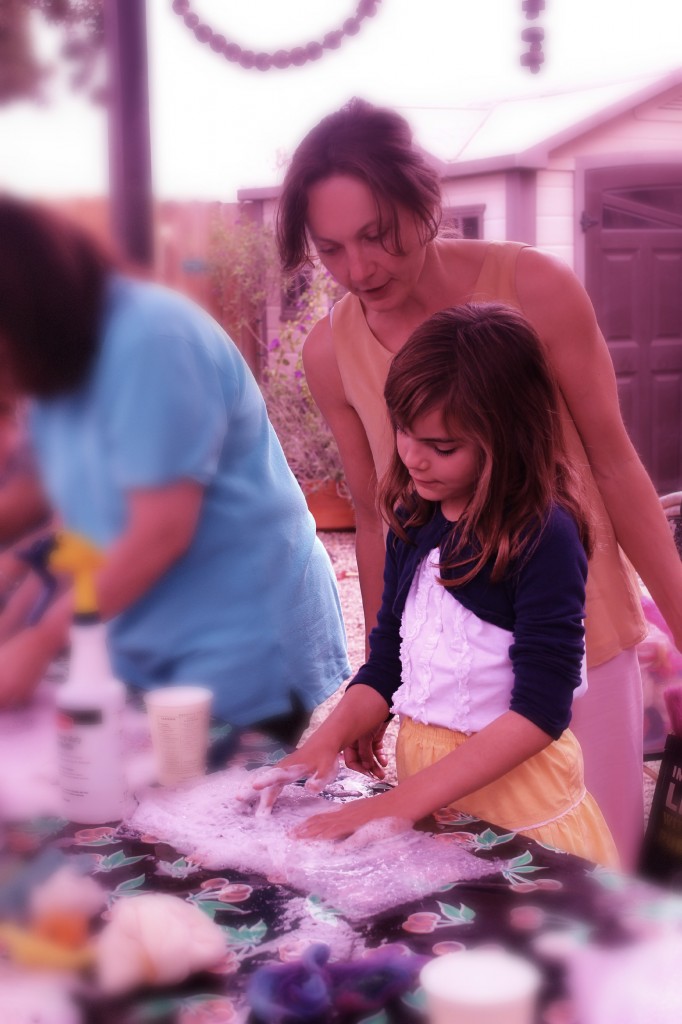 Just like the beginning of a romance, you start by rubbing most gingerly. Do not use strong rubbing until the layers are somewhat felted together.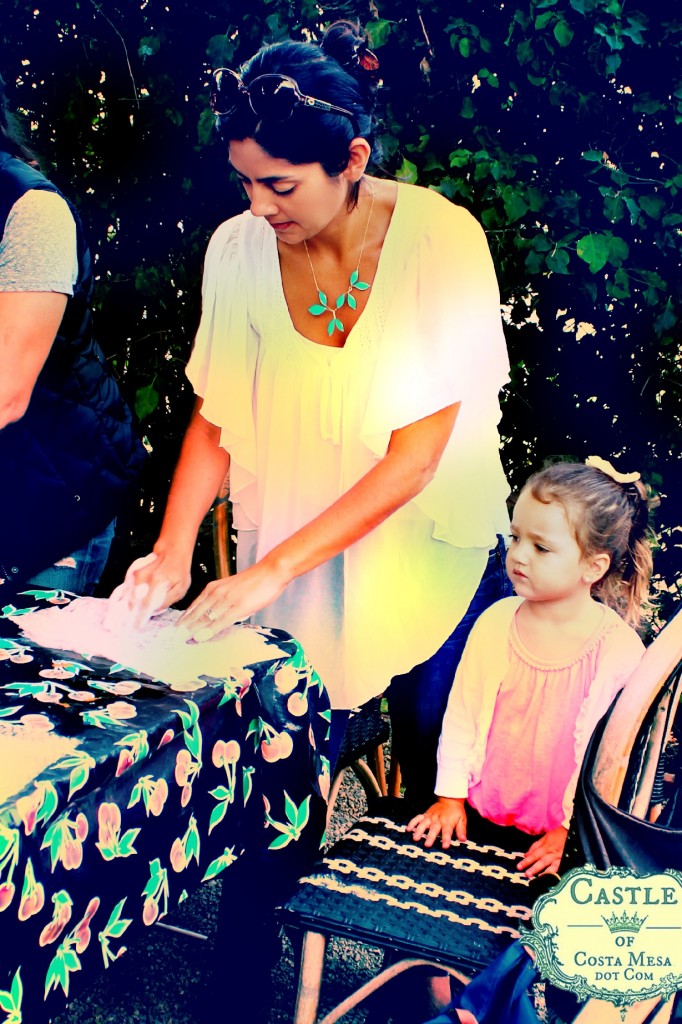 As we proceed with rubbing, more force was gradually applied to felt the fibers together. Eventually, we apply the "pinch test" to determine if our flowers were sufficiently felted. By gently pinching our felt, we could tell that our rubbing was finished if the wool fibers stay felted together and did not get lifted up by the pinch.
Gisela helping Yuko to remove bubble wraps from felted flowers, careful to keep the center of the flower connected.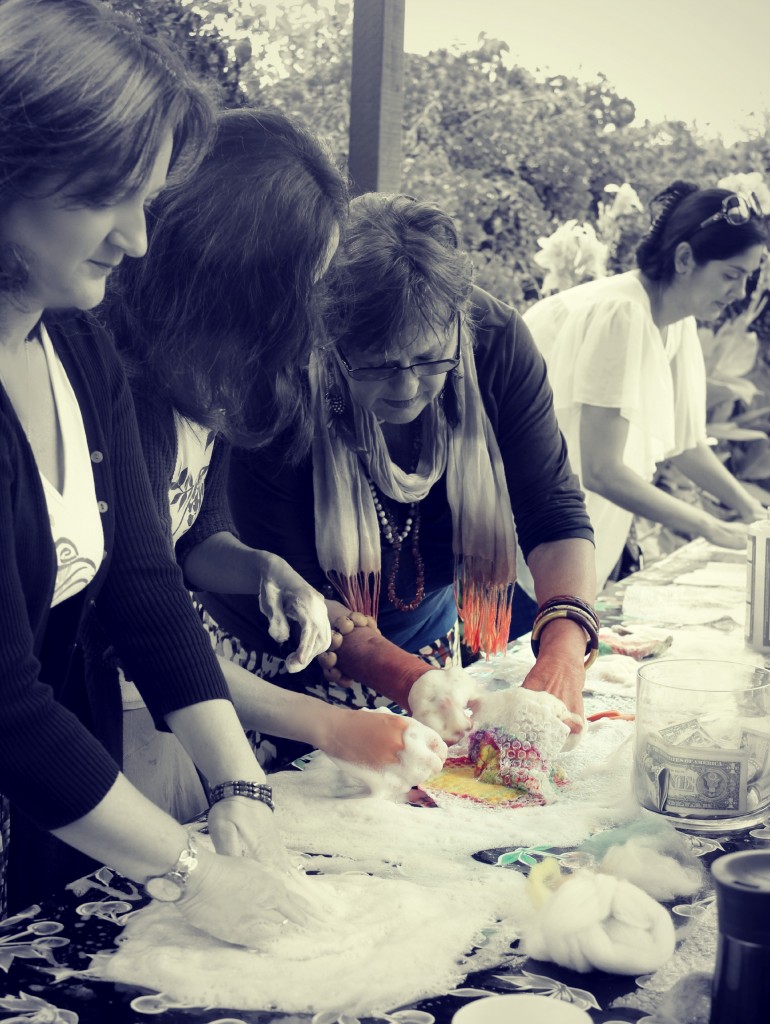 Heather working on her tablet top puppet from last week.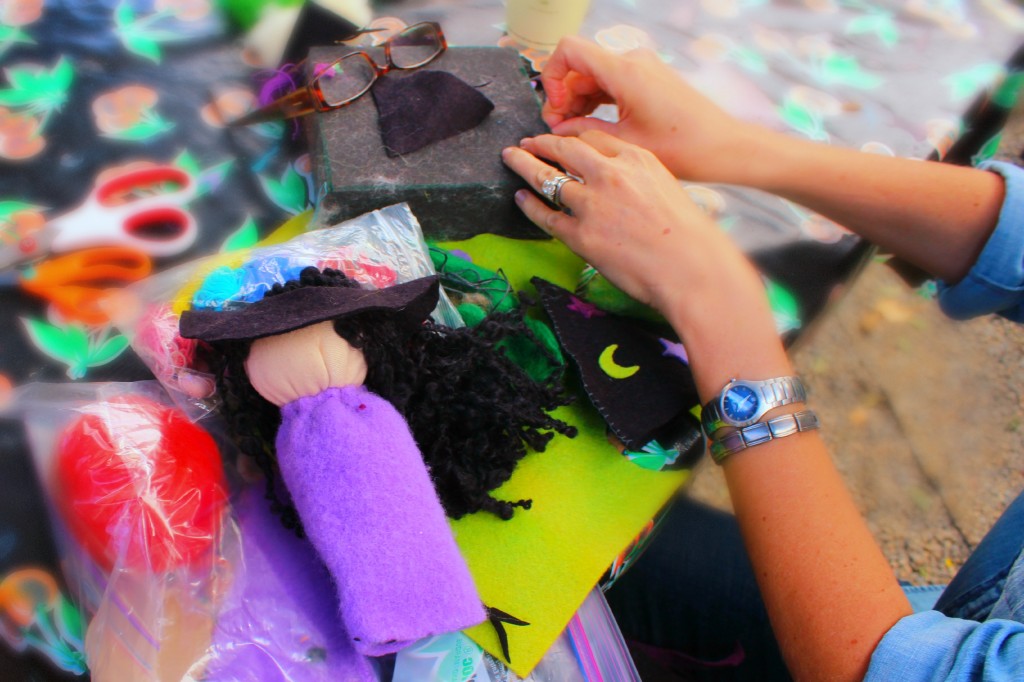 Click here to view our craft group's table top puppets from last week.
Next comes our most anticipated step: washing the soap off and watching the results of our work!
Julia rinsing the soap off her wet-felted mawata silk hanky flower.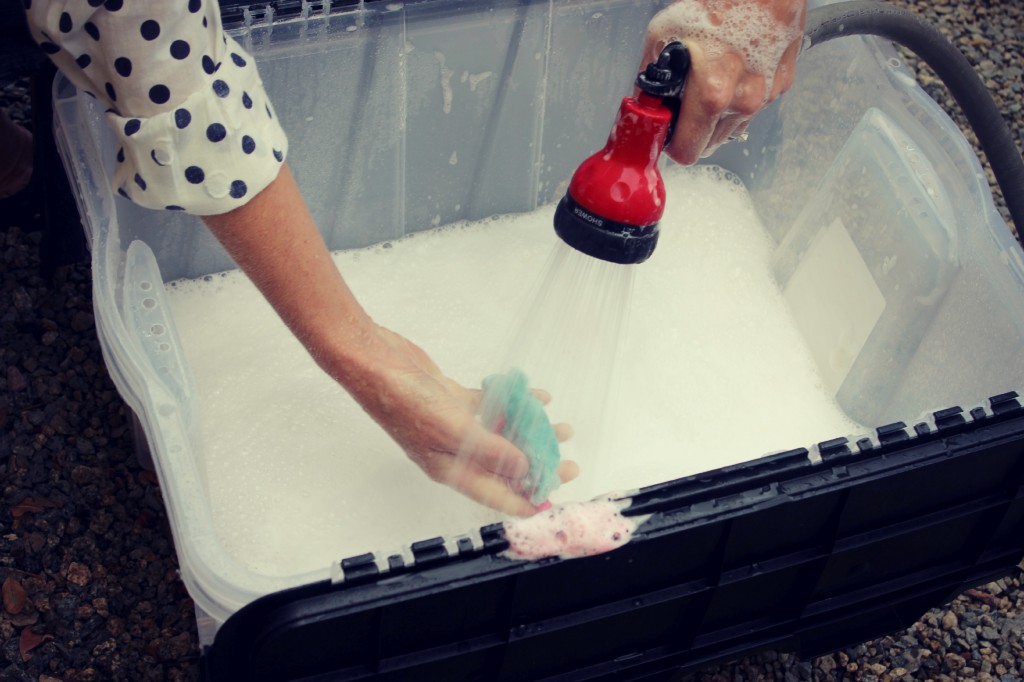 Valentina helping Yvonne rinse her wet-felted flower with a garden hose.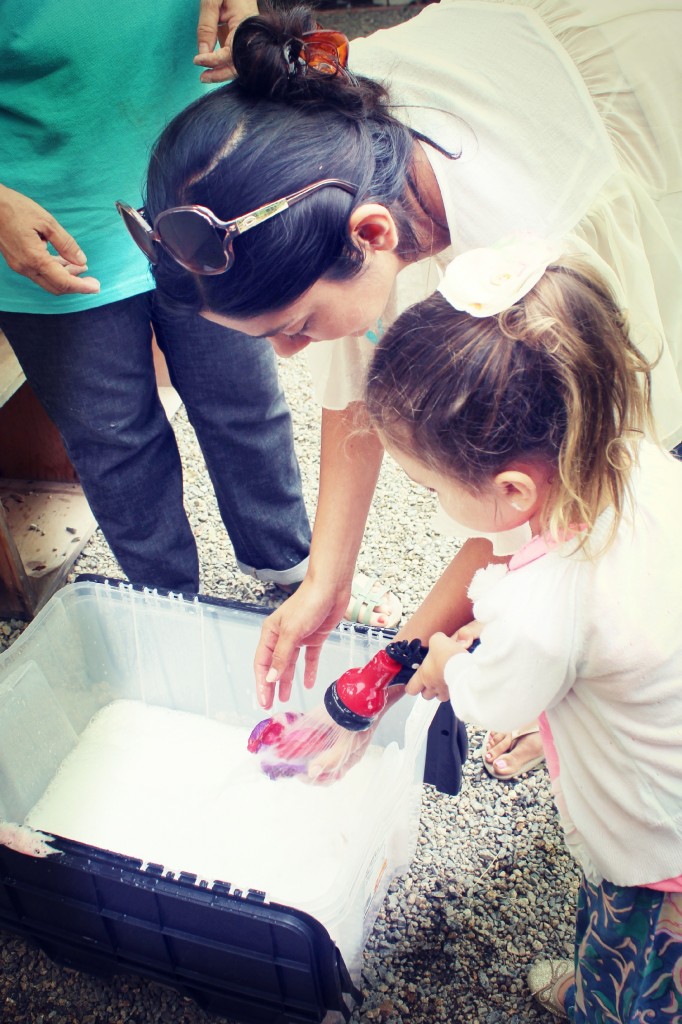 After rinsing off the soapy water, Christine made a few snips in Cathrina's flower to form petals.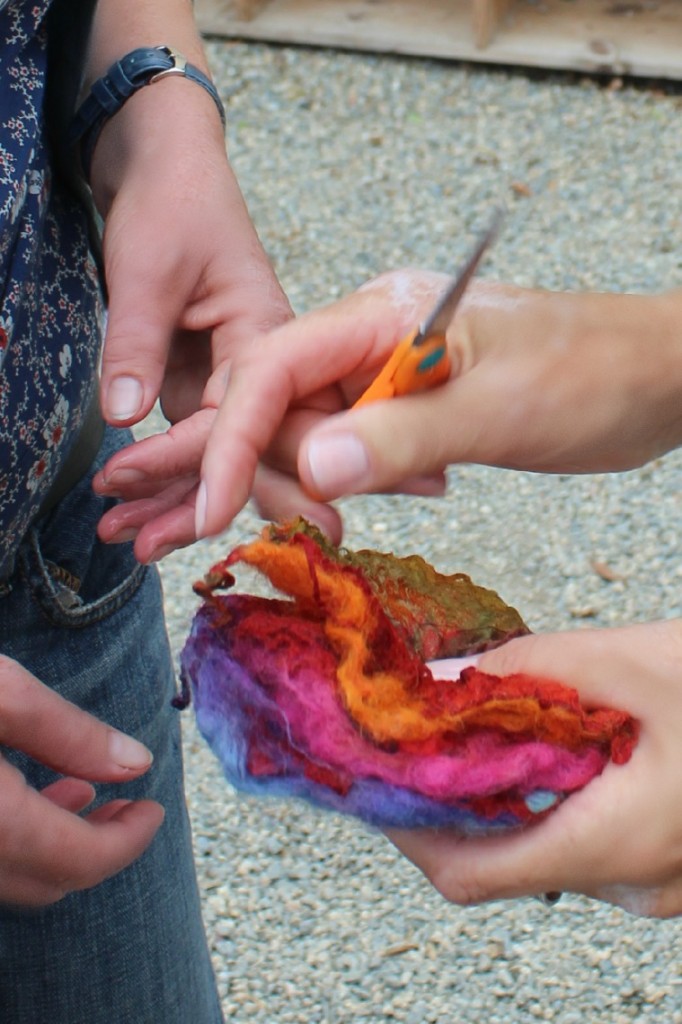 After cuts were made in the petals, Gisela shaped and arranged her wet-felted flower.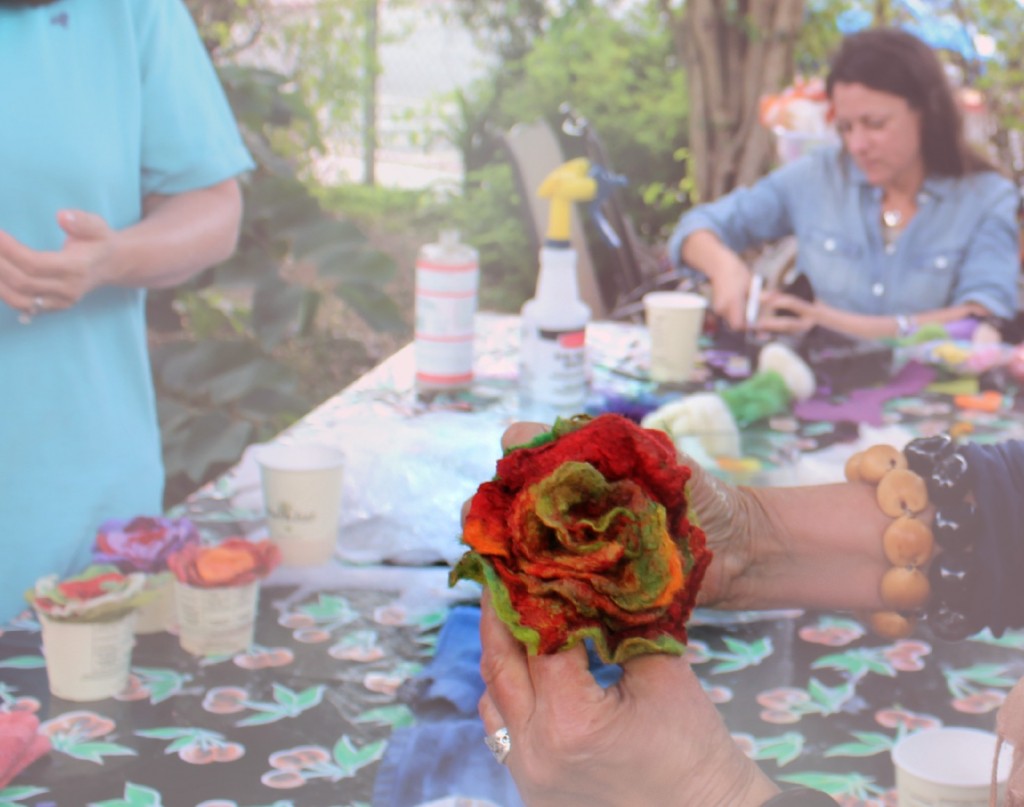 Wet-felted flowers taking shape inside carefully trimmed (to fit the size of each flower) disposable coffee cups.
Julia shaping her flower by leaving it to dry in a paper coffee cup.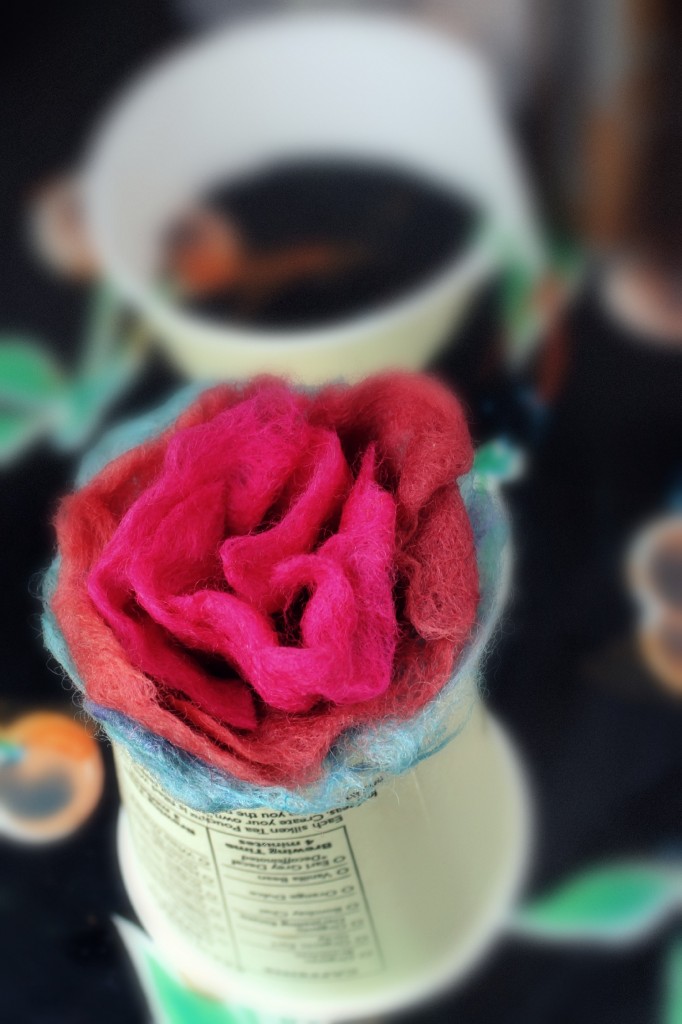 Yasmine's handmade flower from this morning.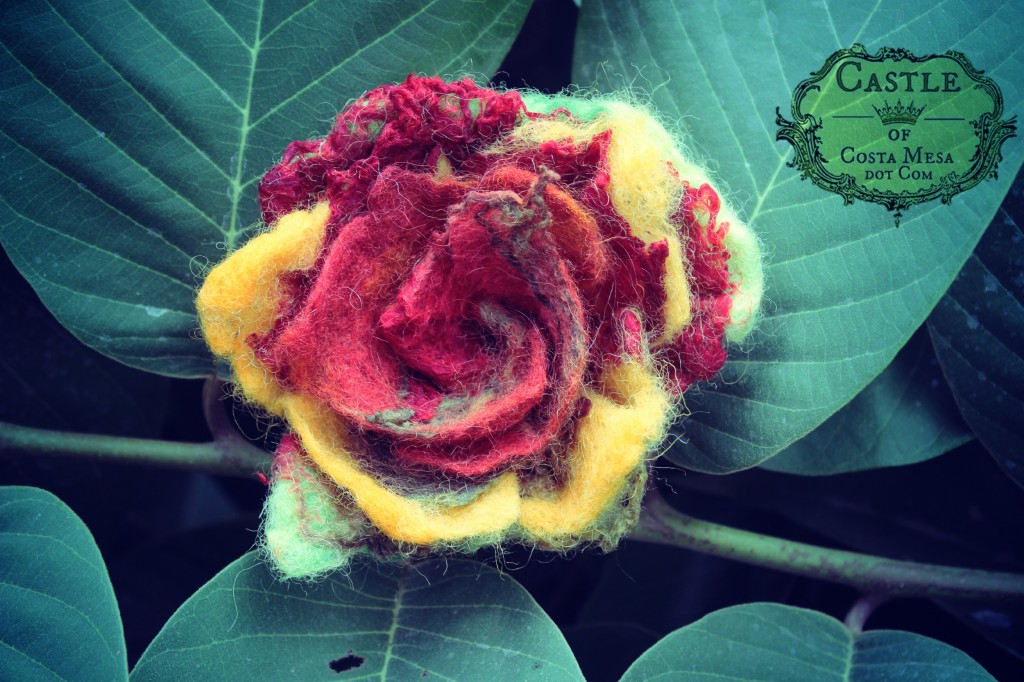 Anička with her handmade flower from this creative morning.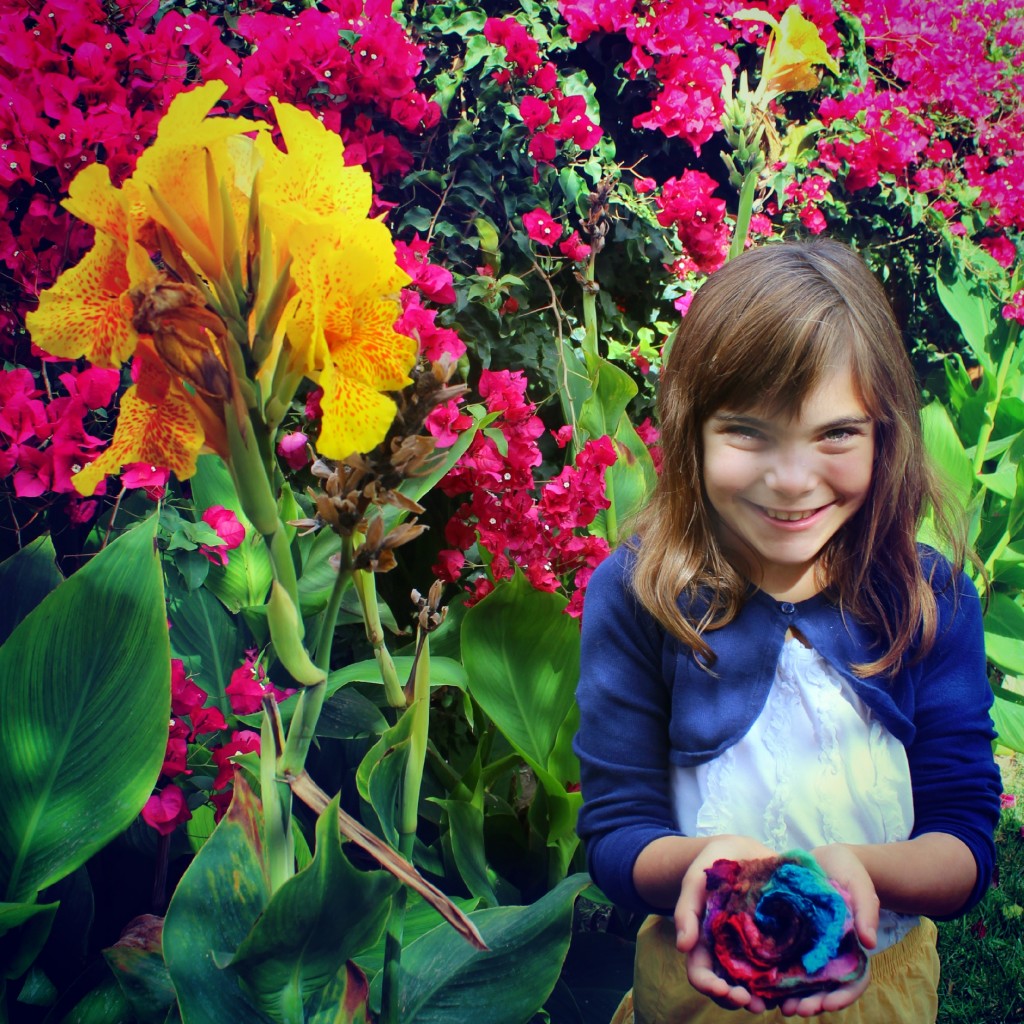 All in a morning's work.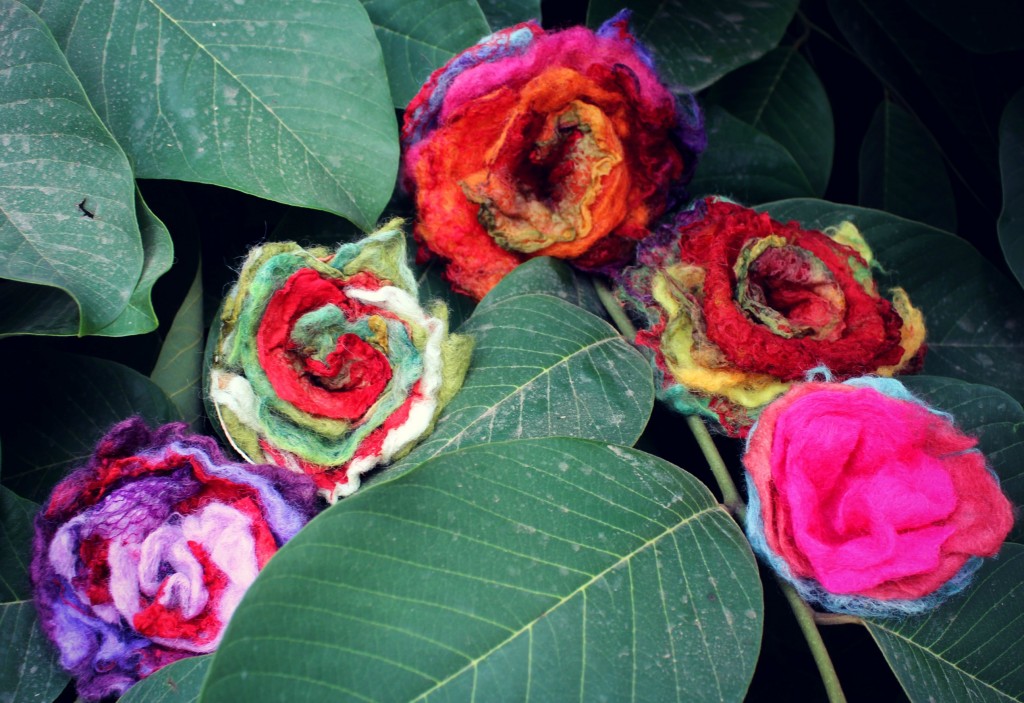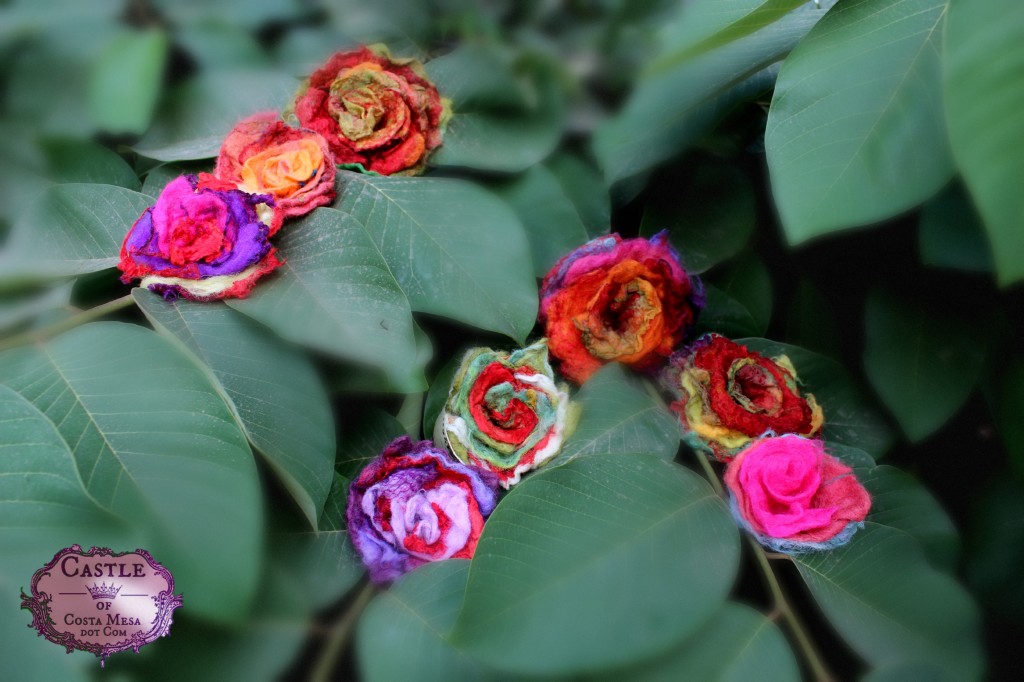 That's all for now. See you next week!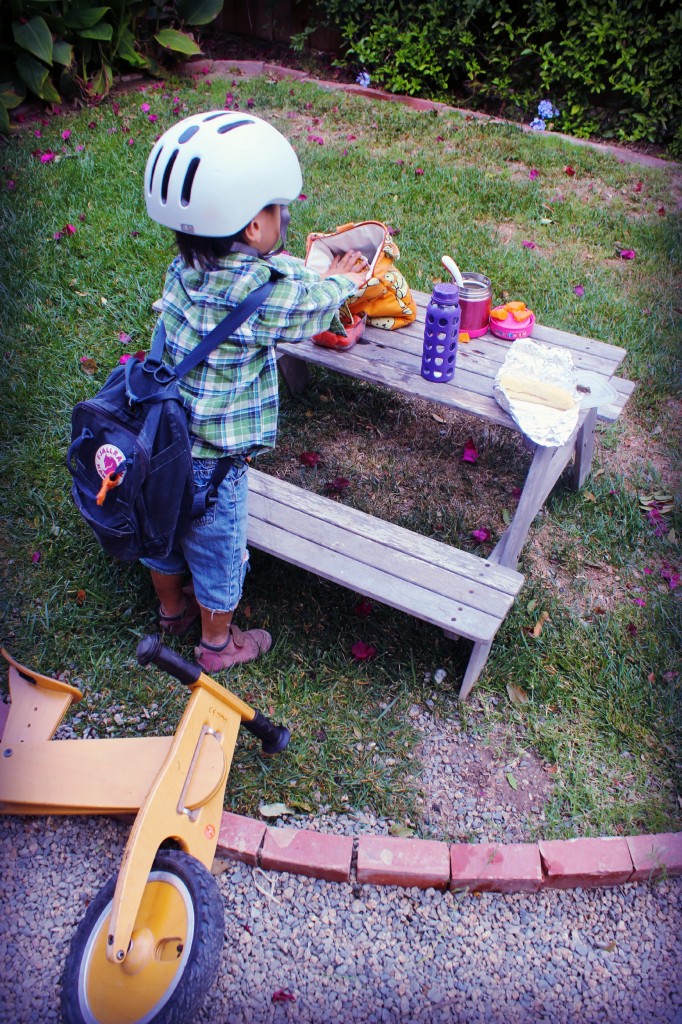 Last Week's Craft Group Project: Table Top Puppets
Click on photo below to see more of what we did last week.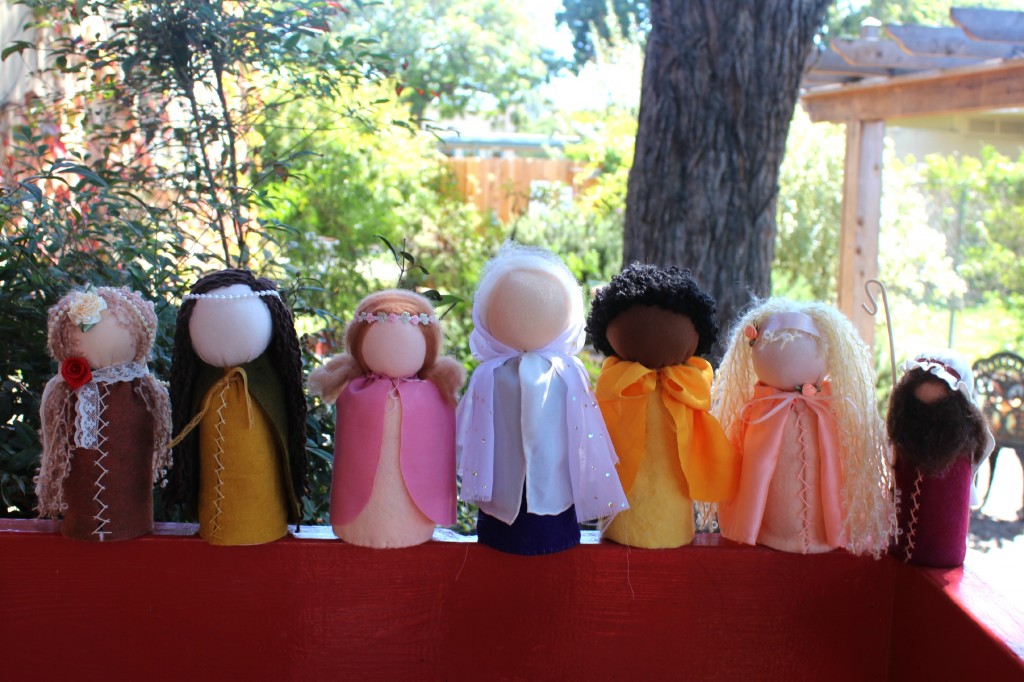 My First Nuno-Felted Kelp
I am sharing with you my experience of falling in love with this medium: felt.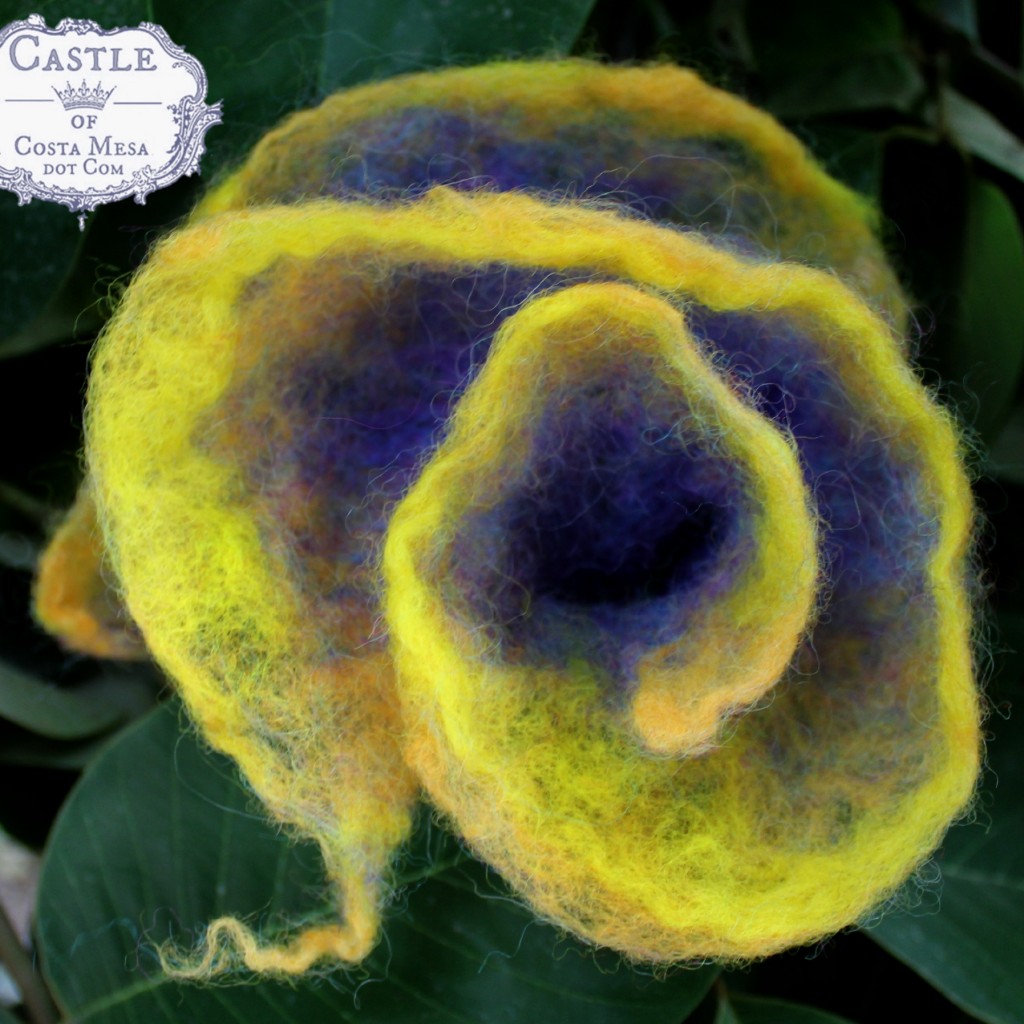 Next Week: Felt Pumpkins
Next week Christine Newell will show our craft group how to make felt pumpkins! I am not sure if this would be a needle-felted or wet-felted project. Why don't you stop on by next Tuesday morning and find out! – Jzin
Here are some inspirations on this topic that I found online…
Felt pumpkins by Mary of FeltStory in Perm, Russia.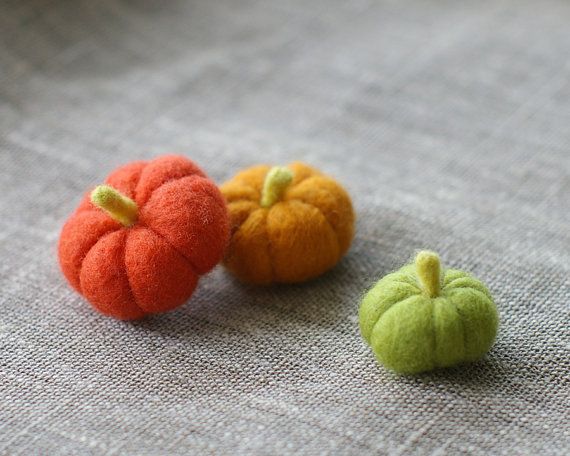 You can even purchase the above pumpkins on Etsy by clicking on the photo above.
Cutest little mouse in a wet-felted pumpkin by Sewn Natural…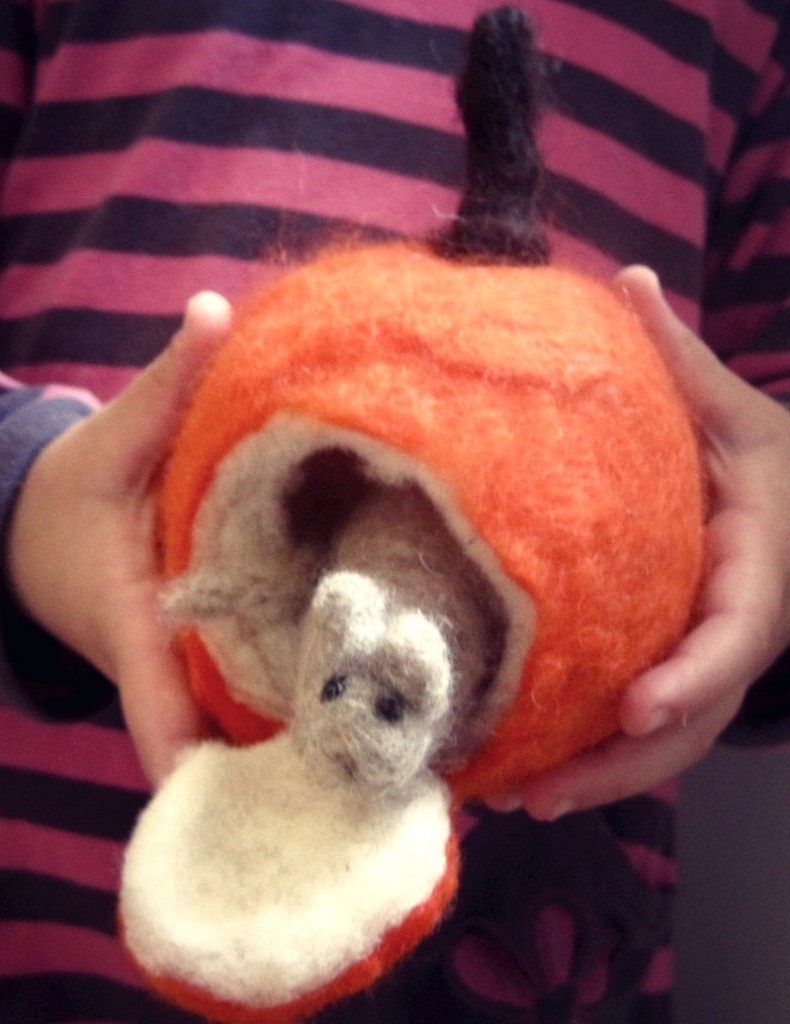 Jan's needle-felted pumpkins on Tamarack Sheep and Wool website…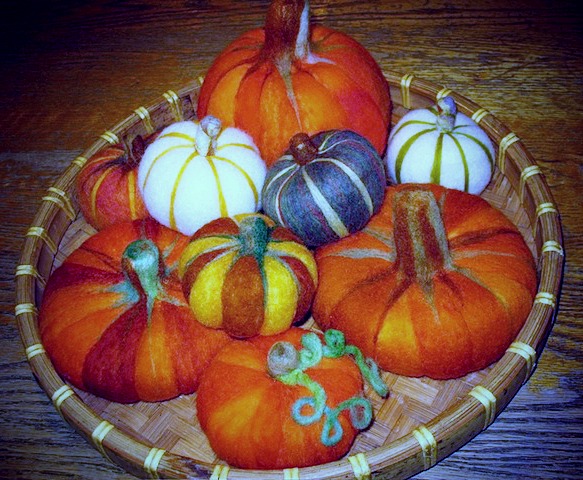 … and my own set of needle-felted pumpkins handmade by my dear friend Angela Hart as gifts for my homemade "Snow White and Rose Red" table top puppet show…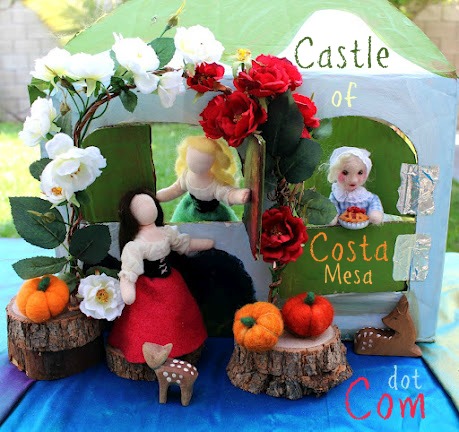 Christine Newell's 16 inch Waldorf Doll Making workshops
Here are handmade 16 inch Waldorf Dolls made by Kimmy (on the left) and Luka (on the right).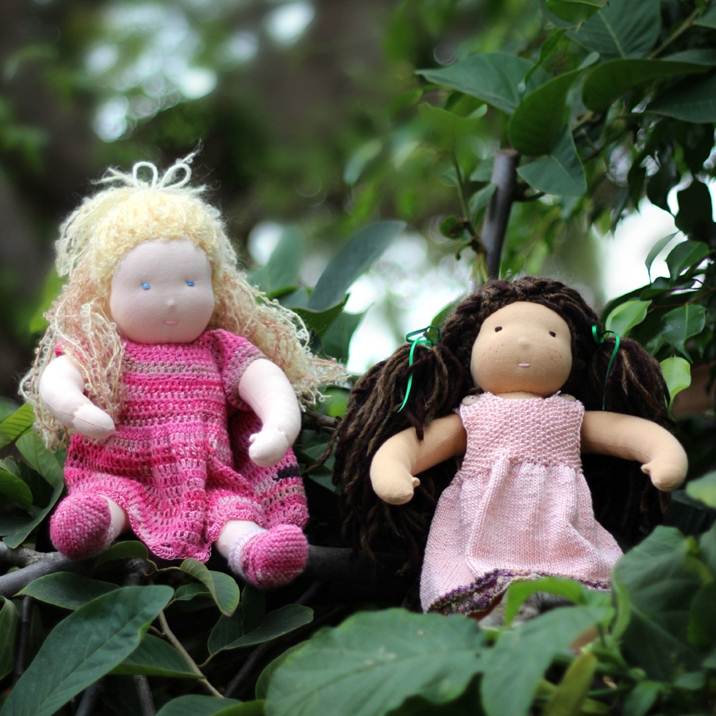 Click here to see gorgeous photos from her past workshops.
Cost: $100 all materials included.
Waldorf School of Orange County, Wednesday mornings 9am to 11:30am:
Waldorf School of Orange County, Thursday evenings 6:30pm to 9:00pm:
day 1 Oct 3rd, 2013
day 2 Oct 10th, 2013
day 3 Oct 17th, 2013
day4 Oct 24th, 2013
Maple Village School, Long Beach, Thursdays mornings 9:30am to 12:00pm:
The purpose of doing consecutive workshop allows you to join any of the 3 workshop at any location and time, you just need to complete day 1 through 4 to have a completed doll.
Sign up sheets will be in the WSOC Company of Angels and the Office of Maple Village School.
Recycled doll workshop:
Waldorf School of Orange County, 9:00am to 11:30am
Maple Village School, 9:30am to 12:00pm
day 1 Oct 31st, 2013
day 2 Nov 7th, 2013
Cost : $50 all materials included
Again you can join any location and time just need to complete days 1 and 2.
That's all for now, looking forward to seeing you and sharing new crafts.
Support Our Local Waldorf Community/ Place a Free Ad
If you are interested in placing an ad on "Support Our Southern California Waldorf Community" (free if you are a member of Southern California Waldorf community) please e-mail me a good picture and a link.
Meanwhile, please support our local peeps! Thanks! – Jzin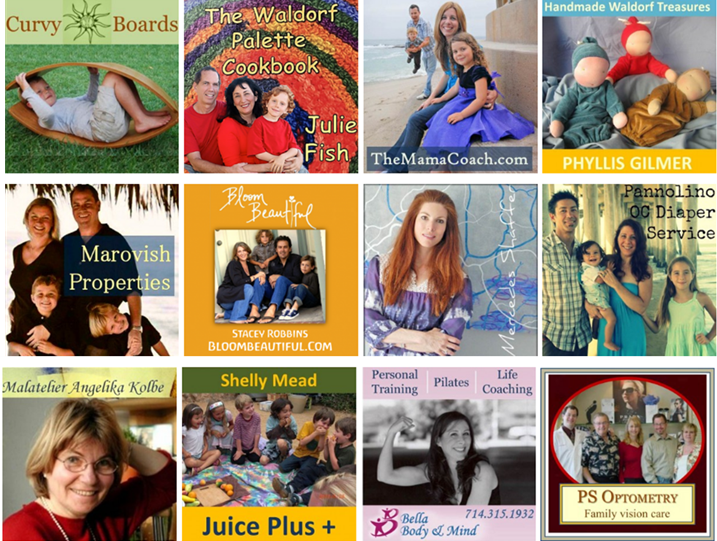 Waldorf Seasons Table Dolls by Castle of Costa Mesa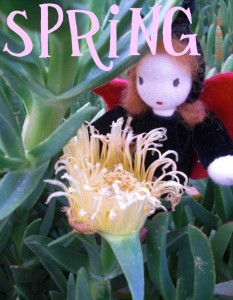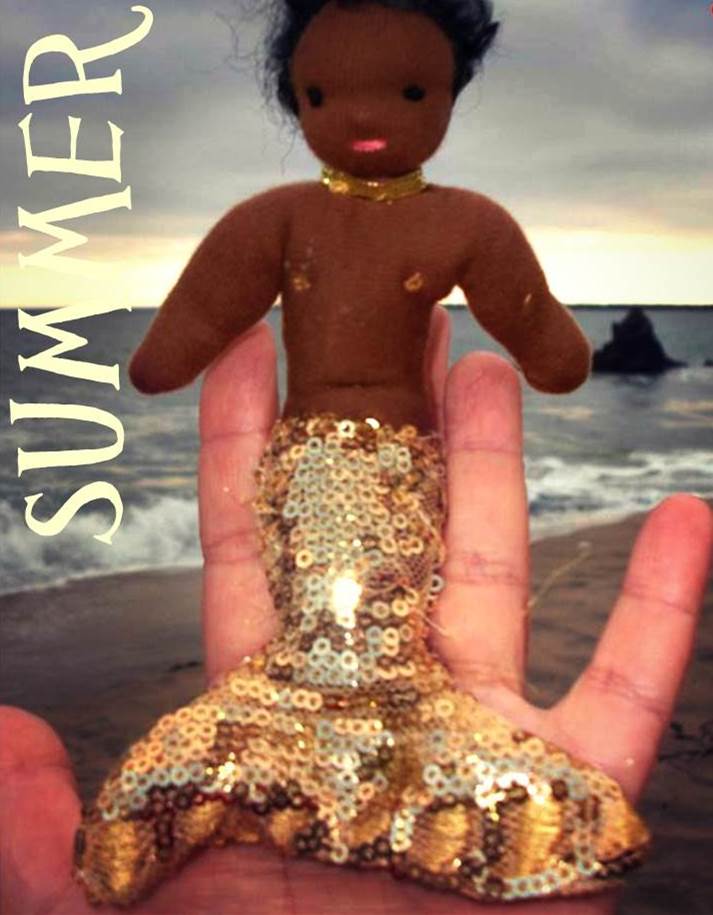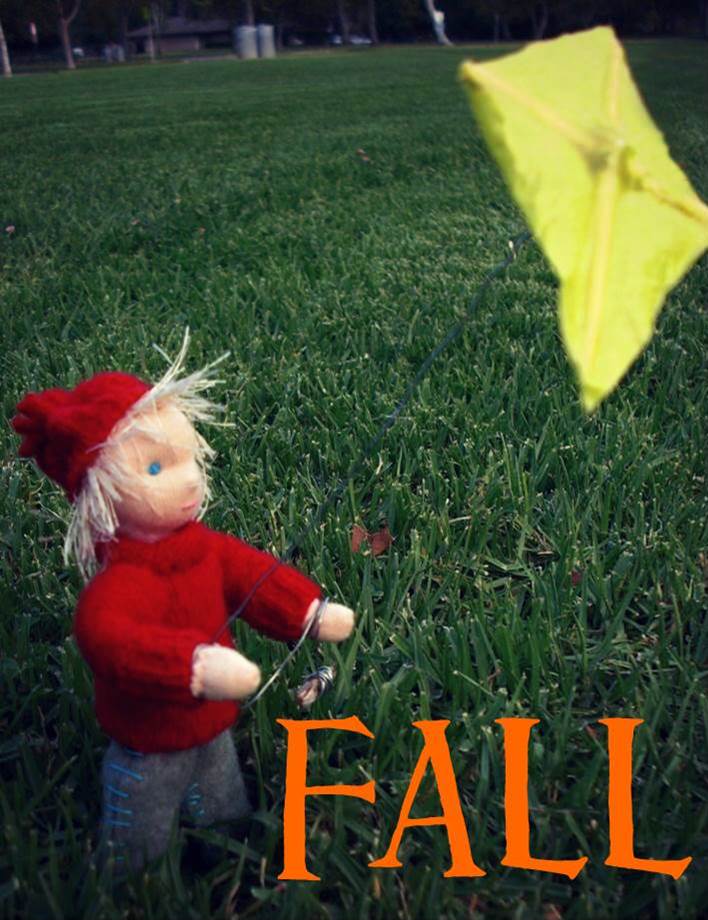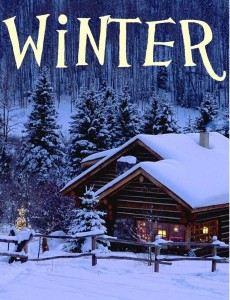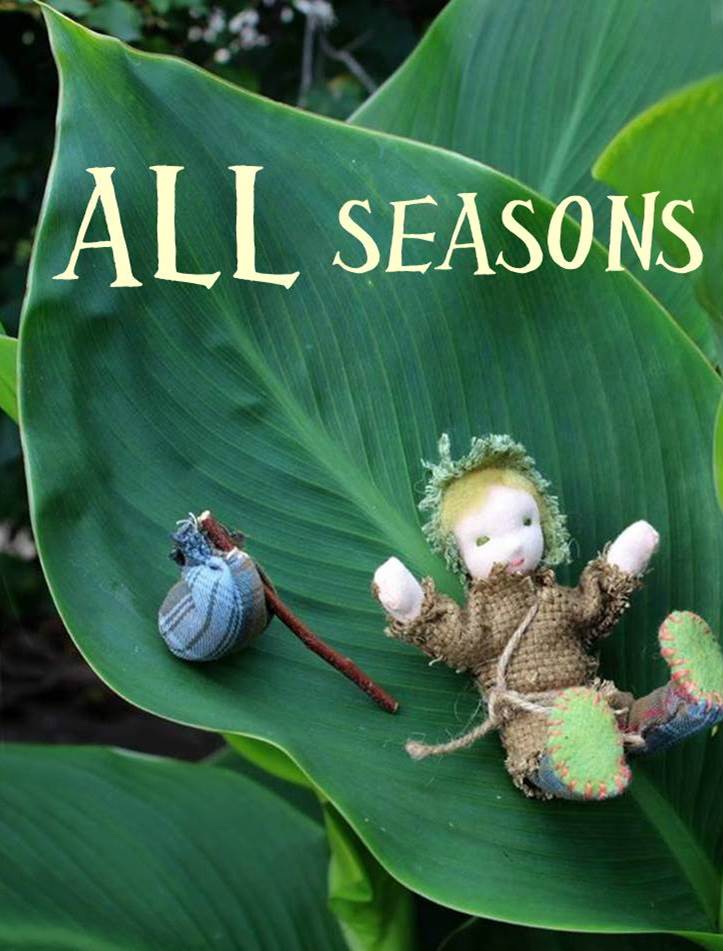 Castle of Costa Mesa's Etsy Store
You may support my crafting mania and justify my obsessive hoarding of craft supplies by shopping on my handmade Etsy store on the link below. Please do! – Jzin
Click on the image below to enter Castle of Costa Mesa Etsy store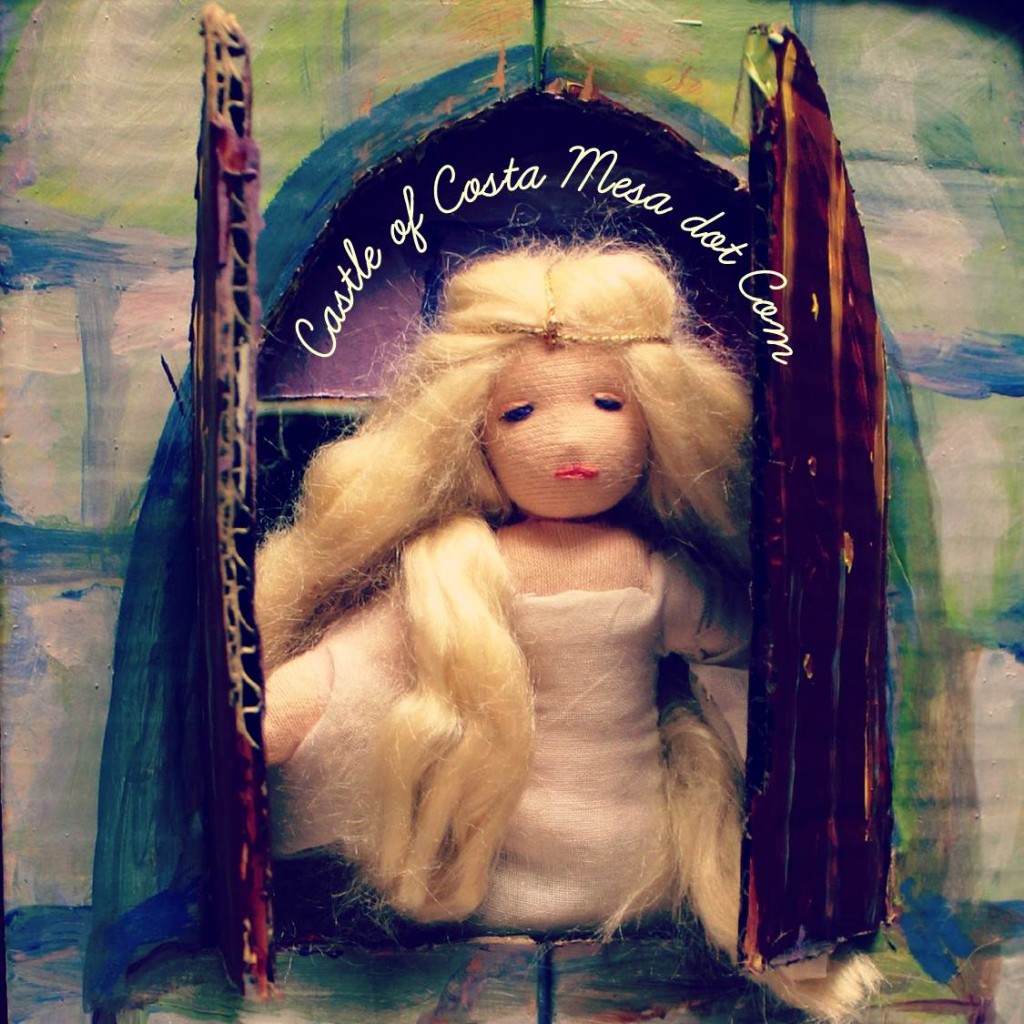 Just for fun, click here instead view a gallery of my handmade dolls.
Castle of Costa Mesa Handmade Doll Giveaways

I give away my lovingly handmade dolls periodically. If you "Like" my Castle of Costa Mesa Facebook page, you will be notified of upcoming giveaways. Click here to view the list of my past giveaways. Perhaps the next winner could be YOU?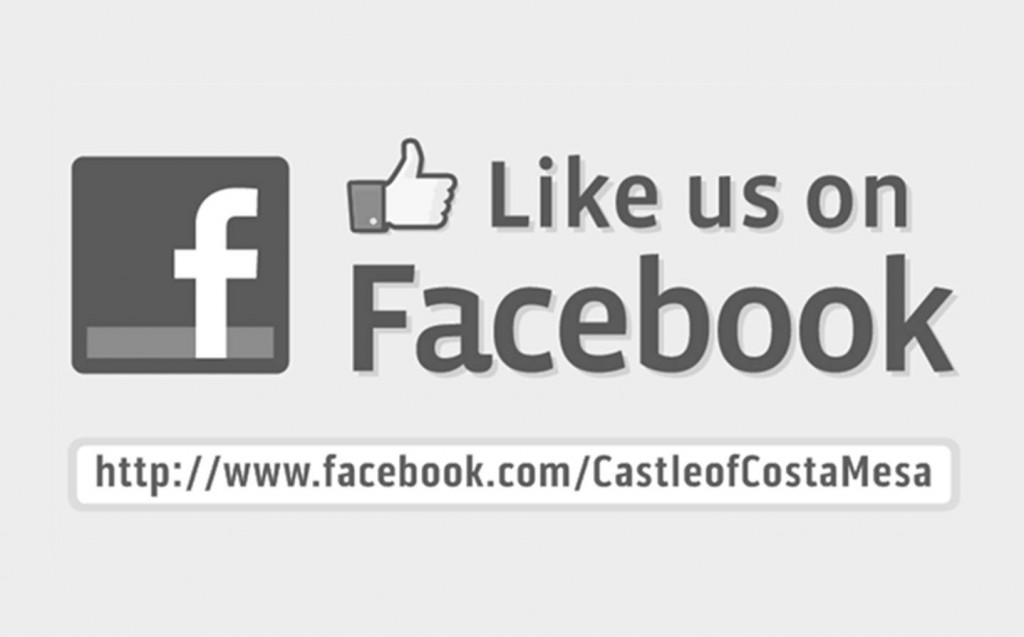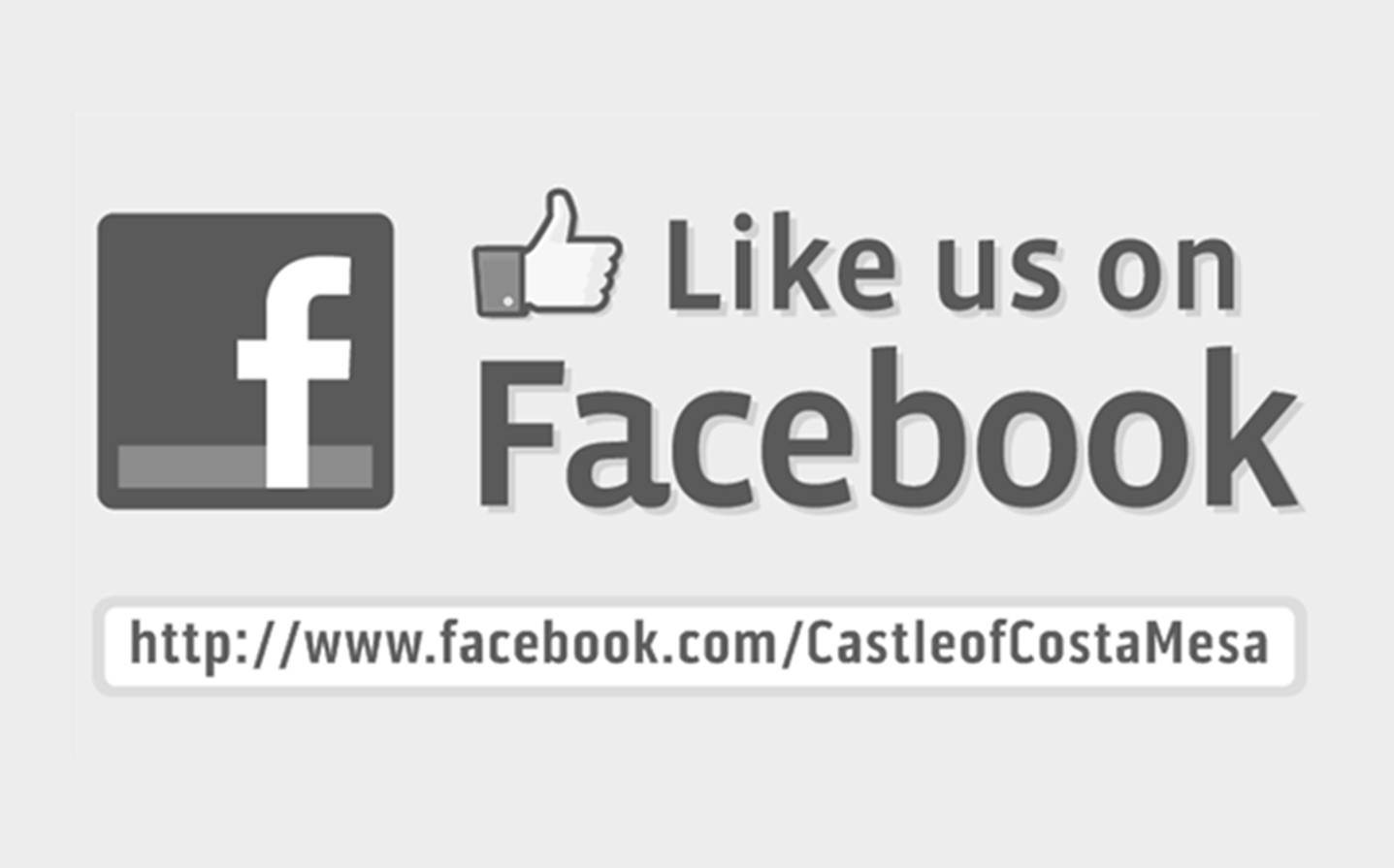 Our School Store Company of Angels has a Facebook page!
If you use Facebook, please "Like" our school store "The Company of Angels". Also, please tell all your local facebook friends about our school store! Thank you!

 Photos from Waldorf School of Orange County Craft Group