September 18, 2013. Wednesday.
Ever since I saw Judith Dios' work, I have been in love with it and wondering how to achieve such luxuriant effects. Well, lucky me, today Christine Newell showed the craft group how to work with Mawata Silk Hankies! Specifically, she showed us how to add raw silk hankies to our wet-felted flowers.
You can view more of Judith Dios' beautiful works on her website: http://www.judithdios.com/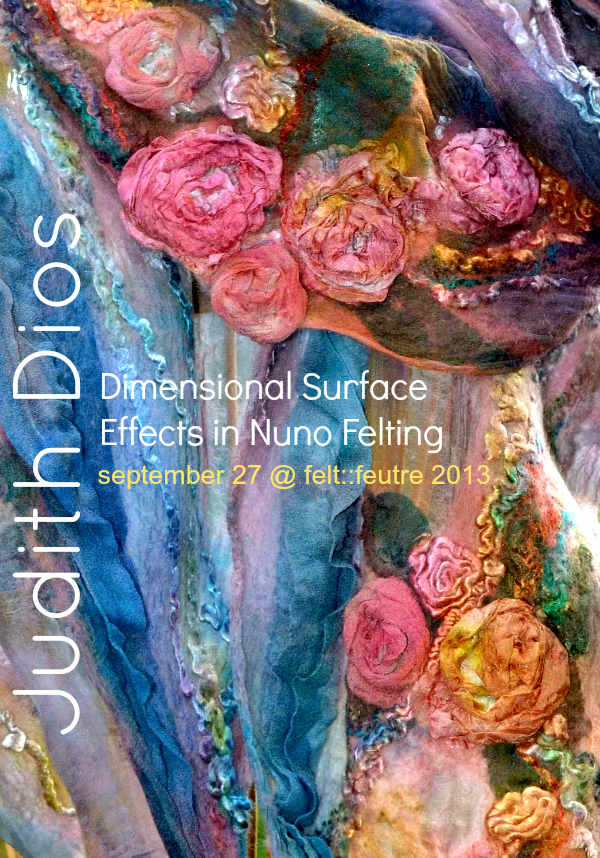 The above workshop is full. How I would have love to attend it and learn the secrets from Judith Dios!
A silk hanky, also known as a mawata, is a stack of silk cocoons which have been de-gummed and stretched over a square frame. Each hankie is made of several cocoons, usually about a dozen, but sometimes you'll find one that has more or less.
Christine brought colorful dyed mawata silk hankies for craft group:
Christine told me she got them from Knit Picks. I assume this website here.
Christine made 3 "discs" by layering each "disc" with 3 thin layers of wool roving on bubble wraps. The first layer was placed down horizontally. The next layer was placed in a vertical direction. The last layer was placed at 45 degree angle to the previous one. Then, she sprayed the layers with hot soapy water.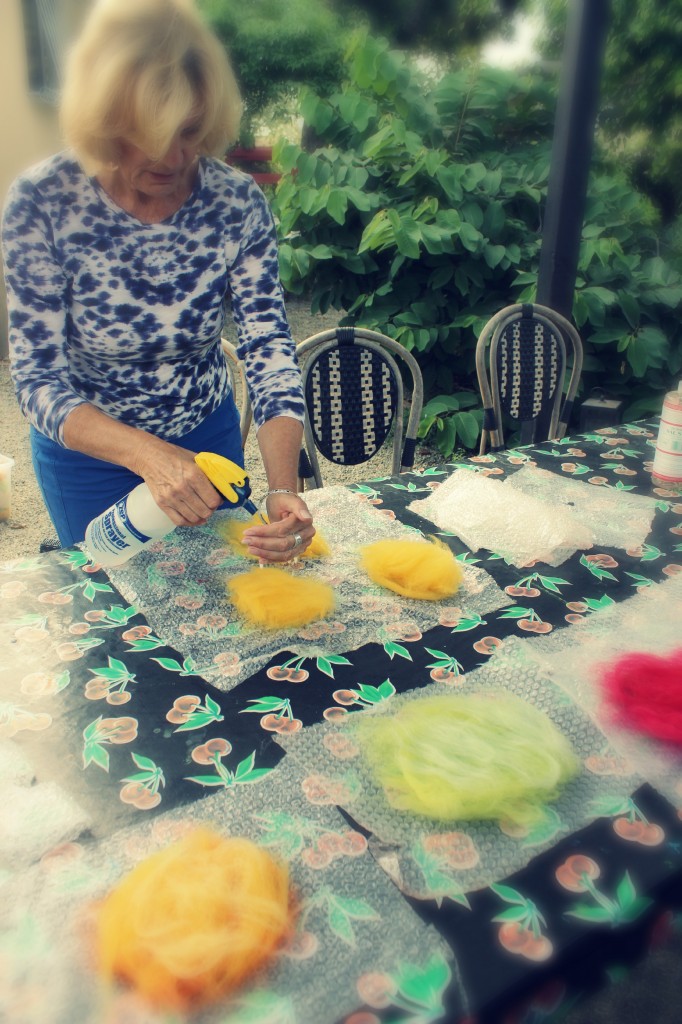 The process of today's flower making is similar to this one that we did earlier this summer. Click here for out pictorial process. Today, we added dyed mawata silk hankies to our flower layers.
Here is the wet-felted flower freshly made by Christine on this glorious morn…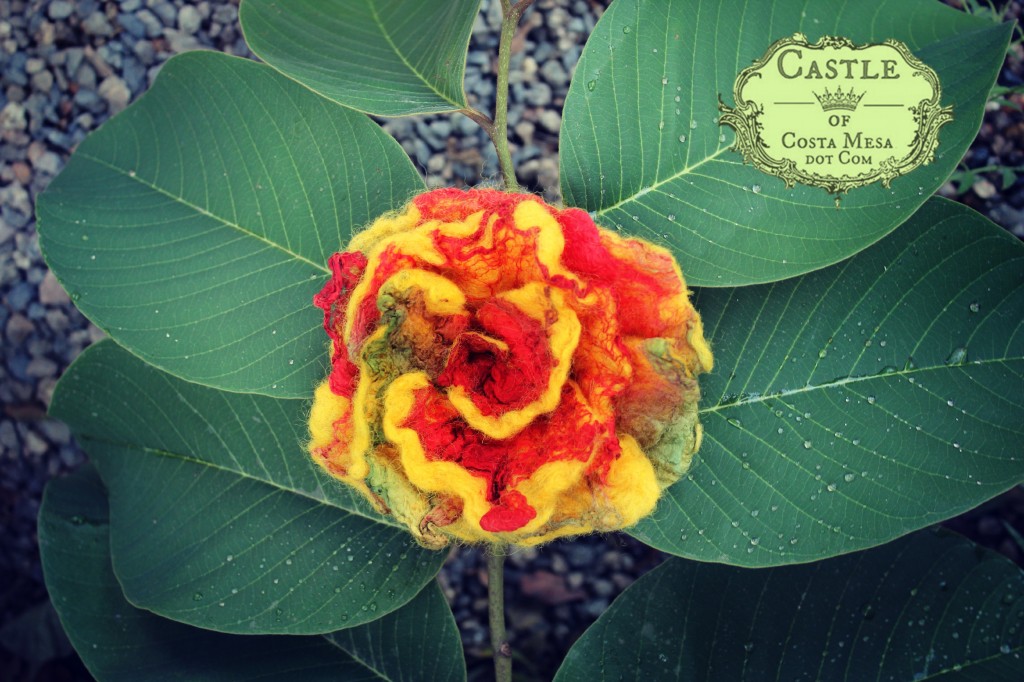 Name that craft group cutie pie!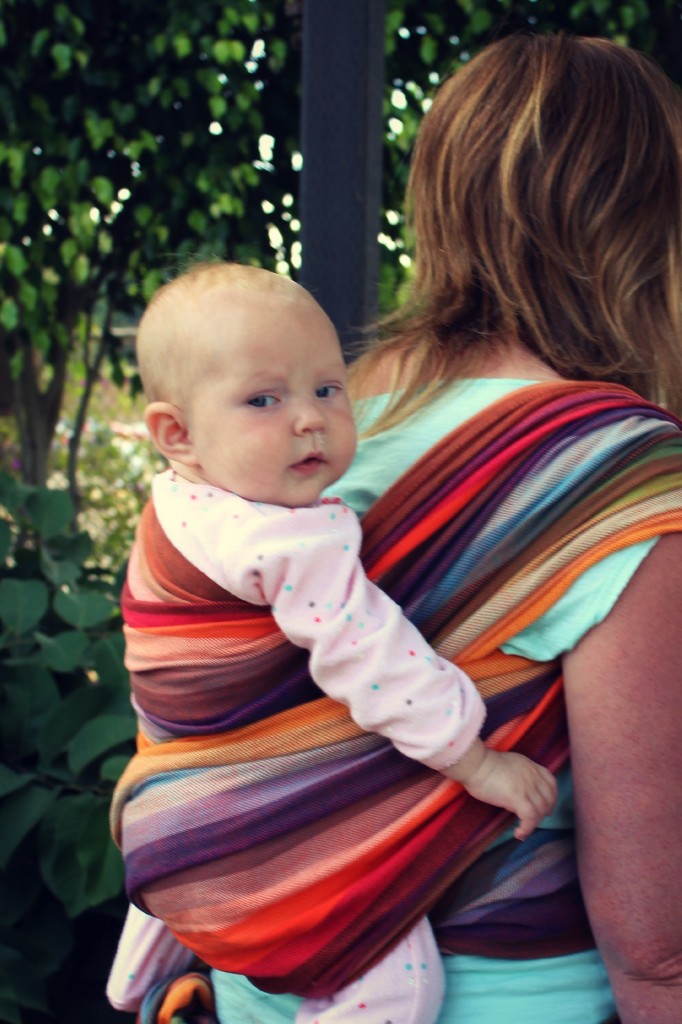 Here are the results from my first wet-felting with silk hankies.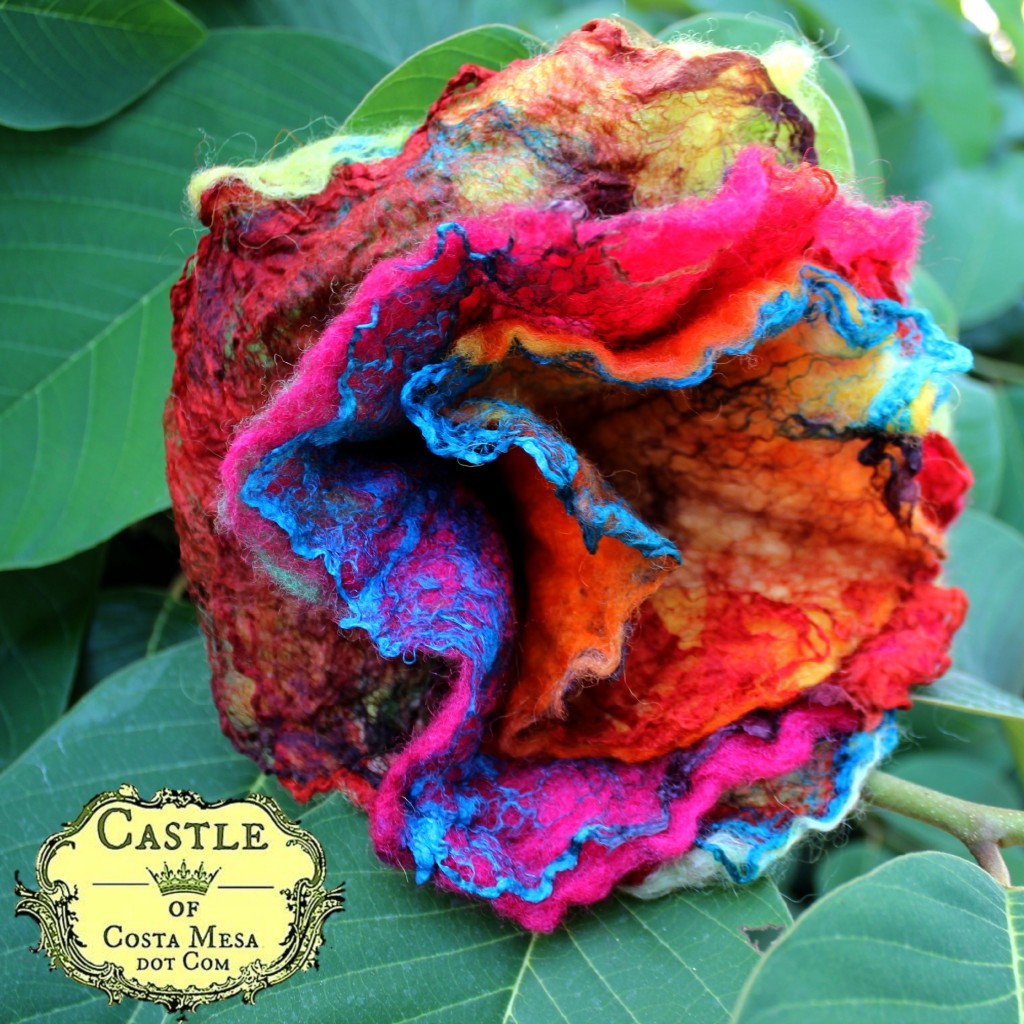 I love the textures, vibrant colors and the silky shine! Thanks Christine! I decided to separate the whorls of my flower to fully admire each layer. I think I will use these gorgeous handmade felt/silk for my upcoming Mermaid Kingdom project!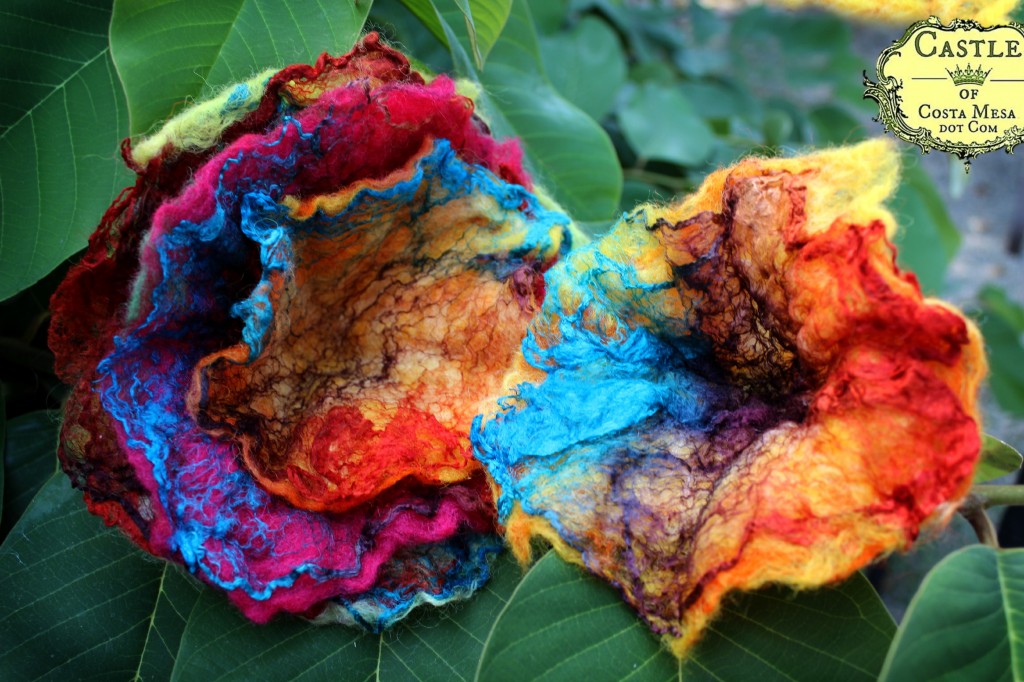 These visually interesting striations inspire me to create more with this material. I love it!
Now I am fully in love with mawata silk hankies and will go on Etsy to splurge on this awesome craft material! (I ended up buying some single colored ones from FiberCharmer Etsy store.) Meanwhile, check out 2 more of Judith Dios' creations…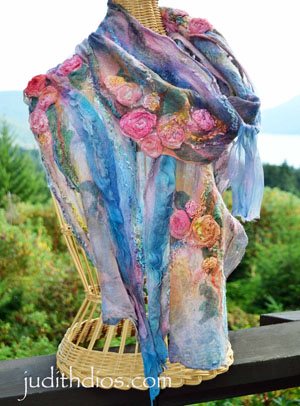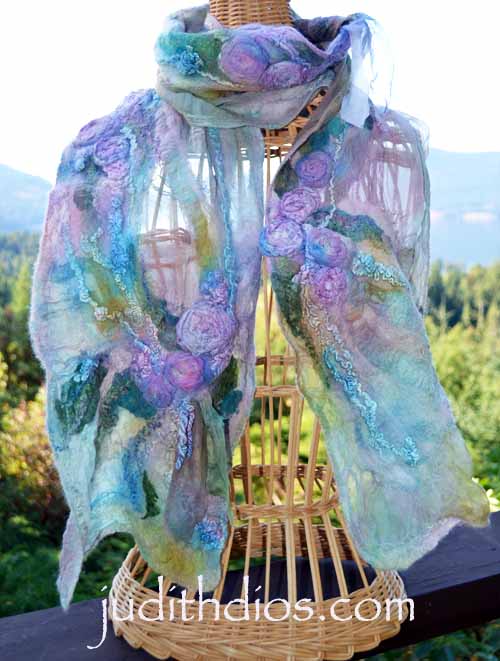 Our school's  Twice Upon a Time now has its very own home…Yes!!! We acquired a second shed located outside the back entrance to the Company of Angels store. Hop on by and visit!
Craft group now also has its designated shed! Today I helped Christine organize our new craft group shed. Hurray!
Christine is/was planning to show us how to wet-felt slippers next Wednesday due to popular request. However, there are some of us who are trying to subvert her plans and wet-felt tea cozies instead! So, if you are gung-ho on wet-felting slippers, do speak now or forever hold your peace!
Christine Newell's Upcoming 16 inch Waldorf Doll Making workshops
Click here to see gorgeous photos from her past workshops.
Cost: $100 all materials included.
Waldorf School of Orange County, Wednesday mornings  9am to 11:30am:
Waldorf School of Orange County, Thursday evenings  6:30pm to  9:00pm:
day 1 Oct 3rd, 2013
day 2 Oct 10th, 2013
day 3 Oct 17th, 2013
day4 Oct 24th, 2013
Maple Village School, Long Beach, Thursdays mornings 9:30am to 12:00pm:
The purpose of doing consecutive workshop allows you to join any of the 3 workshop at any location and time, you just need to complete day 1 through 4 to have a completed doll.
Sign up sheets will be in the WSOC Company of Angels and the  Office of Maple Village School.
Recycled doll workshop:
Waldorf School of Orange County, 9:00am to 11:30am
Maple Village School, 9:30am to 12:00pm
day 1 Oct 31st, 2013
day 2 Nov 7th, 2013
Cost : $50 all materials included
Again you can join any location and time just need to complete days 1 and 2.
That's all for now, looking forward to seeing you and sharing new crafts.
Handmade Mermaid and Other Merfolk Doll Giveaway !!! Ends September 23, 2013
I am giving away a handmade mermaid/merbaby/merfolk on my blog, Castle of Costa Mesa .Com. This giveaway ends September 23, 2013. You may enter by clicking on the picture below or clicking here.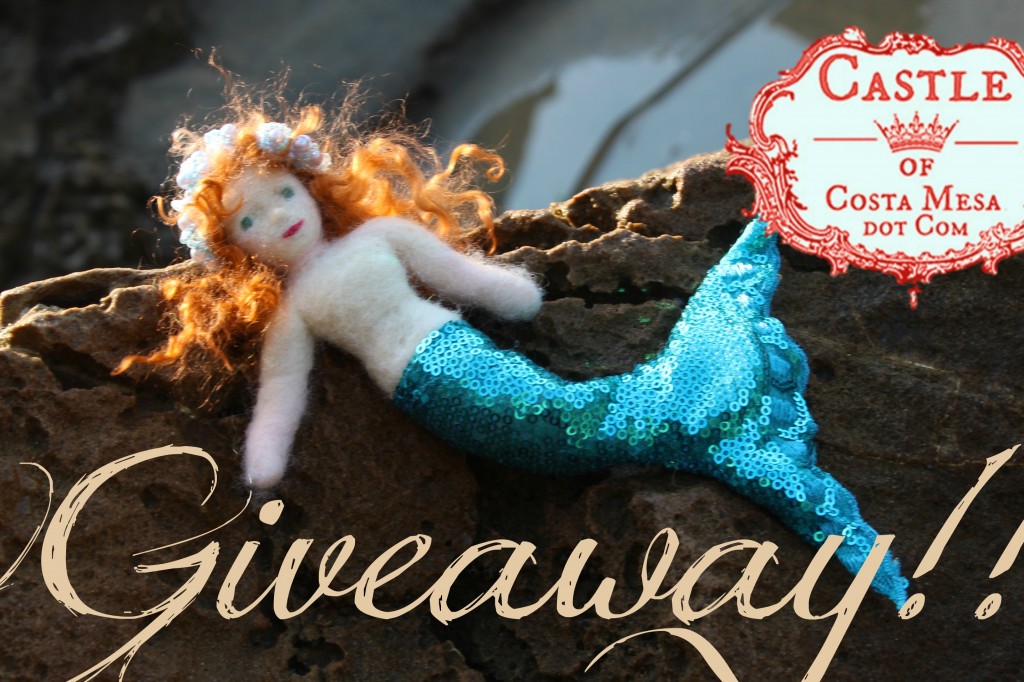 There are 8 lovingly handmade mermaids for you to choose from in this giveaway!!!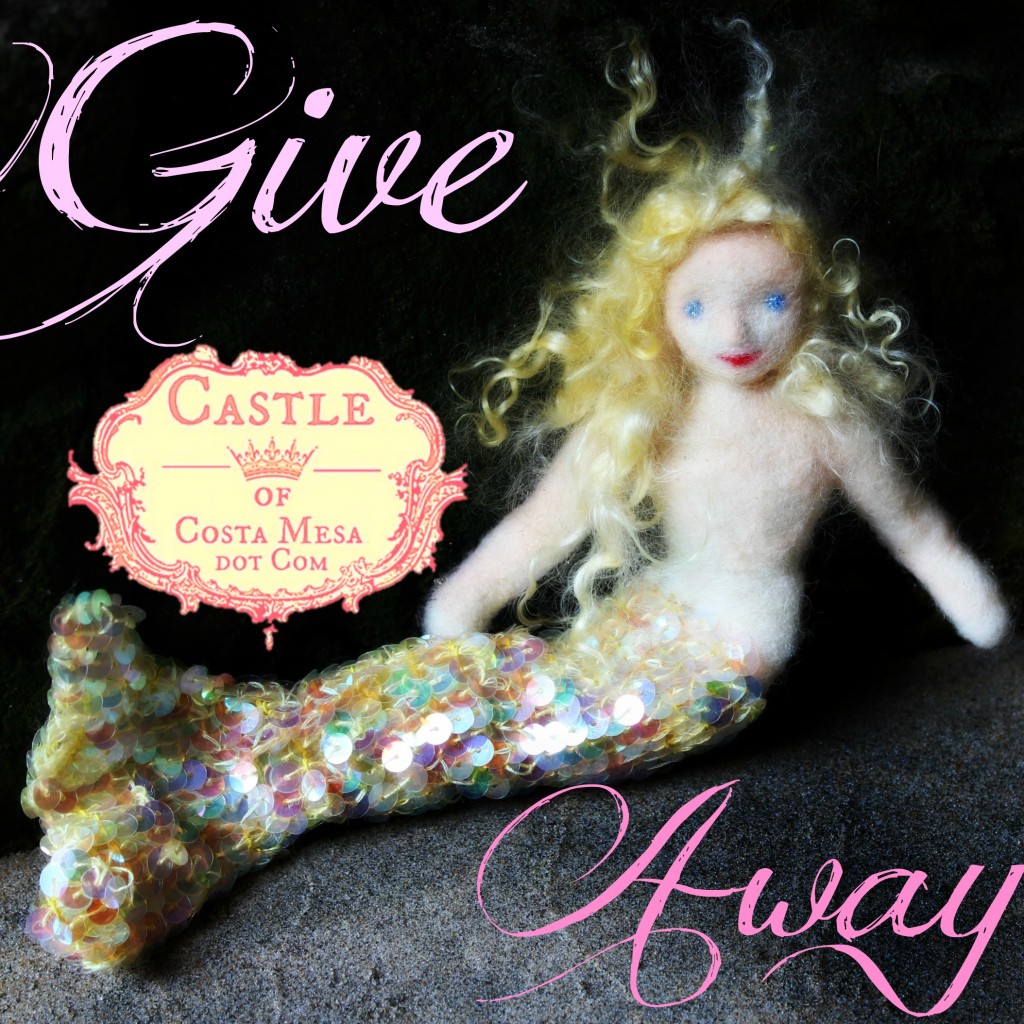 Please "Like" My Facebook Page So You Will Hear About My Future Handmade Doll Giveaways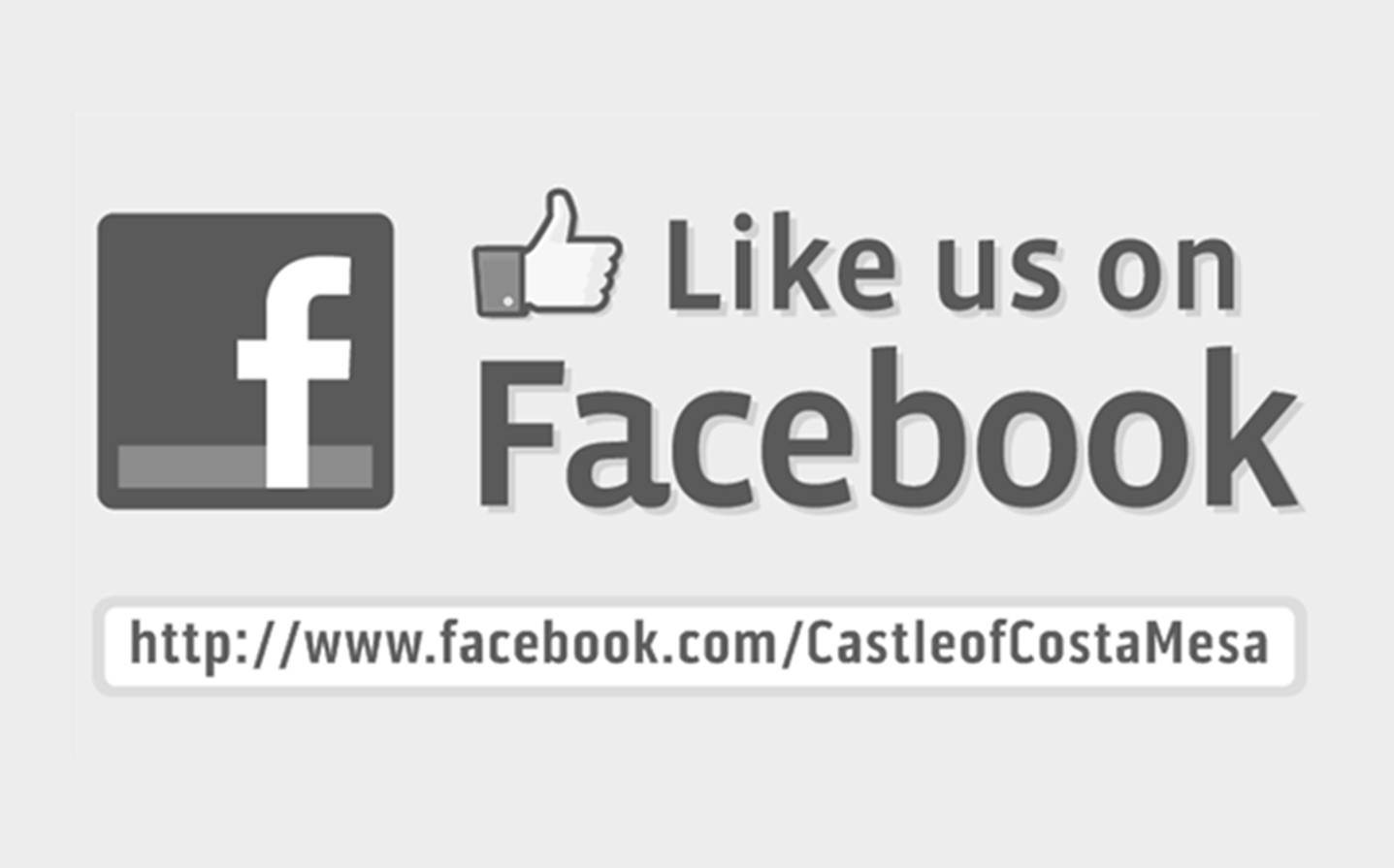 Free Shipping on My Etsy Store! Ends September 23, 2013.
September 18, 2013.
YAY!!! Castle of Costa Mesa has 1,000 Facebook "Likes"! We are celebrating by offering Free Shipping on the Etsy store: Please use coupon code: TERIMAKASIH for free domestic or worldwide shipping. Valid until September 23, 2013. Thank you! ps: stock up on your Christmas presents now! Enter Castle of Costa Mesa Etsy store here…https://www.etsy.com/shop/Castleofcostamesa?ref=si_shop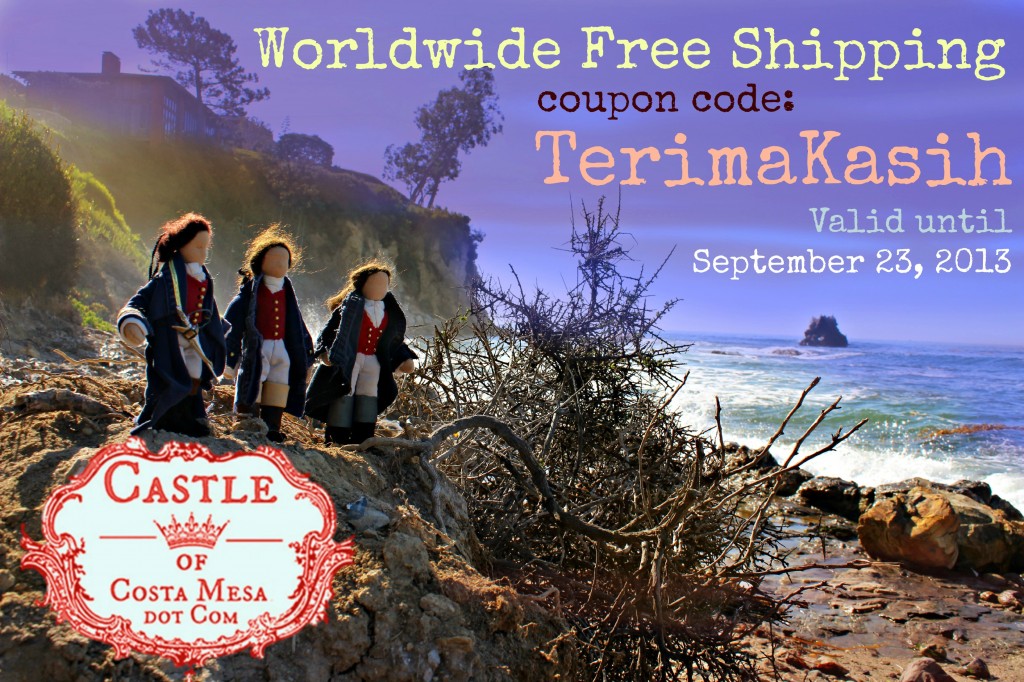 Jzin's latest handmade Baby Fairy doll…
September 16, 2013. Our baby fairy is made with love. She loves to fly around your garden in the day time. In the evening, she gets very tired (after all, her wings are still so tiny) and falls asleep in her bed which is a large lily flower. She is afraid to sleep alone and would love to sleep next to the bed of your little child. A little blanket will keep her warm. She is available on Castle of Costa Mesa Etsy store, click below picture to go to Etsy.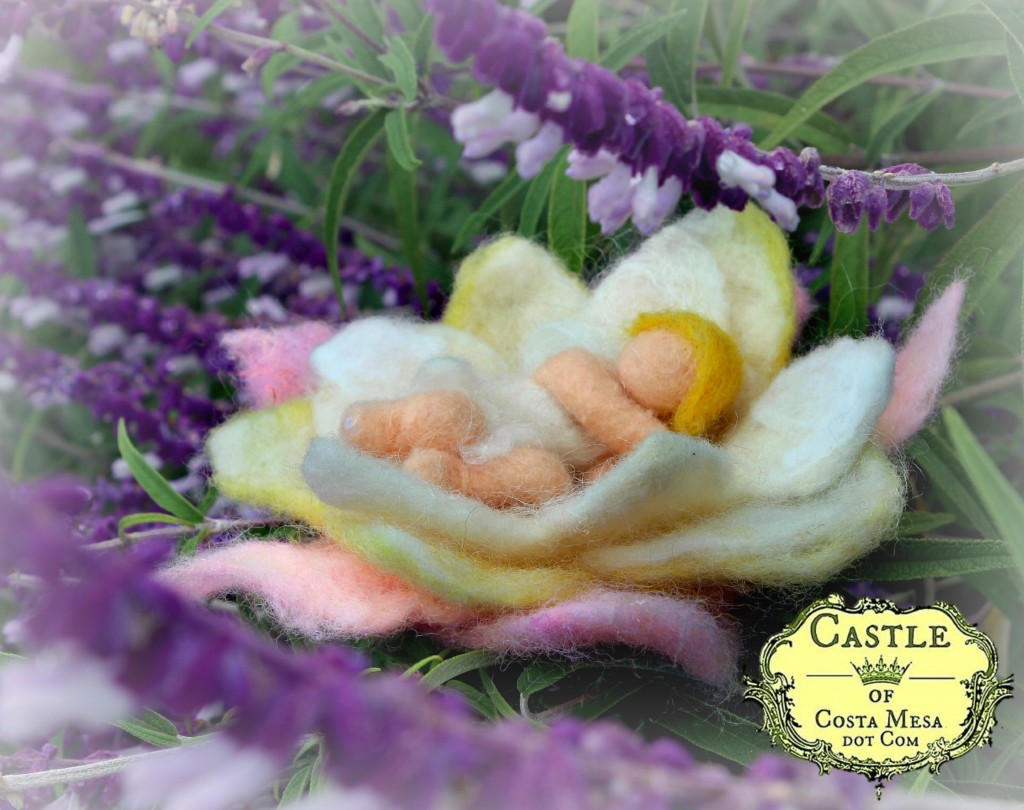 Another view of the baby fairy…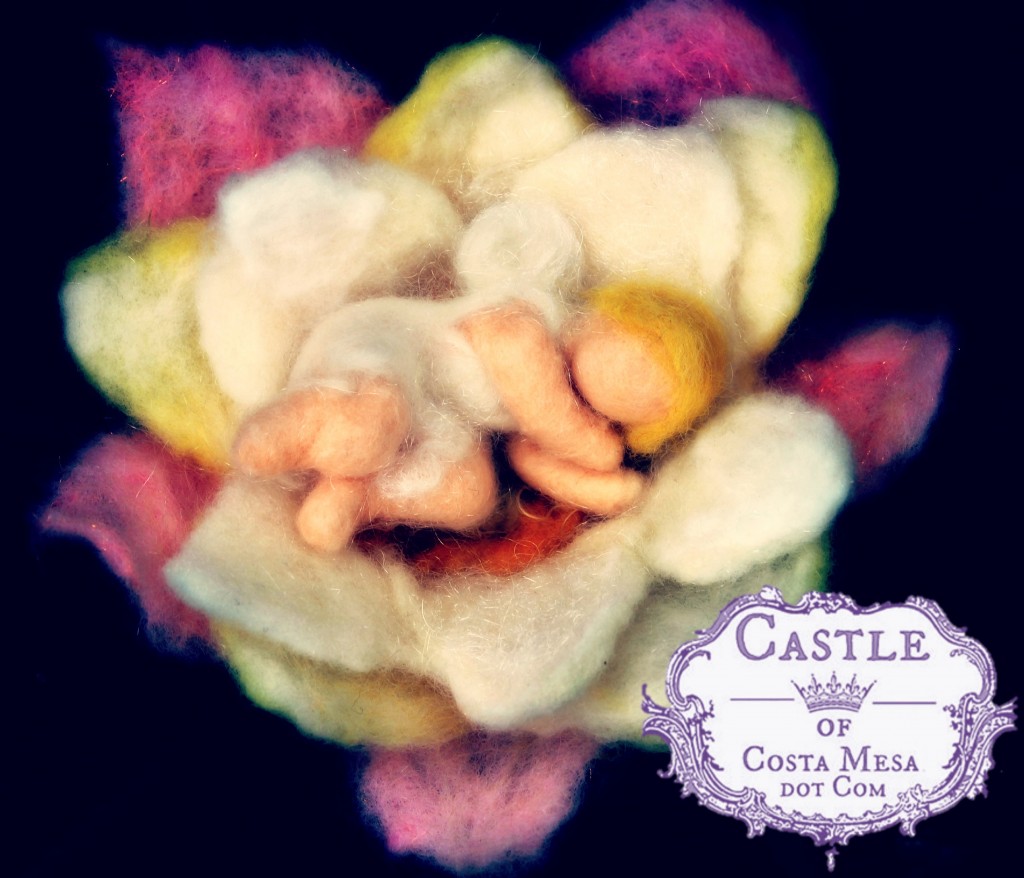 Baby fairy asleep in my backyard flowering lime tree…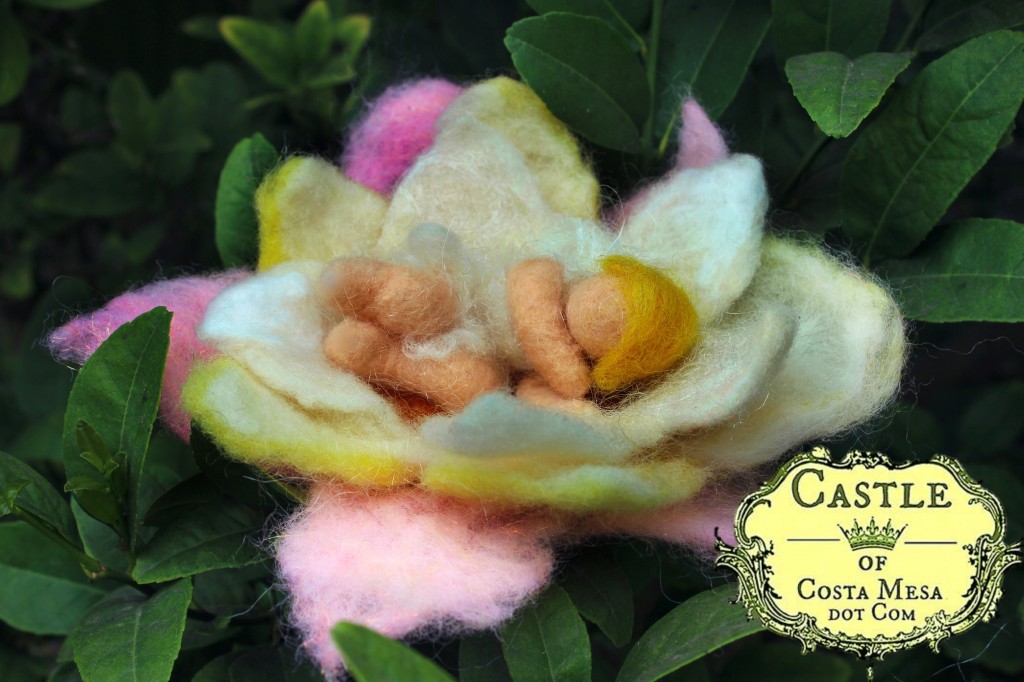 The flower above was wet-felted at craft group!
Click below enter the gallery of our past craft group projects: