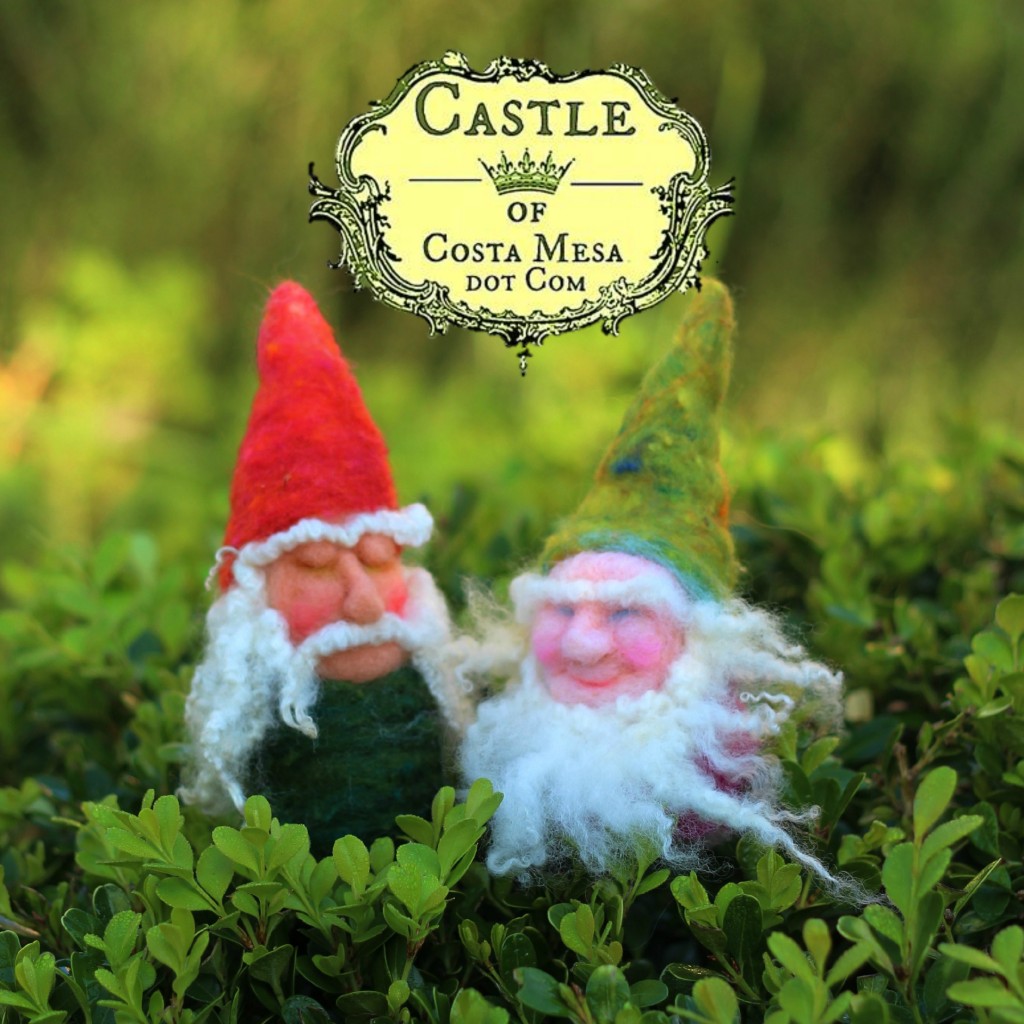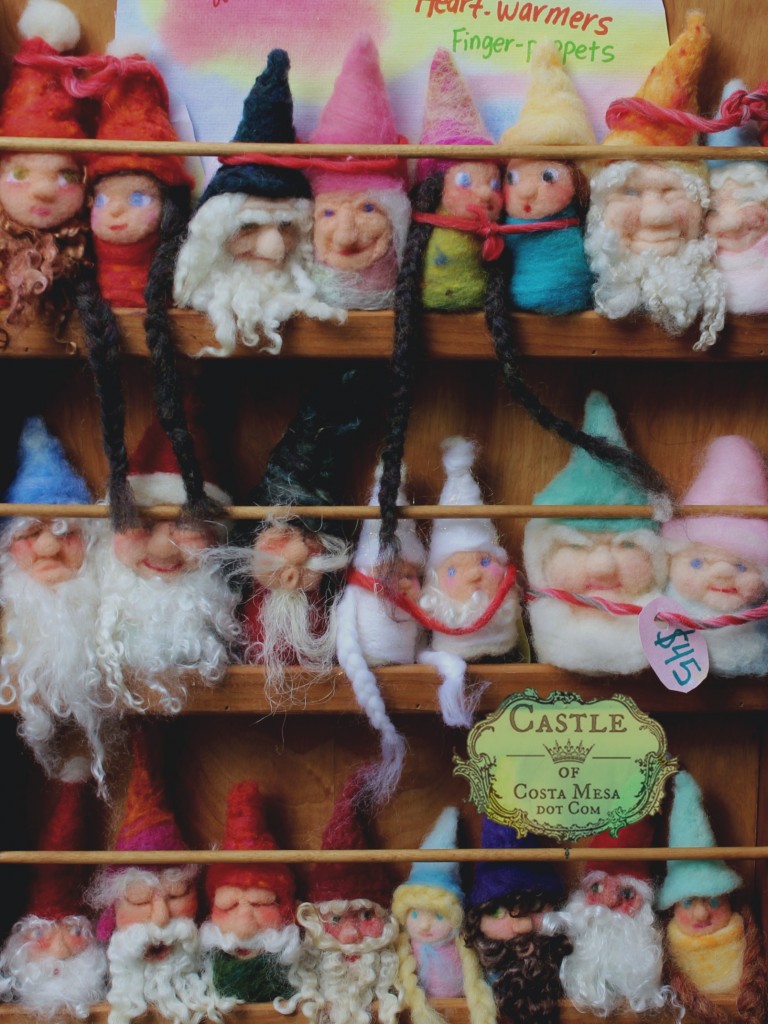 Castle of Costa Mesa Etsy shop
Back by popular demand, I taught another needle-felted Finger Puppet Gnomes class for Adults and for Children on Black Friday, November 27, 2015, 1-4pm at Piecemakers Country Store in Costa Mesa. – Jzin
Click on this link to view my other upcoming workshops. Click here to register and save your spot for my Toadstool Cottage class for adults and for children.
Instead of shopping on Black Friday, we gathered today to learn how to make handmade gifts for our loved ones. These natural fiber, wool finger-puppets are also finger-warmers. They make heart-warming gifts and stocking stuffers.
Roxana and Katie (from out of state!) made these beautiful finger puppet gnome couples!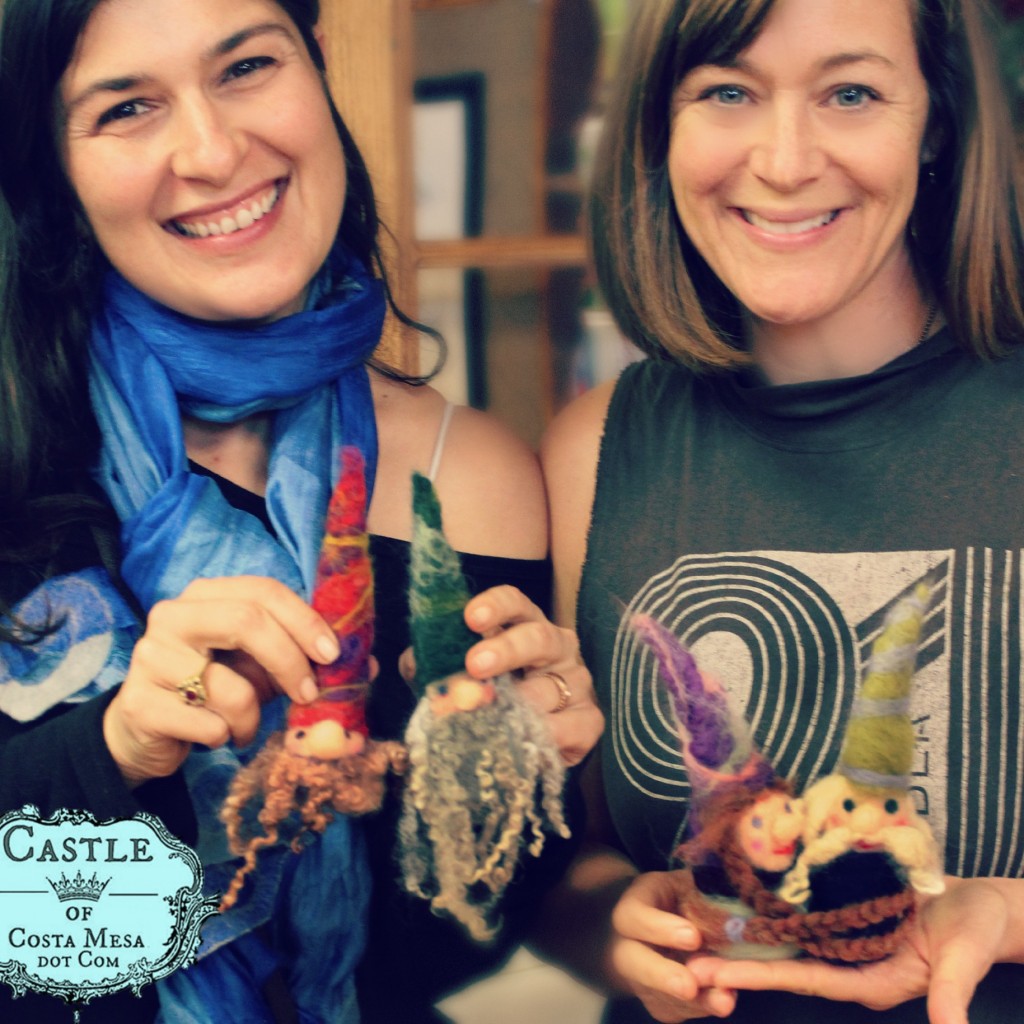 My student Eva modeling her gorgeous purple nuno-felted robe of sparkle and textures (she handmade this robe! GASP!)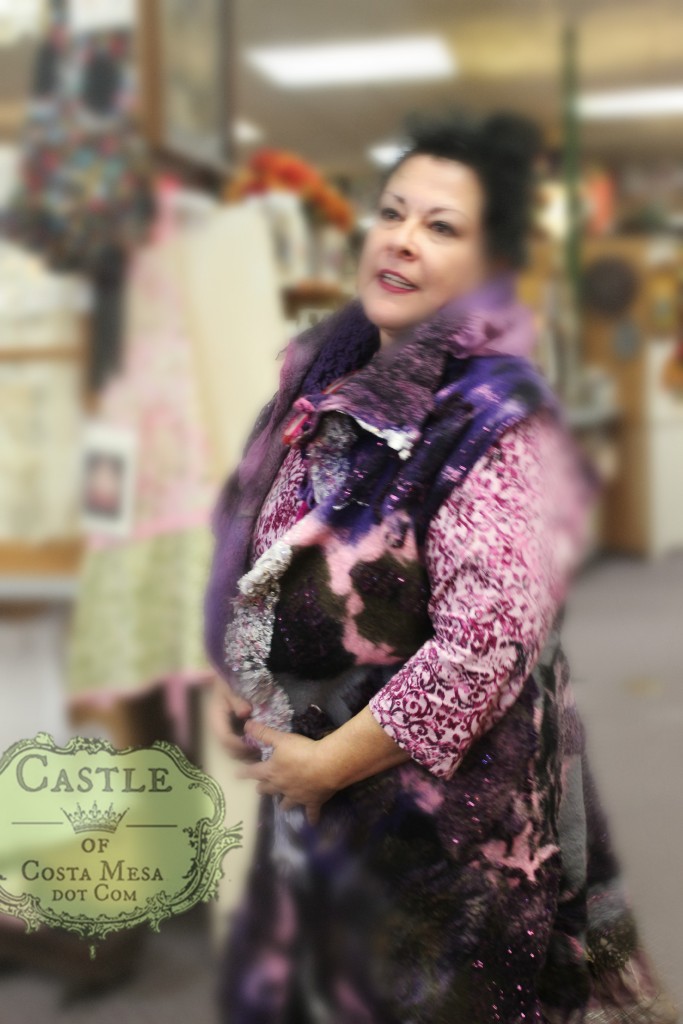 Eva and her completed finger-puppet gnome couple.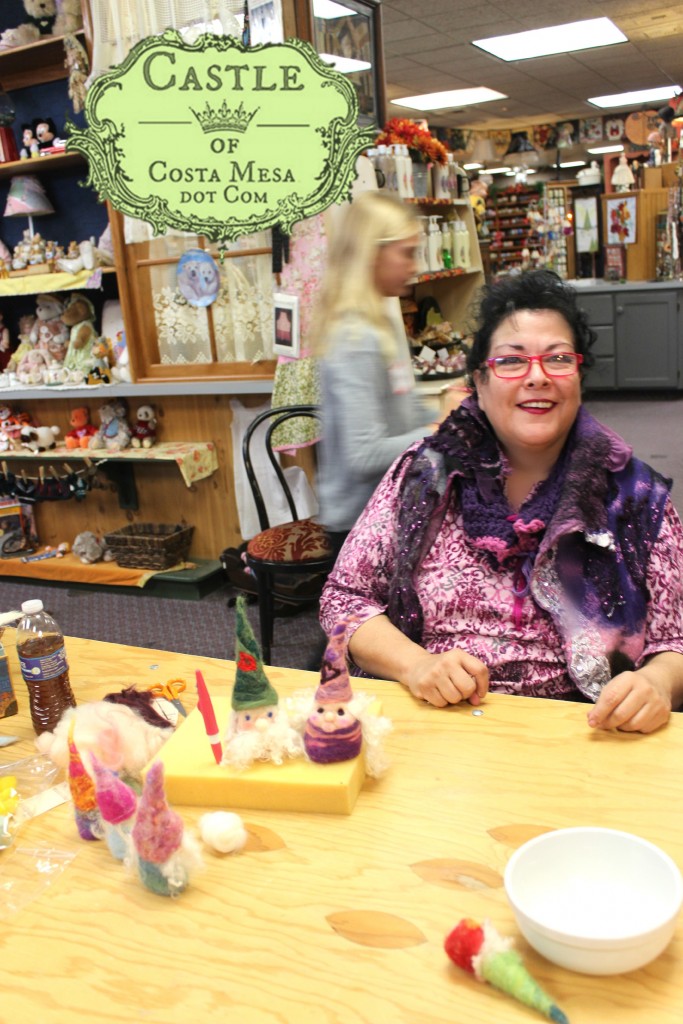 Jackson and Hannah with their work from this afternoon.
Each time someone finished a handmade gnome, I would hand him or her my little doll-making bell-on-a-stick, whereby the maker would ring the bell, announce the birth of the new gnome and declare his blessing or mission. The rest of us will then wish the doll a happy birthday, since it was made today!
Jackson's blessing for his boy gnome was to "Go forth and stop pollution in the world!"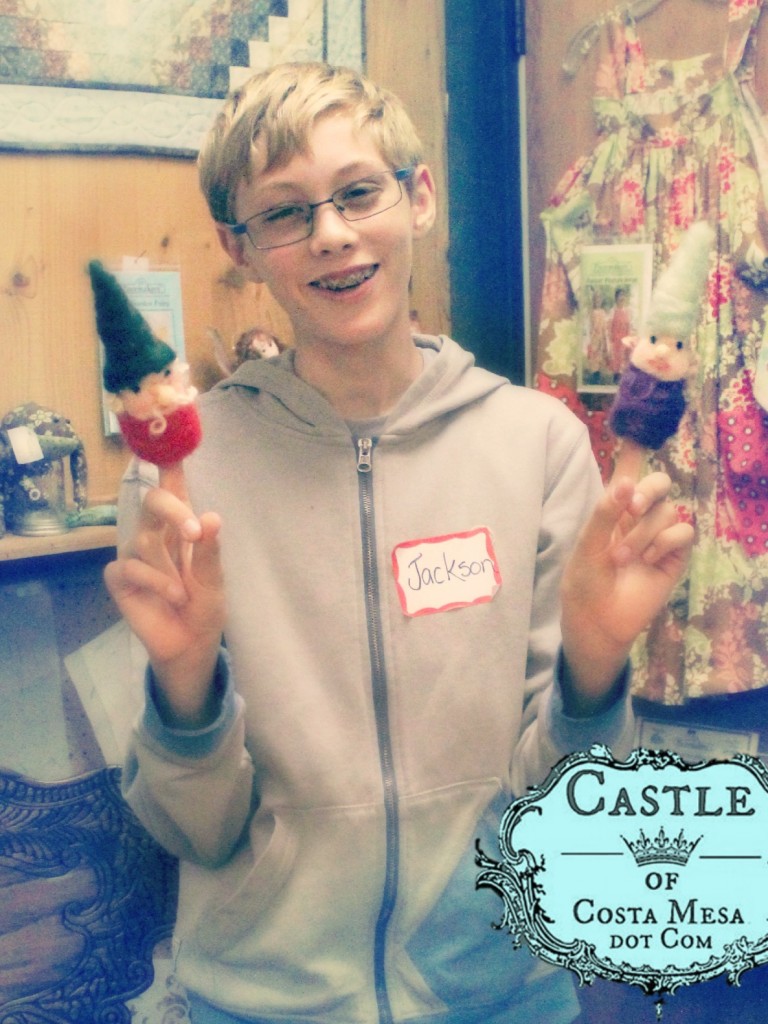 Similarly, Nancy's gnome, aptly named "Fern" was created to "Go forth and protect the trees!" Here is Nancy with Fern, and later, his wife. So adorable!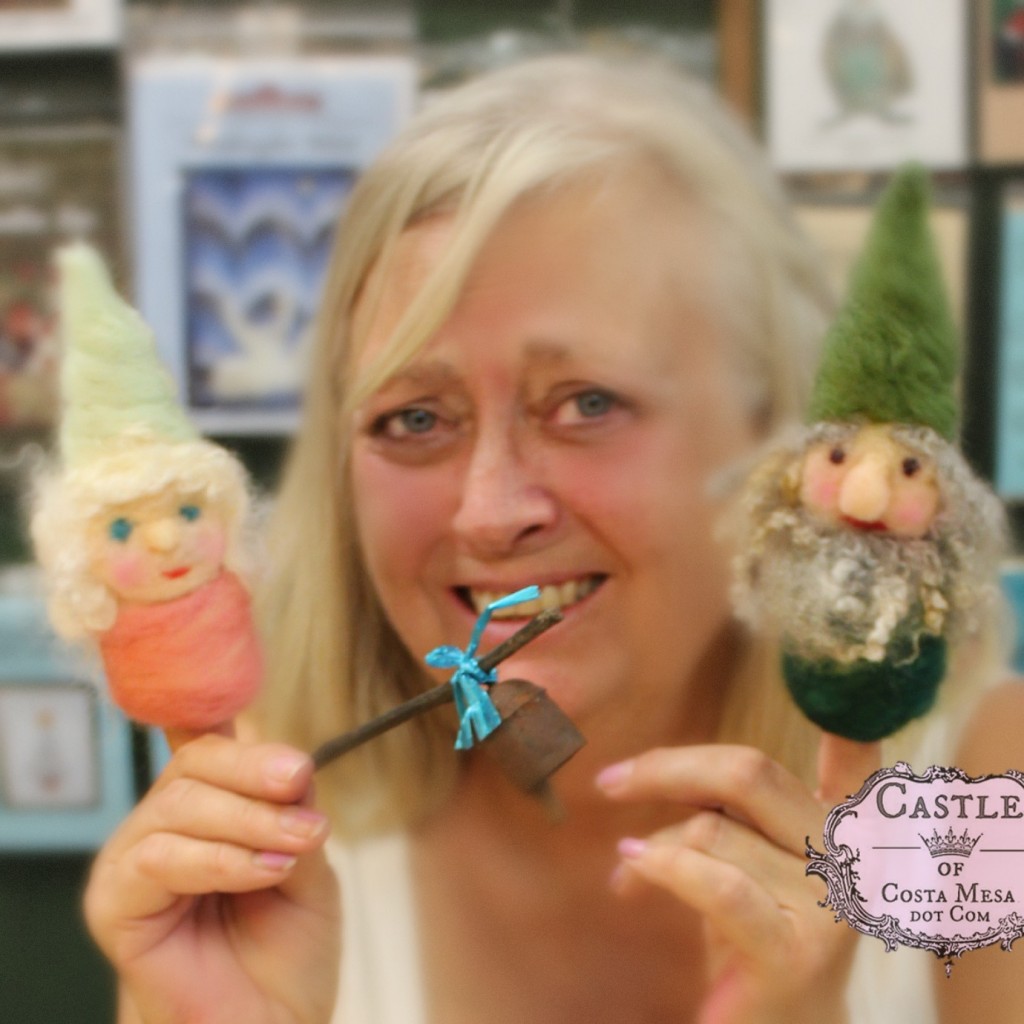 Another ecologically responsible set of finger-puppet gnomes were created by 10 year old Anička to "Go forth and protect the forests!"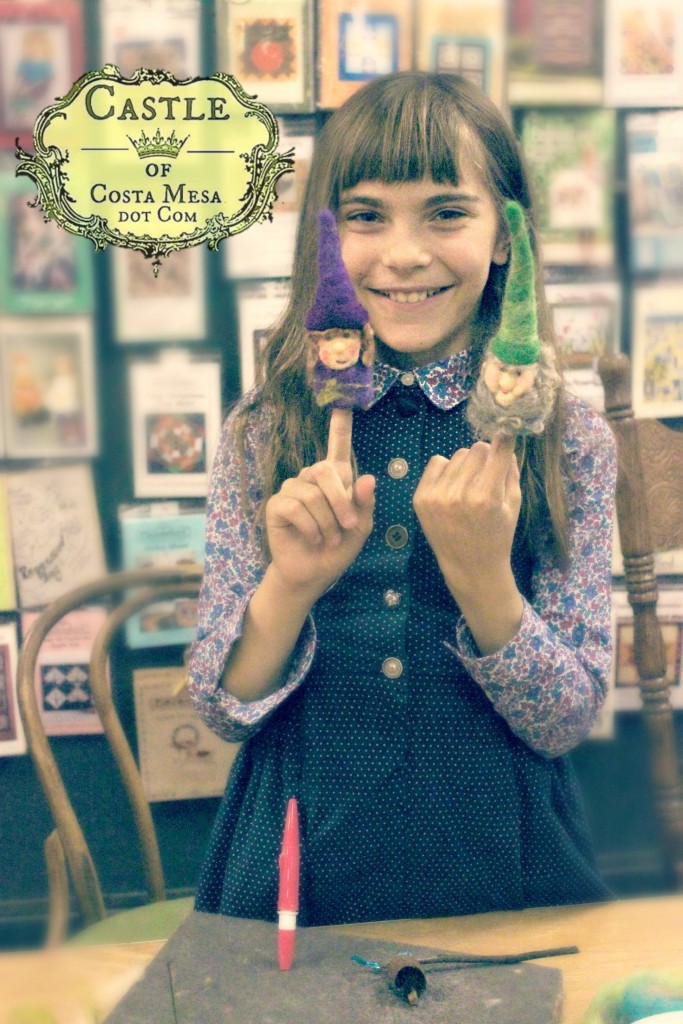 My 11 year old daughter (who was also my assistant in class today) managed to make 2 gnomes, which she made to "go forth and bring love to all!"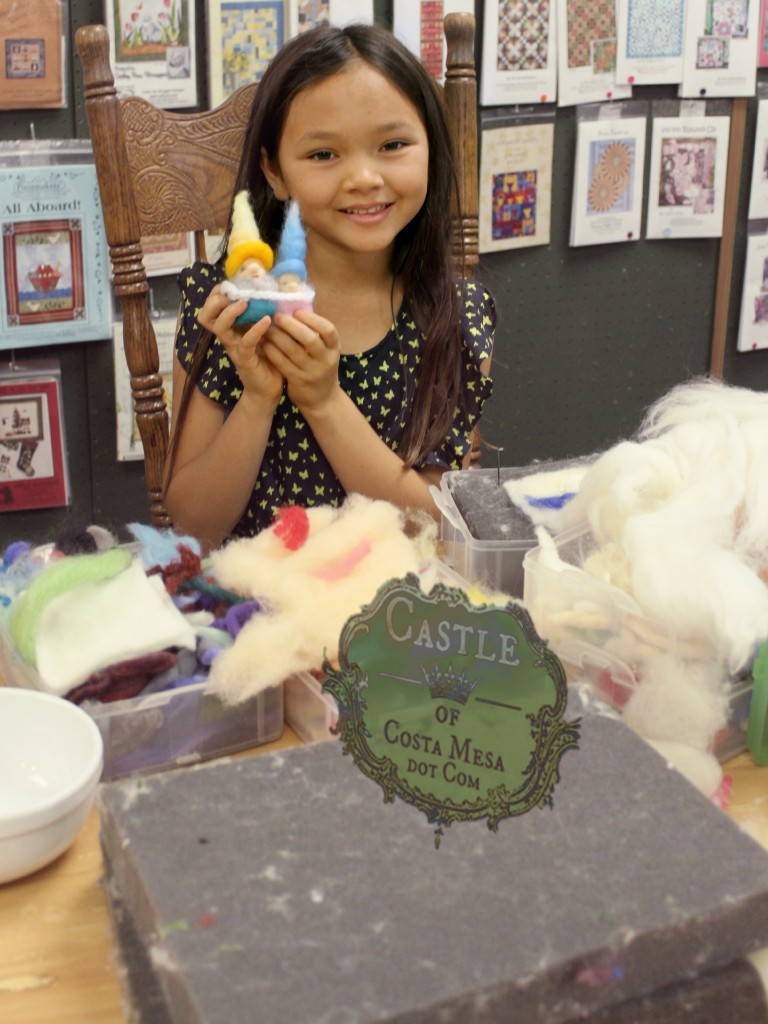 My littlest student today, 7 year old Paige commanded her gnome boy and girl to "go forth and bring joy!"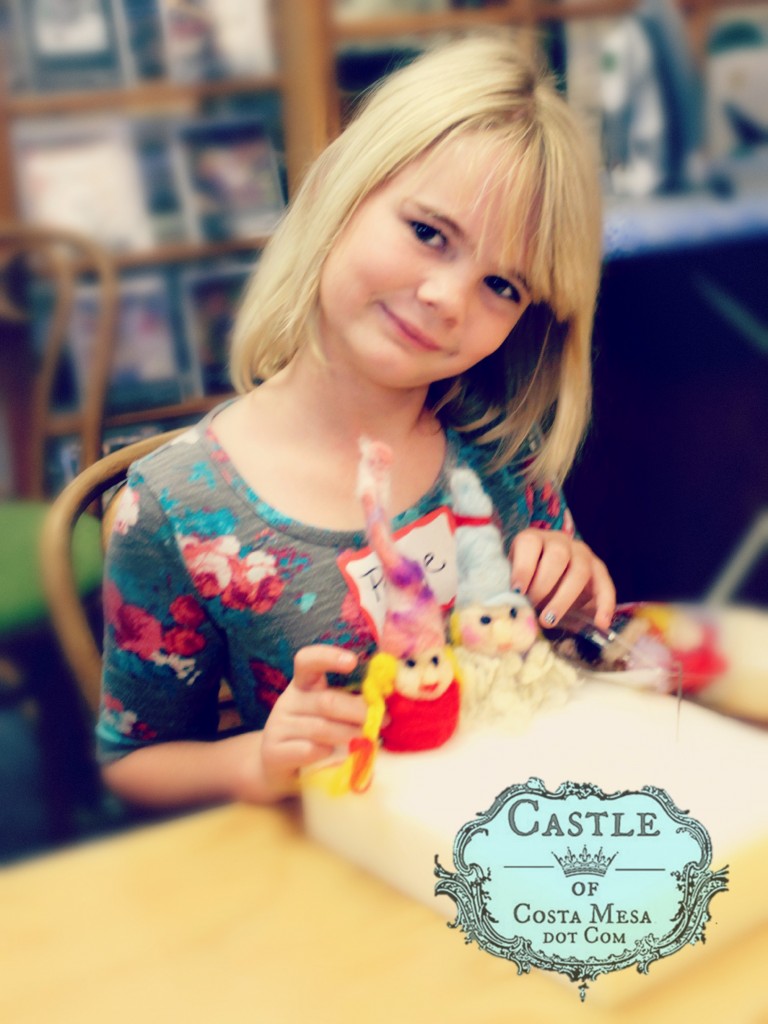 Thank you all for coming to my finger-puppet gnome class! It was sheer joy! – Jzin
You can shop for my finger puppet gnomes on Castle of Costa Mesa Etsy shop here: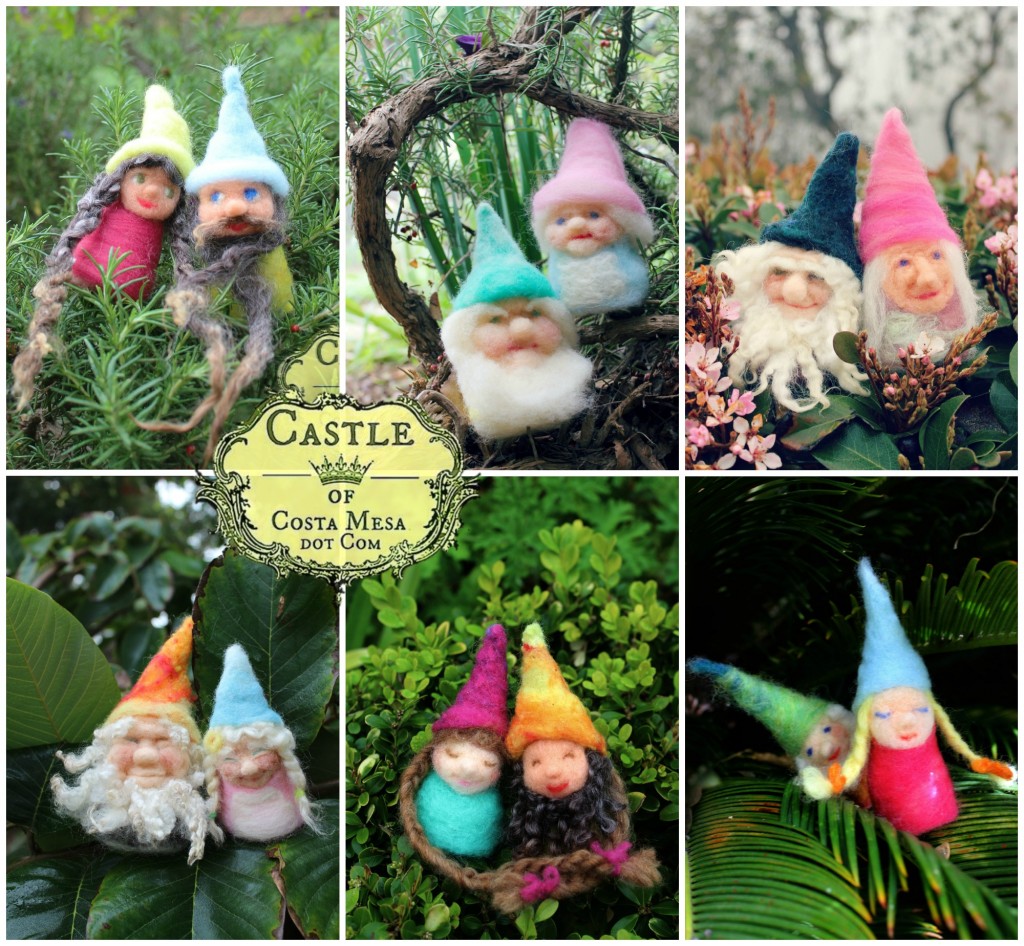 Castle of Costa Mesa Etsy shop
click here to view a past class: Jzin's Finger Puppet Gnome class in June, 2014.
Jzin's Upcoming Classes
 I am also teaching my Guardian Angel Wool Relief Workshop that Sunday. You can sign up now:
November 29, 2015. Sunday. 1-4pm
Piecemakers Country Store in Costa Mesa
December 29, 2015. Tuesday, 9:30am-12:30pm. 1-4pm Piecemakers Country Store in Costa Mesa: Whimsical Needle-Felted Wool Picture Workshop. $40. Instructor: Jzin. Click here to sign up.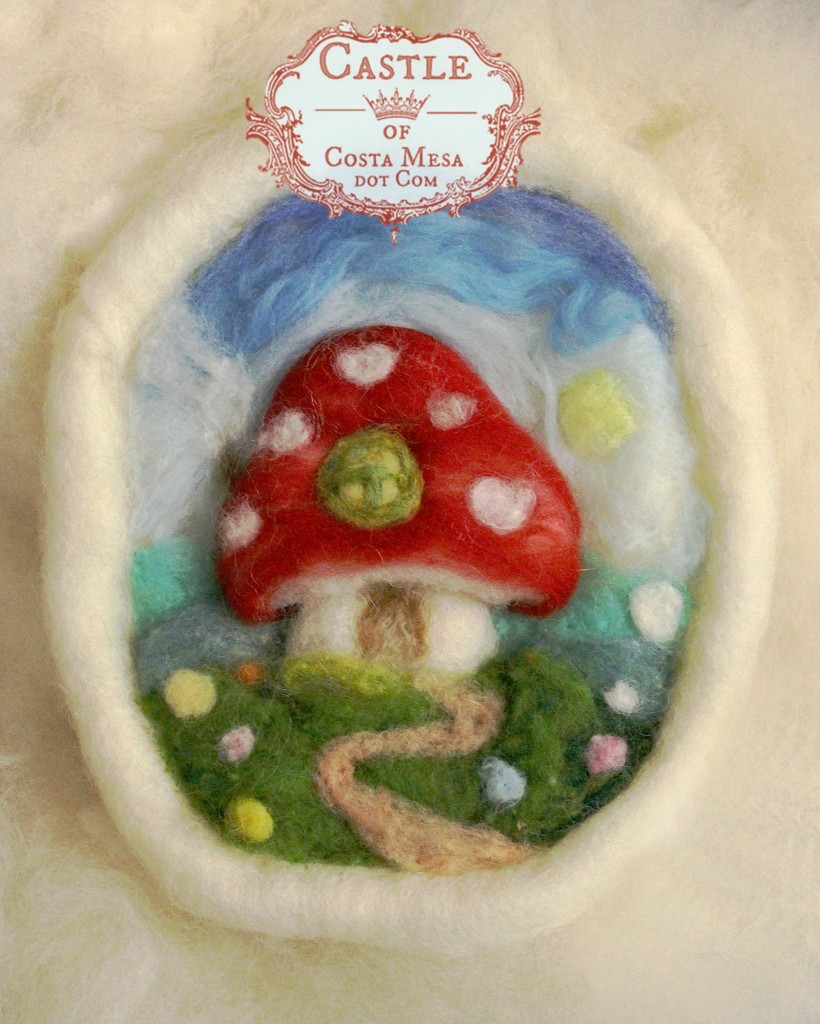 Click here to see all my classes including upcoming ones early next year. I will be teaching upside down flower fairies and Toadstool Cottage night light among other things!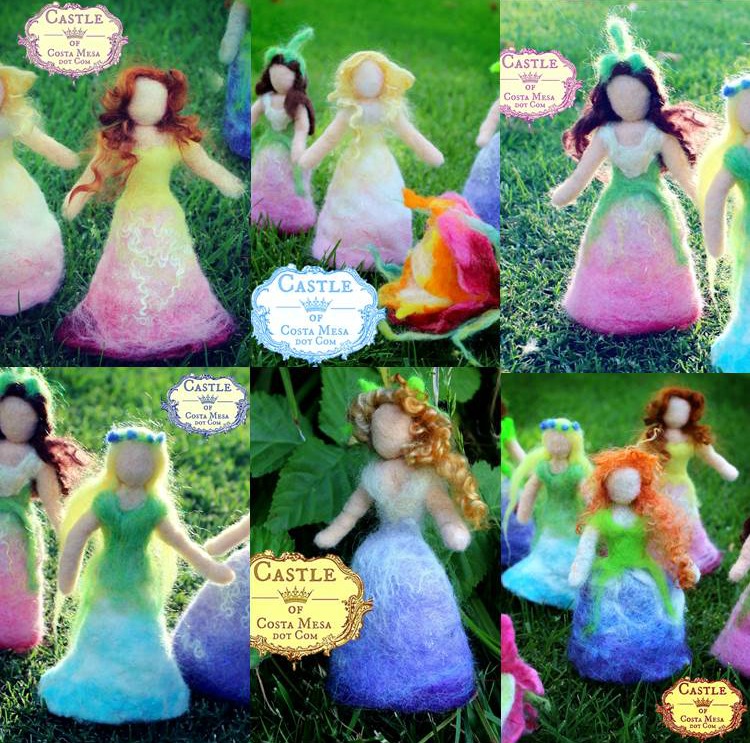 Jzin's Latest Handworks

I tried out a "messy" painterly approach. Here is one of my latest guardian angel wool relief picture, housed in a white 10″ x 10″ shadow box. She is available on Castle of Costa Mesa Etsy shop here.
Our school store, The Company of Angels is in its beautiful winter glory again! Experience the magic of our store where you will find an array of books, natural toys, unique gifts, jewelry, Waldorf educational supplies, warm and fresh homemade treats, one-of-a-kind hand-made items in every corner. The Company of Angels endeavor to find Fair Trade items to grace their shelves. Come discover the gem of a store while supporting our school with your holiday shopping!
Address: On the campus of The Waldorf School of Orange County. 2350 Canyon Dr, Costa Mesa, California 92627
Hours: Mon – Fri: 8:00 am-3:30 pm (Closed Thanksgiving week)
Phone: 949-574-7735
Castle of Costa Mesa was Featured in a Magazine!
I was a little embarrassed about the superlatives used in the magazine interview. But if you like to see it, here is our magazine feature in I Heart Costa Mesa! As much as I love to share my work with the world, I did feel exposed, because handwork is a very personal thing. Thank you for the kind words, I Heart Costa Mesa. You can follow I Heart Costa Mesa on social media here: Facebook. Instagram: #Iheartcostamesa

Castle of Costa Mesa Etsy Shop
I sell my handwork on Etsy. Everytime someone buys my handwork, I do a happy dance! – Jzin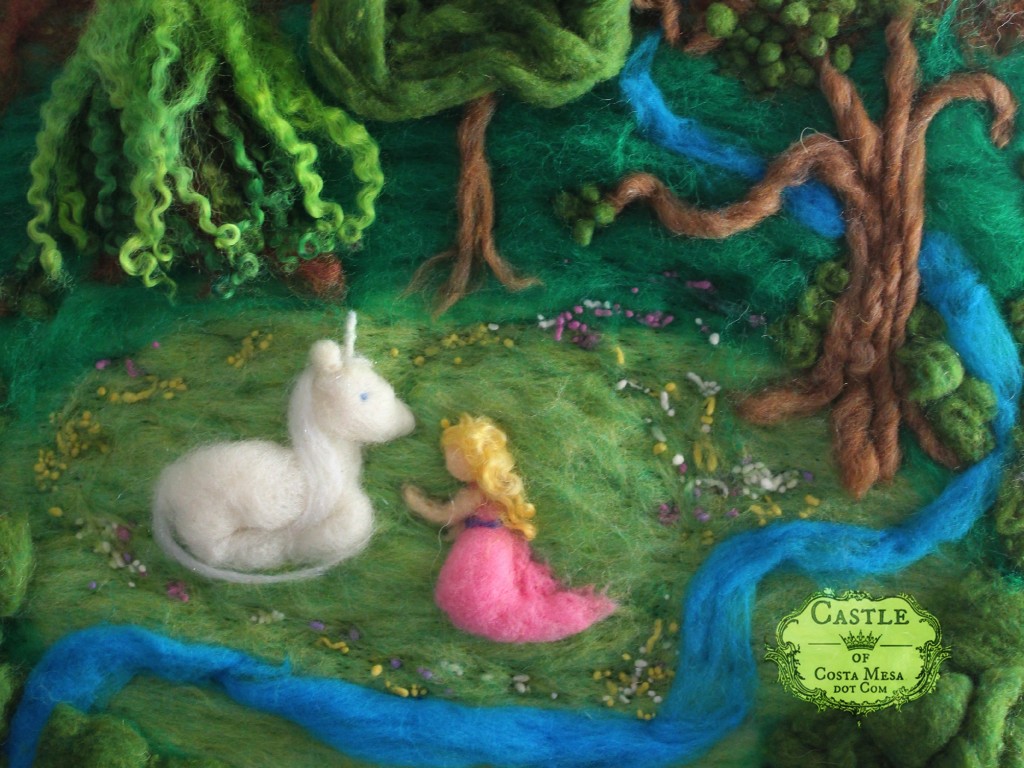 Castle of Costa Mesa Etsy shop.
Here is a little boy with a kite I just finished this Tuesday morning. He is now available on Castle of Costa Mesa Etsy shop.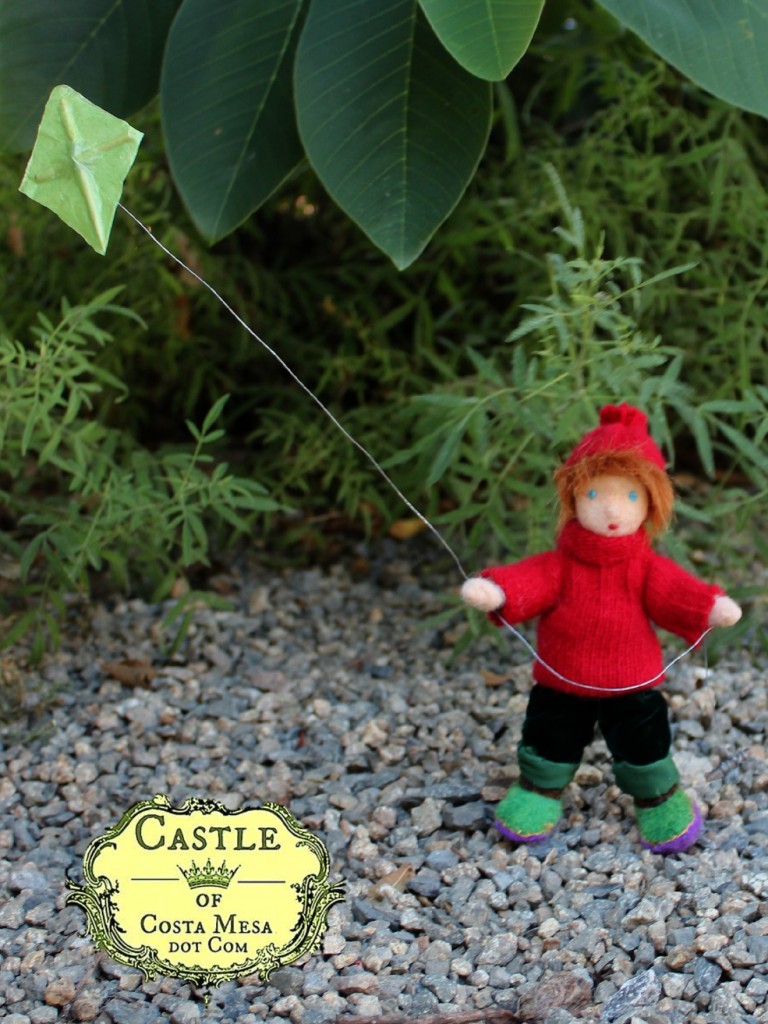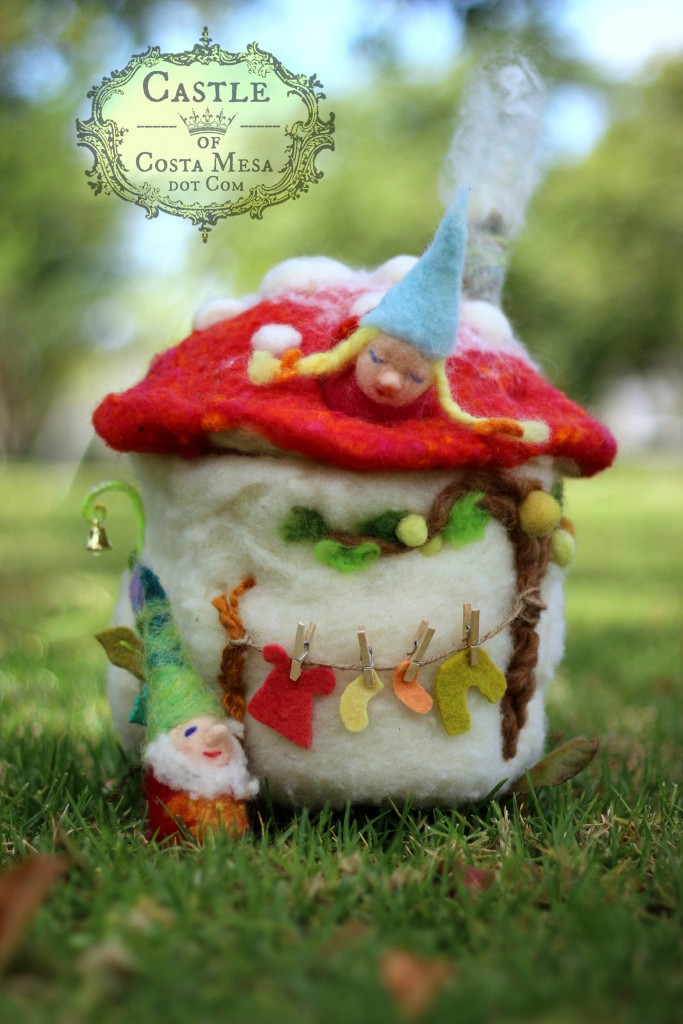 Follow Castle of Costa Mesa on Pinterest!
Tuesday Morning Craft Group: Schedule and Gallery
In November, we dry felted (needle-felted) Christmas trees! Look at all the fun and beautiful work we made! You are free to stop by and join us. Schedule and details on link.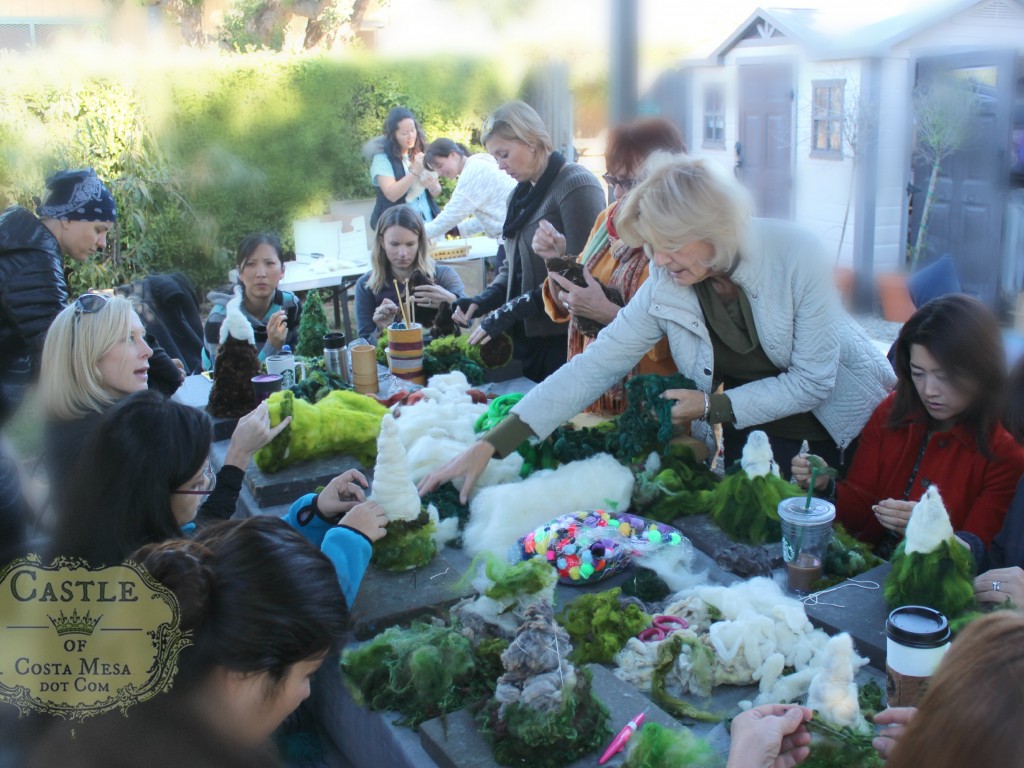 Click on below picture to see FUTURE craft group schedule plus a gallery of our PAST craft group projects.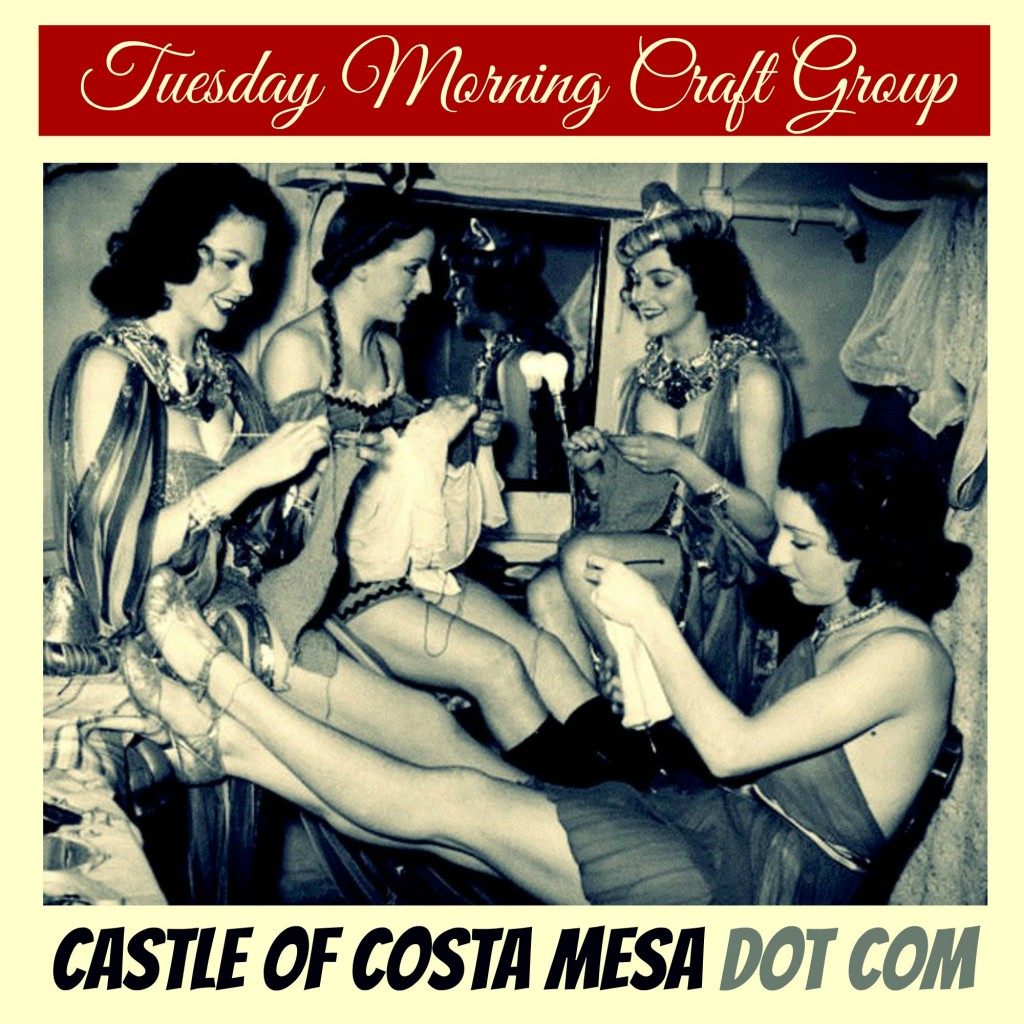 You can "like" and follow our weekly craft group projects on facebook here.
Let's Be the Support for Each Other
You may place a free ad on this page below. Let us be the support for one another! love, Jzin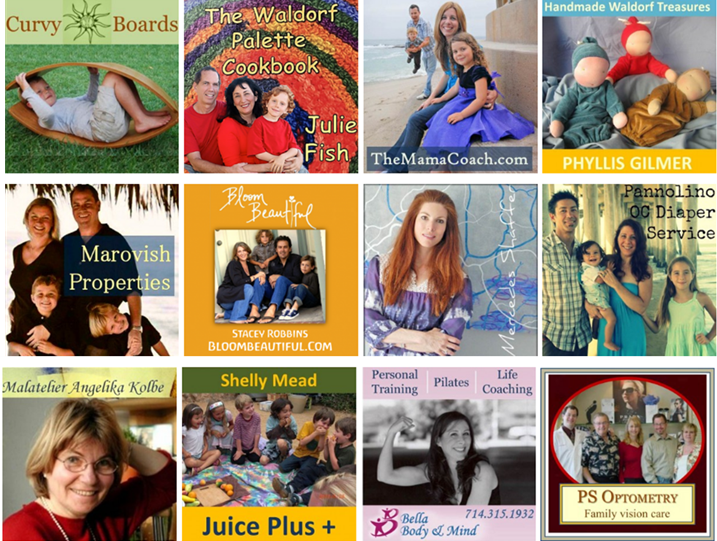 Be in the know for upcoming handmade giveaways: Like CastleofCostaMesa.Com on Facebook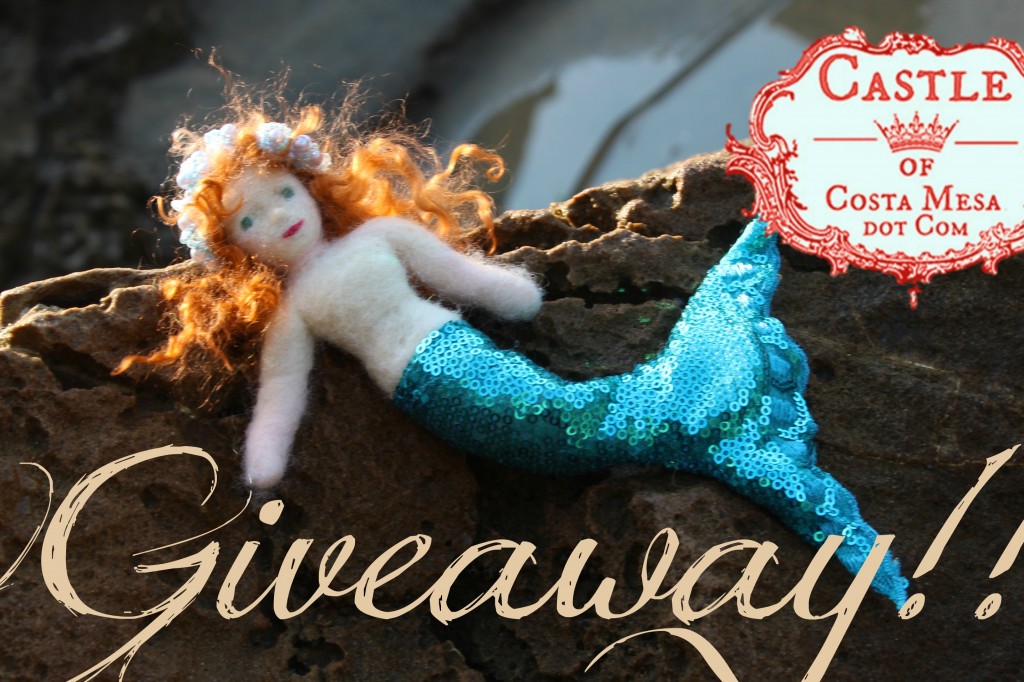 I give away my lovingly handmade dolls and crafts seasonally. If you "Like" my Castle of Costa Mesa Facebook page, you will be notified of upcoming giveaways. Click here to view the list of my past giveaways. Perhaps the next winner could be YOU?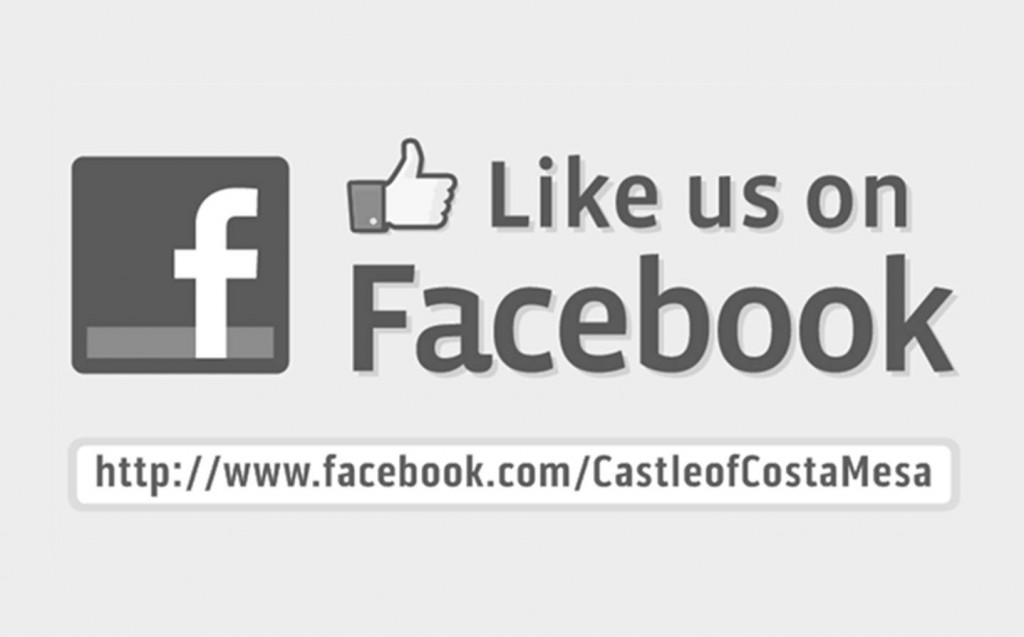 Castle of Costa Mesa Facebook page.